Trying to figure out which CRM software is the best is a challenge that plagues most business owners: after all, it's usually an investment of both time and money.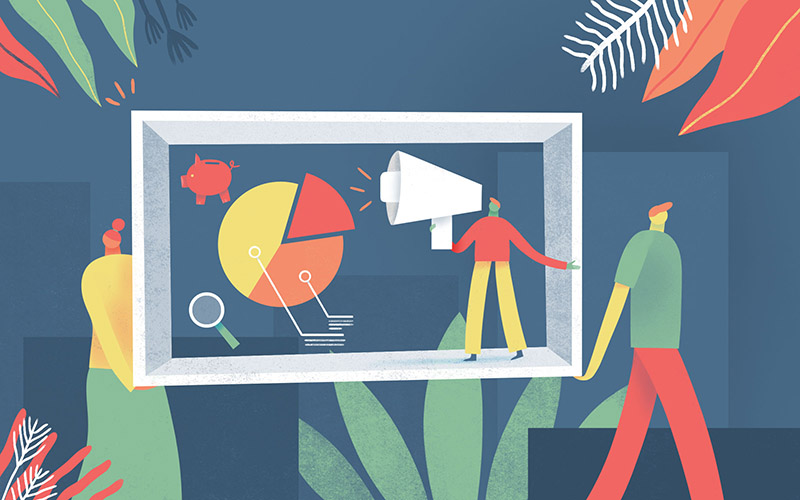 A CRM is an initialism for "customer relationship management".
Though it refers to the "practices, strategies, and technologies that companies use to manage and analyze customer interactions" (that's a doozy), most people use the initialism to refer to the specific software they use that keeps them on top of customer relations.
There are a lot of different CRMs out there, each with their own price points, pros, and cons. The "best" CRM for you will depend on what you need.
What's inside a CRM?
Think back to when you first started your business: how did you keep track of your customers and clients?

How did you make sure that you remember who is who, and what stage of the sales process you were at with them?

Did you cold e-mail them already?

Or what about cold calling?

Where did you meet them, and how can you ensure that your relationship with them stays healthy and friendly?
The online CRM industry was initially targeted towards sales and PR representatives, who have to constantly reach out to new sources and clients. But that doesn't mean you can't use a CRM. The development of affordable, intuitive SaaS CRM solutions means that anyone can track their relationships, whether it's for family, friends, or business.
A traditional CRM is essentially a database with many fields. Sales CRMs almost always include these fields:
Name

E-mail

Phone Number

Associated Company

Date Last Contacted

Lifecycle stage (Lead, Opportunity, Evangelist, etc.)

Lead Status (Open, Unqualified, Wrong Time, etc.)
Most SaaS CRMS (like Hubspot, for example) also include features that let you track customer issues, contracts, and documents you've shared.
Why use a CRM? Do I really need one?
Have you ever tried tracking the amount of time you spend keeping up with relationships, e-mailing people back, and making sure that you don't lose any leads?
We have (with Toggl, of course)–and what we found was that the use of a CRM drastically reduced that time spent on maintenance.
Essentially, it frees up the hours in your day and reduces the mental clutter so that you can run your business the way you need to: efficiently.
Begone, unsightly, space-eating file cabinets–the Internet is here.
You may not need a CRM if you don't work, or if your only friends are the prickly cacti on your kitchen counter. You also won't need a CRM if you don't run a business. Otherwise?
Control freaks, eat your heart out!
CRMs are intense and robust, and most let you add as many fields as you want. You can track your clients' favorite colors, their Pinterest inspiration boards, their birthdays, their…allergies… (though we don't recommend you go too gung-ho on the tracking. For some reason, it's considered "creepy" to track all those things).
If you're a photographer: Use a CRM to track all of your clients, and keep their e-mail in your CRM so that you can send out seasonal package or promo information. You can also keep handy "mood boards" in their file by uploading an image or entering a link to their Pinterest.
If you're a salesperson: If you want to catch those commissions, you have to connect with customers (ha). Categorize your leads to prioritize the ones that are the simplest to close, and keep notes on your conversations with each customer.
When you can click on their name, you can remind yourself about their pain points, their concerns, and their needs, so that you can really charm them and close the deal
If you're a commissions-based artist: Let's admit it. As creatives, we tend to be pretty scatterbrained. (I know I am). Sometimes, I'll agree to work on a project and then totally forget about it by the time the deadline rolls around.
That's ridiculous because every commission counts!
You can use a lightweight CRM that tracks your commissioners, the price, whether or not they've paid, the inspiration or references they've given you, and the deadline. That way, you can turn your work in on time and increase the chance of turning them into evangelists (ie, people who will enthusiastically refer their friends, family, and people they barely know to–you).
If you're a social recluse: Sometimes, having a little bit of order can make your day feel easier, especially if you struggle with anxiety or depression. When we get into sad, stressful phases or states of mind, it's very easy to fall down the rabbit hole and neglect personal relationships. By pushing yourself to track the relationships that matter most to you, you can cultivate a small sense of triumph by reaching out to friendships and "watering" the figurative garden.
What should I look for in a CRM?
Different products offer different solutions at different price points. Here are the main features you'll want to look at:
Lead and sales management: A really robust CRM can help automate the lead generation and follow-up process–if a visitor visits a certain page on your website, for example, and enters their e-mail to receive a freebie, you can follow up with them and cross-sell or upsell your services.
Preset emails and tasks are a godsend–if you're a salesperson, you'll definitely want to look for a CRM that can help guide prospects through the sales pipeline.
Marketing: Some CRM SaaS have built-in marketing tools, and others keep them separate.
If you do a lot of outreach, then it can be helpful to seek a CRM that lets you save e-mail and outreach templates, in-app messaging, and even some project management tools.
E-commerce: Few free CRMs offer built-in E-Commerce, but there are a few unicorns out there that let you integrate your CRM with an e-commerce platform through a 3rd-party service or API.
Reports and analytics:
How many leads are you converting each month?

Where are they coming from?

Is there a certain lead source that you're neglecting?
CRMs with reports are especially fun because they document exactly how you can improve. Nothing is better for increasing revenue than cold, hard numbers that reflect how well you're doing. Except, maybe, exportable reports that you can save as PDFs or Excel files.
Customer service: Whether through an online chat box or a call center, some CRMs offer customer service so that you can reach out to customers without ever leaving the site.
Project management: The process of closing a deal has a number of steps and tasks for you to fill. Really handy CRMs can help you consolidate your workflow by collecting all of the tasks from each individual customer, and connecting them one easy page for you to check off. It'll give you a tiny dopamine rush from ticking the box, and it'll reflect the change in the customer's file.
Best Overall Pick: Hubspot
Okay, let's just be honest about Hubspot. It's complex, it's robust, it offers marketing and sales tools, plus a bevy of free online classes and certifications so you can master marketing (or at the very least, get a handle on it).
Best features:
A totally, eternally free plan with the must-have basic features

Great for microbusinesses and larger companies, because pricing tiers scale reasonably

Easy and intuitive, can import an Excel/.csv file

Trustworthy and reliable, with great customer service

Click to call, and recordable calling

Templates for landing pages, e-mails, landing pages, and more

Just streamline the entire sales process with one handy system
HubSpot is virtually risk-free. If you're a small- or medium-sized business owner, chances are HubSpot will fulfill all of your needs, and give you wiggle room to grow into its other features.
Cons:
Can be a little too intense for the beginner

Pricing tiers are confusing
Best for: Control freaks and data junkies who need all-in-one solutions or complex info storage
If you prefer for your business solutions to be as simple as possible, then HubSpot is probably not going to be the best choice for you.
It spoils you with a plethora of features, and the abundance of choice can be horrifyingly overwhelming. HubSpot is the best choice for you if you do a lot of outreach and sales.
The best lazy, quick n' easy CRM: Airtable
For a time, many people had to make do with Excel or Google Sheets. Both two very valid and robust tools, of course–but they're not ideal as CRMs. Google Sheets didn't support file upload until very recently, and it's nowhere near as pretty or responsive as Airtable. (Google Sheets tends to lag if you have too many rows).
Airtable is a relatively new addition to the CRM market, and it's fascinating because it was never designed to be a CRM. It's marketed as the lovechild of a database and spreadsheet.
Best features:
View rows as cards with featured images, kind of like a virtual contact book with way more information.

Responsive and super-easy to use and import from.

New features are constantly being added, and it's just fun to use.

Mobile apps make information easy to access wherever you are.

Customizable fields such as checkboxes, attachments, single/multiple select, formula, URL
I use Airtable to track my own side projects, and it also helps me keep track of a small community I run. I don't like to spend too much time messing around with the business solutions I use, so Airtable was a natural choice for me.
Cons:
The free plan is limited to 1,200 records (aka rows) per base. So if you have thousands of contacts, you'll have to upgrade to one of the priced plans. The Plus plan is $10 per user per month and offers e-mail support and more records. The Pro plan costs $20 per user per month and offers something called "Blocks", which really increases functionality (but isn't necessary).

Custom branded forms, personal views (locked sharing based on clearance level, so you share the right information with the right people), and advanced calendar features are limited to Pro plans.

2 weeks of revision history with the free plan, unlike Google Sheets (which is virtually limitless). Plus plan: 6 months of revision history. Pro plan: 1 year of revision history.
Best for: Tiny and small business owners who like to see everything at a glance, and want to collect information quickly through built-in forms.
AirTable's learning curve is virtually nonexistent. It works like a better Excel. What's not to love?
The best for lazy geniuses: Salesflare
Salesflare is billed as an "intelligent sales CRM for startups who thrive on technology." It is clean, with a beautiful and modern design, and more importantly: it does a lot of heavy lifting so you don't have to.
Best features:
Automated data input is stunningly intuitive and actually helpful. Salesflare collects information from your e-mails–no manually inputting addresses, phone numbers, etc.

Seamless interactions with other programs and services.

Automatic document organization by client.

Super-smart kanban board that tracks clients in each stage of the pipeline.

Auto-stalk your customers–Salesflare can pull their social media information.

Works seamlessly with Outlook and Gmail.
With all these amazing features, it's clear that Salesflare will definitely save you time. The main con, however, is the pricing: the minimal plan costs $30 a month, and there is no free plan for people to use.
That means Salesflare will be best for you if you already have established, reliable income streams, and if you handle a lot of relationships each month.
Feel free to test out different CRMs before making a. permanent migration: ideally, the perfect CRM isn't the prettiest one or the one with the most features, but the one that you'll actually use.
Figure out what works best for your workflow and your needs, rather than getting caught on what people say you should use.