Let's face it, if you're not project tracking, you're not being as productive as you thought. As a project manager, it's your job to keep track of all the projects your team handles. There are many benefits to project tracking:
Gives insight into the progress of the project

Allows you to better adjust budgets and schedules if needed

Helps keep track of hours worked on the project

Everyone better understands their role
Of course, there's plenty of software out there to help track your projects, so it can be a bit confusing when you're looking for the right one. Today, we'll discuss some of the best project tracking software the internet has to offer, and hopefully you'll get a better grasp on what you and your team need.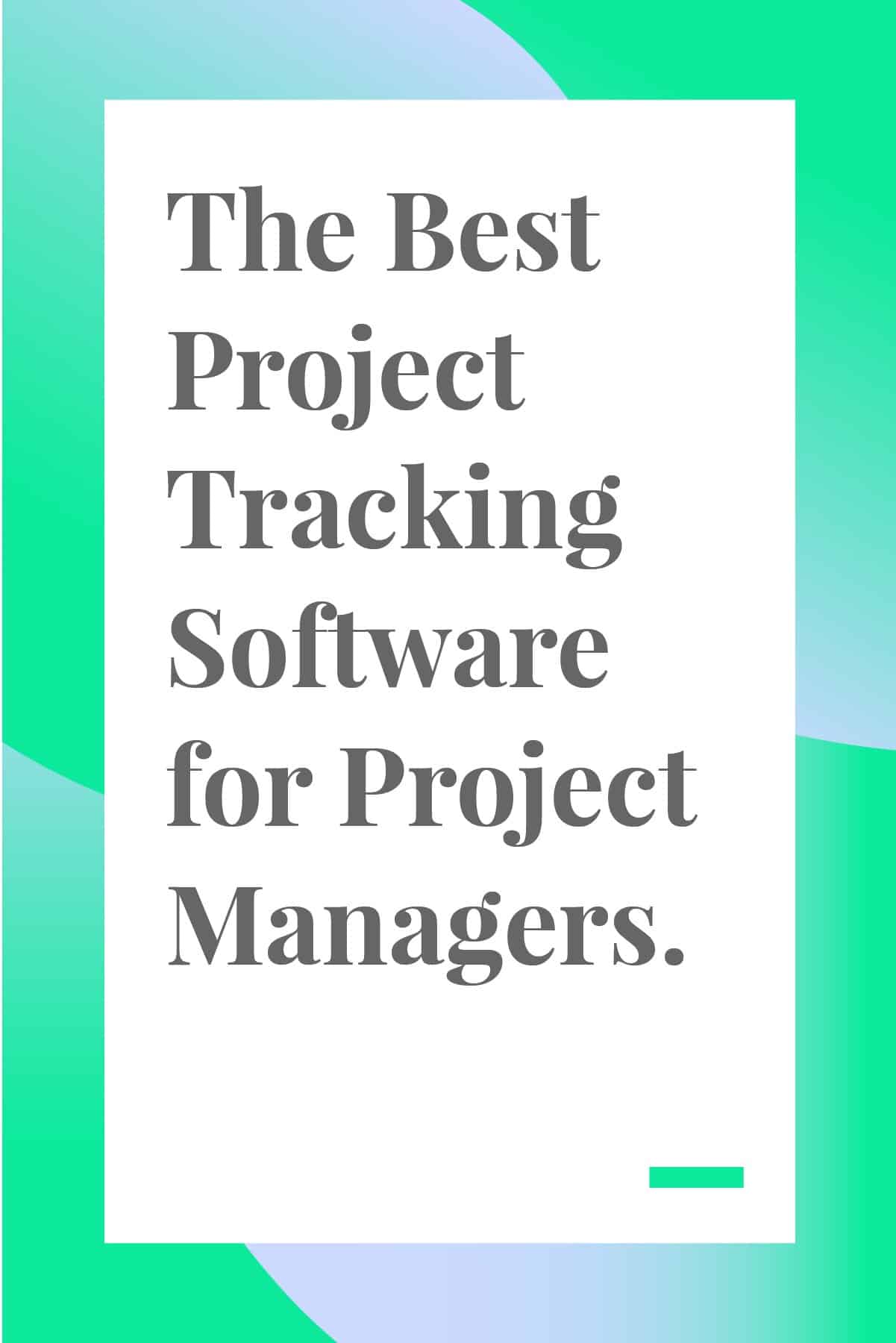 Toggl Plan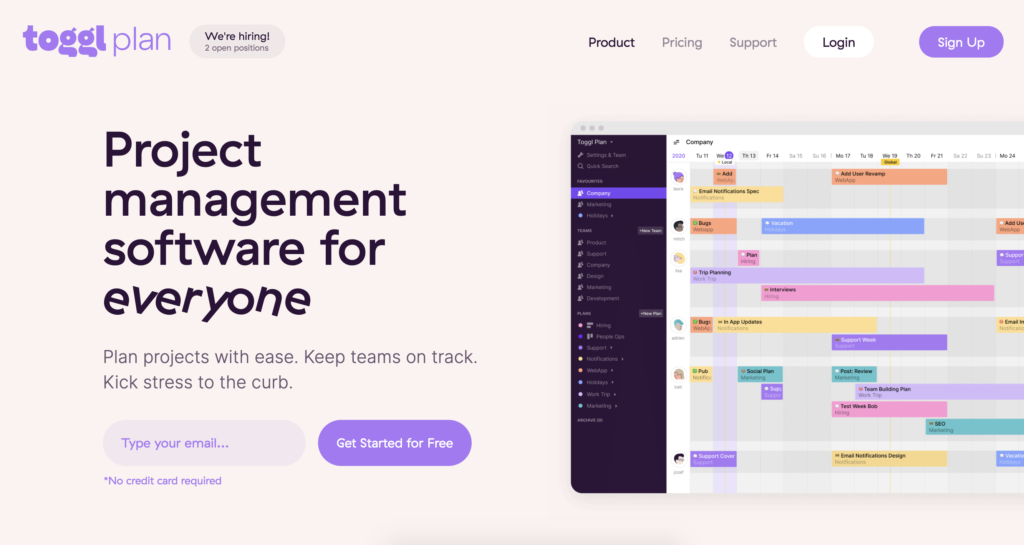 We're going to start this topic off with the best solution for all your project tracking needs. Toggl Plan is a feature rich, Gantt-style software that is designed to make everyone on the team's job much easier. The software includes a variety of features that really make it the perfect choice. When you sign up for Toggl Plan, you'll find:
With a team timeline, everyone has a visual schedule, so they never get confused about what they need to do.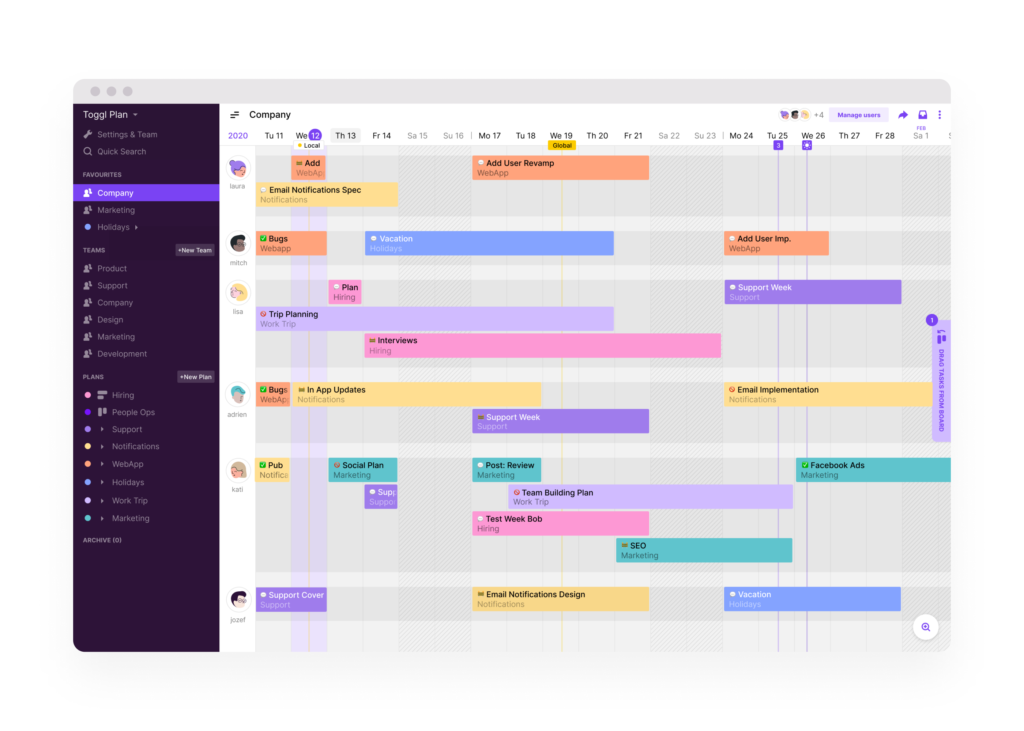 You can schedule and zoom out to get a helicopter view for the week, month, next three months, or even the entire year.
Create visual roadmaps and share them with your team.
Stay ahead of the game and see exactly what everyone is up to.
You can share timelines with anyone on the team.
Integrate Slack to get notifications and import all your plans to your daily calendar using the Google Chrome extension.
Milestones allow you to break down long and complex projects into more bite-sized pieces.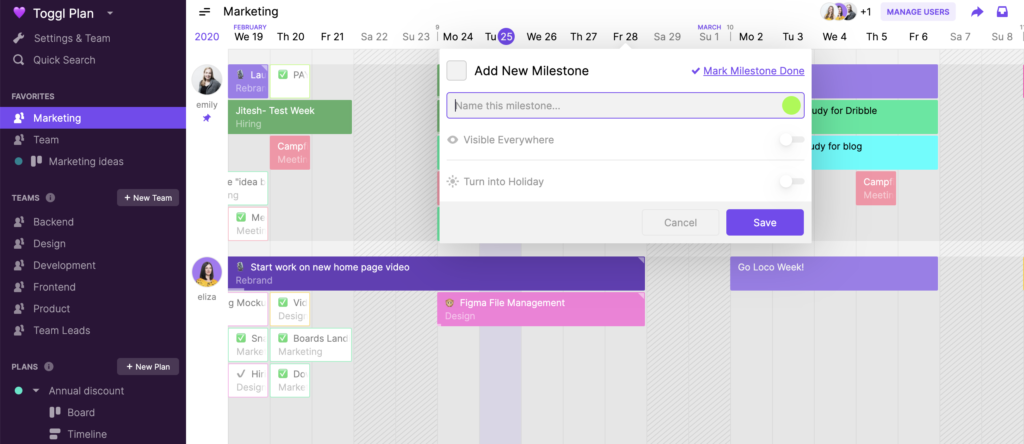 Everyone needs a little flare. With the custom color feature, you can color code your timeline for better visuals.
It's easy to see why Toggl Plan is the #1 choice of many teams around the globe, big or small.
Trello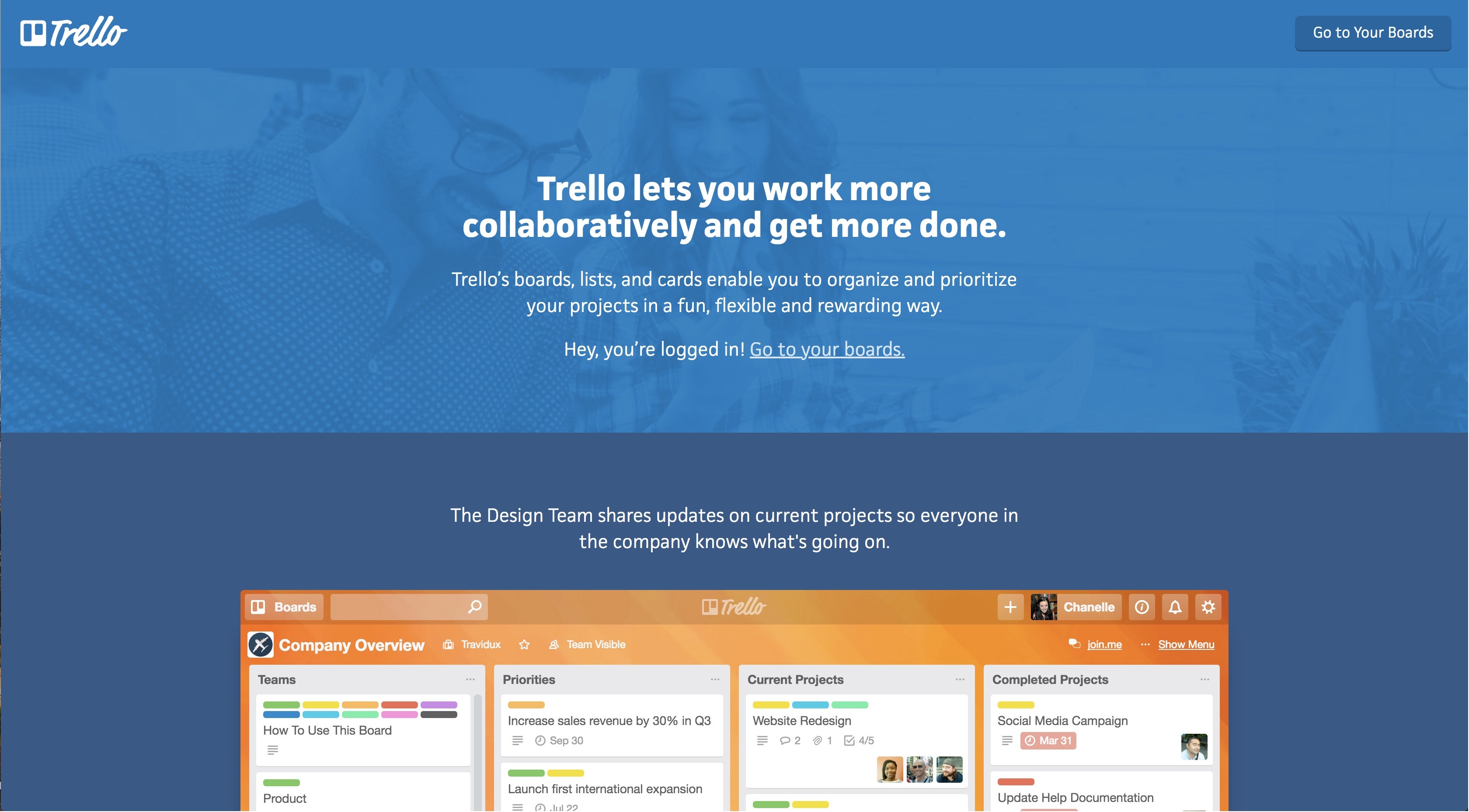 Trello is a project tracking software that prioritizes fluid workflow. The interface is laid out in a left to right, board style to-do list that can be customized to meet the needs of your team.
The best feature Trello has going for them is that they have a free version that offers a ton of nice features. With the free version, you'll get:
Access to unlimited boards, lists, cards, checklists, and attachments.

The ability to have unlimited members.

The ability to attach files up to 10MB from your computer, and the ability to link any file from Google Drive, Dropbox, Box, and OneDrive.
There are two more, highly affordable packages that offer more features, more memory, and more integrations.
Timr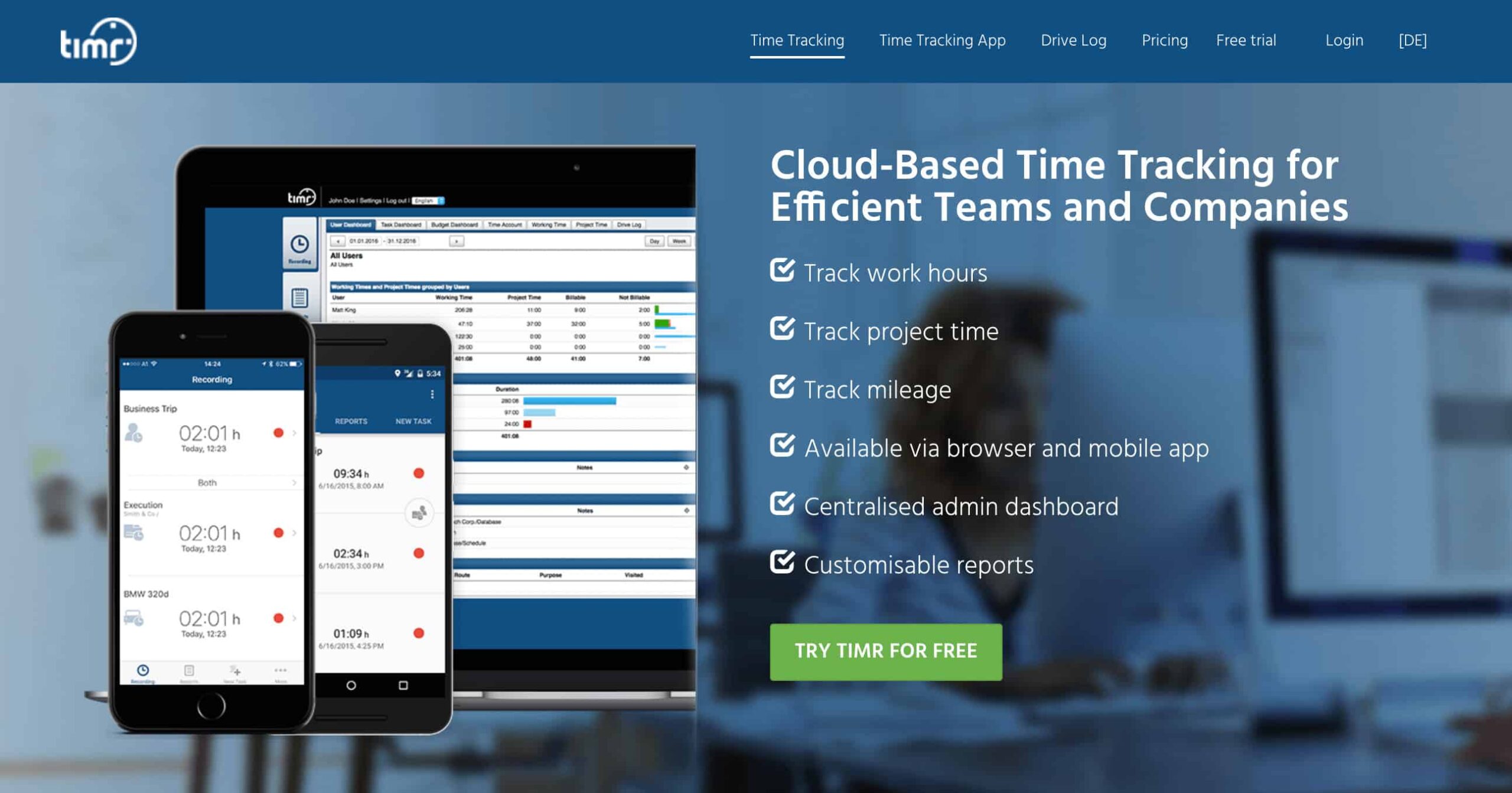 Sticking with the time tracking software theme, let's talk about Timr. Timr is a comprehensive time tracking software that keeps up with your needs. It's an easy way to track time for work and individual projects.
There are a few things to keep in mind when using Timr. For one, it does not offer a free version. The base package is about €8 a month, and doesn't offer too much. The real meat of Timr is in its Enterprise package. With the enterprise package, you will be paying a €79 base fee as well as an additional €8 per person per month. However, this package offers a ton of helpful features that are sure to wet your appetite. Some of those features include:
Work time tracking

Project time tracking

Mileage tracking

Mobile apps on every major operating system

Hostings, updates, and support

Budgets

Set hourly rates

Budget warnings

Advanced user permission

Team tracking

Custom fields
For many teams, something like this may not be the most cost effective software to use. But, if you don't mind spending the extra cash, and it doesn't break the budget, it's definitely worth looking in to.
Active Collab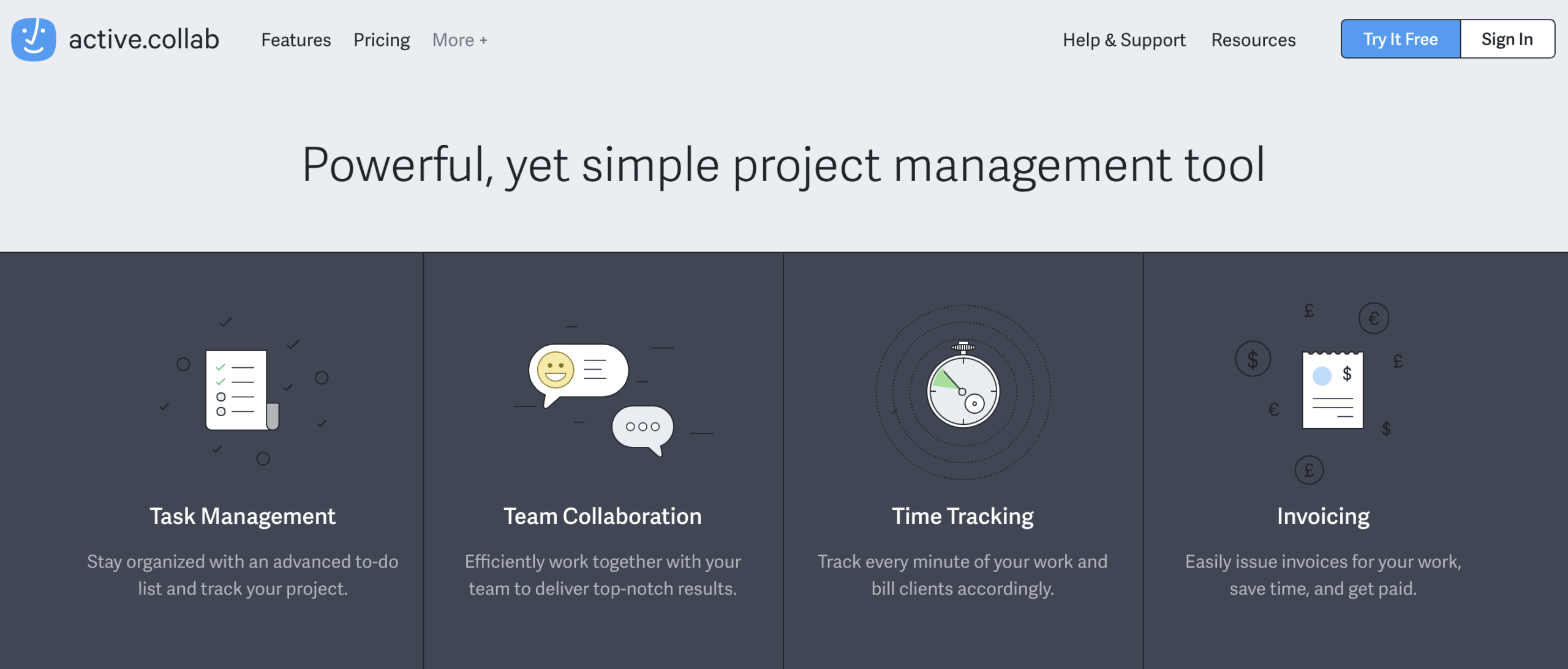 Active collab was designed with one thing in mind: team collaboration. Since they've just released their newest version, the software is now a very powerful and useful tool.
If you're looking for a medium range online tool to help with project tracking, then Active Collab might be the software for you. Although it doesn't offer as much as other softwares like Teamweek, it does offer quite a lot for its price. For just $25 a month, you get access to:
Team collaboration software

Basic project task management tools

Time tracking tools

Importing expenses
Again, it's not a super long list, but it's certainly a great option for some teams.
The summary
Whether you're new to the project managing field, or a veteran, you need project tracking software in your life. Each team has their own needs and the industry you're in greatly plays a part in deciding which software to use, but here's the basic rundown:
Toggl Plan is an all inclusive, feature rich, highly affordable software for any size team. It's widely used across the world by big name companies and small teams alike.
Trello is a great tool for remote teams. Most teams use it because of its free version, but the paid versions offer a lot of helpful features as well. If you're looking for a nice and simple software, and don't need any sort of time tracking, roadmapping, or advanced task management tools, Trello is a great option.
Timr is an advanced time tracking software that works really well for big remote teams. It offers a ton of useful features, but it's not free. If you need a really advanced time tracking software, and aren't concerned with spending a little extra money, Timr could be right for you.
Active Collab is a great medium range team collaboration software that doesn't offer too much, but it's quite cost effective. If you're looking for a simple and not so advanced online tool at a decent price, Active Collab could be the one for you.
There are tons of helpful project tracking softwares out there, and it can be hard to find the right one. Do as much research as you can before making a big purchase, and always do what's best for your team.
Like many other people, Zach McDaniel gained his knowledge of management and project management through research and necessity. He believes that the most interesting thing about project management, management, and productivity is that there are so many different strategies, so there's always something new to learn and share.