Every project starts with a plan.
But how does a blank document become a solid, detailed project timeline? How do you present your ideas in the most coherent, logical way? Where do you start?
It helps if you have a framework to build upon.
Project timeline templates can provide that initial plan structure, spark some ideas, and get you going quickly.
We'll show you a couple of useful free and paid project timeline templates, each with context including:
What they look like
Who and what they're good for
Pros and cons
But before that…
How to create custom project timeline templates in Toggl Plan?
Boilerplate templates are often either too simple or too complex for your needs. And more often than not you have to change a ton of things before you can fit a template to your project.
That's why, instead of templates, Toggl Plan comes with a "Duplicate" feature.
With this feature, you can duplicate any of your existing project timelines to create a new timeline in a couple of clicks.
Once you've created a duplicate plan, you can:
Drag and drop tasks to adjust the project's timeline
Create color-coded milestones
Assign tasks to new team members right from the timeline
Add task-related information using notes, checklists, and file attachments
Collaborate on tasks to "@" mentions and feedback comments
Now that you know how to create your own timeline templates in Toggl Plan, let's get on with the templates.
1. Microsoft Excel project timeline template
If you want to share project milestones visually with project stakeholders, Excel has an inbuilt project timeline template. You can find this template by searching for "project timeline" when you create a new Excel spreadsheet.
The best thing about this timeline is that most project teams already have access to and know how to use Excel. So getting started with this template should be a piece of cake.
A few clicks and you're ready to track phases and milestones like a pro.
But what if you're not so well-versed in Excel? Don't worry—you can see how to create an Excel project timeline template here.
Be warned, though, that this template falls short as you dive into the details of the project and start planning individual tasks.
And we wouldn't recommend using this as a long-term solution for a growing company.
By the way, if you need a more detailed plan for your team, we recommend you use the "Project timeline with milestones" template from the Office library to create an overview of the entire project.
It creates a simple chart that's automatically updated as you change the timeline information.
Super straightforward.
Summary
Pros
Cons
Pricing
• Track project milestones
• Little to no learning curve

• Lacks collaborative features
• Hard to track changes
• Not a long-term solution, especially if you're juggling multiple projects
Free with your MS Office license or subscription
2. Microsoft Word project timeline template
MS Word doesn't give you a lot of options, but it's quite useful for printed reports.
This "Business Timeline" template is your best shot. It's the high-level timeline you'd show the clients at the beginning of your project planning, so they know what to expect.
For example, if you're a software company and you're communicating the early roadmap of your two-year project, this template is sufficient. After all, your client just needs assurance you'll deliver the product on time.
This project timeline template will help you build this trust with the client.
But in terms of your internal team management, the Business Timeline doesn't give you what you need:
A visual overview of everyone's schedule in the same place
Task timelines with individual due dates
Scheduling conflicts with other projects or employee time off
A way to track progress
So you'll need a different solution for that part of the picture.
Summary
Pros
Cons
Pricing
• A simple overview of your project timeline for clients
• Easy to create
• No learning curve
• Limited functionality; not useful for team timeline management
Free with your MS Office license or subscription
3. Powerpoint project timeline template
Office Timeline is a free PowerPoint add-on that lets you start with a "timeline from scratch" to save and reuse a custom template.
But if you want to kickstart your planning, you can use one of their free pre-made PowerPoint templates like the "PowerPoint Timeline:"
This template shows the standard elements like:
Key project milestones
Tasks with due dates
Project progress via "% complete"
You can easily adjust it to reflect your business and update it as you make progress. If you're already a PowerPoint user, this could be the perfect choice for you.
Overall, it's a good visual for keeping all the stakeholders in the loop, but functional for team use as well.
Summary
Pros
Cons
Pricing
• Easy to use
• A great project overview for the stakeholders
• Functional for task-level planning
• Basic functionality is free, but the full package comes at $59 for a one-year license
• Free for the basic option
• Starts at $59 for a one-year license
4. Google Docs project timeline template
Google Docs doesn't have any native project timeline templates.
But if you still want to create a project schedule in Google Docs, you have two options:
Create your own template manually
Import one from a third-party template provider site like Template
Even if you're building your own from scratch, you can still look at the readily-available project timeline templates for guidance and inspiration.
Here's an example of a DIY timeline template in Google Docs:
Learn more about creating project timelines in Google Docs.
Summary
Pros
Cons
Pricing
• You probably already have Google Docs and know how to use it
• Collaborate using comments
• No native templates
• DIY-ing takes a bit longer
• No workflow capabilities or dashboards
Free with your Google Workspace subscription
5. Google Sheets project timeline template
You can find this template in the "Project management" section of Google Sheets templates.
The "Project timeline" template is best suited for managing client-facing engagements. For planning team tasks, the "Gantt chart" template is a better choice since it enables you to dive deep into the details. Gantt charts are similar to project timelines, but they offer a more detailed, task-level overview of the project.
This project planning template allows you to:
This Google Sheets Gantt chart template comes with a progress indicator to see what percentage of work on a task is completed.
Overall, this Google Sheets template is definitely a better, more functional option than some of the previous items on the list.
Summary
Pros
Cons
Pricing
• Easy to use
• Color-coded
• Task priorities, dependencies, and due dates
• Ease of use depends on your team's expertise and experience with Google Sheets and project planning
Free with your Google Workspace subscription
6. Google Slides project timeline template
Google Slides is intended for presentations. It can be useful for creating convincing, inspiring, beautifully laid-out plans and reports.
But it's not so well-suited for day-to-day work.
So it's not really surprising then that Google Slides doesn't have native timeline management planning templates.
But, when you want to create a presentation for the stakeholders and show them your vision of the project in Google Slides, there are plenty of templates you can import, so you don't have to start from scratch.
Like this template by Envato Elements:
You can download it for a quick start, or use it for inspiration as you build your own Google Slides timeline template.
Summary
Pros
Cons
Pricing
• Beautifully designed layout
• Easy to use
• Professional-looking presentations
• Not suitable for managing team timelines
• No tracking, reporting, or updating capabilities
$16.50 per month Envato subscription
7. Wrike Project timeline template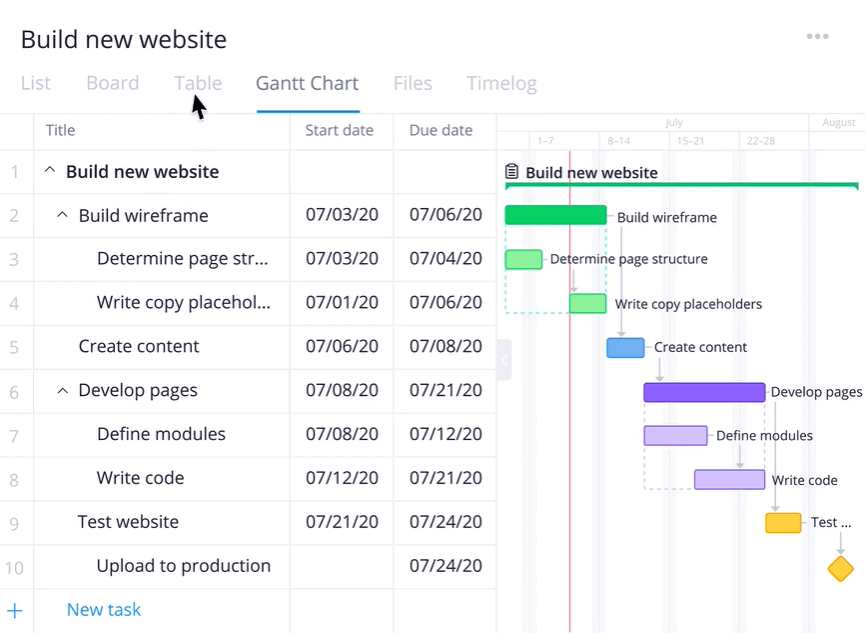 Wrike's Gantt Chart breaks down your project into sections with tasks and due dates, but then it goes a bit further:
You can adjust and manage your tasks and items as you go (it's not static)
Generate real-time reports directly from the board
Have a clear overview of the upcoming period
Summary
Pros
Cons
Pricing
• Interactive timelines
• Real-time reports
• Visual overview
• Not available on the free plan
$9.80+ per user/month
8. Preceden Project timeline template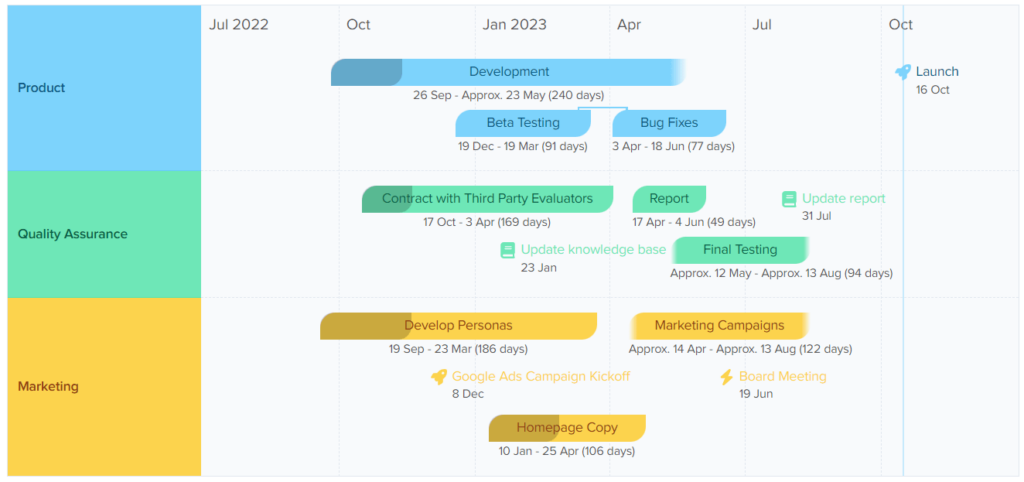 What do Netflix, Slack, and NASA have in common?
This timeline planner, apparently.
Preceden is a timeline maker known for its ability to turn complex projects into clear processes—fast.
Add your team to the same board, collaborate on tasks, identify gaps between original estimates and reality, and solve problems before they derail your project.
Summary
Pros
Cons
Pricing
• Collaboration features
• Dependencies,
• Approximate due dates
• Bulk editing
• Overwhelming for small agency teams
$20+ per user/month, billed annually for the Business plan
9. Teamgantt Project timeline template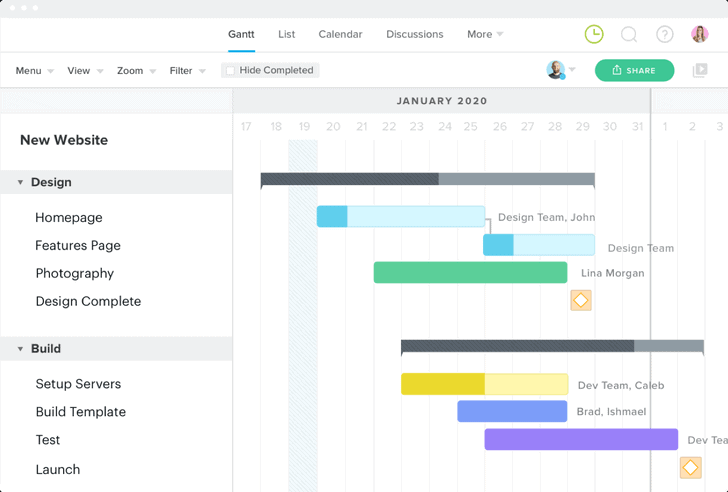 To nobody's surprise, TeamGantt offers a fantastic Gantt chart to make your project timeline planning simple and efficient.
It's drag and drop timeline helps you create:
Tasks and subtasks you can duplicate for no double work
Dependencies, so you work in the correct order
Milestones for important meetings, tasks, etc.
You can switch between Gantt, calendar, and list views. Thus making it easy to plan and manage tasks in one place.
TeamGantt also allows you to stack up your progress against your original estimate, so you instantly know where you're at.
Summary
Pros
Cons
Pricing
• Drag-and-drop editor
• Collaborative features
• Gantt, calendar, and list view
• Overkill for creative agencies
$19.90+ per user/month
10. Zoho Project timeline template
Zoho's Project Timeline Gantt is convenient and interactive.
It lets you create and edit milestones, quickly extend or shorten deadlines, and visualize project tasks.
In addition, this project management timeline template is easy to update on the spot and has the "% completed" bar.
However, it's not available for free. To access the Project Timeline Gantt, you must be on one of the paid plans.
Summary
Pros
Cons
Pricing
• Interactive and convenient
• Team workflow management
• Visual overview
• Only on paid plans
$5+ per user/month billed annually
Frequently asked questions
What is a project timeline?
A project timeline is a chronological overview of your project's tasks and milestones laid out on a horizontal timeline. Project timelines can be used for planning projects or for managing your team's schedule and tasks.
What is the best tool to create a timeline?
You can create a project timeline using templates, timeline software, or in some cases, even paper and stationery.
How to create a project timeline?
To create a project timeline:
• Finalize the project scope
• Identify the tasks that need to be done to complete the project
• Estimate the time required to complete each task
• Layout tasks on a timeline in order of their dependencies

Learn more in our article: How To Create A Project Timeline In 8 Actionable Steps.
How do I use a project timeline?
A project timeline is a visual tool that has many applications. You can use a project timeline to:
• Communicate project schedule to the team and the stakeholders
• Track planned vs actual project progress
• Identify bottlenecks in the project's schedule and fix them
Kick start your next project with a project timeline template
A project timeline template helps you get your project planning off the ground quickly.
Depending on your goal, there are ready-made templates available today.
Powerpoint and Google Slides timeline templates for presentations
Microsoft Word timeline templates for project proposals
Gantt chart templates for task-level planning in Excel and Google Sheets
In addition, there are a number of online tools that can help you create project roadmaps and detailed timelines collaboratively.
Whatever tool or template you choose, it would make sense to learn more about creating project task lists and project milestones next. Happy planning!