Finances are the heart of every business (and staff, of course). It doesn't matter if your company consists of three people in a garage or a 200-person team based in Perth, Australia; you need someone who has the knowledge to wrangle in those stray numbers.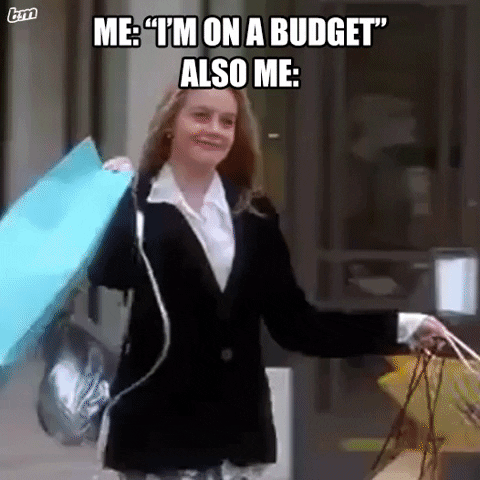 And that someone most likely goes by the title of a financial controller. No, really, you'll thank us after you hire one.
In this article, we'll reveal the key steps for successfully hiring a financial controller, talk about how the role differs from a CFO, and more.
What is a financial controller?
A financial controller oversees all of the accounting and budgeting. They analyze data, create financial reports, and advise senior management on financial decisions that optimize profitability. They also know the ins and outs of all financial transactions and accounting procedures.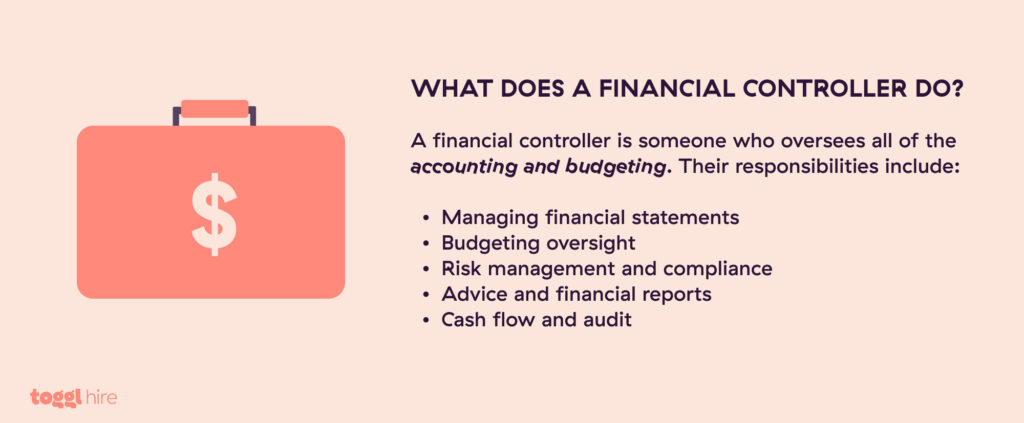 What does a financial controller do?
As the financial backbone of the organization, the finance professional in this position plays a critical role in the success of a business. It's best to know what a financial controller actually does, so let's tackle some of the responsibilities we just mentioned in more detail:
• Managing financial statements — The financial controller is in charge of generating reports and monthly financial statements for the C-suite and stakeholders.
• Budgeting oversight — They must collaborate with the heads of every apartment to ensure that all financial requirements, managing accounts payable and accounts receivable, and payroll is met.
• Risk management and compliance — The financial controller is in charge of identifying risks, adhering to all tax laws and regulations, and implementing compliance strategies.
• Advice and financial reports — They will provide financial advice to senior management (and will constantly be in meetings with the CEO), identify cost savings measures, and stay up to date with best financial practices.
• Cash flow and audit — These masters of SUM and GOOGLEFINANCE queries can forecast cash flow requirements, act as a link with the auditors, oversee internal controls, and authorize invoices.
What is the cost of hiring a financial controller?
Financial controller salaries vary widely by country, industry, and organization size. According to Salary.com, the median salary for a financial controller in the USA is $241 000 per annum, while in the same position in the UK is £177 000.
But it's not just about their salary, but rather a range of other factors around actually finding and onboarding the new employee. For example:
Recruiting and advertising
Much like any role, hiring a financial controller involves expenditure on advertising and recruitment, including fees for recruiting services, job postings, and background checks. Some of this will be alleviated by in-house hiring teams.
Salary and benefits
The 'Financial Controller' position is senior-level and thus comes with a generous salary and comprehensive benefits package, including healthcare and retirement.
Training and development
This may include on-the-job learning, attending workshops and conferences, and completing coursework.
Ironically, it's going to cost a lot of money to hire a financial controller. Hold on — before you close this article at the thought of coughing up revenue for a new hire — this is important.
Because excellent finance people will always be expensive — and you'll find that in this field, you get what you pay for.
But wait, how do I know if I need a CFO or a controller?
That's a very good question! To put it simply, a small or medium-sized business may only need a controller for day-to-day operations, while a large company with complex finances would benefit from a Chief Financial Officer (CFO) to integrate financial management into its objectives.
Why hire a financial controller, anyway?
Ultimately, hiring a financial controller will benefit your organization in many different ways. Let's take a closer look at some of them:
Expertise
Financial controllers possess deep knowledge of accounting and finance and are highly qualified to oversee a corporation's financial operations.
Risk management
They can identify financial risks to the organization and develop risk management policies/procedures to reduce them.
Team management
Financial controllers manage a team of finance professionals, providing resources, training, guidance, and mentorship as needed.
Support for senior management
A financial controller will analyze and interpret financial data to offer advice and guidance to senior management and stakeholders, empowering them to make informed decisions.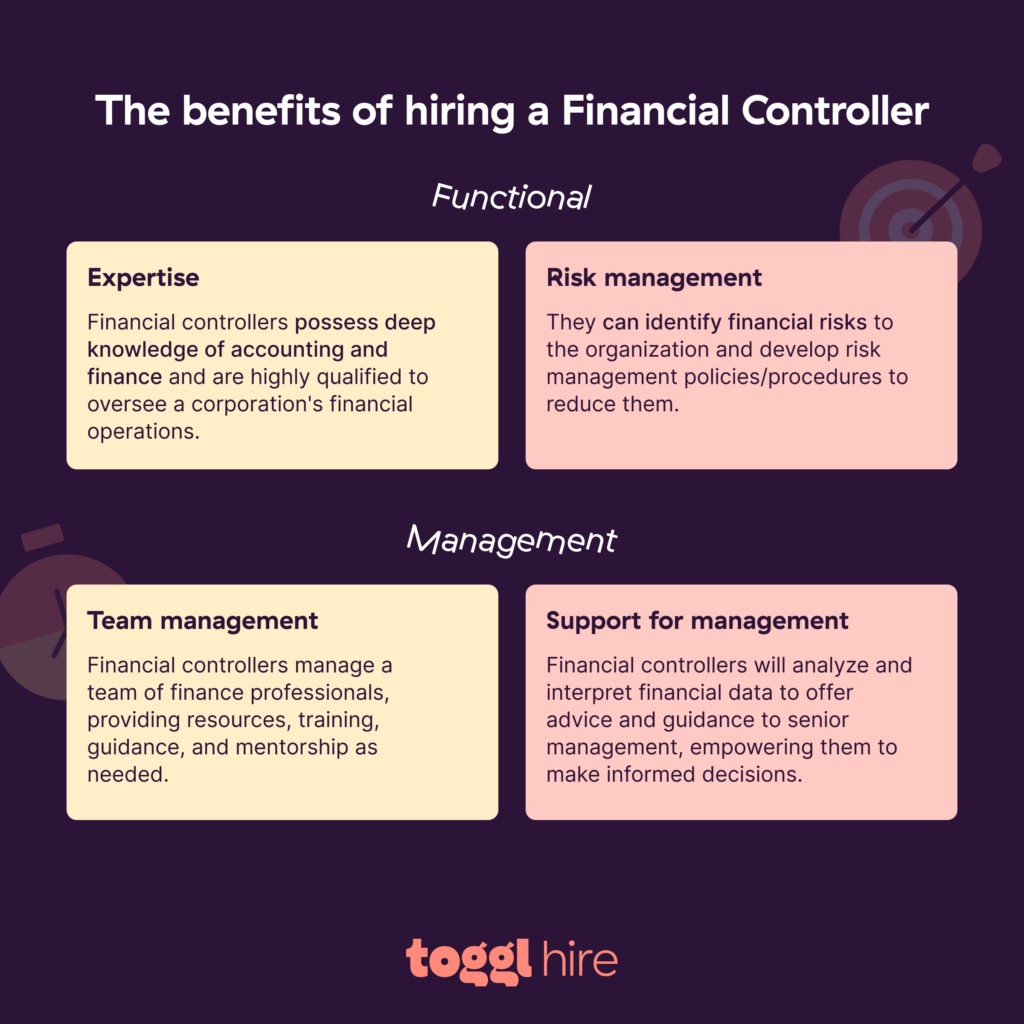 8 Signs you need to hire a financial controller
When is the right time for a business to hire a financial controller? Well, the answer varies depending on the stage of growth and financial complexity of the business, but there are several signs that suggest it's time to bring on a financial controller.
These include:
#1 – Business growth
A financial controller can help successfully navigate the complexities and financial stability during expansion and growth periods. This includes future growth and not just current rapid growth.
#2 – Forecasting and budgeting
Deciphering the future is difficult, which is why financial controllers are pros at forecasting and budgeting for goals.
#3 – Financial reports and analysis
An experienced financial controller can provide reliable, up-to-date financial information to management.
#4 – Compliance
Keeping up with financial regulations can be daunting, but a financial controller can ensure that the company remains compliant with all relevant regulations, including tax laws and accounting standards.
#5 – Improved financial management
Financial controllers can implement financial systems and controls, providing a higher level of financial management and accuracy to the company.
#6 – Long-term financial planning and strategy
A financial strategy and long-term financial plan are crucial.
#7 – Securing external funding
When a company requires external funding, a financial controller can assist in putting together the financial information and projections needed to secure funding from investors or financial institutions.
#8 – Cost control
Financial controllers help identify and control costs, thereby improving profitability and sustainability.
When should a startup hire a controller?
A start-up is ready to hire a financial controller when its finances become complex, and it looks to bring angel investors and VCs on board, is ready to launch in the market, or is preparing for an IPO.
Maybe you're a startup, right? Well, a financial controller might just be right for you, depending on which stage of growth the organization is in.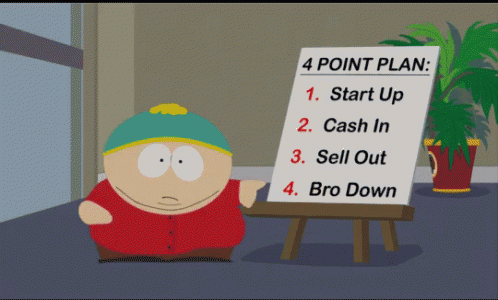 What skills to look for when hiring a financial controller
When it comes to hiring a financial controller, you want to make sure you're bringing on board the best of the best of the best! They should be leaders in accounting or business administration.
Let's dive into the special skills that hiring managers should be on the lookout for:
Education and experience
The ideal financial controller should possess both a finance or accounting degree and multiple years of experience in a similar role.
Technical skills
They should possess deep knowledge of accounting operations, financial reporting, and a variety of accounting software and financial analysis tools.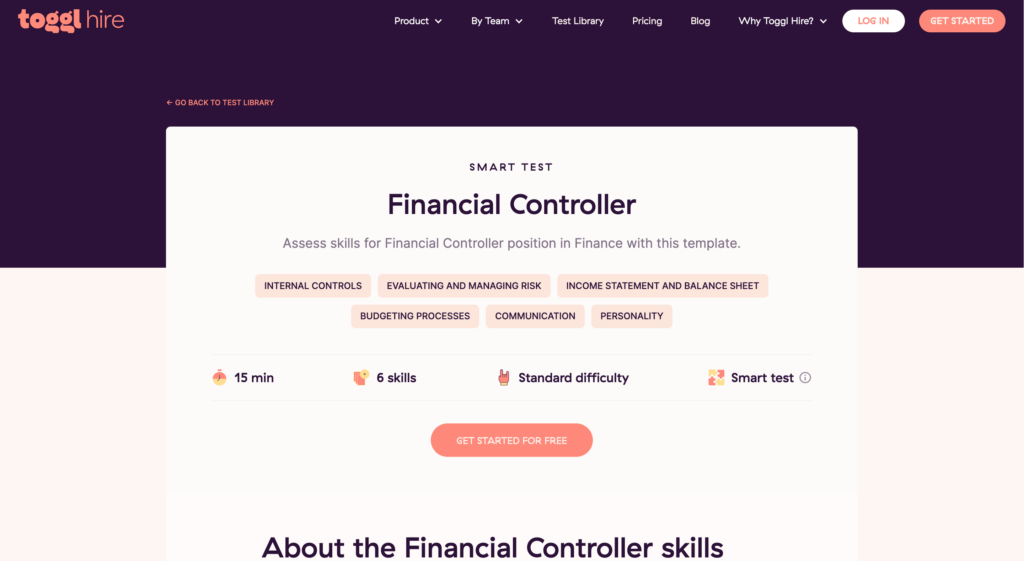 Leadership prowess
A strong financial controller should possess leadership skills, confidently leading an accounting department (or even a small accounting team) and effectively communicating with management.
Strategic vision
Financial controllers with a strategic vision can identify opportunities to increase profitability and efficiency.
Attention to detail
They must have an eye for detail to recognize and fix errors in financial statements before they cause disruption.
Compliance awareness
Your financial controller must be knowledgeable about legal regulations for your industry and remain dedicated to ensuring the company complies with these laws at all times.
Deciding between a full-time vs freelance financial controller
But what if you don't need a full-time employee? What if the financial needs of your organization don't justify another salary? You need to ask yourself if a full-time employee or freelance expert is right for you.
Besides the financial aspect, consider these examples:
| | |
| --- | --- |
| Considerations | Why it matters |
| Organization needs | Consider the level of expertise and experience required for the role. |
| Time commitment | Full-time hires require more time for recruitment, onboarding, and management. Freelancers offer project-based flexibility. |
| Scalability | A full-time employee is better equipped for complex financial operations and long-term planning. |
| Availability | Freelancers are available on a project basis. |
| Flexibility | Freelancers offer project-based flexibility, allowing the organization to scale work as needed. |
Where to find financial controllers
Now that you've realized that you need a financial controller, where should you start looking for one? Luckily for you, they're not difficult to find.
Here are the 4 core places you should be looking:
• Job boards and social networks — Glassdoor, LinkedIn, and Indeed are your friends here. If you need a bit of help, check out our article on targeted hiring.
• Employee referrals — Ask your employees if they know of any financial controllers looking for a new job.
• Professional associations — Financial controllers often belong to professional associations, such as AICPA, IMA, or CIMA.
• Universities and colleges — In general, financial officers will hold a degree in finance, and there are plenty of college graduates you can hire. Email a few tertiary institutions in your area and ask if you can put up job postings.
6 Tips to attract high-performing financial controllers
So, how do you actually attract these amazing financial minds to apply for an open position? Well, with benefits, perks, and compensation.
Consider all of these points when looking for top talent:
• Competitive compensation and benefits — Attract top financial controllers with a competitive salary, bonus, and stock options.
• Career growth opportunities — To motivate potential candidates, emphasize the potential career growth within the organization.
• Work culture — Organizations with positive, engaging work cultures attract top financial controllers. Showcasing company values, mission, and goals is key.
• Flexible working hours and conditions — Does your organization offer remote work, varying work hours, and what are the vacation policies?
• Professional development — Offer them the chance to learn through training or conferences, as well as through special projects that expand their abilities.
• Workplace benefits — From family planning to mental health support, you can read about all of it in our handy article on employee perks.
And that's not the end of it. Your organization will also need to work on its recruitment strategies for 2023.
Using skills assessments to select the best financial controllers
Skills tests, like the ones we at Toggl offer, are a great way to assess a candidate's capabilities before committing to a full-time hire. They allow you to identify who among your applicants possesses the expertise necessary to handle the job with confidence and accuracy.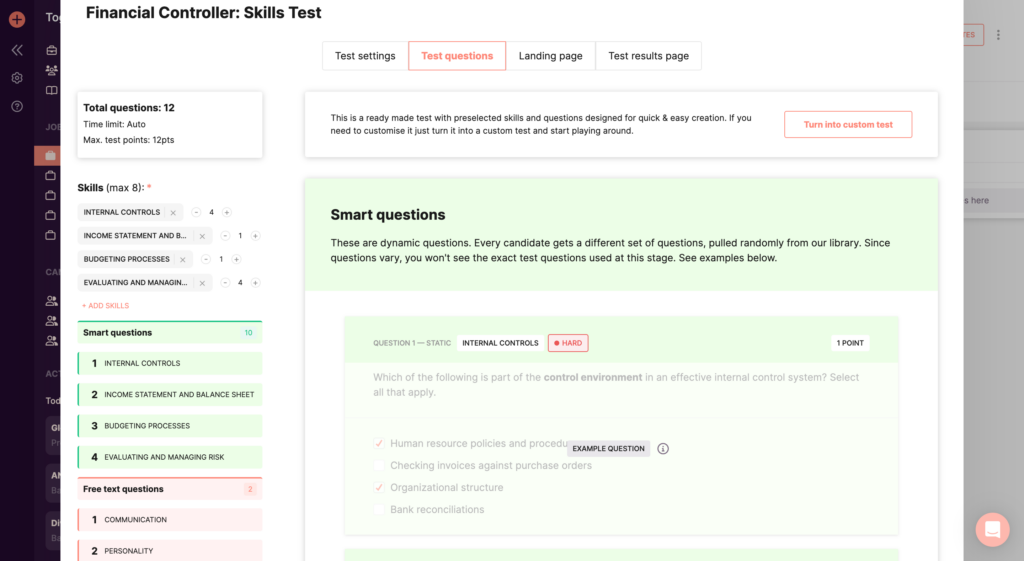 By including a skills test in your hiring process, you can quickly determine which financial controllers are the best fit for your organisation and hire successfully. All our pre-made skill tests were crafted by industry experts to help you hire the best financial controller for your organisation.
Launch your skill test in less than 2 minutes with a pre-built assessment template!
Juste loves investigating through writing. A copywriter by trade, she spent the last ten years in startups, telling stories and building marketing teams. She works at Toggl Hire and writes about how businesses can recruit really great people.