Usually, when hiring gets really tough, recruiters turn to targeted recruitment strategies.
Don't worry, though; the targeted in targeted recruiting has nothing to do with bad intentions 👀
The talent team is constantly filling stacks of different job types for the business. While some roles require a general blast to attract loads of candidates, others are better suited to a more laser-like approach.
Especially when you need talent for a specialized or niche role, look no further than a targeted recruitment strategy.
Already familiar with targeted recruitment? Skip down to the strategy and benefits section…
What is a targeted recruitment strategy?
A targeted recruitment strategy is a way of sourcing and hiring candidates for a specific role. This approach is useful when recruiting for roles that require a very specific background and skill set and tend to fit well with technical positions, such as a Laravel developer.
With targeted recruitment, the hiring manager can narrow down the scope of the candidate search and focus their recruitment advertising efforts, saving time and reducing hiring costs.
What does a targeted hire mean? And… is it legal?
A targeted hire is when the talent acquisition team source and hire someone to fill a very specific role or hiring need. Essentially, narrowing down your advertising efforts based on a specific differentiating factor, from geography to skills or experience.
But, if you take a look at the ethics of targeted hiring, you may find some mixed opinions. The very nature of targeted recruitment is to source candidates from a narrowed scope of potential job seekers.
And, as long as the process is inclusive to those who would be a good fit for the role, then you're on the right track. But, if it excludes people that could do the job yet are not made aware of the job — that is where the ethics could be questioned.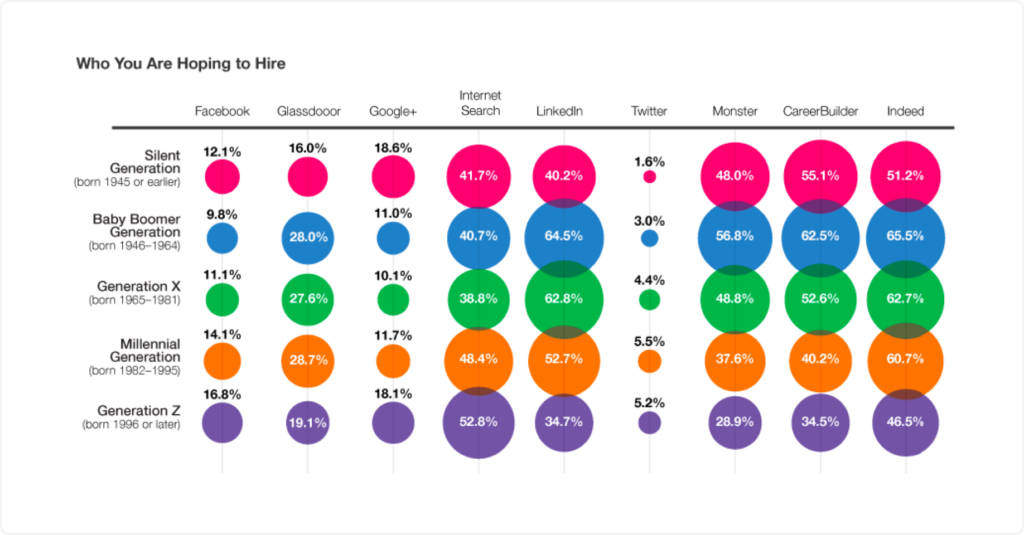 However, the main thing to realize is that it is legal. Even so, recruiters need to be careful when crafting their messaging for these job ads. The key thing is that the messaging must not discriminate on the grounds of age, gender, sexual orientation, race, religion, or disability.
How is targeted recruitment different from open recruitment?
Let's dive deeper into the difference between targeted recruitment and the other end of the scale — open recruitment — so you can distinguish whether you need a laser-focused approach or are seeking your treasures closer to the surface of the recruiting pool.
How do I know if I need an open recruitment strategy?
Open recruitment or open hiring is a very broad approach to talent acquisition. It opens up the recruiting floodgates to a tidal wave of potential candidates. This approach works best for generalist roles that don't require specialized experience or skills.
And this often involves using bigger job boards like Monster, Indeed, or LinkedIn, to get the word out far and wide. With this type of hiring process, companies often lean on their employer brand to attract candidates. For instance, Netflix, G2, and Apple could easily use their trendy employer brands to make quick and easy hires for trainable roles.
The downside of open recruiting is that it's more time-consuming as your team will have to sort through a much larger selection of candidates. Luckily, if open recruiting is what your team needs to do, you can still narrow down the selection using CV keywords or pre-employment skills tests. Automating the screening process will definitely make your team's life easier!
Or will a targeted recruitment approach work better for us?
So, how is a targeted approach different? Well, a targeted approach narrows the eye of the needle, where only candidates that have the necessary skills (and/or other requirements your team selected) will make it to the next step in the selection process.
When to use open vs targeted recruiting
Targeted recruitment strategies are especially effective for filling difficult or specialized roles. Roles that hinge on technical knowledge, like a nuclear physicist. Clearly, that's not something you'd trust just anybody to run with!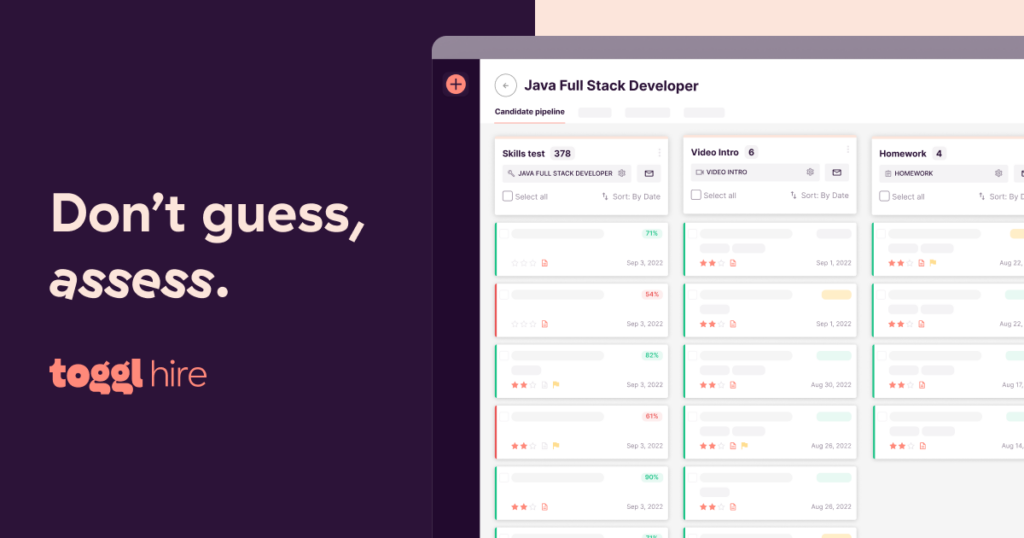 In contrast, when your organization needs to fill a position quickly, has entry-level roles, or roles where extensive training will be provided, like opening a new call center, then open recruiting is your go-to approach!
How do you create a targeted recruitment strategy?
The goal of a targeted recruitment strategy is to efficiently and effectively find the best candidates for the job rather than relying on a broad, general recruitment effort. And it helps to follow a strategy in order to successfully set this up for your team.
Let's take a look at some of the steps to create a successful targeted recruitment strategy:
Analyze and identify the specs for the role: including the specific skills, experience, and qualifications the person will need.

Create comprehensive candidate personas (based on your detailed job spec) to tailor the job descriptions and messaging so that it connects with that particular persona.
Connect with your target candidates where they are: on job boards, industry web pages, online groups, and in-person or virtual meetups, for instance.

Set specific goals for the strategy: such as higher diversity, lower employee turnover, and lower cost per hire. And be explicit in your goals, as that'll make it easier to measure your progress and recognize success.

Add in other core components: from budget to channels, interview techniques, and skills testing.

Track your metrics to see what can be improved: what are you tracking, where, and how? Each metric, like the employee acceptance rate, candidate experience, and quality of the channel, should be tied to your specific goals.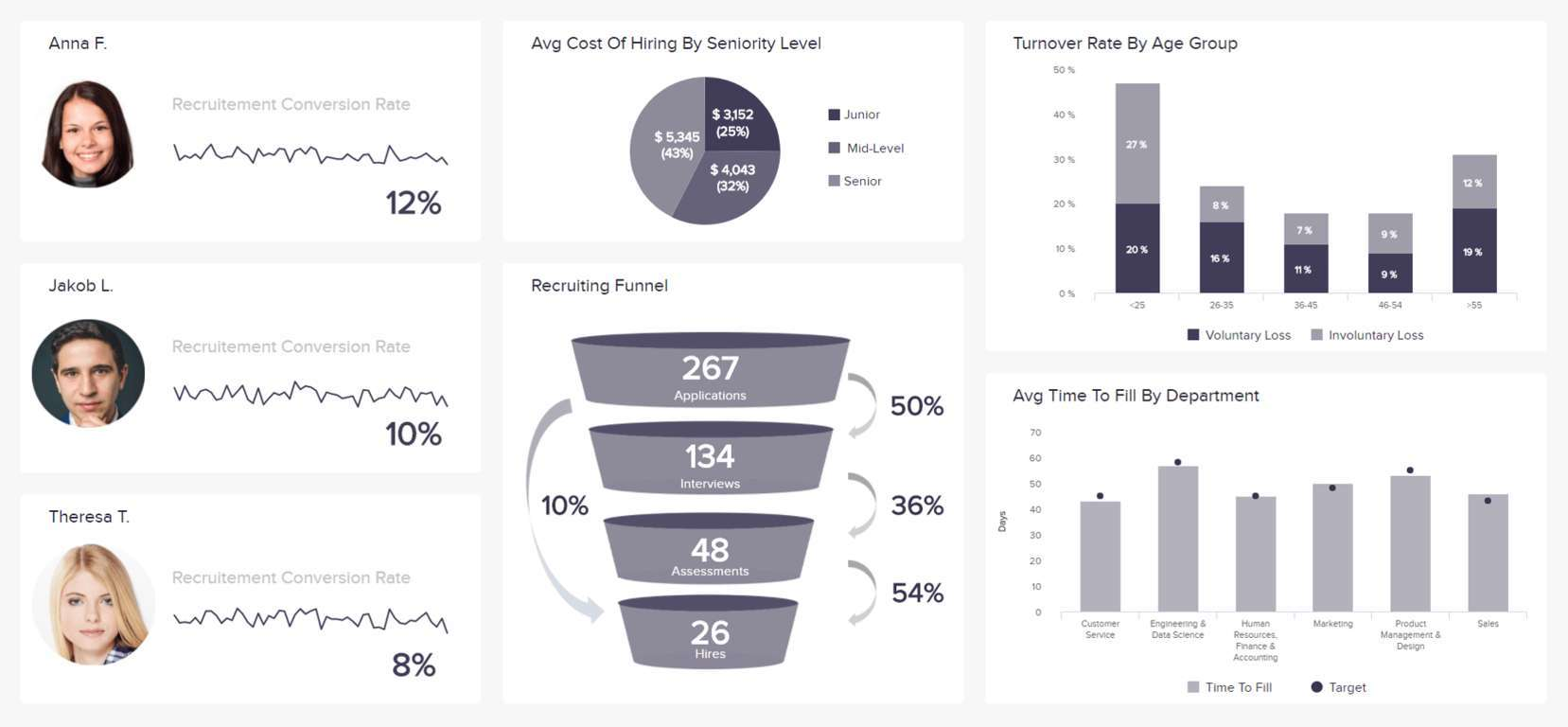 Bonus step: use employment market data to understand your hiring environment. For example, large layoffs in the tech industry will impact the competitiveness of the job market.
What are some common examples of targeted recruitment strategies?
Targeted recruitment is not used exclusively for sourcing the next exec for your business or for filling the more difficult technical roles. Let's explore the broader application.
Recruit from educational institutions
Recruiters do sometimes target colleges or high schools to find candidates. In this instance, you're probably wanting to fill entry-level or internship positions by recruiting at college campuses – or scouting for new recruits with a specific technical or educational background.
Other educational recruitment approaches could include targeting high schools for career development programs like Microsoft's High School Discovery Program.

Pros:

You'll get good quality grads that can feed into your junior-level positions
A good source for internships
Builds good employer branding
Lower salary cost

Cons:

Candidates have little or no experience
Possibly low emotional intelligence levels
Lots of screening (but we can help you automate that!)
Advertise job openings where your candidates are
If you've got a technical role to fill, you'd do well by posting your job ads on niche job boards, specialist websites, or in specific publications, trade journals, industry magazines, or their websites – for instance, the Snowflake community for fellow users of their cloud software.
Pros:

Gain qualified candidates that meet your specs
Candidates will more likely have the exact skills and experience you're looking for
Reduce hiring costs as you're screening fewer candidates

Cons:

Higher salary bracket
Less reach for your advertising efforts
Smaller group of applicants to choose from
Fill job openings with employee referrals
You can save on job advertising costs in your targeted recruitment strategy when you reach out to your employees for referrals. Plus, networking with professional organizations or institutions, like the International Federation of Accountants (IFAC), can also help you connect with the specialist talent you're looking for.
Pros:

Lower hiring fees
Building networks to streamline future hiring
Strengthening your employer brand

Cons:

Creating cliques within an organization
Handling fallout if a referred candidate is not selected
Where pay-for-performance fits in
A pay-for-performance compensation model is also considered a form of targeted recruitment. This is a performance-based program, usually used for roles such as sales or manufacturing, where more deliverables equal better pay.
Pros:

Good way to attract and retain top, qualified talent
Gives employees a greater sense of control

Cons:

Can shift focus to quantity rather than the quality of work
Risk of subjectivity in reviewing performance
What are the benefits of targeted recruitment?
Acquiring quality candidates for your organization is an important task. Whether it be for entry-level positions or roles that require a targeted recruitment strategy, you play a key role in helping the business grow and be resilient. Let's see what other benefits targeted recruitment has for your organization.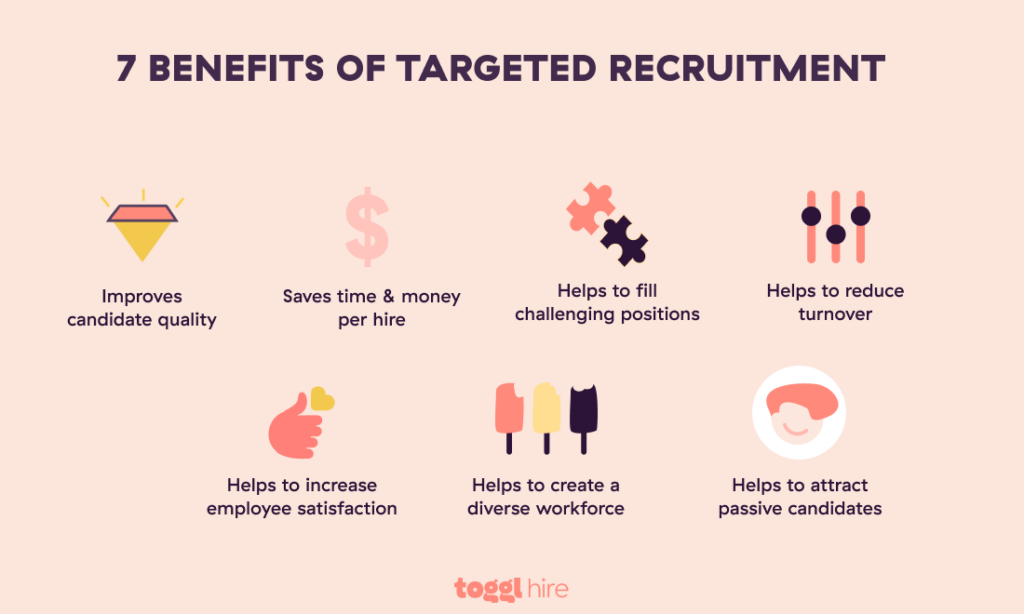 #1 – Higher quality candidates
A targeted recruitment strategy is the way to go if you need high-quality candidates that are competent and will be able to start producing value for the company in a short space of time.
Tips for hiring high-quality candidates:
It all starts with an attractive company culture
Seek out candidates with high emotional intelligence
Check your benefits are still relevant
Ensure a zippy application process
#2 – Save time and cost per hire
When the talent team leans on targeted recruitment methods, you're able to save time and reduce the cost per hire, as you're essentially screening fewer candidates.
Here's a recent example of calculating the one-off costs of hiring an employee using an internal HR Manager:
HR Manager 30 hours effort – $7,700
1-month job ad on Monster – $249
Basic background check – $50
IT equipment – $600
Training courses – $400
Employee support 20 hours effort – $6,000
New employee signing bonus – $2,000
Total – $16, 999
📚 Further reading: read more about the true cost of hiring an employee in 2023
#3 – Challenging and difficult-to-fill jobs
Some open positions that are very technical, like a Full Stack Developer, or unicorn-type roles like Community Manager at a tech company, can be damn hard to fill. (We feel your pain!) So, by targeting candidates that will already tick most of the job spec boxes, you can make your job a lot easier.
#4 – Reduce turnover
When your team can easily source skilled candidates from the applicant pool, you'll be getting closer to creating the dream team. Why? Because, adding the skills that are currently lacking will accelerate team performance and spark greater collaboration and innovation.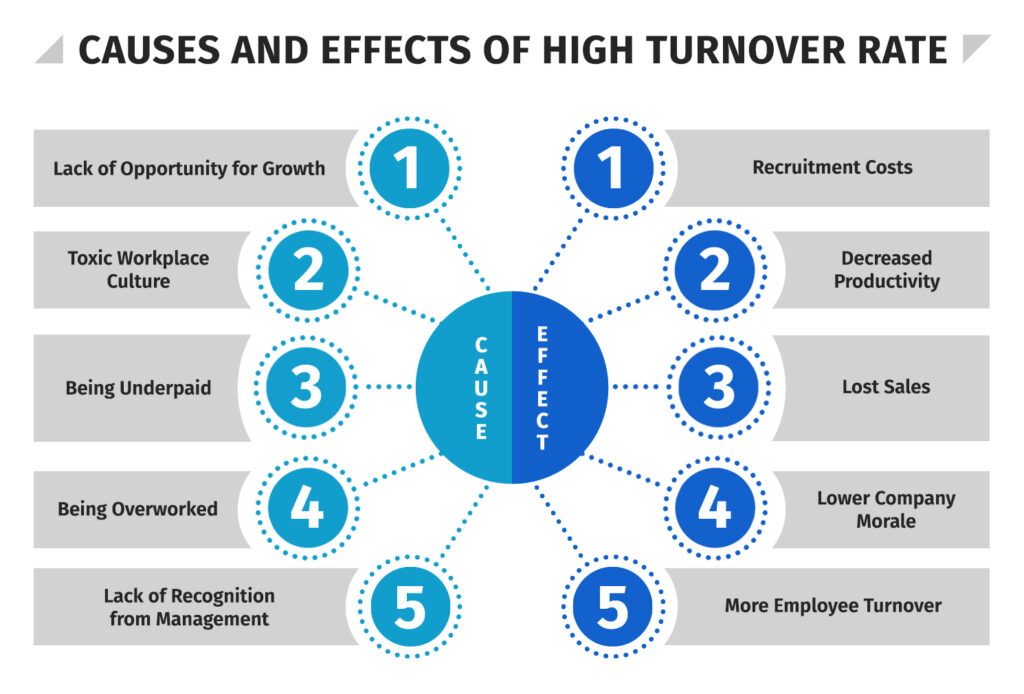 #5 – Higher employee satisfaction levels
You're creating a more skilled workforce, which in turn leads to improved productivity and results in increased morale.
Take a look at these additional ways you can keep a smile on the dial of your workforce: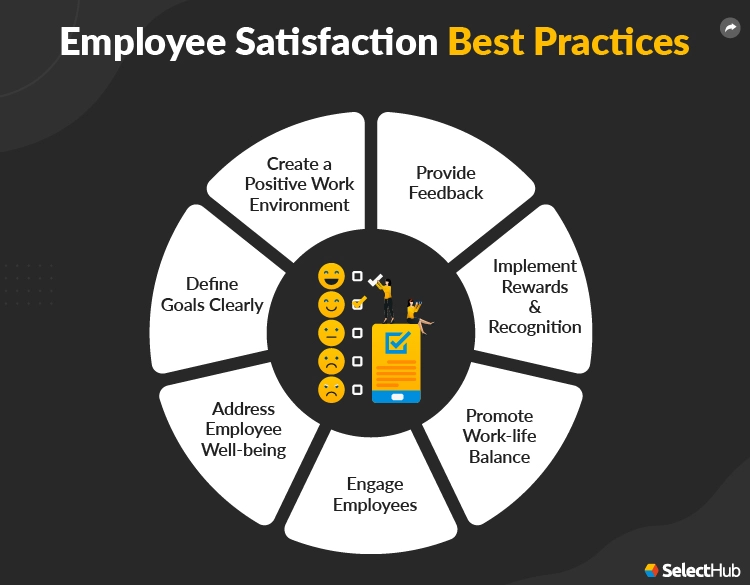 #6 – A more diverse workforce
When your recruitment process is more targeted, you might want to focus on specific under-represented groups, creating a more diverse workplace.
Here are a few tips to improve your workplace Diversity, Equity, and Inclusion (DEI):
Improve accessibility for employees who are differently abled
Focus on greater employee accountability around DEI
It's okay to get external help
Continue support for racial equality
📚 Further reading: Learn more about disability laws across the globe.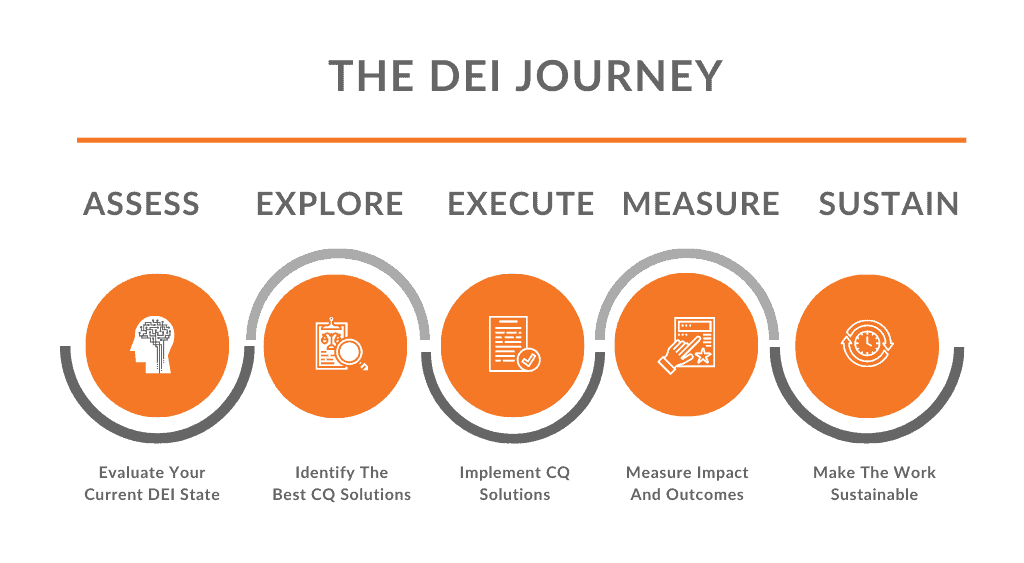 #7 – Attract passive candidates
Not all your talent treasures are actively looking for a new opportunity. However, a targeted recruitment strategy can attract the attention of passive candidates that fit the particular specs you're after.
Plus, with a passive candidate:
There's less competition
They're under less stress so hiring is smoother
They're likely to be more honest about their strengths and weaknesses
Are there any disadvantages to using a targeted recruitment strategy?
Though there may be one or two disadvantages, namely, ensuring your approach and messaging are ethical and inclusive, targeted recruitment strategies work.
Why? Because the benefits far outweigh the disadvantages. It's a popular strategy for a reason — when used correctly and in an ethical manner. By applying best practices and using caution with the wording and targeting in job advertisements, companies should be able to avoid any litigation.
The wrap-up: 2 ways to boost your targeted recruitment strategy
Teams using targeted recruitment connect with a specific audience to scoop up the exact talent their company needs. And it's a win-win for everyone when you:
Create detailed job requirements and expectations — do the research
Craft candidate personas to help understand and connect with the kind of candidate you're looking for
Be careful with messaging to avoid any repercussions
Consider niche channels to reach your target group
Narrow down applicants with skills-based testing (our favorite, of course!)
Use data to track and measure results and improve your strategy going forward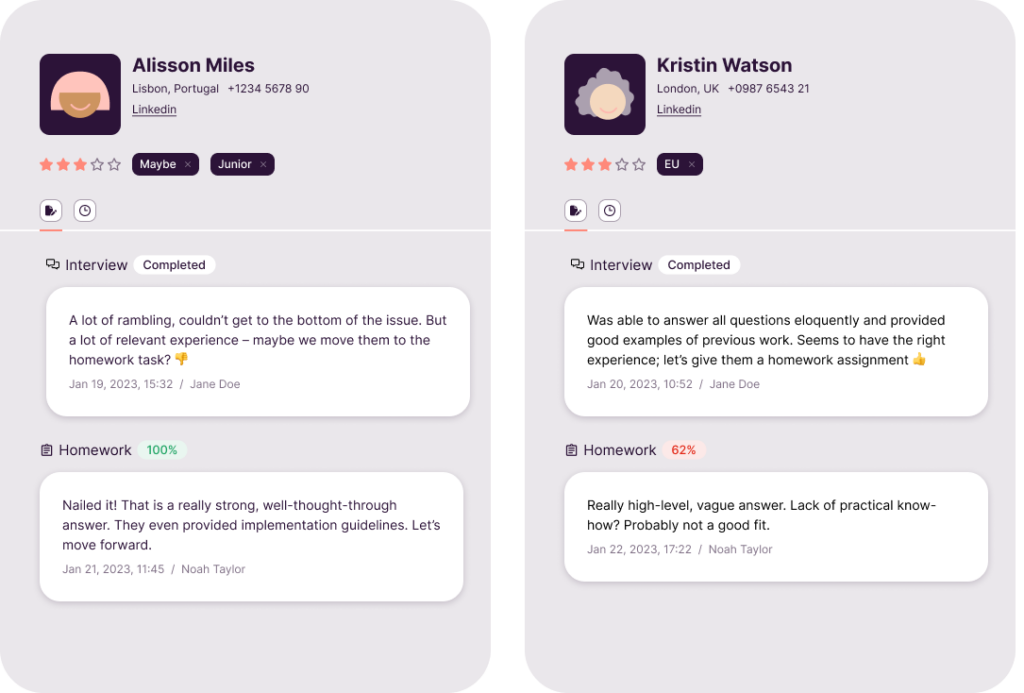 And lastly — for the special kind that actually read right to the end of blogs — 2 bonus ways to boost your targeted recruitment strategy:
Utilize skills testing for screening and finding qualified candidates fast.

Don't underestimate the power of onboarding to realize the broader benefits of your targeted approach, such as boosting employee satisfaction and reducing turnover.
Start filtering out quality candidates with the technical and soft skills your business needs now using Toggl Hire's user-friendly skills assessments.
Juste loves investigating through writing. A copywriter by trade, she spent the last ten years in startups, telling stories and building marketing teams. She works at Toggl Hire and writes about how businesses can recruit really great people.