Back in 2002, successful businessman Verne Harnish wrote a book he titled "Mastering the Rockefeller Habits." The book highlighted specific practices that a business could follow to strengthen company culture and improve their bottom line. Its main premise is that these changes come through routine choices both leaders and employees make each and every day.
So, what are the Rockefeller Habits and how can they help your business? Let's dive into these ten steps and see what kind of impact they can have on your workplace if you choose to make them part of your company culture.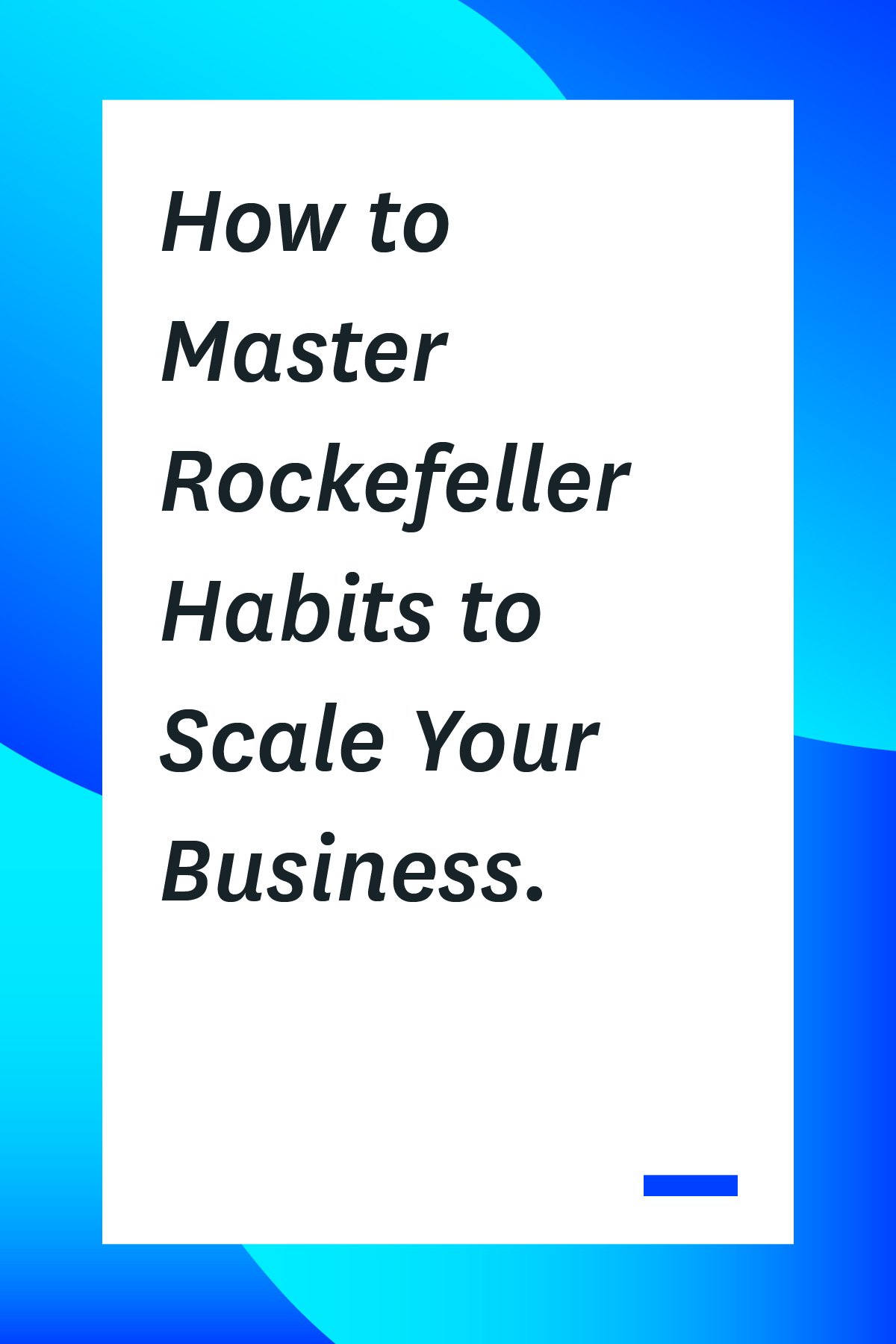 1. An Executive Team that is Aligned
Although any business wouldn't be successful without its employees, it is always the role of management to set the tone for company culture. If the executives and upper-level leaders aren't on the same page, it is nearly impossible for employees and team members to perform at peak potential.
In his initial construction of the Rockefeller Habits, Verne Harnish mentioned the top five issues executives run into when they work together. Problems range from trust issues and fear of conflict to a lack of commitment, accountability avoidance, and a lack of result-based efforts. It is highly suggested that any of these complications be resolved as a top priority before anything else.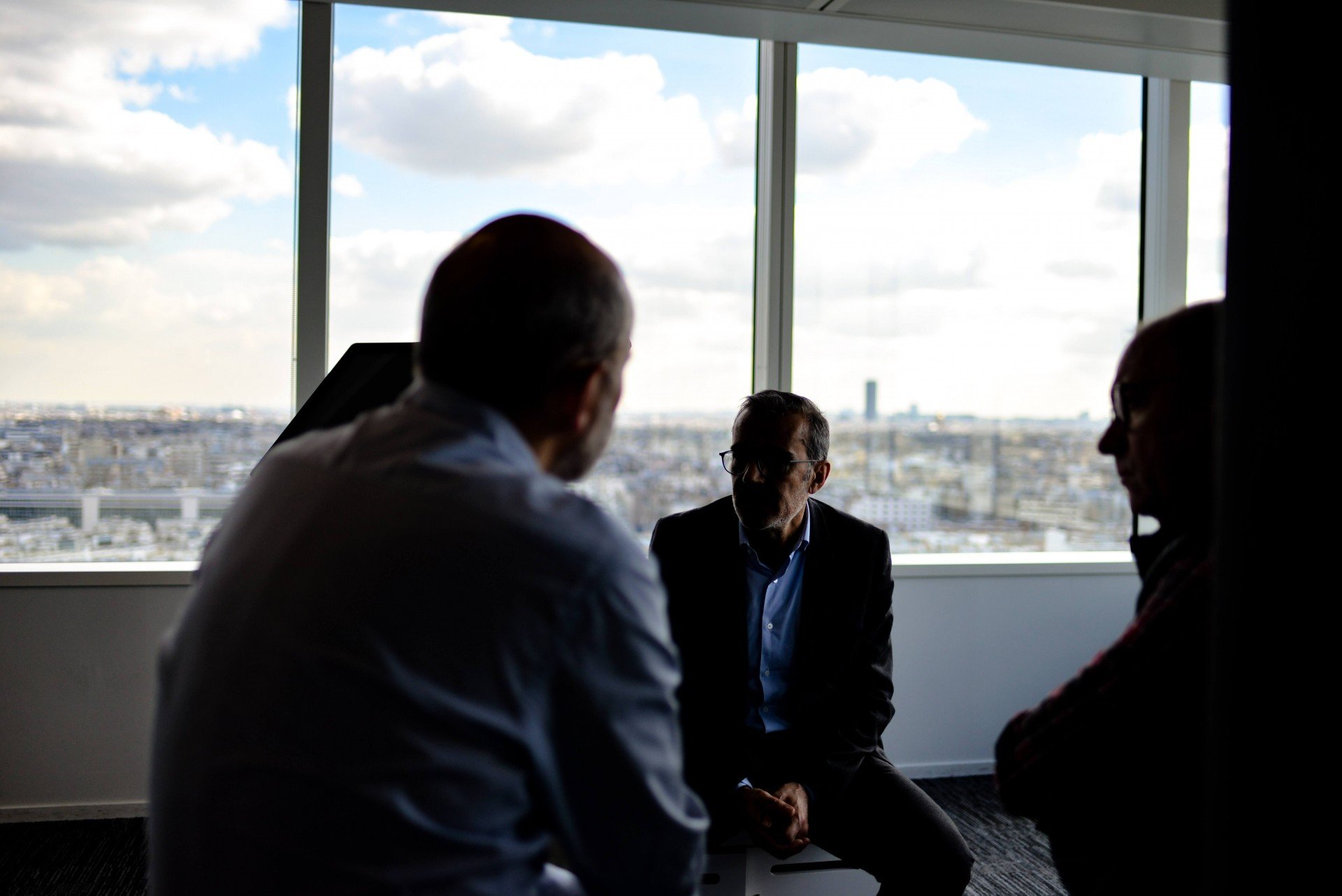 Depending on the severity of the concerns, solutions can be found via open-minded discussions, re-invented strategies, or even by hiring an outside collaboration consultant. All executives should be involved with these meetings to ensure everyone is able to cooperate and improve the overall relationship among the team.
2. All Parties Have One Main Goal to Work Toward Together
Businesses are built and destroyed by habits. Good habits help a company to expand, grow, and improve, while bad habits can have the opposite effect. The negative side of this can easily be prevented by ensuring everyone involved is constantly being reminded of their purpose.
Once per quarter, there should be a new goal for your entire team to work on. Whether it is reaching a key milestone in the next three months, boosting overall productivity, or even completing the project, there must be an active objective to keep everyone engaged from quarter to quarter.
As you set these intentions, ensure each one is based around the SMART formula. Each goal must be specific, measurable, achievable, realistic, and timely. If this standard isn't met, many goals can make employees feel stressed or anxious, so make sure to set them up for success from the beginning.
3. Open Team Communication and Distribution of Information
Though this may sound like two separate concepts, they quite often go hand-in-hand when mastering the Rockefeller Habits. In order for information to travel through the company to the proper individuals, there must already be strong and open communication among everyone on the team. If this is something your group struggles with, you'll want to determine where the disconnects are and resolve them right away.
Without consistent and clear communication, drastic mistakes can take place ranging from missed deadlines to lost clients. The best way to keep everyone in the loop is with a professional and powerful project management tool like Toggl Plan.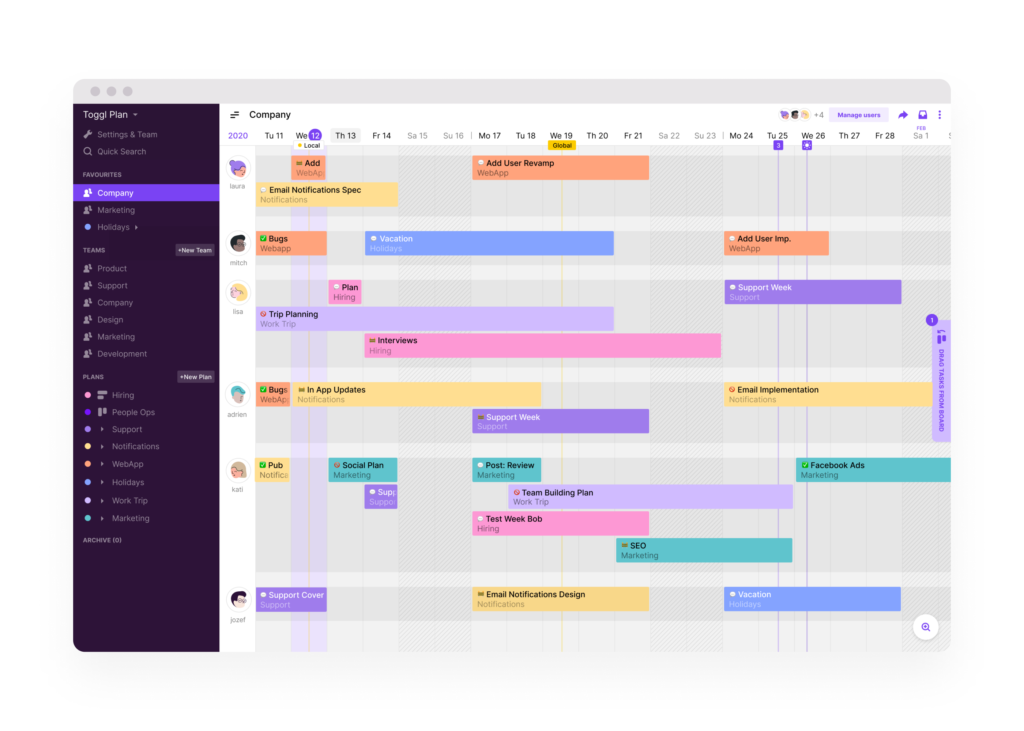 This software opens the door for each member of the team to track everything from timelines to project updates in one place. Additional tools like Slack can be integrated to make the communication channels even more streamlined. Incorporating these programs into your daily routines can have major impacts on productivity and your team's ability to share information.
4. Everyone is Held Accountable for Reaching Company Goals
The concept of accountability is equally intimidating for both leadership and employees. One side doesn't want to feel like they are micromanaging, while the other wants to feel like they have enough freedom and trust to complete the jobs they are tasked to accomplish.
Luckily, proper accountability practices don't have to involve either of these issues. Instead, holding people accountable includes setting proper expectations from day one, conducting necessary follow-ups on a consistent basis, and determining where things went wrong if a problem arises.
It is also important to understand that not only employees are meant to be held accountable. Leaders should be held to the same standards (if not higher) when it comes to liability. As mistakes take place, management should look inward to figure out what they could have done differently to help their team and make those changes in the future.
5. Ongoing Constructive Feedback is Both Shared and Received
We've all heard of constructive criticism. It seems to ring in the ears of everyone who hears it, leaving a negative stigma from the get-go. While this is often necessary within the workplace, how about calling it constructive feedback instead?
And similar to accountability, everyone in the company should have the opportunity to both share and receive this feedback. One of the greatest ways to open the door for these conversations is for leaders to hold monthly one-on-ones with their team members to discuss updates, offer advice, and update them on ways they'd like the employee can improve.
Once the manager has gone through their notes and shared their thoughts, they should then provide the employee with the chance to be open and honest. Asking the team member if there are any ways the leader can improve their management style, communication, or expectations will pave the way for a positive work atmosphere.
6. Proper Reporting and Analysis of Customer Feedback Data
If scaling up your business is high on your priority list, this should be one of the highest priorities on your Rockefeller Habits checklist. Following the same tactics as requesting evaluations and opinions from your employees, gathering customer feedback will be pivotal in finding the ways you can improve their overall experience and enhance your level of service.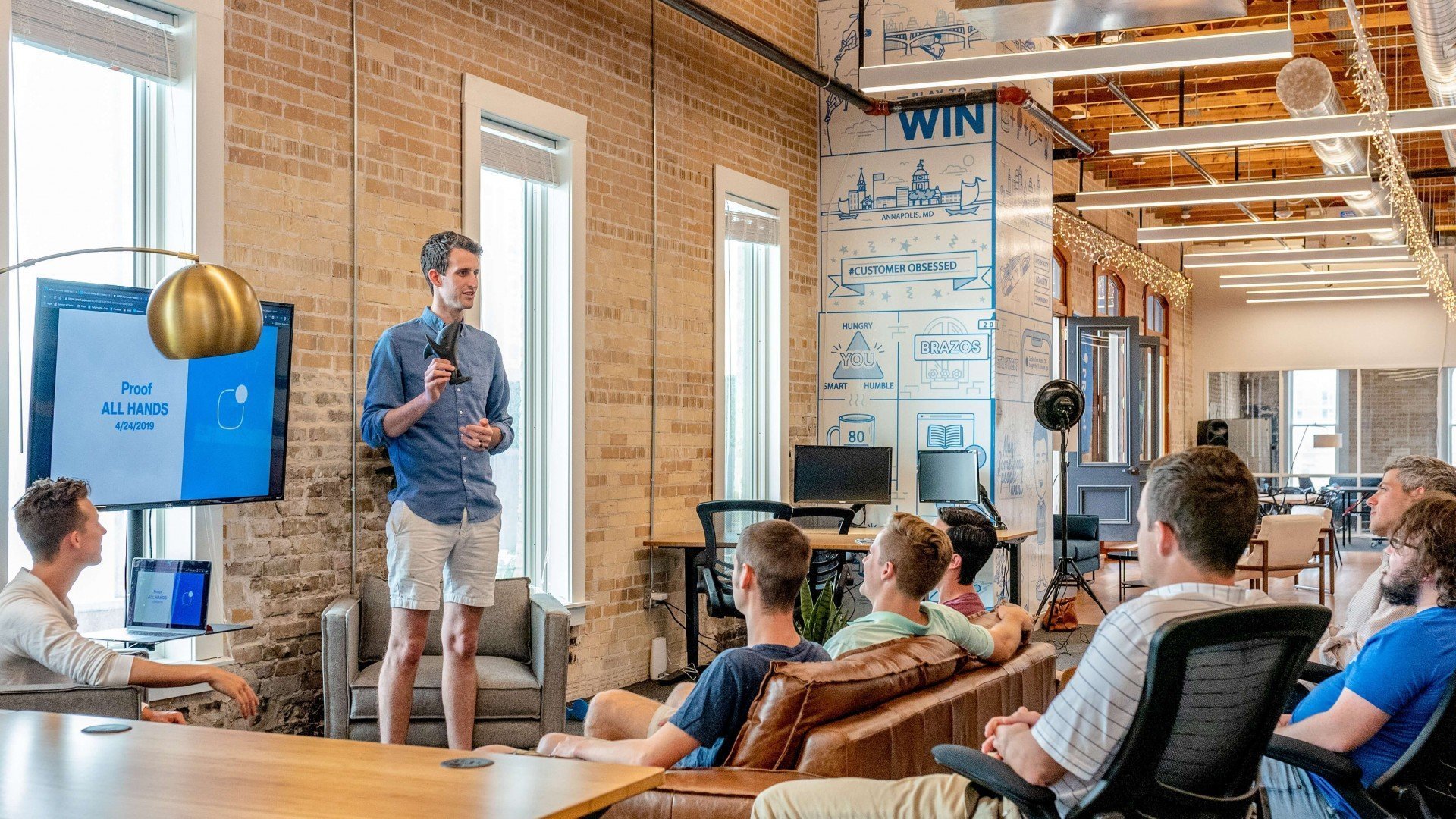 There are a few techniques you can follow to ensure the feedback from your clients is valuable and can help you make a difference. Here are a few to get you started on the right track:
Determine the purpose of the feedback to make it easy for the customer to provide a focused response.
Ask questions that will lead to more intricate answers, rather than simple YES or NO inquiries.
Talk to the right person. If you run a B2B company, speak with a manager or another authority within the company.
Use customer surveys via email or social media to make them more engaging than a simple phone call.
Send a personalized note to thank them for being a customer and add a section requesting any feedback they are willing to provide.
Regardless of the way to get this feedback, the more important step is to properly report and analyze it. Treat every detail as seriously as your accounting team does their financial data to ensure proper measures are taken to make changes and improve your processes.
7. The Company Has a Clear Vision and Core Values
Microsoft, a brand we have all heard of, started off with a vision of getting "a computer on every desk and in every home." The growing airline company, JetBlue, has a mission "to inspire humanity – both in the air and on the ground." While the team vision for Elon Musk's company, Tesla, is "to accelerate the world's transition to sustainable energy."
Whether your company is currently a small startup business or an expanding corporation, every professional organization in the world should have a clearly defined vision that is supplemented by its core values. Typically chosen by the executive leadership, this mission is designed to motivate members of the team on a daily basis and give them a general reminder of what they are working toward every day when they come into the office.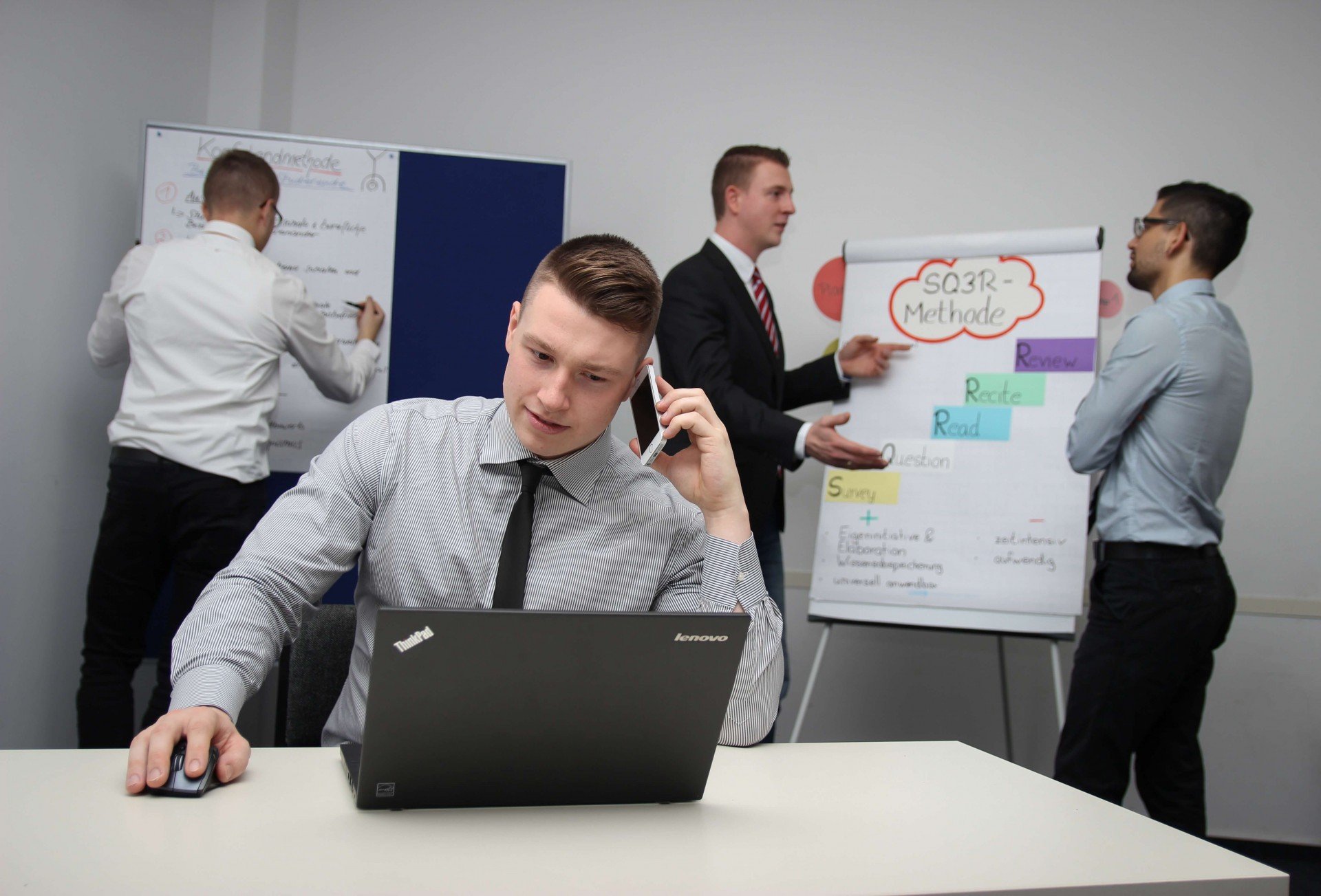 Once this mission statement or team vision has been chosen, find a way to make it visible for everyone in your company to see on a daily basis. Whether it is a large sign on a wall or you give everyone something to keep at their desk, leave it as a constant cue to kickstart their efforts.
8. All Employees Should Understand the Company Strategy
When it comes to the Rockefeller Habits, this can be a difficult one as it takes a fair amount of education and guidance. While many companies will limit their employees' knowledge to the tasks and strategies under that person's job description, diving a bit deeper can make the difference in how quickly you grow.
As you hire and train your new employees, teach them about your company strategy and make it part of your business culture. And as your strategies evolve, continue that education with your current team members to keep them up-to-date and informed.
Each person in your group should understand the company strategy clearly enough that they can explain it to someone outside of the organization in a simple, understandable way. Think of it as training them for an "elevator pitch" if the opportunity were ever to present itself.
9. Each Team Member Can Describe the Quality of Their Work
This is a separate task from the accountability we mentioned earlier. While it is an aspect of this process, the process of getting detailed information about your employees' quality of work is one you must prepare for on a day-to-day basis.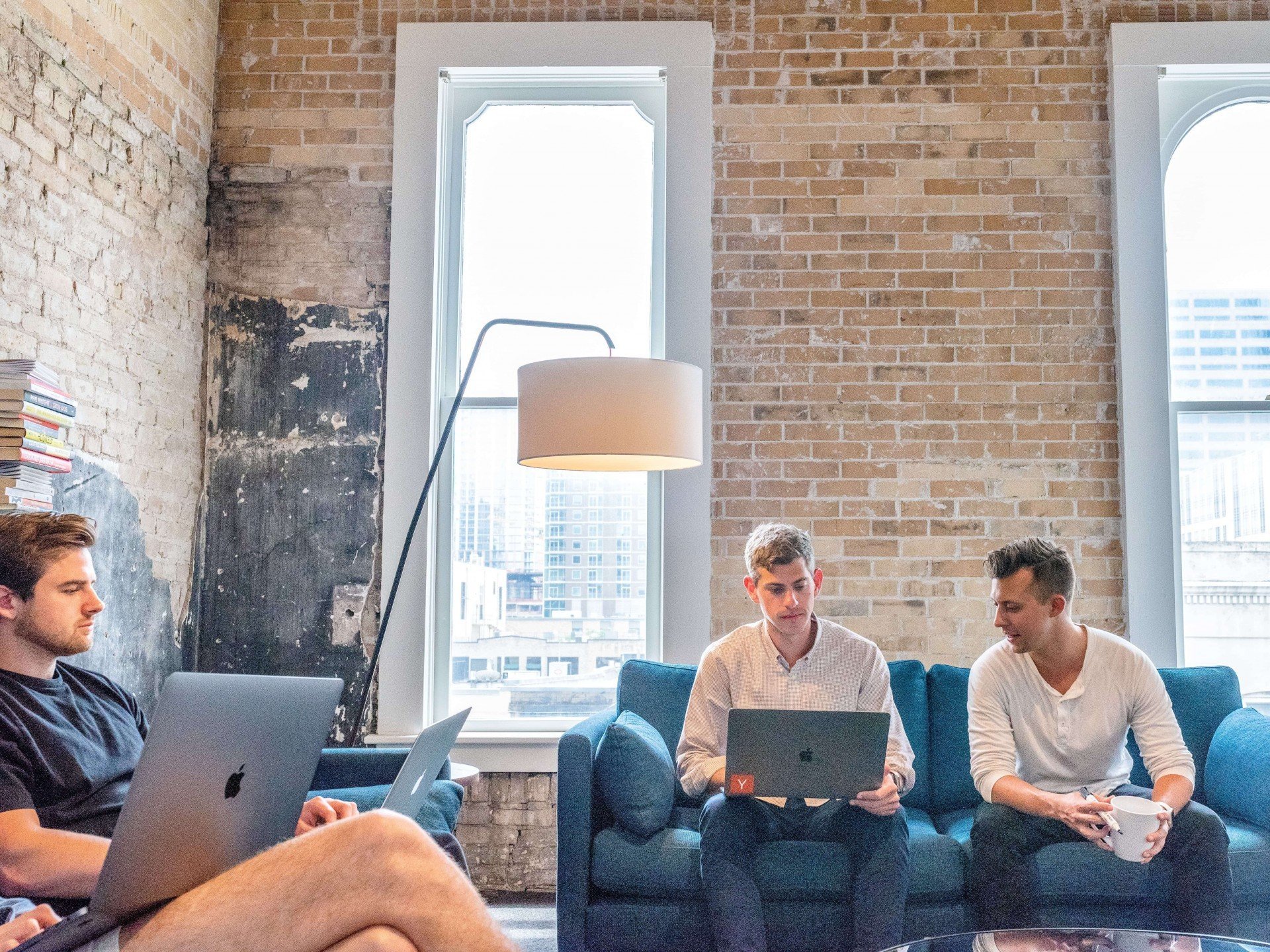 Everyone should be able to report on their daily, weekly, or monthly efforts with statistics and results of how things are going. Even more important is that they be prepared to present this information at a moment's notice.
Take some time to train your team on how to keep personal tabs on their work, creating productivity reports, and even tracking the amount of time they are spending on certain projects. If they are keeping these details updated, they can easily share the reports with you to see if there are any tasks that need to be streamlined or if anything should be given more broad deadlines.
10. Everyone in the Company is Aware of Plans and Performance Results
While all employees should be aware of the overall company strategy, it is more of a singular concept to keep in the back of their minds. On the other hand, sharing current plans and reporting on outcomes can be even more vital to scaling up your business. This is generally the final and most repetitive step of mastering the Rockefeller Habits.
Verne Harnish compared this tactic to posting "scoreboards" around the workplace as a means to keep everyone informed of the results their efforts are generating. It is a great way to keep everyone engaged and give them a sense of accomplishment.
Whether you have a digital marquee on your office wall that shares company updates and announcements or you send emails noting recent achievements, keep everyone aware of company "wins" so they can see how what they're doing is affecting the bottom line.
Embrace Rockefeller Habits In Your Workplace
Management is meant to lead by example. As leaders make changes in their own attitudes and endeavors, others tend to follow in their footsteps. Start at the top of this Rockefeller Habits checklist and make your way through each step to boost productivity and scale your business.
As you incorporate these practices, both the company and its employees will begin to see dramatic growth.
Want to learn more ways to benefit your company and improve the culture around your office? Check out our blog for topics ranging from productivity and teamwork to software and technology for you to use.
Logan Derrick is a full-time business writer and content marketing strategist. For years, he has worked closely with several project management professionals, learning from them and increasing his own knowledge of the industry. Having held multiple management positions in fields ranging from customer service to marketing, Logan has found a passion for helping others learn about project management, marketing, and the powerful tools available to professionals today.