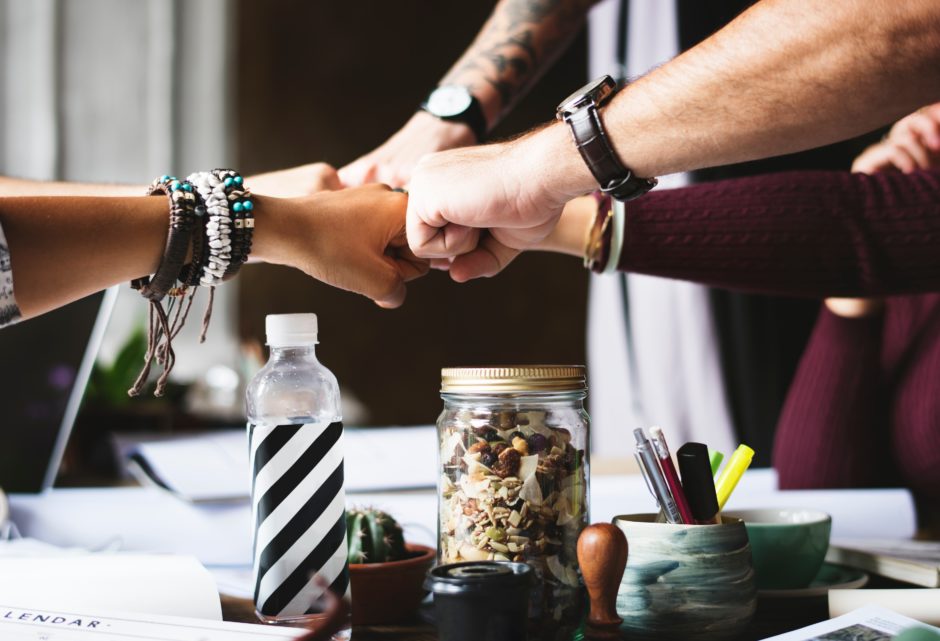 "How do I convince my team to use Toggl Track?" is a question many of you are struggling with. We spoke with Paul Weinstein from Wheelhouse Search on how he managed to tackle the issue.
We travel all around the world to meet Toggl Track users. We do this to gain a clear understanding of their ideas and frustrations, but also (and perhaps more importantly) to gauge how our customers are using Toggl Track on a day-to-day basis.
One major question that keeps coming up is "How do we ensure our employee's track time consistently and properly?" Chances are you're reading this because you've asked the exact same question.
I recently Skyped with Paul Weinstein, VP of Wheelhouse Search, to discuss this problem and his unique solution. I set up the chat after Paul had met Liisa, our Toggl Track Business lead, on her client trip. What Paul told Liisa, and what drew my interest, was this:
Every week, Paul pins his team's Toggl Track timesheets to the office wall for all to see.
While this may sound like a kind of public shaming on the surface, the strategy has instead been accepted by the Wheelhouse team as a reinforcement of the critical value of time tracking.
So how did they get there?
Communicating Value
We recently interviewed an anonymous Toggl Track user who fakes her Toggl Track reports—not because she has something to hide, but because her workplace has never communicated the causality between submitting timesheets on one hand and changes in business development and even salaries on the other.
So long as the management keeps demanding weekly timesheets for some arbitrary, mysterious reason, the reports will never be accurate.
Paul understands this and admits that people generally aren't keen on sticking to mandatory (and annoying) habits, especially when their real value is never communicated. 
Wheelhouse provides a range of digital marketing services, mostly on a retainer basis. But unlike most agencies, they don't bill by the hour, which means they don't track time for the purpose of maximizing "utilization". Instead, Paul uses Toggl Track data to make well-informed, deliberate decisions on how to invest the team's resources on behalf of clients.
In this context, Toggl Track tracking becomes an essential, non-threatening aspect of the company's success rather than any kind of over-the-shoulder Big Brother activity. And Wheelhouse employees understand this. Time tracking is consistent with the company's focus on transparency, both with clients and internally among team members.
For Paul's team, it took a while to make time tracking a core habit, but they got there. Paul at least seems quite proud of his Toggl Track adoption rate.
He sent me a screenshot of the pinned timesheet: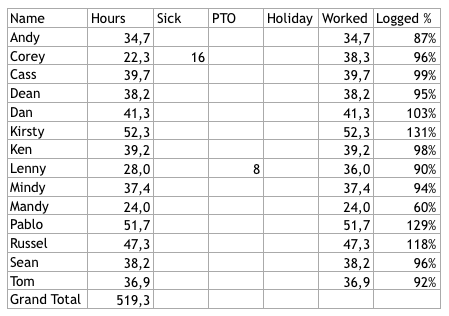 The data from Toggl Track is exported into an Excel file, and a time completion percentage is calculated off a standard 40-hour week.
Values-Driven Time Tracking
We recently featured a guest post by executive coach Jeff Boss, in which he wrote about the importance of sharing your knowledge. Sharing what you know builds trust, and ultimately empowers teamwork.
At Wheelhouse too, trust has a role to play. Paul says his management style is driven by the belief that people are smart and intrinsically motivated, and not lazy and selfish. "Our management of people is consistent with those values," he adds.
Establishing a values-driven culture that is fully embraced by every employee allows Wheelhouse to emphasize the importance of tracking. Pinning the timesheet to the wall is not heard as "we're watching you" but as "this is important to us as a company, and you play a central role."
The pinned records instill the team's time with a sense of purpose. They are not—on the surface or underneath—about punishing people for failing to meet a specific hourly limit. Doing that will not get your team closer to your time-tracking goal. "Forget about it," Paul says.
At Wheelhouse, it's an "all hands on deck" mentality. Everybody plays a role to ensure the company has the data to make sound business-related decisions. The leadership team also takes great effort to describe how time data is utilized to adjust client and employee assignments and ensure no employee is too heavily loaded.
I asked Paul to spell out specific guidelines for those who are struggling to make a time tracking habit stick for their team. It boils down to these two tips:
Reinforce the practice. Make sure the team knows why you need the time tracking data. Reporting on the data is crucial—keeping results in public view keeps the practice alive, and helps turn it into a habit.
Keep the process transparent. Use the data to make decisions and continuously demonstrate the value of time tracking to employees. Connecting people to the concrete results of consistent tracking will further reinforce the habit and its value.
So that's the human key to a successful time tracking habit. While I would argue it's the most important one for anyone looking to adopt the habit, Toggl Track does have a couple of technical tricks up its sleeve.
Reminders in Toggl Track
Some of you may be familiar with the e-mail you get when you leave your timer running after leaving the office for the day. But there are other, more imminent reminders.
Toggl Track Desktop App Reminders
For me personally, this is the most useful feature in the desktop app. Idle detection reminds you if you've been away from your computer for some time, prompting you to either keep that time, discard it, or add it as a new time entry: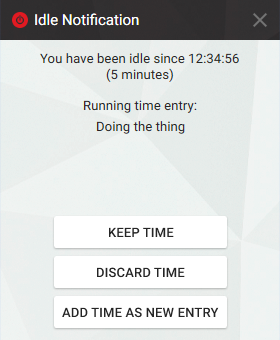 The screenshot is from Windows, but the same feature works on the Mac app too.
Idle detection is one thing, but if you need a simple reminder to start tracking, you can set that up too, like so: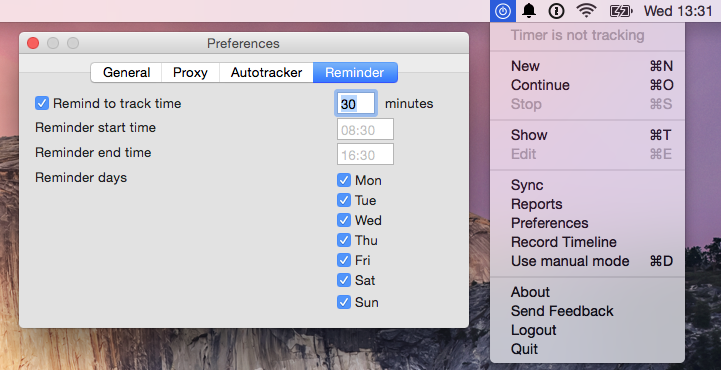 You can also edit the hours during which you wish to receive the reminders, how often you want them and on which weekdays.
Toggl Track Button Reminder
Toggl Track Button is a Chrome extension that adds a small timer to your browser. It's been a massive hit, in large part thanks to the fact that it integrates with a wide range of other tools. You can read more about it here, or just grab it for your browser now.
It also has a reminder feature, prompting you to start tracking if your timer has been stopped for a period of time. You can define the prompt time and working hours as well.
Ultimately, Toggling is a habit – and habits do need practice to take root. While we've got some reminder features in place (and possibly more coming down the road), it is crucial that you start tracking on the right foot, so to speak.
What this means, simply put, is that you know what you're tracking and why it's important and that you make sure everybody else knows it too.