Project calendars matter! As an experienced project manager, you know your team members need 24/7 (and updated) access to their project management timeline.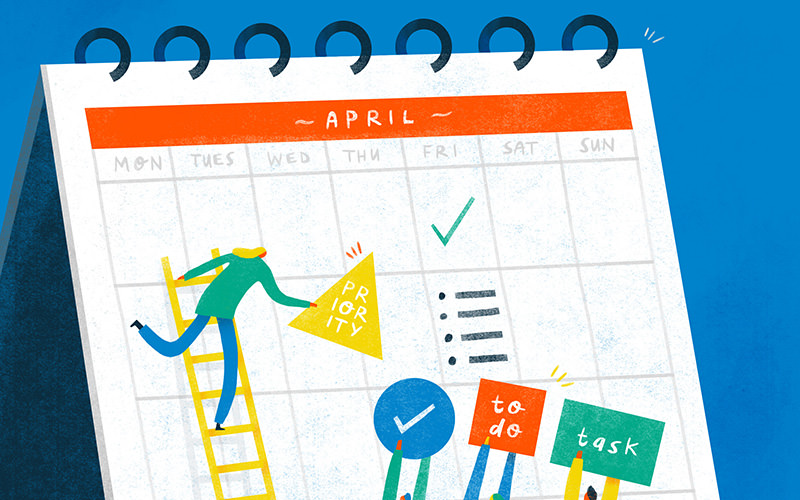 Timelines create transparency, help teams understand shared responsibilities, and provide accountability. Learn how to make a project timeline in 8 easy steps.
As a leader, your job is to keep the pulse of all aspects of your operations as each valuable work minute goes by. 
Is your team twiddling their thumbs while you work out a supply/logistics bottleneck? Is your sales team working overtime to manage an unexpected uptick in new customer sign-ups? 
Project managers keep everyone on task – and find solutions to inevitable slow-downs and surges.
Should you move up training/retooling tasks for your next project, so your production team has something to do in their down time?

Can you re-task marketing and administrative staff to customer support to give your sales people a breather?
Can you put off long-term, strategic planning and give your managers some in-the-trenches experience by creating a temporary "all-hands-on-deck" manufacturing team?
Create a project calendar in the very earliest stages of project strategic planning and maintain it throughout the entire process. With this data at your fingertips, you can react quickly to unexpected setbacks and opportunities – and analyze your performance after completing your project!
Google Calendar Project Management Tips and Techniques
Google Calendar allows you to quickly and easily set appointments, schedule meetings, and manage your teams' project schedules.
However, it also includes a powerful calendar sharing system, search function, and timeline view.
Many project managers prefer Google Calendar because it allows them to understand and update their teams' schedules, deadlines, and project data in seconds.
Use these Google Calendar project management tips to get the most from this powerful (and free) platform.
Give each project its own calendar/name

– Use a simple [year/project name] format like "17 UX Development," so stakeholders from team members to upper management to key clients can quickly understand your systems and strategies.

Sharing – If everyone knows your system (keep it simple), they can easily make use of Google's powerful search/browse functions. Make sure you and your team understand Google Calendar's Sharing and Permissions to avoid leaking any sensitive information – especially if you share your calendars with clients.
Deadlines

– Use Google Calendar's agenda view to quickly scan all upcoming deadlines. If you and your team list all projects (large and small) on GC, you can easily determine project progress – and give special attention to near-due tasks.

Multiple Calendars

 – Complex projects may require a number of calendars. For example, you may create a Production/Deliverables calendar for contractors and a second (private calendar) for sensitive data, employee schedules, etc. You can also use multiple calendars to manage a number of different teams.

"All-Day" Items

– Flag urgent issues and encourage your team members to brainstorm by creating events with no start/end time, which Google Calendar calls "All Day" items. These events show up at the top of most GC views, so people will read your priorities while checking their schedules. However, don't stack too many items per day – you don't want to overwhelm your team.

Mobile

– Google Calendar offers easy cross-platform integration so your team members and other stakeholders can view, track, and update their progress 24/7. Reward employees for promptly updating their tasks and logging their hours; everyone benefits from ample and open communication!

Search/Export

– Use #hashtags to make the most of Google Calendar's search functions. When used correctly, this platform functions as a database that provides time/date stamps for all tasks. You can print/export all calendar data as PDFs – which are very useful when providing workflow data to executives and clients.
How to Create a Calendar in Excel
Microsoft Office offers a variety of calendar templates, though Excel purists will want to create their own from scratch. Customizing your project management spreadsheets allows you to tweak your columns data points so your team members can get all the data they need – without unnecessary visual clutter.
Excel calendars work best if you need to crunch numbers and manage data in your calendar files.
Yes, Excel doesn't offer as many sharing options as other platforms (though Microsoft is working to expand this functionality). However, for teams in certain niches, this platform remains the gold standard.
Create a monthly calendar in Excel in a few easy steps:
In the top row, label the month.

Underneath (2nd row), create and label (relatively wide) columns for each day of the week.

Set thin line borders for each column (but not each row).

Create a thin line border for the top of the 3rd row and every 5 rows under that.

Enter the first dates (1, 2, etc.) of each week and autofill these numbers across the rest of the week.

If you do this correctly, you'll see a grid of large boxes in a standard monthly calendar format.
This system works well if you have a limited number of items per day that require intensive data processing and analysis. Though you can choose an Excel calendar template and customize it your liking, nothing feels quite the same as a spreadsheet you build from the ground up.
Google Sheets – Your Team's Online Calendar/Planner
In its GSuite Learning Center, Google provides comprehensive instructions (and a Google Calendar Template) for using Google Sheets as your project management dashboard. You can:
Create project spreadsheets by selecting New > Google Sheets.

Insert column headings and content (tasks, task owners, deadlines, % complete, comments, etc.).

Add comprehensive task/appointment descriptions by clicking a cell and selecting Insert > Note.
Limit choices by controlling what people can add to a column with Data > Validation > Criteria > List of Items.
Set up progress trackers via Format > Conditional Formatting > Rules.
Add notifications by clicking Tools > Notification Rules and saving your preferences.
Use Your Management Calendar to Create and Update Your Project Charter
Project managers use project charters to pitch projects, gain authorization, keep stakeholders in the loop, and—most importantly—keep projects on schedule. You can create your project charter from scratch (or use a free project charter template).
Your project charter should include a project management calendar with appropriate deadlines. Don't just create a project management calendar, run into unforeseen roadblocks/bottlenecks, and toss it aside.
Keep updating (and sharing this document) with key stakeholders, so everyone knows what to expect. It's better to be seen as a manager who knows when to be flexible (and how to work around difficulties) than to blindside important partners/clients.
By making your project management calendar part of your project charter and sharing it with everyone who took part in the planning process, you ensure complete transparency (and joint responsibility for unexpected schedule changes).
Set up a shareable calendar/spreadsheet from the beginning of your project so everyone knows where they stand throughout the venture.
Use Your Project Calendar in Conjunction with a Work Breakdown Structure
Create a work breakdown structure (WBS) to understand the workflows, deadlines, and bottlenecks of your team members, teams, and production units.
If you manage a variety of individuals or teams whose deadlines depend on each other, a WBS can help you save big on wasted work hours.
For example, if you manage a group of writers and editors, stagger their deadlines. You don't want editors sitting idle only to rush their work when multiple jobs come through at once. Likewise, you don't want editors submitting work to designers and managers all at once.
Once you've created a WBS to understand your employees' optimal workflows, schedule them accordingly. Use your project calendar to set appropriate deadlines for all levels of your organization.
For example, if writers create 6 articles a day, make sure your editors are ready at set points throughout the day to move them to the next point in the production queue.
To limit idle time, have your editors work on documents created at the end of the previous work day. Apply this technique all the way up your team's workflow, giving designers just enough time to create images before handing content over to managers, etc.
By understanding what each team member needs from the others, you can create lean-and-mean workflows that maximize productivity across entire teams and interconnected groups of teams.
If everyone has just enough time to complete their tasks, you can identify and reward productive outputs and untangle bottlenecks – and ensure everyone feels appreciated for the work they do.
Add Time-Tracking to Your Online Project Management Platform
Toggl's Chrome Extension creates a timer for each item/event on Google Calendar (and integrates with many other project management software tools).
This extension syncs and logs your time tracking entries to your Toggl account, where you can quickly run powerful and comprehensive reports on your team's performance.
Not only does the Toggle extension track your team's time usage down to the second – it also syncs your appointment information.
From Feedly to Open Project to Khan Academy (and dozens more), the Toggl Button adds simple and intuitive cross-platform time tracking to all your favorite project management tools!