Have you ever forgotten something, whether it was an important work task, someone's birthday, or an appointment? Let's be real. Who hasn't?
When it comes to their personal life, many people forget something and instantly resort to a simple calendar or reminder app with minimal features to keep them on track. While that might work for some of the most simple aspects of personal responsibility, a business typically needs more than the basic reminders and limited details these solutions often provide.
Instead, business owners and managers alike should consider incorporating project scheduling software into their team to promote productivity and keep everyone in sync. These programs offer numerous perks and benefits including:
Project tracking to ensure everything is moving forward as it should.
More effective collaboration tools than email.
The ability for managers to delegate tasks through a single platform.
See the big picture of a project and determine what needs to be changed for better efficiency.
Coordinate and communicate with customers, clients, and vendors with the integrated CRM software.
There are countless advantages to using project scheduling software that you can only truly understand by learning about the options available to you and giving them a try. With hundreds of project management programs out there it can be difficult to narrow the list down.
We've taken the liberty of putting together a list of the top ten apps with features like the ones listed above. Some of the options offer free plans, while all of them have premium features to fit your specific requirements.
1. Toggl Plan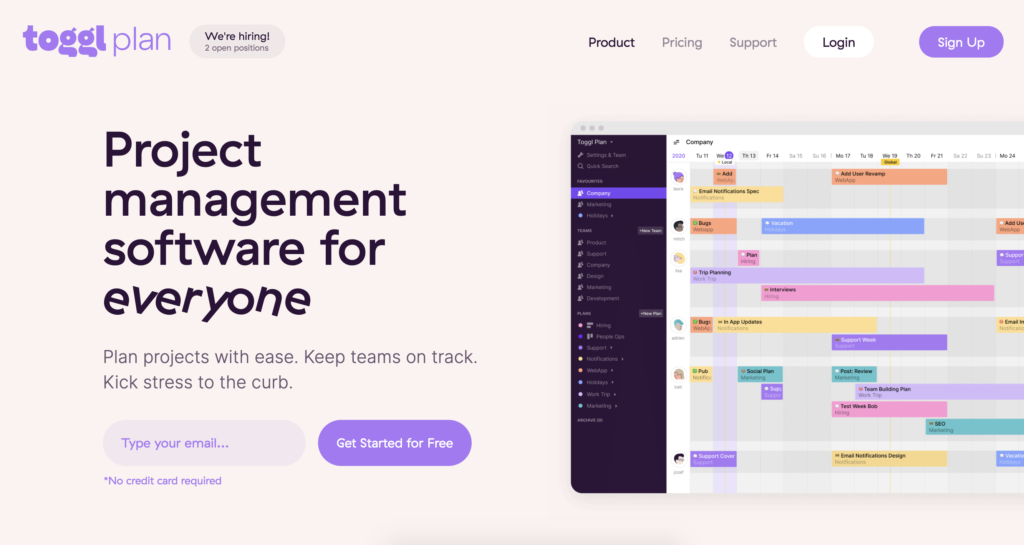 Why you'll love it: If you're looking for the definition of an easy-to-use project scheduling software, Toggl Plan is here for you. With a range of planning features including visual project roadmaps, timeline sharing, and the annual overview, you'll never question what step your team is on.
You can also monitor milestones and choose custom colors to make everything on your calendars clear and concise. Plus, you can integrate useful apps like Slack and Google programs to boost your team's ability to communicate about the project schedule.
Price: Free for up to five team members. Premium plans for larger teams start at $8/user per month.
Pros: Numerous users have said their favorite thing about Toggl Plan is that they can see what other members of their team are working on in real time.
Cons: Some accounting departments have said they wish there were more features for budget details.
2. Zoho Projects

Why you'll love it: Zoho is a large online company with project management as just one feature of their system. Additional elements include a CRM, team management, email hosting, and more.
They have an expanded range of features specific to projects ranging from budget management and custom templates to classic Gantt charts.
Price: The Standard Plan offers minimal features for teams up to ten people at a price point of $20/month.
Pros: Users enjoy the creative design and fact that they have numerous other systems available through the same company.
Cons: Some reviews have stated the "functionality of the software can be quite frustrating" when it comes to the app's navigation and ease of use.
3. LiquidPlanner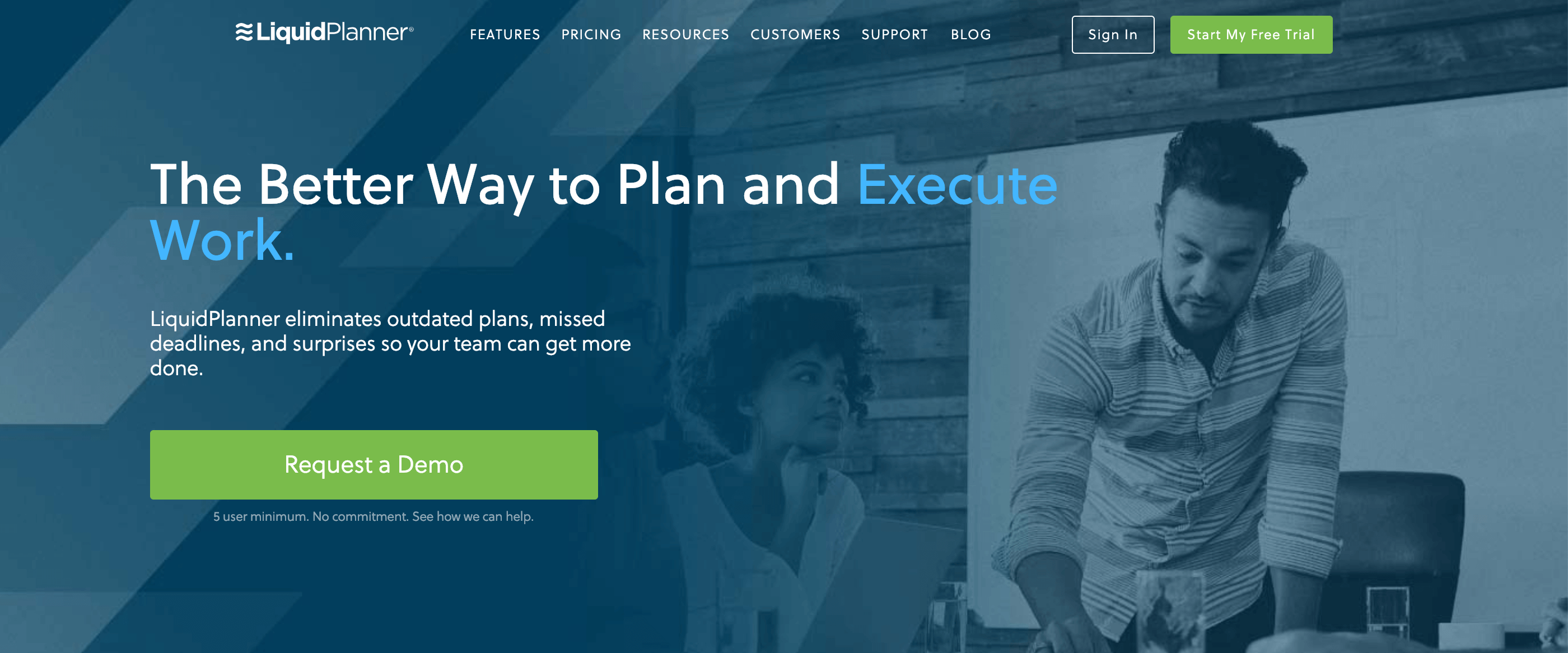 Why you'll love it: Most people find their favorite aspect of LiquidPlanner comes in the form of the task estimation feature. Along with the standard project management characteristics, users can set specific time frames for each task on their schedule.
Many groups also love the collaboration tools available through the app. Teams are more easily able to communicate about each project to keep everyone on the same page.
Price: Professional plans start at $45 per user per month, with a minimum of five users.
Pros: The task tracking and capacity planning are the two features most users swear by.
Cons: Teams that have used LiquidPlanner often say it is expensive compared to other options and has a steep learning curve.
4. Smartsheet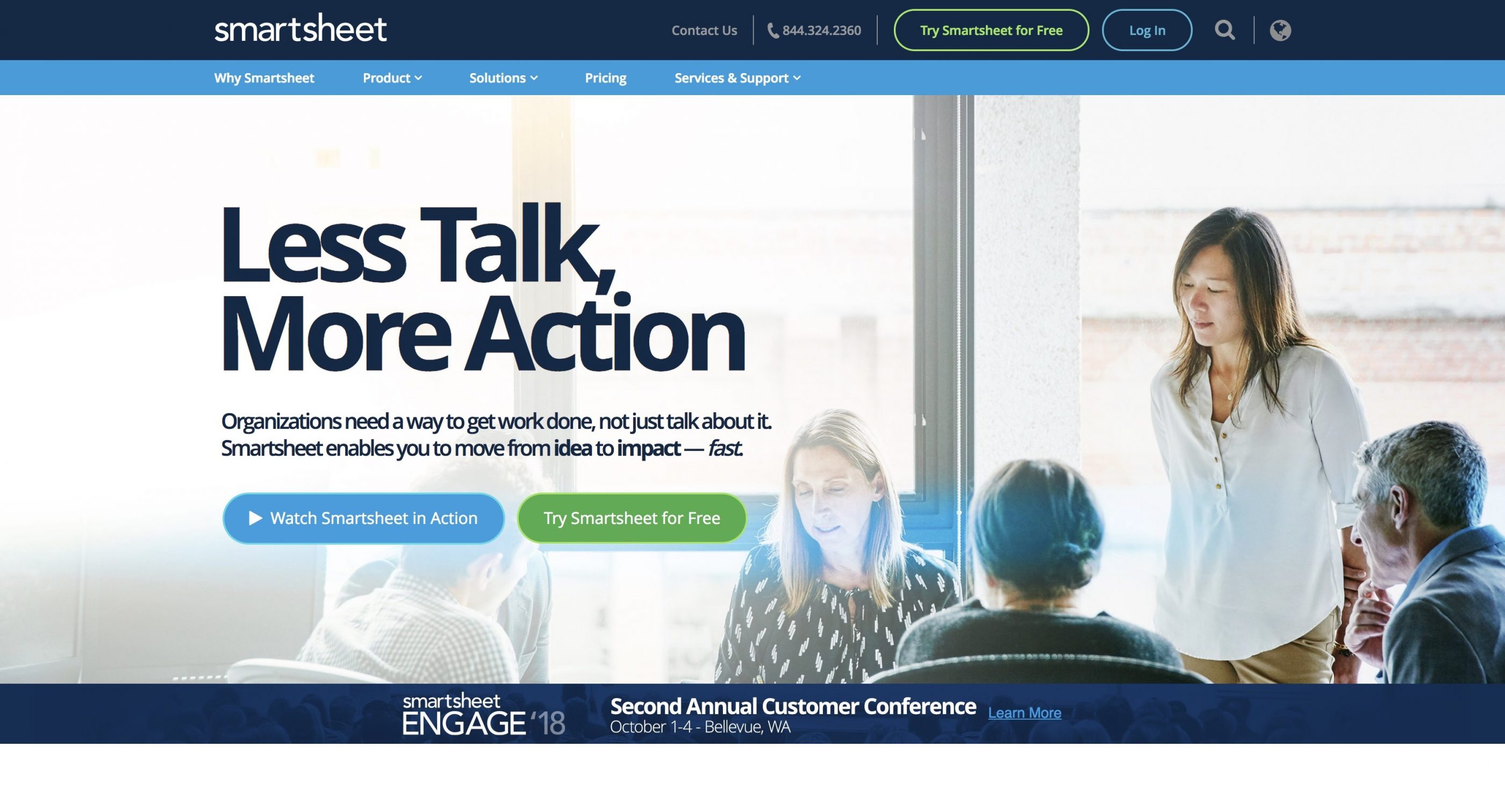 Why you'll love it: Smartsheet is a popular project management app with their key features being an innovative dashboard and work automation. Users can navigate the dashboard, create their own customized forms, and design pre-configured automated systems for their specific needs.
Their tracking software monitors everything from milestones to time and expenses.
Price: Business plans are $25 per user per month. You'll need to contact them for enterprise pricing.
Pros: Simple, but dynamic, user interface makes it easy to navigate between the unique features.
Cons: Users have said "creating a backup is a challenge" due to the many screens necessary to complete this function.
5. ProjectManager.com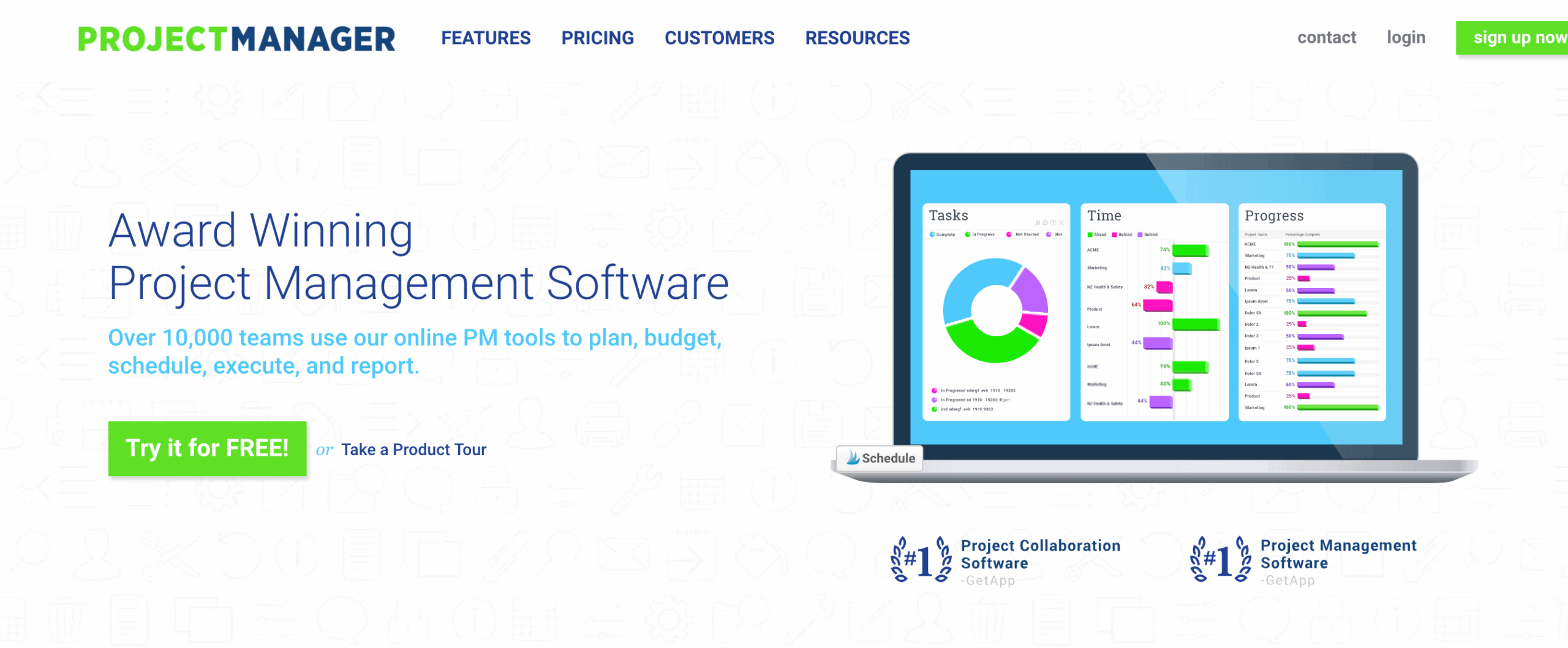 Why you'll love it: The ProjectManager.com app is commonly used by industries like marketing, IT, and manufacturing. Their colorful project scheduling software has a simple drag and drop system, making it easy to adjust task lists and manage time sheets.
The program is available from a computer, tablet, or smartphone, giving teams the chance to update tasks from anywhere at any time.
Price: Team plans start at $20 per user per month.
Pros: Create highly detailed project maps on a Gantt Chart with budgets, tasks, milestones, and other key dates.
Cons: A common complaint is the inability to link tasks and see the resulting effect on the overall project plan.
6. Wrike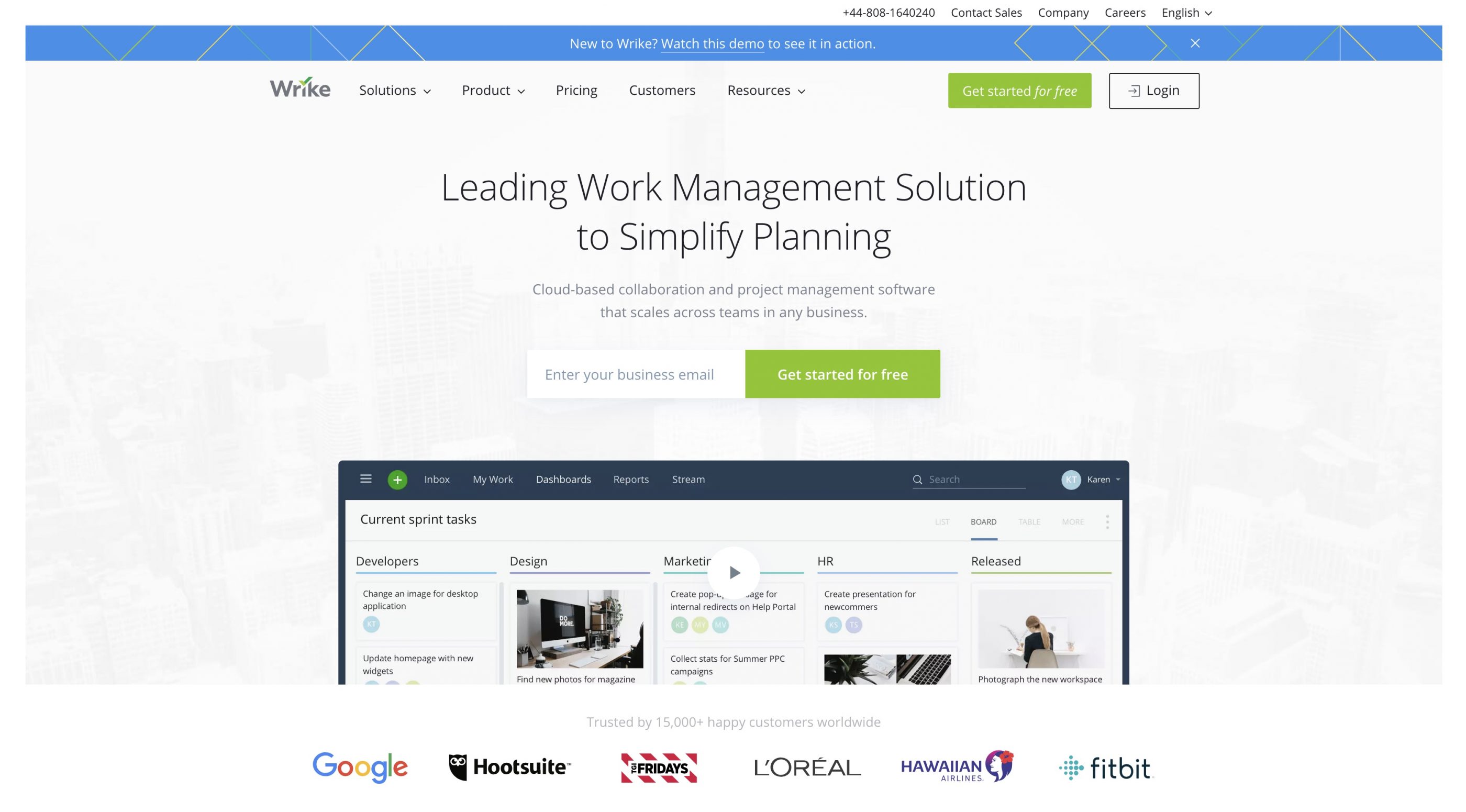 Why you'll love it: Commonly considered a great project scheduling software for teams of 20 or more people, Wrike has all the bells and whistles necessary for an enterprise-level option. Customers who plan to scale will love the simple integrations and planning features.
Whether you're a marketing team or a creative design team, this program has some great solutions for just about any industry out there.
Price: Free for up to five team members. Professional plans start at just under $10 per user per month.
Pros: Flexibility to customize solutions to your team's specific needs and desires.
Cons: Easy to fall behind and misunderstand the app if you don't go through each step of the internal training process.
7. Monday.com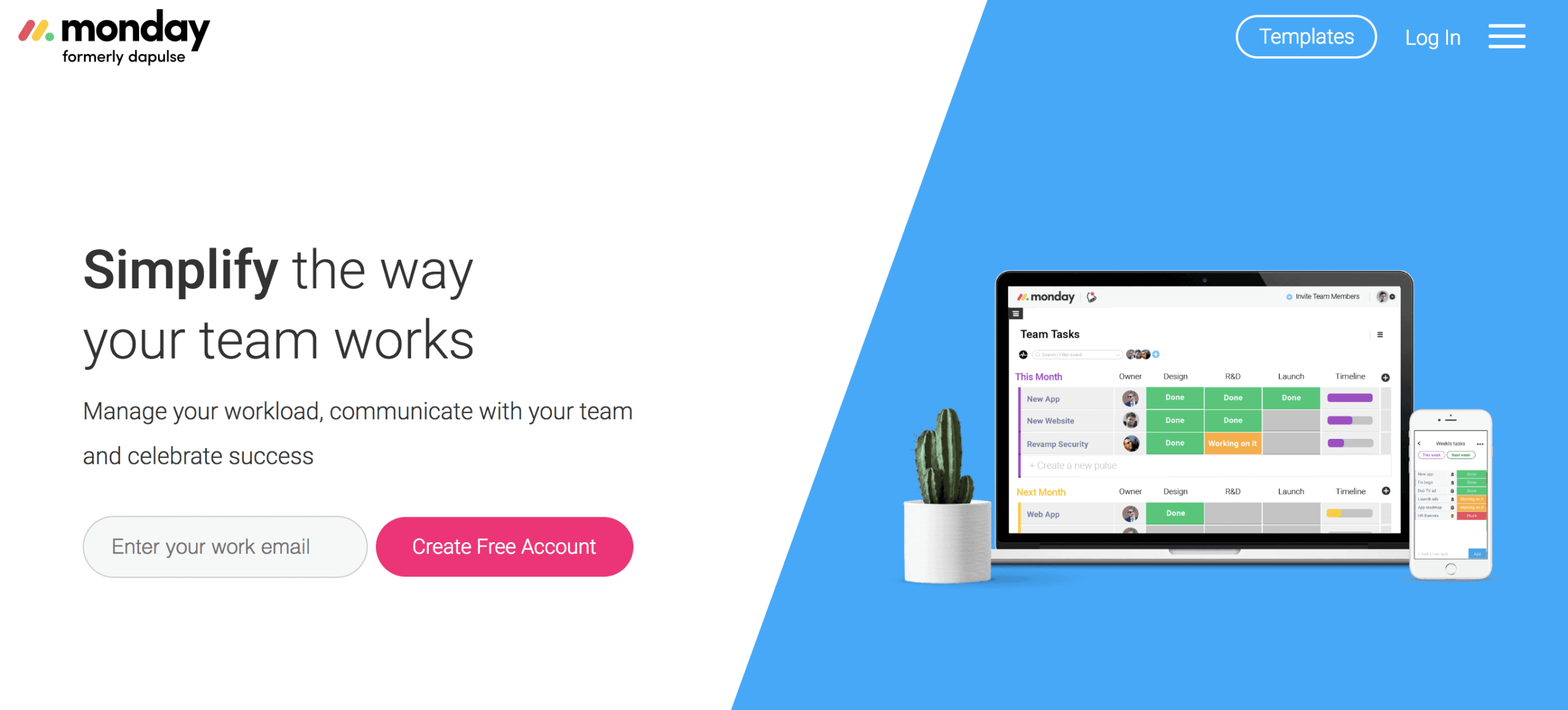 Why you'll love it: Planning, tracking, and team collaboration all come standard when you use Monday.com software. With an array of pre-arranged templates, you can choose the option that will best fit your needs and still make further adjustments to fully customize the program.
Put together simple timelines, track your team's progress from day-to-day, and look at the big picture with weekly and monthly views.
Price: Pricing depends on a set number of users. Plans start at $29 per month for up to 5 users. Varying discounts for paying annually.
Pros: Collaboration is a popular feature for Monday.com as the app makes it easy to keep in touch with everyone in the group.
Cons: May not be a great solution for companies with hundreds of clients since there is limited space in their scheduling features.
8. Scoro

Why you'll love it: While Scoro offers project scheduling software, they place themselves into a more general category of business management. With a wide variety of project, sales, and reporting features for teams, they make it easy to assign work and coordinate tasks.
Similar to Zoho, they also provide access to CRM and billing features as well, giving project leaders the ability to manage customer needs and financial aspects.
Price: Payment plans start at $22 per user per month.
Pros: Users say it's nice to have a program with multiple facets like CRM and workflow tracking that can still integrate with other apps you are already using.
Cons: Many users complain that there are no Gantt charts in the software.
9. Teamwork Projects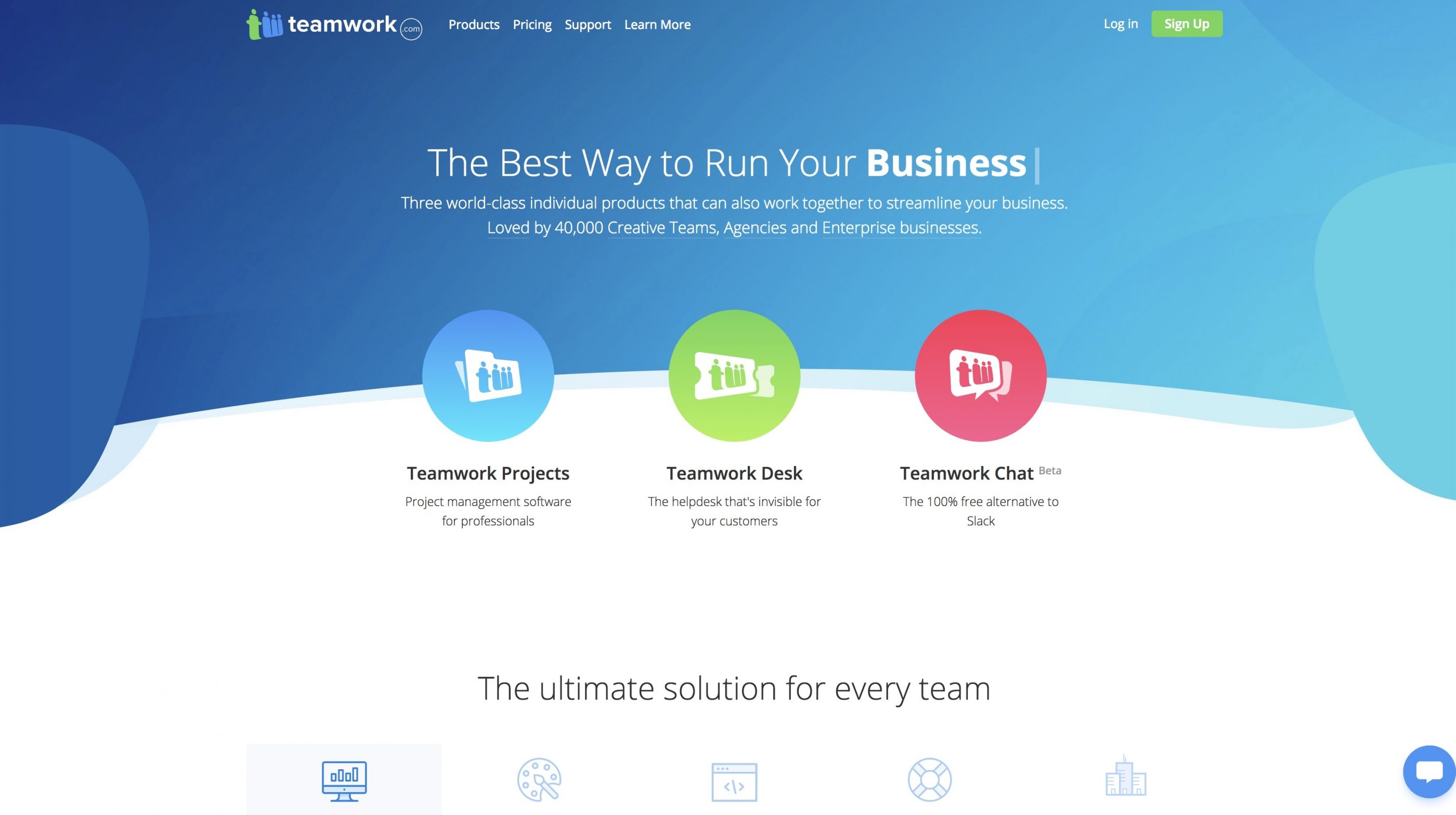 Why you'll love it: You'll find all the bare essentials you need on Teamwork Projects. This project management app includes time tracking software, a task manager, scheduled milestones, Gantt Chart features, and more.
No matter what is on your team's schedule each day, everyone will be able to take a quick look at their project and know the next step on the agenda.
Price: Free for up to 5 users. Pro plans start at $9 per user per month, with a minimum of 5 users.
Pros: The file manager has permission-based access, so everyone who needs to see certain documents has the opportunity.
Cons: The free plan has very limited features available, so it's difficult to get a true sense of what the software can do before you purchase.
10. Mavenlink
Why you'll love it: Mavenlink's project scheduling software allows you to manage the entire lifecycle of a project all in one place. Set tasks, monitor time, utilize resource management, and track financial numbers all through this single app.
Organize projects down to the minute for some of the most detailed and dynamic planning processes you have ever seen.
Price: Team plans start at $19 per month for up to 5 users.
Pros: Users love Mavenlink's time tracking tool. Many teams replace their former time management programs with Mavenlink's. It's also one of the more affordable options available.
Cons: Use of Gantt Charts is highly glitchy at times and the task monitoring system makes it difficult to see who is assigned to a particular project step.
Choose the Best Project Scheduling Software for You
Every business has different needs when it comes to project management. And every option on this list has varying features, so you'll want to do some additional research to see which of them will be the best fit.
Take a look through these project scheduling software choices, check the pricing, review the elements each one has to offer, and give them a try.
If you'd like to learn more about the features Toggl Plan provides to business owners, be sure to check out our product page and see how we can help you manage projects.