The success of a project depends on how well you plan it. It can get confusing when it comes to picking a project scheduling software considering the number of applications available in the market.
This comprehensive resource on project scheduling tools will guide you in choosing a solution that fits your requirements.
You'll learn:
The concept of project scheduling and its significance
Features you should look for when shortlisting project scheduling tools
16 project scheduling software along with their pros and cons
Project scheduling FAQs
So, if you want to nail down your project planning and scheduling phases easily, stick around. We are going to cover plenty of things.
Let's begin.
What is project scheduling?
Project scheduling is the process of breaking down a project into activities/tasks, resources, deliverables, and milestones. This means, dividing a project into phases. Then plotting these phases on a timeline along with milestones and dependencies.
While a project plan provides a comprehensive overview of the project, i.e., a blueprint, a project schedule gives a step-by-step walkthrough of the project using a Gantt chart.
A project schedule helps managers:
Understand what tasks need to be prioritized.
Assign them to the right team members.
Monitor & manage team workload.
And keep the project from going over-budget.
Why use a project scheduling software?
You can always use a document or a spreadsheet to plan a schedule. But a project scheduling software helps better plan and execute a project. Here's how:
Visualize project workflow
The schedule is a sequential representation of the tasks, activities, phases, and milestones. This can be represented visually on a timeline. Or, progress can be visually tracked using kanban boards.
Visualizing the work breakdown structure helps everyone involved in the project better understand where everything stands.
Track project progress
Managers need to keep the team on track to achieve milestones and deliver projects on time. And, stakeholders need to know if a project is on schedule or going over-budget.
A schedule helps everyone know where things stand And if things can be done on time.
Prioritize tasks
A project schedule defines task dependencies, resource availability, and important deliveries.
This helps teams prioritize tasks better and make adjustments where necessary. Stakeholders too can get a clear picture of when they're needed during the project's lifecycle.
Identify dependencies & bottlenecks
Commonly, there are four types of task dependencies, viz., finish to start, start to finish, finish to finish, and start to start.
Project managers can identify these dependencies using a timeline. Plus, including milestones and workload visibility helps managers identify bottlenecks in the project.
Adjust project schedule and resource availability
Most project scheduler software offers intuitive tools that enable users to tweak the project plan or schedule easily. For instance, when using the timeline views, users can adjust the project schedule by dragging relevant tasks across the timeline or change their duration.
Similarly, by visualizing day-offs, holidays, and vacations on the timeline itself, managers can reschedule task deadlines and milestones accordingly.
What are some common features in project scheduling tools?
A project scheduling tool can be as simple or complex depending on your needs. Here is a list of features that you'll see in most project scheduling apps.
Gantt Charts / Project Timelines
A Gantt chart or timeline view gives clear visual cues of what's happening when. Also, you can zoom in to a week, month, quarter, or year to get a detailed or a birds-eye view of a project.
That way, everyone in your team clearly understands what's needs to be done when. This means, your team can communicate and collaborate better.
Task Management
Task management involves creating tasks and tracking their progress through the entire workflow.
This means, adding task due dates, assigning it to team members, creating task checklists, and adding relevant information necessary to complete the task.
Budget Planning
A project budget can be as simple as the estimated effort. Or it can also have monetary values like fixed costs, recurring payments, salaries/fees, licensing costs, travel, and overhead costs. Some tools offer managers and stakeholders features to monitor and manage the project budget.
Resource Management
Resource management helps managers ensure that the team is not spread too thin. This feature simplifies team planning and workload management.
An effective resource management feature helps managers balance the workload across the team, track holidays, and reallocate tasks.
Frequently asked questions about project scheduling
You now know what project scheduling is. And, you also understand how tools can help you create and manage project schedules.
Let's look at some common questions about scheduling.
What is the difference between project planning and scheduling?
A project plan defines the goals, objectives, scope, deadlines, and resources for a project.
On the other hand, a project schedule expands the plan to identify high-level tasks, phases, and milestones in a project. And creating a schedule by mapping these to a timeline.
In short, the project plan answers the what and how of the project, whereas the project schedule answers the when.
What are the various project scheduling techniques?
Following are three of the most basic project scheduling techniques:
Critical Path Method (CPM): The CPM calculates the minimum and maximum time required to complete a project. Also, it helps identify the critical tasks, dependencies, and bottlenecks in a project's schedule.
Program Evaluation and Review Technique (PERT): PERT helps visualize tasks and milestones in a chronological order. But instead of estimating effort, it considers the optimistic, pessimistic, and most-likely time required to complete a project
Gantt Charts: Simply put, Gantt charts help visualize tasks, milestones, and the deadlines by which to complete them.
Apart from these three techniques, project managers also use duration compression, simulation, task lists, and calendars to schedule projects.
Which is the most basic scheduling method?
A Gantt chart or a Project timeline is the easiest way to plan a project schedule. Being visual tools these are easy to understand and use. Besides, you don't need formal project management education to create project schedules using a timeline.
What is the Level 1 or Master Schedule of a project?
The Level 1 schedule (or the Master Schedule) consists of all the tasks and milestones along with their deadlines represented using a Gantt chart. It's a project schedule in its most basic form that creates relationships between tasks on the timeline.
What are the different levels of project scheduling?
Other than level 1, there are four levels of project scheduling:
Level 2/Project Summary Schedule: This schedule contains key components of the project and is used by high-level management for reporting purposes
Level 3/Control Level Schedule: This is an actual project schedule devised by using the CPM. The level 3 schedule shows tasks segregated into categories along with the resources assigned
Level 4/Detailed Network Schedule: The Level 4 schedule expands upon its previous level and breaks down all the activities to be completed by the team
Level 5/Detailed Report Schedule: This schedule details the Level 4 schedule into day-to-day activities for the workforce.
What are the best project scheduling software?
Choosing the best activity scheduling software depends on multiple factors.
First, the software should have the features you need.
Second, the tool should be easy to use for your team and stakeholders. Adoption will drastically decrease if it takes time to learn or has a complex set of features.
And third, it should fit within your budget.
With that in mind, here are 16 top project scheduling software that you can consider for your projects.
Toggl Plan is one of the simplest project planning and scheduling software. You can get started quickly by adding tasks, team members, and milestones or creating segments.
Project Planning & Scheduling Features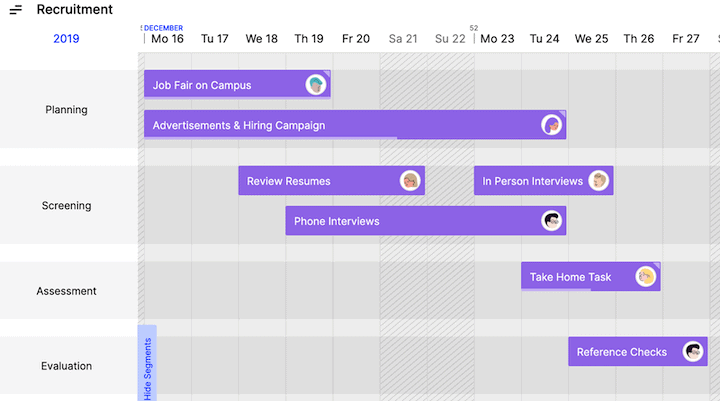 Toggl Plan offers two ways to visualize your projects — timelines and kanban boards.
Using the timeline view, you can set up, track, and manage the project schedule. You can visualize tasks and milestones on the timeline as well as adjust the schedule using simple drag-and-drop.
Using the timeline you can create a detailed, task-level plan or a high-level project roadmap.
Task Management Features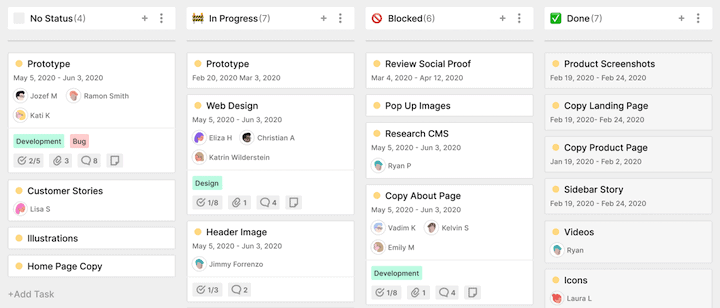 Adding and managing tasks in Toggl Plan is a cakewalk.
While you can easily manage tasks on the timeline, the kanban board view simplifies task management further. Using boards, you drag-and-drop tasks across the board's swim lanes to change their status.
Besides this, you can add new tasks, include sub-tasks, add deadlines, assign it to team members, attach files, and manage approvals within the comments section.
Resource Management Features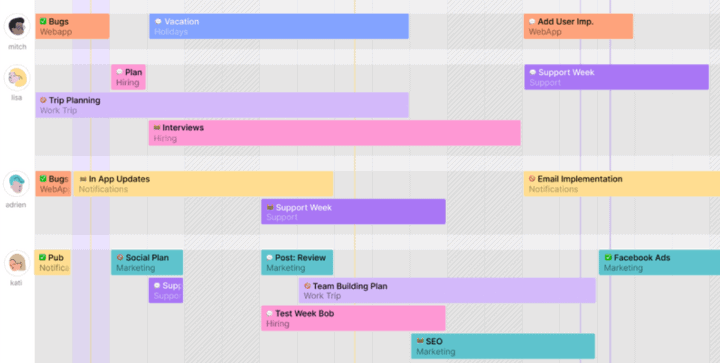 With Toggl Plan, it's easy to add new team members, assign roles and tasks to them. Team members can add their vacation plans and planned off-days to the timeline.
Further, managers can view each member's workload. And adjust workloads depending on who's available and who's overworked. Thus achieve maximum productivity.
Pricing
Toggl Plan is one of the most affordable project scheduling software in this list.
Toggl Plan is free for freelancers and solopreneurs. It has all key features to help you plan and schedule your projects.
The team plans start at $9 per user, billed every month.
2. ProjectManager.com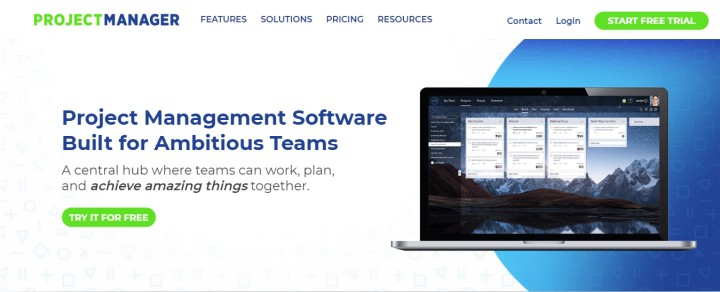 ProjectManager is famous in industries like marketing, IT, and manufacturing. You can schedule projects, add team members, assign roles, set holidays, manage tasks, balance workloads, and view project workflow using kanban boards. Its project calendar app integrates with Google Calendar and can work as a combination of Gantt chart and calendar views for personal use.
Pros: Create highly detailed project maps on a Gantt Chart with budgets, tasks, milestones, and other key dates.
Cons: A common complaint is the inability to link tasks and see their effect on the overall project plan.
Pricing: ProjectManager doesn't offer a free plan. The individual plan starts at $15 per month, and team plans start at $20 per user, per month.
3. Celoxis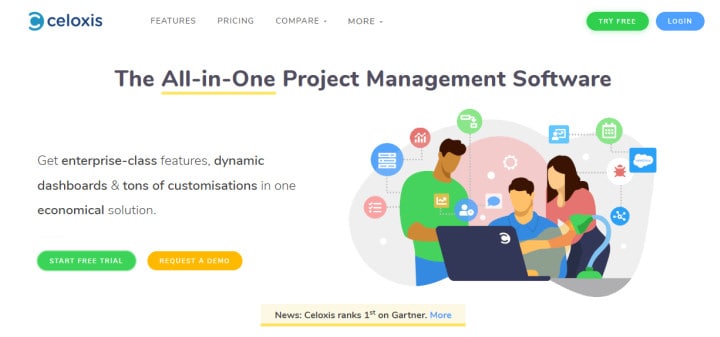 Celoxis offers everything you'd need in a project planning application. Managers can create role-specific dashboards to provide access to only the relevant information to each user. Features catering to project planning, resource management, project tracking, and accounting simplify program planning and scheduling.
Pros: Celoxis is a cost-effective solution that offers features that are otherwise available in high-end plans of other apps.
Cons: The common complaints from its users revolve around clunky user interface and experience.
Pricing: Celoxis offers both – cloud and on-premise solutions. Its cloud-based plan starts at $25 per user, per month, with a minimum of five users.
4. Forecast.app

Forecast.app is an AI-powered project management tool that plans and schedules the project using its auto-schedule feature. Once the tasks are fed to the system, the AI estimates the time it'll take to complete each task and identifies the best resources to work on them.
Pros: As manual administration goes down, the tool fosters team collaboration and boosts overall productivity.
Cons: The tool keeps facing minute glitches now and then, but they're resolved pretty quickly. Also, the software can be expensive for smaller or bootstrapped teams.
Pricing: Its basic plan starts at $29 per user, per month, with a minimum of ten users.
5. Mavenlink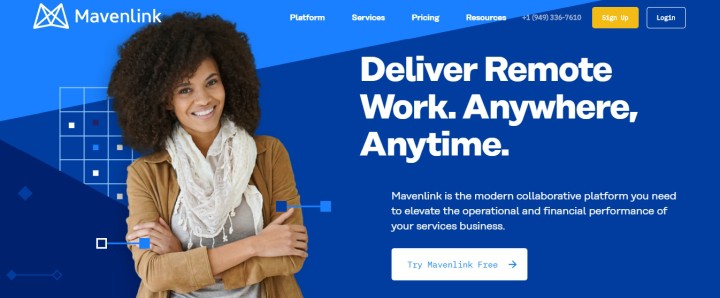 Mavenlink's project scheduling software allows you to manage the project lifecycle in one place. You can set tasks, monitor time, manage resources, and track project budgets. With powerful features to plan, collaborate, track, and analyze project delivery, Mavenlink proves to be a reliable activity scheduling software.
Pros: Mavenlink is one of the most comprehensive project scheduler software on the list.
Cons: Gantt Charts can be glitchy at times, and the task monitoring system is not very transparent.
Pricing: Mavenlink doesn't have a free plan. Its team plan starts at $19 per user, per month for up to 5 users.
6. Monday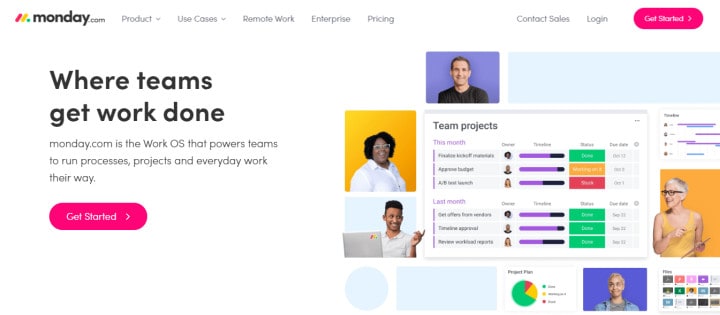 Monday offers project planning, scheduling, tracking, and team collaboration among plenty of other features. Also, Monday comes with ready-to-use templates, that you can customize to match your project's needs.
Create simple timelines, track your team's daily progress, and look at the big picture with weekly and monthly views.
Pros: Collaboration is a popular feature for monday.com as the app makes it easy to keep in touch with everyone in the group.
Cons: It may not be a great solution for companies with hundreds of clients since there is limited space in their scheduling features.
Pricing: monday.com offers its pricing in the user slabs. The basic plan starts at $49 per month for five users and can go up to $79 and beyond.
7. FunctionFox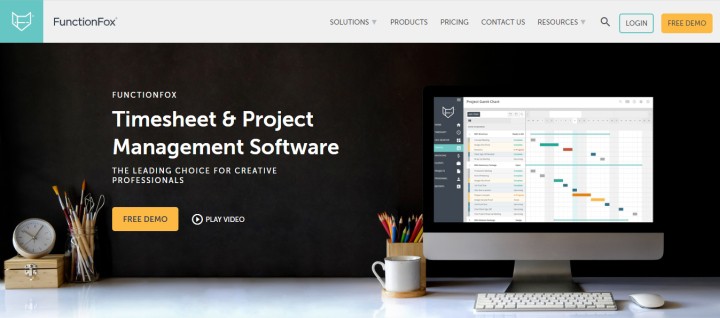 FunctionFox is a simple timesheet and project management tool. The work management software caters primarily to marketing, creative, design teams, and freelancers.
The software has segmented its offerings in multiple slabs depending on use cases. For instance, its Classic slab offers only basic features like timesheet, budget, and retainer tracking.
Pros: Flexibility and customization options are the key pros of FunctionFox
Cons: The Gantt charts are not available in its Classic plan. You need to upgrade to its Premier plan to use them.
Pricing: To get essential project management features, you need to subscribe to their Premier plan, starting $10 per user, per month. However, the first user is charged $50 per month.
8. TeamGantt

Well, as the name suggests, TeamGantt, is a Gantt chart-driven project scheduling software. Also, it includes workload management and collaboration tools to improve work efficiency.
Pros: The tool shows the planned timeline versus actual timeline meshed together to help users understand productivity. It also offers calendar and list views to visualize projects better.
Cons: Along with a clunky user interface, the software comes with a steep learning curve and needs a decent understanding of project management. This can be a hindrance for users who aren't acquainted with project management.
Pricing: TeamGantt offers a free plan for up to three users. In its basic paid plan, the pricing for the first user starts at $24.95 per month, and new members are charged approximately $10 per month.
9. MS Project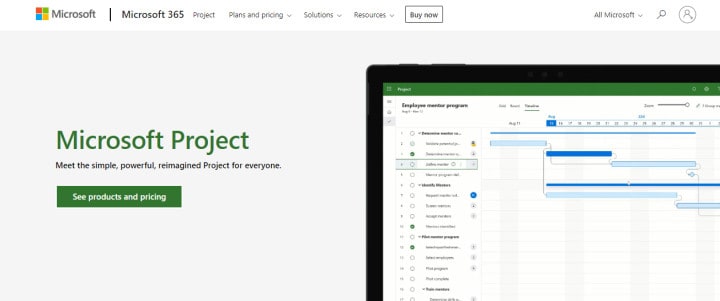 MS Project is Microsoft's project planning and scheduling solution. The software is powerful to help project managers build project schedules, create and assign tasks, track progress, and manage budgets. In addition, it has in-built templates and multiple views to manage projects without any hassles.
Pros: MS Project scheduler is flexible and seamlessly integrates with other Microsoft software.
Cons: This is another tool from the list that comes with a steep learning curve. If not done correctly, a minute change in the schedule can disrupt the entire flow.
Pricing: The basic plan starts at $10 per user, per month. It requires organizations to commit to the tool for at least a year.
10. Zoho Projects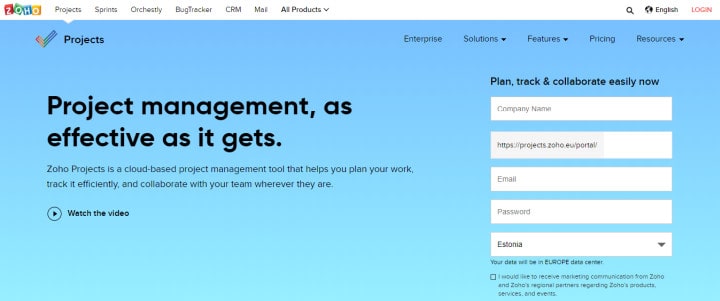 Zoho Projects one of the solutions from Zoho's expansive product suite. This schedule planning software includes features such as task management and automation, time tracking, issue tracking, and analytics.
Pros: Zoho is a powerful contender if you are looking for an alpha product for company-wide implementation across multiple departments.
Cons: Some reviews have stated the "functionality of the software can be quite frustrating" when it comes to the app's navigation and ease of use.
Pricing: The free plan includes three users and offers the Gantt chart viewer. The Standard Plan consists of 6-10 users and starts at $3 per user, per month.
11. Workfront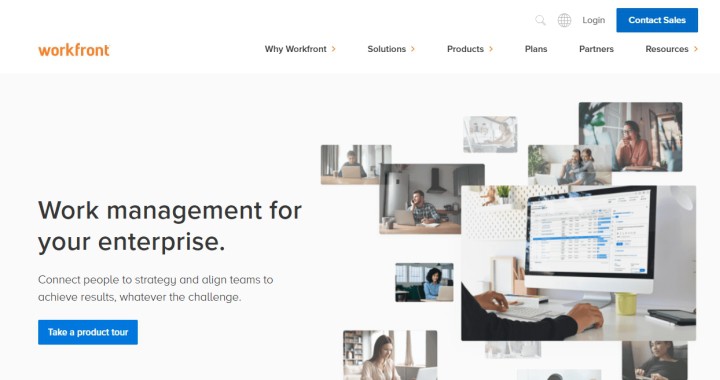 Workfront is a work planning software that offers work management and enterprise management tools. This means you can plan work, manage projects, and keep track of budgets.
Pros: Workfront's reporting features are powerful.
Cons: The team communication aspect can get complicated sometimes.
Pricing: The pricing for various plans can be obtained by getting in touch with Workfront.
12. LiquidPlanner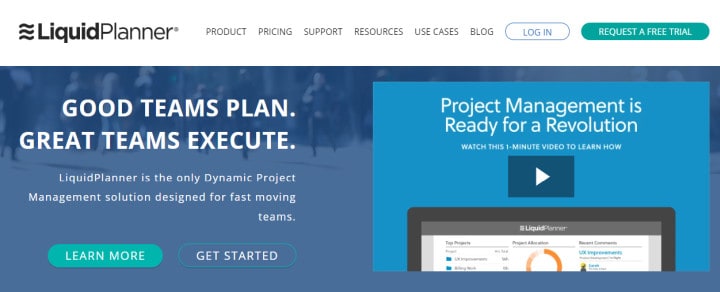 LiquidPlanner is the only automated project scheduling and forecasting software tool. Also, its powerful dashboard and project costing feature offer data analysis on a granular level.
Pros: The task tracking and capacity planning are the two widely used features.
Cons: Teams that have used LiquidPlanner often say it is expensive compared to other options and has a steep learning curve.
Pricing: The professional plan starts at $45 per user, per month, with a minimum of five users.
13. Smartsheet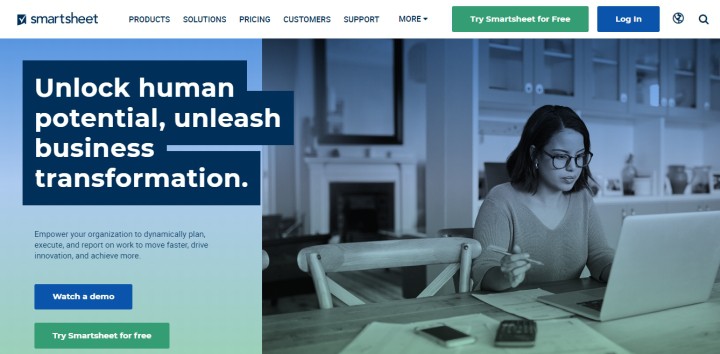 Smartsheet is a popular project management app with its key features being an innovative dashboard and work automation. Plus, you can create customized forms and design pre-configured automated systems for their specific needs.
Their tracking software monitors everything from milestones to time and expenses.
Pros: The simple and dynamic user interface makes it easy to navigate between various features.
Cons: Users have said "creating a backup is a challenge" due to the many screens necessary to complete this function.
Pricing: The individual plan costs $14 per month, and the business plan costs $25 per user, per month. You need to contact Smartsheet for enterprise pricing.
14. Scoro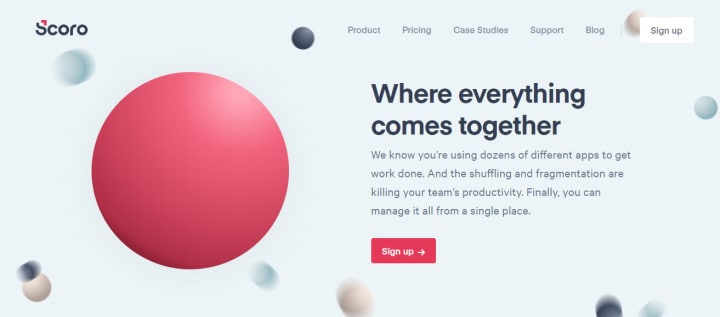 Scoro is another tool on this list with a comprehensive set of offerings. When it comes to features, users can set up a project schedule and visualize progress via Gantt charts. In addition, users can ensure that the project stays on track budget-wise and forecast future expenditures based on past data.
Pros: Similar to Zoho, Scoro is effective for organizations looking for a more comprehensive solution.
Cons: Scoro can get expensive, even for a basic set of features. Also, Scoro charges one-time onboarding fees starting $899 for teams of 10+ members.
Pricing: Scoro doesn't have a free plan. Its premium plan with basic features starts at $28 per user, per month, with a minimum of five users. On top of this, users can cherry-pick specific features for an additional cost starting $6 per user, per month.
15. Teamwork Projects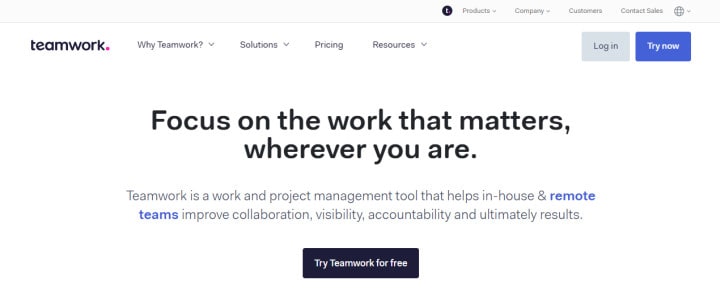 Teamwork Projects covers all essential features required in a project planning app. In features, it includes time tracking software, a task manager, milestones, Gantt charts, and workload management.
Also, this app can be integrated with other Teamwork products such as Desk, CRM, Spaces, and Chat.
Pros: The file manager has permission-based access, which optimizes file management.
Cons: The free plan is very limited. So, it's difficult to get a true sense of what the software can do before you purchase.
Pricing: Free for up to 5 users. Pro plans start at $12.50 per user, per month, with a minimum of 5 users.
16. Basecamp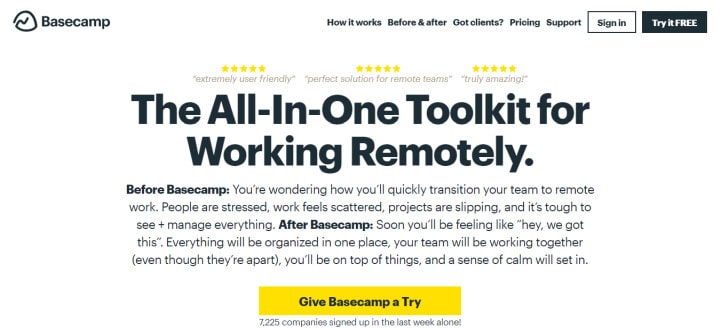 Basecamp is an unconventional project scheduling tool from the user interface perspective. Unlike other tools, it doesn't come with a timeline. However, you can create task lists and set a deadline for each task.
On the other hand, Basecamp has discussion boards and chat tools. That way, everyone in the team can collaborate on tasks better.
Pros: Although unconventional, the user interface of Basecamp is simple to navigate.
Cons: The lack of tags or labels makes it difficult to find specific messages or conversations.
Pricing: Basecamp charges flat pricing of $99 per month regardless of the team size.
Picking the right project scheduling software
It's quite a task to pick up a tool that suits your needs and budget. And at the same time, easy to use. But the right tool can go a long way in helping you plan project timelines better.
The best way is to shortlist a couple of tools from the list above. After which you can evaluate the tools. And finally, select one that best fulfills all your requirements.
If you're looking for an affordable and easy-to-use tool, you may want to give Toggl Plan a try. It comes with all the features you need to plan, track, and manage a project. And it's simple, drag-and-drop interface makes creating project schedules a breeze for everyone.