Picture this. You're ready to attack your work plan and delegate work to your team. But, just then, you realize that a team member is busy on another project (or has time-off). Your work plan, which you've painstakingly created, is on the verge of collapsing. That's where resource scheduling software can help.
Of course, you can also use a spreadsheet or a calendar to manage your team resources. But, using software makes it easy to adjust the schedule on the fly and plan collaboratively.
In this article, we'll look at the top resource scheduling tools available to you today. And, in case you're still on the fence, we'll also look at the what and why of resource scheduling apps.
Here's what we'll cover.
Ready? Let's begin.
What is resource scheduling software?
Resource management software helps you plan, allocate, and manage resources needed for everyday work or time-bound projects. Resources can be anything from team members, time, or conference rooms.
Often, resource scheduling is a feature in project management tools. Depending on the app you choose, you can also get forecasting, cost control, and budget management.
Resource management tools are also known as resource scheduling tools, resource planning tools, resource allocation software, or workload management tools.
Resource schedulers help you automate basic resource management processes, including:
Planning resource requirements
Allocating resources by project or department
Tracking and control of resource availability and consumption
How can resource scheduling software help your business?
Resource management is a complex activity. However, proper use of resources will help you get work done faster while keeping your team happy. Resource scheduling, done the right way, can help you:
Avoid project failure by having the right resources available at the right time.
Get more work done faster by identifying underworked employees.
Prevent burnout caused by overworked team members.
Plan and manage team member availability and off-time.
Forecast resource requirements to influence hiring decisions.
You can manage your resources using anything from whiteboards to Excel sheets. Using software instead comes with many benefits, including:
Schedule resources faster by avoiding manual work.
Make adjustments to schedules easily for last-minute plan changes.
Get an overview of your team's capacity and workloads.
Plan collaboratively, even with distributed teams.
Maintain and analyze historical data.
Best resource scheduling software tools
Using the right resource scheduling apps can help you avoid resource conflicts and burnout while improving team productivity. Let's look at the best tools that are available today.
Toggl Plan is a beautifully simple work planning and execution tool. It helps you plan work, manage team workloads, and get tasks done.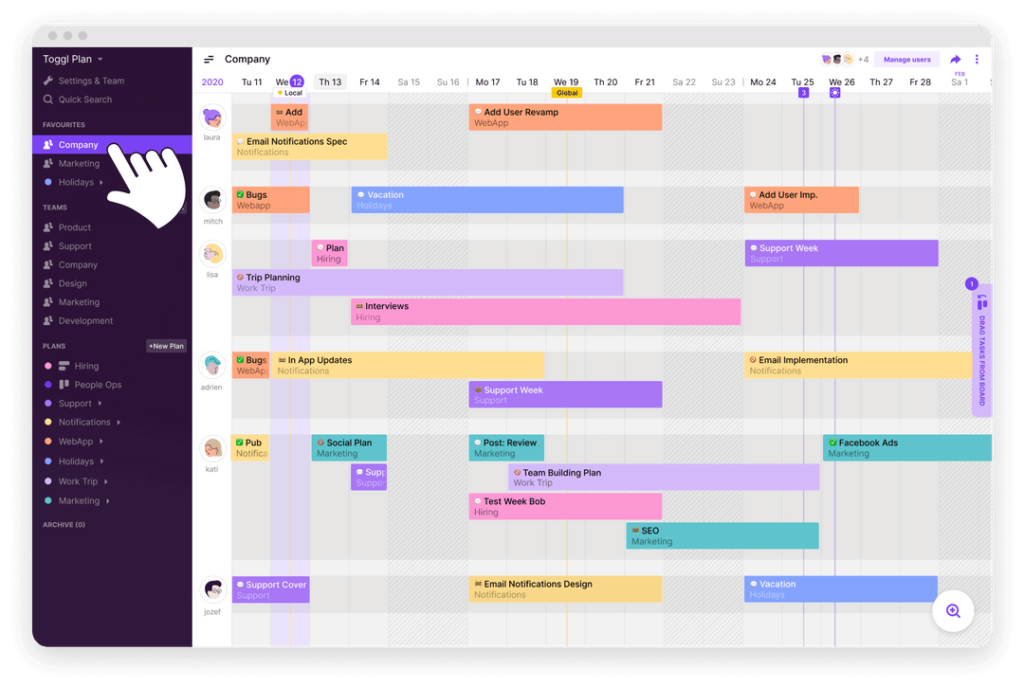 Toggl Plan's team timelines make it easy to plan your team's schedule.
You can create unlimited team timelines, which makes it easy to manage shared team members and freelancers.
A team timeline helps managers visualize people's availability. Also, it gives you a clear picture of your team's workload. Thus, helping you ensure that no team members are over or under-worked.
Making changes is easy too. You can simply drag and drop resource allocations to rebalance work.
Pricing & additional features
Toggl Plan's team price plan costs $9 per user per month ($8 if you pay annually).
In addition to team resource scheduling and planning, you also get:
Unlimited Project timelines.
Track critical delivery dates with color-coded milestones.
Kanban boards with customizable task workflows to manage tasks.
Recurring tasks to manage repeating tasks such as meetings, audits, and compliance tasks.
Keep stakeholders in the loop with shareable, read-only timelines.
Time tracking integration with Toggl Track.
Is Toggl Plan right for you?
Toggl Plan is perfect for creative teams and small businesses. It makes it easy to manage your work visually. Anyone, irrespective of their technical background, can use Toggl Plan to manage projects and team resources.
MS Project is still a popular choice among technical project managers. It comes with all the features you need for project planning, team collaboration, and resource management.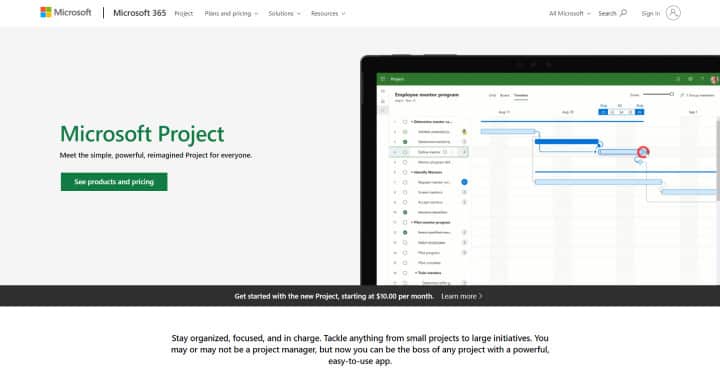 With Microsoft Project, you can manage all three types of resources — work (people and machines), material, and cost resources. You can customize all resource properties to match your project requirements.
Use the Resource Sheet view or the project's Gantt timeline to schedule resources.
Pricing & additional features
Resource management in MS Project is available from $30 per user per month. However, you need to commit for at least a year.
Other features available are:
Project planning and management.
Task management and collaboration.
Pre-built reports to track project progress.
Timesheet management.
Demand management.
Is MS Project right for you?
MS project is popular among technical project managers. Plus, some teams already use MS Office and other Microsoft products for work management. In such cases, it makes sense to use MS Project for resource management.
If you're looking for an enterprise resource scheduler, eResource Scheduler may be right for you. It's an online resource scheduling tool that's completely configurable and comes with powerful reports.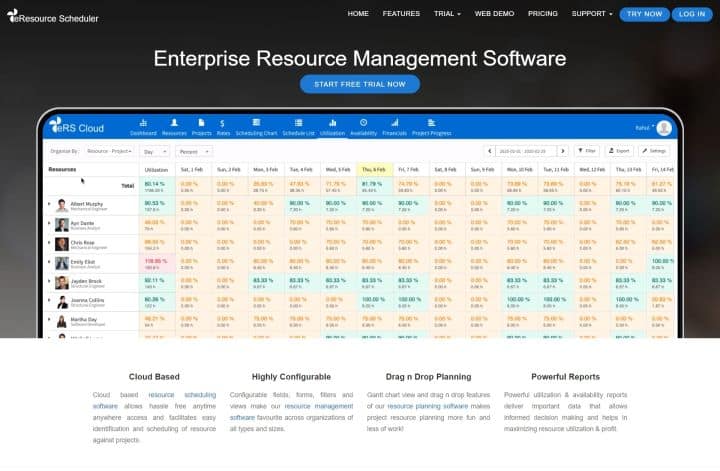 eResource Scheduler comes with a convenient Gantt chart timeline that helps understand the resource schedule and availability.
What makes it unique is that you can identify qualified resources for a project or a task. You can filter resources based on departments, qualifications, or skills to find the right resources for the job.
Resource allocations can be copy-pasted or split to accommodate emergency changes.
Pricing & additional features
Core scheduling costs $5 per user per month. You can also opt for a financial module that costs an additional $4 per user per month.
The additional features include:
Powerful resource management dashboard.
Optimize people usage with detailed resource utilization reports.
Robust team availability reports for better planning.
Cost, revenue, and profit reports to optimize resources financially.
Is eResource Scheduler right for you?
eResource Scheduler is perfect for enterprise users who only want a resource management tool. While it has powerful features, smaller teams will find it overly complicated. Also, it does not come with any project or task management features.
Float is a popular resource planning tool. Other than scheduling, it also has capacity management, forecasting, and time-tracking features.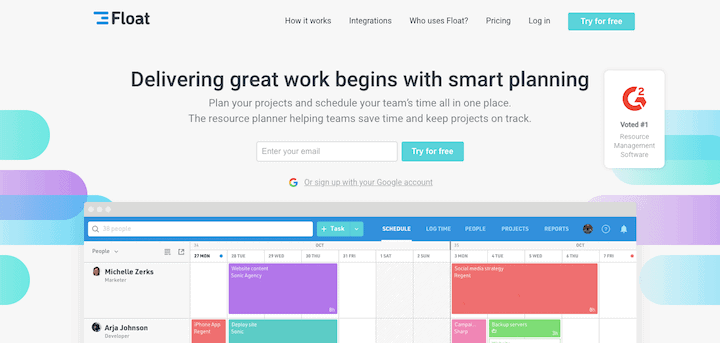 With Float, you can visualize your team workloads either by people or by projects. On either view, you can schedule tasks or time off.
To keep track of what's happening around your team, you can find people, tasks, and projects using a quick search. You also get real-time updates and notifications as things get updated.
Pricing & additional features
For basic resource planning, Float costs $7.50 per resource per month. If you also need time tracking, you'll need to sign up for the $12.50 per resource per month plan.
Float has the following additional features:
Track resource budgets and time spent on tasks.
Designate work hours and understand team utilization.
Get accurate resource requirement forecasts based on your project's progress.
Powerful reports and timesheets.
Is Float right for you?
If you're looking for a simple resource management tool with basic forecasting features, you will find Float useful. However, you'll need to use another app to manage your projects and tasks.
Monday.com is a work management tool with resource management features. It comes with features to manage tasks, plan projects, and manage team workloads.
Monday.com comes with a workload view to help you visualize your team's capacity.
On this view, you can quickly see the utilized team and material resources. When needed, you can reassign tasks or change due dates for overworked team members.
Pricing & additional features
The workload management feature in Monday.com is available in the Pro plan. The Pro plan costs $20 per user per month and requires a minimum commitment of 3 users.
Additional features in Monday.com include:
Project planning with Gantt chart timelines.
Task management and collaboration.
Kanban boards.
Integrations with popular work-management tools.
Is Monday.com right for you?
Monday.com is a popular and powerful workload management tool. However, the workload view does not have a timeline. This makes it difficult to visualize your team's capacity. Plus, at $20 per user per month, it's relatively expensive.
Resource Guru is another simple resource management solution. In addition to resource management, it also has leave management, equipment management, capacity planning, and forecasting features.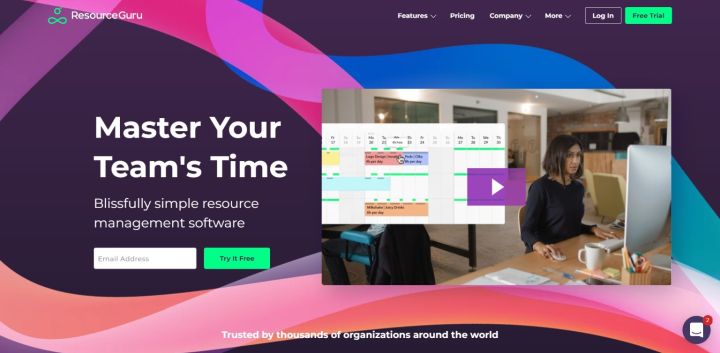 When it comes to resource scheduling, Resource Guru gives you a birds-eye overview of your team. You can quickly see who's overwhelmed and who's bored. You can also rebalance work with simple drag and drop.
It also allows you to filter people by departments and skills to allocate the right people to the right task.
Pricing & additional features
Resource Guru costs $3 to $8 per resource per month. With higher plans, you get reports, single sign-on, and better support.
Additional features include:
Manage non-human resources for an additional fee.
Manage overtime, off-time, and leave data.
Resource utilization and capacity planning with detailed reports.
Project resource requirements forecasting.
Is Resource Guru right for you?
Resource Guru is purely a resource planning tool. If you need to manage both human and non-human resources, Resource Guru may be perfect for you.
Forecast is an online resource scheduling and project management software. It's an all-in-one platform for project management, resource management, and team collaboration.

Forecast automates resource planning and scheduling. Of course, you can also make any changes manually.
It comes with forecasting features for estimating demands, task efforts, and resource availability.
Besides, powerful reports make it easy to analyze individual, project, or portfolio performance.
Pricing & additional features
Forecast pricing starts at $29 per seat per month with only an annual billing option.
Additional features include:
Complete operational and financial visibility.
Time tracking.
Timesheet management.
Project and task management.
Business Intelligence reports for resource utilization, billability, and expenses.
Is Forecast right for you?
If you're looking for an automated project and resource management software for a large-sized organization, Forecast may be right for you. Its powerful BI reports are an added advantage for enterprise clients.
Runn is a resource planning and forecasting software. Other than resource scheduling, it comes with project management, people management, and financial forecasting features.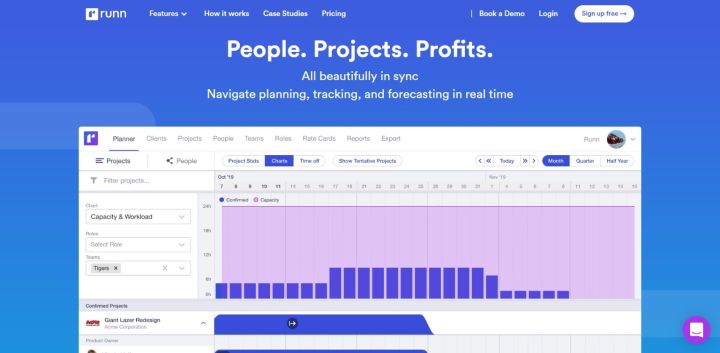 With Runn, you can quickly create assignments for team members on a timeline.
A table view shows your team utilization statistics. Also, you can see the utilization split for billable vs. non-billable hours.
Finally, you can also plan resources for tentative projects.
Pricing & additional features
Runn costs $10 per user per month. It also has a free plan that is limited to 5 team members.
Additional features include:
Project planning.
Leave management.
Time tracking integrations for Harvest and Clockify.
Predict and track project financials.
Customizable reports.
Is Runn right for you?
Runn offers an attractive package of features at reasonable prices. And while it may seem a bit complex for small businesses, you may still want to try its forever-free plan.
Retain is an online resource scheduling tool. It provides a clear overview of your organization's resources and offers features to manage and retain talent effectively.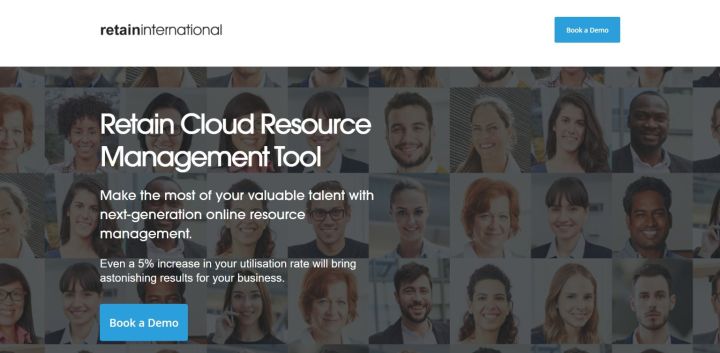 Retain provides a real-time view of resource availability. From this view, you can quickly see under and over-utilized resources. Plus, you can also filter this view by availability, skill, location, etc., to rebalance work.
Early in the project, you can create private resource plans. Once finalized, you can make these plans public.
Retain also has features to create global or engagement-level skill profiles. That way, you can assign the right people to a project.
Pricing & additional features
Retain does not provide pricing information on its website. However, you can schedule a demo request to learn more about the product and pricing.
Additional features in Retain are as below:
Leave and availability management.
Robust dashboards and reports.
Absence tracking.
Employee talent profiles.
Is Retain right for you?
Retain is a powerful, enterprise-scale resource scheduling tool. With its focus on matching employee talent with engagements, Retain is useful for large organizations.
Booked Scheduler started as an open-source resource scheduling software. However, since November 2020, the open-source version has been discontinued. Today it's only available as an online application.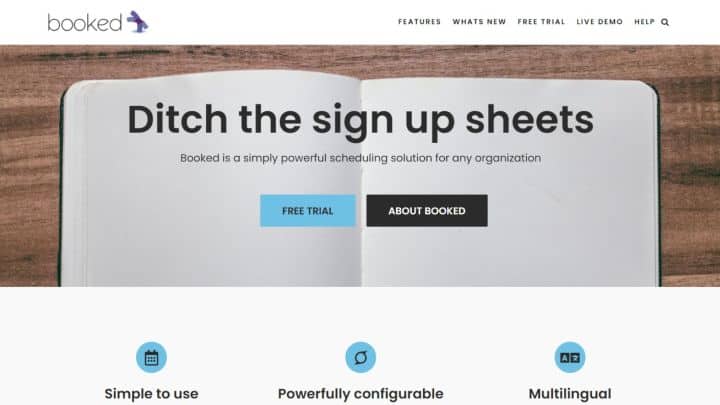 Unlike other tools in this article, Booked Scheduler is fully configurable to meet any scheduling and booking needs.
You can create unlimited resources with custom resource types. Each resource type can have a custom schedule, making it easy to book a resource by slot availability.
Pricing & additional features
Booked Scheduler costs $100 per year for unlimited resources. The abandoned open-source version is still available for free via Github.
Additional features include:
Look at new and upcoming reservations.
Custom quotas and block-out times.
Custom reports for resource usage and analyzing reservation data.
Is Booked Scheduler right for you?
Like we discussed earlier, Booked Scheduler is mostly for managing material resources. If that's what you're looking for, you may want to give Booked Scheduler a try. But, if you need a tool for managing your team, Booked Scheduler may not be for you.
More resource scheduling software tools
In addition to the above, there are a few more tools that you can use for planning and scheduling resources.
How to find the right resource scheduling tool?
So far, you've looked at the best resource scheduling tools available today. But, how do you choose the one that's perfect for your needs?
Identify your needs. Do you want a simple, team scheduling app? Do you need a project management tool as well? Or do you need forecasting and talent matching capabilities? Either way, make a list of your feature requirements.
Shortlist apps that match your needs and budget. Once you have the requirements, shortlist tools that also fit your budget.
Try these shortlisted tools to find the right tool. Take advantage of the freemium or free trial plans. Take these tools out for a spin along with your team to find the best software tool for your needs.
Conclusion
Big or small, your business needs resource scheduling.
We've looked at the best resource scheduling software tools available today. Find a tool for your business to get productive work done while keeping your team happy.
Jitesh is an SEO and content specialist. He manages content projects at Toggl and loves sharing actionable tips to deliver projects profitably.