As a project manager, there are two things that I'd be lost without: my massive art deco mug loaded with diesel-grade coffee and my timeline creator. The first gets me started and keeps me going. The second shows me how to get there.
Why Project Timelines Are Important
Your project timeline serves several essential purposes, namely:
It illustrates what the project is expected to accomplish and when
It represents project progress in the form of milestones
It signals when work is falling behind and allows you to take corrective measures before the project can be compromised
A detailed and accurate timeline will start your projects off on the right foot and keep you on track until the final deliverables are accomplished. Therefore, you want to use a timeline creator that provides you with clean, attractive, and easy-to-understand visual overview of each project.
There are a lot of timeline creator tools out there, but they aren't all created equal. The best software has the following features:
Interactive Gantt charts that you can update in real-time, ensuring that your team always has access to the latest resources and instructions
Standard templates and workflows that can make project scheduling and management easier
I've tested a lot of them, and in my opinion, these timeline creator tools will make your job way easier. They certainly worked for me!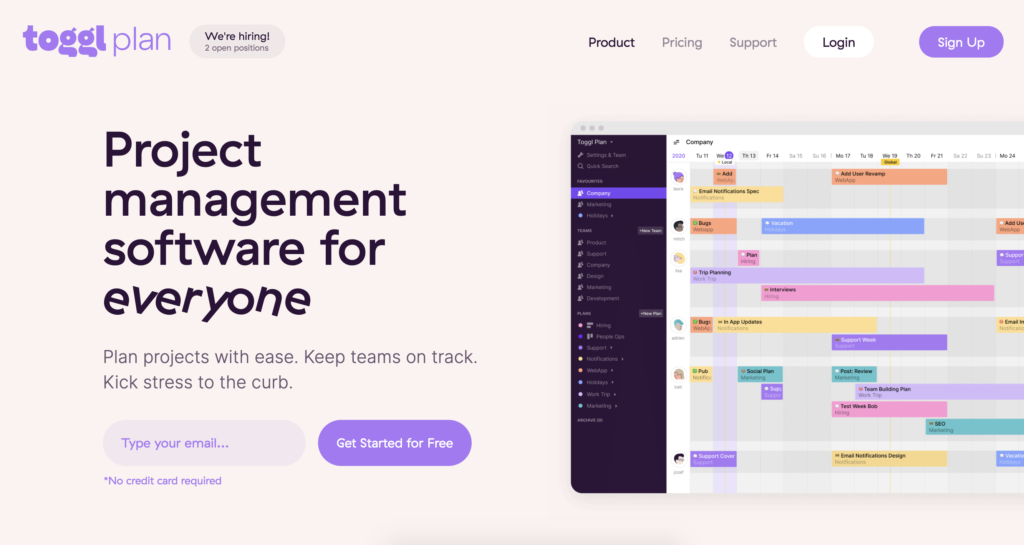 Why You'll Love It: Toggl Plan is super easy to use and creates colorful, interactive timelines that have been used and trusted by Spotify, Microsoft, Buzzfeed, Disney, and other tech giants and creative agencies.
Toggl Plan is a free, browser-based Gantt chart tool that generates detailed and visually appealing timelines. The interface and controls are easy to master, so you don't spend valuable time on a learning curve. You can immediately start plotting your project tasks, milestones, and overall schedule, with a color-code feature available for easier grouping and tracking.
To add a task, all you have to do is click on the timeline, drag it to encompass the appropriate amount of time, name the task and add particulars such as:
The name of the team member you want to assign it to
Which project it belongs to
The duration
Start and end times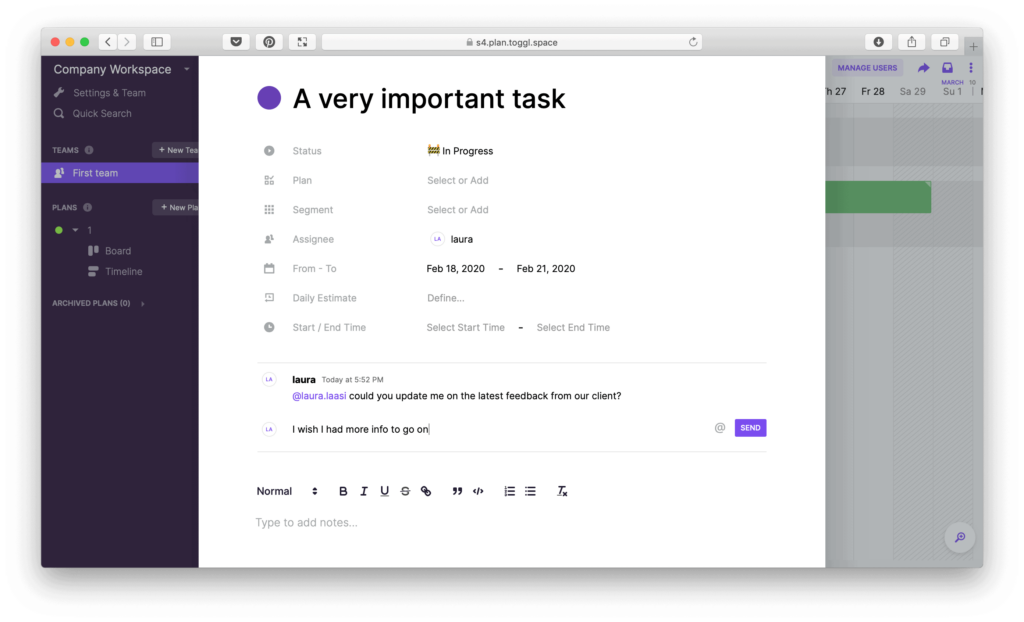 To rearrange your timeline, all you have to do is drag and drop its elements into their new positions. There are no complex steps involved or a need to master any type of coding.
Every project has its own color, making it easy for you to see task dependencies, assess everyone's workload, see who may be overburdened, and identify team members with a lighter workload who can assist them. This feature is especially popular: one user exclaimed on review site Capterra that Toggl Plan was a "wonderfully sleek project management tool…. really easy to use and it looks beautiful."
Pros: Easy to learn and use, timelines can be updated in real-time, custom color-coding makes the timeline easy to follow and manage
Cons: Some reviewers lament the lack of dependencies on the timeline.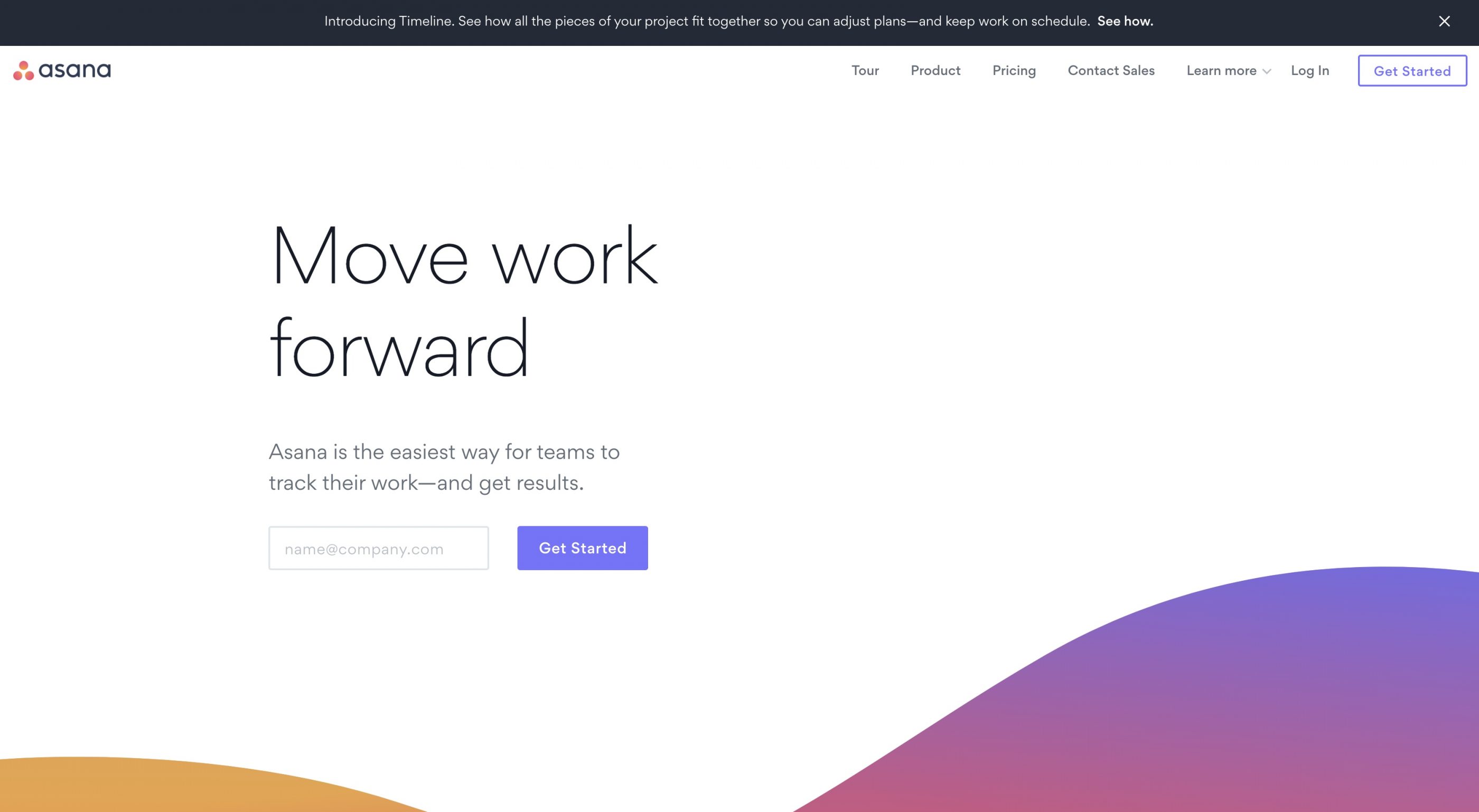 Why You'll Love It: Asana's timeline maker is easy to master, has a simple interface, and is so visually appealing that if you work at a creative agency, it will be a guaranteed hit.
Asana's timeline maker is a new feature that delivers a beautiful and interactive project view. You will be able to map out your projects in a manner that lets you see immediately how tasks and deadlines might conflict and prevent any scheduling problems before work begins.
Every project managed using Asana has a built-in Timeline view. Its top advantages are:
Once you create your timeline and work begins, updating a task is as simple as selecting it and dragging it to reflect the change in due date.
If a dependency conflict results from a change, you'll see it immediately.
As tasks are added, changed, or completed, the timeline automatically stays up-to-date.
If you were using spreadsheets to plan your projects before adopting Asana, you can now import your CSV file into the program to create a clean, attractive, and 100% actionable timeline. I was especially impressed by this capability: instead of scrapping your old Excel project files, you can import them into the Asana environment and keep building on them.
Project managers who use Asana really seem to love it. One reviewer enthused, "If apps were food, my mouth would WATER when I mention Asana."
Pros: Simple to use, pleasing to look at, can import and use project management files from other resources
Cons: The free version has some searching and reporting limitations, but the paid product offers these capabilities in full.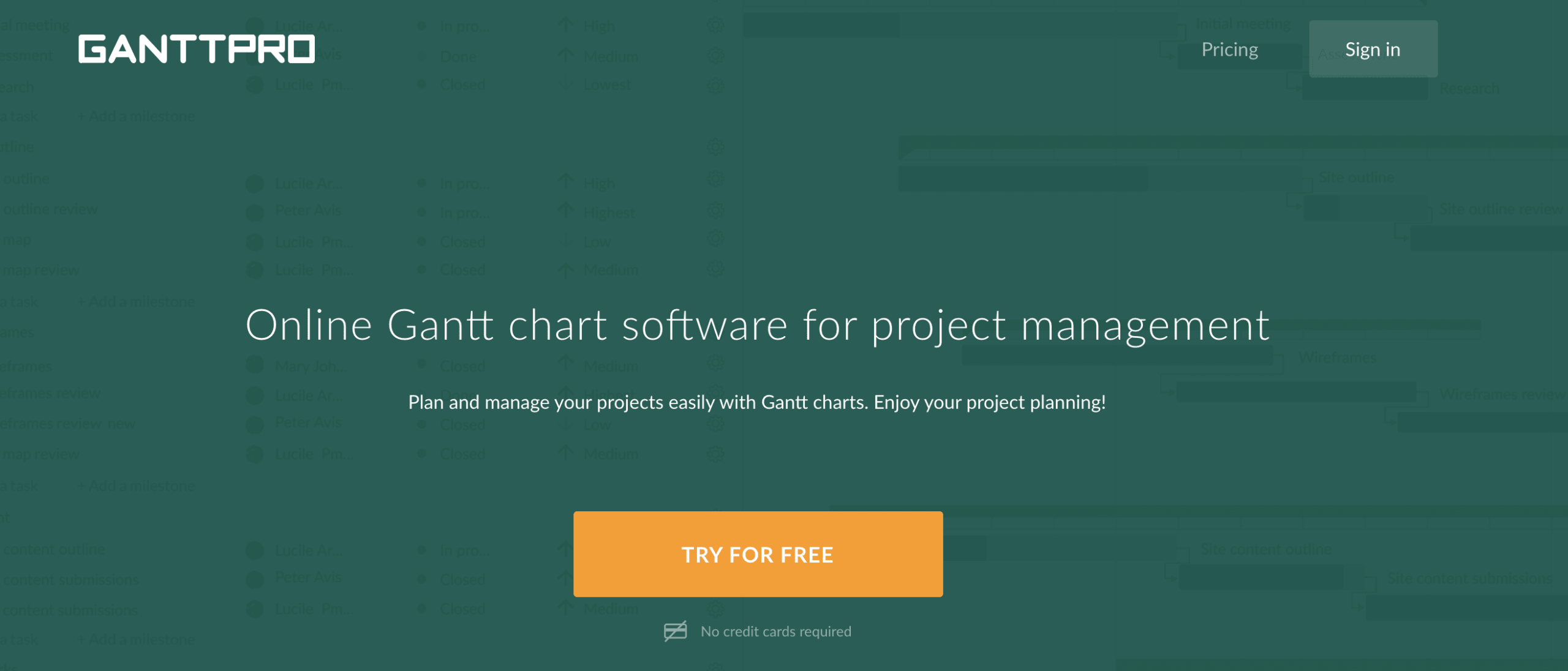 Why You'll Love It: As its name suggests, GanttPRO uses Gantt charts to create attractive timelines that simplify your project workflows, make tracking a breeze, and are easy to share with your team and clients.
GanttPRO's online timeline maker creates an accurate visualization of your project schedule in minutes, providing you with a detailed overview that supports better workload distribution and decision-making. If you're looking for an easy-to-use tool that delivers a clear picture of all project activities, this one will do it for you. A reviewer noted on Capterra, "GanttPro makes it really quick and painless to draft a good-looking project timeline."
The biggest advantages from a user standpoint include:
A user-friendly and intuitive interface enables you to master GanttPro without going through a steep learning curve first.
The ability to not only add milestones and other events but define their start and end dates and any critical deadlines.
Once everything is in place, tracking the progress of the project is as easy as opening the timeline and giving it a quick visual review.
What I especially like about GanttPRO is how simple it is to create and customize the timeline. Once you have your tasks and milestones in place, the timeline practically runs itself. As work progresses, the software automatically calculates how much has been accomplished and how much remains to be done based on the values that you set for the tasks.
Pros: Simple to use, pleasing to look at, can import and use project management files from other resources
Cons: There is no export function in the free version. There is also no way to add images to the timelines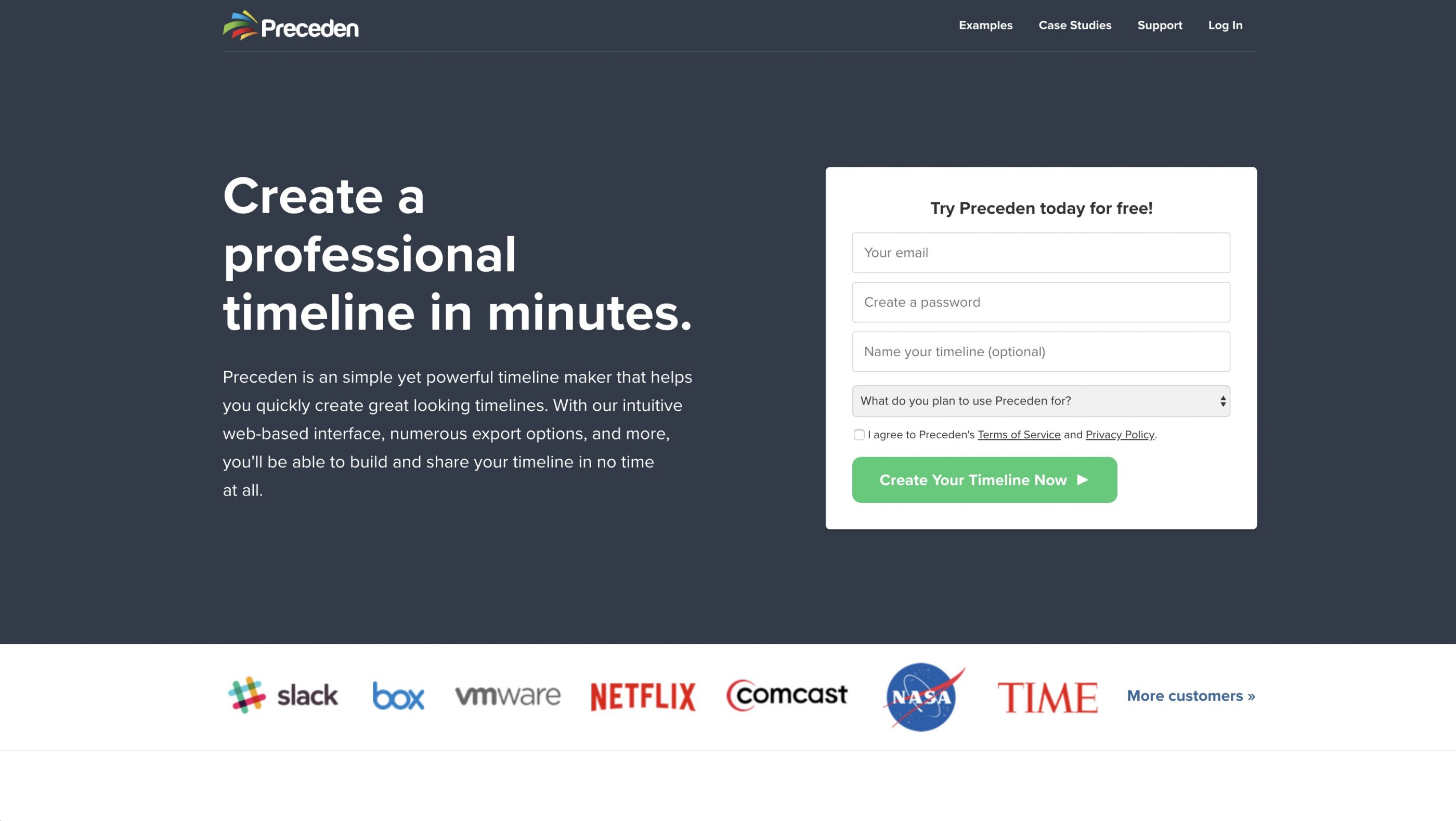 Why You'll Love It: Preceden's interactive timelines make it easy to manage and control all of your project's moving pieces. It's also used by project managers at Netflix, Comcast, Box, and other prominent companies.
Preceden is so easy to use that teachers employ it in their classrooms to create history timelines. At the same time, it's powerful enough to produce timelines that can help you manage a complicated project from start to finish As one reviewer stated, "Preceden is a UI friendly web that allows you to map out timelines in a very organized manner."
There are a lot of options for customizing a Preceden timeline. You can:
Apply custom colors
Change the font size
Apply special effects to today's date
Make other changes to the timeline's appearance to accommodate the way you and your team prefer to work
One of Preceden's most popular features is the layers, which enable you to group related events together and keep your timeline more organized. For example, in a creative project timeline you could create one layer containing all tasks related to photography and another layer containing the tasks related to logos and graphic design.
An interesting side note: the creator of Preceden is a former project manager for the US Air Force. After spending hours preparing timelines in PowerPoint and Excel, he concluded that there had to be a better way and decided to create Preceden to make the process easier for other project managers.
Pros: Easy to manage, creates attractive timelines, can be used for multiple purposes
Cons: The free version has limitations that might not make it suitable for more complicated projects.
Conclusion
Project management is like a juggling match at times. You're constantly overseeing and switching between multiple people, tasks, and even projects. It can be easy to miss something (like an important deadline) and when you do, the entire project can go off the rails and result in a lot of wasted time, money, and effort.
This is why it is so helpful to have a timeline that gives you a complete overview of a project schedule. You can see who is working on what, which milestones are due, and how close the team is to completing them. The right timeline creation software will put this important picture together for you.

So which one do you choose? With so many software packages claiming to be the only one you will ever need, it can be tricky to make the right decision for your agency, but make sure that the tool you select allows you to do the following:
Apply custom color to the timeline for easy task and project grouping
Add, remove, and update tasks using a drag-and-drop functionality
Integrate with popular third-party applications that your team members may be using
Easily monitor individual workloads so that no one on the team is overburdened or struggling to find something to do
The timeline creator tools in this post have all of the above capabilities and more. Once you find a solution that works for you, you'll be impressed by how much easier your job becomes. It will be like your morning coffee: you'll wonder how you did so well without it!
Rose Keefe is an author and technical writer who has over ten years' experience in supporting project managers in the manufacturing and construction sectors. One of her primary responsibilities was developing product manuals that supported efficient use of industrial equipment. She continues to write on the subject of time management and commercial productivity for trade websites and publications.