You don't have to be a project manager to be "doing" project management. Whether you're a freelancer, an in-house manager, or someone who's just stepped into a manager's role, learning about the basics of project management will help you manage your work better.
In this article, you'll learn how to plan and manage a project from start to finish. Specifically, you'll learn:
What is project management?
Importance of project management
Roles & Responsibilities within the project teams
Phases of a project's life cycle
Project management methodologies
Steps involved in the project management process
And, project management tools
Project Management Basics
Before we look at the steps involved, let's first understand the basics of project management.
What Is Project Management?
Project management is the process by which a project is planned, tracked, controlled, and reported. Each project has a specific start date and end date. In addition, a project produces a specific deliverable.
Proven project management processes help move a project towards completion. These include:
Planning & scheduling
Resource management
Risk management
Task management & monitoring
Reporting
Project managers are responsible for planning and executing a project along with the project team to produce the desired deliverable and meet stakeholder expectations.
You might also like » 10 Proven Project Management Tips For Small-Team Project Managers
Why Project Management Is Important?
According to PMI, organizations that do not value project management report 67 percent more projects as failed. Also, the same report finds that poor project management results in an 11 percent wasted investment.
With so much at stake, following proven project management practices should be a no-brainer. Here are the reasons why project management is important:
Ensures an alignment between the team and the delivered value.
Provides leadership and direction to projects.
Ensures smooth communication between the project team and clients.
Creates a roadmap for executing projects and meet business goals.
Improves planning by providing realistic work estimates.
Ensures that a project stays on schedule.
Extracts learning from past projects.
Reduces risks in delivering the project.
Project Management Roles And Responsibilities
A project does not happen in isolation. You need people to execute a project. And, these people need to play a well-defined role.
Let's look at the common roles and responsibilities in project management.
Team members: Team members are skilled persons who are responsible for executing the project and producing the deliverable.
Suppliers: Suppliers are often external teams who sub-contract part of a project where internal resources or skilled team members are not available.
Project manager: Project managers are responsible for planning, tracking, and controlling the project. In addition, they also lead the team members, manage suppliers, and guide the project towards completion.
Program manager: Program managers are responsible for a set of related projects. One or more project managers report to a program manager.
Project sponsor: Project sponsors (or account managers) are senior managers accountable for the project deliverables. They're answerable to a client and also the single point of contact between the team and the clients.
Project portfolio manager: Portfolio managers manage projects of one or more clients across the organization.
Stakeholders: Stakeholders are the people that are directly or indirectly affected by the project. Their inputs and feedback are sought to define the project's deliverables.
Clients: A project is finally delivered to clients, who, pay for it.
What Are The Four Phases Of Project Management?
Next, we need to understand the four phases that define a project's life cycle. From start to finish, every project goes through these four phases:
Initiation phase: This starting phase is all about understanding the goals, scope, risks, and priorities of a project.
Planning phase: In this phase, project activities and required resources are identified. Also, managers create an estimated timeline required to complete the project.
Execution phase: Skilled team members come together to turn the project plan into deliverables. Managers track project progress.
Closure phase: Teams hand over deliverables, analyze project performance and are finally dissolved.
Project Management Methodologies
How you execute these four project phases is up to you and your team. However, over years, project management professionals have come up with tried and tested methodologies that can make life simpler.
Three project management methodologies are popular among teams:
Waterfall: The Waterfall methodology follows a linear approach to project management — gather detailed requirements, put a plan together, build a solution, test, and deliver it. This method works great when the requirements are clear.
Agile: The Agile project management methodology follows an iterative approach. Each phase of the project is time-boxed and the complete project features are delivered iteratively. This method works for projects where you want to see quick wins and can be built over iterations.
Lean: Lean project management is an iterative approach that focuses on reducing waste. The lean methodology tries to reduce three types of wastes: useless activities, overburdened team members, and unevenly distributed workloads.
How To Manage A Project From Start To Finish?
The project life cycle gives you a high-level overview of the phases a project goes through. In practice, there's a lot more in each of these phases.
Initiation Phase
As discussed above, the initiation phase is all about understanding the project. This involves meetings, discussions, and documentation. However, there's very little planning that goes into this phase.
High-level role players including clients, client-side stakeholders, project sponsors, and project managers are involved in this phase.
Key steps involved in this phase include:
Step# 1: Identify project goals and deliverables.
A project kickoff meeting starts the project management process. All the high-level role players in the project attend this meeting.
The objective is to identify the project's goals and deliverables from the clients' perspective.
At the end of this step, key goals and deliverables are documented.
Step #2. Uncover project risks, constraints, and priorities.
Once the high-level goals are documented, it's time to identify all the internal and external variables that can impact the project's progress adversely. These include:
Risks: Factors that negatively impact the project's goals, schedule, or budget.
Constraints: Factors that limit the project's execution, such as, budget, schedule, or resources.
Priorities: Factors that impact the order of the project including dependencies between project activities.
Identifying these threats early can help you manage risks and plan your project better.
Step #3. Establish Project Scope
Now that you know all the factors that can affect your project, you can start breaking down the goals and deliverables into activities. Based on the identified constraints in step #2, scope boundaries are set.
Project scope defines what's included and what's not included in the project.
It's critical to document the agreed-upon scope and freeze it mutually with the client before proceeding further.
Failure to do so results in scope creep. Further, scope creep results in over-delivery, poor management, and ultimately project failure.
While you can manage scope creep, it's best not to let your project's scope increase during the execution phase.
Step #4. Submit the project proposal
All the information collected in the initiation phase is documented and presented to clients as a project proposal. In addition, the project proposal also includes a high-level budget and timeline, based on the project scope.
Unlike a project plan, which includes a detailed schedule, the proposal includes a high-level schedule.
At the end of the initiation phase, the project sponsor and manager present this proposal to clients. Here's an example proposal template.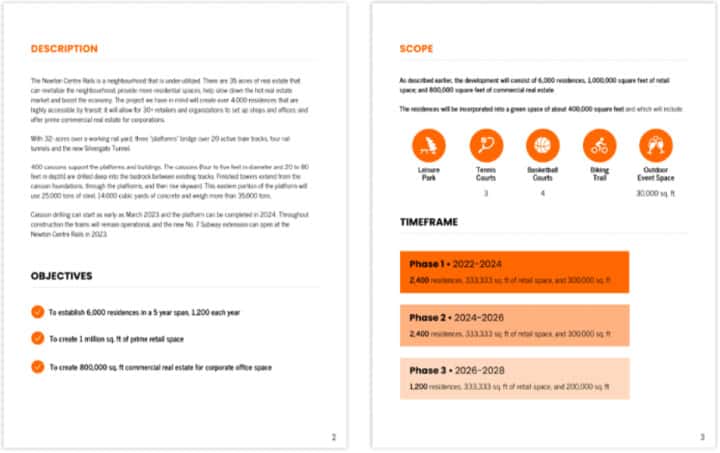 Planning Phase
Once the client approves the project proposal, the project moves on to the planning phase.
It's important to note that project planning is not a one-time activity in the project's life cycle. A lot of things can change as the project moves forward. Client goals may change, resources may become unavailable, or estimates may go wrong.
That's why planning is an ongoing activity that happens throughout the life cycle of a project. As things change, you may need to revisit and adjust your plans accordingly.
A project manager is the main role player for this phase. The steps involved in this phase are:
Step #5. Create a project roadmap
To create a project roadmap, the high-level project activities identified in the project proposal are mapped on the timeline. The project roadmap is presented using Gantt charts.
When creating the project timeline, a project manager needs to consider the risks, constraints, and priorities documented in the proposal. In addition, project managers also need to consider resource allocation.
For larger projects, the timeline is divided into phases. At the end of each phase, the project team delivers some deliverables to the client. The end of a phase marks a milestone. Milestones are checkpoints to evaluate a project's progress.
A project manager creates a project roadmap and presents it to the client for approval.
Step #6. Create a detailed project plan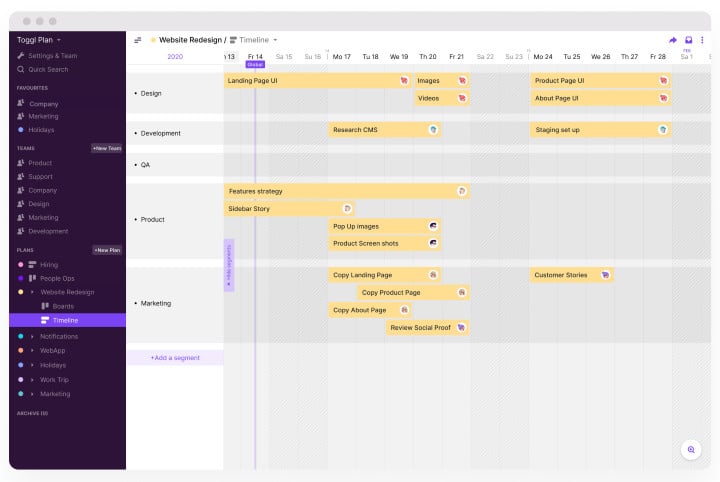 Once the client approves the project roadmap, a project manager creates a task-level project plan by breaking down roadmap activities.
Tasks are low-level project activities. Team members take up tasks and are responsible for completing them. That's why a task must include all the information necessary for a team member to complete the task.
Execution Phase
Once the initial project and resource plan is in place, the project moves on to the execution phase.
This is where the actual work happens. Skilled team members work on the planned tasks and move them from to-do to done.
However, task management is not all that happens in this phase. A project manager also needs to:
Revaluate and adjust the project plan based on changes
Communicate the project's progress
Step #7. Manage tasks and track project progress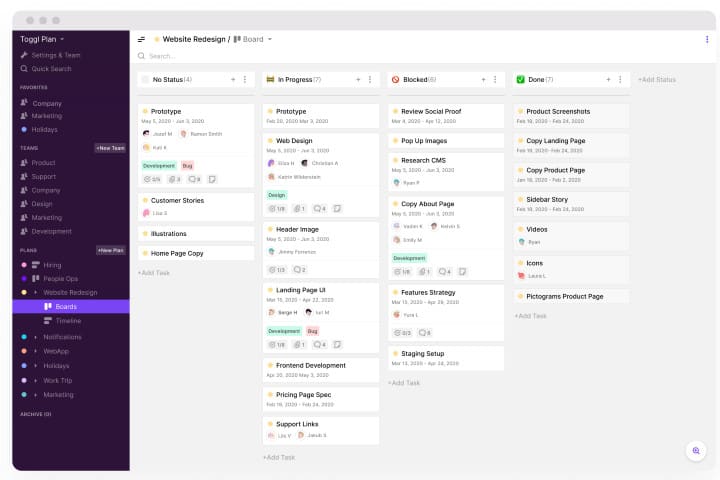 Task management involves managing the task workflow and monitoring task progress.
A task workflow is a sequence of steps where a task moves from planning to completion. Workflows can be simple as To do → Doing → Done. Or, they can involve complex steps as in the case of software projects. As a project manager, you're responsible to ensure that the team has everything they need to move the task along this workflow.
The second activity a project manager needs to look at is tracking task progress. Delayed tasks can sometimes derail the entire project.
Step #8. Review and adjust the project plan
The project moves towards closure as tasks get done, milestones are achieved, and deliverables are delivered to clients. However, often things don't go as planned. Estimates go wrong, suppliers miss a deadline, or client priorities change.
That's why, at least after every milestone, a project manager needs to review the project's progress. Review resource availability and priorities. And then, adjust the project plan and schedule accordingly.
Step #9. Communicate project progress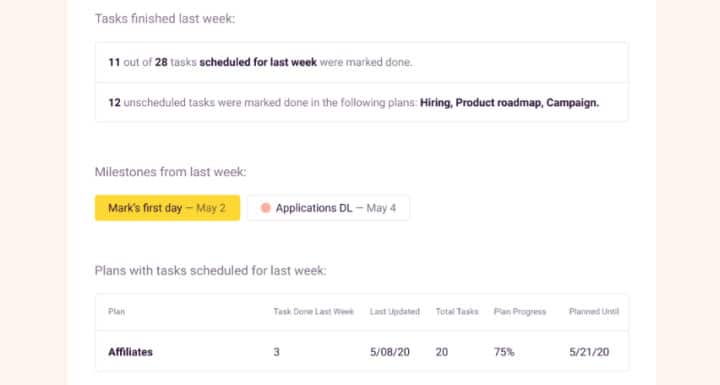 Project managers spend most of their time on task management and reviewing plans. However, they also need to communicate the project's progress with all stakeholders from time to time.
Typically, the project sponsor does this at the end of a phase or on reaching a milestone.
Keeping clients up to date with project progress helps in the following ways:
Demonstrates progress to clients and prevents any last stage surprises
Provides an opportunity for the client to review the deliverables and adjust priorities accordingly
Acts as an opportunity for the project team to get project feedback from stakeholders and correct the course if necessary
A project manager creates status reports to communicate the project's progress. This can be a simple email or an elaborate document.
Closure Phase
Finally, after clients are satisfied with the results and sign-off on the deliverables, it is time to close the project.
Step #10. Handoff deliverables, analyze performance and release resources
Activities involved at this stage include:
Handover of deliverables: The project team hands over the deliverables to clients including documents and manuals.
Analyze performance: A retrospective analysis of the project's performance helps the team extract learnings from the project.
Release resources: The project manager releases team members and other allocated resources back into the resource pool.
The most important responsibility of the project manager here is to analyze the project team's performance. This is for both — to celebrate the successful completion of the project, as well as, to extract learnings from it.
Finally, team members document the extracted learnings. This helps avoid or manage challenges in other projects.
Project Management Tools & Templates
According to PWC, 77 percent high performing projects use project management software.
Project management software not only helps in managing projects but also handles communication between the team and clients. Capterra found that two out of three project teams use project management software to communicate with clients.
What is the best project management tool?
Choosing a project management tool depends on your budget and your team's needs.
However, reliability, ease of use, and ease of integration are the top criteria that project leaders use to choose a project management tool.
We've compiled a list of top project management software tools spanning budgets and features. Shortlist a few that you like and try them out to find a tool that suits your needs.
Toggl Plan: A Simple Project Management Tool
Toggl Plan is an online project management tool. Unlike other tools, Toggl Plan makes it easy to manage projects across remote teams by encouraging transparency and accountability.
It comes with:
Gantt chart timelines for creating project roadmaps and plans.
Team timelines for managing your team's workloads.
Kanban-style boards to manage tasks with customizable task workflows.
Read-only views for clients and stakeholders.
Notification emails to keep everyone in the loop.
Pricing-wise, Toggl Plan comes with a free plan for solo users that has all the above features. You can use the free plan for unlimited projects and up to five team members. Team plans start at $9 per user, per month.
Jitesh is an SEO and content specialist. He manages content projects at Toggl and loves sharing actionable tips to deliver projects profitably.