Time for some real talk: You and your team worked your fingers to the bone but just couldn't keep things organized and on track. Or have you ever forgotten about a project and it's due date altogether? It's happened to all of us. And that's exactly why we could all use a timeline software.
What is a Timeline Software?
Timeline software is a type of application that allows users to display starting points, milestones, specific events, and finish lines along a timeline in a highly visual, easy-to-track way. This kind of tool is often used in project management, creative writing, legal preparation work, and more.
When an entire project — be it a marketing initiative, book outline, or legal case — is laid out, in sequential order, in a visual format, progress can quickly be assessed, summarized and reported on. Any potential challenges can also be identified in a more timely manner and specific patterns can be detected.
Researchers have found that the human brain processes visual information 60,000 times faster than plain text. Timeline software takes advantage of this fact by displaying information in a visual way, thereby greatly increasing a user's productivity.
The 9 Best Timeline Apps
Now that we know what timeline software is and why it's beneficial, let's discuss the top apps in this category. Each of the nine tools listed below will help you boost your productivity by allowing you to see the progress you've made on a project, what your next steps should be, and any potential challenges you may need to be aware of.
We should mention that this list was NOT created with any specific order in mind. The first tool is not necessarily better than the ninth. They each have their merit, you need to decide which will benefit your workflow best.
With that said, let's dive in!
1. Toggl Plan
Toggl Plan makes project planning and task management a piece of cake by combining a Gantt chart-like feature with a scheduling tool. Organize all of your projects from start to finish and assign specific tasks to each individual team member. Then monitor progress along the visual roadmap and ensure your projects never fall behind schedule.
Toggl Plan is used by over 3,000 teams worldwide including industry juggernauts like Microsoft, Disney, and National Geographic, so you know it's a useful tool. But fortunately, it won't cost you an arm and a leg to use.
This app is free for teams of five people or less. Prices then jump to $39+ a month depending on the number of users.
2. Office Timeline
Are you a regular Microsoft Powerpoint user? Well, then Office Timeline may be the perfect solution for you and your team. This Powerpoint plugin allows users to make beautiful Gantt charts and timelines and easily track progress on various projects.
This app gives you plenty of free templates to get started, but completely customized timelines can be created from scratch too. Either way, tasks, checkpoints, and milestones can easily be added or removed; colors, shapes and data formats can be adjusted to better reflect your business; and project progress can quickly be tracked via a "percentage complete" tracker.
This is a simple app to use, especially if you already happen to use Powerpoint on a regular basis. Access to the basic functionality of this tool is free. To unleash its full potential, though, users will need to pay $59 for a one year license.
3. Aeon Timeline
Aeon Timeline was originally created to assist creative writers, novelists, in particular, better plan and manage each plot twist in their stories. But since its inception in 2012, the tool has grown and matured and now also serves project managers, legal practitioners, and other professionals.
Stylized as "like a Gantt chart that you don't hate using", this app gives you all the benefits of a Gantt chart with added flexibility.
Timelines are easily updated and can be assigned to specific employees; completion percentages are automatically calculated so you always know where you stand on each project; and external links, images, and notes can be added so all project information is stored in the same place.
Aeon Timeline is a fantastic timeline software, especially for creative writers. Ready to give it a go? Start your free trial today. When you decide to purchase this tool (a mere $50 investment), your license will allow you to use the app on up to five Mac or Windows devices.
4. SmartDraw
SmartDraw is a diagram software that can easily be used to create and monitor project timelines; map out processes; create various pie charts, line graphs, and Venn diagrams; and a whole lot more.
The best part? It integrates with many of the tools you're likely already using such as Microsoft Word and Excel, the G Suite, and Trello, which means you can quickly create a chart, graph, or diagram inside SmartDraw and easily insert it into one of the tools we just listed.
Though the timeline functionality isn't as full featured as other apps on this list. What you're really paying for here is the ability to create all kinds of different charts, graphs, and other visuals. If that's a need your company has, then the $9.95 monthly fee is definitely worth it.
5. Timeglider
Timeglider is a timeline software that really excels in the field of education. Over 30,000 students and educators use this tool to both teach and remember important historical dates and view portions of history in chronological order. But just because it's useful for academics doesn't mean it isn't useful for project management as well.
Events in a timeline are easily created and details such as exact date and time, level of importance, and external links can be added. The "level of importance" feature is what really makes this tool unique, though.
Viewing a timeline, especially a lengthy one with many events and milestones on it, can get messy and it can be tough to identify each individual event. Timeglider fixes this problem by minimizing events of lesser importance. You won't even see them until you zoom in far enough. This keeps the timeline clean and useful.
Timeglider is free for students and costs just $5 a month (or $50 a year) for everyone else.
6. Lucidchart
Lucidchart is a similar tool to SmartDraw, which we mentioned earlier. It's more of a diagram and chart creation tool than a traditional timeline software, but timelines can still be easily created using this app.
From simple flowcharts to complex technical diagrams, Lucidchart has the ability to map out just about any kind of process you throw at it.
First, select your shapes and put them in the desired order. Add information and comments to each one and then connect them the way you see fit with arrows and lines. Detailed analytics are available such as view numbers and completion percentages. And specific tasks can be assigned to each team member.
Some of the biggest companies in the world, game changers like Google, Amazon, and Adobe; use Lucidchart. Why not your company too? Basic functionality can be had for free and upgraded plans start at just $4.95 a month.
7. Tiki-Toki
Tiki-Toki is a web-based timeline software that allows its users to create truly stunning, 3D timelines. Whether you want to illustrate your family's history, provide evidence for a legal case, or keep track of a project, this app will enable you to do so with the utmost style.
And we do mean with style. Like we just mentioned, Tiki-Toki timelines can be created in 3D for a unique viewing experience. Also, photos, videos (embedded from either YouTube, Vimeo, or as standard MP4 files), audio clips and other multimedia can be added to each timeline. When your timeline is just right, simply send its unique URL to anyone to view and/or edit.
When quality visuals and aesthetics are a major concern, there's no better timeline software than Tiki-Toki. If that's what you need, head over to their website and start your free trial. If you decide to continue using the tool, it will cost you either $7.50 a month for a Bronze account or $25 a month for a Silver account.
It should be noted that the company does have a special deal for teachers. It costs $125 a year and gives them access one silver (for the teacher) and 50 bronze (for students) accounts.
8. Preceden
Preceden has an impressive client list that includes such companies and organizations as Netflix, Comcast, Slack, and NASA. Not bad! But what makes this timeline software worthy of the "big boys"? A whole lot actually…
First off, this tool is quite simple to use. Visually pleasing timelines can be created quickly in the web-based interface for any kind of project. The layers feature allows users to group related events together — for example, all events having to do with investor activity or marketing initiatives. Sharing is also a breeze and can be done via an exported PDF, a unique URL, or as an embed.
This intuitive app is free to use; they don't even require a credit card number. But in order to create an unlimited amount of timelines and to access premium features, you'll need to pay. Prices range between $29 and $199 a year depending on the level of functionality you want.
9. Dropbox Paper
Finally, we have Dropbox Paper, a free tool from everyone's favorite digital storage company, Dropbox. This app makes creation and coordination simple and allows users to write, edit, brainstorm, manage tasks, and even run meetings from one place.
Accessible on smartphones, tablets, and desktops, Dropbox Paper enables project managers to create to-do lists and assign items to specific individuals. Multimedia such as images, videos, and audio files can be added to each workspace, too. And teams can comment inside the app as well, keeping the communication flowing.
Be like Shopify, Invision, Ben and Jerry's, and Campaign Monitor and use this timeline software tool to keep your team on the same page and on track.
Timeline Software + Toggl = Win!
Timeline software alone will help you boost productivity. But if you really want to get more done in less time, we recommend pairing your timeline software with a time tracking tool like Toggl. Doing so will allow you to not only see where you currently are in your projects and where you're going, but also how much time each step in the process is taking you to complete.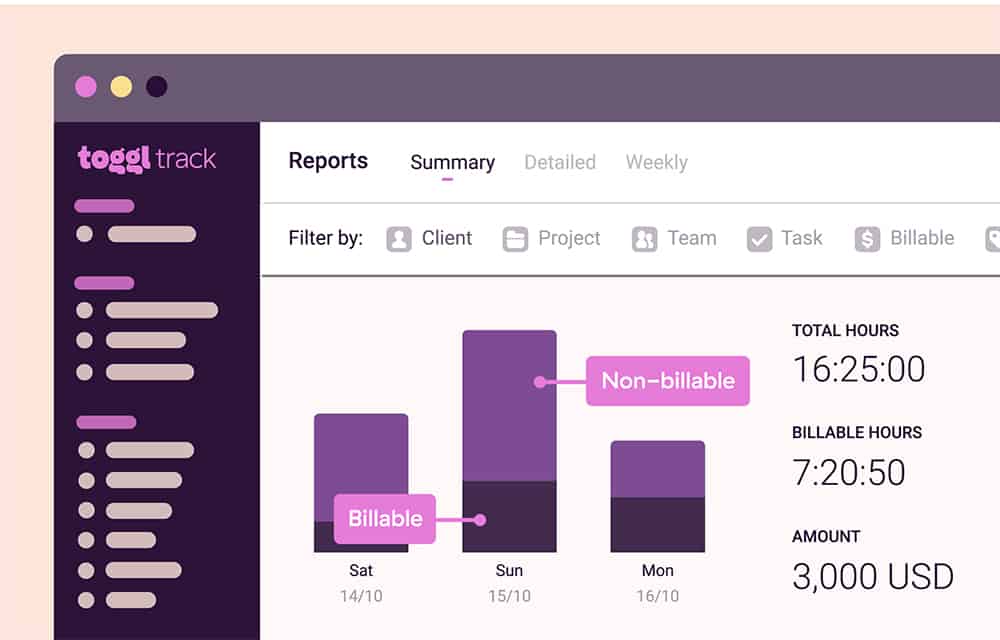 This kind of information is invaluable! When you know exactly how much time you (or your team) spend on specific tasks, you can optimize your processes and performance to better achieve your goals.
For example, let's say you're currently implementing a new blogging initiative for your company. To get started, you lay out the entire project sequence inside of your timeline software, complete with multiple milestones and a finish line. It looks something like this:
Hire and onboard three to five new content writers.

Research topic ideas and keywords for blog posts.

Assign blog topics to each writer with deadlines.

Edit each post and publish them to the company website.

Promote each post via epaid and organic channels.

Reach 10,000 blog subscribers in one years time.
Having an outline like this to keep you on point is great. But without a way to track your team's time, you won't be able to boost productivity as much as possible. A tool like Toggl can give you data on how long it takes each writer to complete a post.
If one writer is faster than all the others, you can interview them to see if they have any insights to share on their process. You can also assign them more work and get more content created for your company than before.
Why Toggl?
Frankly, because it's the best time tracking app on the market. By allowing users to start and stop time tracking at the click of a button, being available on every kind of device (smartphone, tablet, and computer), and providing comprehensive reports, Toggle separates itself from the rest of the apps in its category.
But don't just take our word for it. Give the tool a try for free today. If you enjoy using it and want access to premium features, sign up for a paid account for just $9 a month. It will be more than worth it!
Your Turn
Timeline software, when used correctly, will make you and your team more productive. The ability to literally see your project, beginning to end, complete with specific milestones and checkpoints, and to mark your progress along this visual timeline is incredibly valuable.
That's why so many major corporations, from Google to Disney, to Microsoft, to Amazon use one of the apps mentioned in this post on a regular basis. Your company can use one of them too. We encourage you to investigate them further and sign up for a few free trials. If one of the tools proves useful, upgrade to a premium feature set.
And remember, while each of these tools will be effective on its own, pairing it with Toggl will skyrocket your productivity levels. A visual timeline software and a time tracking app is a powerful combination.