Trello and Monday.com are popular project management tools. Yet, they are very different in their approach to project management. In this article, we pit Trello vs Monday.com to help you decide which one you should go with.
We'll compare both tools based on:
Ease of use
Planning features
Task management features
Team management features
And, finally, pricing
Let's get started.
Trello vs Monday.com: Quick Features & Pricing Comparison
If you're short on time, here's a quick comparison between Trello, Monday.com, and Toggl Plan.
Feature
Trello
Monday.com
Toggl Plan
Free Plan
Up to 10 team projects
❌
Unlimited project plans
Paid Plans
$12.50+
/user/mo
$10+
/user/mo
$9
/user/mo
Timeline
❌
$12+
/user/mo
✔️
Calendar
Power-up
$12+
/user/mo
❌
Private Idea Boards
✔️
$20+
/user/mo
✔️
Private Kanban Boards
✔️
$20+
/user/mo
✔️
Task Checklist
✔️
❌
✔️
Task Workflow Automation
✔️
✔️
❌
Workload Management
❌
✔️
✔️
Time Tracking
Using Integrations
$20+
/user/mo
Using Integrations
Learn More
Learn More
Learn More
Trello vs Monday.com: Ease of Use
When it comes to ease of use, Trello is better than Monday.com. Particularly, if you've used Kanban boards before.
Trello user experience
Don't let the simplicity of the Boards screen fool you. That's because a lot of features are hidden on the task card and in the board menu. You'll discover features as you start using Trello.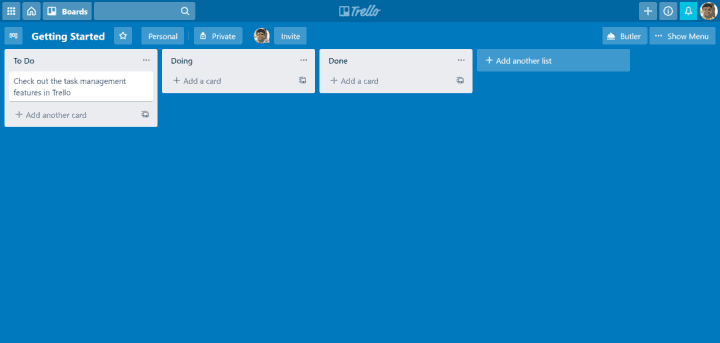 For everyday use, Trello is easy too. Everything's where you'd expect it to be. And the drag and drop interface makes it easy to manage your task workflow.
With Trello's forever-free plan, you can take time to decide if it's the right tool for your team.
Monday.com user experience
Monday.com is colorful and fun. But looks very busy. Which is why it may feel overwhelming to new users.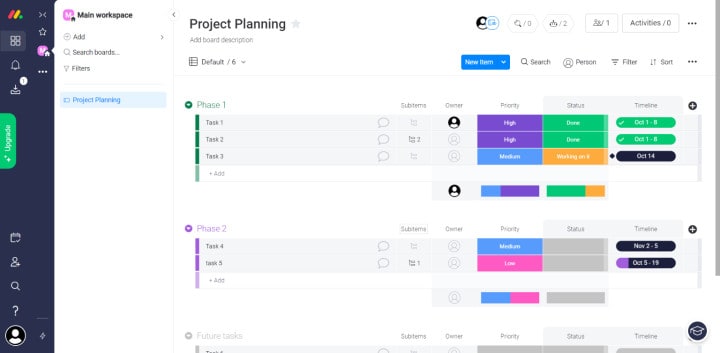 Also, Monday.com doesn't have a free plan. You will have to try the tool and decide within the 14-day trial period. That's not a lot of time to find out if your team likes to use Monday.com.
Trello vs Monday.com: Project Planning Features
Monday.com is better than Trello when it comes to project planning. While both tools come with a calendar view, Monday.com also comes with a timeline.
Project planning features in Trello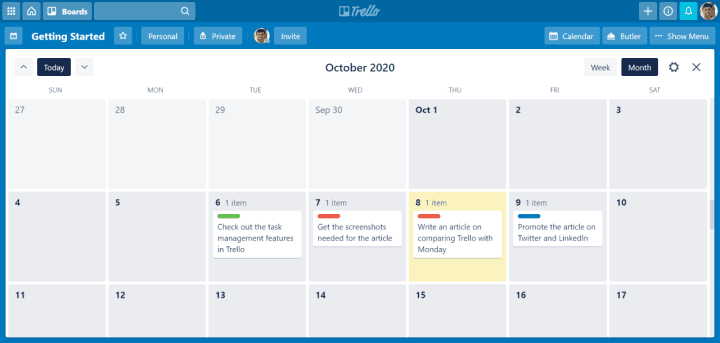 Trello comes with a calendar view for planning project tasks. However, the calendar view feature is not available in the free plan.
You can still use it in the free plan with a power-up.
Note that, you can only use one power-up in Trello's free plan. This means, with the Calendar power-up added, you won't be able to use any other power-ups. For additional power-ups, you'll have to upgrade to a paid plan.
If you're in the early stages of a project, you can also customize Trello boards to work like idea boards.
Project planning features in Monday.com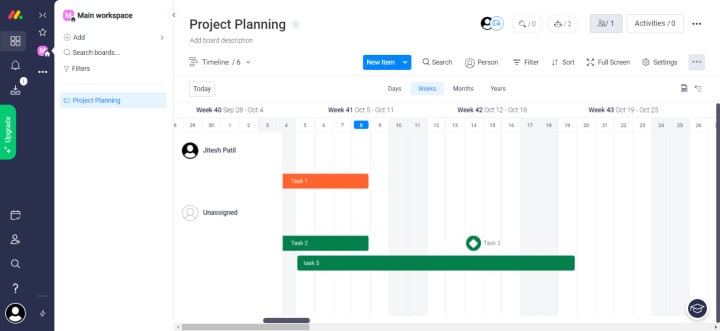 Monday.com comes with multiple views for visualizing tasks other than the default list view. These include the timeline, calendar, and Kanban views.
The timeline view helps you plan a project. Also, it can be zoomed in on a day, week, month, or year. That way you can get a quick overview of a project.
Nevertheless, the timeline misses out on a few critical planning features:
There's no way to add a milestone or visualize phases on the timeline plan.
The timeline does not show task statuses. This makes it very difficult to visualize a project's progress.
There's no way to see the availability of team members who simultaneously work on multiple projects on the timeline.
Also, both the calendar and the timeline view are not available on the basic paid plan. This means you'll have to pay an extra $2 per user every month to get access to the timeline feature.
Trello vs Monday.com: Task Management Features
This is where Trello is better than Monday.com. On the plus side, Monday.com has more ways to visualize tasks than Trello.
Task management features in Trello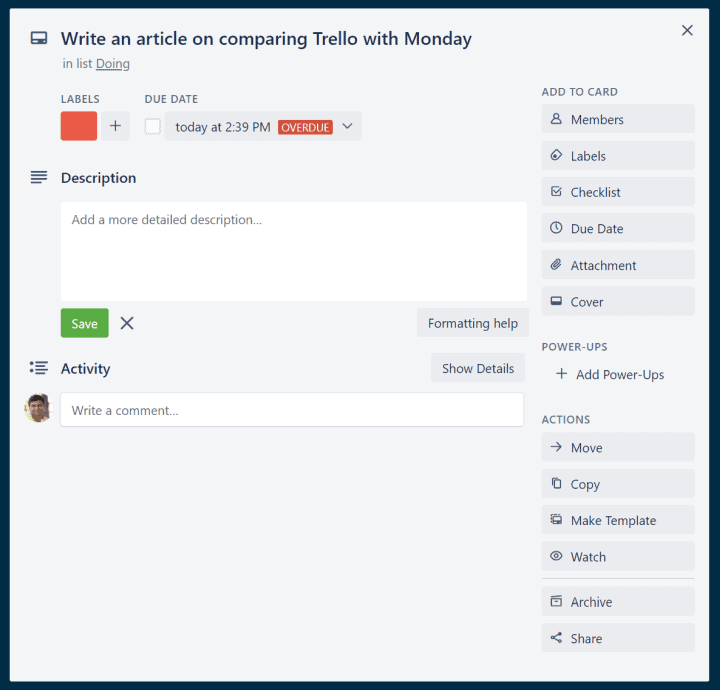 A Trello task can carry a lot of task-related information.
Name and description
History
Comments
Responsible team members
Due Date
Color-coded labels to categorize a task
Task checklist
In addition, you can also add custom fields to a task if you're subscribed to a paid plan. Plus, you can add power-ups to add even more functionality to your tasks.
In addition, you can also customize and automate task workflows.
Task management features in Monday.com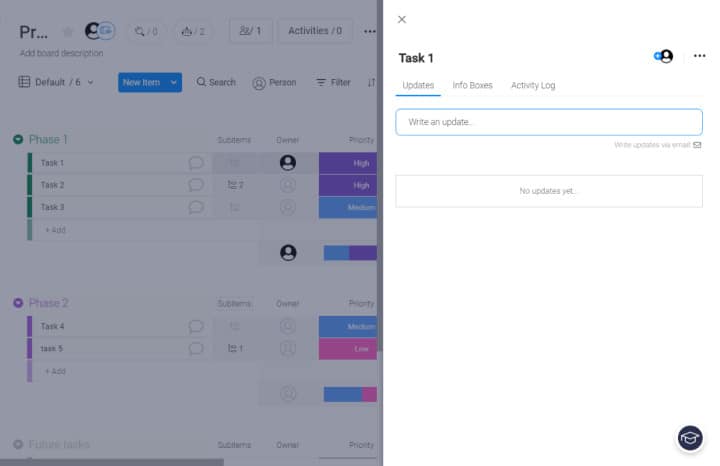 Monday.com's task management features are similar to those of Trello. Except, unlike Trello, you can't edit everything in one place. Also, the task card looks different based on which view you're in. As a result, editing tasks may seem confusing.
You cannot attach a checklist to Monday.com's tasks.
Similar to Trello, you can customize and automate task workflows in Monday.com as well. While this may be true, Monday.com automation actions have limits. These limits are based on the plan you're subscribed to.
Trello vs Monday.com: Team Management Features
Monday.com does better than Trello with a dedicated workload management view and built-in time tracking. Trello's Team Table View somewhat makes up for it. However, it's still in development.
Team management features in Trello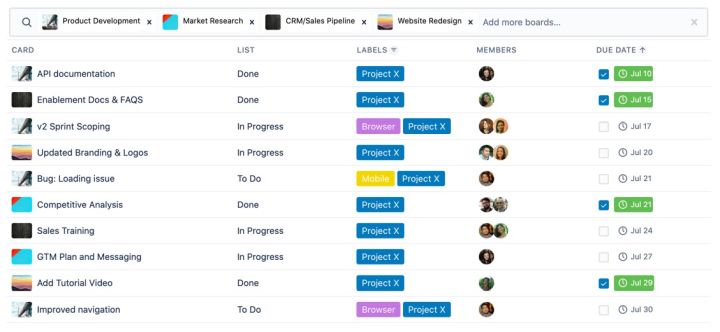 Other than the upcoming Team Table View, Trello doesn't have anything for managing resources and workloads.
The under-development Team Table View shows you what each team member is working on across multiple projects. But, it's not clear how team resource workloads are managed.
In addition, time tracking in Trello is available via third-party power-ups. In most cases, this would mean, you may have to pay extra for the time-tracking application.
Team management features in Monday.com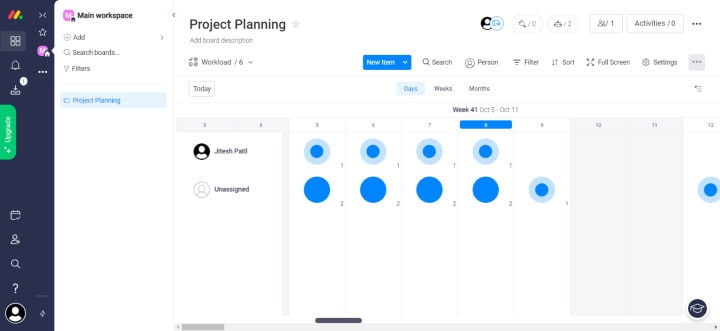 Monday.com comes with a dedicated workload view. Here, you can quickly see which team members are overworked and who are available. The workload view lists a team member's workloads across projects.
Also, it offers a built-in time tracking feature to track time spent on each task.
But, both the workload view and time tracking features are available in the Pro plan and above. The Pro plan starts at $20 per user, per month.
Trello vs Monday.com: Pricing
Trello has a simpler pricing model and costs less than Monday.com. However, it also has comparatively fewer features. Instead of just looking at the dollar value, you may want to look at:
Features your team needs
Onboarding time and training costs to start using the tool
And, per-user pricing flexibility (Monday.com has a minimum user limit on paid plans)
How much does Trello cost?
Trello comes with three price plan variations — Free, Business Class, and Enterprise.
The Business Class plan costs $12.49 per user, per month. And, the Enterprise plan starts at $17.50 per user, per month.
Also, you need to pay for a minimum of 20 users for the Enterprise plan.
Learn about the major differences in these plans below.
Free
Business Class
Enterprise
Cost
$0
$12.49
/user/mo
$17.50
/user/mo
Minimum users
–
–
20
Personal Boards
Unlimited
Unlimited
Unlimited
Team Boards
10
Unlimited
Unlimited
Power-ups
1
Unlimited
Unlimited
Calendar View
❌
✔️
✔️
Custom Fields
❌
✔️
✔️
File Attachments
Up to 10MB
Up to 250MB
Up to 250MB
Automation Commands
50
1000
Unlimited
Advanced Security
❌
✔️
✔️
How much does Monday.com cost
Monday.com has no free plan.
However, all the paid plans — Basic, Standard, Pro, and Enterprise — come with a 14-day free trial. Also, all paid plans have to be paid for a minimum of three users.
Here are the major differences between these plans:
Basic
Standard
Pro
Enterprise
Cost
$10
/user/mo
$12
/user/mo
$20
/user/mo
On Request
Minimum Users
3
3
3
50
Timeline View
❌
✔️
✔️
✔️
Calendar View
❌
✔️
✔️
✔️
Private Boards
❌
❌
✔️
✔️
Workload View
❌
❌
✔️
✔️
Time Tracking
❌
❌
✔️
✔️
Automation Actions
❌
250
25000
Enterprise Scale
Integration Actions
❌
250
25000
Enterprise Scale
Advanced Reporting & Analytics
❌
❌
❌
✔️
Advanced Security & Compliance
❌
❌
❌
✔️
Monday.com vs Trello: Which One Should You Choose?
Based on the comparisons above, each tool has it's own plus and minus points. In spite of this, you can choose the one that suits your budget and needs, based on the features offered and the price plans.
Is Trello right for you?
Trello is a powerful, Kanban-based task management tool.
On the other hand, it doesn't have a timeline or a workload management feature. That's why it falls short when it comes to project planning and people management. 
If you're looking for a task management board that's easy (and free) to get started, you can take Trello or it's alternatives out for a spin.
Is Monday.com right for you?
Monday.com is an all-in-one work management tool. And, it comes with a fun and colorful interface compared to Trello.
Because it comes with so many features, getting started may feel a bit overwhelming.
Also, project timelines, private task boards, and workload management features are only available in the more expensive plans. Plus, you have to pay for a minimum number of users, across all Monday.com plans. Which makes it way more expensive.
If you have the budget and are looking for a tool that does everything, Monday.com may be for you.
And, while you're at it, you may also want to look at other Monday.com alternatives.
Toggl Plan: A Beautifully Simple & Affordable Alternative
Toggl Plan is as simple as Trello, if not simpler. Plus, it comes with all the features that Monday.com offers, other than workflow automation, reports, and enterprise-level security compliance.
With Toggl Plan, you can:
Create a Project timeline.
Create a Team timeline to manage workloads and resource allocation.
Drag & drop timeline tasks to quickly adjust your ever-changing plans.
Add project milestones to manage deliveries better.
Manage tasks from the timeline or use Kanban boards.
Assign tasks to multiple team members.
Track progress as tasks are done.
Collaborate on tasks using attachments and comments.
Best of all, Toggl Plan is completely free for solo users. And teams can try out Toggl Plan with a free 14-day trial.
Get started with Toggl Plan for free.
Jitesh is an SEO and content specialist. He manages content projects at Toggl and loves sharing actionable tips to deliver projects profitably.