First, we shape our tools and then our tools shape us.
In all probability, Marshal McLuhan, the Canadian philosopher wasn't talking specifically about modern work planning tools and planner apps. Yet, what he said fits perfectly with today's productivity tools. 
Planning tools help us form good (and bad) work habits.
But with so many types of planners out there, finding the best one can get complicated.
Worry not. In this article, we look at the different types of planners, their characteristics, and the best products available for a planner type.
Specifically, we look at:
Let's dive in.
Team planner apps
Scheduling even your own work is challenging. But planning a work schedule for an entire team — it's a nightmare.
As a manager, you must account for:
Task dependencies
Team members' time-off
Availability of team members working on multiple projects
Their workloads
And still, leave enough buffer time for last-minute requests or emergencies.
When it comes to work planners for teams, a simple to-do list or even a calendar isn't enough — You need something more robust like a Gantt timeline to map out your entire team's schedule.
That's where team planner apps come in.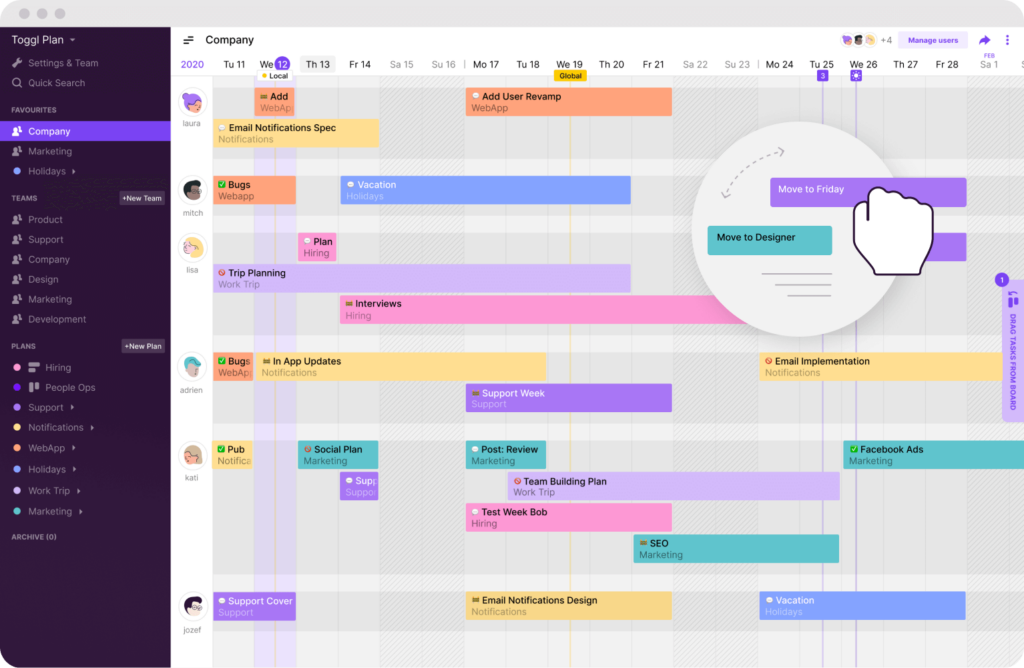 A number of online planners are available today that help you plan, track, and deliver work as a team without overworking or burning out.
What makes a good team planner?
Brings clarity and visibility: to everyone's work, including your team, vendors, and stakeholders. Everyone knows who's doing what and when.
Helps avoid scheduling conflicts: When everything is laid out neatly on a timeline, it's easy to identify scheduling conflicts across other projects or your team's time off.
Prevents over or underutilization of your team: You can quickly see everyone's workloads and re-assign work where necessary.
Gives your an overview of your team capacity: This way you can decide if you can take up more work or if you need to hire more people to get work done.
Best team planner apps
Toggl Plan is a beautifully simple, visual team planner tool that helps your plan work along with your team's availability and workload.
Asana is a comprehensive tool for complex and large organizations. It helps you manage goals, project portfolios, as well as team projects.
Monday.com is a flexible and customizable project and task management tool. It also comes with workload management features.
Read the complete comparison of the best planner apps.
Personal planner apps
More people are working from home than ever before. As a result, personal and office work are bound to mix. Juggling personal and professional commitments is quite an ask.
That's where personal planner apps can help.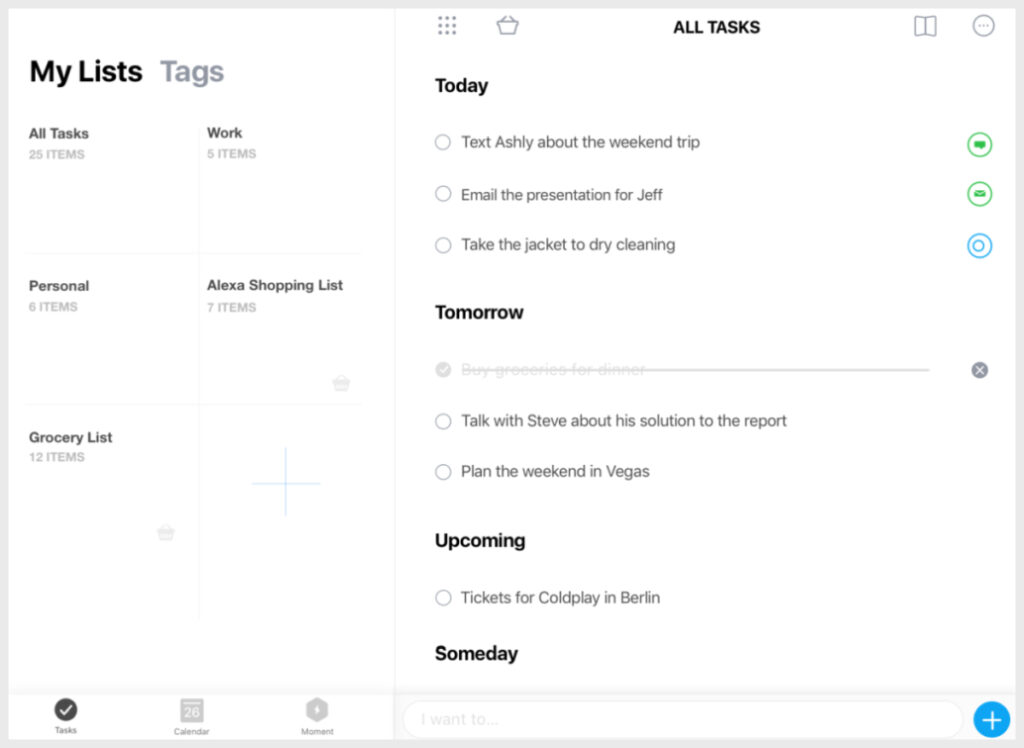 You may wonder — what's the need for an app when you can use sticky notes and paper checklists?
These planner apps come with a number of features that make it easy to fulfill commitments across multiple areas of your life. Here's how personal planner apps make life simple:
Simple ways to capture and organize tasks and notes
Repeating reminders
Available on mobile devices
What should you look for in a personal planner app?
Makes it easy to create tasks: In most apps, you can create a task using a couple of taps or clicks. Some apps even create tasks based on voice input.
Easily organize tasks: Personal planner apps offer a number of ways to organize tasks into lists, projects, and tags.
Sets smart reminders: Most planner apps have a time-based reminder. Other apps come with repeating and location-based reminders as well.
Syncs across all the devices you use: Again, you'll find most apps work across mobiles, tablets, and desktops. Some apps also have a smart-watch version.
Best personal planner apps
Any.do: This personal planner app with a clear user interface works on all mobile devices and has multiple ways to remind you about tasks.
Things: If you're looking for a Mac or an iOS app, you can't go wrong with Things. This award-winning personal task manager helps you achieve all your productivity goals.
Google Keep: This free app from Google works across devices and comes with location-based reminders.
Read the comparison of the best personal checklist apps.
Digital planners
Not everyone likes using an app. At the same time, they still want to retain the digital experience and manage their work plans on a tablet or a smartphone.
That's where digital planners come in.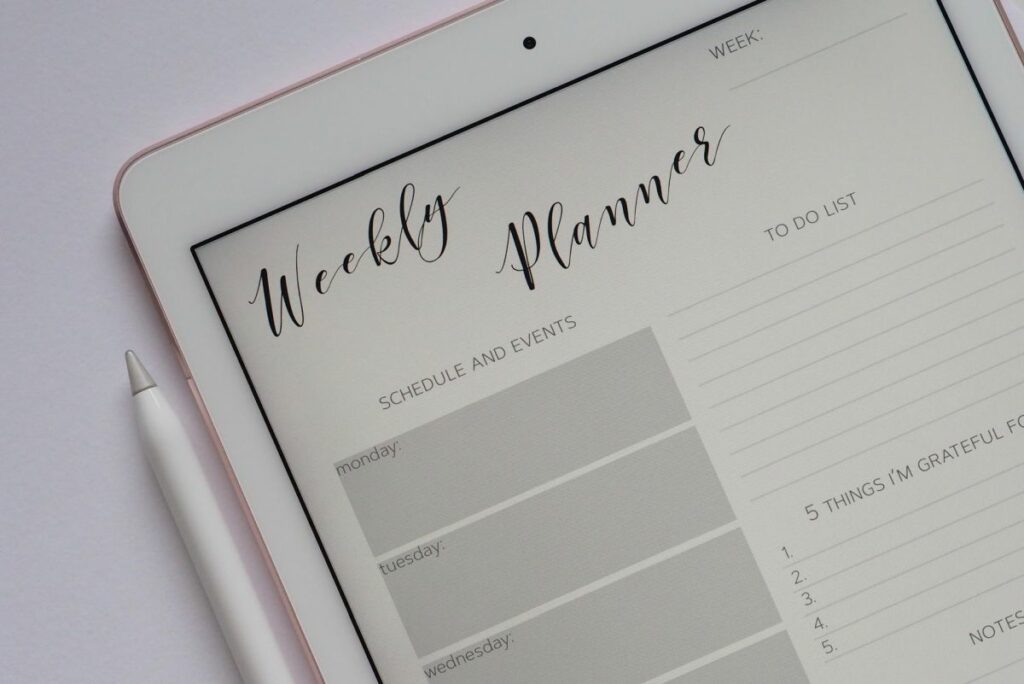 Unlike an app, most digital planners are simple PDF files.
A big limitation of these types of planners is that you need a stylus (or a smartpen) along with a tablet to annotate PDF files.
On the other hand, unlike a paper planner, digital planners include convenient hyperlinks to tie together your goals, trackers, and tasks. As a result, it's easy to navigate between every aspect of your work.
In addition, you also have the advantage of never running out of space. Plus, you can easily store and retrieve your digital planner in the cloud. So, it's available on all your devices.
What makes a good digital planner?
Works with PDF annotation apps: Your digital planner should ideally work with any PDF annotation app. This way you can take notes or annotate the planner from anywhere.
Has simple, logical navigation: A digital planner should have easy-to-use navigation including convenient indexes and hyperlinks. This way you can quickly navigate to specific dates, lists, and other sections in your planner.
Is flexible: You should be able to add extra pages to your planner, including templates for the monthly or weekly plans, and blank pages to take notes.
Best digital planners
Paperlike digital planner: It's a simple and free digital planner (with a premium version). It comes with a yearly overview, monthly tracker, and weekly as well as daily planner.
Flourish planner: This planner focuses on goals as well as comes with self-assessment tools. It also has a monthly and weekly planner layout.
All-in-one digital planner: As the name suggests, this planning tool comes with multiple layouts. It even has health and fitness planner as well as financial planner layouts.
Printable paper planners
If you want to go completely low-tech, printable paper planners should be the first tool you look at.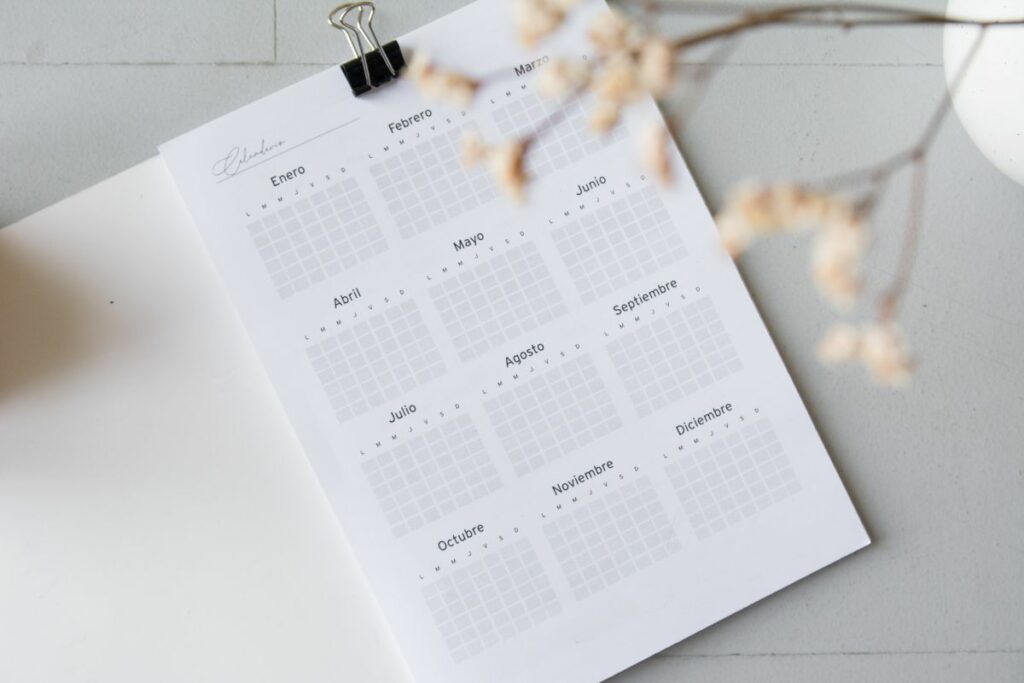 Paper planners make it easy to get started. Using these readymade templates, helps you save time and hit the ground running.
Also, studies show that memory retention is significantly higher when you write down notes or reminders. Plus, you have the creative freedom to add colors, highlighting, drawings and stickers.
Obviously, paper planners come with some disadvantages.
You can only access information when you have the paper planner with you. Plus, it's difficult to reuse and cannot be shared with others
What makes a good printable paper planner?
Has multiple layouts: A paper planner should come with layouts that your personal preferences.
Can be printed on standard paper: You can buy individual PDF templates online and then print them out on paper. Such templates should be printable on standard paper sizes.
Is flexible and undated: You don't want to throw away printed paper just because it's dated. Ideally,
Best printable paper planners
Goal setting worksheet: Set personal goals for an entire year across all areas of your life including self-care, relationships, personal development, resources, and vocation.
Monthly Calendar View: Get this monthly planner to plan your personal and work projects for an entire month. Use it along with your daily planner.
Today and to-do planning pages: This free printable planner has layouts for an undated monthly calendar view, an undated weekly planner, and a 3-column daily planning schedule.
Bound Journals
Bound journals are book-bound versions of a paper planner.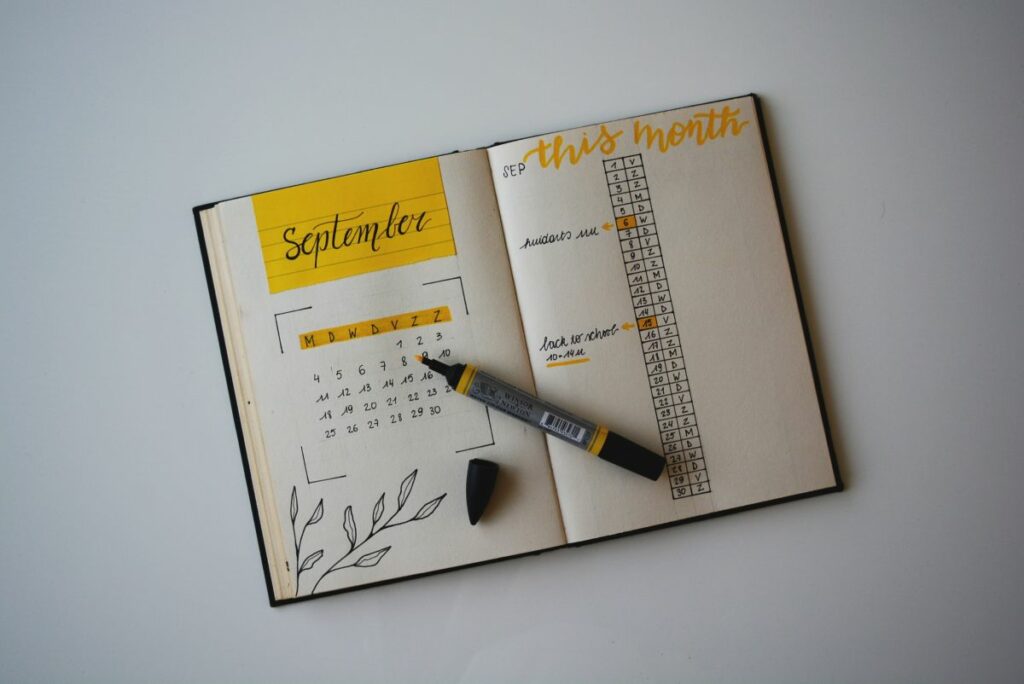 However, unlike a paper planner, these types of planners are simplistic and minimal. Bound journals are customizable planners that come with a blank canvas. This makes journal planners perfect for people who want to design their own work planners.
Often bound journals can be easily customized to match your color, paper, and planner styles.
And because of their stylized designs, bound planners are often a source of pride for the owners, who showcase their journals on social media.
What makes a good bound journal?
It completely depends on you. Think about your personal preferences when it comes to choosing a bound planner.
Best bound journals
Bullet Journal: According to its website, Bullet Journal is "best described as a mindfulness practice disguised as a productivity system."
Simple Elephant Planner: This bound planner comes with 12 monthly and 52 weekly layouts. It's also undated, so you don't have to stress about large portions of your planner going unused.
Field Notes Planner: This simple planner has 56 weeks of undated planning layouts. It's super simple and minimalistic.
What's the best type of planner for you?
For personal planning, a free printable paper planner is good enough. And for a team, you may find spreadsheets such as Excel or Google Sheets useful.
However, as you keep adding more and more to-do items to your planner, you realize, that you need something more robust.
The following questions may help you choose from the above types of planners:
Who is it for? Just you or your entire team?
Does it meet your planning and tracking needs?
Do you like (or dislike) a specific type of planner?
Do you have the budget for it?
If you're looking for a beautifully simple team planning tool, try Toggl Plan.
Its drag-and-drop timelines make it easy to plan and make runtime adjustments a breeze. Plus, it gives you complete visibility into your team's availability and workload. This way you can schedule and deliver work on time without overworking your team.
With over a decade of experience in content marketing and SEO, Jitesh shares actionable tips for digital service teams to deliver projects profitably on the Toggl blog.