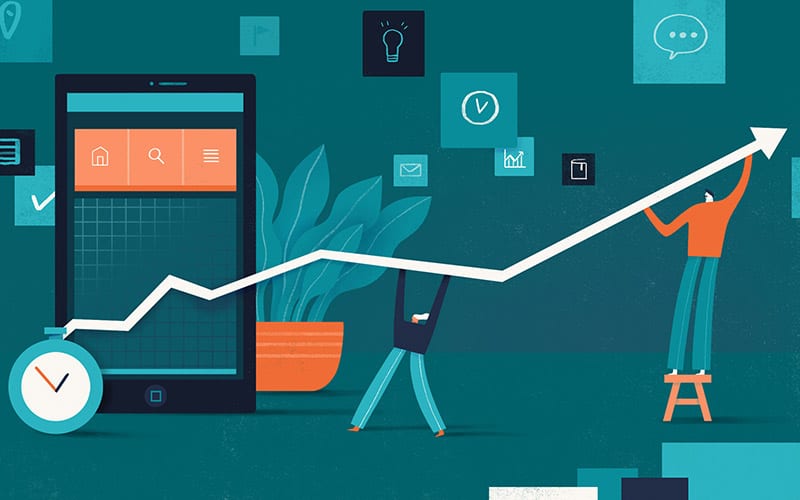 We've compiled a list of the nine best options and detailed each of their strengths and unique features.
It's a bloodbath down there — each app battling the others for supremacy. But if you're ready to rumble, keep reading.
In this post, we'll outline why time tracking apps are important and which nine options deserve your consideration. Then, you'll just have to pick the one that suits you and your business needs best and keep crushing those hustle goals.
Sound like a plan? Good, let the games begin!
Do You Need a Time Tracking App?
The quick answer? Probably…
But let's slice and dice this question up a bit. Dive a little deeper and really discover why a time tracking app will benefit you and/or your company.
Accurate Invoicing
Are you a freelancer billing your clients by the hour for the various tasks they ask you to perform?
Or perhaps you run some type of agency or consulting business and base your fees on the amount of time you figure it will take you and your team to complete specific projects.
If your invoicing approach is at all reliant upon the number of hours you've spent (or plan to spend) on any one assignment, then a time tracking app is really a no-brainer.
How else can you expect to accurately bill your clients?
A time tracking app takes all the guesswork out of hourly billing and allows you to invoice your clients with confidence.
If that's not something you're used to feeling, you're gonna love it! In fact, why not give it a try right now? Just jump in, the water's fine.
Improve Productivity
As an esteemed professional, what's your most important resource?
If you answered anything other than "time", you're absolutely wrong. Better luck next time.
Regardless of what industry you work in — whether you're searching for work, you own your own business, or you're employed by the biggest company in the world — we're sure you'd jump at the chance to get more done in less time.
Time is so valuable because, unlike money, once it's gone, it's gone.
And that's why the topic of productivity and tips for hacking our way to a more efficient use of each second we have, are so incredibly popular today.
But how does a time tracking app increase productivity? Buckle up, you're about to find enlightenment:
When you understand exactly how your time is spent, you'll be able to see each and every obstacle keeping you from peek productivity. You'll be able to look at the reports inside your Android app of choice and know why efficiency lagged at 11:02 AM on Wednesday.
Then, you can take your new found knowledge and optimize your processes in order to avoid another productivity disaster like you had last week… Seriously, what were you thinking?
Assist Business Growth
No matter what kind of business you run or work at, a time tracking app can help you grow the organization into the industry titan of your dreams.
Beyond allowing for better invoicing and greater productivity, easily and accurately tracking the time you spend during your work day can pay off in multiple ways including:
Better Project Management:

When you know how long specific projects should take, you'll be better equipped to manage them.

Clearer Communication:

After analyzing the reports generated by a professional time tracking app, you'll be able to clearly communicate where your team stands on each project and how to better optimize your processes.

Higher Profitability:

Ultimately, by knowing exactly how long specific projects take and how much to charge for them, eliminating time-sucking behaviors, and managing tasks efficiently, you'll increase company profitability. So get yourself a time tracking app for Android and make it rain.
The Top 9 Time Tracking Apps for Android: 
Now that you've been educated on the "why" of time tracking apps for Android, you're probably wondering which one you should use. Take a gander at our list of top nine options. We're sure you'll find an app that rocks your socks off.
1: Toggl Track
When it comes to the best time tracking app for Android, you needn't look any further than Toggl Track. It's simple and intuitive, allowing users to easily remove distractions and focus on the task at hand.
The result? Insane levels of productivity!
Toggl Track subscribers also get a convenient overview of all tracked time, a progress report on all tasks and simple sharing options to send time sheets to either clients or upper management, depending on the position and business type of the user.
What about integration capabilities; can Toggl Track connect to your favorite apps?
You bet your boots it can! This time tracking app offers many potential integrations such as Google, Trello, Slack and Quickbooks; and syncs across all your devices in real time.
Whether you're in the office, on a business trip… Heck, you could be on the freakin' moon and Toggl Track will still track your hours. Take it for a free test drive today.
2: HubStaff
HubStaff is a solid time tracking option and offers many convenient features for both solo freelancers and distributed teams alike. What features, you ask? Automatic time tracking and payroll, internet and GPS monitoring, and detailed reports are all a part of the package
Those managing employees will find the time budgeting feature especially handy. Managers can set time limits for their team members to better eliminate wasted hours. Intrigued? Start your 14 day free trial.
3: TimeCamp
TimeCamp is another time tracking app worth considering and offers many similar features to the two apps, Toggl and HubStaff, that we already mentioned. Users will get access to simple, one-click time tracking, project and task organization, and in-depth reporting capabilities.
One thing you might find particularly interesting is TimeCamp's invoicing feature. Bill your clients directly inside the app for the exact amount of hours you've worked for them.
Each invoice has a professional appearance, integrates with a payment gateway, and will even send you a notification when it's been viewed by the recipient.
Try TimeCamp for free and gain access to their convenient suite of time tracking features.
4: Harvest
Harvest for Android tracks the time you spend on projects. It also catalogs your expenses, meaning it helps you get paid for your efforts and reimbursed for any work-related spending. Simply snap a picture of each receipt, add a few quick details, and BOOM — convenient, paperless expense tracking.
Harvest also offers intuitive time tracking, in-app client invoicing, detailed reports, and team sync options. Your 30 day free trial starts here.
5: Tick
The Tick Android app approaches today's topic a bit differently by packaging numerous time tracking features in a to-do list type format. It's really straightforward and a good option for those who crave absolute simplicity above all else.
Start by creating a project and assign specific tasks to it Then just start and stop the time tracker each time you work on a related assignment and Tick will catalogue your hours. Reports can then be analyzed for both billing and workflow optimization purposes.
And if integrations are your thing, Tick has options including Asana, Freshbooks, Zapier and the Apple Watch. Your free 30 day trial is up for grabs now.
6: Timesheet
Timesheet is another app that excels at simplicity. It's also the only app on this list that doesn't offer an iOS version. So if you're an Android purist, maybe that's a benefit to you? Not sure…
Luckily, Timesheet offers users other benefits such as basic project management, expense tracking, invoicing and even voice command. And all data is easily backed up to an Excel document or Dropbox folder so you never lose those juicy deets.
The basic, Android only version is available for free, though users won't be able to access all of the apps features without paying a small monthly fee.
7: ClickTime
ClickTime comes complete with many of the same features we've already mentioned in other apps: easy time and expense tracking, detailed reports, and convenient integrations.
But ClickTime really shines for teams and allows many employee administration tasks to be completed with ease. Use the Business Insights option to quickly gauge each staff member's workload and potential for profitability. Then adjust accordingly.
Streamline time tracking for your entire team now.
8: Clockodo
Clockodo's website claims that, with the help of its app, your team will be able to "track your working hours quickly, simply and reliably." This isn't just a catchy marketing ploy, the app is a legitimate option for both project management and time tracking purposes.
If you manage employees, you'll appreciate the app's ability to track staff hours, overtime, sick days, and even holidays. Reports can also be generated for analysis and accurate billing.
Finally, Clockodo comes in multiple languages so multilingual teams can use the app without any hiccups. Start your 14 day free trial here.
9: Paymo
Paymo is really more of a project management app than a standard time tracker — especially if you're interested in using the desktop application in addition to just their Android option.
But it is a handy tool and does offer time tracking; so it's definitely worth mentioning.
Inside the Android app, users have the ability to edit any of their clients, projects, and tasks lists — or add entirely new ones. They can then track their time for each category and analyze it later for optimization.
The Android app can be used for free, though, to squeeze the most juice out of this tool, users should really consider investing in the full desktop application.
Ready, Set, Choose Your App!
And there you go; a list of nine contenders for the crown of best time tracking app for Android. What do you think? Did any app stand out to you above the rest? If so, fire up that free trial and give it a whirl!
Time tracking apps can be a huge help to your company and offer many conveniences. With one, you'll be able to more accurately invoice your clients, improve your productivity and grow your business. They're also simple to use… So no more excuses!
Download your favorite Android time tracker today and take a step up in the world. You deserve it, right?