If you want to keep a closer eye on how you're spending your time (spoiler alert: you should!), there are plenty of time tracker apps for iPhone that can help you figure out where your hours are going.
But, with so many options available, how can you know which is the best time tracking app for you, your needs, and your unique working style?
We're here to make the selection process at least a little bit easier. We've pulled together nine different time tracker apps and all of their need-to-know details, so you can quickly evaluate which time tracker, will transform you into a lean and mean productivity machine.
9 Time Tracker Apps For iPhone You Should Check Out Now: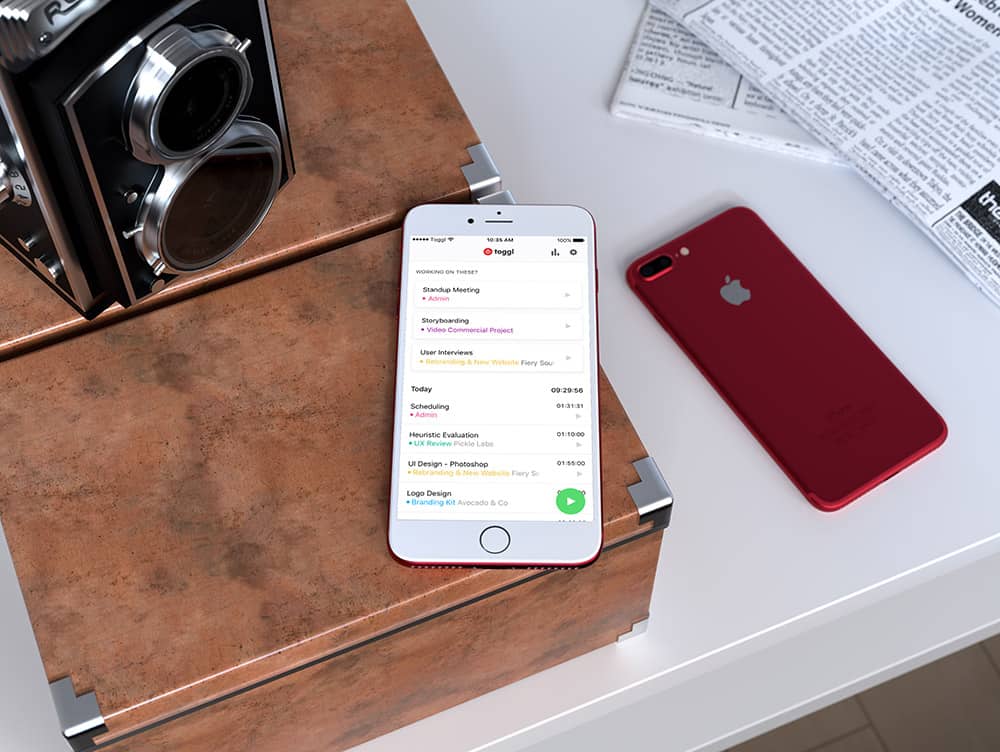 Toggl Track is a simple to use time tracker which offers apps on almost ever platform. What sets Toggl apart from the others on this list is its ease of use—all it takes is the push of a button to start logging your time.
Toggl is available for iPhone, so you can keep a watchful eye on your time management anytime and anywhere. There is also a desktop version which offers powerful reporting that will help you figure out how to be even more efficient with your precious time.
In short, Toggl is an awesome solution if you want to squeeze every last second out of your day.
What it Costs: There's a free version, but plans start at $10 per user/month, or $9 per user/month when billed annually.
What a Reviewer Says: "Toggl was the most helpful yet most unobtrusive time-tracking software we used and should fit the best into most people's workflows, whatever apps, computers, or devices are used." – NYTimes Wirecutter
Harvest is another popular time tracker on the market. While it has all of the basic time tracking features you'd expect, Harvest also strives to make billing easier—meaning it's a great choice for freelancers and small business owners.
You can track both your time and your expenses and also easily turn your billable time and those logged expenses into invoices. Harvest will even give you a notification when a client or customer has paid an invoice, so you never forget to log a payment.
What it Costs: Free plans available, with a limit of only two projects. Paid plans start at $12 per month, or $10.80 per month when billed annually.
What a Reviewer Says: "I've been using Harvest now for four years of the six years my business has been open. I think it is a fabulous tool. I truly believe the people who developed the software really did try to think of everything. Timekeeping is extremely easy, running reports for invoices is a breeze, running monthly, quarterly, yearly and custom reports for a range of project tracking and accounting is also a breeze. The expense feature took me a little time to figure out, but once I did, it's extremely easy to use. The retainer feature is my only complaint, but the tool does provide a work around if needed." – App Store Reviewer
With hours, you can keep a running list of different timers that you can switch between with just one click. So, if you're frequently hopping back and forth between different projects, don't worry—time tracking still won't be cumbersome for you.
Hours will also give you reminders of tasks that you need to complete. Want to double-check that all of your time is accounted for? The visual timeline makes it easy to spot any mistakes—and you can easily make necessary adjustments by dragging and dropping.
What it Costs: Free
What a Reviewer Says: "This app has the right features to help you accurately track your time and take notes on what you were doing and for whom. You are also able to set the blocks of time you want to track by so if you charge your client in 15 min increments it will automatically track to those increments in a no worries way that allows you to focus on the job at hand." – App Store Reviewer
When it comes to what makes Timely different, there's one big thing you'll notice: it's all automatic. Timely doesn't rely on your manual input and instead automatically records your time spent in your browser, desktop and web apps, mobile calls, meetings, and more.
That means Timely will capture those minor tasks that usually go unreported (and, as a result, totally unbilled). Timely then captures completely accurate timesheets that you can use to generate your invoices.
What it Costs: Plans start at $8 per month, or $7 per month when billed annually.
What a Reviewer Says: "This is a fantastic time-tracking app, both for business and personal use. It's attractive, fun and easy to use, and also tracks monetary value. Timely is very intuitive, syncs flawlessly between Mac, iPhone, Apple Watch and iPad. I love using my Watch as a controller. The app uses a simple overlay of planned and actual time, and a quick swipe makes it very easy to manually adjust either time (in case you forgot to turn off the timer, or need to add an entry after the fact). The Memory and history features make it easy to see where your time is going, and the integrated online site adds even more useful features. I've tried many time-tracking apps, and this is by far my favorite, and the one I recommend to others." – App Store Reviewer
HoursTracker aims to make tracking your time as simple and straightforward as possible. You can clock in and clock out or manually enter start and stop times yourself.
There are also numerous other features—from the ability to receive reminders to track your time when you arrive at or leave a location to using tags and filters to organize your time logs—that will make time tracking a breeze.
What it Costs: Free
What a Reviewer Says: "As an hourly employee some weeks you get more hours than others so it's very hard to set-up, stick to, and manage any type of budget. Using this app to add your scheduled time and then make your adjustments to that time like working over, coming in early, etc.. makes budgeting your finances much easier because you can add your tax percentage and the calculations of your net pay are right on." – App Store Reviewer
In terms of time tracking, Timelines is highly visual. Much like other time tracking apps, you use your timer to log your time—but, then it's displayed on an interactive timeline that you create for a specific project or task.
This visual approach gives you a solid grasp on where your time is going so you can make the necessary improvements.
What it Costs: $7.99
What a Reviewer Says: "This app has helped me stay on time more than any other method I've tried. I am chronically optimistic with how long anything should take; however, I can now see how long routine tasks always take, so I can plan much better in the present for how long future tasks will most likely take. I love the visuals and the Apple Watch support! Keep up the great work!" – App Store Reviewer
Hubstaff is another popular time tracking solution—particularly for teams.
With things like detailed time sheets, automatic payroll, and even reporting on activity levels during a certain portion of time, Hubstaff is packed full of features that teams can use to give their productivity a boost.
What it Costs: Free plan available, with paid plans starting at $5 per month, or $4.08 per month when billed annually.
What a Reviewer Says: "As a small business owner, I always tried to keep the costs low while also ensuring we maximize every progress brought in by my small team. Hubstaff has helped me create that value for my company and we now have a suitable way for tracking project tasks & managing payroll easily. I couldn't be any happier!" – App Store Reviewer
Many users appreciate ATracker for the fact that it's incredibly intuitive to use. It's super easy to get started—you simply set up a task list and then tap an individual task to start recording your time.
ATracker also offers highly visual reports that break down your time into different pie charts and bar graphs so you can quickly and easily see where your time is going.
What it Costs: ATracker is free, but ATracker Pro is available for a one-time cost of $4.99.
What a Reviewer Says: "I have used this app to track my daily life since December 2015. I record how much time I spend at school, work, working out, on Reddit, gaming, watching movies, etc. I used to-do lists for a long time and kept switching which one I used, trying to find one that felt satisfying to mark something off the list. The problem with to-do lists is that they don't incentivize you to do one task that would take as long as three; so at the end of the day, you may look back and think you've only gotten one thing done. With A-tracker, I've switched my way of thinking. I've been able to use my time more effectively and look back on my day/week/month and see where I need to make improvements. Wonderful app. If you want to figure out how you're spending the 24 hours you're getting every day, this is the app for you." – App Store Reviewer
TimeCamp is awesome for freelancers and other professionals who get headaches at the thought of needing to log their billable hours.
TimeCamp has all sorts of features that can take the pain out of the process. From invoicing to integrations with apps and solutions you're probably already using, getting up and running with TimeCamp is simple.
What it Costs: Free plan available, but paid options start at $7 per month or $5.25 when billed annually.
What a Reviewer Says: "I'm only using the free version so it is a bit limited. But for being free it does what I need it to for my individual use. I see the upgrade options would be very useful but at this point are not necessary for me. A great app with options that are very helpful." – App Store Reviewer
Ready to Take Your Productivity Up a Notch?
There you have it—nine different time tracker apps for iPhone that can help you keep a close eye on your time and figure out how to be even more efficient and effective.
Give one (or several!) a try, and prepare to power your way through that never-ending to-do list of yours. Good luck—you've got this!
Kat is a freelance writer specializing in career, self-development, and productivity topics. She's passionate about being as efficient and effective as possible—much of which she owes to her 114 words per minute average typing speed. When her fingers aren't flying on the keyboard, she loves to bake, read, hike, or tackle yet another DIY project around her home.