Hiring at scale is exciting. It's a fantastic feeling to work in a company that's welcoming new and talented people through its doors week after week. But unfortunately, hiring at scale isn't all fun and games. When it goes wrong, it can have a fatal impact on your business.
In this article, we'll show you what hiring at scale looks like in a post-pandemic world. Once you're fully up to speed, we'll forewarn you of some of the biggest hiring at scale challenges, and how to avoid them.
Let's get started!
Quick Links:
What is Hiring at Scale?
When we talk about hiring at scale, recruitment professionals often just think about volume. After all, companies hiring at scale need to identify, assess, hire, and onboard 10+ employees a week, every week, over a sustained period.
Because of that demand, hiring at scale is all about speed too. You need to hire all of those employees quickly and efficiently. As we know, speed is the name of the game at the best of times when it comes to recruitment.
While we'll look in more detail at the challenges this creates later on, when hiring at scale you can't afford to compromise quality. Typically organizations hiring at scale are in positions of accelerated business growth. Sure, they need to get new employees in quickly to support their lofty ambitions, but those employees need to be top-tier talent.
So, hiring at scale is all about hiring a large number of high-quality employees as quickly as possible!
What Does Growth Rate Mean For Hiring Teams?
The first aspect to understand when hiring at scale is your business growth rate. Knowing how quickly your company is growing helps you to anticipate your recruitment plan over time – more on that shortly.
Assessing your business growth rate is pretty easy and can be done by comparing where you are now to where you want to be: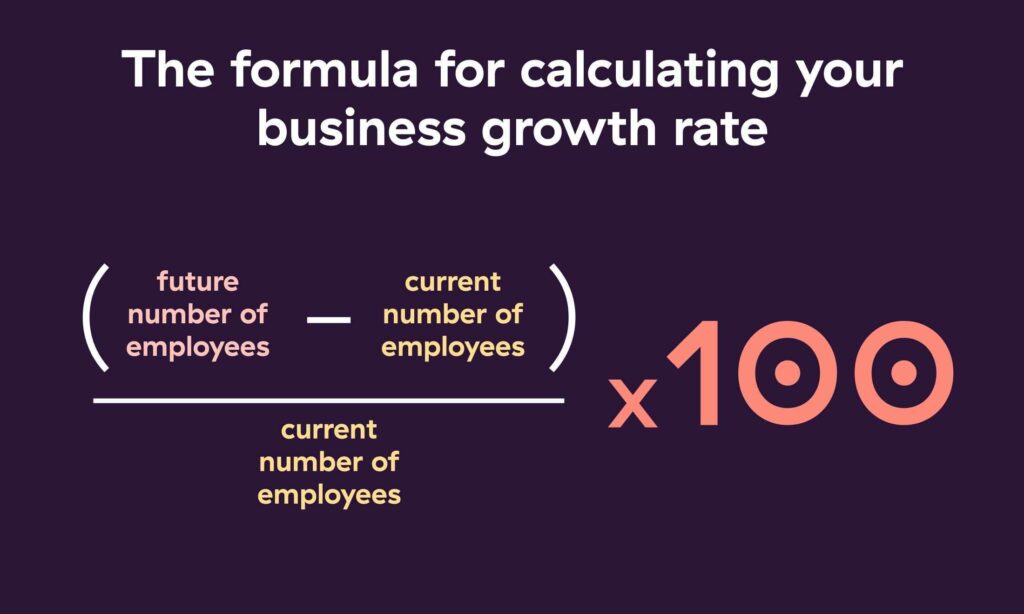 Let's imagine right now you've got 80 employees in your organization. With the strategic goals you want to hit, you need to scale to 130 employees in the next 12 months. In the formula, that looks like this: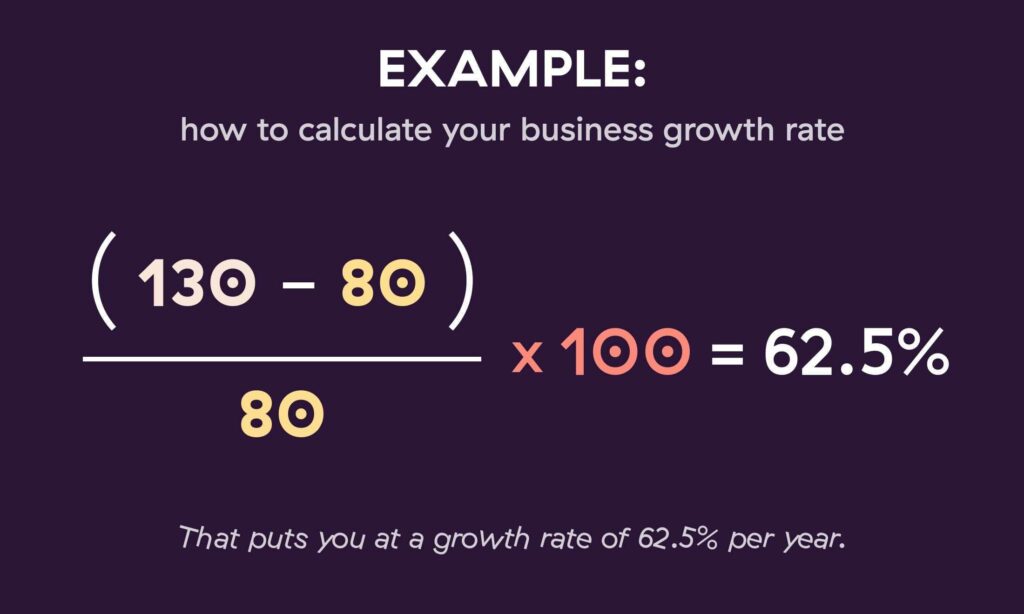 But why is knowing your growth rate important for hiring at scale? Understanding this growth rate, and the underpinning numbers, helps you build a hiring capability that can keep up.
Maybe your current hiring team is excellent at hiring five new starters a month, with a 30-day time-to-hire, but is that going to be good enough in the future? If not, you'll need to get a recruitment plan in place to ensure you can deliver what your business needs.
3 Factors That Drive Companies to Accelerate Their Hiring
If you're not currently in a state of accelerated hiring, you might be wondering how a requirement for so many employees comes about. The truth is that hiring at scale has many different origins, all of which look slightly different for every business.
Here are three of the most common reasons businesses need to hire at scale:
Seasonal Recruitment
For many industries, the ebb and flow of their recruitment changes as the year progresses. Now your mind may instantly jump to summer jobs or Christmas temp work, but when you break it down, there's a lot of seasonal employment in every industry.

For construction companies, hiring peaks in April as the warmer weather means projects can move faster. Finance companies need extra bodies in November and December to deal with year-end accounting. And for many businesses, May is the perfect time to take in your latest cohort of graduates.
Post-Funding Growth
For many small, medium, and start-up businesses, hiring at scale is a common occurrence after securing a round of funding. This might seem obvious to many, but business investment funding usually comes with some steep targets to expand business performance.

And with data showing that over 90% of startups fail, getting the right people in quickly is essential for meeting those targets. As we see, failure to do so can lead to fatal consequences, with many startups simply failing to hire the talent they need to grow their organization.

If you're a startup looking to hire at scale, we'd recommend checking out our full guide on Hiring for High-Growth Startups: 2022 Edition.
Talent Exodus
If you read any business news column in early 2022, it won't be long until you read about 'the great resignation.' Businesses trying to fight a trend of high employee turnover often have to get themselves into hiring at scale mode to survive.

While a talent exodus points to a range of problems within a business, it doesn't make the recruitment team's job any easier. The same rules apply when hiring against a talent exodus, with recruitment teams needing to balance volume, speed, and quality at all times.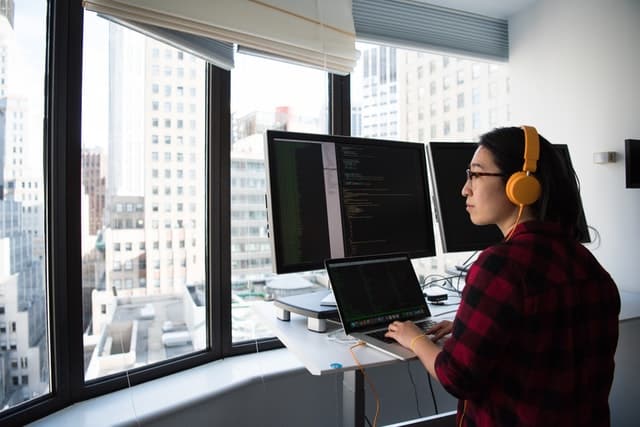 5 Challenges of Growing & Hiring at Scale
As you can imagine, hiring at scale isn't always plain sailing. Whether you're a business in growth or battling against a talent exodus, there are many challenges that need to be navigated.
Here are some of the common challenges businesses face when hiring at scale and how you can overcome them:
1. The Right Pace of Hire
The biggest challenge recruiters face when hiring at scale is getting up to the speed that the business needs. The end-to-end recruitment and onboarding process has many steps and naturally takes time to move candidates through.

Those recruitment teams that master hiring at scale have to work out a way to speed up their time-to-hire and, where possible, simplify their process.
2. Maintaining Quality
Hiring at scale is a delicate balancing act. When recruitment teams speed up their hiring processes, the big risk is that they begin hiring sub-par talent as a consequence.

And in many ways, this drop in quality is no surprise. As pressure mounts from the business, recruiters fall into traps of cutting corners and ignore red flags to deliver on expectations. Those who nail hiring at scale find a way to guarantee quality and deliver top-tier candidates time and time again.
3. Poor Unscalable Processes (especially in the remote world)
When businesses transition from their normal recruitment rhythm to hiring at scale, they often forget to update their processes. This means their processes are simply not fit for purpose and cause serious problems.

This is made worse in a remote environment where visibility isn't easy to attain. To overcome this, recruitment leaders need to adapt the way they work. Processes need to be simplified and adapted to work effectively at scale.  
4. Having the Right People, With The Right Skills
When scaling up your hiring capability, remember that you also need to hire more amazing recruitment professionals. Businesses sometimes forget to scale the recruitment team to support scaling the wider business.

Remember that all the challenges we've discussed above still apply here. When growing your recruitment team, make sure you focus on high-quality candidates with the right skills. Focus on finding great recruiters with a strong work ethic, resilience, and experience in fast-paced recruitment.
5. Leveraging The Right Technology
The great news for teams moving to a hiring at scale capability is that there are so many amazing tools to help you out. But, with so much choice comes a challenge to make the right decisions.

When hiring at scale, leveraging the right technology is the difference between becoming super-efficient and grinding to a halt. Take the time to research the market and match your technology tools to your hiring process. If at any point you feel your systems are slowing you down, it's time to switch it up! 
How Toggl Hire Helps You Hire at Scale
If you're just starting on your journey to hire at scale, we know it can feel like a minefield getting started. Before you go, we'd like to tell you how Toggl Hire can help you level up your hiring capability and meet your growth targets.
Not heard of skills testing? Here's why it can help you hire at scale:
Bring Speed. Resumes are dead, especially when hiring at scale. Why spend hours filtering through the same old information when you can jump straight to putting your candidates to the test? Not only is it more interesting for all involved, but it's also a much faster way to screen and assess hundreds of candidates at once.

Assure Quality. With Toggl Hire's expert-created questions, you can be assured that every candidate that passes a skills test really knows their stuff. Our library of 11,000 questions are all double-vetted and independently checked by industry experts. This means that even when you're hiring at scale, you can give your hiring managers the comfort that you're only taking on top-tier talent.

It's Fair & Equal. Skills testing doesn't discriminate. Every Toggl Hire test is unique, with each candidate getting a different combination of questions for their chosen role. For candidates, skills testing gives them comfort that testing is always fair and they'll only be assessed on their merits. If you're scaling your hiring process, skills testing gives recruitment leaders confidence that they're reducing any chance of unconscious bias, while eliminating the opportunity for candidates to cheat.
If you like the sound of that, we'd recommend finding out more about Toggl Hire here, or take a minute to watch our introduction video below!

Summary
While it's really exciting to be in a high-growth position, hiring at scale doesn't come without its challenges. If you're a recruitment professional delivering a high-growth recruitment plan, it's all about balancing volume, speed, and quality.
To do this, work to develop a simplified recruitment process that enables you to hire at scale. To do this, our top tips would be to build a highly-skilled recruitment team and leverage technology to turbocharge your performance!