Keeping a company brimming with the best talent requires a detailed recruitment plan, one that can be adapted quickly to internal and external changes.
Follow the steps below to create a steady flow of job candidates and help your business kick up a storm in your industry.
TL;DR – Key Takeaways
What is a recruitment plan exactly? It's the strategy that the hiring team uses to carry out recruitment. Done well, it can help the team be more effective and impactful business-wide!
Wondering when you need this plan? Lot's of occasions could warrant a recruitment plan. Think annual planning or a big change in your industry, for instance.
The benefits of a successful recruitment plan range from working smarter and reducing hiring costs to freeing up your time for core tasks and more.
Finally, we share the 6 steps you need to create a kickass recruitment plan that'll help HR align smoothly with the business and contribute to impactful change.
P.s. Within every recruitment plan, you'll find a candidate screening and assessing requirements. For a modern, automated, all-in-one skills testing solution, check out Toggl Hire today.
What is a strategic recruitment plan?
A recruitment plan outlines a company's approach to recruitment and how it will implement its recruitment processes most effectively. The plan should include all the relevant details required for making strategic future hires, such as hiring goals, procedures to follow, and the hiring budget, for example.
A good recruitment strategy will align with the organization's goals to ensure the hiring manager is contributing to company growth and helping to manage any organizational changes.
Are Recruitment plan and Recruitment strategy the same thing?
No!
While a company typically develops its recruitment strategy and recruitment plan in parallel, the terms refer to different components of the recruitment process. The easiest way to tell the two apart is to think of the recruitment strategy as the overarching, high-level document that covers the 'what' and the 'why', while the recruitment plan is more of a step-by-step detailed roadmap that outlines the 'how' and 'when'.
| | Recruitment Strategy | Recruitment Plan |
| --- | --- | --- |
| Description | An overarching approach or method an organization uses to attract and hire new talent, focusing on long-term goals, types of roles to fill, ideal candidate profiles, channels for reaching these candidates, and employer branding. | A detailed, step-by-step roadmap for implementing the recruitment strategy. It outlines specific tasks, timelines, responsibilities, and resources required to execute the strategy. |
| Focus | Long-term goals, the 'what' and 'why' of the recruitment process. | Short-term objectives, the 'how' and 'when' of implementing the strategy. |
| Components | Employer branding, sourcing strategies, candidate profiles, diversity goals, etc. | Job posting schedules, resume screening criteria, interview timelines, assigned responsibilities, etc. |
| Purpose | To define the overall approach and objectives in attracting and hiring talent. | To detail the exact steps and resources required to implement the strategy. |
| Flexibility | More adaptable to changes in the market, industry, or company objectives. | Less flexible due to its task-oriented and time-bound nature. |
| Outcome | Establishes the direction and focus of the recruitment efforts. | Facilitates the successful execution of the recruitment strategy. |
What's the difference between a recruitment strategy and a recruitment plan?
When is the best time to create a recruitment plan?
If you're wondering whether your company needs a recruitment plan or can wait a while before developing one, consider whether you're in one of the situations listed below.
Annual planning — is your organization about to undergo its annual planning process? At that stage, hiring managers have an important role to play in aligning hiring strategy with the company goals during this process.

Organizational changes — if your company is growing, starting a new initiative or has seasonal hiring needs, a recruitment strategy will be essential in attracting quality candidates for your talent pipeline.

High turnover rate — if the business is losing it's talent too fast, recruitment plans can help patch up any gaps in the workforce and ensure the best approach to improve retention.

External changes — a big change in your industry or shifts in the market could mean that your business needs to adapt its recruitment strategy to continue attracting the best candidates.
Why does our team need a recruitment plan?
A recruitment plan is your guiding star when it comes to predicting and meeting the company's staffing needs. It provides a framework for all stakeholders that keeps everyone aligned and working towards the same deliverables in a structured, effective way.
With a detailed hiring plan, your team can streamline the hiring process and reduce recruitment costs. But the benefits don't end there.
Recruitment Planning: 5 Key Benefits
| Benefit | Description |
| --- | --- |
| Hiring consistency | Helps to ensure a consistent approach to hiring |
| Meeting business needs | Aligns recruitment efforts with bigger company goals |
| Long-term staffing needs | Facilitates long-term workforce planning |
| Saves costs | Helps to reduce hiring costs |
| Streamlines recruitment efforts | Delivers an effective approach to hiring |
The benefits of creating recruitment plans
Next, let's dive a little deeper into what hr professionals, businesses, and applicants will get out of making planned recruiting efforts.
Smarter decision-making
Hiring teams need to work effectively and make smarter decisions throughout the talent acquisition and onboarding process.
By working with tools such as a recruiting funnel and modern recruitment software and using metrics throughout the process, the team can continually make accurate data-driven decisions to improve their output.
Delivering a streamlined hiring process
A recruitment plan can help recruiters work strategically, resulting in a continually improving hiring process that saves time and enables more focus on high-priority tasks.
Providing an engaging candidate experience
A well-executed recruitment plan improves the overall candidate experience. Treating applicants like professionals will likely enhance your company or department's reputation and increase the likelihood of attracting top talent.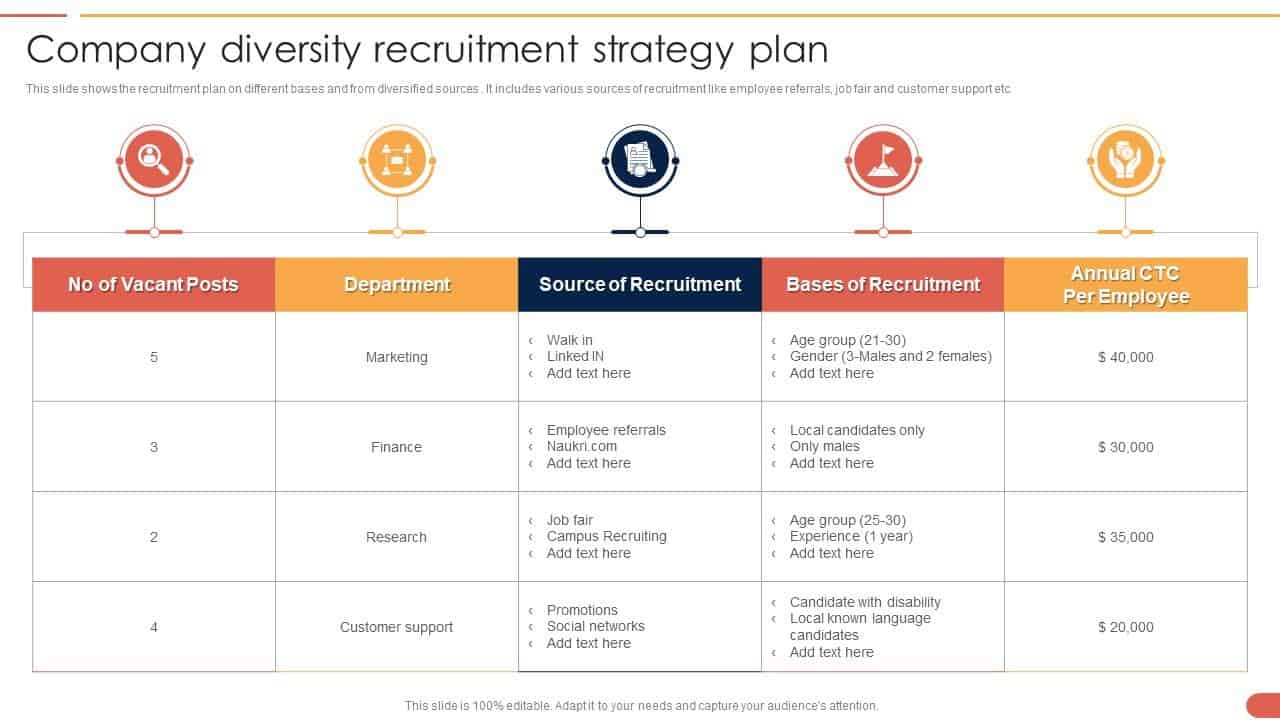 Meeting specialized hiring goals
The hiring team can include and adapt its recruitment strategies to reach specific hiring targets, such as diversity and inclusion goals, and the right candidates.
Reducing hiring costs
By continually updating and improving the hiring plan, the team can optimize metrics like Cost-per-Hire and more easily stick to the recruitment budget.
Boosts adaptability to internal and external changes
Hiring managers can predict and adapt to any internal changes, like a new office location, or external changes, like an economic crisis, to ensure an optimal workforce at all times.
Ok. Now that we've explored the benefits of a recruitment plan, let's get you started on the right steps for how to develop a recruitment plan successfully.
6 steps for creating a successful recruitment plan
Keeping the hiring team and other stakeholders on the same page with proper planning will ensure everyone's work complements each other, and enable you to make smarter decisions faster.
Plus, you can provide feedback quickly to queries from those who need to know (and those who are just sticking their nose in. 😉 )
Following these 6 steps will help you prepare for your recruitment planning period.
#1 – Setting recruitment goals
A recruiting plan means nothing without including specific goals. Rather like building a house without an architectural diagram, it could result in things going horribly wrong! That's why your hiring team needs to set short-term and long-term goals, to ensure that your recruiting plans are set for success.
Note: It's essential to define and assign a metric for each goal too. Without metrics, you won't know how well you're achieving your goals, or whether you're lagging on some of them.
Why separate long-term and short-term goals?
Short-term and long-term recruitment goals are typically a bit different. While a short-term goal may be to update your career webpage, a long-term goal could be to improve the diversity of your candidate pool.
Over the hiring timeline, it can help a lot to split goals into short-term and long-term targets. Here's why:
Improved team focus — so your team can more easily prioritize tasks, know how to best manage resources, and keep a focus on immediate needs and future goals.

Ensure a feasible plan — by marking goals as either short-term or long-term, the team can rest assured that not everything must happen immediately. And prevent a feeling of mental overwhelm.

Facilitate continuous improvement — short-term goals are the best opportunity for testing new ideas or recruiting tactics, like trying out a new candidate screening tool. Once you've established how effective the initiative was, you can adjust it so it delivers long-term benefits, like improving the candidate experience.
Examples of short-term vs long-term goals
| Short-term Goals | Long-term Goals |
| --- | --- |
| Improving job descriptions | Building a diverse and inclusive workforce |
| Meeting seasonal hiring needs | Strengthening your employer brand |
| Onboarding the right employees for new projects | Boosting employee retention |
| Reducing Time-to-hire and Cost-per-hire metrics | Adapting to industry changes and workforce trends |
| Introducing skills assessments | Delivering strategic talent pipelines |
| Testing and implementing new recruitment software | Improving the candidate experience |
Examples of short-term and long-term recruitment goals
#2 – Identifying hiring needs
Before you start planning your new hires, you need to know what skills and competencies the business will need over the next year. So, how do you evaluate and prioritize these hiring tasks?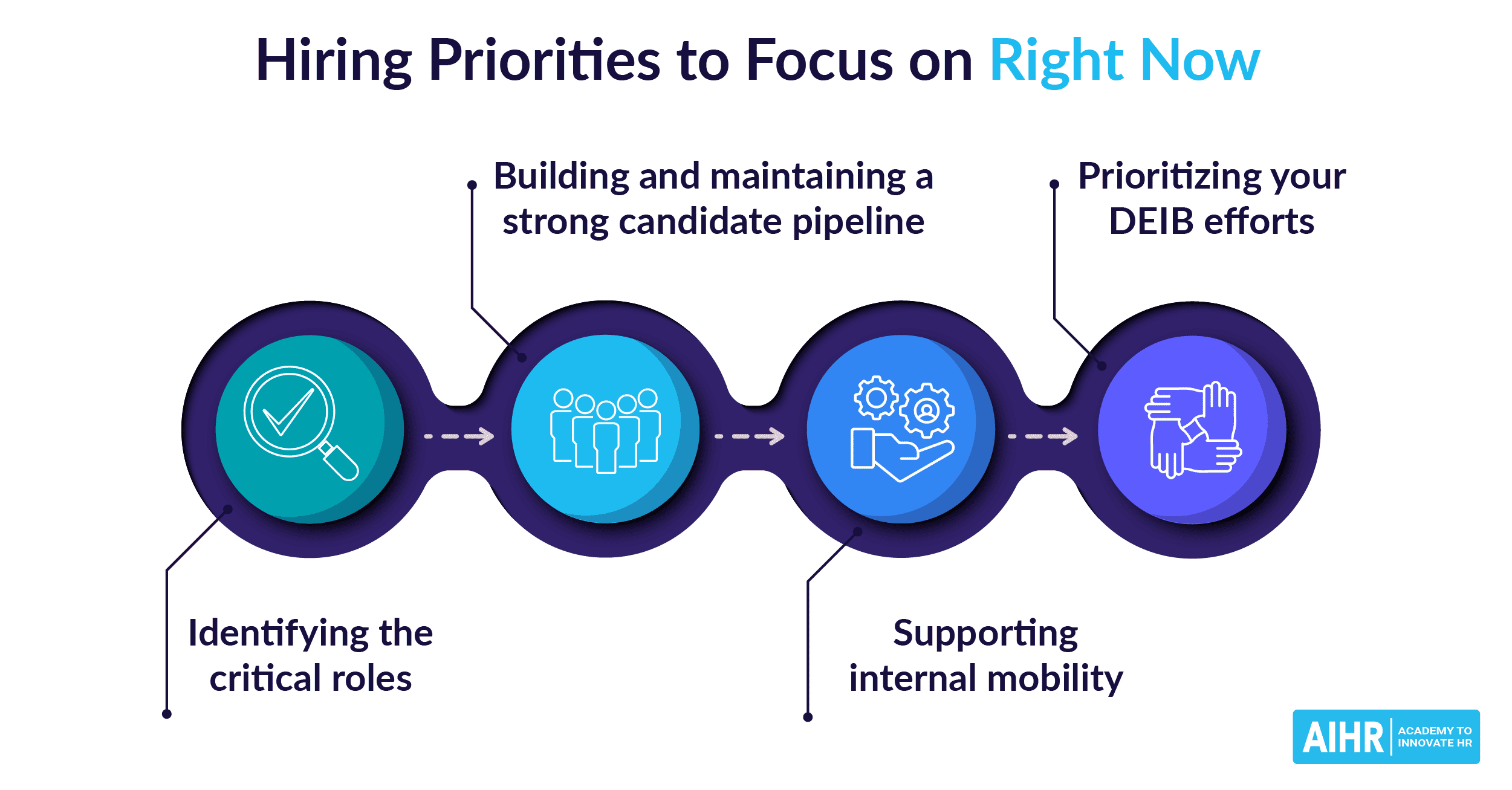 High-priority needs could include things like analyzing the company's annual goals and strategy to align recruitment planning and successfully complement the rest of the business. Or performing skills gap analysis to spot any skill gaps between the current workforce's capabilities and the skills that you'll need to have onboard in the long term.
While medium priority tasks could include evaluating your staff turnover rate to ensure sustainability and keeping a close eye on industry and workforce trends.
On the other hand, improving the collaboration between HR and other departments is a good example of a lower-priority hiring need.
Ok, but how do you know which roles to prioritize?
You can make your hiring activity choices based on factors like these below.
| Prioritization factors | Description |
| --- | --- |
| Aligning with business objectives | Does the role meet new or urgent business directives like hiring no more support staff for the rest of the recruitment calendar or a new initiative to attract and hire staff? |
| Assessing role urgency | Is there an open position that needs filling urgently, like a Sales Director or Product Manager? |
| Internal mobility | Have you checked whether there are suitable candidates available internally to fill the role? |
| Diversity and inclusion goals | Is the organization meeting its diversity and inclusion goals? And does the role fall under those goals? |
| Hiring cost | Does the role's salary or salary level align with the recruitment budget? |
| Hard to fill roles | Have you assessed the level of difficulty in filling the role? If it's a tricky one to fill, it'll take more time, costing more. |
#3 – Setting your hiring budget
Think about the costs associated with these components of the hiring process to optimize your hiring budget (and put a smile on your hiring manager's face 😊).
Recruitment marketing — what you're spending (and will spend) on advertising roles and improving your employer brand, including social media advertising, job posting, job boards and career events.

Recruitment technology — the tools your team uses to streamline the hiring process, such as chatbots, applicant tracking systems, and candidate relationship management (CRM) software.

Assessments — an online skills testing platform for screening applicants.

Interviewing costs — any costs incurred through in-person or video interviews.

Recruitment team salaries — the total salary cost for your team.

External recruiting — if you need the services of external recruitment agencies, perhaps for a new or niche role.
#4 – Attracting and sourcing the best talent
You need to get the word out through as many channels as possible to keep your recruitment funnel topped up with qualified candidates. Your sourcing methods are essential in attracting potential candidates for your job postings.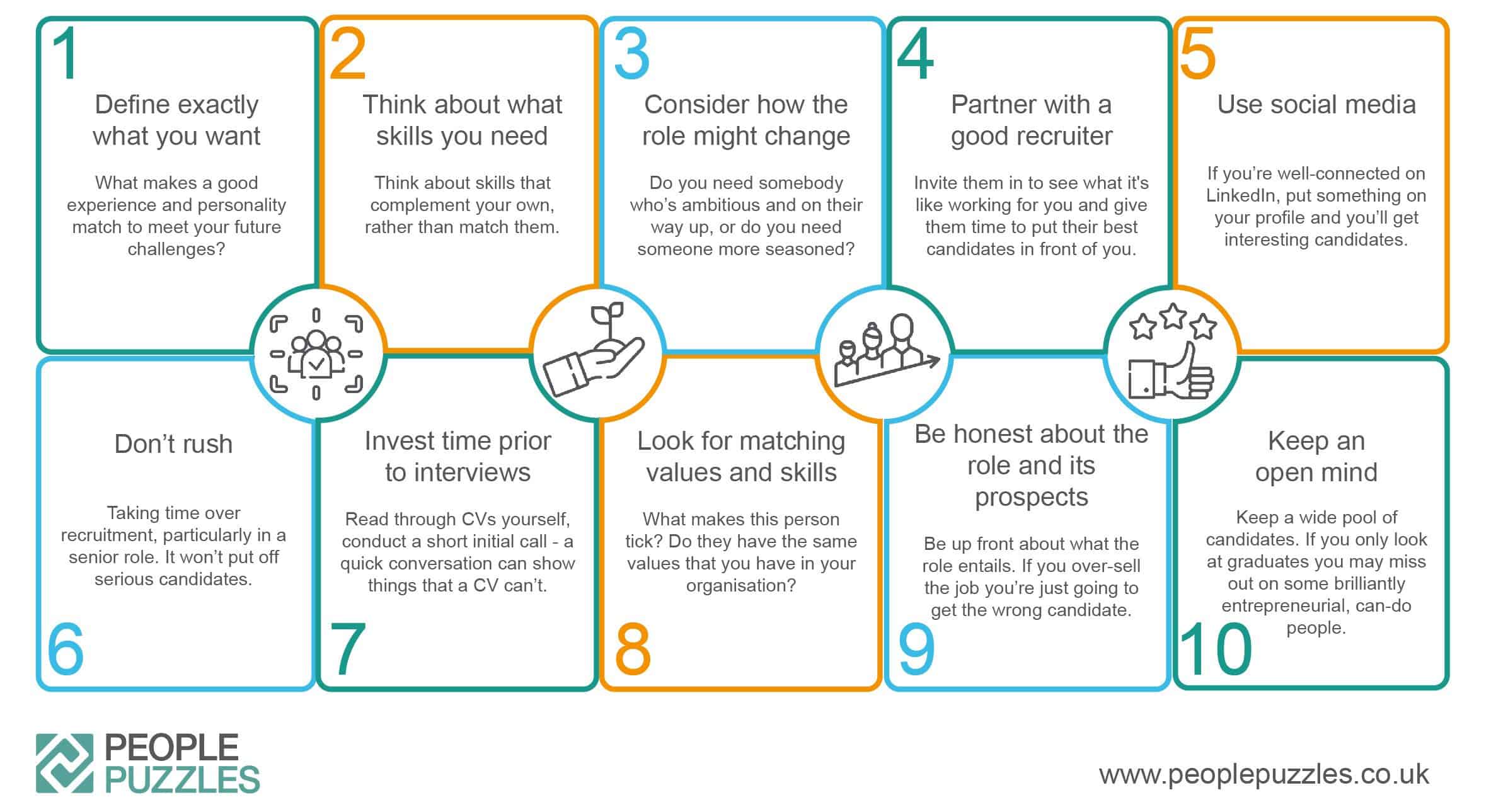 For the candidate selection process part of your recruiting plan, you could include components like:
Defining your target candidate profiles — what skills and experience do they need for the role (and include this info in the job description).

Updating your employer value proposition (EVP) — the EVP is what a company offers its employees in return for their work.

Recruitment events — including job fairs, conferences, and internship recruiting.

Managing candidate engagement — staying in touch with your candidate pool via email, social media or another medium.

Employee referral program — getting your employees to refer the great talent they know personally saves your team time.
Need some inspo on new approaches for hiring new employees?
#5 – Streamlining your recruitment process
It's possible that not all parts of your hiring strategy are as effective as they could be. There may be some methods or tools the team has used for too long that need updating, for instance.
Here are a few tips to help you refresh your recruitment process:
Revamp your application process. Consider letting candidates apply via skills tests instead of CVs, for instance!

Set clear evaluation criteria, such as clearly defined job requirements.

Craft clear and engaging job descriptions that include all the details a candidate needs to know to see if they're a good match.

Deliver an effective screening process. Your team can save time by automating screening tasks.

Conduct structured interviews using set interview questions and techniques, and skills tests results to inform your interview prep and guide your interview questions.

Use the right candidate assessment tools and homework assignments to screen whether applicants have the right skills.
#6 – Analyzing your recruiting plan
The best way to assess the efficacy of your recruiting plan, and continually improve it, is by using a recruitment funnel (a framework that helps you organize, manage and enhance every stage of the recruiting process).
With a recruitment funnel, you can use recruitment metrics, such as Time to hire, Quality of New Hire made, and Cost per hire, to determine how well you're doing at each stage of the funnel.
Along with leveraging the findings from your metrics, you can also receive and implement any feedback from candidates and hiring managers.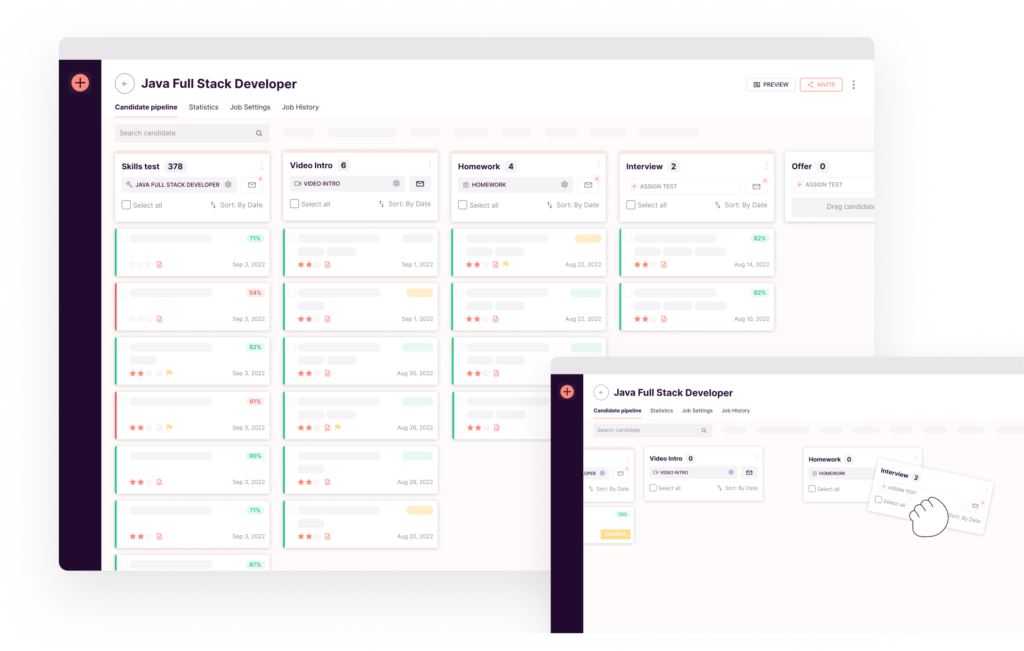 Managing the latest recruitment trends and technology
Staying up-to-date with industry trends and best practices will ensure hiring teams operate efficiently and help the organization retain a competitive edge. Luckily, this is where technology comes to the rescue.
For instance, think about the major industry shift towards skills-based hiring practices. Harvard Business Review shared this recently about how skills-based hiring is on the rise:
Many companies are moving away from degree requirements and toward skills-based hiring, especially in middle-skill jobs, which is good for both workers and employers.

HBR
And when hiring teams have the right recruitment tools, their tasks become easier, and the technology saves them time. So, don't waste time rebuilding everything in-house when you can plug and play an all-in-one skills platform at affordable prices.
Juste loves investigating through writing. A copywriter by trade, she spent the last ten years in startups, telling stories and building marketing teams. She works at Toggl Hire and writes about how businesses can recruit really great people.