68% of recruiting professionals agree that technology is the best way to improve recruiting performance, with recruitment assessment tools a common feature of modern-day companies. That's because pre-employment assessments take the guesswork out of hiring, giving everyone confidence that candidates can actually perform well in the role.
If you're in the market for a recruitment assessment tool, then this article is for you. We'll compare 11 of the best tools currently out there while guiding you on the common use cases and things to look out for when making your decision.
There's a lot to get through, so let's get going!
What are The Common Use Cases for Recruitment Assessment Tools?
Pre-employment assessment tools, candidate assessment tools, recruitment assessment tools – call them what you like, but they're becoming increasingly popular in recruitment. Companies are finding that resumes just don't cut it anymore and are turning to technology to make their hiring faster, fairer, and less risky.
Here are 7 of the most common use cases for implementing candidate assessment tools in any business.
1. High applicant volume makes screening overwhelming
Assessment tools offer an intelligent way to reduce recruiter workload by replacing time-intensive CV reviews with automatic talent assessments.
Especially with remote roles, as the candidate volume increases, it's easy to get lost in the workload and let the best candidates fall through the cracks. Instead, a simple skills test, equipped with an automatic pass threshold, does all the work for you with just one or two clicks!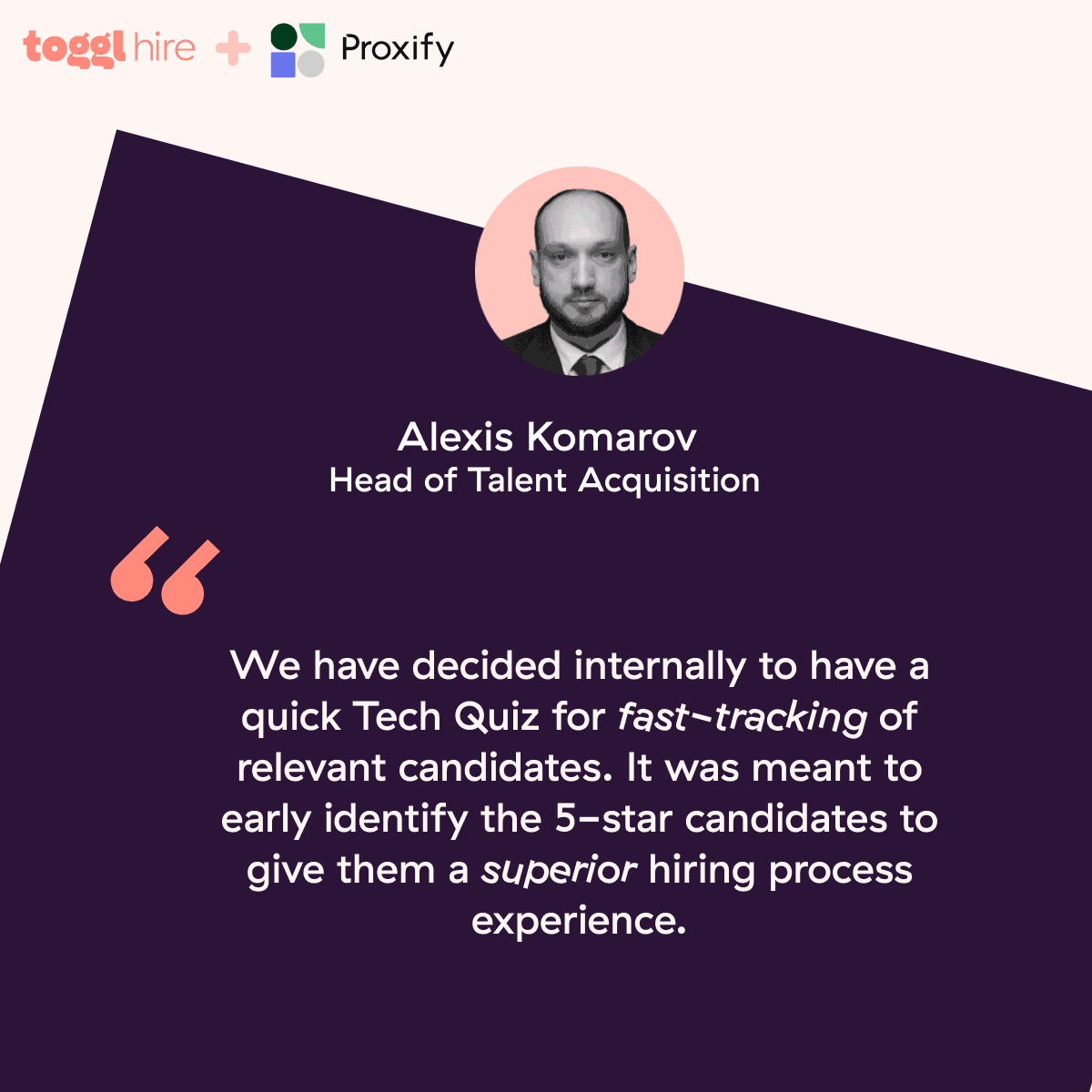 2. You want to diversify your talent pool and assess candidates more fairly (also known as blind hiring)
Online recruitment assessment tools, especially skills tests, are a great way to level the playing field and ensure you're only hiring based on job performance. That removes stereotyping, unconscious bias, and familiarity bias from your recruitment process and helps you diversify your talent pool.
3. You need support hiring for a role that you're not an expert in
Pre employment assessment tools are great for bridging your own knowledge gaps as many of them have vast libraries of questions ready to go. Take Toggl Hire, for example; we have hundreds (180+, specifically) of Smart Tests ready and waiting for any skill or role you can imagine. It's as simple as two clicks to launch while giving you confidence that the questions you're asking will separate the best from the rest.
4. You want to optimize your hiring process for speed and efficiency
Recruitment assessment tools are amazing at speeding up the entire hiring process, helping you improve key metrics such as time to hire and time to fill. That's because recruiters spend less time on poor-fit candidates as they shortlist candidates based on data, not opinions.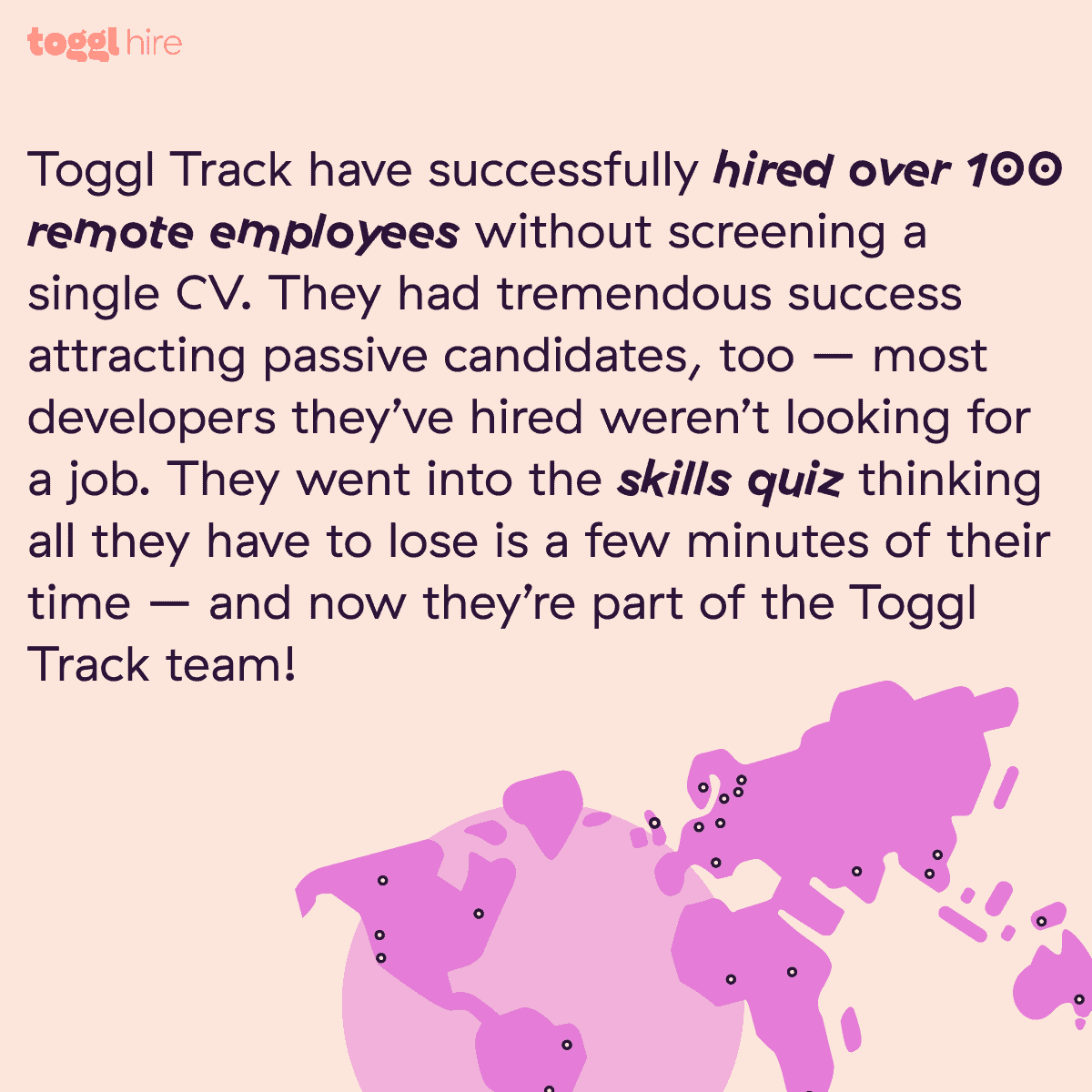 5. You're hiring remotely and you need some reassurance
Remote hiring can be hard. Distance causes you to lose the in-person touch while creating more ambiguity. Instead of adding extra steps to the hiring process, recruitment assessment tools create data that makes it easier to evaluate candidates objectively. Features such as async video interviews also allow you to get to know remote candidates on a deeper level without detracting from the candidate's experience.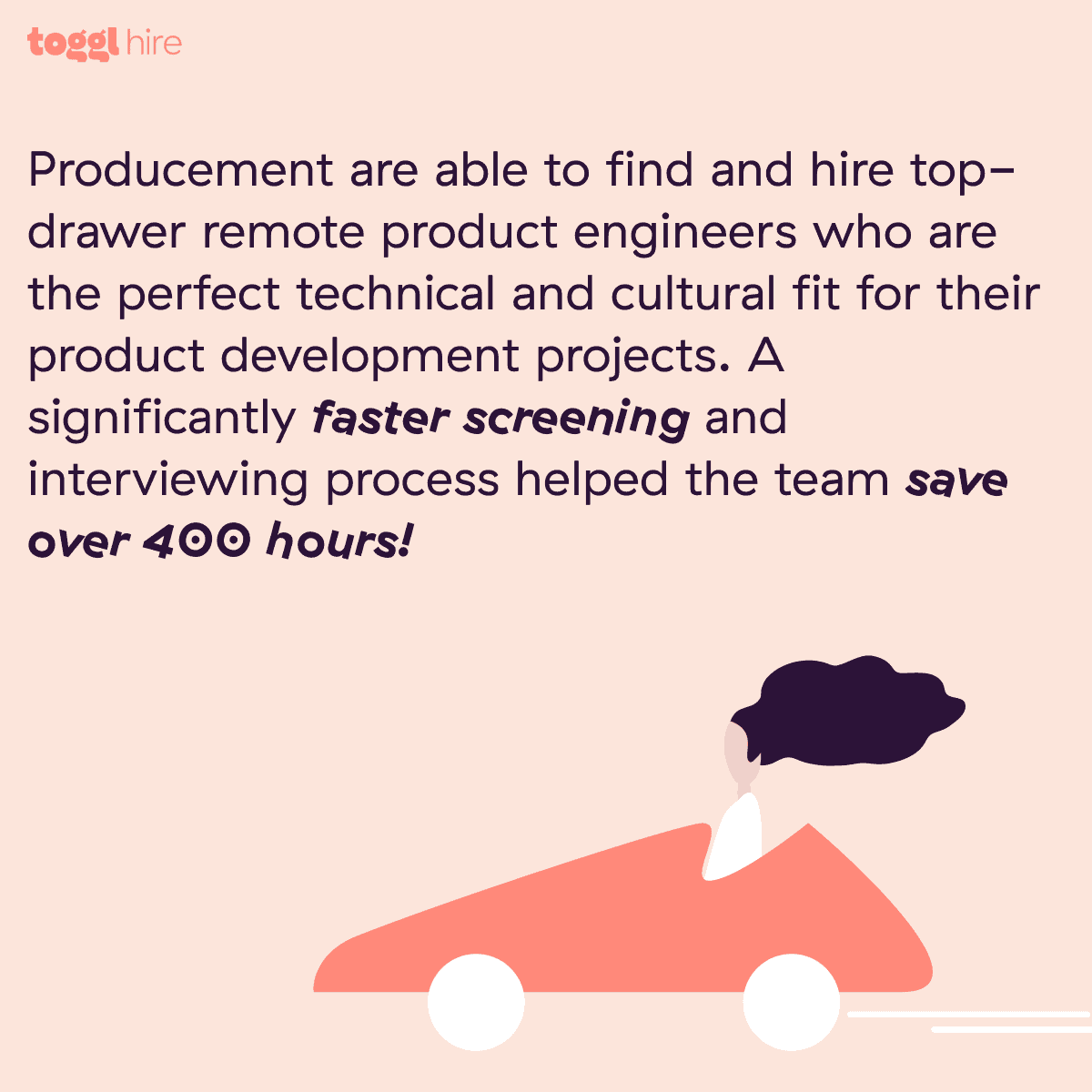 6. You're looking for top-class candidates and want to feel confident about your hiring decisions
Making a bad hire is a painful experience. Not only does it cost you up to $4,425 per role, but it also leaves you short of confidence. Using recruitment assessment tools can help hiring teams create a data-driven hiring environment, with decisions made on job performance data rather than gut feel. That increases your chances of hiring the best candidates, with only qualified candidates left in the race.
7. You want to create a stellar candidate experience and improve your employer's brand
While recruitment assessment tools are great for your business, they're also amazing for candidate experience. Assessments take candidates no time at all, they're fun, and they give candidates the perfect platform to showcase their talents. A great candidate experience helps enhance your brand image as an employer, leaving the candidate with positive emotions no matter the outcome.
11 of The Best Recruitment Assessment Tools
So, now that you know the use cases for pre employment assessment tools and the key things to look out for, it's time to look at some of the best tools on the market.
Here are our 11 top picks.
#1 – Toggl Hire

Toggl Hire is a skills-based hiring platform that combines powerful ATS capabilities with an extensive library of skills assessments. Built by a remote team, Toggl Hire was initially designed to remove bottlenecks from the initial candidate screening stage. But since then, the platform has evolved into a full-cycle hiring tool helping teams screen, assess, and shortlist the best-fit candidates with the help of role-specific skills assessments and video interviews.
Specializes in:
Digital and technical skills tests (e.g., Software development)
Soft skills
Remote hiring
Multi-level assessments
Common use cases:
Remote hiring, especially in startups or high-growth companies
Fair chance, unbiased hiring
Pricing starts from $17/month (billed annually at $199)
#2 – Codility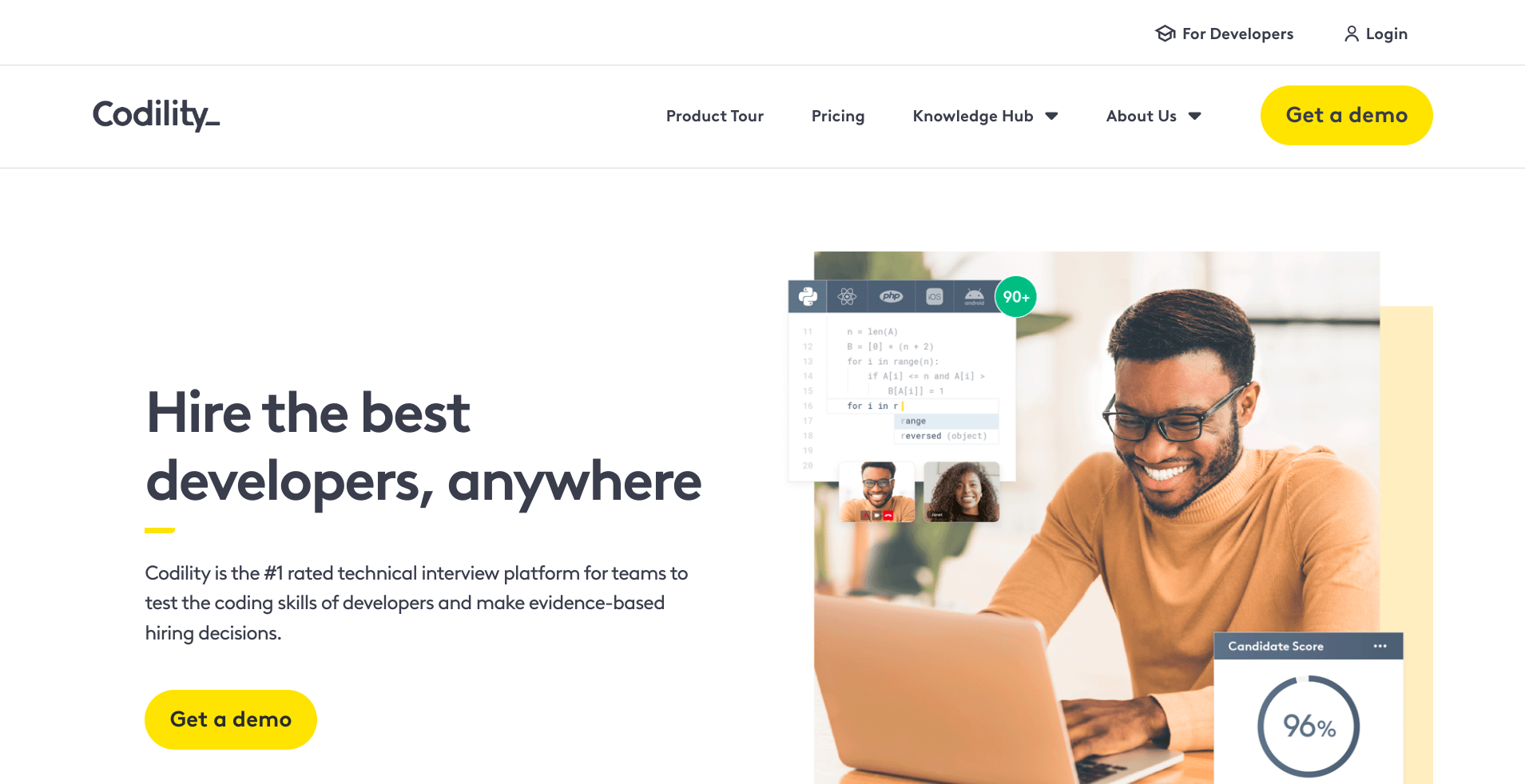 Codility is dedicated to helping businesses find the best software development talent on the planet. Focused solely on developers, Codility uses live coding and coding challenges to make recruitment fun, fair, and effective for candidates and recruiters alike. With 90+ languages & technologies, it offers something for every technology stack out there.
Specializes in:
Developer hiring
Live coding tests
Common use cases:
Remote developer hiring, especially for scaling tech teams
Secure hiring with ISO 27001 compliance
Pricing is only available by request with the Codility team.
#3 – Vervoe

Vervoe believes that every day great candidates are mistreated when applying for their next roles. Vervoe was born to fix a broken recruitment market and ensure candidates can show off their skills, knowledge, and experience. They leverage AI-powered grading to deliver a 'How', 'What', 'Preference' Model that predicts real-life job performance for anyone from retail to marketing.
Specializes in:
AI-driven hiring
Simple candidate assessment
Common use cases:
Enterprise hiring
Companies looking to boost diversity
Pricing starts from $19/month (billed annually at $228)
#4 – TestGorilla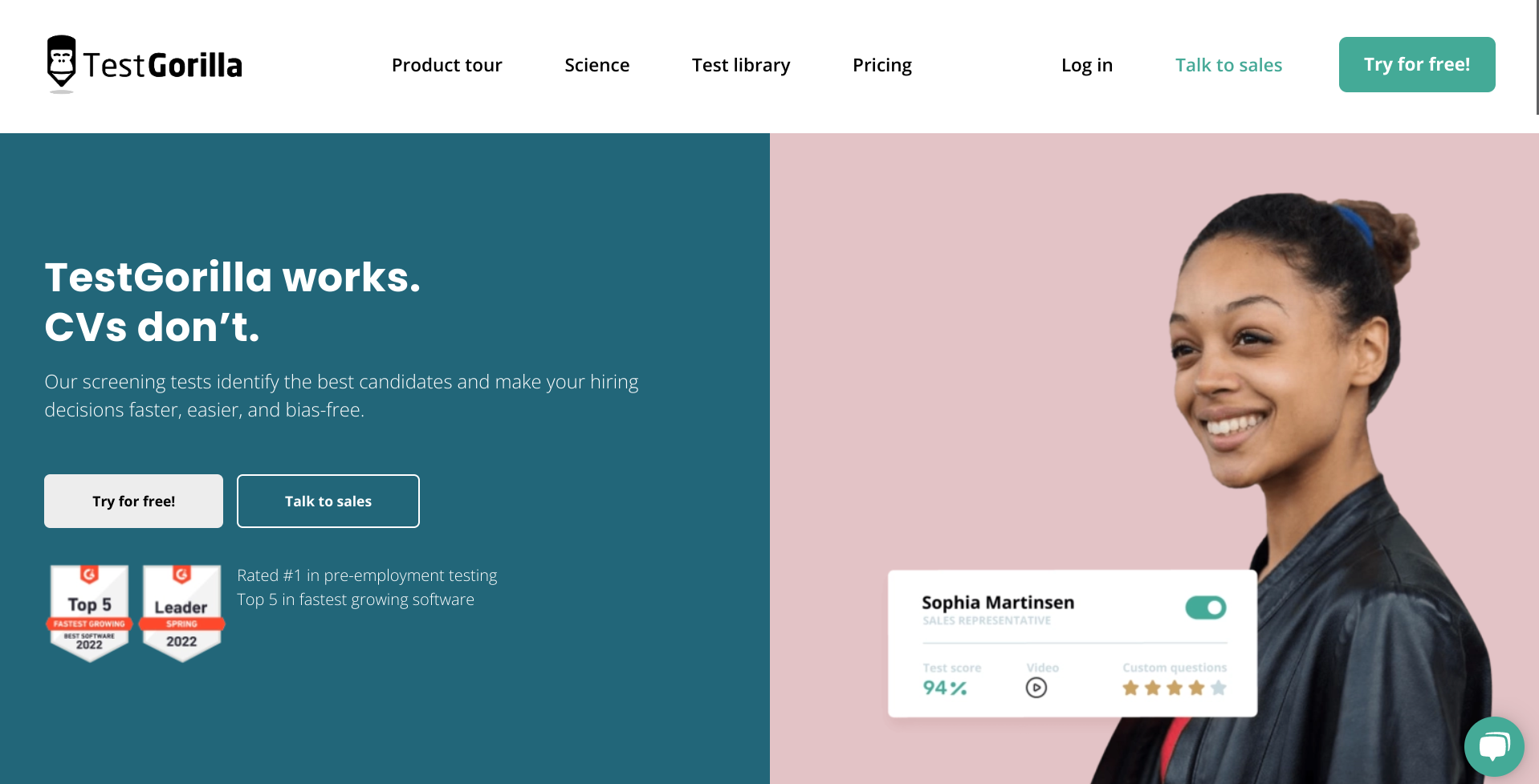 TestGorilla is all about swapping out CVs for talent assessment tests to screen candidates fairer and faster, and ultimately, make better hiring decisions. Creating tests is easy, with features to help you track, review, and hire candidates directly from the ATS. TestGorilla have tests for various skills, including technical, language, and soft skills.
Specializes in:
Quick, easy assessments
Technical and language tests
Common use cases:
Those that need expert support
Remote hiring that's fair and bias-free
Pricing starts from $21/month (billed annually at $252)
#5 – HackerRank
HackerRank is one of the most popular technical screening and interview platforms on the market. They pride themselves on helping over 2000 companies make great hires and have big names such as LinkedIn, PayPal and Vanguard on their books. As the name suggests, they target technical recruitment, with a large community of developers using their coding community to prepare for tests.
Specializes in:
Technical recruitment
Tests and live interviewing for software developers
Common use cases:
Those who want to create a talent pipeline through a community
Remote hiring of software developers
Pricing starts from $50/month (billed annually at $300)
#6 – TestDome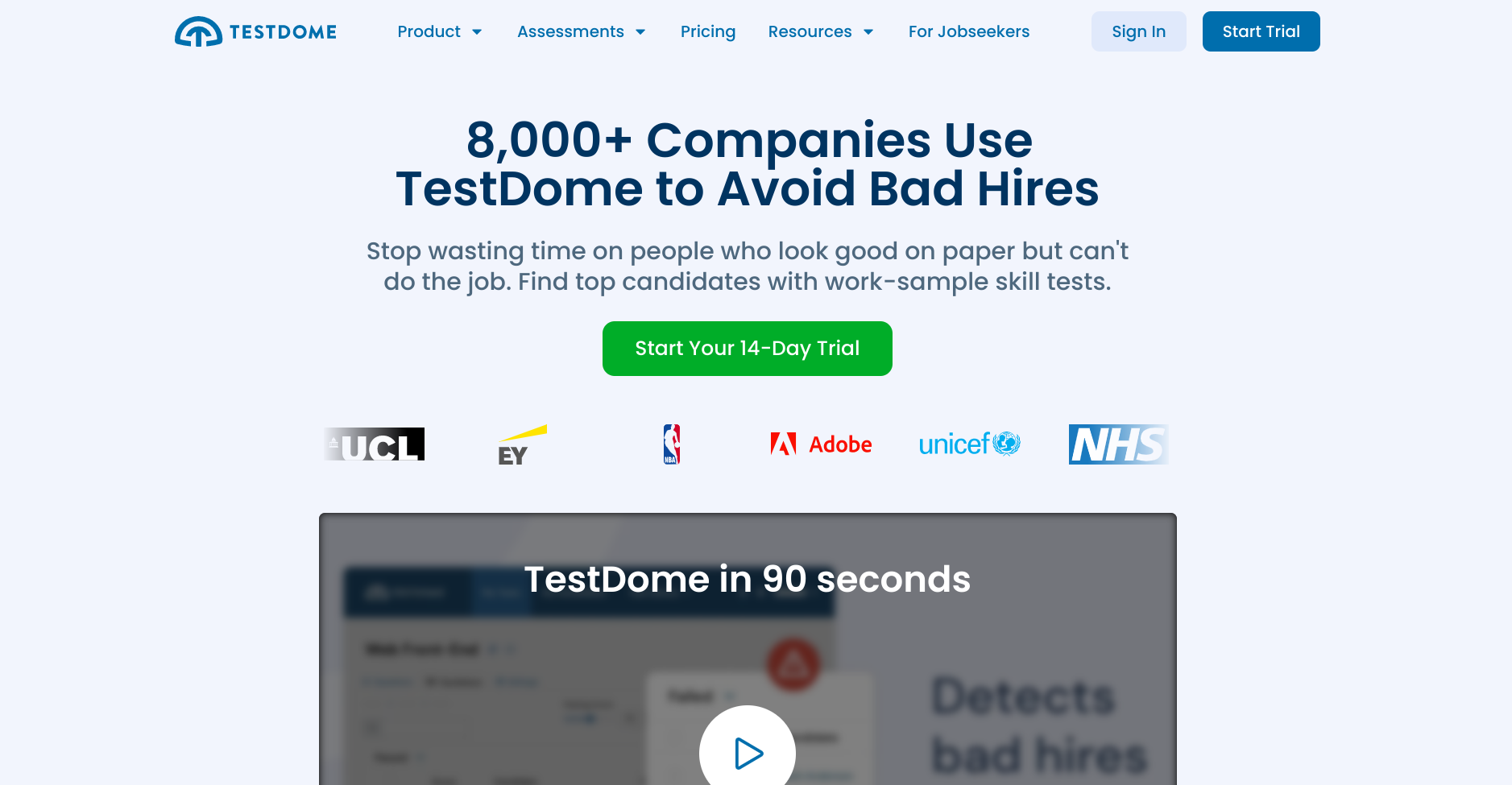 TestDome's mission is to ensure you don't make a bad hire ever again. With their 150+ tests across 90 skills, there are questions for technical and business roles as well as a range of generic soft skills. They also have 'real world' tests where candidates are encouraged to use external information as they would in real life.
Specializes in:
Optimizing recruitment flows
Common use cases:
Technical roles and soft skills
Cheat-free testing
TestDome doesn't do monthly pricing, instead charging from $7 for each candidate
#7 – Adaface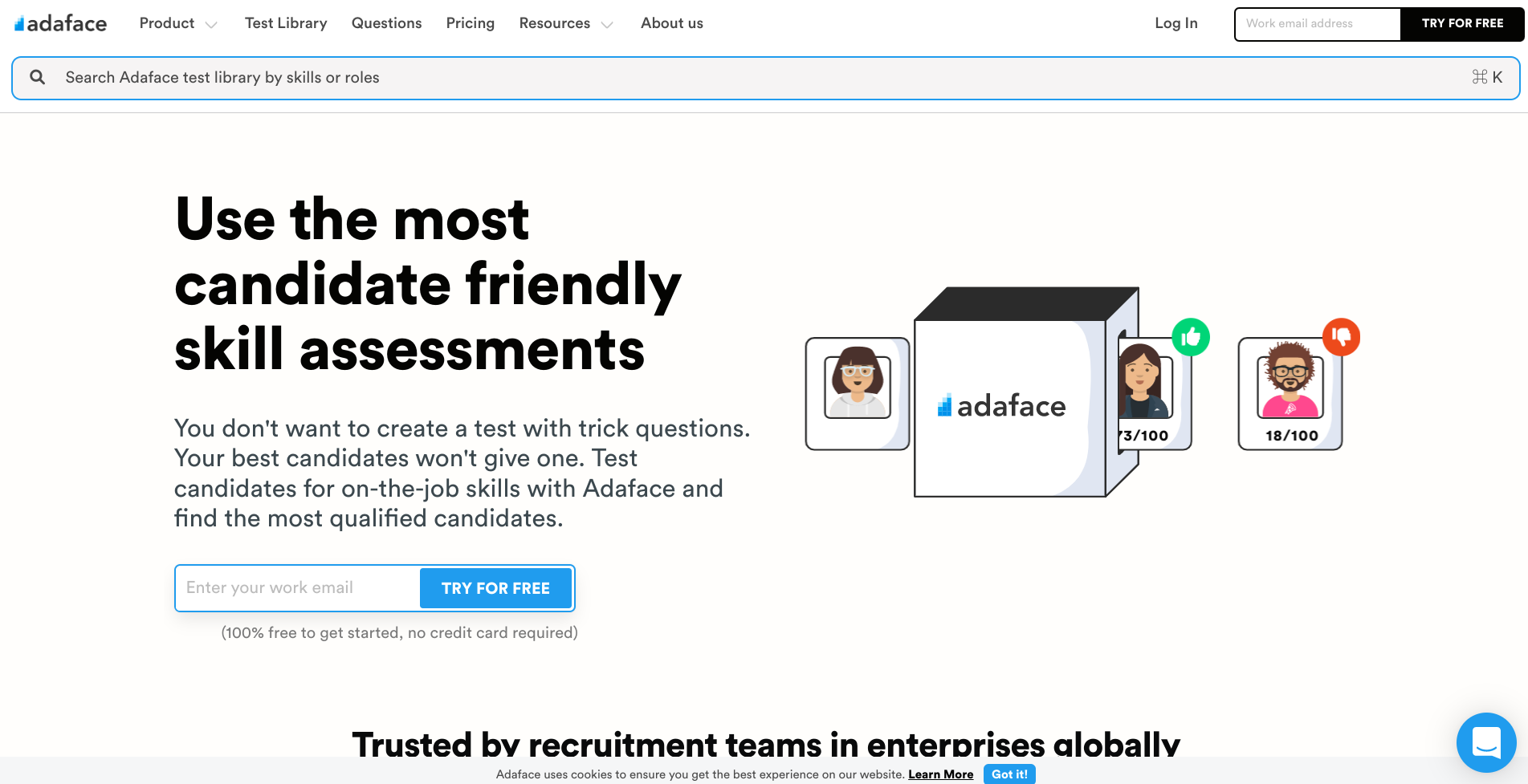 If you're looking for in-depth recruitment assessment tests, then Adaface could be the tool for you. Their 40-minute test library helps you dive deep into a candidate's profile, with setup covering technical skills, soft skills, cognitive ability tests, and personality assessments. Automated scorecards help you benchmark against industry standards with advanced proctoring helping you ensure everything is safe and secure.
Specializes in:
In-depth candidate review
Personality and psychometric tests
Common use cases:
Detailed candidate assessment
Industry benchmarking
Adaface uses a credit-based system starting at $180/per year for 12 credits
#8 – Glider AI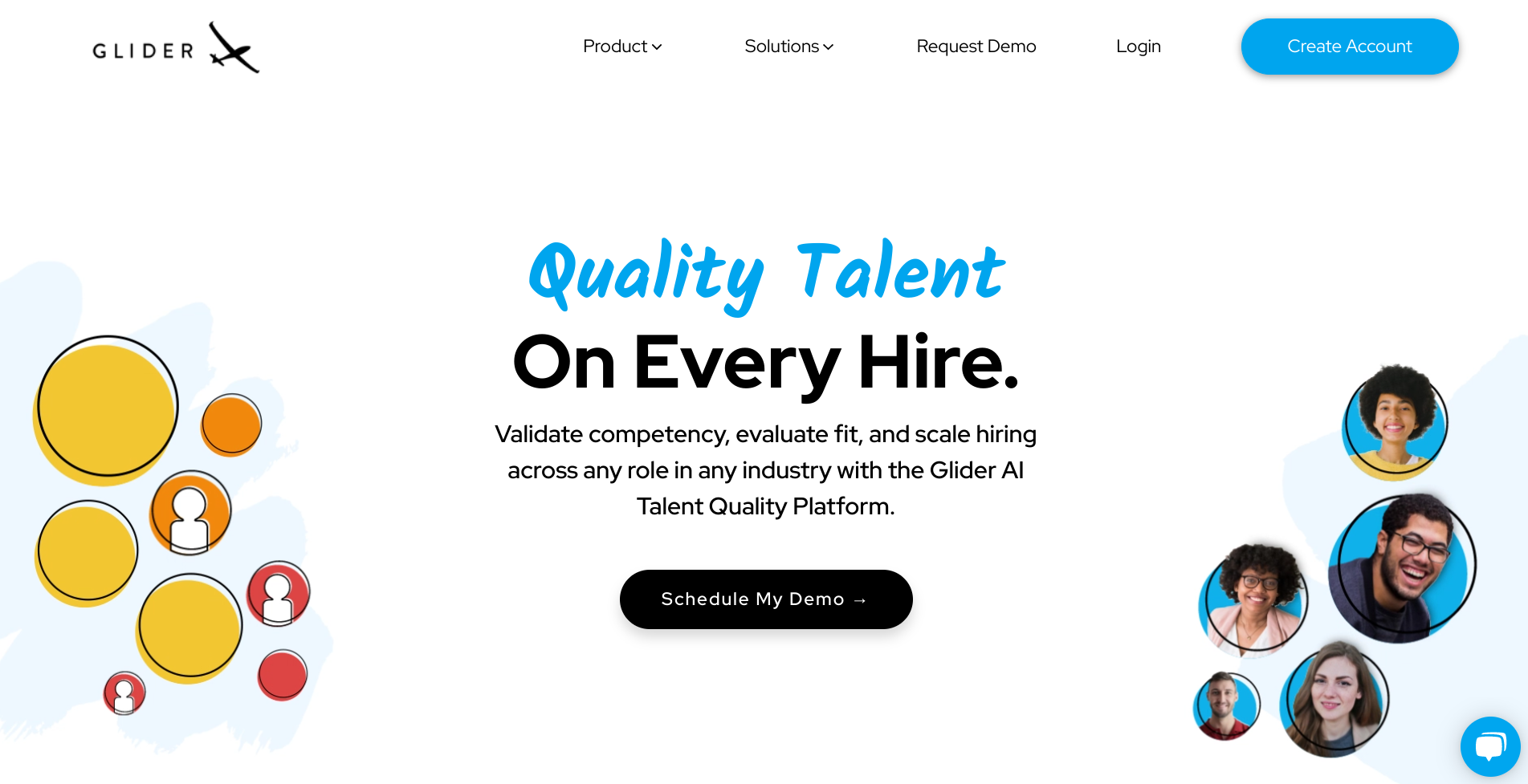 If you want to check competency at the earliest opportunity, Glider AI is definitely worth a look. But Glider AI isn't just a basic assessment tool, it helps you manage everything from candidate outreach to employee upskilling. Glider AI's technology-driven approach helps you take a variety of business roles to the market, find the best candidates, and assess whether they have the competencies they need for your business, both now and in the future.
Specializes in:
End-to-end hiring and upskilling
Enterprise-level organizations
Common use cases:
Hiring ADA candidates
Those needing a wide variety of different roles
Pricing is only available by request with the Glider AI team.
#9 – iMocha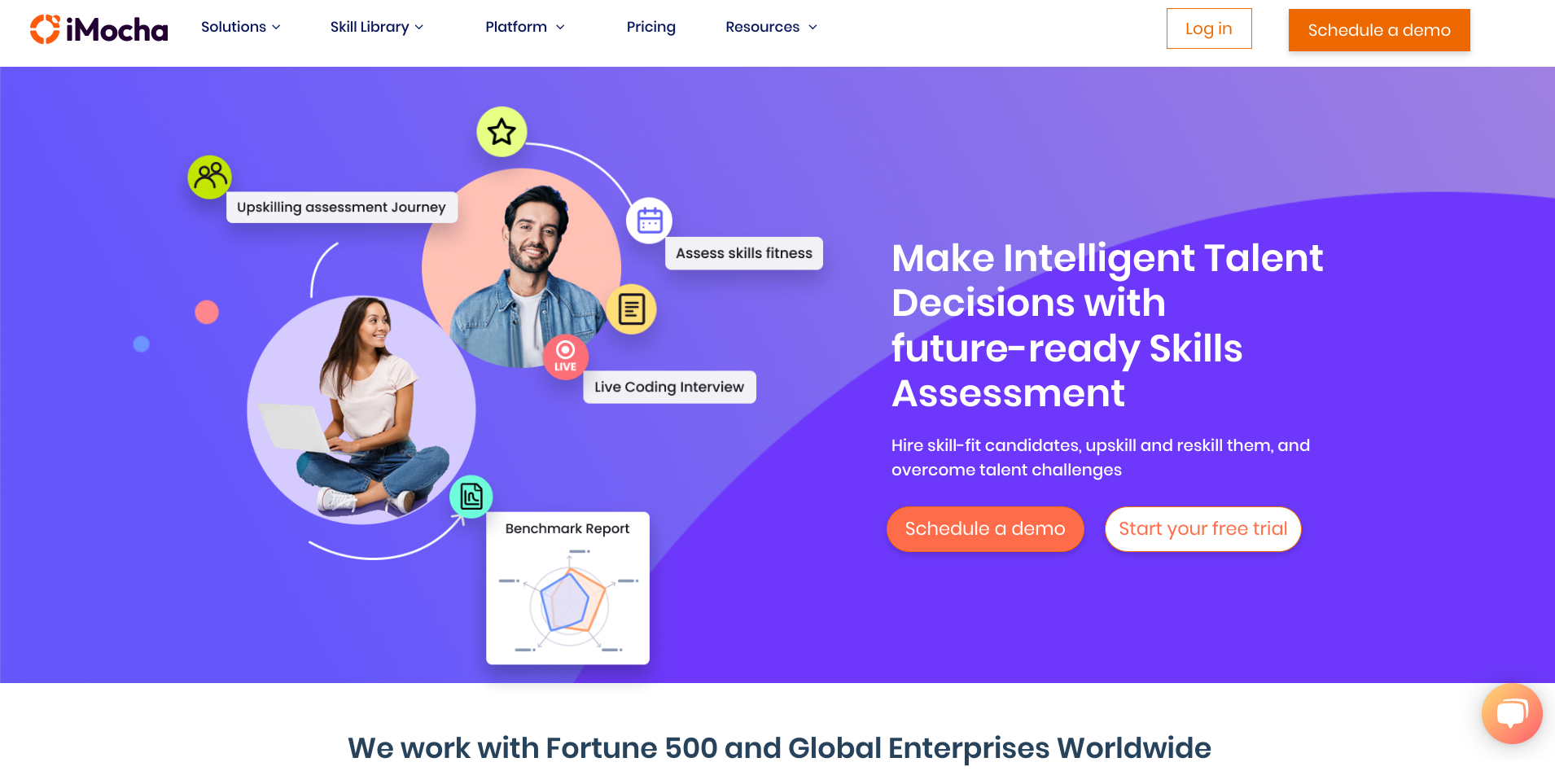 iMocha are dedicated to supporting your entire candidate assessment journey, covering everything from initial engagement to employee upskilling. Rather than having a pre-built library, iMocha will work with you to create expert-driven assessments specific to your role or training need. From there, benchmark your performance against the industry, whether that's a new candidate or an employee within your L&D program.
Specializes in:
Consultancy-led assessments
Learning & development as well as hiring
Common use cases:
Those needing expert consultation on assessments and hiring
Supporting those expanding their technology capability
Pricing is only available by request with the iMocha team.
#10 – Harver
Harver wants to take the hassle and admin away from recruitment assessment tools with their automation-driven platform. Harver's solutions, from pre-hire assessments to video interviews and reference checking, help you engage, hire, and grow talent faster, with far less effort.
Specializes in:
Automation-driven hiring
Reference checking is unique from other tools
Common use cases:
Those needing integrations with other tools
Provides rich data-driven insights on recruitment performance
Pricing is only available by request with the Harver team.
#11 – Bryq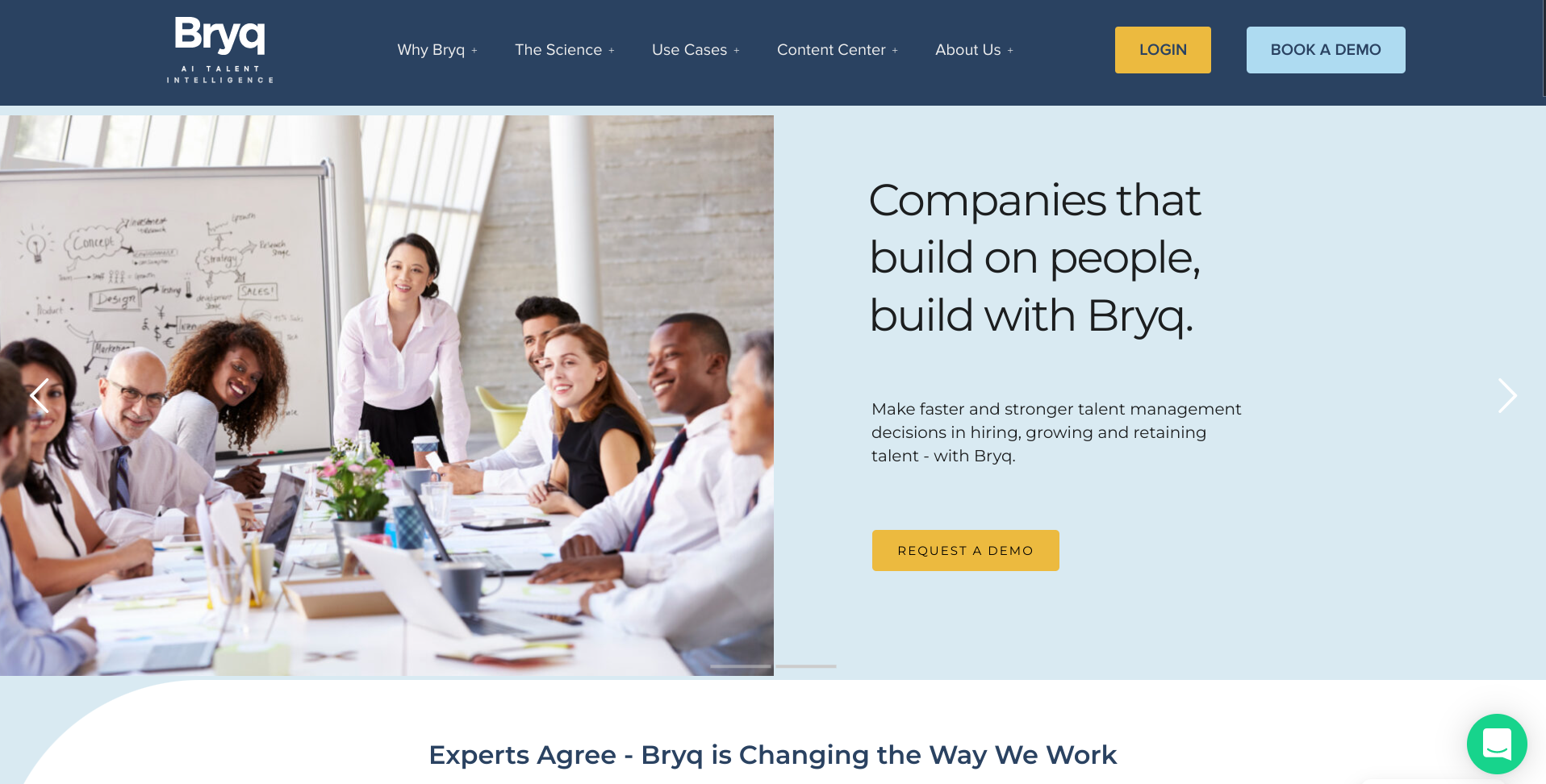 To finish, if you want to take a people-focused approach to hiring, talent management, and retention, we'd recommend looking at Bryq. Bryq isn't just an assessment tool, but deliver a bespoke candidate management service, helping with everything from D&I to internal mobility through consultancy, tools, and training.
Specializes in:
Improving your talent assessment capability through consultancy
People management and cultural improvement
Common use cases:
Those wanting to hire for culture and diversity
Rely on AI-driven
Pricing is only available by request with the Bryq team.
Things to Look Out for When Selecting a Recruitment Assessment Tool
If any of the above use cases sound familiar, you might find yourself on the lookout for a pre-employment assessment tool sooner rather than later. Before you do, have a think about what you need from an assessment tool to make sure it fits your business.
Here are some important (and cool) things to look out for when choosing an assessment tool!
Extensive assessment library – If you're looking to make your life easier, go for a pre-employment assessment tool that has an extensive assessment and question library. This will make creating tests easy as well as give you confidence that your questions will do their job. Remember to think ahead for the roles you'll hire in 6, 12, and 24 months' time, too. Many assessment tools focus on technical jobs and leave companies short when they want to hire roles in marketing, finance, or customer support.

Anti-cheating measures – As these are online assessment tools, both you and your candidates need to feel confident that they can't be hacked, cheated, or otherwise abused. There is a range of measures and tools to stop cheating, including IP address detection, blockers on copy and pasting, and email address recognition. However, leaning too much into online proctoring (like taking real-time screenshots, for example) runs a risk of putting candidates off, so make sure you strike the right balance.

Speed-saving automations – Save time and effort with your hiring by finding a pre-employment assessment tool that automates basic tasks. Whether that's automatic pass thresholds, built-in email templates, or candidate scheduling, your assessment tool should help you multiply your time.

Reporting capabilities – When hiring, keeping an eye on your key recruitment metrics is essential to boost performance. Candidate assessment tools make reporting a dream, thanks to dashboards, automatic reports, and KPI benchmarking. Take the time to understand the metrics that matter to you and ensure your talent assessment tool has them.

The candidate-friendly design – Lastly, make sure that any assessment tools for recruitment that you take on deliver a great experience for the candidate. The best way to do this is to ensure they have a user-friendly design that candidates will love. Get the design wrong, and it'll put candidates off and lead to a lower test completion rate.
Summary
If you're looking for a way to speed up, secure, and de-risk your recruitment process, then recruitment assessment tools could help unlock many benefits. Why rely on resumes and the risk of hiring team bias when you can use recruitment assessments to make data-driven decisions?
The good news is there are so many great tools on the market to help you assess your talent correctly. Naturally, at Toggl Hire, we think we're the best thanks to our huge test library, intuitive features, and beautiful design.
Don't believe us? Check out the explainer video below to see why recruiters, hiring managers, and candidates all love Toggl Hire!


😍 BONUS – Frequently Asked Questions
Is skills testing and pre-employment testing the same thing?
Not exactly. Pre-employment tests refer to a whole range of different tests you may use to get to know your candidate better. These may include skills tests, but could also be competency tests, personality tests, or cognitive ability assessments. The one thing they all have in common is to get the best results, it's always worth investing in awesome assessment software.
Can candidate assessment be automated?
Absolutely. The best assessment tools have a range of features to take the admin away from hiring by automating basic tasks. If you speed up your process without compromising on quality, you'll keep your hiring managers and candidates happy, and have a great chance of hiring the best talent.
Are personality and cognitive ability tests part of the pre-employment testing process?
If that's what you'd like, then sure thing! Depending on your hiring approach, you may want to dive into a candidate's personality traits or cognitive abilities alongside their skills and competencies.
Can soft skills be tested via recruitment assessment tools or talent assessment tools?
Of course! It isn't just hard skills such as languages, software development, and graphic design that can be tested, with a range of assessment tools for soft skills such as communication, time management, and logical thinking also available.