Working at a high-growth startup is rewarding and challenging, with the rapid rate of expansion meaning a constant stream of new employees. If you're in charge of hiring for high-growth startups, you'll know these challenges all too well – but don't worry, we're here to help!
Welcome to Toggl Hire's short guide to hiring for high-growth startups in 2023. In this article, we'll explore what it's like to hire in a hyper-growth startup before helping you build your very own kickass hiring process. 
Ready? Let's get into it!
Quick Links:
The Challenges of Hyper-Growth Startups – Do They Really Hire Faster?
Hiring for a startup is a unique experience. Especially following a round of funding, startups need to quickly scale their workforce to meet their ambitious targets and keep up with customer demand.
This can lead to a startup culture of 'hire fast, fire fast' where hires are made quickly based on gut feel and intuition alone. While this rapid rate of employment may look impressive, the consequences of bad hires soon outweigh the benefits.
All of this is underpinned by several startup hiring challenges – here are some of the common ones to look out for:
Every Hire is Critical – In a startup environment where rapid growth is so important, every hire that a business makes needs to be a good one. This puts pressure on the hiring team to deliver top-notch candidates at pace with no room for error.

Startups are High Risk – Objectively, start-up businesses are risky places to be. With research showing that over 90% of startups fail, tempting high-quality talent to join your organization can be difficult. To overcome this, you may need to include added incentives such as increasing your salary, providing flexible working, or offering company equity.

You're Unknown – Unlike a large, established company, your startup won't have a strong employer brand built up. You'll need to put in extra legwork to showcase why your business is so great and why it's better than a well-known alternative.

Speed to Hire – Candidates expect that your startup's hiring process will be fast. As we'll discuss later on, the key here is to mix speed and quality to build a robust hiring process that doesn't leave you always coming second in the race for the best talent.

Hiring Knowledge Gap – If you're responsible for hiring in a startup, it's pretty likely that you're doing this on your own. As such, you'll be expected to hire everyone from software engineers to customer success managers. You simply can't know the perfect profile for all these roles, so you're likely to have a knowledge gap you need to bridge.
These challenges are just the tip of the iceberg. Hiring for high-growth startups is a tricky business, especially because getting the right employees is often crucial for a startup business' success.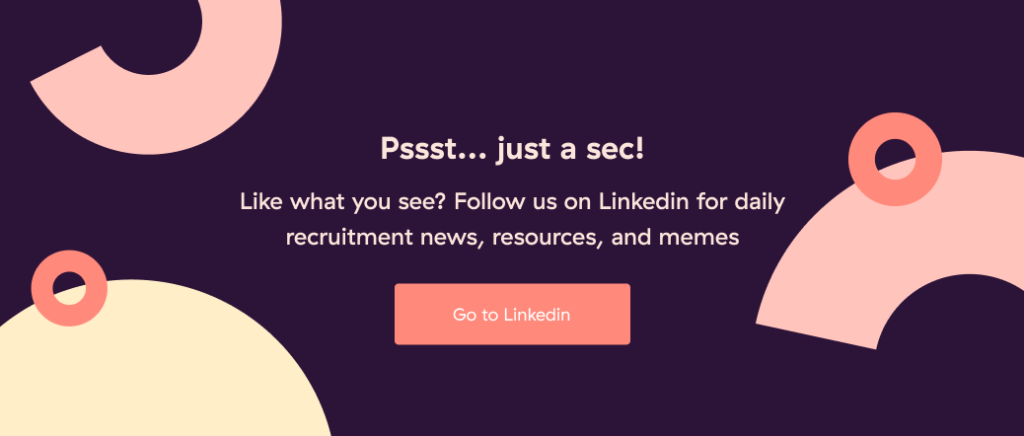 Why is a Process Important When Hiring For High-Growth Startups?
Like many things in recruitment, the best way to overcome challenges is to have a robust and efficient hiring process. This still rings true in the startup world, despite the belief that the 'off the cuff' nature of startup operations is the way to go.
If you're wondering 'Why is it important for high growth startups to build and implement a hiring process?' here are five reasons to get you started:
Support Growth Ambitions – Robust processes deliver consistent results, and consistency delivers growth. Given how imperative hiring the right talent is for a startup's growth, your hiring process is a direct enabler for strategic targets to be met.
Move at The Right Pace – Hypergrowth demands hyper-speed, and by having a consistent process, you'll be able to move through vacancies at a rapid pace. Knowing exactly what to do at each stage of your hiring process will help to deliver great hires like you're working on a production line.

Hire the Best Talent – A refined process is the best way to deliver great quality. Implementing steps to assess candidates on their skills, competencies, and knowledge means you're getting the best talent on the market while minimizing your risk of a bad hire.

It Builds Credibility – A consistent and professional process helps you build credibility with your candidates. Especially when you're a relatively unknown business, this helps to increase your word-of-mouth reputation. Remember, the recruitment process is your candidate's first impression, so a great hiring process helps set the tone for what's ahead.

Optimizes Recruiter Time – Once you have a consistent process in place, you can optimize your time as the recruiter. This gives you the capacity to focus on closing your knowledge gaps or simply allows you to up your recruitment capacity to fill vacancies even faster!
We're sure you're now sold on the need for a robust high-growth startup hiring process. If so, read on because it's time to get creating your own kickass workflows for hiring great candidates.
How To Build a Hiring Process for High-Growth Startups? (A 5-Step Guide)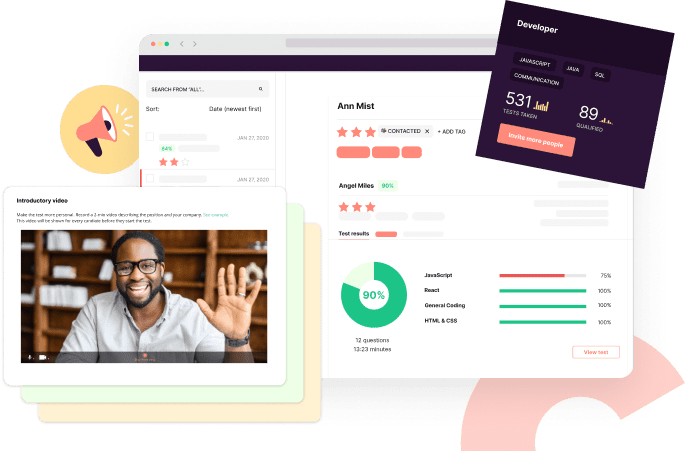 Step #1 – Build a Startup Specific Candidate Profile
Startups need a certain breed of employee, regardless of the role they fill. As a hiring manager, you must recognize this and ensure the candidates you bring on board have the perfect balance of hard and soft skills.
For each hire you make, they'll need a specific set of hard skills, whether that's coding languages for developers, excel skills for finance leads, or SEO for marketing managers.
But don't take your eye off the ball when it comes to soft skills, as these will be just as important for every hire you make. Here are some of the most critical soft skills needed to work in a startup:
Initiative
Resourcefulness
Communication
Flexibility
Curiosity
Organization
Ability to Learn
Your hiring process should also start with building a specific candidate profile, so take the time to fully understand every role's hard and soft skills.
Which startup hiring challenges does this help you overcome? – Reduce the risk of a bad hire by clearly understanding and recruiting against the skills you need – don't reply on your intuition, just cold, hard facts!
Step #2 – Distribute Your Role to Targeted Job Boards
With your role profile fully defined, it's time to cast your net and start finding some candidates.
One of the biggest mistakes hiring managers make is to adopt a scatter-gun approach when it comes to advertising their roles. Especially because the startup market is so unique, we'd recommend you stay away from generic job boards.
Instead, focus your energy on startup-specific communities. They're full of exactly the types of candidates you need, who are comfortable with the turbulent nature of working for a startup. Here are a few popular ones to get you started:
Which startup hiring challenges does this help you overcome? – Startup job boards take away the risk candidates feel when comparing your role with established companies. You'll also be up against similarly unknown names, reducing the stigma of being the 'new guy.'
Step #3 – Skills Tests Over Resumes
With your job specs ready to distribute onto niche, startup job boards, you need to think about how you want candidates to showcase they've got what you need. Naturally, at Toggl Hire, we'd recommend skills testing your candidates rather than sifting through hundreds of resumes.
You probably think we're biased, so here are three stats to back up our claims that skills testing beats resumes every time:
muhjbStudies show that up to 46% of resumes contain fundamental lies about knowledge or experience.

Companies that use pre-hire assessment tests report a 39% lower turnover rate.

Hiring managers who utilize pre-employment assessments report 36% more satisfaction.
Convinced? If so, here's how we do it.
With Toggl Hire, it's super easy to create a skills test in under 60 seconds. Thanks to our library of over 10,000 expert-created questions, you don't have to be an expert in every role either, as we've got the knowledge you need to ask the right questions of your candidates.
Once the test results are in, our bespoke dashboard helps you filter out the high performers, giving you instant insight into who should be taken forward to the next stage. Toggl Hire is fully customizable, too, allowing you to create an excellent candidate experience with your own branding and message.
Like the sound of that? Take a look at Toggl Hire in action with this 1-minute video:
Which startup hiring challenges does this help you overcome? – By removing the need to filter through resumes, skills testing optimizes your time and cuts your time-to-hire. Expert-created questions help you overcome your knowledge gaps, and asking candidates to showcase their skills reduces your risk of a bad hire. Three challenges overcome in one!
Step #4 – Fast-Paced Interviews
In the startup world, everything is expected to be fast. While startups might not actually hire any faster than large organizations, your candidates expect you to.
Once you've filtered out your candidates through skills testing, we recommend getting straight into interviews as quickly as possible. Given that you've tested a candidate's skills, the interview can focus on building relationships and gauging cultural alignment.
Especially since the pandemic, video interviews have become increasingly popular, and we'd recommend them as the fastest way to connect with candidates. Whether it's Zoom, Teams, or Google Hangouts, get your candidates into an interview as soon as possible!
You can always go for a second, face-to-face interview after this if you choose, but you'll only want to do that with a candidate you're 90%+ sure on.
If you liked skills testing and want to save even more time on interviewing, you should also check out our Video Intros feature. It's the easy way for candidates to show off their interpersonal skills while giving them a flavor of what you're all about. You can find out more by visiting our Video Intros page here.
Which startup hiring challenges does this help you overcome? – Getting into video interviews fast helps to speed up your time-to-hire. Moving through the process quickly also helps build credibility and gives candidates confidence in your abilities as a company.
Step #5 – Make the Hire, Ask for Feedback & Referrals
Now for the easiest part of your startup hiring process, making the hire. After you've interviewed and shortlisted your final candidates, it's time to break the good news.
Be aware that the number one reason for candidates rejecting job offers is still remuneration, so ensure your offer is competitive within the market.
The point of hire is also the perfect time to try and fill your next vacancy. Ask your new hire to recommend your company within their network, as well as asking them for any referrals.
Which startup hiring challenges does this help you overcome? – Keep the momentum up to turbo-charge your time to hire. It's time to get the word out that you're an exciting company that's taking on great talent, so use the point of hire to boost your reputation in your new employee's network.
Summary – The Short Guide to Hiring for High-Growth Startups
Hiring for high-growth startups isn't easy. Given the criticality, the pressure will be on you as a recruitment professional to bring in the right people to take your startup to the next level.
While there are some challenges, the good news is that you can turn the chaos of startup hiring into fine art with a consistent hiring process. We'd always recommend building your hiring process around skills testing to ensure you prioritize high-quality, high-speed hiring alongside delivering a great candidate experience!
James Elliott is a Strategy Manager and Writer from London, UK. When not working on the day job, James writes on a variety of business and project management topics with a focus on content that enables readers to take action and improve their ways of working. You can check out James' work on his website or by connecting on LinkedIn.