Job interviews are always challenging, but a virtual interview throws a few more complexities into the mix.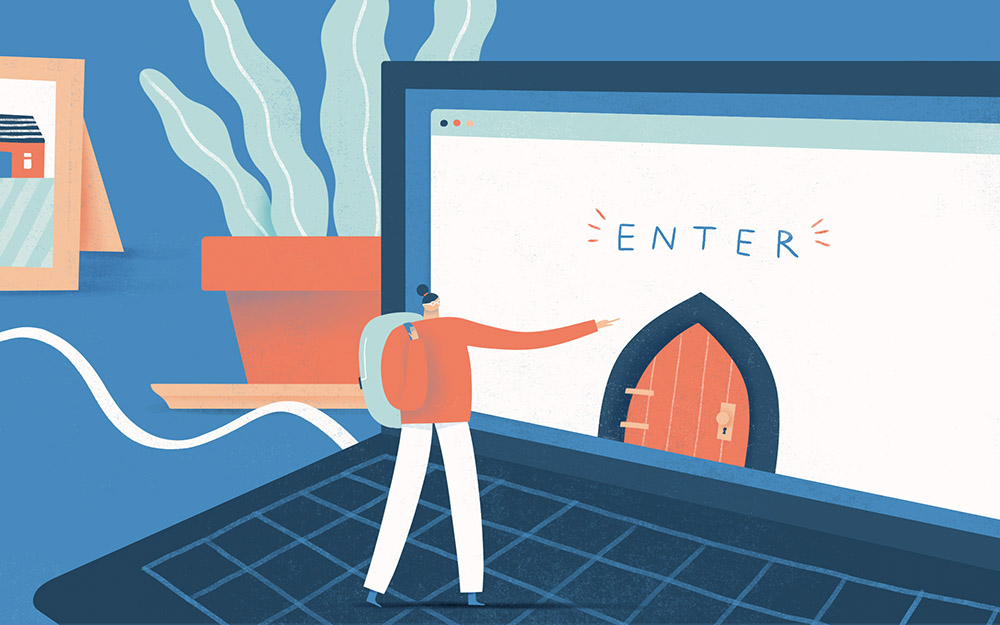 What springs to mind when you hear the term "job interview"?
If you're like most people, your vision starts with a pile of resumes. After that, there's a handful of eager and nervous candidates filling your office lobby—just waiting for their chance to shine.
You shake hands, make a little awkward small talk, sit down in the conference room, and then dive right into your questions to determine whether or not that person is a suitable fit for your open position.
That might be the old standard, but the hiring landscape is evolving fast. Remote companies are increasingly becoming the norm. And, as a result, job interviews are shifting as well.
The Rise of the Virtual Interview
It's no secret that the workforce is changing.
According to one Gallup study, today 43% of employed Americans report that they spend at least some time working remotely. That's a four percentage point increase over the number of Americans who reported the same in 2012.
Why?
Well, flexibility is an ever-increasing priority for employees. One EY study found that the ability to work flexibly is one of the most important things about a job—ranking behind only competitive pay and benefits.
This means that employers who are emphasizing work-life balance and a certain degree of flexibility for their employees are sometimes hiring people that they've never actually met face-to-face.
Instead, they've relied on virtual interviews to become familiar with that candidate and his or her qualifications.
As an article for The Wall Street Journal reports,
The Aberdeen Group, a market research firm, found 10% of companies used video as part of the hiring process in 2010, but saw that number jump to 42% for senior executives, management and entry level job functions, in its 2011 talent acquisition survey.
Virtual Interviews: The Benefits
While remote work is increasing in popularity, there are still other reasons that you might need to lean on a virtual interview during the hiring process—even if you're looking to fill a non-remote position.
For example, maybe that applicant is located far from your organization (but is willing to move for the right position). Conducting a virtual interview saves both time and money for you and that candidate.
With those in mind, let's dive into the details of the plus sides of virtual interviews.
1. You Save Money
It's all about the bottom line, so let's start with this one. Virtual interviews are far more cost-efficient than trying to meet every single qualified candidate for an in-person interview.
A lot of money goes into planning and paying for travel to fly candidates in for an interview. Video can help you effectively screen candidates and only spend money on those top candidates for in-person meetings,
-shares Carlee Pett in a blog post for iCIMS recruiting software.
When the average cost to hire is estimated to be around $4,000, any dollars you can knock off of that amount certainly help to keep your hiring costs somewhat reasonable.
2. You Get Increased Convenience
Convenience is another huge checkmark in the "pro" column for virtual interviews.
Let's say that you've scheduled an interview with a candidate, but suddenly the department head for the team you're hiring for needs to head out of town for a commitment.
With a traditional interview, you'd have to reschedule for when that leader is back in the office. However, a virtual interview enables that person to join from anywhere.
Many platforms also offer the option to record an interview, which means you can maintain an accurate record and even replay that interview later for any key decision makers.  
3. You Can Take Your Phone Screenings to the Next Level
Perhaps you aren't considering replacing all of your in-person interviews with virtual ones. Instead, you're just looking for an alternative to the dreaded phone screenings.
Sure, phone screenings are a decent starting point to weed out candidates who simply aren't qualified.
But, when it comes to giving you greater insight into a candidate, it's tough to learn too much beyond whether or not they meet the basic requirements.
This is why more and more companies are forgoing those phone screenings of the past and using virtual video interviews instead.
When it's estimated that 55% of communication is body language, using virtual interviews as the first step in the hiring process is enabling hiring managers to get a better sense of what candidates bring to the table—and, as a result, create a much stronger shortlist for second-round interviews.
Virtual Interviews: The Drawbacks
There's no doubt that virtual interviews come with plenty of positives. But, that doesn't mean that there are zero concerns or negatives with these technology-based conversations.
Here are three different problems that virtual interviews can introduce into your hiring process.
1. You Might Struggle With Technical Difficulties
Job interviews are stressful enough for both you and the candidate. The last thing you want is a bunch of glitches and headaches to make the process even more complicated.
With virtual interviews, there's the potential of running into a vast assortment of technical problems—from connectivity issues to lagging audio—that can really throw a wrench into the interview and kick the level of nerves up a notch.
2. Your Interview Will Seem Less Personal
Another potential drawback to consider is that—even though you're interacting via video—virtual interviews still aren't as personal as in-person sit-downs.
You don't have the opportunity to shake hands or to pick up on any other nonverbal cues that might be happening below the shoulders.
Make no mistake, a virtual interview can tell you a lot (and it's still way better than a phone screening). But, it will never be revealing as meeting that person face-to-face.
3. Your Candidates Might Be Nervous
Alright, so candidates are probably going to be nervous whether that interview is happening via phone, video, or in-person. The hiring process itself is nerve-wracking.
But, the element of being "on camera" so to speak introduces a lot of different anxieties for people. Candidates might not present themselves as well on video as they would if you met in-person.
5 Tips to Conduct an Effective Virtual Interview
Convinced that you want to work virtual interviews into your hiring process in some capacity?
Here's what you need to know to ensure that your interviews go off without a hitch.
1. Test Your Tech
The last thing you want is to join that virtual interview and discover that your audio isn't working or that you don't know how to share your screen.
This is why it's so important to do a test run ahead of the actual interview.
Make sure you know how to work all of the necessary features. Do a sound and video quality test to ensure things are functioning properly.
You have enough to focus on during that interview without worrying about whether or not you'll have to deal with any tech hiccups. So, take some pain out of the process by getting your ducks in a row well ahead of time.
2. Find a Quiet, Non-Distracting Space
Even though that interview is happening virtually, it still deserves the same level of respect and professionalism that you would commit to any other job interview.
You need to find a quiet place where you can give that candidate your undivided attention. Don't choose a room where people will be popping in and out or milling about in the background. Additionally, make sure to ditch your phone and silence any notifications on your computer.
Make it a priority to create a distraction-free space where you and that candidate can talk. That will make things run smoother for both of you.
3. Be Direct and Honest
Despite your preparation, technical glitches can still occur. If that does happen, don't hesitate to disclose that to the candidate.
If the video freezes or the audio skips out and you're unable to hear that person's response, ask them to repeat it.
It's far better to be upfront and get the information that you need—rather than politely nodding because you're too embarrassed to admit that you missed something.
4. Remember Your Body Language
As mentioned previously, it might be happening virtually, but this is still a job interview—which means you need to behave professionally.
Sit up straight. Make eye contact by looking directly at your camera. Don't get distracted by emails or social media notifications.
Remember, this person can still see you, which means your body language does matter. Plus, candidates will likely follow whatever example you set. So, the more professional you are, the more professional they'll be.
5. Empower Your Candidates With Information
Remember all of that important groundwork you did for this virtual interview—such as testing your technology and finding a quiet space?
Things run even smoother if your candidates do those very same things.
A day or two ahead of your scheduled interview, send a simple guide to the candidate you'll be interviewing.
This guide can walk them through things they should do to prepare for their interview, any do's or don'ts you want to fill them in on, and any other information you think is relevant.
For example, do you prefer that they wear headphones?

Is there a certain video chat app that they need to download?

Do they need to be told to silence their computer notifications?
Outline everything that they need to do ahead of time. Not only will you calm their nerves a little bit, you'll also set yourself up for a far more productive (not to mention less distracting) interview.
Get Ready to Find the Right Talent
While thoughts of a job interview might conjure up visions of a bunch of candidates waiting in a stuffy office lobby, times are changing.
Whether companies are hiring for remote positions or not, more and more of them are relying on virtual interviews to create their shortlist of candidates who deserve an in-person meeting.
Virtual interviews are certainly convenient and cost-effective, but they also introduce some different types of hurdles that you don't need to overcome with traditional interviews.
As with anything, adequate preparation is key. Use this post as your guide, and you'll conduct a professional and productive virtual interview, make a positive impression for your company, and ultimately, find the very best hires.
Kat is a freelance writer specializing in career, self-development, and productivity topics. She's passionate about being as efficient and effective as possible—much of which she owes to her 114 words per minute average typing speed. When her fingers aren't flying on the keyboard, she loves to bake, read, hike, or tackle yet another DIY project around her home.