Until the robots take over, it's the people that make companies like yours an amazing place to work. We've got the stats to prove it too.
While workplace culture is seen as a key influencer for 46% of job seekers, a staggering 94% of entrepreneurs and 88% of job seekers say that healthy company culture is vital for success.
In today's job market, hiring for organizational culture fit has never been more important. So if you're a recruiter or hiring manager looking to understand the role of culture in the recruitment process, you've come to the right place.
Let's get into it.
TL;DR – Key Takeaways
Organizational culture is a company's values, expectations, and everyday work practices that are shared by its employees – and is not parties, drinks after work, or company-organized get-togethers.
A culture fit interview is an opportunity for hiring managers to assess whether a potential hire fits into their company in terms of the overall culture and what other traits and values they bring to the team.
Organizational culture is important for various reasons: diversity and inclusion in the workplace, better innovation and adaptability, less homogeneity, a better pool of applicants, and overall company performance.
Hiring managers should focus more on culture add. When organizations hire people specifically for "cultural fit", they expose themselves to unconscious bias and create a fear of challenging the status quo. It's important to consider what the applicant will bring to the team and whether they share the same values.
When hiring for culture add, a couple of best practices include first defining your current culture and writing it out clearly. Recruitment teams should also diversify their candidate pool, avoid relying on first impressions and train the hiring team to screen for culture add.
Use skill assessments to assess the soft skills that new hires will bring to the team and how they'll fit into your organization's culture. It's one of the most reliable predictors of future job success.
Culture fit – what it is and what it's not
Organizational culture fit refers to the collective values, morals, expectations, and business practices that are shared among employees of a company. A collection of traits that makes up an organization's company culture. And when the company culture is understood by the talent market, it helps to attract the kind of workers that you're looking for.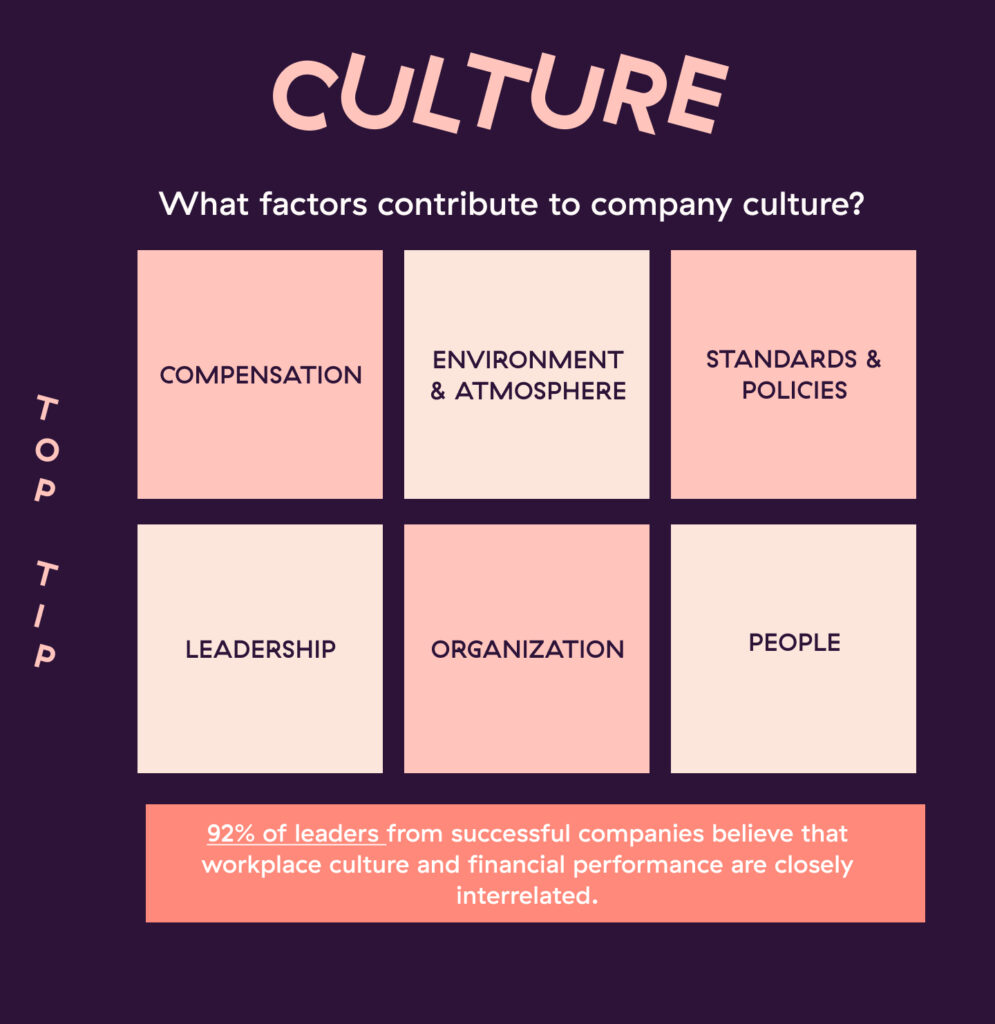 Crucially, an organization's culture is something that every employee can help cultivate, whether they're the CEO, the marketing manager, or an intern.
A great corporate culture helps people feel like they're part of something bigger than themselves. Sharing in the culture is part of the journey towards achieving the company mission, often leading to improved performance and a sense of company loyalty.
Bad or toxic workplace cultures, on the other hand, can actually cause a lot of harm. The downfall of WeWork's company culture, as portrayed in the docu-series WeCrashed, comes to mind. Not only do these organizations appear dysfunctional, but the negative impact on productivity, efficiency, and employee engagement also makes it difficult to achieve business goals.
So no matter which way you look at it, culture is a big deal!
A culture that attracts high-caliber employees leads to a 33% revenue increase.

Teamstage.io
Common misconceptions about organizational culture
Culture is important, but often misunderstood. It would be a mistake to lump any and all non-business activities into the 'culture' bucket, because that's just not true.
Sure, team drinks and annual Christmas parties can influence your company's culture, but that's not what it's all about.
"Secret Santa gift exchanges, karaoke nights, Nerf gun fights, are not company culture things. Those are things people working together may or may not do and that indicate a specific type of workplace environment, but they are NOT company culture"

Rand Fishkin, co-founder of Moz
There's a difference between an organization's culture and the office culture. Not everything a company does is considered to be part of the company culture. For example, certain elements remain outside the definition of organizational culture:
Operational aims and objectives: The goals set by an organization to ensure smooth functioning, such as revenue targets or product milestones, while influential, are not intrinsic components of the organization's culture.
Financial Targets: Financial aspirations, like profit margins, revenue growth, or cost reductions, don't reflect the organization's culture. They might impact business decisions, yet they remain separate from the cultural fabric of the organization.
Proposed Operating Models: An organization's target operating models outline the desired state of operational processes. While these models may be guided by the organization's culture, they are, in themselves, not indicative of it.
Mandatory Legal Policies: Any policies that are in place to meet legal or regulatory requirements don't necessarily contribute to the organization's culture. These are legal obligations rather than cultural expressions.
Moreover, trivial items shouldn't be included here either, such as:
Christmas parties/secret Santa
After work drinks
Beer fridge
Pizza Fridays
Video game nights
Free breakfast
Just be aware of these areas when hiring for culture fit, as they aren't strictly correct and may lead you down the wrong path.
It is also worth having this in mind when advertising job openings or talking about your business. You want to avoid talking about these topics as signals of a great company culture if you don't want to deter potential employees from applying.
How does hiring for culture fit change the hiring practices?
Company culture shapes how every department operates, what they value, and how they deliver their work.
That extends to your hiring as well. Your culture will shape:
The way you pitch your job roles, focusing on the morals and values that are important to you.
The type of applicants applying for your roles depends on how your culture and brand translate into the market.
The different stages of your recruitment process, depending on whether you value skills, experience, or attitude.
How you'll embed fair chance hiring practices into your process to introduce more diversity in your business.
How you'll build a diverse and inclusive workforce.
The level of nurturing and support you offer to new employees during the onboarding process.
Your expectations of new employees in the first 3 – 6 months of hiring them.
| Startup Culture | Corporate Culture |
| --- | --- |
| Culture is powerful | Culture is limited |
| Flat structure | Hierarchical culture |
| Multiple hats | One concrete job |
| Work hours vary | 9-5 work schedule |
| Creative work | Routinary work |
Startup and corporate culture are notoriously different, here are a few ways in which they differ.
Next, let's look at one last commonly asked question before we jump into the nitty-gritty of how to hire for culture fit and culture add (and explain the difference between the two!)
What is a cultural fit interview?
The culture fit interview is an opportunity to explore whether a candidate is a good cultural fit for your organization. It should focus on asking questions about the candidates's work style, collaboration, ideal work environment, communication and more to help determine whether or not the interviewing candidates will fit into your company culture overall and the specific team or department you're hiring for.
Ideally, you want to hire someone who shares the same values as your company so that you're both on the same page. For example, you probably want to hire people that love pets to work at your pet food company or hard-working personalities for your boutique consultancy.
Usually, the hiring manager sets up a culture-fit interview, but other team members can be present as well.
7 Examples of culture fit interview questions
Culture fit questions are often asked as part of a first or second interview with the hiring manager.
Here are some typical culture-fit interview question examples to use in your hiring practices:
What is your ideal work schedule?
Do you prefer to work alone or as a part of a team?
What does it take for you to be fully productive?
What did you like the most and least about the last company you worked for?
What is your ideal leadership style?
Tell me about the last time you made a mistake at work and how you fixed it.
What's your (least) favourite thing about working in a team?
How to hire a person, not a resume – why cultural alignment matters
So, now for the part you've been waiting for – how do you actually hire for organizational cultural fit? Sure, skills, experience, and qualifications are important, but you'll also want to find candidates that fit into the way your business works.
To lean your hiring process towards culture, here are four easy things you can do:
#1 – It all starts with the job descriptions
If you want to find candidates that fit your company culture, start the process by letting them know what you're all about. In the same way that you'd specific skills, experience, or qualifications in your job ads, set requirements around the type of culture you'd expect a candidate to fit into.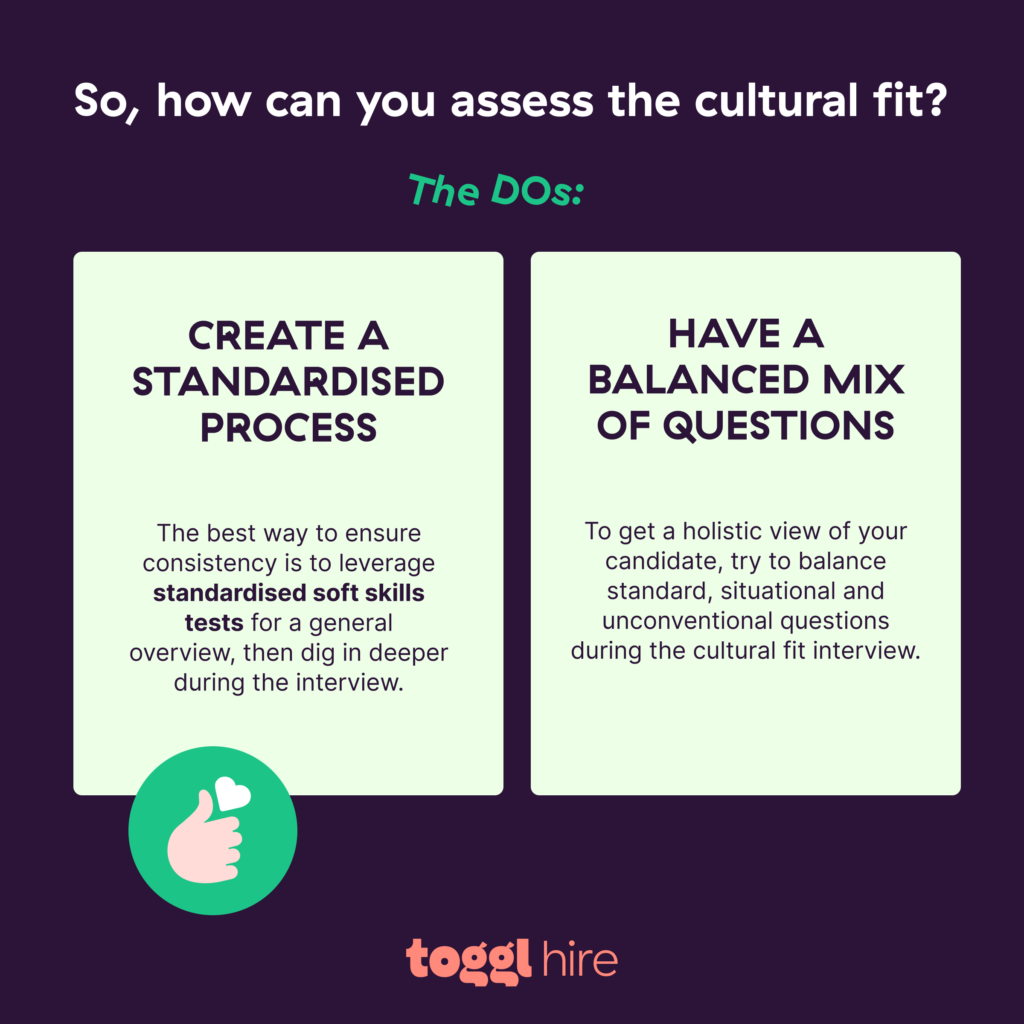 #2 – Screen for cultural fit
As candidates apply for your latest job roles, ensure that part of your screening criteria focuses on culture. Here you'll be looking for candidate values that align with your own and indicate the candidate will slot into the department/team they're applying for. While you don't want to introduce bias, any insight into work styles, mindset, and previous personal development activities may also give you an insight into a candidate's cultural fit.
#3 – Use a cultural fit assessment
We'll go into more detail on this in a later section, but if you really want to dig into whether a candidate is a fit, directly test them on it. Whether it's through a skills test, personality quiz, or in-person test, there are loads of ways to get a true insight into your candidates.
#4 – Behavioral-based interviews
Like your job specs and screening, weigh your interviews towards behavioral-based questions that get to the heart of what a candidate is like, what they value, and how they like to work with others. This gives you the best chance of determining cultural fit while you're getting to know your candidate face-to-face.
While cultural fit is important for every organization, it's especially important for remote companies. When employees are spread across the globe, building a remote team culture is important to bridge the gap between the geographical distance – so make sure you tweak your hiring process accordingly.
Culture fit vs. culture add – why the change in cultural interviews?
Culture fit is a common term in the world of HR, and assessing for culture when hiring is now commonplace. However, there is another important term you should be familiar with – cultural add.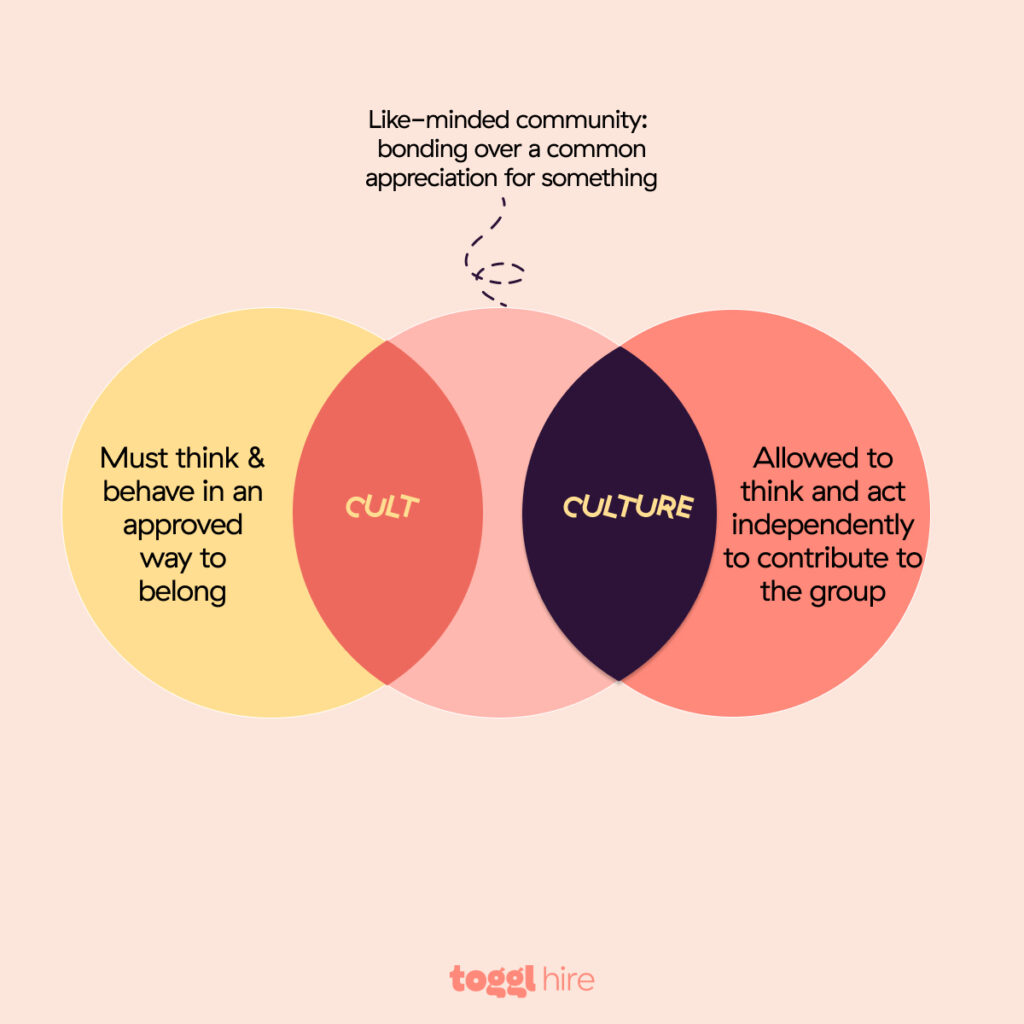 The reason for a shift from culture fit to culture add is the result of some unwanted consequences that hiring for cultural fit may bring. For example, hiring people who share the same views and opinions as you can lead to an army of yes-people, employees who seek to fit in, and so they avoid challenging the status quo, which can actually harm productivity and progressive thinking.
Moreover, hiring workers with cultural fit in mind can also lead to unconscious bias. Instead of thinking about hiring the best person for the job, a company may be persuaded to hire someone who thinks the same way as the rest of the employees, even if their skills are sub-par.
Let's sum up the key differences.
Cultural fit is all about aligning with the culture of a business. When hiring for culture fit, your candidates share similar values, morals, expectations, and practices to the company they're applying for.
Cultural add actively looks for candidates with something different. That could be different thinking styles, experiences, values, or morals that enhance the business further and introduce new, valuable elements that current employees may not have.
Ideally, you should be hiring for culture add and aim to get people who have a similar general way of thinking but bring something new to the table.
Why hiring for culture add is so important
As we've already said, organizational culture is something that everyone participates in, which makes it a pretty big deal. More importantly, it's crucial to hire for culture add in today's business landscape.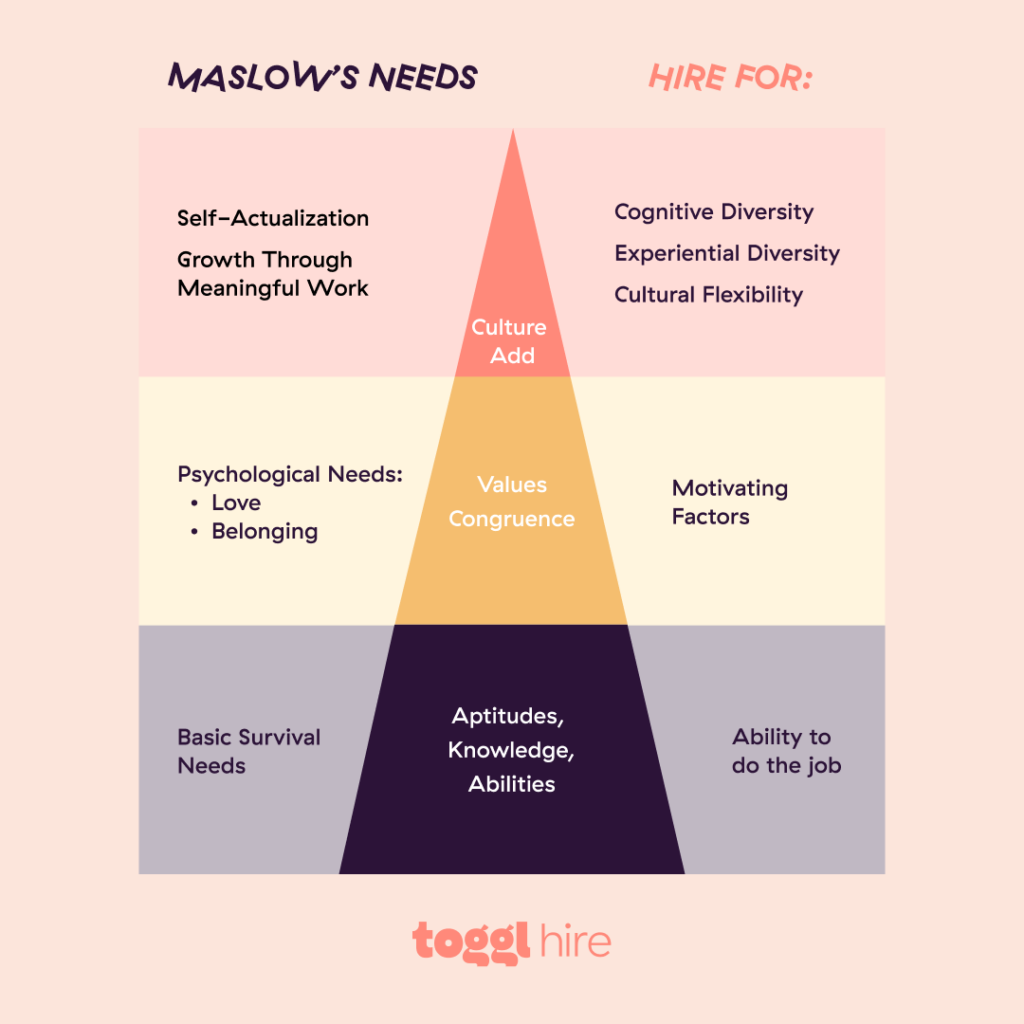 Let's see a couple of the most compelling reasons why:
Diversity and inclusion in the workplace
Just hiring for cultural fit can result in an army of look-alikes and like-minded people. To truly promote diversity and inclusion, focus on hiring for cultural add. With diverse perspectives and backgrounds in one company, everybody wins.
Innovation and adaptability
As 2023 is repeatedly showing us, businesses that fail to adapt and pivot get left behind. A culturally diverse team will have an easier time innovating and adapting because of its rich background and various points of view.
The more experiences and viewpoints, the stronger the pursuit of innovation and the easier it is to recognize and adapt to new changes in the economy or specific industry.
Less homogeneity
If you rely on culture fit alone, you may just end up with a team full of people who act and think in a similar way. And while that may seem great at first, you'll quickly realize how it can backfire on your entire organization.
In a workplace where everyone thinks and acts similarly, creativity will be lacking. When facing difficult problems, everyone will attempt to solve them in a similar way. Less homogeneity is actually beneficial for any workplace.
Attracting top talent
The best candidates today want to work for companies that have a strong emphasis on diversity, inclusion, and respecting individuality. When you promote and hire for cultural add, you can hire better candidates who are looking for a workplace that embraces their qualities rather than forcing them to fit in.
Organizational growth
When focusing on cultural add, you're setting your entire organization on a path for future growth. As you embrace new perspectives and ideas, you can grow as a business and remain competitive in the market.
Case in point: Netflix
As you may expect from such a well-known business, Netflix has an amazing company culture page. Instead of just a few short bullet points, the entire page describes what their culture is and is not.
And besides the typical workplace culture definitions and descriptions, you'll see an entire section on representation and diversity. Their aim is to make their employees better reflect the varied membership of their viewer base.
Case in point: Patagonia
Did you know that Patagonia's recruiters read resumes upside down, starting from the interests and hobbies first? They want to see how candidates use their gear and what interests them and most importantly, discover whether they share the company's love for visiting the outdoors in their spare time.
This way, they want to see if you share the same common love for nature as everyone else in the company but add to it with insights from your own personal point of view.
6 Best practices for hiring for cultural add
Culture add is the new cultural fit, and if you want to hire with this best practice in mind, here are some tips to help you get started.
#1 – Define and communicate your company's culture
Determine your core values, beliefs, and principles and tell the world what they are. Show potential hires how you think, communicate, and collaborate, and then put it in writing to maximize chances of finding the right culture add.
Plaster it all over your career page, LinkedIn, YouTube channel, and various social media profiles. The candidates should know what the culture is before they even get to a cultural fit interview.
#2 – Diversify your candidate pool
If you keep recruiting and screening the same people, you can kiss cultural add goodbye. You want a varied candidate pool, filled with people from different backgrounds but with the right skills to do the job.
Getting to this point can feel difficult, so we suggest hiring based on skills tests such as Toggl Hire. Candidates can do a skills test first and you'll get to see the cream of the crop based on their test results – not the way they fit into your overall company culture. That way, you're truly hiring people for their culture add.
#3 – Don't rely on first impressions
Anyone can train to become likeable in an interview, and hiring based on first- impression impressions can be dangerous and costly. Instead of basing your opinion on the way someone appears as a partner in a conversation, develop culture add interview questions.
Think about the candidate's ability to be adaptable and thrive in new situations, how they solve problems, how open-minded they are how willing they are to share their own unique point of view.
Try placing job candidates in imaginary scenarios and asking them how they would behave and what they would do. At Toggl, we go one step beyond with test weeks for new hires, to determine how well they do the job and how well they fit into the team before extending an offer.
#4 – Train interviewers and decision-makers
Show your interviewers the difference between a cultural fit and a cultural add and make sure they hire for the latter. Most interviewers (especially those with no background in HR) default to hiring for cultural fit, which isn't bad, but you can do better.
Instead, explain the value (to business leaders and managers) that a unique perspective can bring and show them how to find out if a potential hire has a fresh point of view to add to their current culture.
#5 – Create a welcoming onboarding process
Organizations that have a great onboarding process can expect an 82% increase in new hire retention and a 70% increase in productivity.
If you want to make the most out of culture add, give new hires the space to voice their opinions and make them feel welcomed from day one. You could pair new employees with an onboarding buddy or create detailed documentation for welcoming them into the company.
#6 – Continuously evaluate and improve
Company culture is like a living, breathing organism and culture add as a value is no different. As you hire new team members, the values that you want as a cultural add can and will change, so make sure to keep evaluating your hiring efforts and improving.
What is a cultural fit assessment?
A cultural fit assessment is the best tool in your armory when hiring for culture add. Here, you're actively trying to determine whether a candidate is a right fit by collecting and analyzing data from them before making a hiring decision.
The best way to do that? Using a skills test, of course!
When it comes to determining cultural fit, it's all about finding a candidate with the right soft skills. Our soft skills assessment tests are perfect for this, allowing you to set up a culture add test for your candidates in just two clicks.
From there, simply send the test out, and watch your candidate's responses roll back in. Toggl Hire does all the legwork for you, and automatically declines candidates that don't hit the mark while showcasing your high performers in our easy-to-use dashboard.
Juste loves investigating through writing. A copywriter by trade, she spent the last ten years in startups, telling stories and building marketing teams. She works at Toggl Hire and writes about how businesses can recruit really great people.