Did you know that 49% of people who are seeking a job declined the job offer because of a poor candidate experience?
A good candidate experience is more than a great salary, benefits, and perks. It ensures you attract the best people and excites them about working for you.
Starting with your job ad right the way through to delivering a supportive and seamless onboarding, candidate experience really matters. Read on to understand why and what you can do to improve it.
TL;DR – Key Takeaways
The candidate experience covers every touchpoint a candidate has with your company, from the moment they apply to the offer and onboarding period.
A positive candidate experience is crucial because it's viewed as a reflection of the overall experience someone will have when working with your company.
Overall, six key components can help make or break the candidate experience: job ad, employer branding, application, selection process, offer, and onboarding.
To help you nail these, try this: value your candidates' time, set clear expectations, ask for and provide feedback, be responsive, monitor your social media presence, and offer a seamless mobile experience for applicants.
Some of the most common candidate experience mistakes include ineffective job ads, a lack of transparency, poor communication, a long and complicated application process, and ignoring unconscious bias.
Toggl Hire can help you upgrade your candidate experience by offering an unbiased, quick, and easy way to screen candidates and provide them with personalized, timely feedback on their applications.
What is the candidate experience?
Candidate experience covers every touchpoint and engagement that applicants will encounter throughout all stages of your recruitment cycle. Think of it as a collection of every touchpoint between the candidate and your company.
Even after a candidate is hired, the candidate experience continues to include the onboarding process to bring them on your team and into your organization successfully.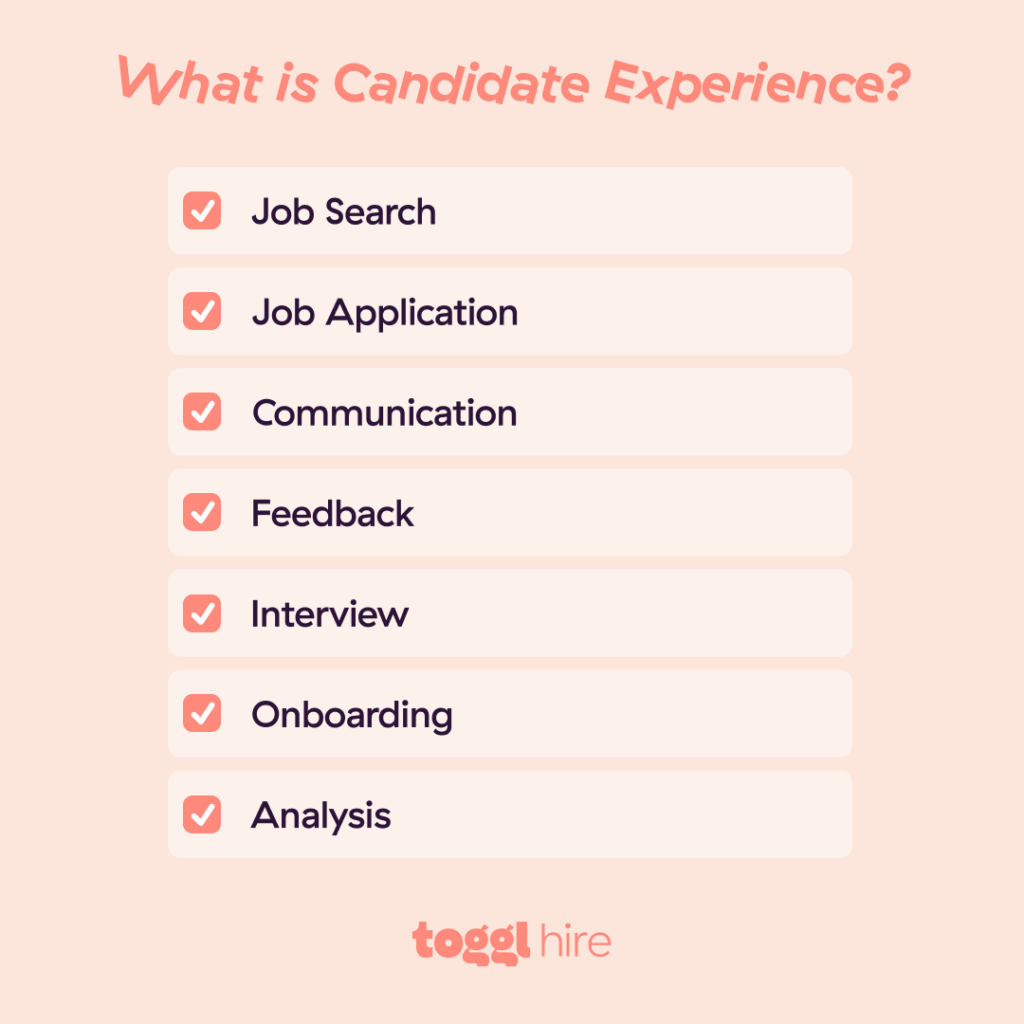 Here's an example of what a good candidate experience could look like
Consider a hypothetical job seeker. Let's call her Anna. Like most job seekers, Anna starts her journey by seeing a job ad for an open role at your company. She's following you already on various socials, and she is aware of your company, what it does, and what kind of employees you typically hire.
Before applying, she takes a quick peek at Glassdoor to confirm that your reviews are on point and that most employees rate your company as a great place to work. She then takes another look at your socials, making a note of the posts where you highlight employee milestones and how you celebrate your success.
She then returns to your job ad to begin going through your super simple job application process. As she applies, your hiring team keeps her in the loop throughout the hiring process, and she is thrilled at the prospect of joining the team.
As an exceptional candidate, Anna is hired, and at the end of her onboarding, she completes a survey to give her feedback. Although she had a positive candidate experience, she lets you know exactly what she thinks you did right to help you to continue getting it right for others. Hurray!
6 key components of the candidate experience
In the example we just saw, a number of touchpoints contributed to Anna's decision to apply and further join the team. Next, we take a closer look at the 6 key components, which includes many of the touchpoints that can positively or negatively impact the candidate's experience.
1. The job ad
Your job ad should be informative and inspire excitement in the candidate. After reading it, they should get the feeling they can do the job and that your company is one they want to spend the next few years in.
2. The employer branding
An employer brand is built over time, not overnight, making it a worthwhile investment and a crucial element of a great candidate experience. This is your company's reputation, and candidate's will visit your socials, careers page, as well as Google you to get an idea of your brand.
3. The application
It's 2023 and candidates know that they don't have to spend an hour applying for a job anymore. Make your application quick, interesting, and easy so that it's done in minutes, not hours. The longer it takes to apply, the fewer chances of getting high-quality candidates.
4. The selection process
Choosing the right candidate is difficult, we give you that. However, it's best to limit the number of interviews, tests, and other types of assessments to what's absolutely necessary. You want to attract candidates – not put them off. Besides, you could take too long with your interview process, and by the time you make an offer, someone else might snag your best candidate.
5. The offer
This is a crucial, defining moment in the candidate experience. And where being transparent about the salary from the start can help set the right expectations. Make sure that your offer is fair and that the candidate received information about the salary range throughout the recruiting process to avoid disappointment.
6. The onboarding
Last but not least, in order to help the new hire hit the ground running from day one, make sure they have all the support, tools, and access that they'll need – without overwhelming them with too many tasks and admin. When the transition from the recruitment process to onboarding is smooth and effortless, candidates are more likely to stay with the company for the long haul.
Why is a positive candidate experience important?
For applicants looking to join a company, candidate experience is a great reflection of the overall experience of being employed at that company. In a recent CareerBuilder research, the authors show that 68% of candidates think the way a company treats them in the hiring process reflects how it treats its employees.
The second biggest reason why candidate experience matters so much is that the demand for high-quality candidates is usually higher than the supply. In other words, the candidates know there's plenty of fish in the sea. If you're not treating them with fairness and dignity, they will move on to another employer who will.
How to improve the candidate experience
The good news is that you can improve candidate experience without a significant investment of time, expertise, or resources. Here are a few actionable tips you can start implementing right away to improve your candidate experience and attract the best talent. 
1. Don't waste candidates' time
As they apply for a job, 55% of candidates will give up on a position if they don't hear back from the company after two weeks of applying. It's simple – if you're taking too long, the candidates will simply move on to an employer that appreciates their time more.
If you really want to acquire the best candidates out there, you have no time to waste. According to research, the best talent in the job market is gone after just 10 days. It's clear then that taking weeks just to weed out the first batch of applicants won't leave you in the best position. This means making sure you have a hyper-efficient candidate screening process in place is key.
The first step to reduce your time-to-hire is to analyze your current processes and find the biggest time drains.
Remote team struggles
For companies hiring for remote roles, like Toggl, for example, the initial stages are the most time-consuming, simply because of the high number of candidates to sort through. When you're open to a global talent pool, as you are with a remote position, you can expect very high applicant numbers.
However, you should also expect most candidates to not be a good fit. To improve our efficiency in this area, we use Toggl Hire to screen candidates for skills before we spend time interviewing anyone. By using skills tests to identify the most promising candidates early on, we ended up saving over 22 hours per position.
Related: Case Study: How Toggl Hires High-Quality Candidates with Toggl Hire
One of the easiest ways to save time is to make the application process quicker. As we've mentioned in the last article on optimizing your hiring process, 20% of all applicants will quit halfway through the application if it takes more than 10 minutes to complete. In other words, the longer the application process, the lower will the number of successful applicants be.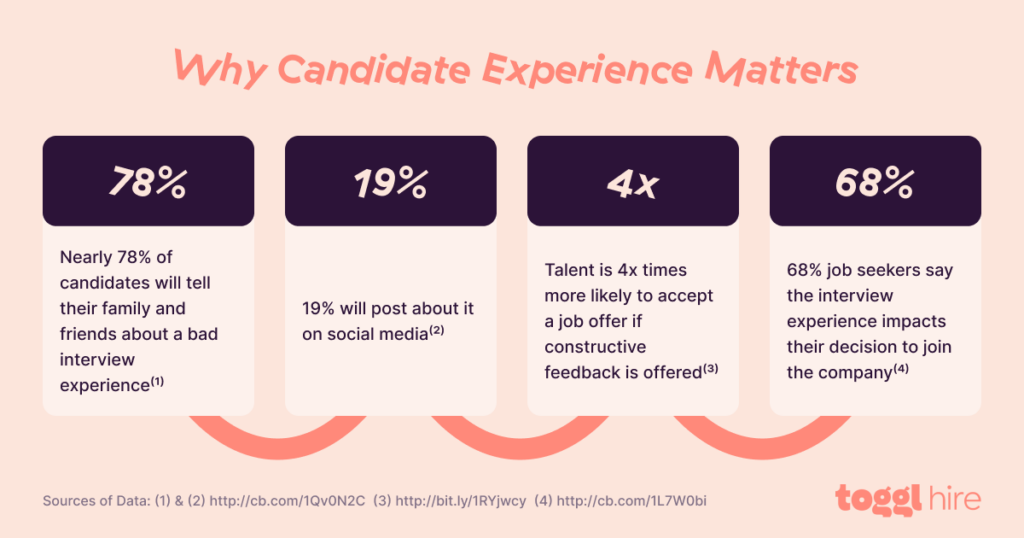 Moreover, make sure to be quick to contact your candidates. Nobody likes being kept in the dark. Not providing your candidates information on what's going on with their application is one of the main reasons candidates leave poor candidate experience feedback.
You should always make sure that you update each candidate on their application process, even if it's just an automated response saying you won't be taking things further.
Using the skills test method allows you to effectively sidestep this problem as each candidate is given instant feedback on their test results. It's a win-win situation as nobody is kept in limbo, and your employer brand is strengthened.
2. Set clear expectations throughout the hiring process
As an applicant, one of the worst feelings is applying for a job and not knowing what happens next.
Will an HR manager contact you within a week? Will you ever get an answer? Has your application been thrown into an HR abyss or landed in some recruiter's spam folder?
One of the easiest ways to improve your candidate experience is to let candidates know what they can expect in terms of communication immediately in the job description. As always, there's a discrepancy between what employers think they are doing and what candidates perceive.
The solution is simple: at each step of the hiring process, let candidates know what happens next. Also, tell them when and who they'll hear from, be it the recruiter, HR manager, or someone else from the company.
One of the best ways to accomplish this is to write clear job descriptions for your open roles. A job description is key to delivering a positive candidate experience – and a good job description starts with a good job title.
It's important to keep job descriptions clear, yet detailed. Give full explanations of the required attributes and responsibilities and avoid jargon or vague statements, so candidates know what they're signing up for when applying.
3. Ask for feedback and give feedback to job seekers
How can you improve your candidate experience if you don't ask the candidates what they think? To learn exactly what needs improvement, simply ask the candidates that have gone through the different hiring stages. For example, you can send a simple poll to everyone who's gotten to the interview stage of the hiring process and ask them about their thoughts.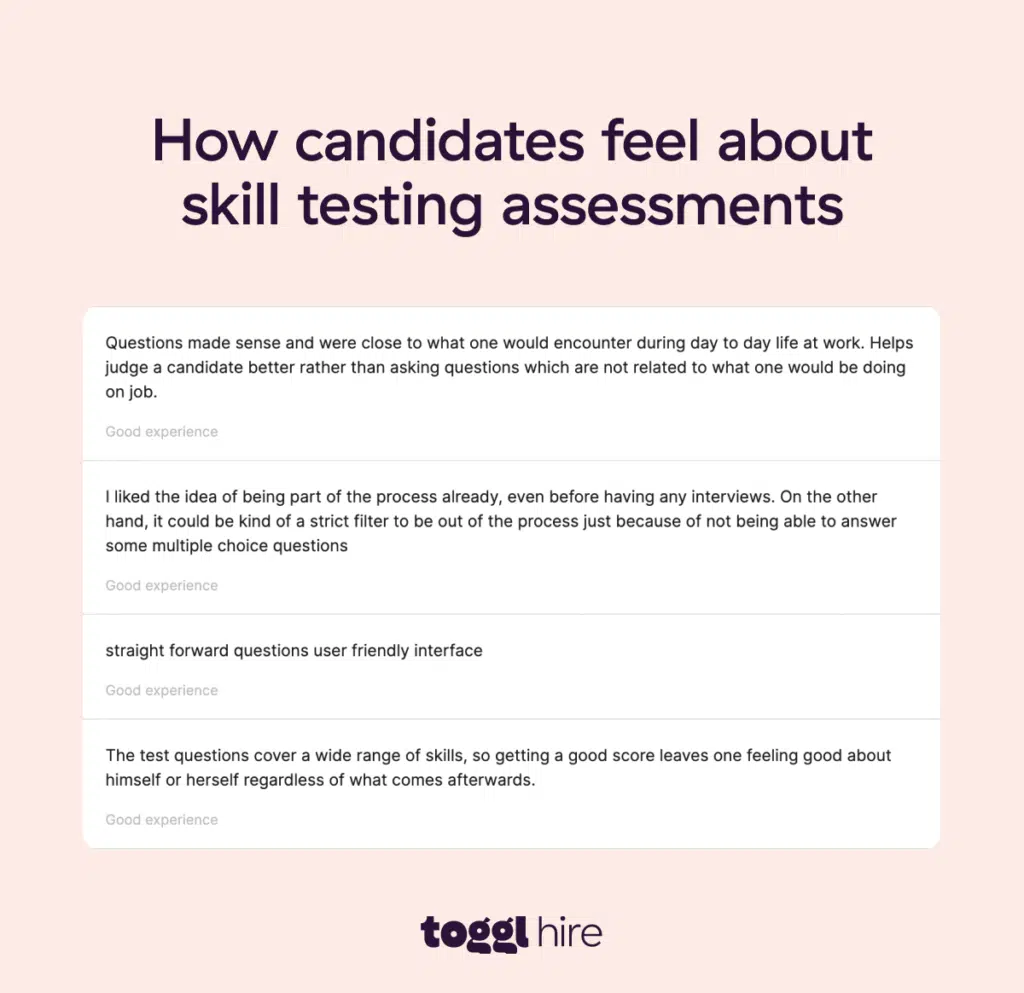 Alternatively, you can do some social listening. Find out what candidates are saying about their experience interviewing with you. A good place to start is on Glassdoor's company reviews section.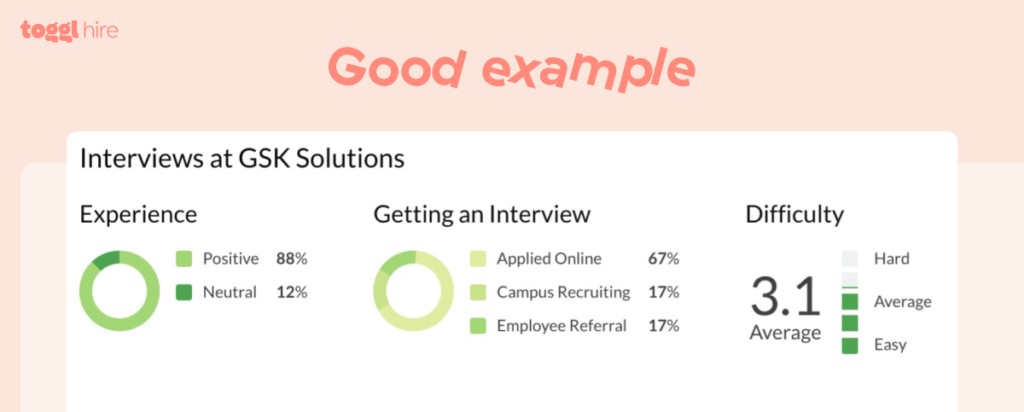 You can find out how difficult the interviews are and how happy the applicants are with the interview process. Even better, you can find out some questions from the interview. You can use these findings to improve your current hiring processes. Also, you can use them to learn from the companies who are nailing their employer brand game.
Equally, it is crucial that you are also giving your candidates proper feedback as well. If a candidate makes it to the interview stage, they will naturally expect a more personalized follow-up than after the earlier stages, regardless of the outcome.
Offering feedback will help to ensure a positive candidate experience. According to the LinkedIn report, 94% of candidates want feedback after the interview. This doesn't have to be too in-depth. Just a couple of pointers on what they did well and where they might look to improve in the future would be good. This is enough to make them feel like this has been a worthwhile learning experience.
4. Have a clear process for every step in hiring
Job applicants who are well informed about the stages in the recruitment process are more likely to be satisfied with the company and have a better candidate experience. While transparency should be a core value for your company in general, transparency in hiring is essential in providing a better experience for your applicants.
In other words, let your candidates know the exact process of application, selection, and hiring as they apply. That way, they will immediately know what they can expect, when they will hear back from you, and how strict your selection process is. This can be as simple as providing an outline of your hiring process in your job ad.
Don't neglect the rejection process either. If you have a large number of applications, personalized rejections won't be possible during the early stages. Try to send early rejections from a human email address (so the candidate can reply if they want to) and offer some hope of remaining in contact ('keep an eye on our careers board for future roles').
When informing unsuccessful candidates at the interview stage, a personalized email is best, and offer constructive feedback to help the candidate feel like their time investment was worthwhile.
5. Be responsive
As it turns out, 58% of candidates expect to hear back from companies within one week of applying. This is clearly an area where candidates feel there is room for you to really stand out if you play your cards right.
The main reasons companies don't get back to candidates include:
– There are too many candidates to get back to them all
– The hiring manager does not have enough time to respond to everyone
– Responding to everyone is seen as unnecessary
– It is company policy not to respond to unsuccessful candidates
So, how can you tackle these obstacles to set yourself apart? The easiest solution is to ensure you have an airtight, efficient initial screening process, supported by a strong talent management system. Once you have a few dozen qualified candidates you'd like to bring forward to an interview, let them know.
Equally, use your ATS to send out bulk rejection emails to unsuccessful candidates, too. With the right tools, it is much quicker and easier than you think to manage your candidate pipeline. That way, you can make sure everyone knows where they stand with you every step of the way.
For example, when candidates applied for the position of Digital Marketer at Toggl Hire, they did a pre-employment skills test. This weeded out under-qualified candidates immediately. What's even better is that candidates immediately get notified if they are going to the next round or not.
Responsiveness is a major part of the candidate experience. Candidates that get timely responses are more likely to become and stay customers. As research shows, 67% of candidates say they're more likely to buy from a company that gave them timely updates during their application.
6. Get the externals right
25% of all job-seekers now use social media as their main tool when looking for work. This means that your company website or social media is likely to be the first point of contact a potential candidate will have with you.
This is your first opportunity to impose your employer brand values. Make sure that your careers page is consistent with the rest of your website and social media pages in terms of branding.
7. Offer a great mobile experience
Today, over 60% of Americans conduct job searches from their mobiles. This means that offering a good mobile-friendly recruiting experience is more crucial than ever before.
Make sure that your website and any other tool that the candidate needs to use when applying for your job opening is mobile-friendly.
For example, we at Toggl Hire know that most applicants apply for jobs on their smartphones. That's why we've put a lot of time and effort into making the system work seamlessly on mobile devices.
5 Common mistakes to avoid a poor candidate experience
You've hopefully taken away some actionable tips on how you can improve the candidate experience at your company. Now, let's take a look at some of the most common mistakes and how to avoid them when attracting top talent for your company.
1. Ineffective job ads
Your job ads are the beginning of someone's job search and there are plenty of ways to make them ineffective. The typical job seeker will not appreciate job postings or ads that are:
Too long or too short
Vague
Missing descriptions, a salary, and other key details
Moreover, make sure that the pages you link to are up-to-date and accurate, including your careers page, website, and social media handles.
2. Lack of transparency
Did you know that 85% of Gen Zers are less likely to apply for a job if the salary is not listed? Transparency is becoming increasingly important in a job search, and not just for this generation.
To make the job application process more efficient, be clear about the salary, benefits, expectations and duties, as well the process itself. It's a good idea to let the applicants know how you select your candidates and what they can expect from the process. Including a statement about measuring candidate experience and diversity goes a long way, too.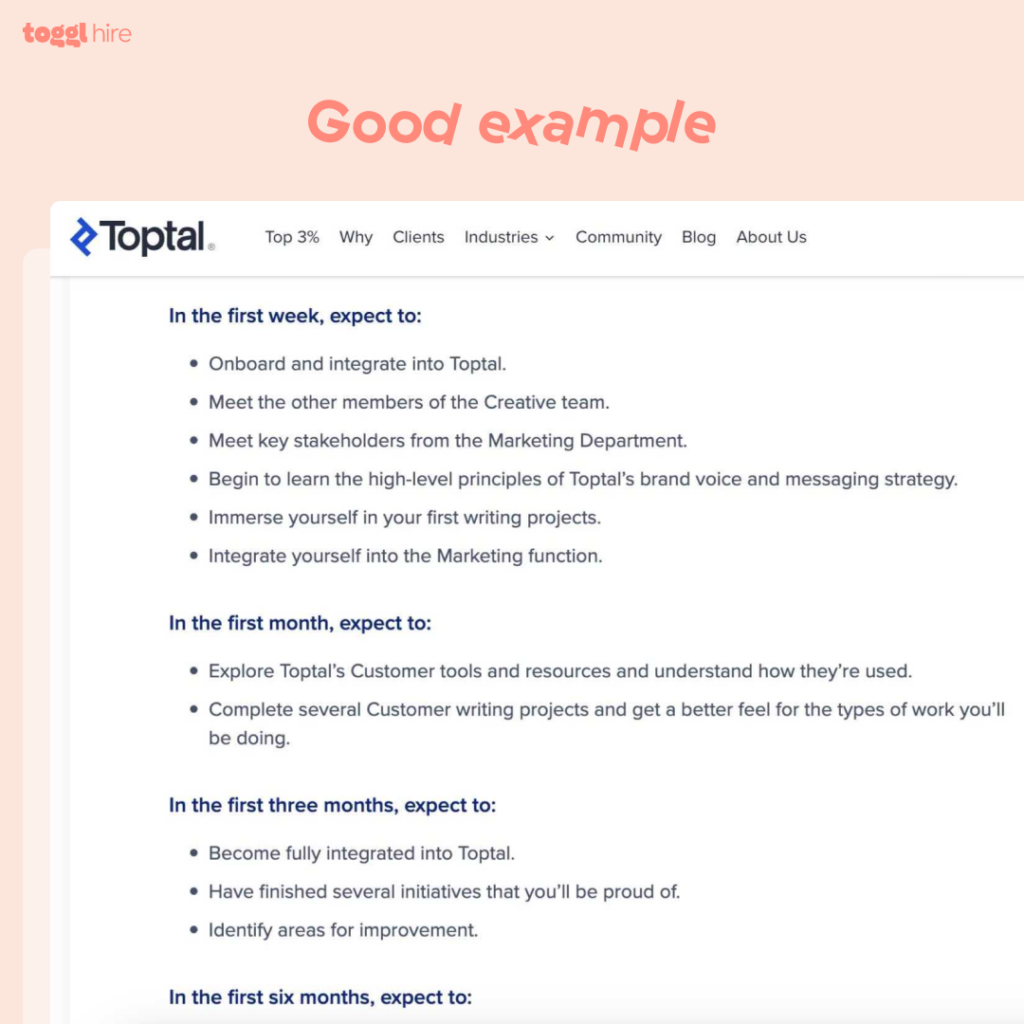 3. Poor communication
For 40% of employees, poor communication reduces trust in their team. The same goes for candidates who apply for your jobs. The most common mistakes you can make here include:
Not keeping the candidates in the loop about their progress
Being unresponsive during the job application
Not giving feedback after unsuccessful interviews
Not personalizing your communication and sending the same messages to all applicants
The best way to fix this is simply to have consistent communication across channels and to always let the candidates know how they're progressing. For example, Toggl Hire gives feedback to candidates rapidly – as soon as they complete their assessments.
4. An overly long or complicated application process
The average job application is very time-consuming. Many employers require candidates to write lengthy cover letters and personalize their resumes, as well as go through many rounds of interviews.
It is no surprise then that 92% of potential candidates never finish their job applications, which is no surprise since it takes an average of 51 clicks for the candidates to apply.
To avoid this mistake, make sure to start the application process with a positive experience – give them a Toggl Hire skills test instead of forcing them to upload resumes and create cover letters.
Also, don't spend too much time in the initial screening. Toggl Hire helps here too as you can quickly go down from 1,000 applicants to 10 thanks to laser-precise skills test results.
When you give the candidates a homework assignment to complete, make sure it is brief (a few hours) at most, and to the point, to avoid a negative impression.
Last but not least, make it very easy for candidates and potential candidates to apply from mobile devices. A simple LinkedIn resume import or the ability to attach resumes from Dropbox or Google Drive goes a long way.
5. Ignoring unconscious bias
39% of people say that they experience bias frequently – at least once a month. And if candidates smell bias during hiring, it's bound to lead to a negative candidate experience.
If a candidate believes that they were not selected due to unconscious bias, this hurts the candidate experience.
To prevent this from happening, use inclusive language in your job ads and throughout your website. A tool such as Textio can be of great help here.
More importantly, base your hiring decisions on the ability to do the work and not resumes. Toggl Hire helps here as you can only see the candidates' test results at first – and not their name, age, race, and everything else.
These are just some of the basics to keep in mind. However, you should take every precaution to persuade the candidate that your company really wants them to have a great time applying to your open roles. In the end, this means they will likely have a great time working for you, too.
How to assess and measure your candidate experience
The first step to improving your candidate experience is to get a clearer picture of where you currently stand. To find out whether your candidate experience is any good, and indeed to track progress and measure candidate experienceover time, it helps to start measuring a couple of things.
The good news is that it's very straightforward, and there are plenty of tools to help you along the way. For example:
Use a candidate experience survey. With a survey tool such as Survicate or SurveyMonkey, you can survey your new hires, existing employees, as well as candidates who did not make it through all the hiring rounds. Try a variety of surveys such as NPS, pulse surveys, and rating scale surveys.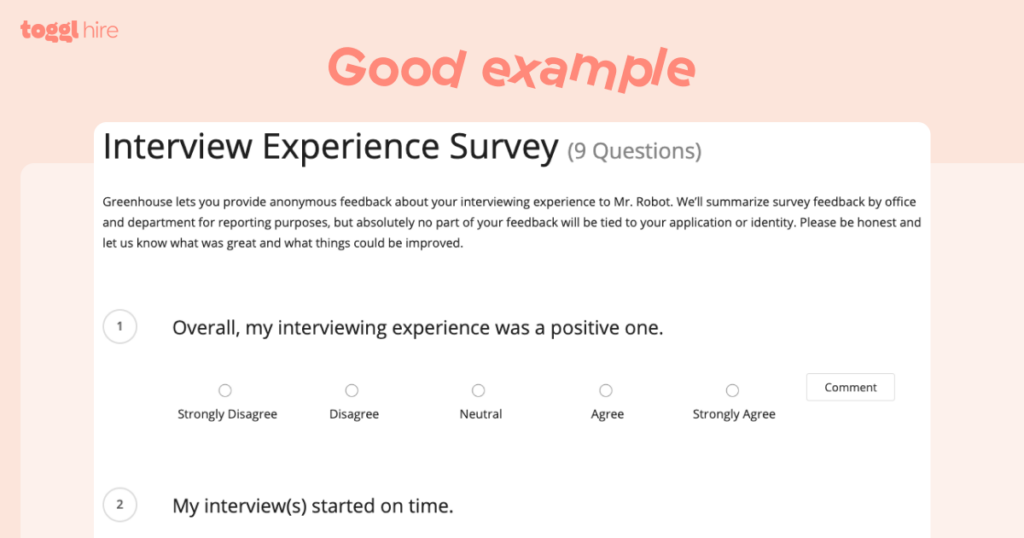 Track external review boards. Websites such as Glassdoor, LinkedIn, Indeed and Google Reviews paint an accurate picture of how job candidates (and employees) feel about the hiring process.
Track social media mentions and comments. Tools such as Mention or Brand24 send you a notification every time someone mentions your brand online. This is useful not just for sales and marketing, but also to track candidate feedback – and many of these tools come with sentiment analysis too.
Track your key HR metrics. A positive experience will reflect in the entire hiring process, in KPIs such as application abandonment rate, turnover rate, attrition, employee retention, and others.
Create a more positive candidate experience today
The candidate experience is a lengthy process, starting from the first interaction with your job ad, all the way to the onboarding. There are plenty of mistakes you can make, but there is nothing that transparency, honesty, great communication and feedback can't fix.
You can start today by using Toggl Hire – giving candidates immediate feedback about their progress. You can eliminate bias, hire strictly based on results and perhaps more importantly – hire quickly and snag the best talent in time.
Ready to give it a go? Check out our free skills test templates.
Juste loves investigating through writing. A copywriter by trade, she spent the last ten years in startups, telling stories and building marketing teams. She works at Toggl Hire and writes about how businesses can recruit really great people.