Times are changing in the job-seeking market. During the COVID-19 pandemic, we saw The Great Resignation take place — after many workers fed up with stagnant salaries and a lack of job advancements at their places of employment, among other things, decided to leave.
Then in 2022, we entered an era of mass layoffs – with over 91,000 jobs cut in the US tech sector alone this year. High-profile names like Amazon, Adobe, Tesla, Twitter, and Meta all announced major layoffs. An unfortunate consequence of the stock market tumble, rabid over-hiring, and tougher economic times.
But it's not all doom and gloom. The silver lining, especially for recruiters and hiring managers, is that the global shake-up across teams and companies has opened up a fresh pool of passive candidates you can appeal to, in addition to active candidates.
In this article, we examine what passive candidates are, as well as:
• Why you would want to hire a passive candidate
• The pros and cons of attracting passive candidates
• And 4 tips for hiring passive candidates
What are passive candidates?
Passive candidates are individuals who are not actively seeking a new job (otherwise known as an active candidate), but are open to considering opportunities that may arise. According to recent research by LinkedIn, 70% of the global workforce is considered passive candidates, while 87% of active and passive candidates are open to new opportunities.
Although passive candidates are typically satisfied with their current role, that doesn't mean to say that they wouldn't consider a fresh challenge or a new opportunity that aligns with their career goals. And going by those statistics, it follows that understanding how to target passive job seekers should also be a component of your hiring strategy.
Why would you want to hire passive candidates?
By only pursuing active candidates, you are severely limiting your pool of available talent which may cause you to miss out. It's about finding the right — or perfect — fit for the role you're trying to fill.
There are several benefits to targeting passive job candidates in your recruitment efforts.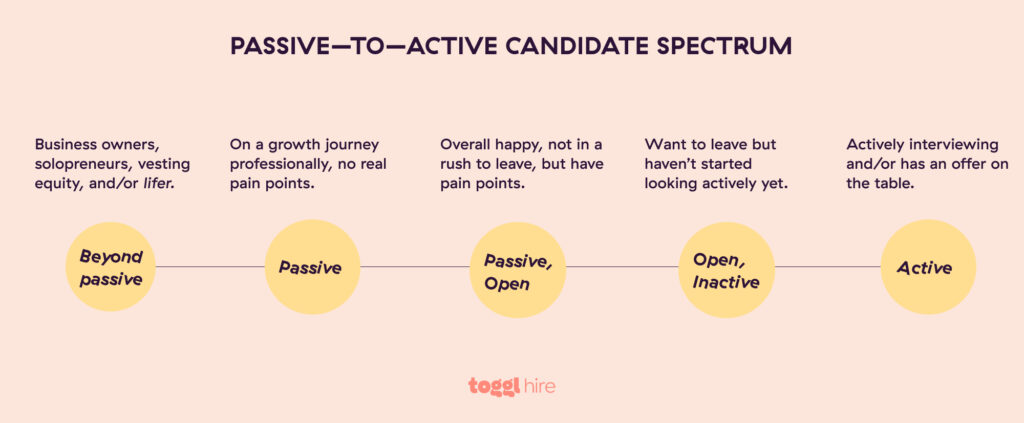 The benefits of targeting passive candidates
• Less competition — Since passive candidates are not actively looking for a new job, they have less attention from competing organizations in the job market.
• Less stress and pressure — Passive candidates aren't under pressure to find employment and pay the bills as soon as possible. This means that passive candidates tend to be easier to work with during the hiring process.
• Focus on skills and experience — You can potentially find a better fit for your company by targeting passive candidates with specific skills and experience.
• Culture fit — Passive candidates are more likely to fit in with your company culture if they are referred by a current employee or trusted individual.
• More honest — Passive candidates may be more honest and authentic about their skills and experience than active candidates since they aren't in need of a new job. This can help you get a better understanding of their capabilities and make more informed hiring decisions.
The problem with recruiting passive candidates
While the benefits outweigh the negatives, it's important to have the full picture. Some potential disadvantages of hiring passive candidates may include the following:
• Level of commitment — Passive candidates may not have enough time to devote to your hiring process, or they can be less committed.
• Negotiating power — A person who isn't in the job market will have more bargaining power than active job seekers and may seek higher compensation than their active counterparts.
• Need to be convinced — Passive candidates may take more persuading that your company is the right fit for them. This can require additional effort on your part to convince them to leave their current employer.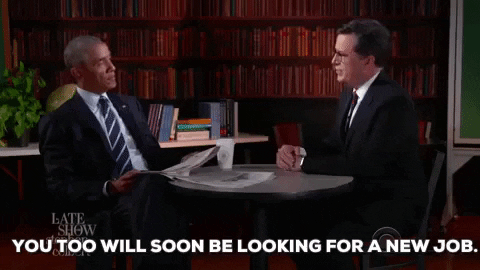 4 ways how to hire passive candidates
So how does a recruiter discover and recruit a passive candidate? And how do you begin to change your talent acquisition strategy to source these passive job seekers?
While many of the strategies used to attract active candidates will also appeal to passive job seekers, let's walk through the 4 most common ways of sourcing passive candidates specifically into your hiring pipeline.
#1 – Start building your passive candidate pipeline today
The first step is to start building a pipeline of potential hires for when a position opens up. Although there a few ways to do this, here are the most common:
• Previous candidate database — Almost every company has a database of previous active candidates who applied for jobs but weren't successful for one reason or another. Especially those who the team really liked but missed out to a marginally stronger candidate. Reach out to them and see if they are still interested in working for the organization.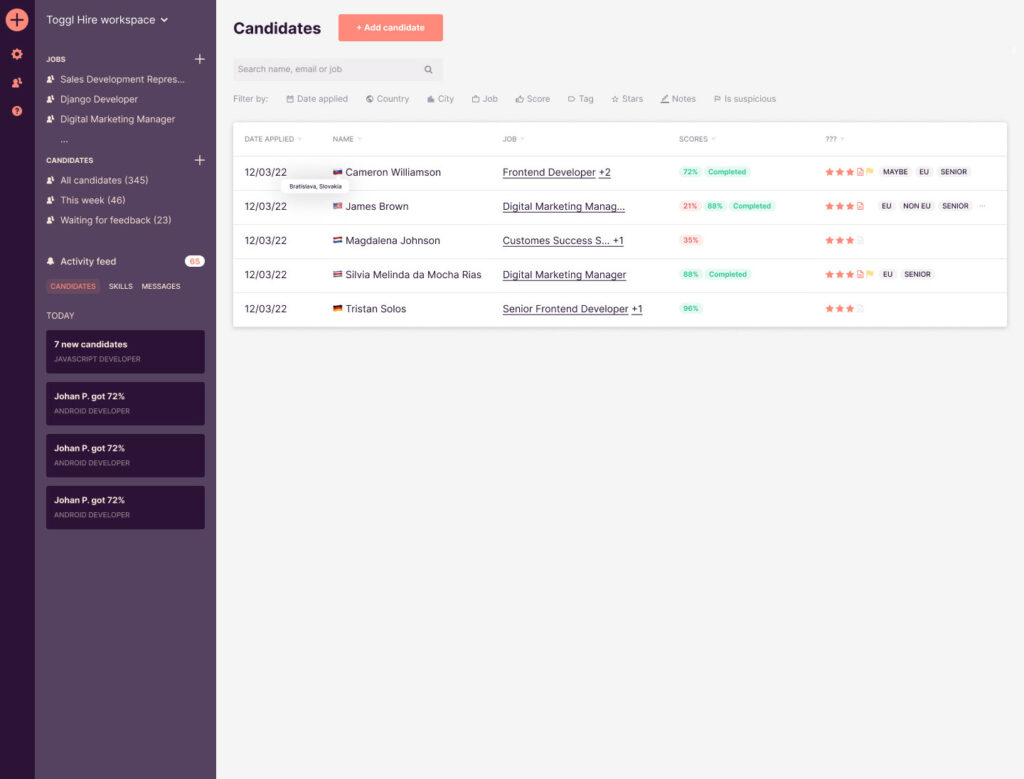 • Employee referral program — Set up an internal program that encourages employees to recommend talented friends or family to the company. A sign-on bonus is always a plus for employee referrals and encourages them to recommend top talent.
• Word of mouth — Ask your current employees and industry connections if they know of any talented professionals who may be open to new opportunities. Word of mouth can be a powerful way to identify and recruit passive candidates.
#2 – Get your employer brand on point
We've said it a few times and we'll say it again: your employer brand needs to be on point. If it's not, well, you may struggle to recruit either active and passive candidates. Your company needs to be a place where people want to work, so clearly communicating your culture and benefits is a must.
Employer branding plays a particularly important role in passive candidate recruiting, as they may be as interested in the overall culture and reputation of your company as in their specific job duties.
Start improving your employer branding with these steps:
• Social media — Use social media platforms (especially LinkedIn and Facebook) to showcase the culture and values of your company. You could also ask current employees to come on board and share their stories and experiences with your company. And don't forget to share these positive tales in your job postings.
• The company website — Make sure your company website is attractive and up-to-date. Feature any awards/certifications your company has received or reviews from current and former employees. Include a careers page for job postings, and clearly communicate the benefits of working for your company.
• Review sites — Monitor review sites, like Glassdoor, to see what past and current employees are saying about the organization. If you do respond, always respond positively to negative feedback and address any issues that are causing dissatisfaction. You want to present a professional yet relatable image to passive candidates researching your company.
• Internal feedback — Having the HR department conduct regular employee satisfaction surveys is an important way to continuously gather feedback on the company culture and work environment. And will help to identify any areas that require urgent attention or improvement.
#3 – Make your Employer Value Proposition a magnet for candidates
Employer Value Proposition (EVP) is a statement that explains the unique benefits and experiences that an organization provides to its employees. Think of it as a way for an employer to communicate the value they offer to their employees and what sets them apart from other employers.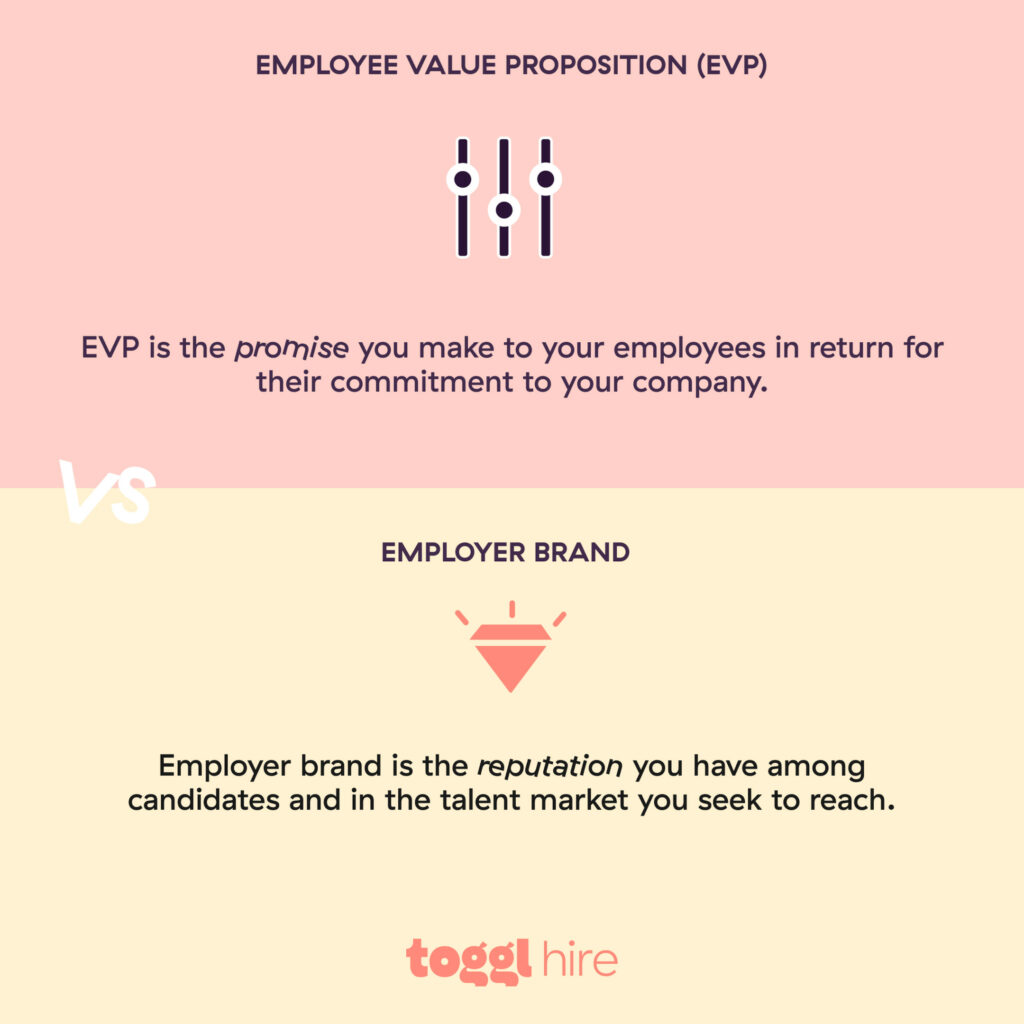 EVP can make a big impression on potential active and passive candidates and can be used to differentiate your company from the competition.
An example of a company with a strong EVP is Wegmans, a well-known US supermarket chain. They are known for their growth and career development opportunities and flexibility, especially valued by workers with family obligations.
Join us and discover what it means to work for a family owned, mission-driven, values-based company that believes in caring, respect, empowerment, high standards and making a difference in the community. Because with a family-like atmosphere of shared support, leaders who have your best interest at heart and growth as part of everything we do, Wegmans is the place for you to do what you love—and love what you do.
As you can see, the EVP needs to be clear and concise and focus on exactly why employees benefit from working at the company (besides receiving a salary, of course).
And circling back to the Great Resignation and mass lay-offs, both passive and active job seekers want to know they are valued. In addition, they want to know if there is adequate work-life balance and job security in the organisation.
#4 – Go where your potential candidates are
Since passive candidates are not actively seeking new job opportunities, you'll need to advertise to them in the places they are most likely to be and see your job listings.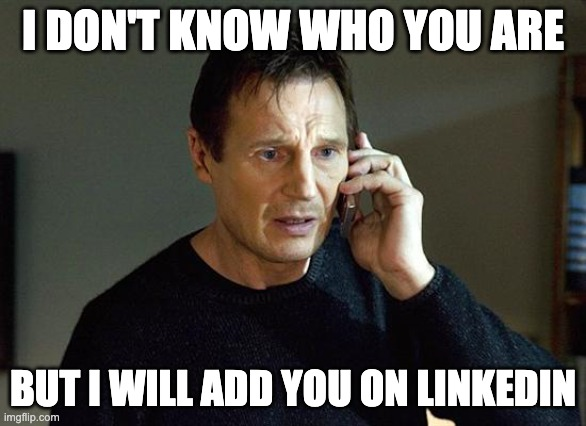 The most efficient way to target the perfect passive candidate is to create a strategy that focuses on their interests and the networks they are already in. Consider the following virtual and physical locations:
• Social media — Leverage social media platforms (LinkedIn, Facebook, Twitter, and Instagram) to promote your company and job openings. Use existing and potential customers as ambassadors to help spread the word about your company and open roles.
• Job boards — Advertise your job postings on popular job boards, such as Indeed, Monster, and LinkedIn Jobs. Be sure to include all of the benefits associated with the company.
• Digital advertising — By providing a clear call to action, such as "apply now," you can make it quick and easy for candidates to take the next step in the hiring process.
• Conferences, events, and trade shows — Actively attend industry events and conferences to network with potential candidates, as well as represent your organization as an employer of choice.
• Professional networks — Reach out to professional networks, such as alumni groups and industry associations, to spread the word about open positions at your company.
Attract qualified passive candidates with Toggle Hire
The traditional approach to finding the right candidate is no longer sufficient in this rapidly changing world. Companies need to start looking for more effective ways to find the right active and passive candidates for the job.
One of the biggest advantages of using skills tests as part of a recruitment process is the element of gaming. To engage passive candidates, companies need to think about creative ways to start the conversation – and a quiz-style assessment offers precisely that.
Out of the 12 developers we've hired, most weren't actively looking for a job. They just went into the quiz thinking all they have to lose is few minutes of their time.

Andrin Riiet, Product Lead at Toggl
We can help this process with our unique skills-based assessment platform. This will help to filter and identify the right candidate for the job quickly and accurately. Check out our skills assessment template library to get started for free!
Juste loves investigating through writing. A copywriter by trade, she spent the last ten years in startups, telling stories and building marketing teams. She works at Toggl Hire and writes about how businesses can recruit really great people.