New to recruiting with Linkedin? Then you came to the right place!
The world of online recruitment can be noisy. With 101 job applications submitted every second on LinkedIn, it's no wonder recruiters have a hard time cutting through the ruckus to lock down the right candidate.
However, when you recruit with specialized tools like LinkedIn Recruiter, it's easy to tune out the clutter and focus on quality candidates — with eight people hired every minute through LinkedIn job postings!
In this article, we'll cover:
How effective is LinkedIn for recruiting
How to approach a candidate to recruit on LinkedIn (+ template examples of candidate outreach)
What is LinkedIn Recruiter and Talent Hub
Tips for a winning LinkedIn recruitment strategy
How effective is LinkedIn for recruitment?
LinkedIn is a powerful tool for recruiters and job seekers, with LinkedIn Recruiter currently viewed as the number one platform for direct sourcing. And since LinkedIn has been around since 2002, it is also the most established social media recruiting solution.
The platform provides recruiters with direct access to a vast talent pool, with over 52 million job seekers using LinkedIn to search for jobs every week. And this is just what recruiters need to track down the right candidates for the right roles and ensure a diverse range of applicants.
It can also help recruiters to more easily identify candidates with the right skills. For example, with the help of their Skills Match filter (included with LinkedIn Recruiter), you can save time by dealing only with candidates with good skills match.
The most experienced recruiters will go one step further. After finding applicants that list the right skills, they will then leverage quiz-like skills assessments by Toggl Hire to filter out the do-ers from the say-ers (or dreamers)!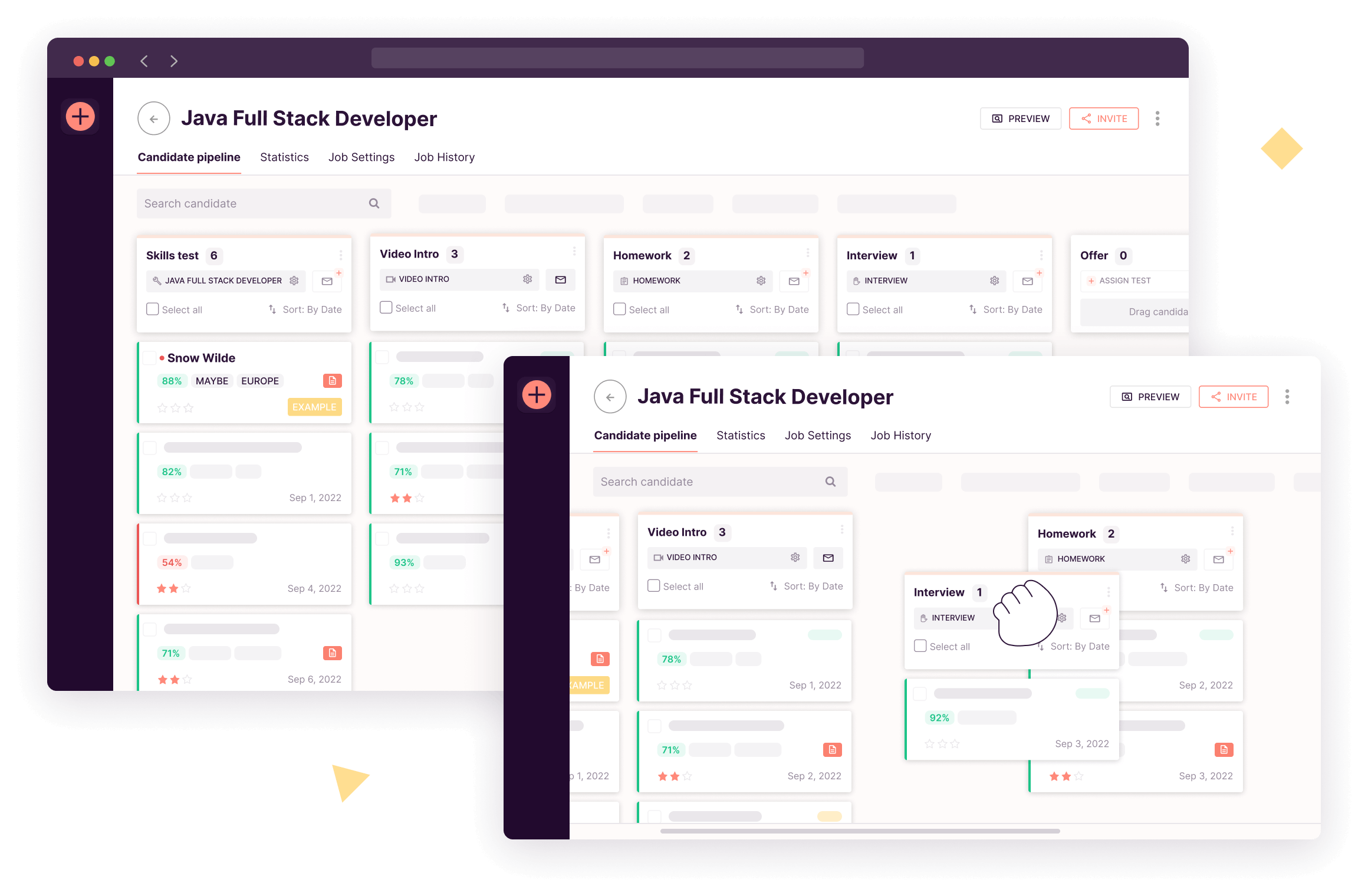 Is LinkedIn really the number one recruitment platform?
LinkedIn helps recruiters reach candidates where they are. And if we're comparing LinkedIn to other social media recruitment channels, then LinkedIn is definitely the most popular.
Of the social media sites, LinkedIn is the most-used channel for recruiting at 77%, compared to Facebook at 63%.

Source
And if we compare LinkedIn to other hiring platforms?
When you compare it to similar job-seeking platforms like Indeed, popular opinion may differ. But here's what Forbes has to say.
Indeed and LinkedIn are two of the top go-to platforms for job seekers. But the user experience on each platform is pretty different. Indeed focuses on matching employers with candidates that match posted job listings while LinkedIn helps people to build their professional network and connect with others to move their careers forward. Job listings are an added bonus on the site, not the central focus.

Source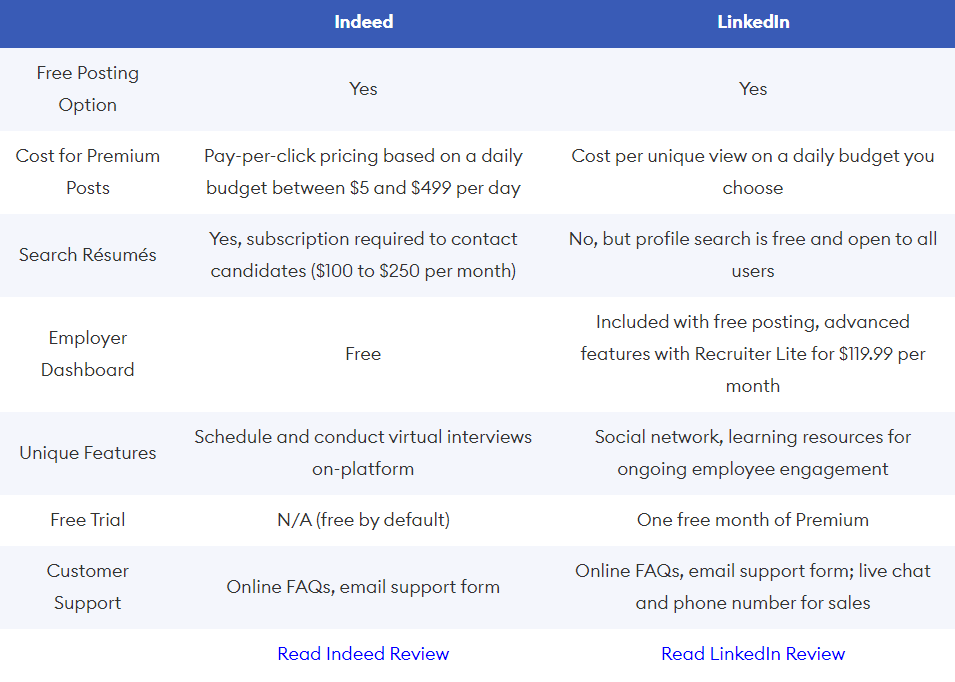 A common thread is that for smaller companies on a hiring spree, LinkedIn is a great talent acquisition channel. But for larger organizations or agencies, the platform's add-ons, like Recruiter, LinkedIn Recruiter Lite, and LinkedIn Talent Hub, become essential – and worth the costly monthly subscription.
Here's a practical video about how to recruit the best talent on LinkedIn:
How to approach a candidate to recruit on LinkedIn (+ 4 template examples of candidate outreach)
Recruitment is not just about creating a solid job title and description and publishing it on your LinkedIn company page (though without those steps, your recruitment efforts would come to a screeching halt!). You still need to connect with prospective candidates.
One way to connect is by posting job ads on your LinkedIn company page. This type of inbound approach is a core part of the recruitment process. Another way you can ensure you get quality candidates for your job postings is by actively reaching out through outbound recruiting efforts, like InMail.
The dos and don'ts of candidate outreach
There are lots of great candidates out there. But sometimes, your talent acquisition team needs to do the approaching, in addition to waiting for candidates to apply for your job posts. And when it comes to reaching out to these top, passive candidates, especially for hard-to-fill roles, there are a few things the team should bear in mind.
Research the best places to locate these harder-to-find candidates, such as LinkedIn.
Ensure you have a strong employer brand on LinkedIn.
Ensure you've done proper screening before reaching out so that you don't waste your time and theirs.
When you reach out, communicate in a conversational way. Don't be overly formal.
Personalize your message or InMail by using the person's first name and highlighting the elements of your employer brand that may appeal to them.
Personalized InMails perform nearly 15% better, and those under 400 characters, get 22% higher response rates, says LinkedIn.
Get the timing right with your first contact and follow-up. A week is typically a good gap after first contact. Plus, LinkedIn recommends avoiding sending InMails on Fridays and Saturdays, for instance, as response rates are slower.
Share a call to action or the next steps the candidate can take if they're curious to learn more.
Should they reach out, then discuss your and their expectations — this approach may not result in an immediate hire, but could set the basis for a future match.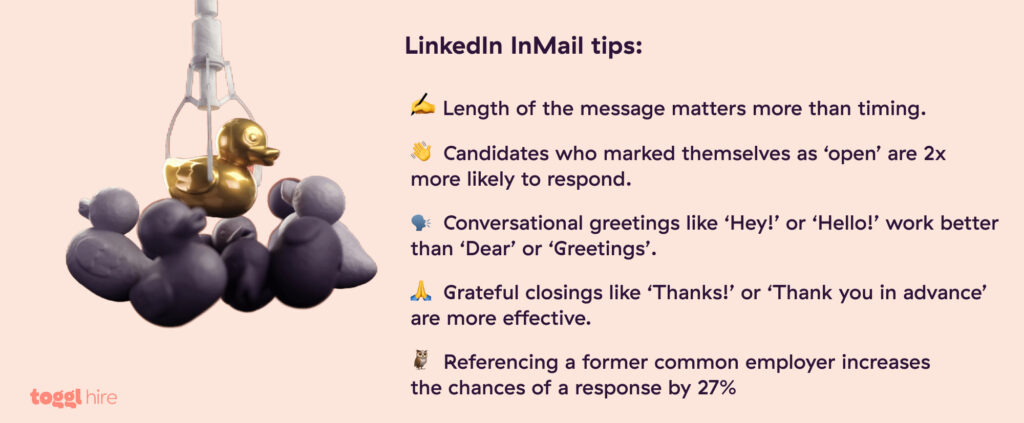 Four template examples of candidate outreach messages
Taking onboard all of the previous points, it still leaves many options when personalizing your outreach message. Let's look at 4 template examples of the most common types.
#1 – Complement their skills
In this example, the focus is on finding a candidate with a strong skills match. In this approach, the recruiter is looking for a positive response before sharing details about the job in the next step.
Hello [candidate name],
Are you looking for a new challenge?
I came across your LinkedIn profile and find your background and skills to be very impressive. In particular, your experience at [previous company] could be a perfect match for an exciting opportunity we have open at the moment.
If you are open to discussing the next step in your career, I would be happy to share more details regarding this role.
Thanks, and I am looking forward to hearing from you.
Best,
[First Name]
#2 – Lead with your mutual connection
It's a small world, and chances are your might already have a mutual connection that could help spark a positive conversation. It helps to get in touch with that person to learn more about the candidate and gather some personal details for building a rapport.
Hi [candidate name],
I am looking to fill an exciting new role, and your name came up when speaking with a mutual connection [Connection's name(s) and any other relevant details].
Are you interested to learn more about this opportunity?
I would be happy to set up a call and share the job description with you when convenient.
Looking forward to hearing back from you.
[Your name]
#3 – Follow-up after an event
Events can sometimes turn into an unexpected but important headhunting opportunity. When making new LinkedIn contacts and sharing business cards, for example, it may be worth following up with any potential candidates.
Hello, [candidate name],
It was a pleasure to meet you at [event/ seminar/ conference] last [week/month].
I really enjoyed our discussion on [X related topic], and it got me thinking that you would, in fact, be an excellent fit for an open position we have here at [Company name]. If you have a moment, please take a look at the job description [insert link].
Would you be interested in talking more about it?
Best regards,
[Your name]
#4 – Invite them to join your team
Sometimes it's not necessarily the right role but the right team that a candidate is looking for. Especially for companies that are investing in growing their teams, this can be a great time to hunt and attract the best talent.
Hello [candidate name],
My name is [Name], and I work at [Company], a fast-growing [tech/marketing/SaaS/etc] company; and just came across your profile.
In the past year, we have grown from [X] employees to [Y] and are currently focused on growing our [sales/marketing/developer] team, where we feel you could be a great fit!
The team is dynamic, [hybrid/remote/on-site], and could be an exciting next step in your career. We would love to invite you to check out our company values [insert link] and the job description [insert link].
If you are interested in continuing the conversation, I'd be delighted to set up a call and answer any questions you may have.
Best Regards,
[Name]
Should hiring managers get involved in headhunting on LinkedIn?
Absolutely. Headhunting is best done in tandem — with a Talent Acquisition specialist and the hiring manager involved. Together, it's easier to target important and often executive (or high-level management) future employees. Using LinkedIn means even smarter headhunting, with direct access to search for and connect with potential gems.
Here's how getting the hiring manager involved could garner more candidates:
What else do you need to know about LinkedIn recruiting?
LinkedIn has recently become more geared towards recruitment (rather than just a business networking platform). Recruiters can utilize more specialized services through paid tools like LinkedIn Recruiter, LinkedIn Recruiter Lite, and LinkedIn Talent Hub.
However, it's important to know what each feature does to recruit effectively on LinkedIn. LinkedIn Recruiter is an outbound tool. In other words, you use it to search out and target specific candidates.
Whereas LinkedIn Talent Hub is an inbound recruiting tool that you use to draw the right candidates to your employer brand and keep track of job post applicants.
So, what is LinkedIn Recruiter, and do I need it?
LinkedIn Recruiter is a hiring tool to help managers recruit on LinkedIn by finding the right talent and connecting with them. With immediate access to their network of over 850 million professionals, recruiters can modernize and streamline their hiring pipeline.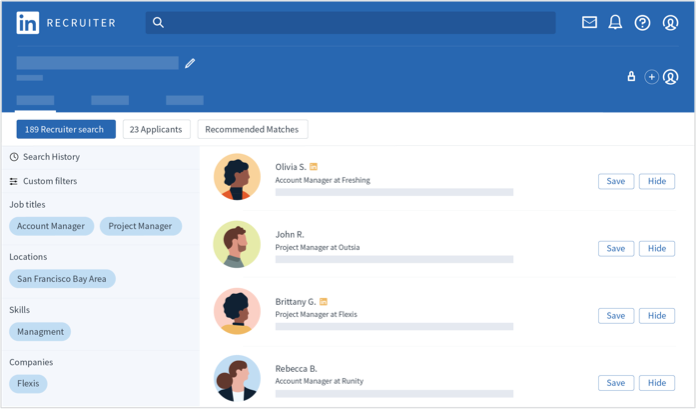 What is LinkedIn Talent Hub, and why should I use it?
LinkedIn Talent Hub is an applicant tracking system. It's another paid recruitment tool that enables you to keep your sourcing, hiring, and candidate management all in one place. Talent Hub combines the LinkedIn Recruiter and Jobs functions for smarter hiring decisions.
But isn't a free LinkedIn account enough? Do I really need the paid add-ons?
Job posting and searching for candidates and contacting them is free on LinkedIn. And this might be adequate if you're a small business or if you have a very limited hiring budget.
But if you're looking to fill numerous roles, the limited scope of the free solution could become an issue. You'll need to use the paid tools to gain any real benefit from the platform.
10 essential tips for an effective LinkedIn recruitment strategy
Here are a few tips to get the most from recruiting on LinkedIn and make life easier for the poor overworked recruiter!
#1 – It all starts with effective job descriptions
To create and optimize your job posts, you'll need to include the following job details:
Write a recognizable job title: Content marketing manager ✔ The wizard of words ✖

Write a compelling job description that will catch the right candidate's attention:

use the term 'you' rather than 'the ideal candidate' so it feels more personal and authentic
include what's in it for the candidate, such as an annual study stipend
include a company description and info on your employer brand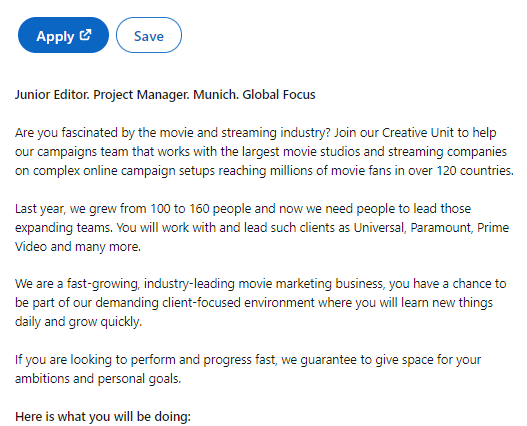 #2 – Streamline your hiring process with LinkedIn's recruiter capabilities
Recruiters should take full advantage of the many features LinkedIn offers, such as:
Private mode — investigate candidates' profiles while your profile is kept private so you don't get their hopes up unnecessarily.

LinkedIn messages — are a popular tool for contacting and building relationships with potential candidates. LinkedIn messaging establishes authentic candidate experiences that boost interest in your brand and opportunities.

InMail — you can send InMail to any candidate on LinkedIn, passive and active, plus you can track how effective your messages are.

Advanced search filters — help you quickly pick out candidates with the right skills, qualifications and background before making contact.

Candidate suggestions — a nifty feature showing similar candidates to the gems you're already investigating!
Attracting talent as a small business isn't always easy, but tapping into the potential of LinkedIn can help you go toe-to-toe with big enterprises to compete for top talent.

Source
#3 – Post jobs from your LinkedIn company page
Your hiring team should be marketing roles across LinkedIn. But the core job post will be on your company page. Here candidates can learn more about other employees and the company culture, hopefully enticing them to get on board quicker.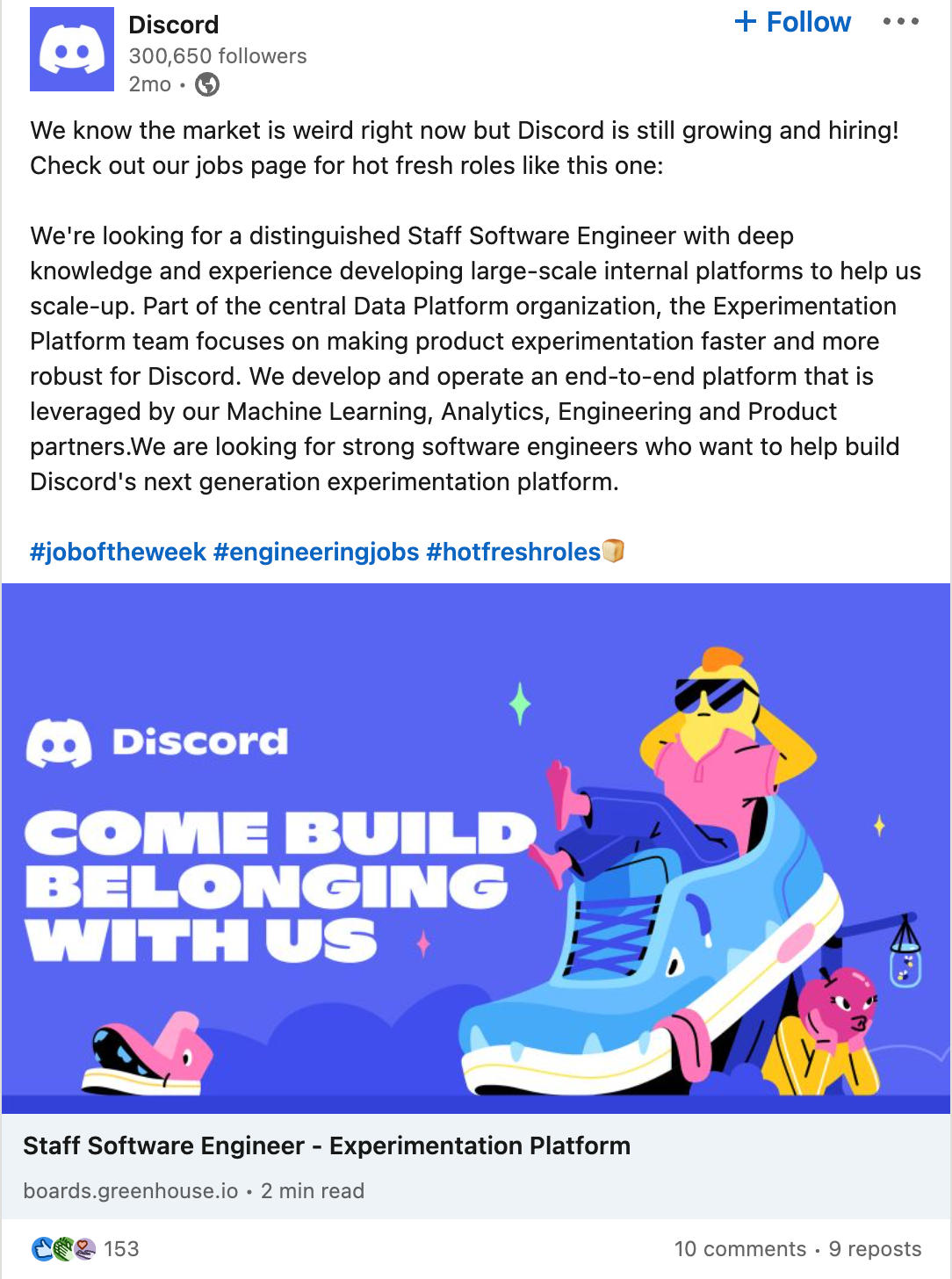 #4 – Use relevant hashtags for your job description
Be sure to include one or two hashtags (maximum) to connect with the right groups and expand the reach of your recruiting efforts.
The best practice is to include one general hashtag (like #recruiting, #hiring, #hiringnow, #wearehiring), plus one role-specific hashtag. For example, #recruiting #webdev #b2bmarketing.
#5 – Increase the reach with a paid job posting
If you're not getting enough applicants or the right caliber applicants, you can always use paid job posts to boost your job ad reach. And you can stick to your advertising budget with their pay-per-click model, for instance.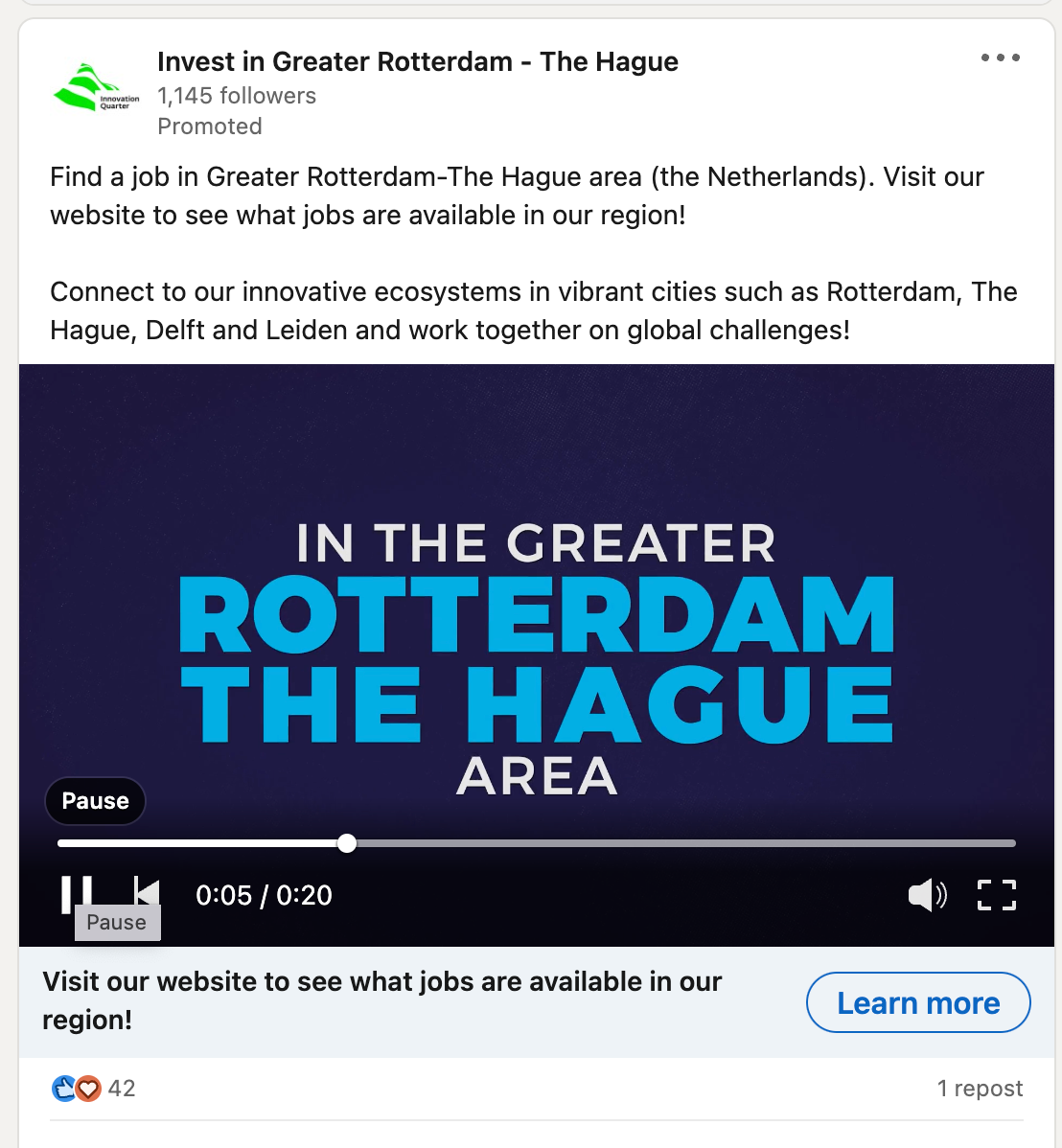 Need to know exactly how LinkedIn calculates it's pay-per-click pricing? You can learn more in their handy FAQ.
#6 – Boost the reach with internal resources
Encourage employee advocacy by getting your current employees to share job openings on their own LinkedIn profiles. The main promoter (and the person that should be leading by example) is the hiring manager. But it shouldn't stop there. Get everyone involved in sharing job opportunities.
You can always set up an incentive or reward program, such as an employee referral program, to entice employees to share job postings and help you find great talent faster.
If you're keen to learn more about best practices for creating an employee referral program, here's a guide to help you get started.
#7 – Keep your LinkedIn company page and employer brand up to date
It's important to keep your company profile up to date, as it includes your employer brand and paints a picture of your company's values and culture. By including a career and product page, you can provide more context for prospective employees.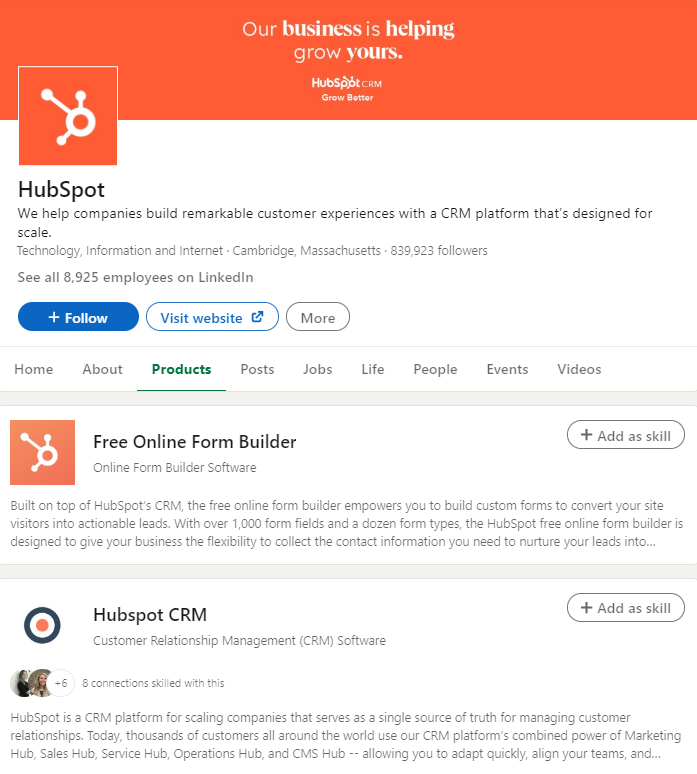 #8 – Target passive candidates, too
Don't forget to use inbound and outbound recruiting tactics, including attracting passive candidates to your talent pool. They may not be actively job hunting or available immediately, but if they've got a superhero skillset and the right job title, they're probably worth the wait.
#9 – Use headhunting for specialized roles
You should also widen the net with headhunting or reaching out directly to candidates. You can review their profiles and skills (ideally using LinkedIn private mode, you stalker you!) and reach out to them if they look promising. It's possible they may not have seen your job posting and could potentially be a really great fit for the role.
#10 – Join relevant LinkedIn Groups
Another way to maximize the reach of your candidate search is by joining relevant LinkedIn Groups, such as the Content Marketing Institute or the University of Boston alumni, to post jobs.
Tip: You'll need to interact and provide something helpful to the group, too, rather than using them as a final desperate ploy to find the perfect candidate! 😉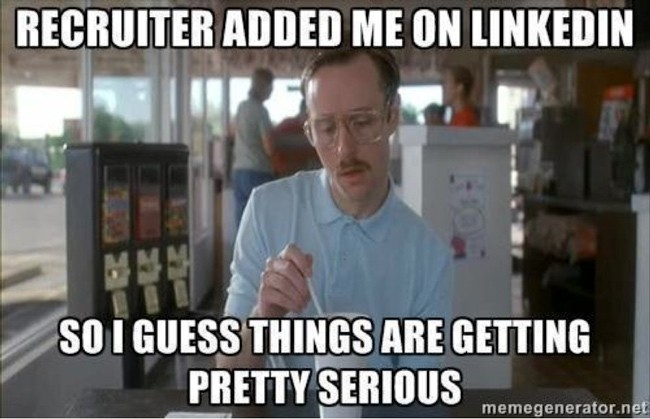 How Toggl Hire can help screen potential candidates even if you headhunted them on LinkedIn
LinkedIn is one tool hiring teams use in their recruiting process. But it is not the only platform you need for a successful talent strategy. You need to assess whether qualified candidates actually have the skills listed on their CVs.
But what if you've proactively approached a candidate? Then you can't really ask them to apply via a skills assessment. So how do skills tests fit into a LinkedIn-first hiring process? Oh, they do! Use structured interviews to shortlist great candidates, then give them laser-focused homework assignments to get proof of competence.
Homework assignments require potential employees to put their skills into action. And it's a surefire way to highlight the best candidates. Plus, if it's a key role, you can use a paid trial project to gain in-depth insight into their capabilities.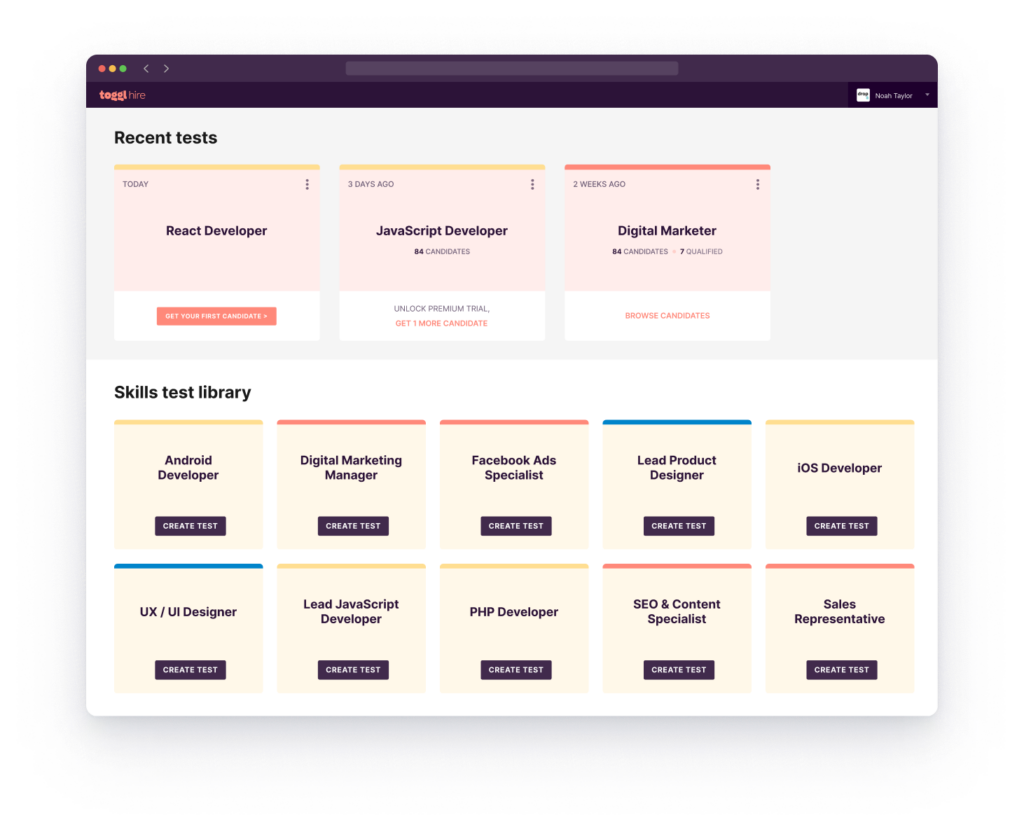 Gone are the days of basing a candidate's likelihood of long-term success on a good interview alone. They could still be a poor performer. Yes, their CV also adds context about their skills and experience, but how often have braggy CVs misled you?
Help your organization source top candidates by leveraging LinkedIn's vast professional talent pool and then validate their true potential with Toggl Hires all-in-one skills assessment platform. What a magic (and harmonious) combo for finding top talent!
Juste loves investigating through writing. A copywriter by trade, she spent the last ten years in startups, telling stories and building marketing teams. She works at Toggl Hire and writes about how businesses can recruit really great people.