Recruitment ads that feature a video receive 34% more applications. And a whopping 79% of job candidates say the look and feel of a job posting has influenced their decision to apply.
If that's not a good enough reason to get you interested in recruitment videos, you might be a boomer. 👀
A modern recruiter needs no convincing that recruitment videos should be part of their hiring strategy. A better question is how to make a recruitment video work for your company.
If that's you, we've got a bunch of recruitment video ideas for you!
In this article, we will:
Define the meaning of the recruitment video
Discuss how and where a recruiting video fits in the hiring strategy
Review the benefits of recruitment videos
And show you examples of really compelling company recruitment videos
And… action!
What is a recruitment video?
A recruitment video is an ad-style video for raising awareness about your company and enticing quality candidates to come inbound. A recruitment video can showcase your company's culture, values, open job opportunities, or employee benefits to prospective job candidates, aiming to create a stronger emotional connection and make your employer brand stand out.
They are generally used before the hiring process is initiated – at the top of the recruitment funnel.
Prospective candidates can get a better understanding of what the company does, how it operates, the perks it has for employees, and the company culture.
Think of it as a smart way to market your organization and employer brand, planting the idea of working for your organization into the minds of future candidates.
Recruitment videos can also be used to maximize hiring times. Instead of repeating information about the inner workings of the organization, hiring managers can record and reuse a single video.
What else is considered to be under video recruiting?
We've touched on the broad idea and usage of recruitment videos, but their focus can be further refined, and the audience narrowed down.
A hiring video as a job trailer
In fact, many organizations use recruitment videos as a marketing tool for promoting individual positions.
For example, if you were hiring for a C developer, you could make a recruitment video specifically for your target audience. Showcasing your working environment, talking about your tech stack, and featuring other developers on the team can paint a much more realistic (and enticing) picture of what it's like being a software developer at your firm.
Connecting with target candidates takes more than copy-pasting a job description to a job board. A hiring video can achieve what a wall of text will never deliver – genuine engagement!
Asynchronous recruiting videos
Pre-recorded video interviews are designed to replace the tedious phone screening interviews and support asynchronous hiring practices, and they also fall under the video recruiting category.
A recruiter or hiring manager would record an intro video introducing the company, the role and its requirements. Then, they'd select up to three relevant screening questions and distribute the invite to dozens of candidates simultaneously.
As video answers start pouring in, hiring managers can review them at their own convenience and decide who to move forward.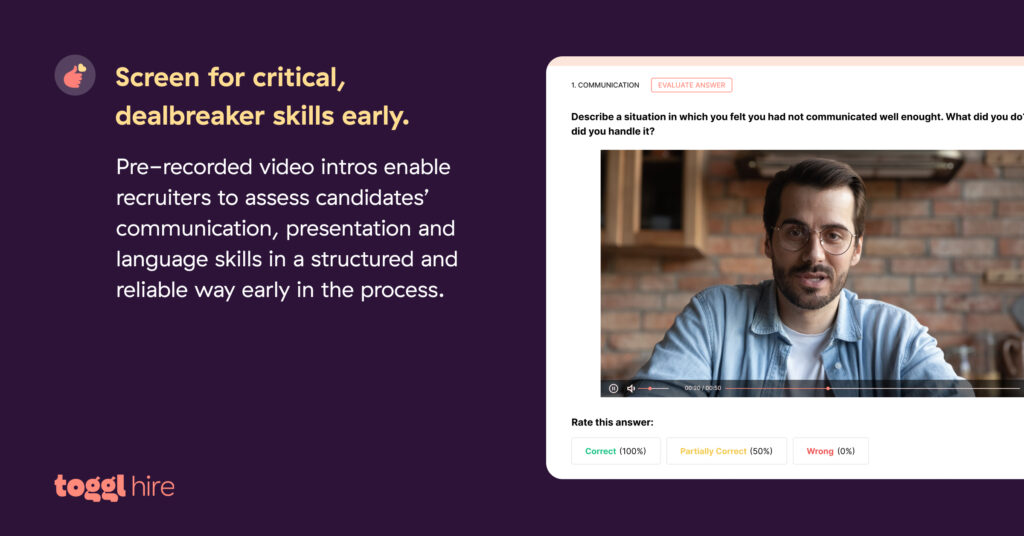 While they're not accessible publicly, this type of recruitment video will have a significant impact on the best candidates: you're setting the tone, showcasing your communication style and bringing an innovative twist into your hiring process.
How are recruitment videos used to attract candidates?
Videos are flashier and more engaging than traditional text-based job postings. With the right editing, your organization can look like nirvana to potential candidates, giving you a leg-up on the competition.
They can showcase real employees and the workplace and demonstrate authenticity during the pre-hiring process.
Instead of using a social media post that's just text, stand out from the crowd with a dedicated video that captures your audience's attention.
The benefits of recruitment videos include:
Unlocking more job posting views
Attracting more talent
Ensuring cultural fit
Boosting employer brand
Saving time and money on sourcing
Streamlining the hiring process
Enhancing candidate experience
Maximizing recruitment efforts for the long-term
Already bought into the idea of making a recruiting video?
Let's look at the creative formats a company video might assume!
10 Tips and Ideas for creating a great recruitment video
If you don't how to start creating a recruitment video for potential candidates, we've got you covered. Here are a few tips and ideas to help you create the best recruitment videos.
#1 – Define what a good recruitment video means to you
The first step is to consider what your company wants to show off in the video.
Do you want high-production video content with the perfect lighting and sound or something a bit more rugged and natural?
Put some extra thought into your video format. It could make or break when looking for the best talent. In particular, you should consider:
Creative video script vs. Real-life setting
High production vs. Social media style
Short snippets vs. Longer storyline
In-house production vs. Hiring a video agency
Evergreen content vs. Specific promotional campaign
For example, McDonald's Canada created a recruitment video with country singer Robby Johnson. He used to work at the fast-food company and spoke about how it helped him to grow as a person.
You don't need to hire a full video production team. Just set your phone to landscape mode, line up a few staff talks, and make sure the sound and lighting are acceptable.
#2 – Showcase the company culture with team videos
One of the most common company video use cases is to show off how the various teams in the company work together, either at offsite events or at the office.
No one needs to prepare a video script because you can capture organic collaboration to showcase in your own recruiting video. And it's easier to communicate the organization's company values instead of writing a blog post.
#3 – Experiment with video job descriptions
Interviews are draining. Chatting to new people for hours on end is a timely exercise, and you won't be able to give every candidate your full attention.
Ask the department heads to pre-record intro messages for candidates about the role, team, the company, and the expectations for the role. It's an easy way to generate recruiting content and expand on the job description without having to schedule a copious amount of Zoom calls.
#3.1 – Video interview questions for candidates
As one of our practical tips: recruitment videos aren't just about the organization, either. They are an excellent way to pre-interview some of the top candidates and wade through a mountain of applications.
Set out a few questions for candidates and ask them to film their answers. The option to re-record should put the applicant at ease while giving you valuable insight into their knowledge and experience at the early stages of recruitment.
#4 – Introduce the company's history, values, and vision
This may come as a surprise, but job seekers want to know the history of your organization. Who are the founders, why was the company founded, and why are you hiring new employees?
Have a few different executives and the CEO take part in the video. The more easy-to-digest information you can include, the higher the chance potential candidates will think the company sounds interesting.
This can be created as a general video that is embedded into your website's careers page, constantly shared across social media channels, and repurposed in several blog posts.
#5 – Share behind-the-scenes videos of company events
It takes a lot of work to prepare events for your staff. So, why not film the process, chat with some of the existing staff involved in the process, and put together a montage?
It's great to promote the company as a positive and always-evolving entity, but a behind-the-scenes look will help candidates better understand how operations are handled.
Remember, your own recruitment video needs to inspire you before it can inspire others.
#6 – Let the true culture shine through employee testimonials
Your staff are your greatest assets and one of the best marketing tools. Their glowing testimonials can make or break your recruitment video.
An excellent example of an effective recruitment video is the "Google interns' first week." The interns and employees who star in the video rave about the office culture and working environment at Google.
Honestly, it gives better insight into the organization than any company review sites. And, the staff are passionate – in other words, the people sound interesting.
#7 – Use video to share recruitment advice and boost long-term talent acquisition strategy
This may sound a little weird at first, but hear us out. Creating videos about how applicants can nail an interview at your company is a sound way to build trust with them.
You've not giving away your secrets (because there aren't any!). You're making sure that only ideal candidates apply and don't waste the hiring manager's time.
#8 – Stand out with a funny recruitment video
Recruitment videos don't need to be boring, stuffy, or… corporate. Inject some personality into the video and let the company's personality shine through.
An excellent example is Kwalee, a British video game publisher and developer, that uses its 'meet the team' video to show viewers around the office while the staff play out small skits. It's a great company culture video.
Or another one from Duolingo:
#9 – Bust myths by explaining your hiring process
One of the most common questions hiring managers will receive is, "how does your hiring process work?" Put it in a video.
We've already said it, but interviews are time-consuming, and answering the same question over and over is a waste of your HR department's time. Instead, craft a short recruitment video that outlines the hiring process.
This can be sent to all applicants as well as embedded in the hiring dashboard for easy reference.
#10 – Leverage department-focused recruitment videos to attract the right candidates
Another time-saving measure, and one that can help you when targeting candidates, is to create a recruitment video for each department.
Film a video for IT, sales, marketing, HR, and every other department that your company has. Ask some of the employees to demonstrate their day-to-day duties while narrating the recruitment video.
Wrapping up: Why is video important to employer branding?
Candidates always want to know more about the company they might work for. And it's important to not only sell your product or service but sell your business as the perfect place to work.
They'll ask:
What is this company?
Does the company care about its employees?
Does the company have a concrete growth plan?
How does the company encourage employee growth?
What benefits does the company offer?
How stable is the business model?
What is the staff turnover?
At what growth stage is the business?
All of these questions can be answered in an employer branding video (as an upside, these usually gain a decent amount of traction on social media channels).
We hope these recruitment video tips will help you create the best videos to attract top talent. And when you feel ready to set up your own video, check out our Video Intros capability!
---
Juste loves investigating through writing. A copywriter by trade, she spent the last ten years in startups, telling stories and building marketing teams. She works at Toggl Hire and writes about how businesses can recruit really great people.