If someone were to ask you about the kind of car you'd like to drive or a designer brand you'd like to wear, you'd probably have a pretty good idea on your ideal choice. But what about the kind of company you'd like to work for? Just like brands dictate our retain purchase choices, the employer brand dictates what kind of candidates want to work for you.
Instead of reading reviews online, job candidates are looking into what their potential employers have to offer and what makes a company stand out. As a secret weapon for hiring better quality candidates, innovative companies are dedicating time and resources to building a great employer branding strategy.
In this post, find out what employer branding is, why it's significant, what an employer proposition value is, how to measure an employer brand and how to get started with employer branding.
What is employer branding?
Employer branding is a company's reputation as a place to work, the company as seen from the eyes of an employee and not a customer. It's what makes a company desirable to work for, and its ability to hire and retain great employees.
Does your company have an employer brand? Whether you're actively working on it or not, your company is building an employer brand every day.
An even more important question arises – why does my company need employer branding?
Hiring today is hard. The unemployment rate in developed countries is getting lower by the year, with 3.9% of the entire US population unemployed in 2018. The number of jobs is increasing, while the number of applicants is not keeping up with the pace.
This is especially true for more technical IT roles. For example, there is a predicted 36% growth in application developer roles by 2026, meaning that more than 250,000 new developers will be needed in less than a decade from now – the size of a smaller city.
Hiring is also expensive. Depending on the country, industry, position, and seniority, hiring a new employee will set you back anywhere from $4,000 to $7,000.
Hiring is time-consuming. The average time to fill a role in the United States is 43 days.
You need to keep great employees. According to various estimates, losing a middle manager will set you back up to 100% of their annual salary.
All of these issues can be solved with great employer branding.
Who is in charge of employer branding?
This depends entirely on the size of the company and available manpower. Larger companies can delegate this task to teams such as HR, marketing and communication, each contributing to how a company is perceived by potential applicants.
In smaller companies and startups, the CEO is the evangelist of their own brand, and they're also in charge of employer branding.
Ultimately, the driving force behind your company's employer branding is its employees. Their experiences, testimonials, and reviews are what makes for a truly great employer brand. While management and HR teams can spread the words about an excellent experience at work, it needs to hail directly from the employees.
The ROI of a great employer brand
Besides attracting better talent, having excellent employer branding can bring tangible results and an exceptional return on investment. For example, the famous mobile phone giant Ericsson implemented a range of employer branding activities in 2016. Some of these included a complete overhaul of their careers site, an improved social media strategy, and employee advocacy initiatives. In less than a year, they were able to increase the number of referral hires from 13% to 35%. Moreover, they decreased their cost per hire by a whopping 70%.
Another tech company, GE, launched a series of TV commercials to appeal to millennials and fill more developer roles. In an unlikely success scenario, the campaign drew 66% more applicants to GE's career site.
Case in point: Google
It's no secret that Google has a reputation of a great place to work. This has very little to do with monetary compensation or the bragging rights of saying you work for Google. The company got the title of a desirable employer by using some very clever employer branding tactics.
For example, employees at Google have free meals and snacks in the office, with beer and wine served on Fridays. You can bring in your pet to work, and many of Google's offices have onsite gyms. Besides a generous amount of vacation days, there's one more thing – Google gives the partner of a deceased employee 50% of their salary, for the next 10 years.
Now you may be saying, it's easy for Google to offer these perks, being the search engine giant it is and having a virtually unlimited budget.
Dear Toggl Hire, how do I work on my employer branding in a five-person startup with a shoestring budget?
We'll get to that in a minute, because we've been there ourselves. Let's discuss another important concept first.
What is the Employer Value Proposition and how to measure it?
No matter what kind of industry you're in, your company should have a USP – unique selling point. This is the element that will make your customers choose you instead of your competitors, the value you bring to the market.
Similarly, employer value proposition or EVP is the thing that makes you unique in the eyes of potential employees. In other words, it's an established set of values that make you a desirable employer in the eyes of potential job applicants.
According to Gartner, there are five elements of an EVP:
Opportunity. How many opportunities are there for candidates to grow and advance their career within your organization?
People. How good are the managers, co-workers, team leaders and what is the general atmosphere between co-workers?
Organization. How well does your company as a whole rank in the market and with your product/service?
Work. How fulfilling and challenging are the work duties for the position? What kind of work-life balance does the company offer?
Rewards. What are the financial incentives for the position? Does the company have special funds for health insurance, dental and retirement? How many vacation and paid days off are there?
It's no accident that rewards made the final place in the list. First off, note that for many applicants, salary is not the strongest or the only motivator. In fact, an interesting research by Korn Ferry states that the number one reason people change jobs in 2018 is – boredom.
As it turns out, the job markets in the US and developed economies are booming, with 2 million extra jobs added just in 2017. This means that employees are the ones who are taking the shots, and money is not what makes a company attractive in their eyes. Here are the most common reasons why employees change jobs in 2018:
33% – bored and need a new challenge
24% – poor culture fit
21% – losing a job or expecting to lose it
19% – want a higher salary
3% – company politics
In other words, just offering more money could do the trick, but not with the majority of employees. Offering a more interesting work environment and a great culture, on the other hand, will yield much better long-term results.
Note: especially with positions such as developers, with more demand than supply, employers often try to entice candidates with big paychecks. In reality, what makes a difference are perks such as flexible and remote working and unlimited vacation days.
How to measure an employer brand
How desirable is your company to work for? Here's an alternative question – how long is a piece of string?
The answer to both questions is – it depends on many factors. But unlike a string, you cannot exactly measure an employer brand. There is no effective measurement to use and say that company X has a higher employer brand than company Y.
However, there are other metrics you can track and indirectly determine your employer brand.
The number of candidates applied. Perhaps the easiest way to measure an employer brand is simply how many applicants it attracts with its job ad. For reference, the average number of candidates per opening is 250, according to ERE.
The quality of candidates applied. Granted, here's another metric you cannot directly measure. If your opening attracts 1000 applicants but only 10 of them are qualified, that means that only 1% of candidates are a good fit. You can measure this by the number of candidates called in for an interview.
As ERE's statistics show, 4 to 6 out of 250 applicants will be called in for an interview. This means that you should aim to have enough quality candidates so that you can call more than 2% of them in for an interview.
Time spent in the company. If your company has great employer branding, it's worth staying in. Fortunately, this metric is quite easy to calculate – simply take the average time your employees have spent at your company and see how you stack up. According to research by the Bureau of Labor statistics from 2018, the average time spent at one job for US workers is 4.3 years.
Cost per hire. One of the most essential recruiting metrics, this is the amount of money spent on making each new hire. The better the employer brand, the less money needs to be spent on bringing on new hires. According to SHRM's 2017 report, this amount was $4,425.
Surveys. What better way to find out about your employer branding than asking your own employees? One of the most cost-effective ways is to create a survey and (anonymously) ask your employees how they feel about their company's brand. You can use Sparkbay survey for this purpose.
Candidate experience surveys. Do you want to ensure you get more applicants as time goes by? Improving your employer branding is playing the long game, while improving the candidate experience is much easier. According to research, 60% of applicants have had poor candidate experience (a point of pride for us then that 90% of our candidates loved the Toggl Hire experience!), so this is an area that needs proper attention. Find out what candidates think of your hiring process in an anonymous survey – the data you gather will be precious for new openings.
Listen to social media. What are your customers and fans commenting on your social media channels? Pay attention to your posts and their comments, especially those around hiring for new positions. Potential candidates can and will pick up any negative comments.
Reviews on relevant websites. While anyone can leave a comment on social media, reviews from HR-related websites carry more weight.
Take a look at your profiles on Glassdoor, Indeed, Vault and other websites and see what previous employees have to say about working for you, as candidates are highly likely to browse your profile before applying.
Building your employer brand
Given how massive of a task it is, you're probably struggling to find a place to start with your employer branding. Here are some things you should do immediately to get tangible results.
Liven up your social media. Even though organic reach is getting worse every year on platforms such as Facebook, it's imperative to be present. With about half of the total world population on social media today, it's very likely that tons of great applicants are following your company.
Bear in mind that one status update in two weeks and one tweet per day are the social media equivalent of tumbleweed rolling by. Having no social media presence signals to the candidate that the company either has nothing to post about or doesn't have a social media strategy, both of which are red flags for anyone looking for a great place to work.
Use the platforms to show off your workplace – and the people behind it. Show off a project, an event that you participated in, team building sessions, everyday work situations, anything that would seem interesting to a potential applicant. Crunch some numbers and find the best channels for engagement and start posting.
Handle negative comments and reviews. With increased social media presence come the comments. Unfortunately, not all of them will be words of praise and compliments. The first thing not to do is delete the comment, as the user can go to another channel and express their thoughts. The second thing you shouldn't do is leave negative comments unanswered.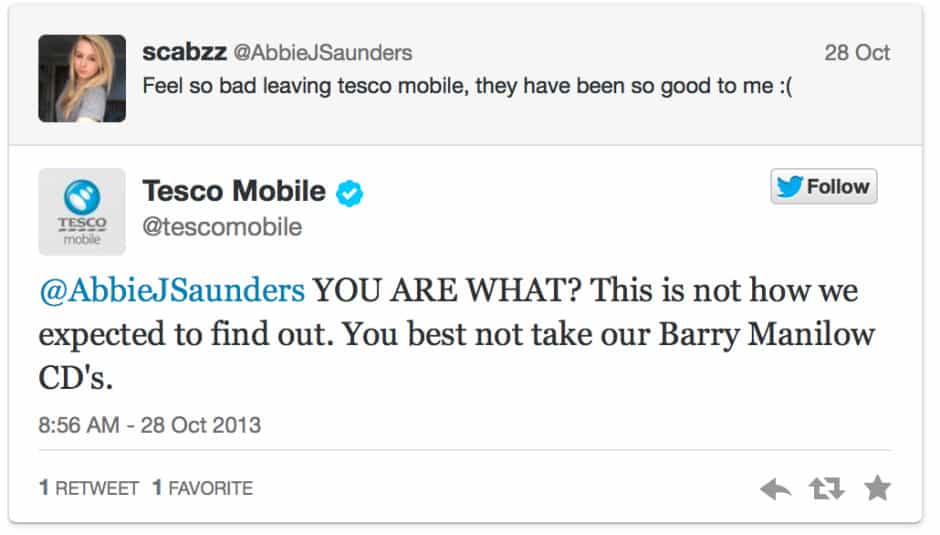 Having a great sense of humor also helps.
If negative comments are left unanswered, this usually reads like a silent agreement to anyone viewing, including candidates. A simple explanation, apology or a few kind words can do wonders in changing the thoughts of readers. Needless to say, attacking a negative comment with more negativity is anything but productive.
Create a great job ad. The first point of contact for applicants with your company is the job ad, so make it count. This doesn't mean that it should be something out of this world – a simple break from the mold will be more than enough. For instance, you can take the ad away from job boards and post them on social media. You'll get more traction, as you can target the ad for very specific audiences.
Share knowledge with the community. If you are very knowledgeable about a certain topic, why not give away some of that knowledge? As long as you're not giving away any information that could benefit your competition, you're showing off your methods, work ethic and standards and above all, saying that you have something to teach others.
Case in point – Ahrefs. Besides having a great product, their blog is filled with pure gold on how to improve your SEO and content marketing, with many examples from their own practice.
They also have an excellent Facebook group, where company employees respond to questions and start discussions – which is yet another hint to take.
Turn employees into brand ambassadors. There are very few things more encouraging for candidates to apply than a current employee speaking well about their employer. When you are communicating your employer value proposition, make sure to include genuine accounts from your employees – the real-world experience is a great motivator for prospective candidates.
Finally, you can create a scholarship in your company's name using a scholarship app. Not only will you do greater good and get tax benefits (in certain countries), but you will also be able to attact new talent through the scholarship's PR effects.
Conclusion
No matter the size of your company and your needs for new talent, all successful companies need to invest time and money in employer branding. As unemployment rates get lower and the number of vacant positions increases, only those companies with a solid employer brand will be able to attract, hire and retain top talent.