According to a New York Times article, about 43% of Americans spend at least some time working remotely. Even if it comes with many benefits, working remotely is not without challenges. Getting all team members on the same page is one of the biggest. Keeping everyone updated, communicating, building transparency and trust – all those are necessary to foster a strong team spirit. That's where a team calendar can help.
What's a team calendar?
A team calendar is a great tool for planning and sharing your team's schedule. It shows what each team member is working on and when.
By showing what everyone is busy with, team calendars can help prevent overbooking. Additionally, they're excellent for keeping teams up to date with important deadlines and milestones. Using a team calendar can also make it easier to keep track of tasks and progress.
How to setup a team calendar in Toggl Plan
Toggl Plan is a pretty flexible online tool that can be used both as a project management tool and as a shared team calendar. Follow the steps below to set up your team calendar.
1. Log into Toggl Plan
To create a team calendar, log into your Toggl Plan account. If you don't have one, you can create one within a few minutes – it's free.
2. Add your team members
Next, click the Options link in the upper right hand corner. Here, select "Users". Click on the "Add user" button to invite your team members to Toggl Plan. Type in their email address and select Permissions settings for each user. To keep things simple, we recommend staying with the default: "View timeline and navigate".
3. Add your team members to your timeline
Just click on the plus button in the lower left hand corner. Next, use the popup to add your team members and click Done when you're ready.
4. Create tasks for your team members
Now, let's add some tasks. To create a task, just click with your mouse on the timeline next to the name of a team member. Type in the name of the task in the popup that appears and click "Add" to save. You can also set a Start and an End date for each task, along with the exact time for those. Task end date can also be set by dragging the task on the timeline to a specific date.
Tip: To save time, you can import tasks in Toggl Plan from Trello or from Github. Just click the lower right hand backlog icon and import. Once the tasks are imported, drag and drop them to assign them – it's that easy.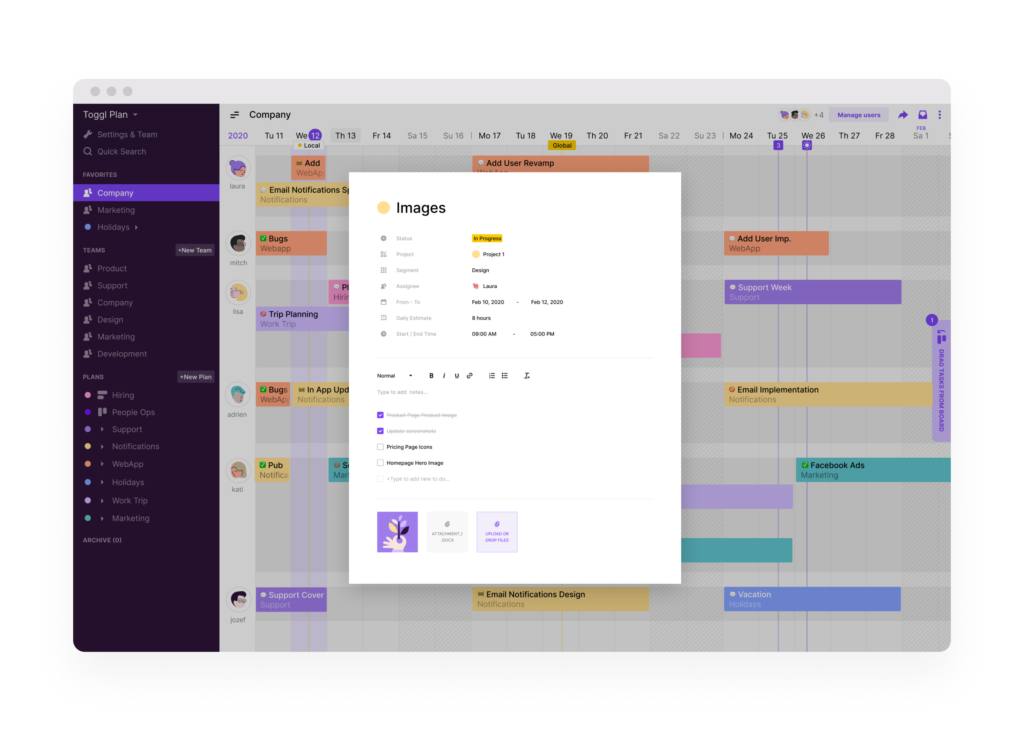 4. Share it with your team
After you've created tasks for all your team members, it's time to share the calendar. To do this, go to Groups in the upper left hand corner. Next, click the "Share" link for the user group you're currently working on. Copy the link and share it with your team via email, instant messaging or Slack.
Important: By default, Toggl Plan generates a user group and a timeline for it. If you're managing multiple teams, we recommend that you create separate user groups for each of them. This way, it's easier to keep track of each team's calendar and schedule.
To create a new group, Click the "Groups" button in the upper left hand corner. Next, "Create a Group", add your team members from the pop-up and "Create". When you want to switch groups and team calendars, click the "Groups" button and select the group you want.
Pro tip: Set availability to prevent overtime
So far, we've shown you how to setup a basic team calendar. If you want to take it a step further, you can include member's availability to prevent overtime. Here is how you can do that.
1. Select availability for team member
Click on the icon that represents a specific team member. A pop-up with the user's details will come up. Here, select the number of working hours from the dropdown and Save.
2. Set daily estimates for tasks
Next, edit tasks to include daily estimates. Click on the task, enter the daily estimate for it and save. You will need to do this for all the tasks that are assigned to your user. If you overbooked one of your team members, Toggl Plan will automatically show you by how much you've exceeded the team member's availability for each day.
5 tips on how to manage a team calendar
1. Designate one person to manage it
Team calendars work best if there is one person responsible for it. This way, it's crystal clear who's in charge of setting schedules, ensuring information is shared and resolving any conflicts that may come up. Also, it prevents potential conflicts between team members.
2. User color codes
Calendars feature visual representations of what needs to be done and when. To make it easier to read, create a color code for your team calendar. In Toggl Plan, for instance, you can customize colors for tasks that are similar or related. This way, when you glance over a calendar, it's easier to notice dependencies.
3. Include holidays
A team calendar should reflect both when team members are at work and when they're not. If a colleague is on vacation, yet he has tasks assigned on the team calendar, the rest of the team might get confused. Also, there may be task dependencies that can impact project delivery and deadlines. To avoid sticky situations like this, include public and personal holidays in your team calendar.
4. Review and adjust according to needs
A team calendar should be a document that helps the team. Team members should constantly review the calendar to make sure that it reflects their needs and that it's actually helpful. If revisions are in order, the person designated to manage the calendar should discuss changes. What's more, he/she should constantly adapt the team calendar according to needs.
5. Double check before making changes
Before making any changes to your team's calendar, double check with the team member in case to make sure it's correct. Also, it's better to ask for permission. This way, you communicate that your intention instead of just presenting team members with the changes.
Now, back to you. Do you know any good tips for managing team calendars? Let us know in the comments below!