If you're feeling frazzled, stressed, and overwhelmed, these life plan apps will help you bring some order to the chaos.
Sometimes life can feel a lot like a juggling act—except you're blindfolded, you have one arm tied behind your back, and the items you're juggling range from a bowling ball to a lightbulb.
Alright, maybe that's a little bit dramatic.
But, the point is this: You have a lot to manage in your day-to-day life, and most of the time it can seem like a feat of superhuman strength just to keep your head above water.
Fortunately, in today's digital-obsessed world, you don't have to go it alone. There are plenty of helpful productivity and project management tools that will transform your frantic pace into something that's a little more orderly and organized.
Which apps are worth the download? When you're already stressed and pressed for time, the last thing you want to do is weed through all of the options yourself.
Have no fear—we've done the legwork for you. Check out these 11 must-have life plan apps that will take at least a little bit of the chaos out of your daily routine.
Life Plan Apps For Managing Your Time
We all only get 24 hours in a day—but, it's up to you whether you're going to use that time effectively or waste it.
If you're struggling to figure out how you can be more efficient with your precious time, look no further than these apps that can help you keep an eye on your time management—without needing to spend a ton of time on manual monitoring.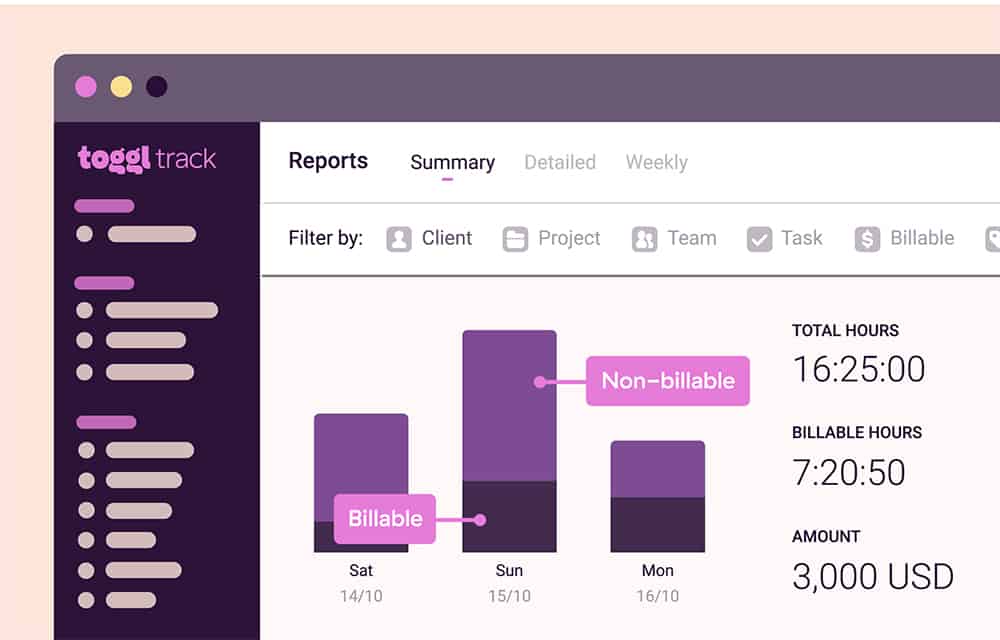 Toggl Track is a robust and powerful time traking application, which allows users to easily manage their team's time and track billable hours. If you want to analyze your overall efficiency (or that of an entire organization) over the long term, it's a no brainer.
The best thing about Toggl Track is that it's incredibly simple and intuitive to use. It works on all of your devices, and you just need to push one button to start your timer—that's it.
When you're ready to kick your efficiency up a notch? Toggl also has reporting that provides all sorts of different looks at how you're using your time—making it that much easier to figure out how you can give your productivity a boost.
What it Costs: Plans start at $9 per user per month, when billed annually.
Are you someone with a particularly hectic schedule? Do you go cross-eyed looking at your normal calendar, just trying to figure out what's happening first?
WeekCal prides itself on its ability to go beyond the limitations of standard calendars and give you a glimpse at what's happening during a given day, week, month, or year.
With things like a drag and drop interface, the flexibility to color code and categorize events, and even the option to copy and paste events into different weeks or months, WeekCal has everything you need to keep your schedule organized—and not miss anything important!
What it Costs: Free
Life Plan Apps For Keeping Important Information Handy
Your grocery list. The combination for the lock you use on your locker at the gym. The picture of the granola bars that your kid actually eats—so you can find the right ones when you're at the store.
There's no shortage of information that you need to reference, and your system of scattered, hard-to-read post-its and random notes in your phone just isn't working for you.
These apps will help you streamline and centralize all of those important tidbits, so you can always find exactly what you're looking for.
Chances are, Evernote isn't totally new to you—it's an app that's been around for over 10 years and has been used by 225 million people worldwide. So, it's hardly a small operation.
But, in case you haven't already taken a dip into the Evernote waters, allow us to familiarize you with all of the ways that this app can make your life a little easier.
Evernote allows you to securely save anything that's important to you in one, easily-accessible place. From photos to documents to lists to notes, you can keep it all organized and categorized inside Evernote.
The app syncs across all of your devices, which means it doesn't matter whether you're logging in from your phone, tablet, or desktop—everything you need is right there at your fingertips.
There are plenty of other features—like the option to collaborate with other people to templates that you can use to make note-taking even simpler—that are worth exploring once you get a little more familiar with how everything works.
What it Costs: Free, with paid plans starting at $7.99 per user per month.
While Evernote does offer opportunities for collaboration, Box Notes is a stand-out notes app when it comes to having numerous people accessing the same scribbles and information.
Box Notes makes it easy for teams to share ideas and collaborate on documents in real-time—every single note is instantly available.
There's live, concurrent editing, which means that all team members can see status updates or why certain changes are being made. Say goodbye to being locked out of a document that someone else is in, or conflicting edits that happen when team members aren't on the same page.
If security is a big concern (which, it should be!), you can rest assured that every single note you create within Box Notes is protected by enterprise-grade security. So, whether it's a confidential meeting summary or the plans for your direct report's surprise party, you don't need to worry about any unwanted eyes accessing that information.
What it Costs: Plans begin at $5 per user per month.
Life Plan Apps For Tackling Your To-Do List
Battling with a to-do list as long as your arm? Feeling defeated and like there's no way you'll ever get through everything that's flowing off that page? Are you convinced that crossing one task off only means three more appear?
We all have those days. Allow these apps to step in and help you become the boss of your ever-growing to-do list—rather than the other way around.
You need to remember to call the dentist. To change a few details of that big presentation. To pick up a birthday cake on the way home from the office. Your brain is literally spinning with all of the random tasks and to-dos you need to take care of.
Todoist claims that it's here to help you get those very things out of your head and down on paper—well, digital paper at least.
Using Todoist is simple (which is likely what makes it one of the most popular to-do list apps available). You just need to click the "+" to create a new task and then add any necessary details in language that makes sense to you.
From there, you can add that task to a specific project (for example, maybe you want that to be categorized with "work" tasks or with "home" tasks), assign a deadline, and even select a priority level so you know what needs to be at the top of your list—and what can be pushed to the back burner if necessary.
If you need some collaboration features, Todoist also allows you to assign tasks to other people—whether it's a chore for your kids or an important reminder for a colleague.
What it Costs: Free, with paid plans starting at $29 per year.
Looking for something similar? Well, look no further than Wunderlist.
With Wunderlist, you'll find a lot of the same functionality you have with Todoist—including the option to categorize tasks, collaborate with others, and set due dates and reminders for things you can't overlook.
Like Todoist, Wunderlist also syncs across all of your devices, so that you can always keep track of what you need.
One great feature that's sure to come in handy? You can forward emails to Wunderlist to turn those messages into tasks and actions. You can also save anything from the web directly to your Wunderlist.
What it Costs: Free
Life Plan Apps For Taming Your Inbox
Do your emails haunt your dreams? Do you feel like your inbox rules your life, despite how you attempt to take control?
These apps exist to help you sort through the tangled mess of your emails and setup a system that makes things a little easier moving forward. Who knows—you might finally attain that mythical "inbox zero" that everybody keeps talking about.
I'm willing to bet that a large percentage of the emails you get on a daily basis are things you don't actually need. If you're sick of all of that junk email clogging up your inbox, Unroll.me is about to be your new best friend.
This app identifies all of your subscription emails and then pulls them together in a neat list for you. From there, you can quickly subscribe to whatever ones you no longer want to receive—with just one click.
No more opening dozens of emails just to find the "unsubscribe" link. Unroll.me takes all of the pain out of the process.
What it Costs: Free
Do you work in a position where you constantly need to pop back into other people's inboxes in order to follow up on something important?
We all know it can be challenging to keep track of when it's an appropriate time to check in, which is exactly why FollowUpThen exists.
Using this tool, you can set automatic follow-up reminders for yourself—simply by plugging in an address in the "Bcc," "Cc," or "To" fields when composing an email.
If you want to be reminded to follow up on something, you simply type your desired time frame @followupthen.com. For example, you could type nextthursday@followupthen.com or everymonday@followupthen.com.
Where you place that address when composing your message impacts how you'll be reminded. As Lindsay Kolowich explains in an article for Hubspot:
Bcc:

You'll get a follow-up regarding the email (without bothering the recipient).

Cc:

The tool will schedule a reminder for you and the recipient.

To:

The tool will send an email to your future self.
While it might take a little getting used to, it's a convenient and easy way not to lose track of any of those important follow-up messages you need to send.
What it Costs: Free, with paid plans starting at $2 per month.
If you're somebody who treats your inbox like your to-do list, you're sure to love Sortd—which will prevent you from losing or forgetting about important messages that appear "below the fold" in your inbox.
You use Sortd directly within Gmail. Rather than scrolling through seemingly endless messages in your inbox, Sortd allows you to categorize those messages into various side-by-side columns—so you can see everything at one glance.
You can customize the columns to exactly what you need. Sortd also offers email tracking, so you can tell when your messages are actually read.
What it Costs: Free, with paid plans starting at $6 per user per month.
For Maintaining Your Reading List
You're on the train for your morning commute, and you stumble upon something that you want to remember to read or check out later.
Maybe you screenshot it. Or, perhaps you just make a mental note to go back to that when you have a little more free time. Either way, what are the chances that you ever actually read it? Slim to none.
That's where these apps come into play.
Whenever you stumble upon something that you want to view later, put it in your Pocket. You can save articles, videos—really, pretty much anything.
Pocket works with your browser, your email, and over 1,500 different apps. When something is in your Pocket, you can view it on your phone, tablet, or computer—without an internet connection.
Put simply, Pocket means you won't lose track of those things that interest you.
What it Costs: Free, with a premium plan for $44.99 per year.
Similarly to Pocket, Instapaper enables you to save content to be read later on any of your devices.
However, Instapaper provides a newspaper-like reading experience by stripping away a lot of the formatting that can clutter the page and distract you.
You'll find a few other fun features as well—such as the option to highlight and take notes directly on the text or a speed reading tool, which flashes individual words on the screen and helps you power through articles at a much faster rate.
What it Costs: Free, with a premium plan for $2.99 per month or $29.99 per year.
Slay Your Stress With These Apps
Life gets busy, so it's normal to feel a little stressed or overwhelmed from time to time.
But, if that's becoming the norm for you? It's time to let technology step in and take a little off your plate.
These 11 apps are a great place to start. Download one of them, a few of them, or even all of them, and transform your frantic, one-handed juggling act into something that's worthy of a round of applause.
Kat is a freelance writer specializing in career, self-development, and productivity topics. She's passionate about being as efficient and effective as possible—much of which she owes to her 114 words per minute average typing speed. When her fingers aren't flying on the keyboard, she loves to bake, read, hike, or tackle yet another DIY project around her home.