Toggl Track Desktop
Design Workspace
Time Entries
Copy Review
Branding
The Kimchi Foundation
Projects
Copywriting
Lime Surfer Co.
Tuesday, 9 October
7.45 h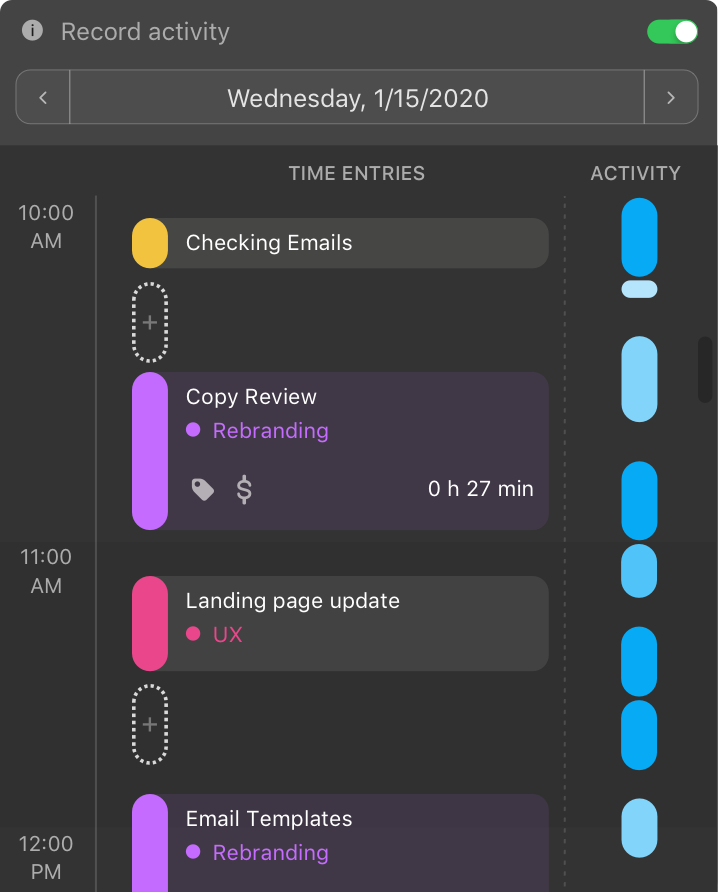 Simple Time Tracking
One-click timer and manual entry mode with autocomplete to start your time entries quickly.
Offline Mode
Lost your internet connection? All data will be saved and synced when you come back online!
Dark Mode
Take it easy on your eyes with soothing greys.
Timeline
Track your background activity for more accurate time entries.
More features to help you track time easily.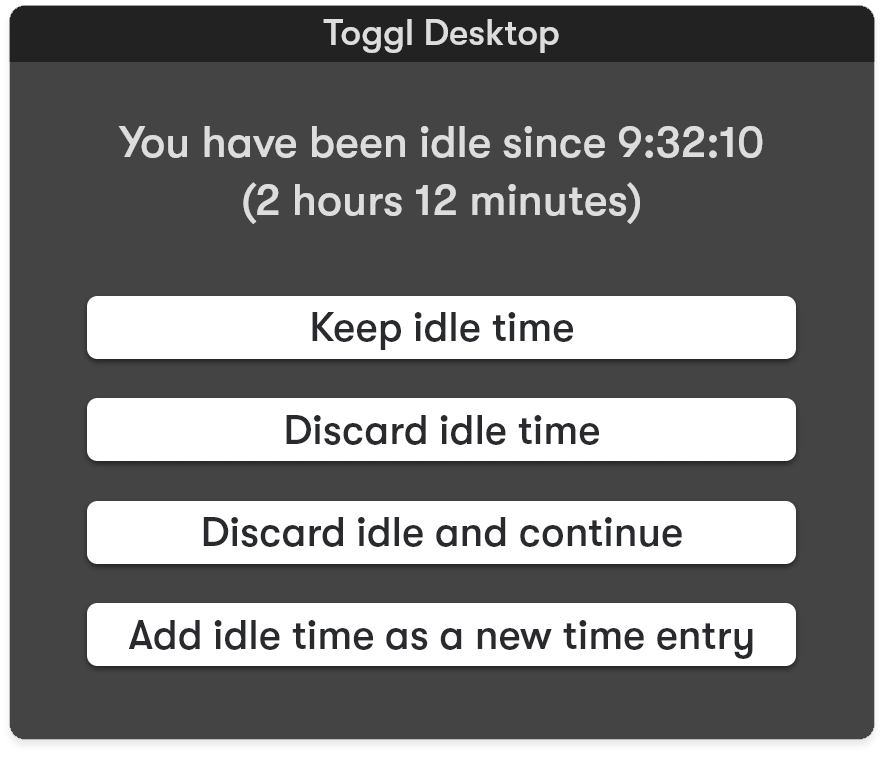 Idle Detection
Forgot to toggl off? Toggl Track Desktop knows when you leave your computer. When you get back, we'll let you choose what to do with the time away.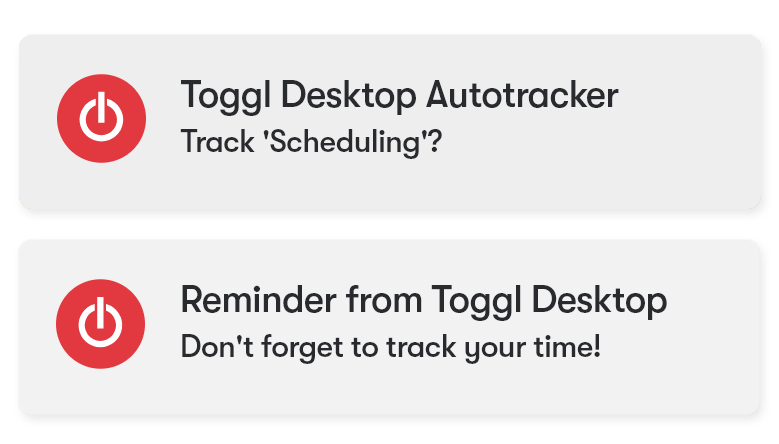 Reminders
Set reminders for specific times or days to start tracking. Remember to turn them off on Sundays and get some deserved rest!

Pomodoro Timer
Set up the pomodoro timer on Toggl Track Desktop and we can nudge you to take your needed breaks at preset time intervals.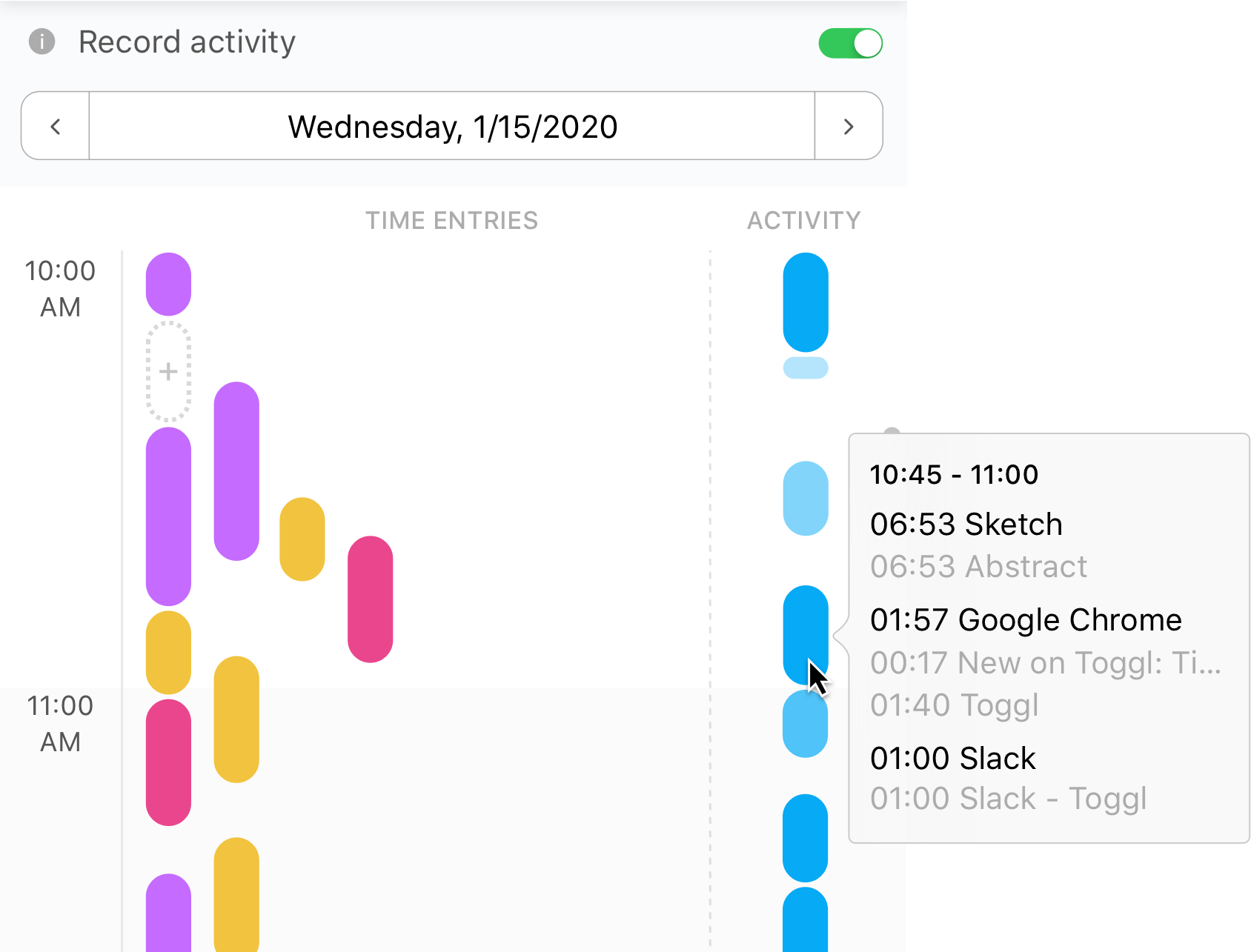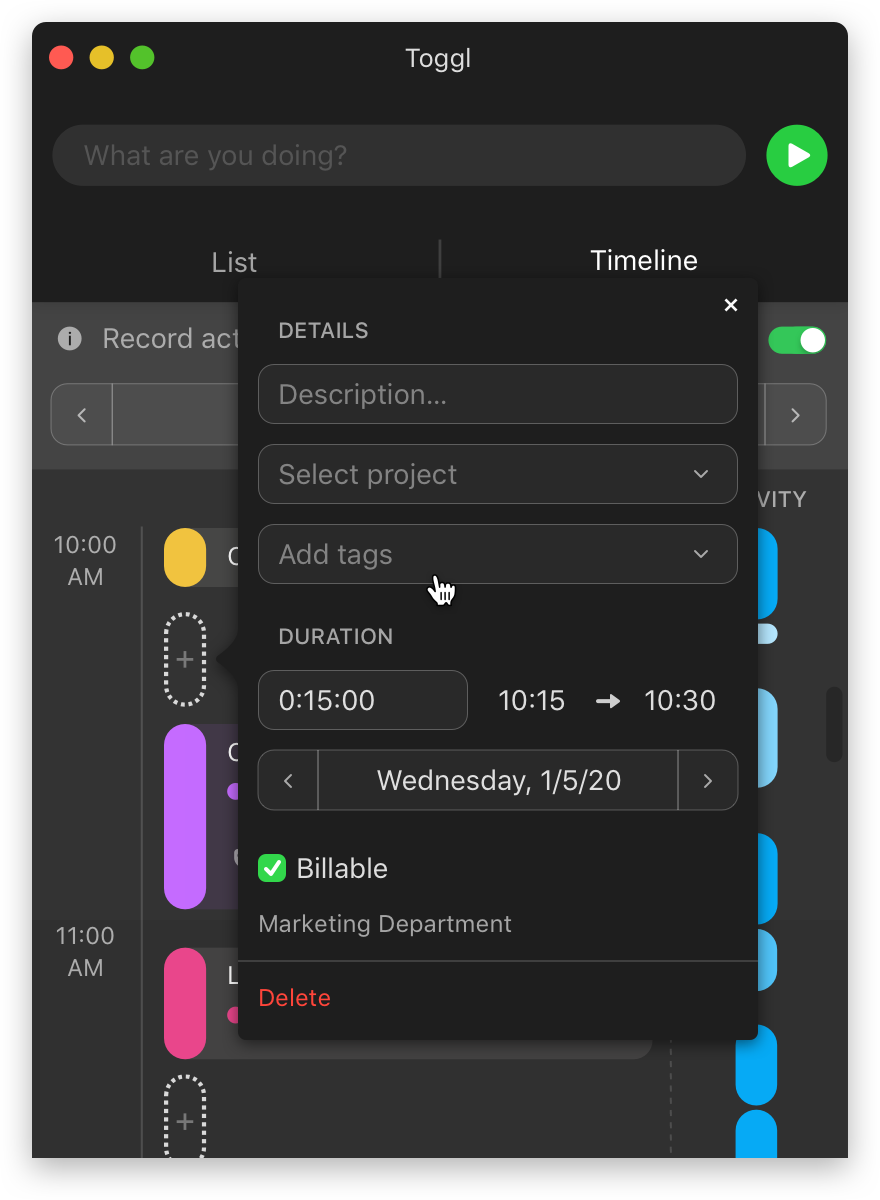 Timeline
Quickly see where your tracking gaps are. The timeline feature records each website or program that you have viewed for more than 10 seconds and shows the data in a vertical side-by-side overview with your current time entries. Available for Mac and Windows.
Looking for more information for your OS?
Details on how to set up the desktop app and feature list specific to each OS.
Testimonials
"Toggl Track has become embedded in my daily routine. I use it on my Linux laptop, Windows desktop, Chrome browser, and Android phone. And the experience across all of these platforms is very intuitive and in near perfect sync. Enabling desktop notifications helps me reduce procrastination whenever I'm not tracking my time."
User Review from Capterra
"My favorite feature is Toggl Track's desktop app which has boosted my team's use of the service to nearly 100%. They can simply click the taskbar icon and a perfectly synced, minimalistic and simple Toggl Track tool is provided to them."
User Review from Capterra
"We use Toggl Track every day to track all of our tasks. The desktop version is really simple with a welcoming UI. It's easy to keep in the corner of your desktop without distracting you from whatever else you're working on."
User Review from GetApp