All right, so you've got a hang on your to-do lists, but if you're running a serious business and wish to grow, you have to do a little better. Time to leave your pen and paper type of deal and start considering putting that calendar to use. Let us tell you, planning and jotting down tasks is great, but you have to take a serious factor into consideration – time.
Ever heard of that saying "Time is of the essence"? Project management is all about proper planning, timing and delivery. You want to have all three on your side if you see yourself and your business growing.
Now that you're feeling at ease with your tasks planning and resource allocation, you have to think time. Time and timeframes are where it's all happening. This is where calendars will come in handy [and you better start prioritizing them].
Let us mention three major types of calendar tools to put your work into the perspective of time and start making those dreams happen.
Excel
You cannot leave excel of this list. Yes, it is the simplest and still the most used calendar tool. It's no wonder. People who use windows, immediately use Office and learn their way around the software. Excel is, among other great things, also widely used as a calendar tool. It's only natural since it uses a great grid (cell) view, which makes it easily turned into a calendar.
There are even calendar templates from which you can choose to make it easy. But, Excel can only do so much. Sure, it's great for private use. But, when it comes to sharing it with your team and using it as a collaboration tool, things will soon turn into a nightmare.
Google Calendar
We must give credits. This is the best known online collaborative calendar tool for teams to work on their project planning.
It's versatile and offers you to create multiple calendars which you can later compare and adjust. It's like a planning tool on the move. Especially because, much like to-do lists you can plan over and rearrange on a daily basis.
You can even organize your calendars by:
Assignees – it is ideal to let your team members plan out their time and tasks on their own. This feature makes a Google Calendar a great tracking tool since you as a manager can overlook each of your team member's workload and plan accordingly.
Projects – this allows you to plan all your major and smaller project separately and start winning the day in and out. You can compare every single project to see where the overlaps are happening and when is the time to rearrange to lessen that workload of your team.
And sure, those features make it a great planning tool for your team – if you merely look to plan out your tasks and projects for planning sake. However, Google Calendar lacks a great feature – you cannot create timelines and see co-dependencies between certain tasks and team members. This will make it hard to predict bottlenecks and possible threats, which will, in the end, blur that visionary mind that wants you to go higher.
Gantt Charts
If you're really looking to go that step further and put yourself at higher speeds, you really need to make yourself familiar with Gantt charts. If you are a person with vision who likes to have a tool that supports it, there's no better calendar than Gantt chart. This one is for managers and teams who like to have a clear overview of how things are and where they are going.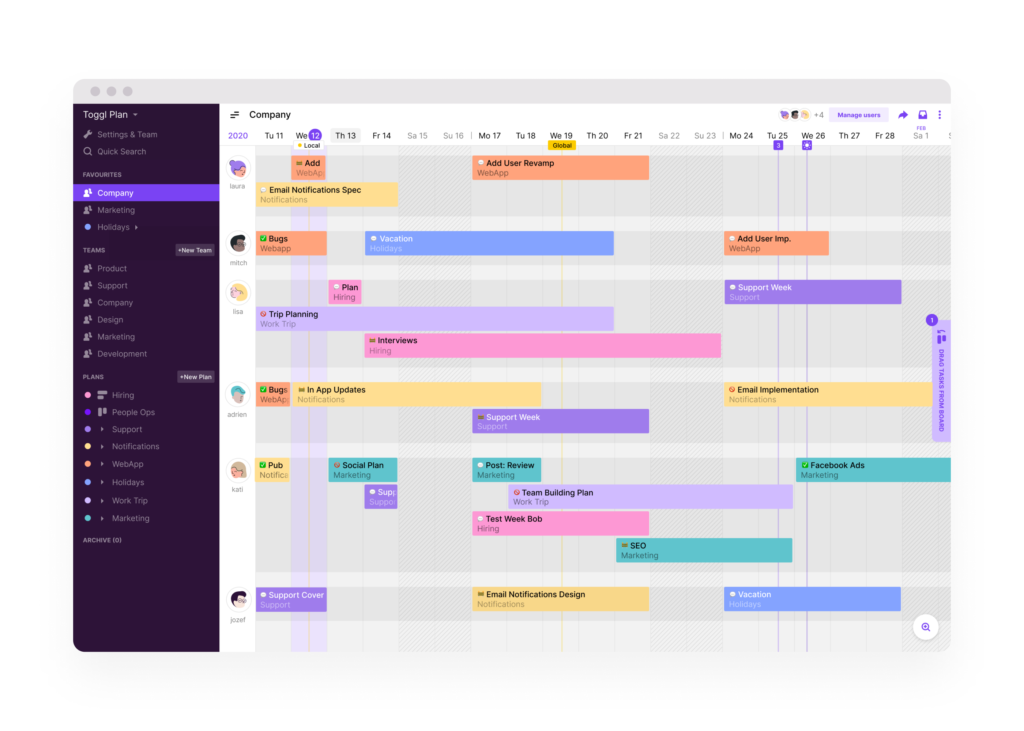 Gantt charts allow you to set milestones and layout your tasks on a timeline. And those milestones are pretty rewarding once you start conquering them one by one. These tools allow you to see task durations, define dependencies and have it all spread out on a timeline – perfect for having a clear understanding of how long, how much you have left before that grand finishing milestone.
Gantt charts remove all the painstaking problems of those un-shareable excel sheets and lack of vision that seems to hurt your business if you're using Google Calendar. Although it may take some time for you and your team to get used to those, but believe us, the returns are far greater. If you haven't tried using Gantt charts already, we strongly advise you to give it a go.
What Are The Benefits Of Prioritizing Your Calendar Tool?
Lifehack has written on tips for a better time management. Those can easily be understood as benefits of using calendar tools. By planning out your tasks on a daily basis you are instantly more prepared for the day ahead, which makes you stick to what is planned.
Defining tasks in a timeline manner makes you more dedicated to fulfilling them and prevents you from dragging them onto the time reserved for other tasks and other important things at hand.
Calendars are great timeboxing supporters and vice versa. If you have a clear overview of the duration of each task you can timebox your way to deliver them in the defined amount of time. Calendars make you more organized and better at delegating your team. As you have a clear overview of tasks and assignees you immediately have a better understanding of which human resources to turn your attention to.
They are awesome advisors for cutting of tasks that stay in the way and overlap with the ones of higher priority.
When it is all said and done, it's highly advisable you start using calendar tools for your project planning and management, as they'll prove more than worthy allies in tackling larger amounts of projects and battle obstacles in due time.
Do you have any preferred calendar tool you want to share with us? If so, please leave us a comment, we'd love to hear from you. Stay awesome and have fun planning!
Josip is an aspiring content marketer and an outreach specialist at PointVisible and freelance writer at Teamweek. Other than marketing, he likes to grab a good book and read about different leadership ideas and styles.