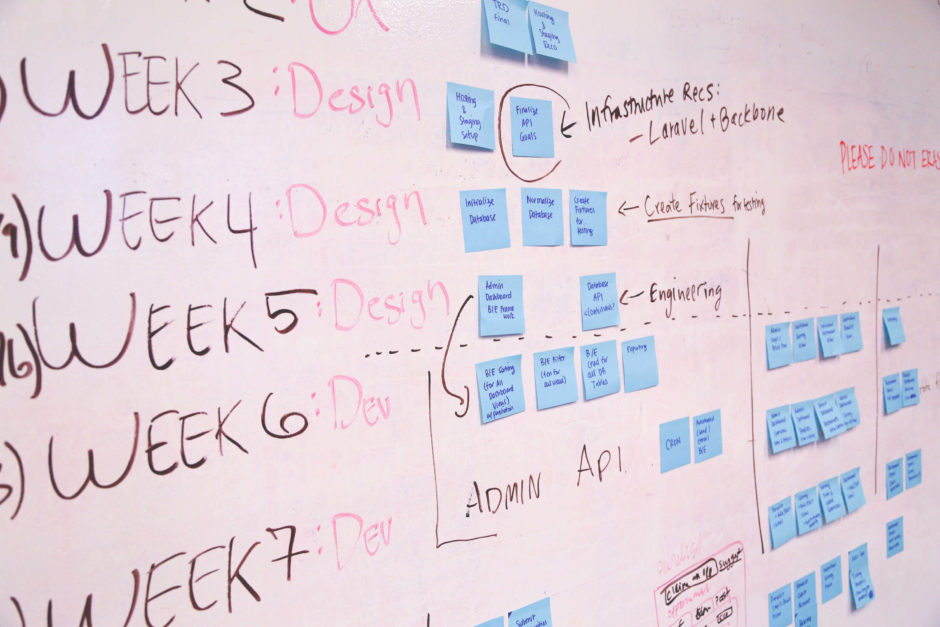 "Failing to plan is like planning to fail" – the old adage goes. Also, success depends on how well you manage your resources. That's why project planning and management software is a must for any business.
Moreover, there are a lot of project management software that provides a free version. With all this, you don't have an excuse for not choosing a software to plan and manage your projects.
Why just 5 free project management software solutions?
There are a LOT of project management solutions out there. Why did we settle just for 5?
Well, there are two reasons for that.
The first is we would really want to be helpful. Second, remember a time when you had a lot of options to choose from and it was harder to make a choice? That happens because when we're faced with too many choices, we become overwhelmed. According to behavioral experiments, the ideal number of options is between 3 (the least) and 6 (the most). That makes 5 the optimal number.
If we had outlined 10, 20 project management tools, it would have been harder for you to pick the best option for you. So we narrowed the list down to the 5 best free project management solutions on the market right now.
Now, check out our picks.
1. Toggl Plan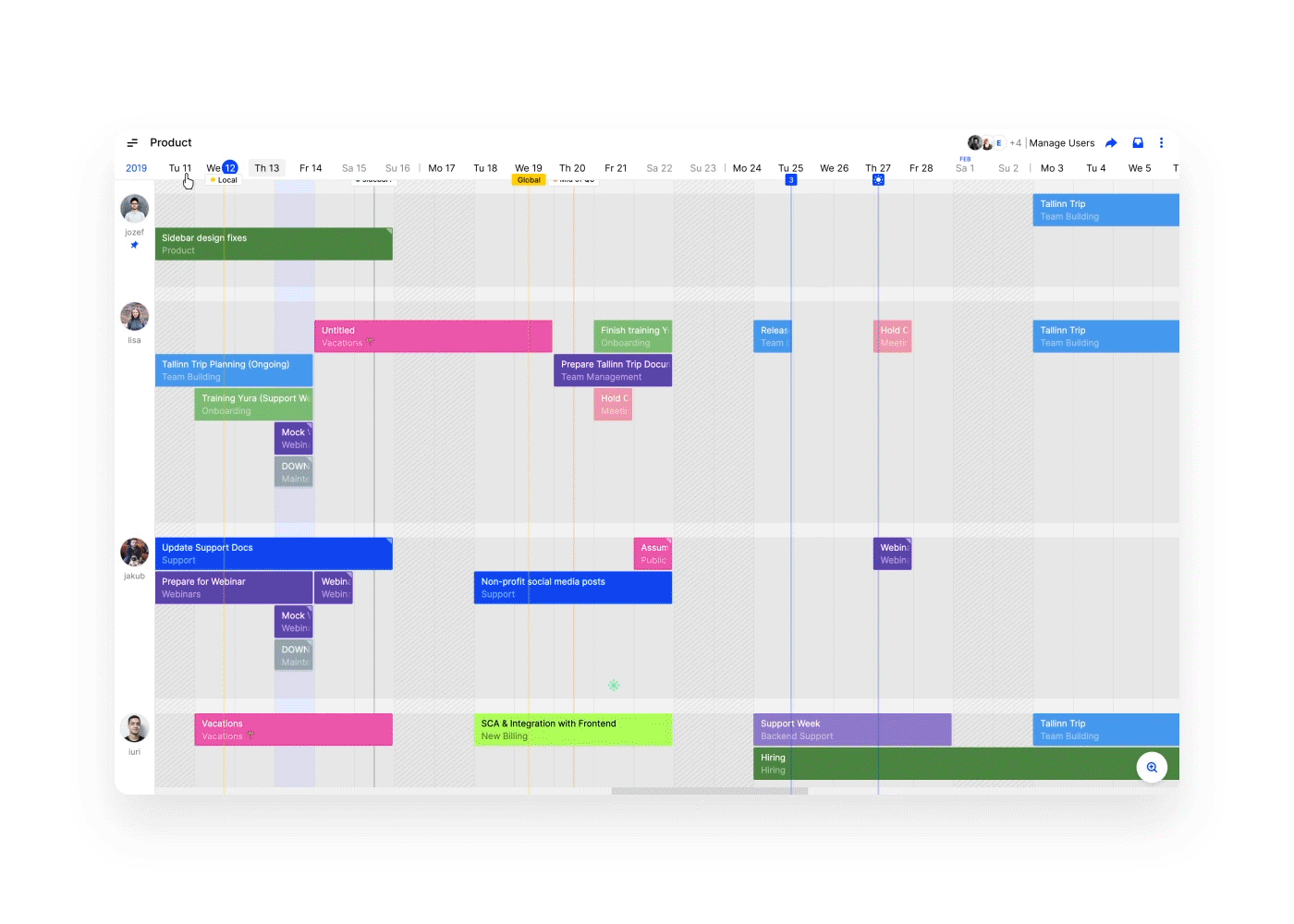 Why choose it: Toggl Plan is a great option for anyone looking for an easy to use free project management software. It's pretty straightforward, you can create projects, tasks and assign them to your team members via drag and drop. Its Gantt-chart visualization allows you to easily keep track of important milestones, deadlines, and projects.
What's more, it's pretty flexible. Toggl Plan can be used both as a project management solution and as resource planning tool. It also comes packaged with integrations with some of the most popular tools: Slack, Google calendar, and more. Toggl Plan also enables team collaboration through shared calendars, task notes and documents. All this makes it great for planning and managing projects.
Free plan includes: An unlimited number of projects with unlimited number of tasks for up to 5 team members.
Upgrade if: You have a team larger than 5 people or you want to take advantage of premium features such as annual view, custom colors, and the ability to assign tasks to multiple people, sign up for a premium plan. After a free 14-day trial, plans start at $8/user per month.
2. Zoho Projects

Why choose it: Zoho Projects is a fairly easy to use free project management software. It allows you to plan projects while outlining important tasks and to keep track of time. Zoho Projects comes with standard reporting that allows you to see how long each project took if you're not going to budget and personal performance.
What's more, it integrates with Slack, Google Apps, and Dropbox, making it easier for you and your team members to collaborate. Additionally, Zoho Projects comes with mobile apps for iOS and Android.
Free plan includes: Zoho Projects' free plan allows you to create one project with multiple users. It also provides document storage for up to 10GB. With the free plan, you can create and manage tasks, share and collaborate over documents and track overall project progress.
Upgrade if: You need to manage more than one project or if you need advanced features such as invoicing and expense tracking, subtask management, custom fields, recurrence or reminders. Premium plans allow you to create up to 20 projects per month and start at $29/month.
3. MeisterTask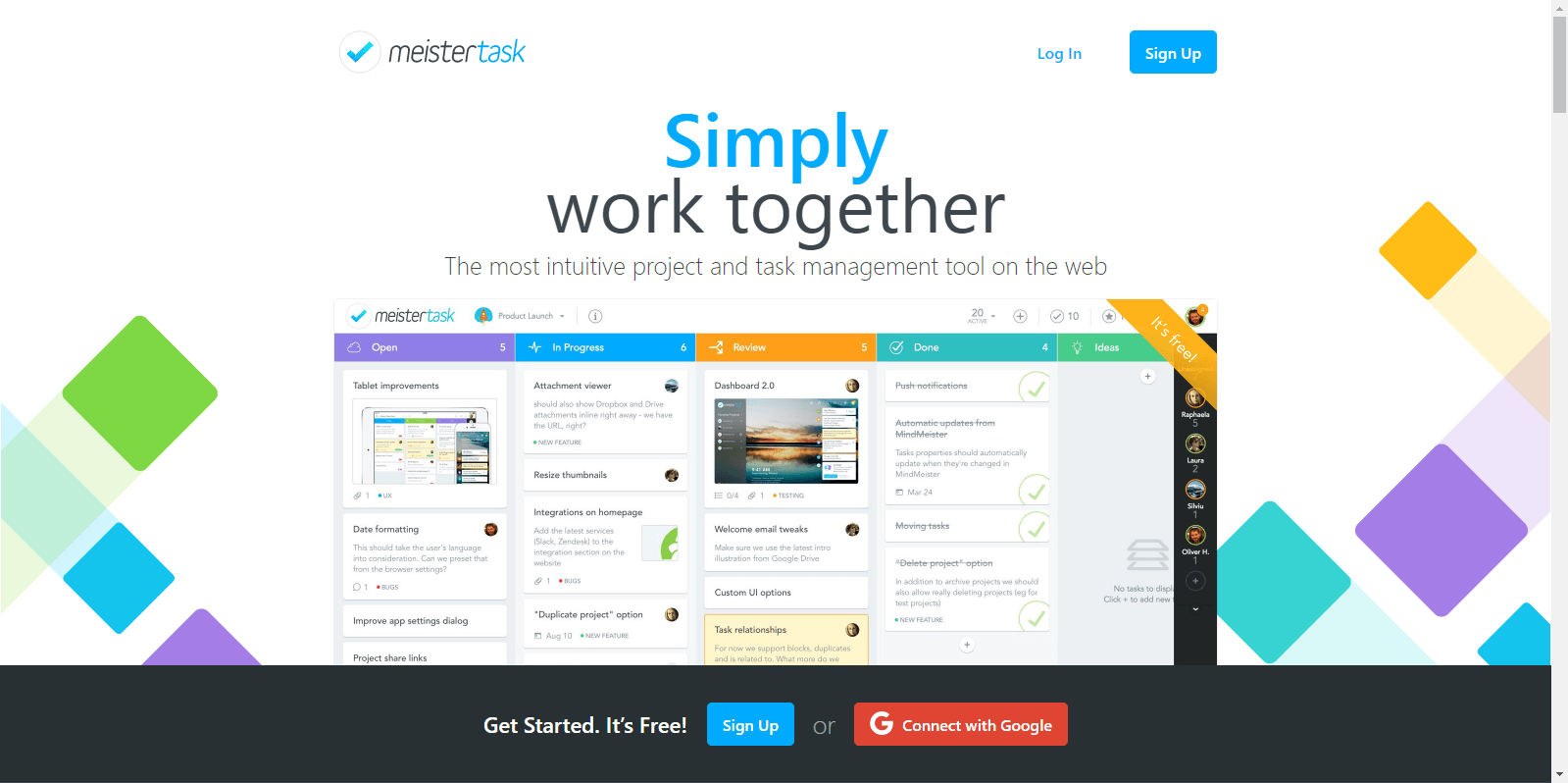 Why choose it: MeisterTask is a great, easy to use option for teams that use Agile or Kanban as a project management methodology. It allows you to collaborate with team members to create mind-map like a list of tasks for a project. Once you completed the list, you can easily assign tasks to team members via drag and drop.
MeisterTask also supports collaboration, allowing users to discuss tasks and share documents inside the app. It features time tracking, along with task dependencies. Available both online and via iPhone and iPad apps, MeisterTask integrates with Slack, Github, Zendesk, Google Drive and other popular apps. However, it is relatively new and doesn't feature Gantt charts.
Free plan includes: Unlimited projects and tasks, along with an unlimited number of team members. MeisterTask's free plan allows up to 2 integrations with other tools, customizable dashboards, and project boards. Also, with the free plan, you can share documents up to 20MB.
Upgrade if: You need more integrations for your project. Premium plans get unlimited integrations, file sharing up to 250MB, project groups, statistics, and reports. They also include workflow automation, a feature that allows you to automate recurring steps in a task management workflow. Premium plans start at $9.9/user/month.
4. Asana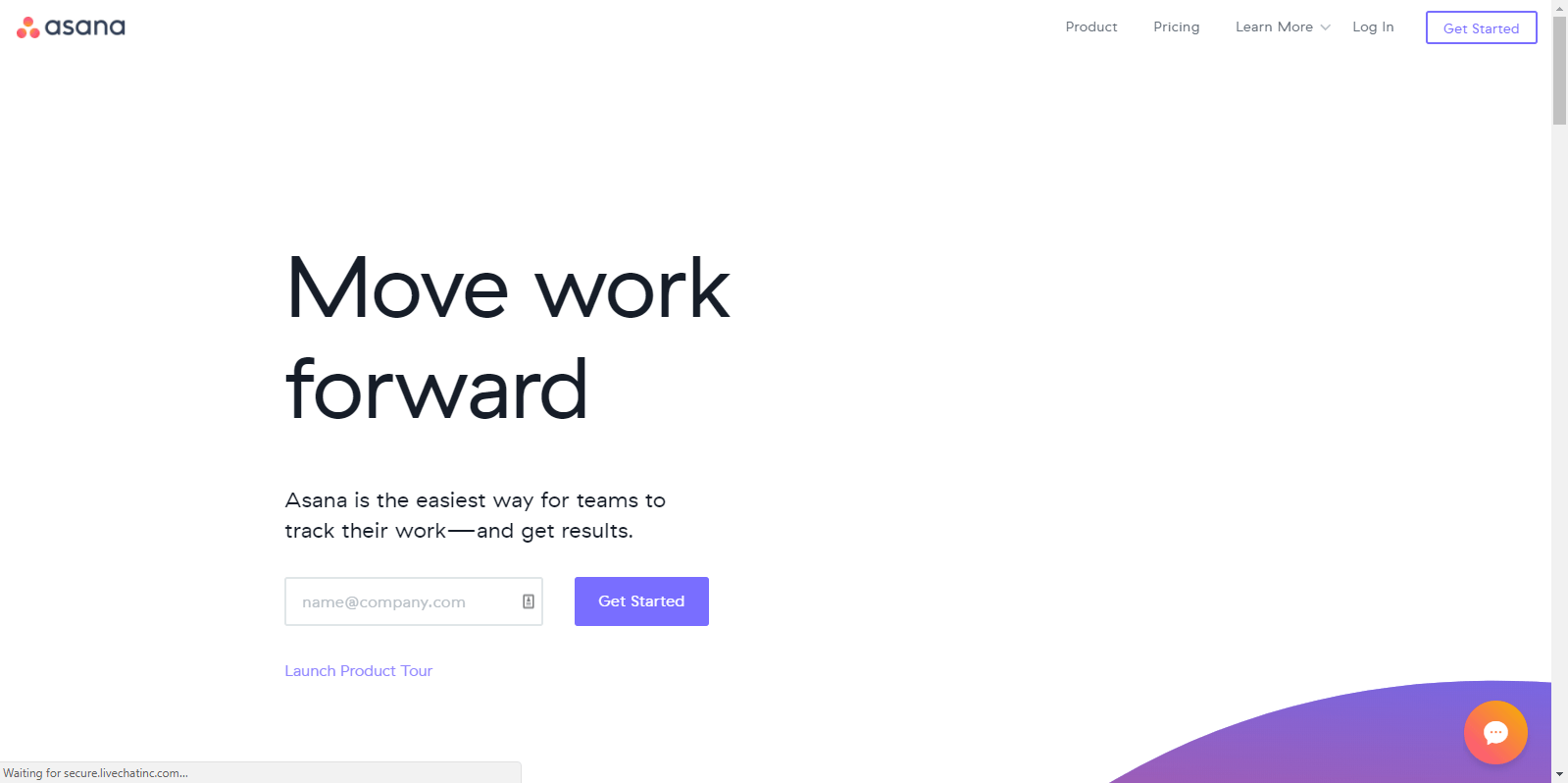 Why choose it: With over 1,4 million users, Asana is one of the most popular project management solutions ever. It was designed back in 2008 by Facebook co-founder Dustin Moskovitz and Justin Rosenstein, both in charge of improving productivity at Facebook.
Asana comes with the basic features for project management software: task planning and scheduling, in-app task/project conversations, document sharing, task filtering, start/due dates and more. It also features subtask, task dependencies, custom project fields and project templates. Additionally, Asana can be customized to match your branding.
Free plan includes: Unlimited projects, task and conversations for teams up to 15 people. The free plan also supports basic filtering so you won't get lost if you start adding a lot of tasks.
Upgrade if: You have a team larger than 15 people or if you want/need access to premium features such as task dependencies, advanced filtering, and reporting, custom fields or private projects. While premium plans start at $9.99/month/per user for teams of 15 people or more, Asana's pricing can be customized according to team size.
5. Bitrix24
Why choose it: Bitrix is a power tool that can be adapted for various departments across your company. Marketing, HR, legal, acquisitions – any department can use it to organize and streamline their workflow. It can also be used for sales and dub as a CRM tool.
Bitrix comes with standard project management features such as task management and assignment, team collaboration, document sharing, shared calendars and more. Users can track their time, and create shared and personal calendars. Bitrix24 also features task dependencies and a master user that can set privacy levels on projects and tasks. However, since it's such a powerful tool, Bitrix24 can have a steep learning curve in the beginning.
The free plan includes: Unlimited projects for up to 12 users, 1 admin and up to 5GB of storage. It also provides up to 5 task dependencies.
Upgrade if: You need more users, more task dependencies or access to features such as document lock, work reports. Premium plans can host team up to 24 members and start at $39/month.
The contenders
While evaluating project management software, we also checked out Basecamp. While it was a very good option, Basecamp didn't make our list because it only provides a 30-day free trial. The trial can be extended if you need more time, but after that it's $99/month – flat fee no matter how big your team is or how many projects you manage.
Also, Freedcamp, Wrike or Producteev are good options as well. However, their basic plan allows limited functionality and doesn't support important project management tools such as Gantt charts, which can have an impact on deadlines and delivery times. Even if they provide unlimited projects, task and users or in-app task/project communication, project management software solutions also need to help project managers keep a bird's eye view and stay in control.
Orangescrump is also a very powerful tool. However, it is self-hosted and requires programming skills in order to set up and most of the support for it is done via forums.
One last thing…
While there are a lot of options, each business has its own needs. We recommend that you check out our article about choosing the right project management software for your business.
Also, do you know other free project management tools we've missed? If so, please let us know in the comments below!