Planning ≠ improvisation.
Yet, way too often, I feel that projects are thought and led without a proper structure.
For instance, I've been involved in and led many projects over the years, and, truth be told, when looking back, I can only say that I've made So. Many. Mistakes.
The only way I found to avoid making those mistakes is structure. So, I gathered my thoughts to share everything I've learned from my mistakes to help anyone responsible for delivering (successful) projects.
I hope you find this post insightful!

Four project planning expert steps for beginners
To make it easier to go through the list, I summed up my thoughts under four categories (click to jump to each):
1. Define the scope of your project
No plan usually means no direction and no result.
This step is essential as it will let you, your team, and, most importantly, your client know what to expect at the end of the project.
Describe your deliverables.
A deliverable can be a physical or intellectual product, a service, or training. It is what you end up passing on to your client. Ask yourself:
What are you trying to achieve? (and why are you doing it)
What do my clients need?
What do I need to reach my goal?
I recommend making accurate and detailed accounts of your deliverables and tasks. Not only will this help you make sense of your work, but it will help your team members engage with the project.
Create an action plan for your deliverables.
Following the previous step, the project team will be able to create a clear list of necessary tasks and outputs to meet your objectives and due dates.
Breaking a project into smaller tasks will then help you to better set expectations:
How much time (billable hours and workdays) will you need to complete the project?
How many people (team members, collaborators, contractors) are required to complete the project?
What equipment does your project need?
Set due dates and milestones (and plan for buffer time)
Milestones mark the beginning or end of significant phases of a project.
You probably know this already, but it doesn't hurt to repeat it; always set clear project milestones and deadlines.
If you're working with clients, they'll appreciate the visibility. If you're working on an in-house project, you and your team will have a short-term goal to look forward to.
Another thing I learned the hard way as I planned many projects over the years is that the duration of a task isn't just the production (or the actual deliverable, if you will). The total estimated time to complete a task should also integrate review and potential amends.
So, my advice for you is to always plan for buffer time in between important tasks.
Set measurable and realistic goals and objectives.
This piece of advice goes hand-in-hand with setting due dates and milestones.
To increase the likelihood of achieving your milestones, you better aim for realistic targets. Overly optimistic targets do no good to anyone:
They send the wrong expectation to customers.
They will stress you and your team out when you realize you can't meet your own deadline.
In short, walk away from the do-or-die mantra.
I find that the best way to avoid setting overly optimistic deadlines is to break down a project into as many relevant tasks as possible. For instance, if you need to write an expert long-form piece of content for a customer, you could break down the job as follows:
Interview an expert
Make sense of the notes

Validate the key information and figures with the interviewee

Do additional research on the topic to cover all relevant areas and source your work.
Outline the content

Validate the outline with the customer.

Write a V1
Leave room for review and edits.
Leave room for review and edits.
Doing so, you'll realize that the actual writing only accounts for a small part of the project, compared to the preliminary research work — this might be one of the most important pieces of advice I can give you as this is often overlooked and, therefore, a root cause for delaying projects.
And, of course, before setting your milestones and deadlines, ensure that you and your team can handle the workload without overworking yourselves.
Establish the critical path of your tasks.
The critical path outlines all the tasks that need to be completed to move a project forward and complete it on time. It also outlines dependencies between tasks.
Dependencies are key deliverables or tasks that depend on others in terms of starting/delivering dates, resource management, etc.
There are four types of dependencies:
(a) Start-to-finish. Task A must start before Task B can finish.
(b) Start-to-start. Task A must start before Task B can start.
(c) Finish-to-finish. Task A must finish before Task B can finish.
(d) Finish-to-start. Task A must finish before Task B can start.
Whatever the project, you need to monitor the critical path quite closely. If something goes off track, it could affect the entirety of a project.
Now that you have your deliverables, here is what you need to do next:
2. Define and brief key stakeholders
More often than not, projects involve multiple people. As you plan your project, clearly lay down who will be carrying the project and anyone who will bear responsibilities — and could, therefore, affect the project delivery.
Determine roles for the stakeholders of your projects
The clearer, the better.
Who is in charge of which task?
Is the workload manageable?
Can you take care of it in-house, or do you need to outsource it?
If you don't want to outsource it – do you need to hire someone for the job?
Do they have specific needs to help them do their job correctly?
You should make it clear who needs to oversee the progress, who takes care of reporting, who audits teams, who ultimately approves decisions, and so on.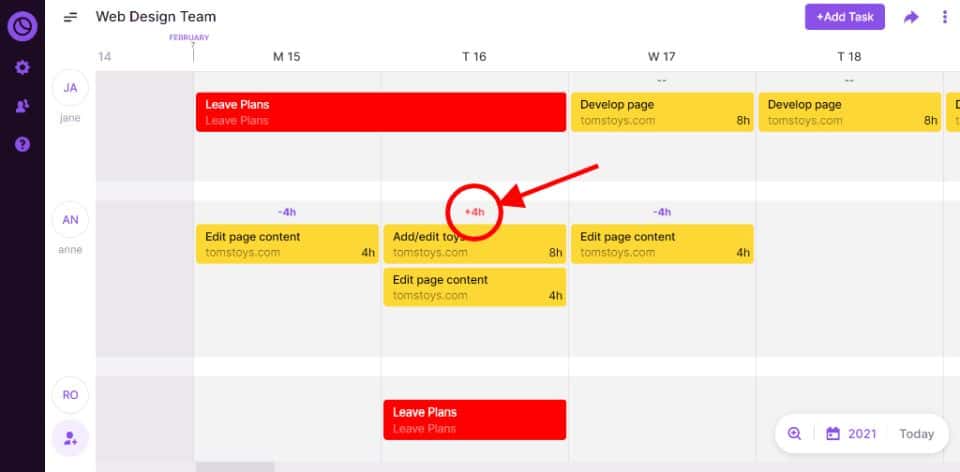 It's quite important to keep everyone in check at all times — that applies when things are going according to plan, but especially when a project goes south.
Communicate clearly.
Every great project is heavily dependent on excellent communication.
What makes perfect sense to you might be confusing to others. So, my advice is never to assume that stakeholders understand your plan perfectly from day one.
The more complex the project, the more important it is to communicate as clearly as you can and, if possible, using visual support.
Minimize the use of jargon and technical terms as much as possible.
Create project timelines.
Use Gantt Charts for your reports.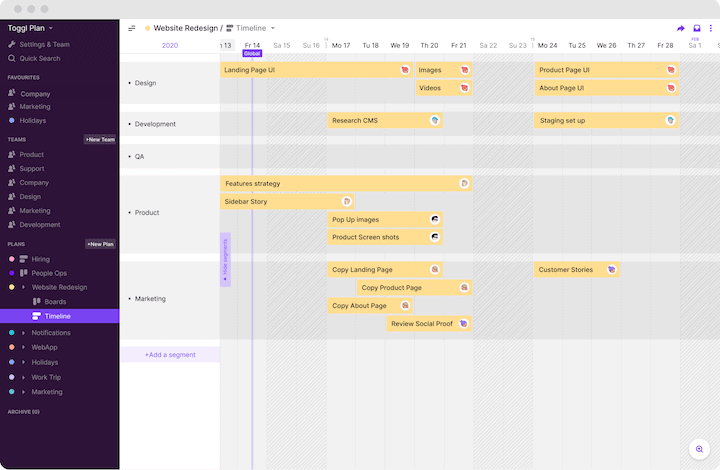 Additionally, I would recommend sticking to one channel for communication to avoid going through Slack threads and emails chains and Google Drives to find answers to your questions.
If, like me, you dislike back and forth email chains, give a chance to Slack! It's by far one of the most efficient, secure, and effective means of communication. I also find it convenient to brainstorm with my team, especially as remote work is slowly becoming the new norm.
3. Create a visual project timeline
Keeping track of everything takes time.
Over the years, I found that the best way to optimize the time required to plan projects is to make planning as visual as possible; I'm, of course, talking about using visual project timelines.
A timeline is not only a schedule with due dates for your deliverables, but it also tells you exactly who is working on what, along with the progress, milestones, deadlines, dependencies, and critical path.
In short:
It helps project managers to keep track of all ongoing projects and team workload.
It helps team members to know exactly what's coming their way and, therefore, keeps stress levels at a minimum.
Be (even more) realistic.
When working with a timeline, you'll be able to visualize how realistic (vs. optimistic) you were when describing the tasks (step. 1).
Think about how much time each task requires and try to be as realistic as you can with deadlines — short deadlines will end up stressing the team when longer deadlines might lead to your team working well under its full capacity.
How to build a good project timeline?
A good project timeline is a timeline that can tell you who does what and when in a couple of seconds.
However, creating a project timeline needs you to consider a lot of factors that can impact your projects' schedule. Learn how to create a project timeline in 8 actionable steps.
If you don't have any budget and only run simple projects, you might consider using simple Spreadsheets or Excel documents to build your project timelines.
However, if you run complex projects involving multiple people, you do need something better than Excel.
I lack objectivity, but an excellent option to build clear and usable project timelines is Toggl Plan. It's user-friendly, very visually, and makes project planning a lot easier.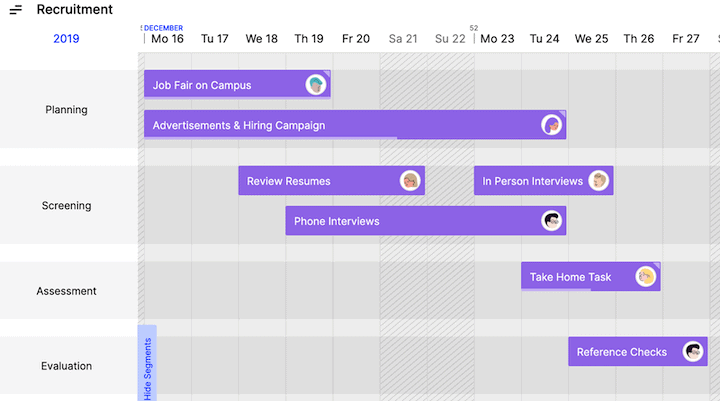 "It's great. It's colorful. It's easy to use."

—Ada Enechi, Producer & Production Manager at BuzzFeed (read their customer story).
Now, you can track your deliverables and deadlines. A timeline is beneficial when you need to let your stakeholders know about your project's progress.
4. Hope for the best, plan for the worst.
If something can go wrong, it will eventually go wrong.
The purpose of this step is to help you deploy a plan B in the event of something going wrong that could potentially hurt the delivery of a given project.
Ask yourself:
What could affect the project in the short and long term?
Are there other circumstances or unforeseen variables?
What about holidays?
What about possible technical issues?
Is it the flu season?
Long-story-short, draft a worst-case scenario based on potential risks (planning for the worst-case scenario is a good reason to allow buffer time in between tasks if something is delayed).
Did you know?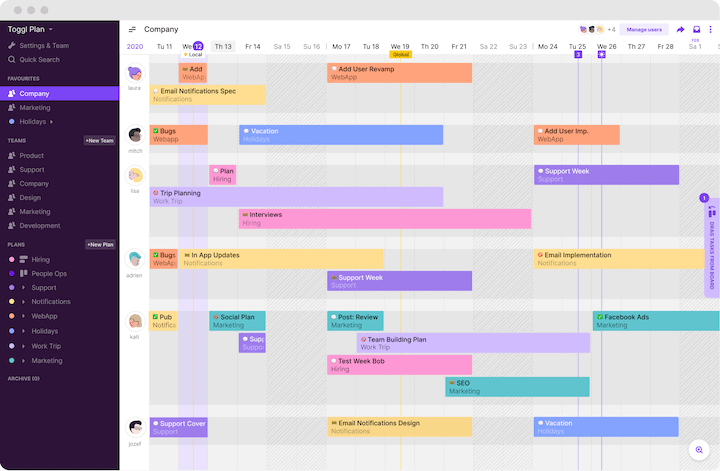 With Toggl Plan, you can insert your team's days off and weekly working time and visualize right away if they can deliver a specific project within the given deadline.
3-2-1 … Start planning!
To sum it up, you need to:
Identify your goals,
Brief your team,
Create a timeline,
Plan for the worst-case scenario.
Now, you can't always control everything, and there is no such thing as a perfect plan. However, adopting a structured and robust project planning routine will help you and your team deliver more work with less friction.
If you're looking for a project planning tool that you and your team will love (I base this solely on the feedback we get from our customers), give Toggl Plan a spin! You and your entire team can try it free for 14 days.