Many people have claimed that disorganized people are more creative. Scientists have even performed experiments to prove this theory. While most of these concepts pertain to the specific idea of a messy desk or office space, this does not include the necessary structure related to business operations and the software you use to accomplish tasks.
While your version of a "filing system" on your desk might include a pile of papers as tall as you are, the organization software you use for communicating with your team, creating designs, and marketing your company, should be just that: organized.
Hopefully, the list of ideas we've compiled below will help you find a balance between a creative mess and exceptional success. Take a look at these ten programs and see if any of them can make your design team's life just a bit easier.
1. Toggl Plan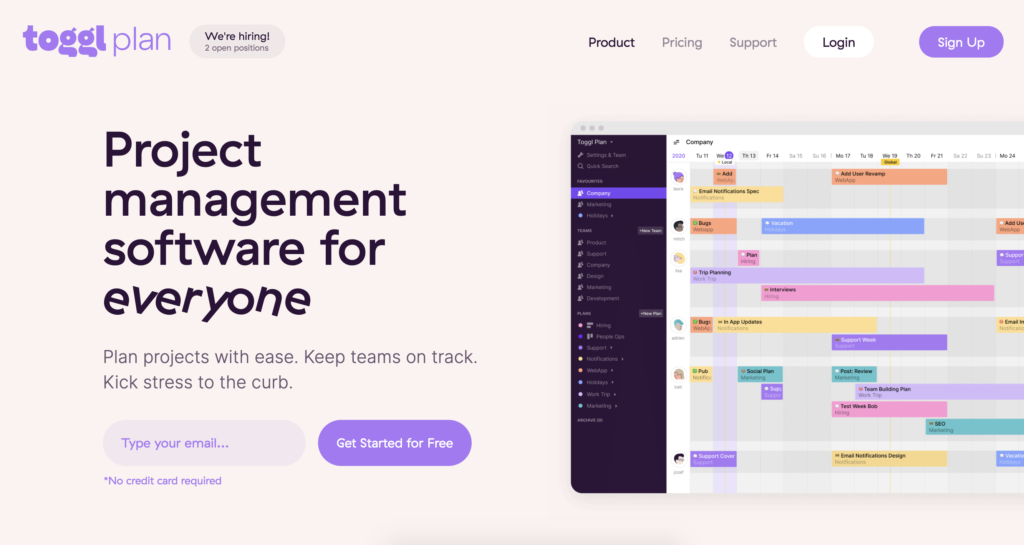 Why You'll Love It: Every type of creative team needs a solid project management software to help them stay organized and keep everyone up to speed. Toggl Plan provides all of that and much more. Toggl Plan's simple checklists, shareable timelines, and range of integrations make it one of the most useful programs in the creative industry.
Recognized in reviews as a "super visual team planning tool", you'll never have to wonder what other members of your group are working on. Whether you need a daily view, weekly view, or even annual view of the team's tasks, you'll always be able to check in on the project workflow.
Pros: With an easy-to-learn system, minimal training is involved for the team, allowing you to start organizing tasks right away. The app is free for solo users, with affordable plans for teams.
Cons: It doesn't have a built-in communication tool. But users can easily integrate an app like Slack to coordinate project planning efforts.
2. Google Drive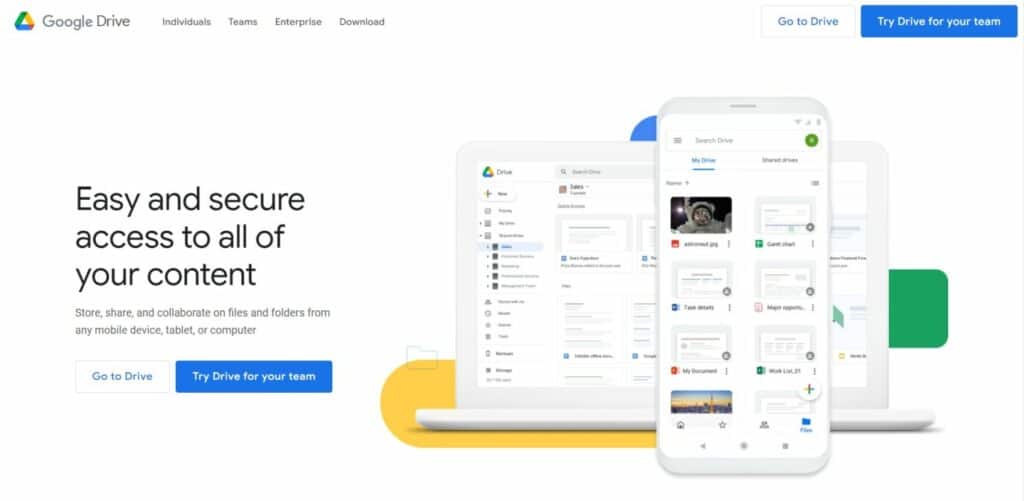 Why You'll Love It: Arguably the best file organizer software you'll find online today, Google Drive makes file sharing and storage an absolute breeze. Instead of the constant back and forth emails to share updates and changes to a document, Drive allows all necessary parties access to the same document. They can easily see any adjustments and who made them.
All documents (whether text, photo, or video) can be organized into clearly marked files, making it simple to navigate from project to project.
Pros: Share any type of file with anyone who has an email address. Set the permissions you want that individual to have, from editing to simply viewing.
Cons: Tracking who does or doesn't have access to each specific document can be a bit of a headache when first learning how to use this organization software.
3. Adobe Creative Cloud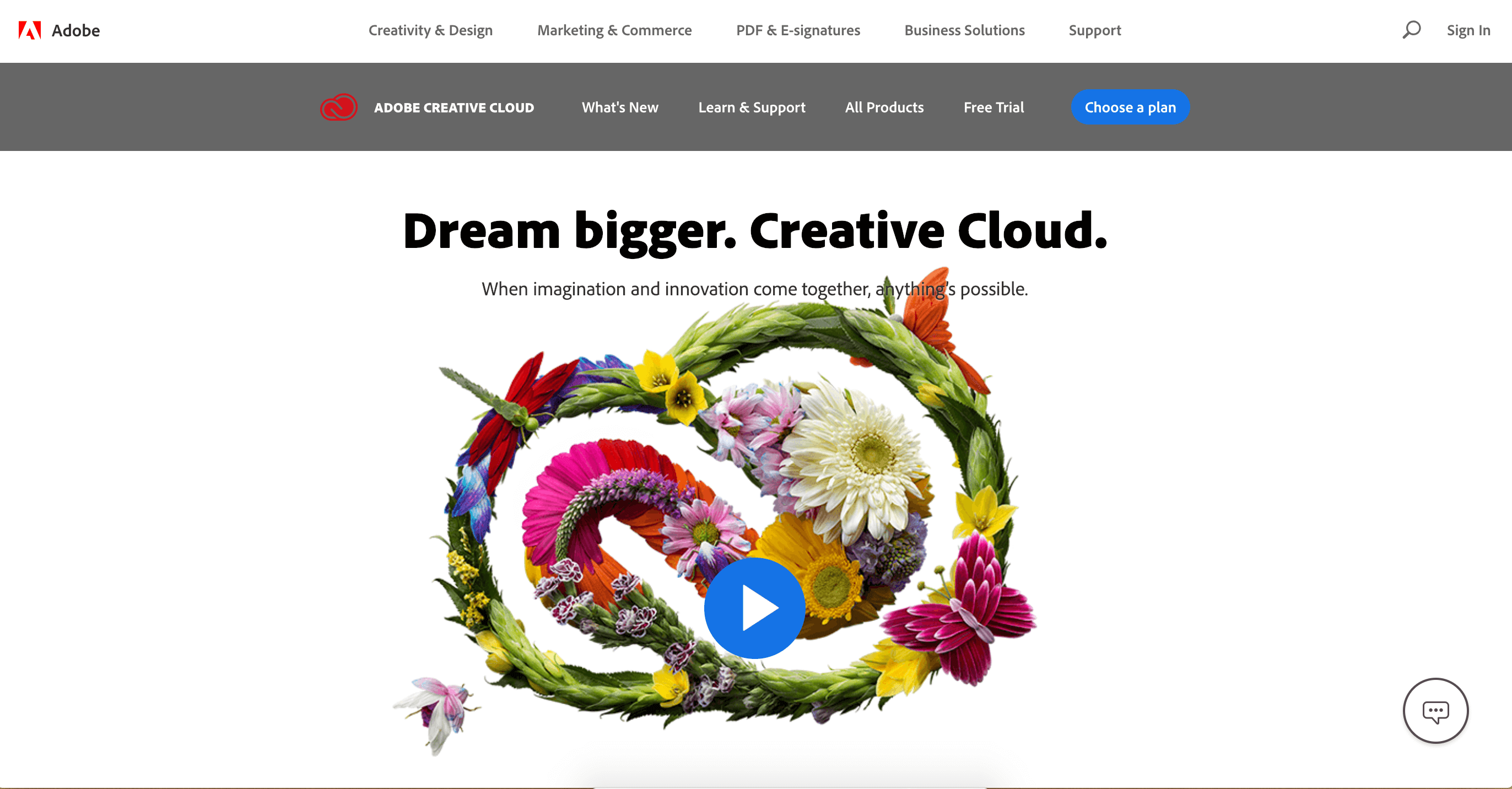 Why You'll Love It: With "creative" in the name, it may seem a bit too obvious when adding this software to the list. But Adobe has developed one of the best overall systems for everything from editing photos and videos to creating PDF files and designing logos. Users have the option to purchase every function in the Adobe Creative Cloud lineup or to simply pick and choose the software they need.
Each program comes fully equipped with training tutorials and templates to get you and your team started on the right track. Adding this tool to your creative repertoire will make you feel like you can do just about anything the industry requires.
Pros: The Creative Cloud includes storage options as part of their plans and provides peace of mind instead of the fear of losing your designs, photos, or videos.
Cons: Although many consider it well worth the price, the plans can be expensive if you plan on using numerous features.
4. Lucidpress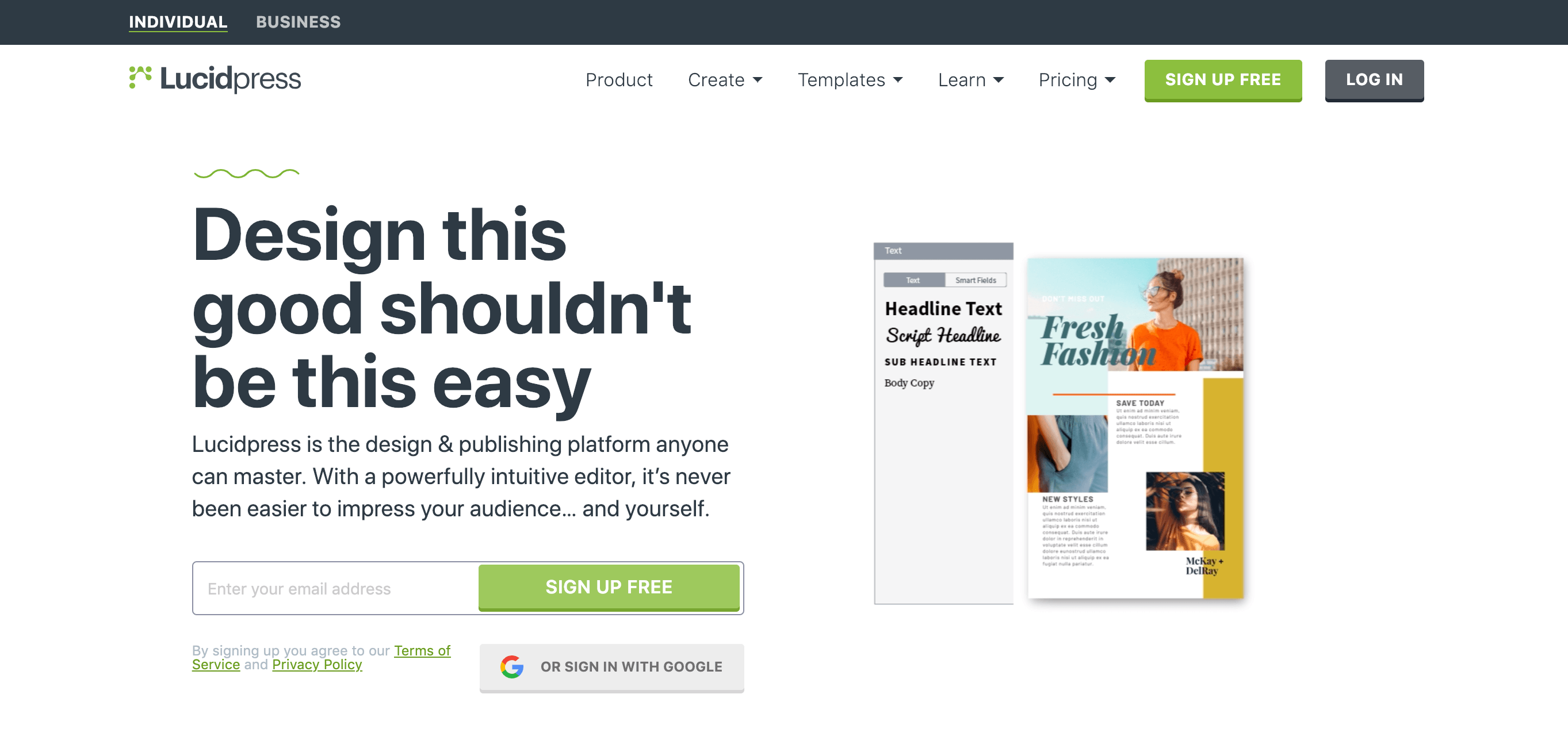 Why You'll Love It: Brochures, Magazines, and Newsletters! Oh my! Lucidpress is a one-stop-shop for quick and easy designs. Whether you want to start from scratch or use one of their 350+ preloaded templates, every project is fully customizable to fit the needs of the piece.
Every design can be accessed by multiple members of the team, with a chat feature to discuss needed changes or other feedback. Many clients use the software to create branding materials that can promote their own business as well as others.
Pros: Teams love Lucidpress because anyone can use it, regardless of their design background. The templates and drag-and-drop process make it a snap to put together letterheads, posters, banners, and much more.
Cons: The main complaints about Lucidpress mention the lack of a stock photos library, as well as the fact there is no mobile app for the program.
5. Hangouts Chat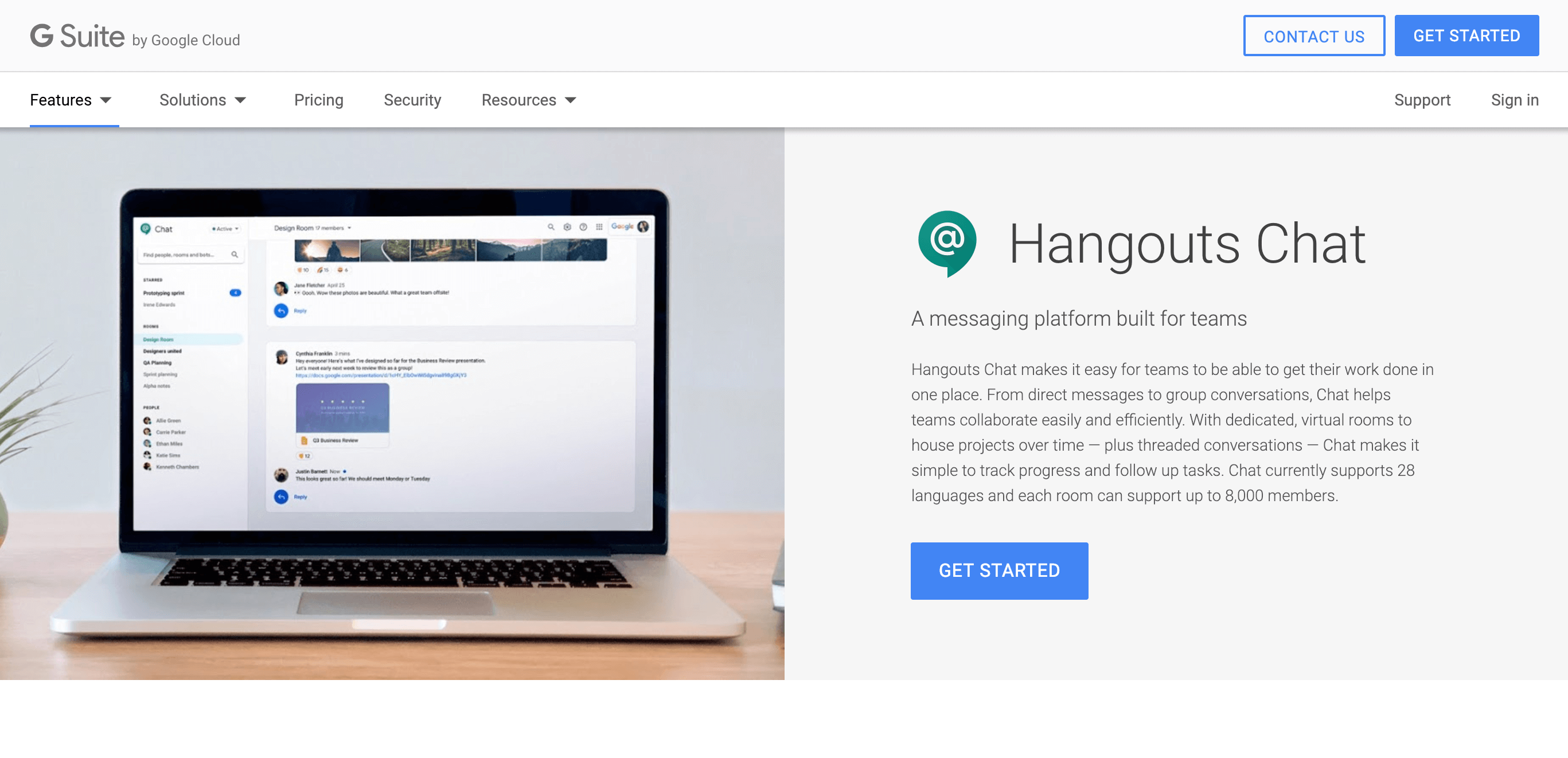 Why You'll Love It: Though there are other popular chat options out there (like Slack), Google has recently come out with its own take on this useful organization software. Hangouts Chat offers users secure team messaging and will include all the same features as Google Hangouts, which will be shut down in 2020.
Users enjoy a range of communication options including video conferencing, web chatting, and screen sharing. Whether you're having a group meeting or simply need to have a one-on-one conversation, Hangouts Chat is a great way to collaborate with your team.
Pros: No need to download chat software to your computer. Have a quick discussion with anyone straight through your web browser.
Cons: Everyone in the group will need to be integrated with Google accounts. So, if you don't already use Gmail or another one of their apps, this may not be the best option for you.
6. Salesforce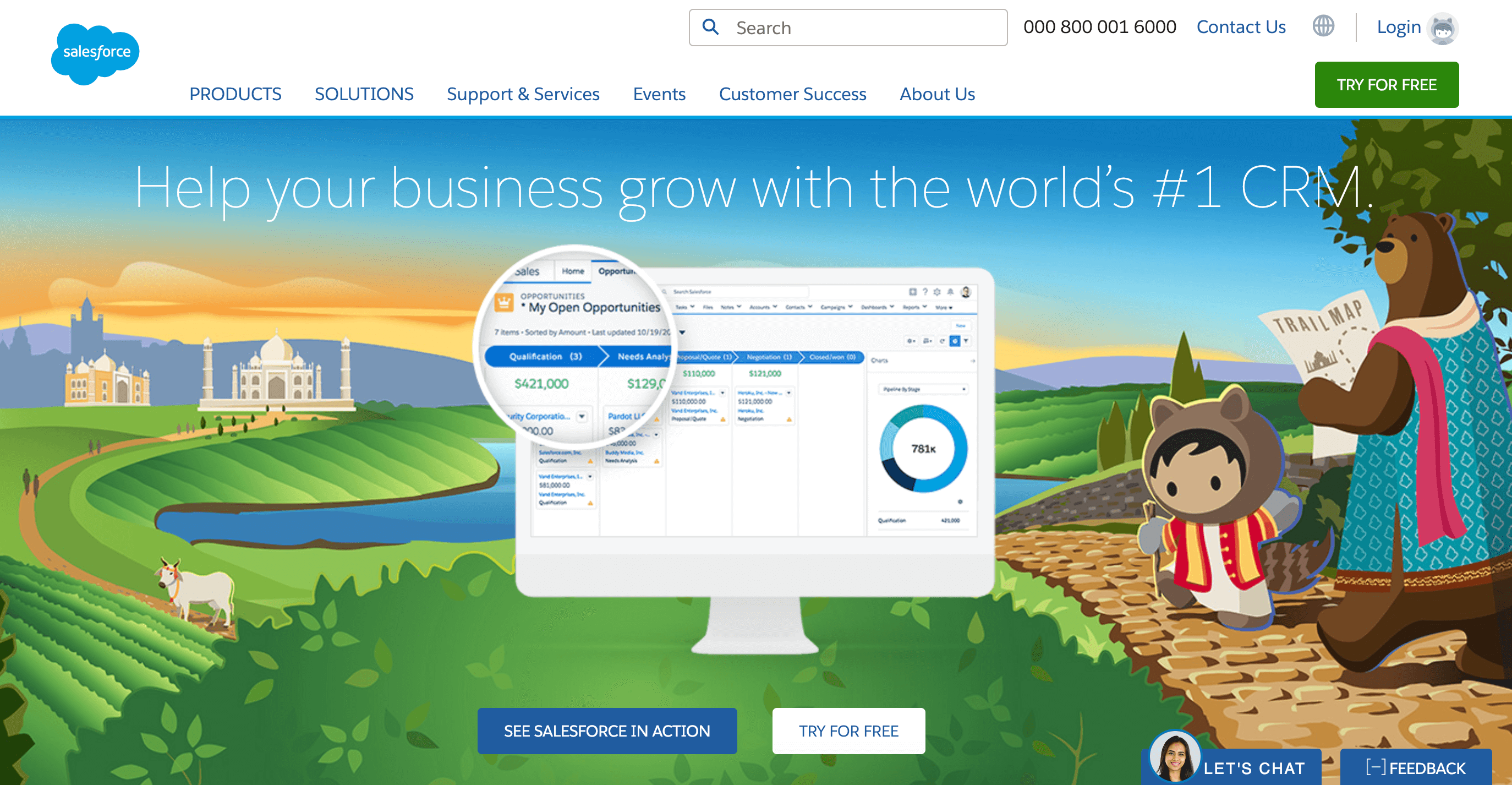 Why You'll Love It: Are you just starting up a creative agency and only have one or two current clients? Or have you already been around for years? Regardless, both startup creative teams and large corporations alike need to have a CRM. Customer Relationship Management systems help you organize and interact with both current and potential customers. They help you track any contact history and focus on either retaining your clientele or converting new leads.
Having been established before the turn of the century, Salesforce has more than 20 years of experience in helping companies run their businesses more effectively. From sales and service to engagement and analytics, you're sure to find a use for at least one feature on their innovative website.
Pros: The dashboard can be customized to fit the needs of any creative team, giving you the chance to cater the system to the way your business runs.
Cons: As with any CRM platform, the learning curve is steep and will take a fair amount of training and practice to master.
7. WordPress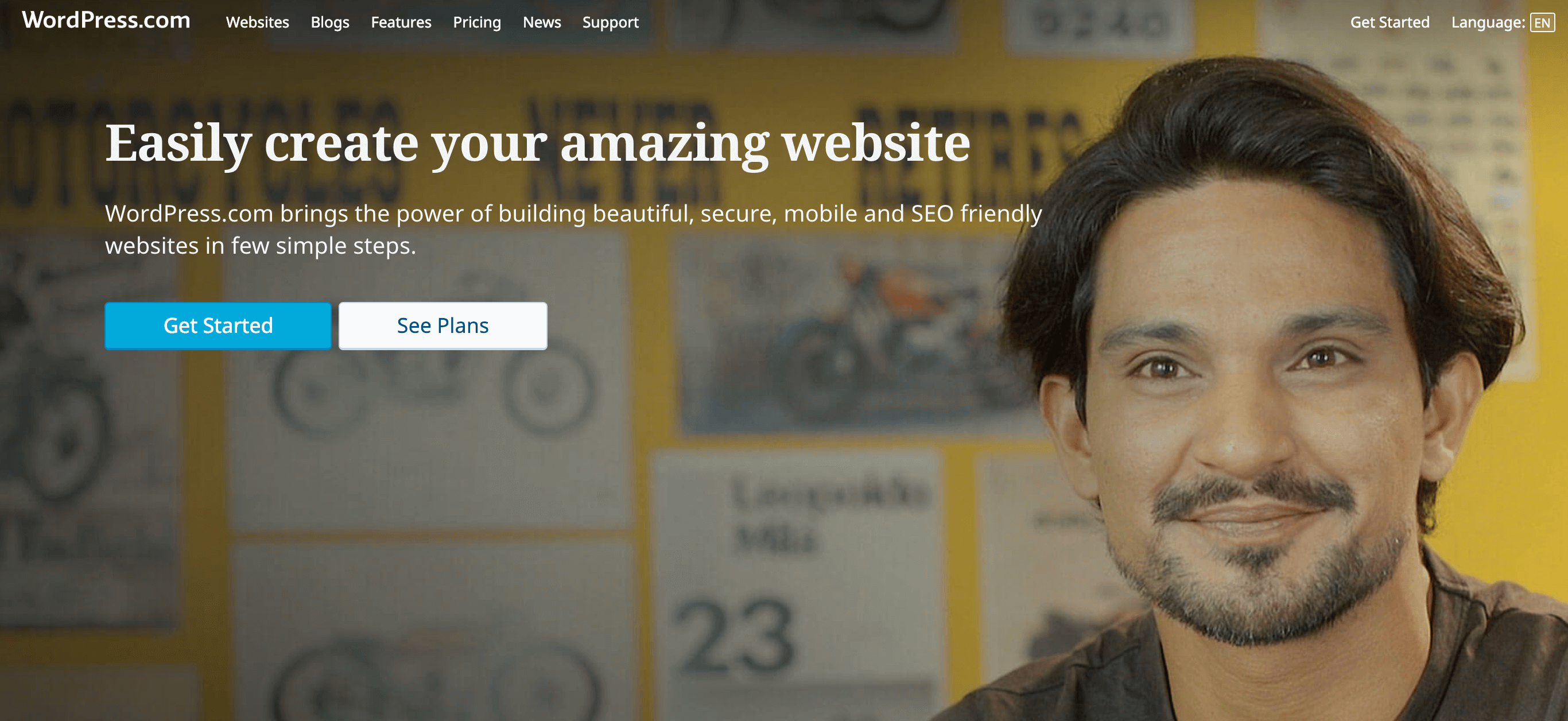 Why You'll Love It: There is no business in the world that wouldn't benefit from an informative and engaging blog. As the most widely used content management system (CMS) in the world, you can't go wrong with a WordPress website. With millions of customizable features, templates, and integrations, you can design the blog of your dreams and start sharing valuable content in no time at all.
A blog allows the company to express its purpose, develop their brand, and attract more traffic to their site. You can share everything from news updates and articles to promotions about new products and pending changes to the business.
Pros: When done properly, following current SEO practices, a blog can help your business make its way to the top of the Google rankings.
Cons: The number of features and options can be overwhelming and difficult to learn.
8. HubSpot Marketing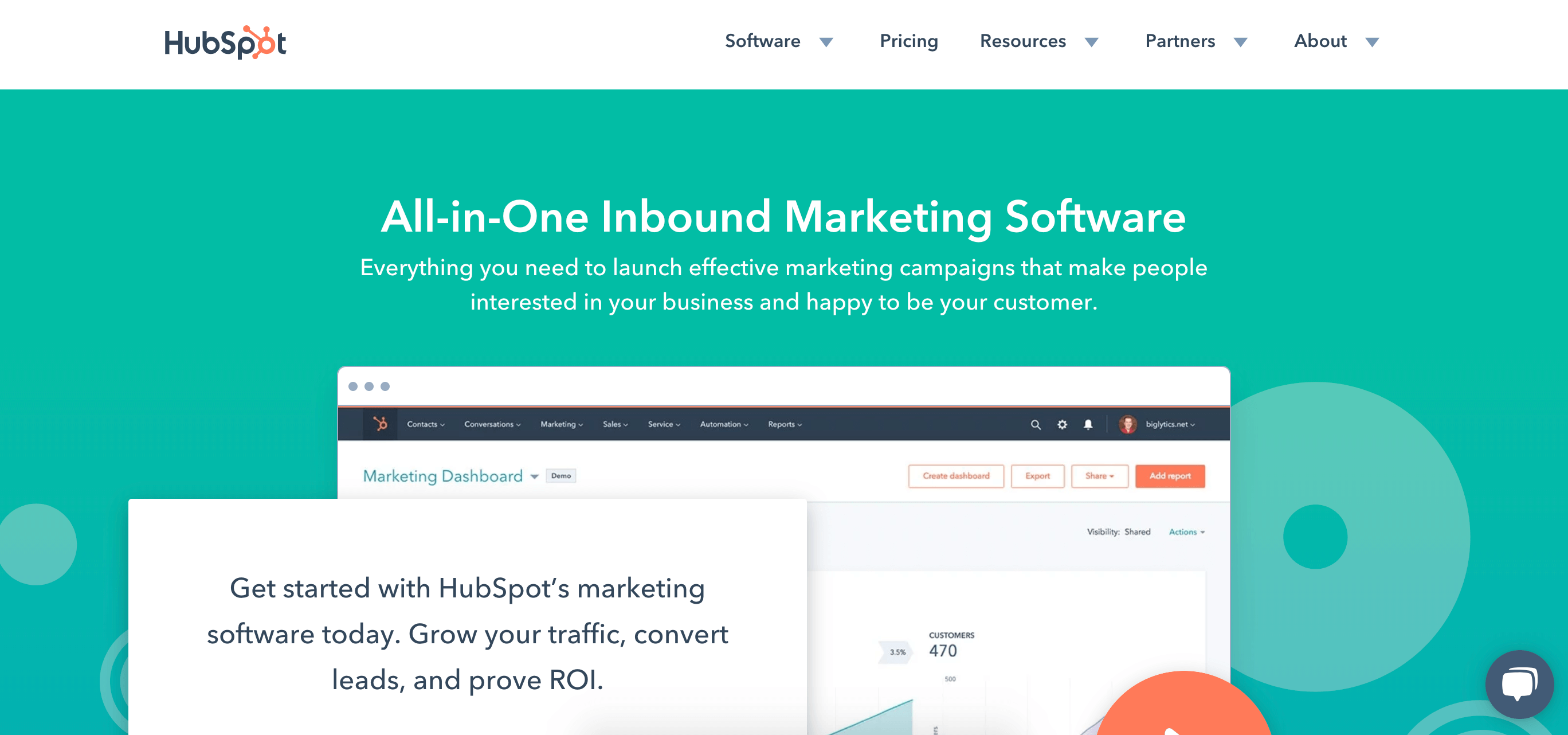 Why You'll Love It: Unfortunately, simply having a website usually isn't enough to get your business up and off the ground. While outbound marketing efforts like cold calling and going door-to-door are still viable options for some companies, you are likely to find more success with HubSpot inbound marketing in the creative industry.
Their organization software can help you develop and launch effective marketing campaigns that will help you boost website traffic, convert leads, and track the ROI of your efforts. With powerful A/B testing practices, you'll be able to determine which strategies are working and what needs to be adjusted before trying again.
Pros: Both professional marketers and brand-new advertisers will be able to use HubSpot's intuitive features, thanks to the detailed videos and instructions found on each and every page of their website.
Cons: Since it is comparable to hiring a full-time marketing team member, the software is expensive. You will need to be prepared for a heavy hit to your budget to enjoy this dynamic marketing powerhouse.
9. Canva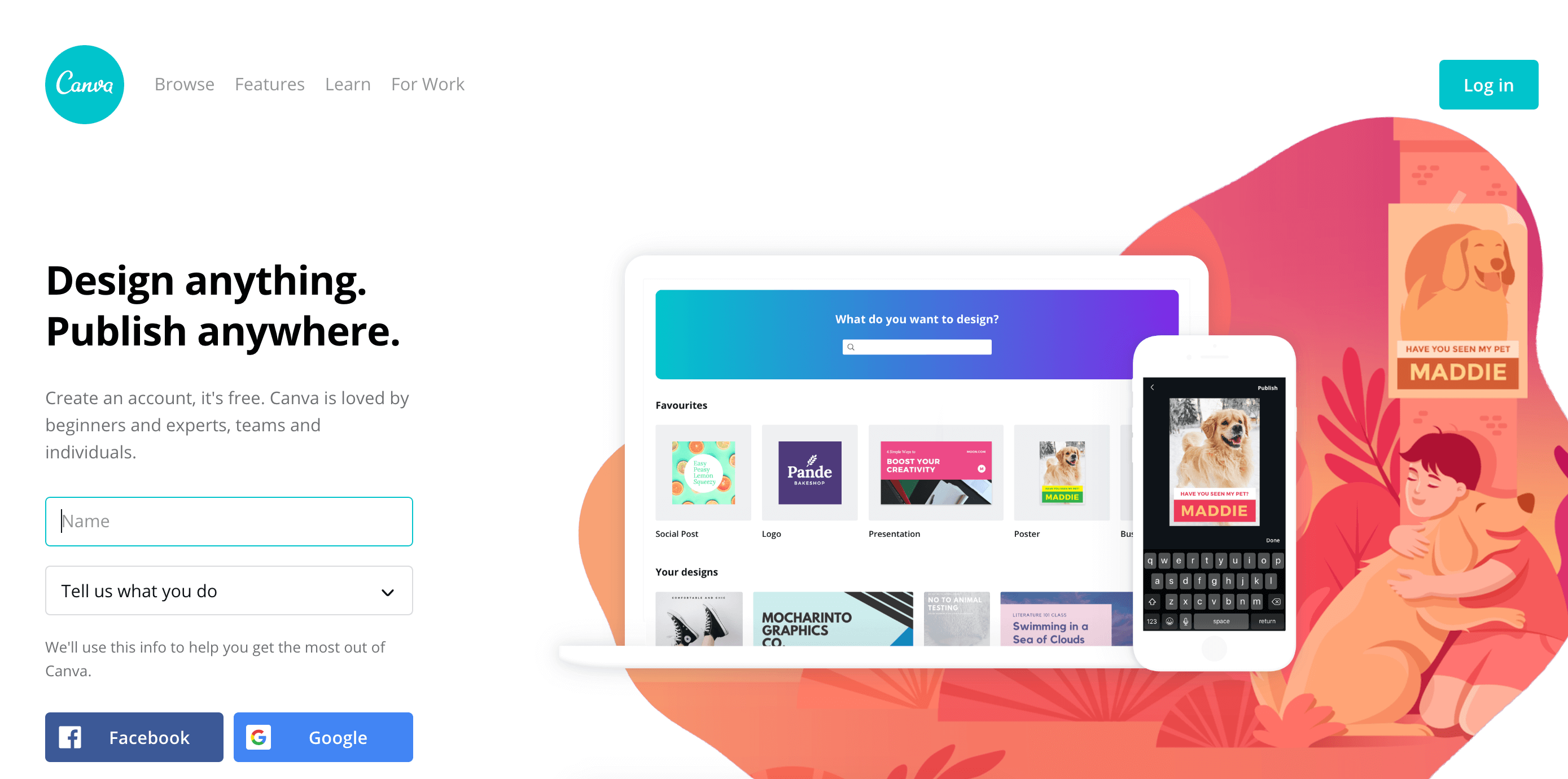 Why You'll Love It: Most people in design and other creative roles have most likely already heard of Canva. It is a powerful graphic design tool with a wide variety of features for both web and print media needs. The simple, but effective, layouts and templates are a great alternative for a company that doesn't need something as complicated or extravagant as Adobe Creative Cloud.
Commonly used to create things like logos, org charts, social media images, and blog features photos, Canva has a simple drag-and-drop format anyone can use. With a cloud-based platform, you'll be able to design the images online and instantly share them anywhere you want.
Pros: You have hundreds of templates at your fingertips, leaving no need to stress over coming up with something new every single day.
Cons: The mobile app is a bit less user-friendly, so it can be difficult to create designs on a smartphone or small tablet.
10. BambooHR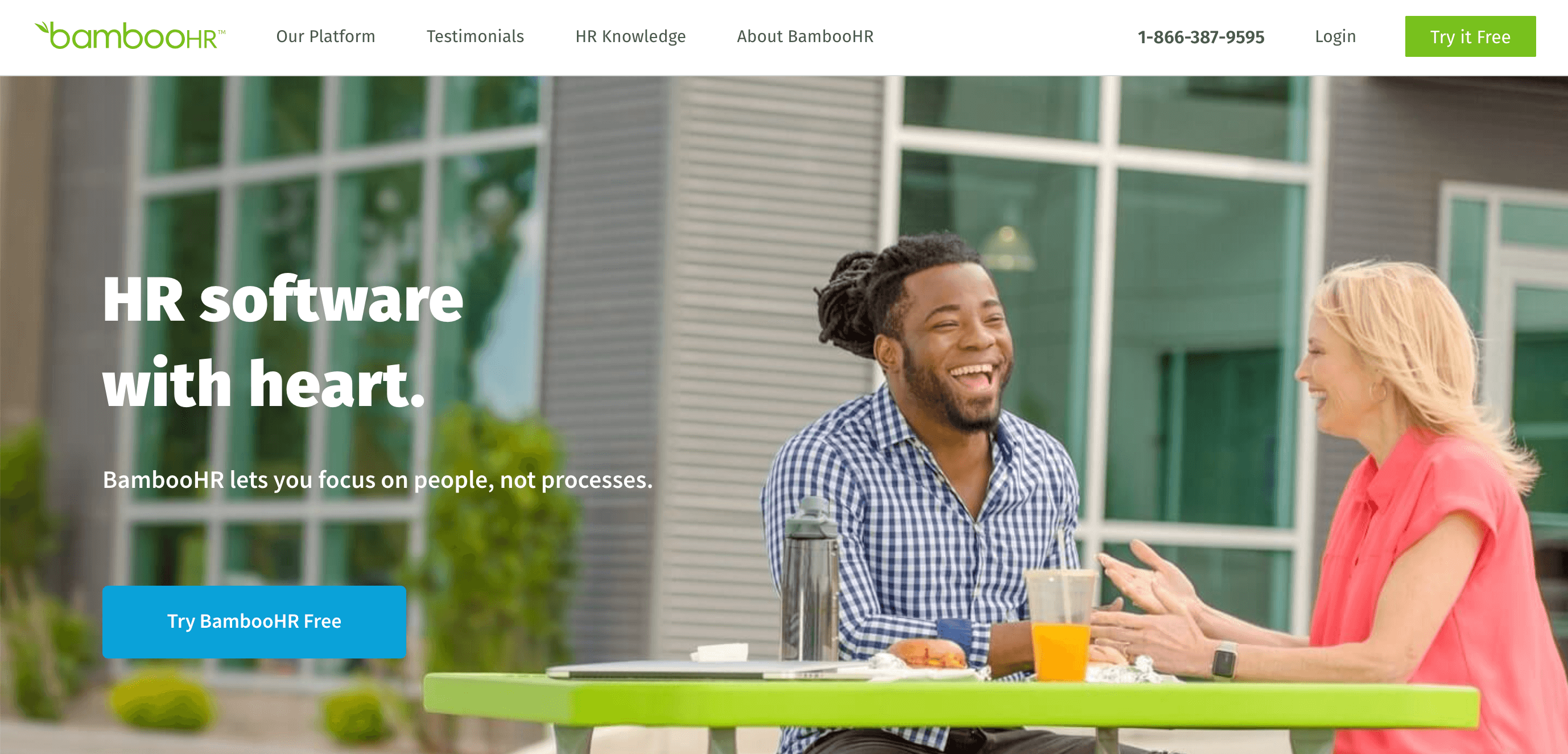 Why You'll Love It: While your clients are the most critical asset to your bottom line, it is your team that helps them every step of the way. BambooHR provides you with the organization software to build a company culture in which employees will thrive and succeed. Their system gives you insight into the hiring and onboarding processes, as well as compensation and other human resource needs.
The app allows you to track and evaluate the most qualified candidates for any positions you wish to fill. Limit the number of forms each new employee needs to fill out with innovative online options. Assess performance for both management and employees with key surveys and other measurement functions.
Pros: BambooHR never seems to be content with mediocrity, which is why they are constantly updating their software and adding new features based on requests from their clientele.
Cons: There are minimal integration options, though some feel it is due to BambooHR's high standards for the companies they're willing to work with.
Use These Organization Software Options and Get on Track
Are you ready to get your creative team organized? These ten unique apps are the perfect way to get you moving in the right direction. Give them a try and see what they can do to improve your day-to-day operations.
For more ideas of organization software and how to be a better manager, be sure to take a look at our blog.
Logan Derrick is a full-time business writer and content marketing strategist. For years, he has worked closely with several project management professionals, learning from them and increasing his own knowledge of the industry. Having held multiple management positions in fields ranging from customer service to marketing, Logan has found a passion for helping others learn about project management, marketing, and the powerful tools available to professionals today.