The Digital Age is the best thing to happen to creative agencies since the advertising boom of the 1950s and 60s. (Mad Men is a great primer on that era.) The Internet has made borders and distance inconsequential, allowing agencies of all types to serve clients in real-time and recruit talent across multiple time zones.
With so much opportunity out there, having the right business management software is essential for keeping your agency on track. In this article, we'll examine the best shared digital systems for managing projects, communicating with clients, running teams, getting paid, and other essential tasks that define your agency just as much as the creative work itself.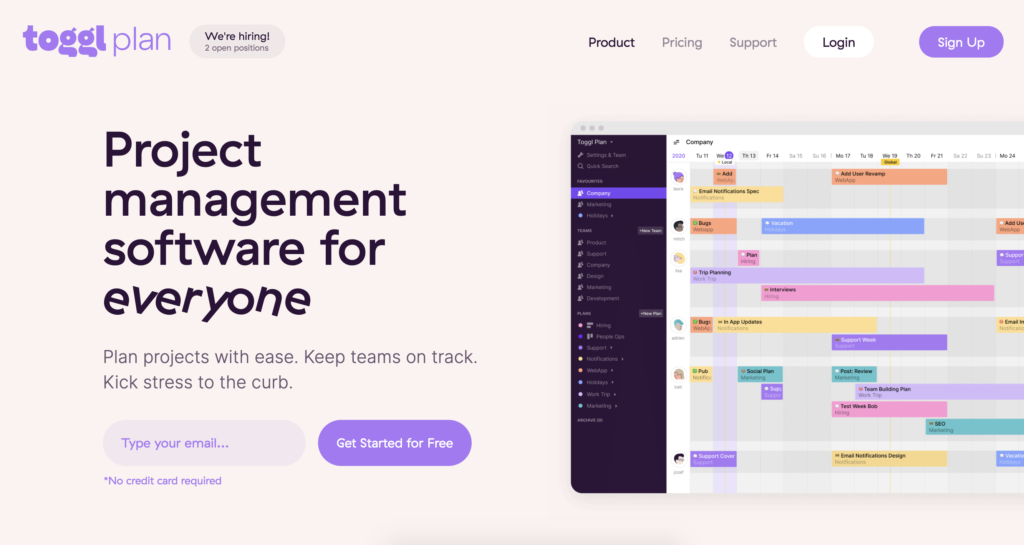 If your creative agency needs a business management software that's easy to use, visually appealing, and provides real-time visibility into key business processes, you can't do better than Toggl Plan
A firm favorite among creative teams at Disney, Spotify, and Buzzfeed, Toggl Plan is a web-based project and business management tool that has everything your agency needs to run more smoothly. Top-rated features include:
A zoom feature that delivers both a short and long-term view of a project and business plans, so you have a better grasp of what direction the agency is taking.
The ability to create attractive Gantt charts and share them with the entire team. Timelines, milestones, and tasks can all be color-coded for maximum visual appeal.
A capacity planning tool that lets you manage your team more effectively. You can see what everyone is working on and provided any overburdened members with extra assistance.
Instead of switching from one tool to another, you can manage projects, tasks, clients, invoicing, and accounts in one software. (Even if you use other business management tools, Toggl Plan integrates with popular solutions like Slack, Asana, and Trello.)  You will spend less time on administrative tasks and be able to focus more on producing beautiful and stellar work for your clients.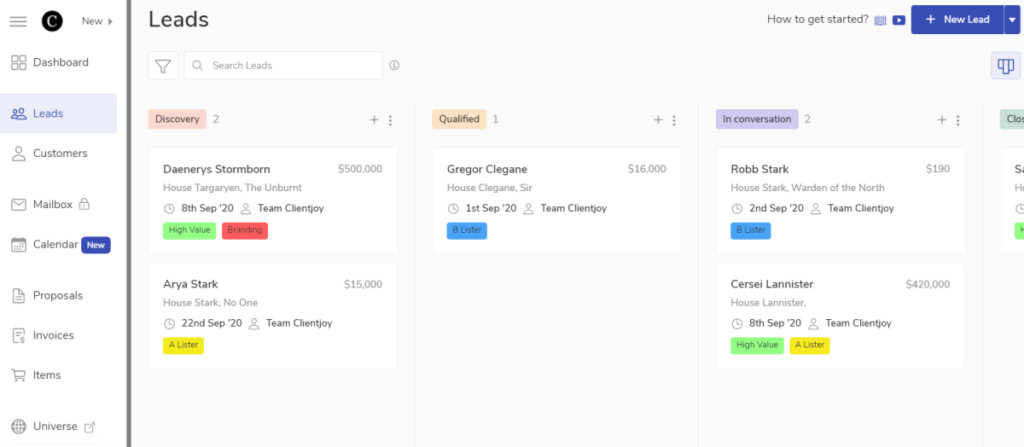 Getting a new lead all the way through your sales pipeline usually means switching between different tools. You've got one platform for proposals, another for invoices, and a couple more to handle new leads and client info. That's where Clientjoy comes in. Clientjoy is a Sales CRM & Growth engine for agency professions and freelancers.
Clientjoy is a platform that combines leads, proposals, contracts, invoicing, and payments for a streamlined client lifecycle.
Top features:
All your leads, proposals, clients, invoices, and payments stay in one place
View your sales pipeline in Kanban and List view
Client portal so that you can communicate with your clients right from Clientjoy
One single place for tracking your salesperson, item, proposal, and client performance.
Clientjoy is helping over 4000+ Agencies across 90+ countries manage their leads, proposals, clients, invoices, and payments.
Clientjoy has a free plan with which you can manage up to 3 clients. With The Pro plan, which costs $19 per month, you can manage unlimited clients.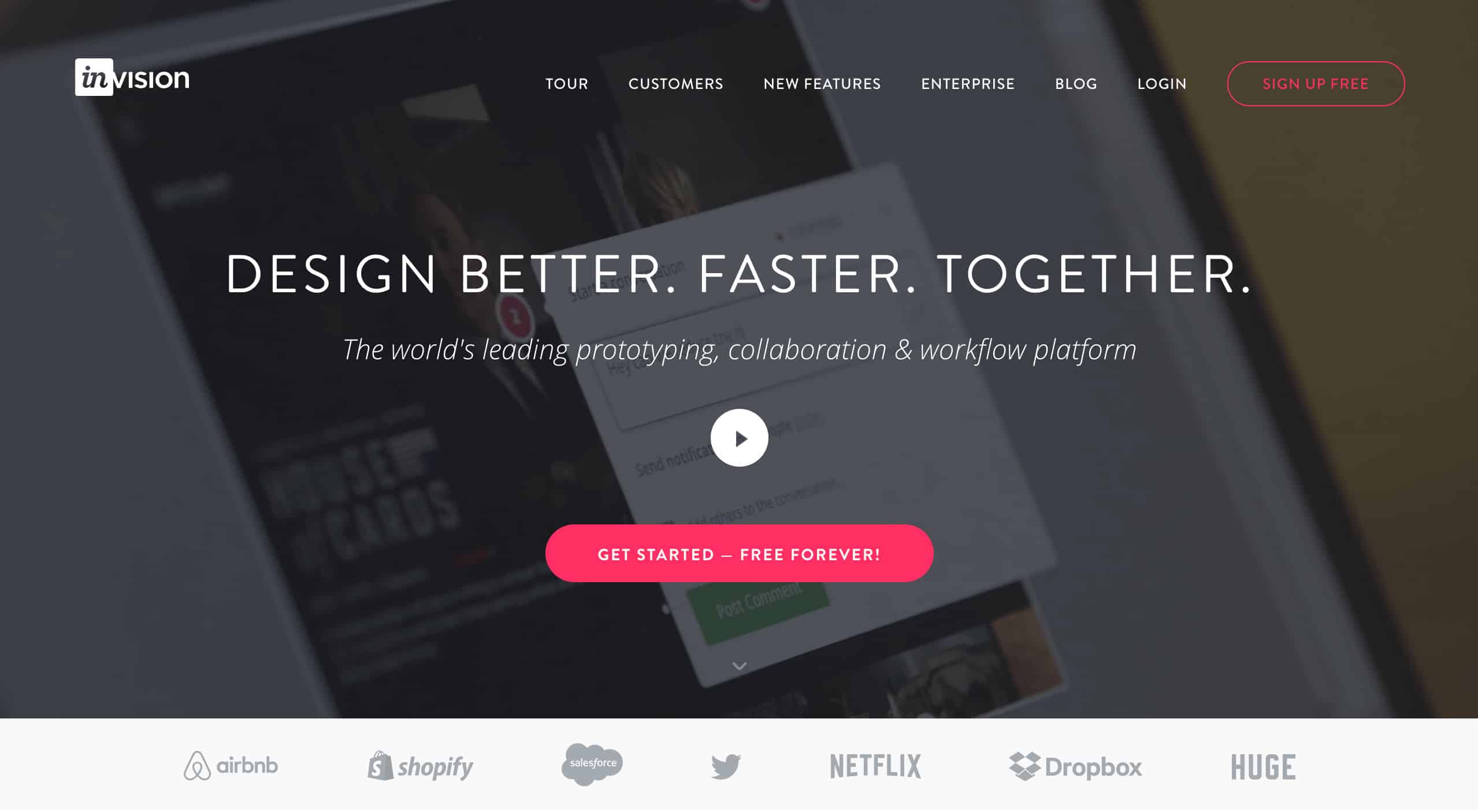 Created for designers by designers, this digital product design platform has been widely praised for the quality of its user experience. InVision is a prototyping software that allows your web design team to quickly and easily create interactive mockups and share them with the team and clients. You can discuss the mockups with the artists and the client inside the app itself by leaving comments that connect to the point on the screen being discussed.
Other features include:
Use the app to send the client a link to an interactive prototype that they can test.
The comments and notes feature creates a real-time to-do list. You can indicate a point on the screen that needs to be reviewed and attach a comment, resulting in both a to-do list and a revision history.
The Live Share allows the team to collaborate in real-time using a browser-based screen share. Each participant receives their own mouse, so everyone can easily point, sketch, and chat right inside the Live Share interface.
As anyone who works at a creative agency knows, presentation is everything. InVision is one piece of business management software that agencies specializing in web design simply must have.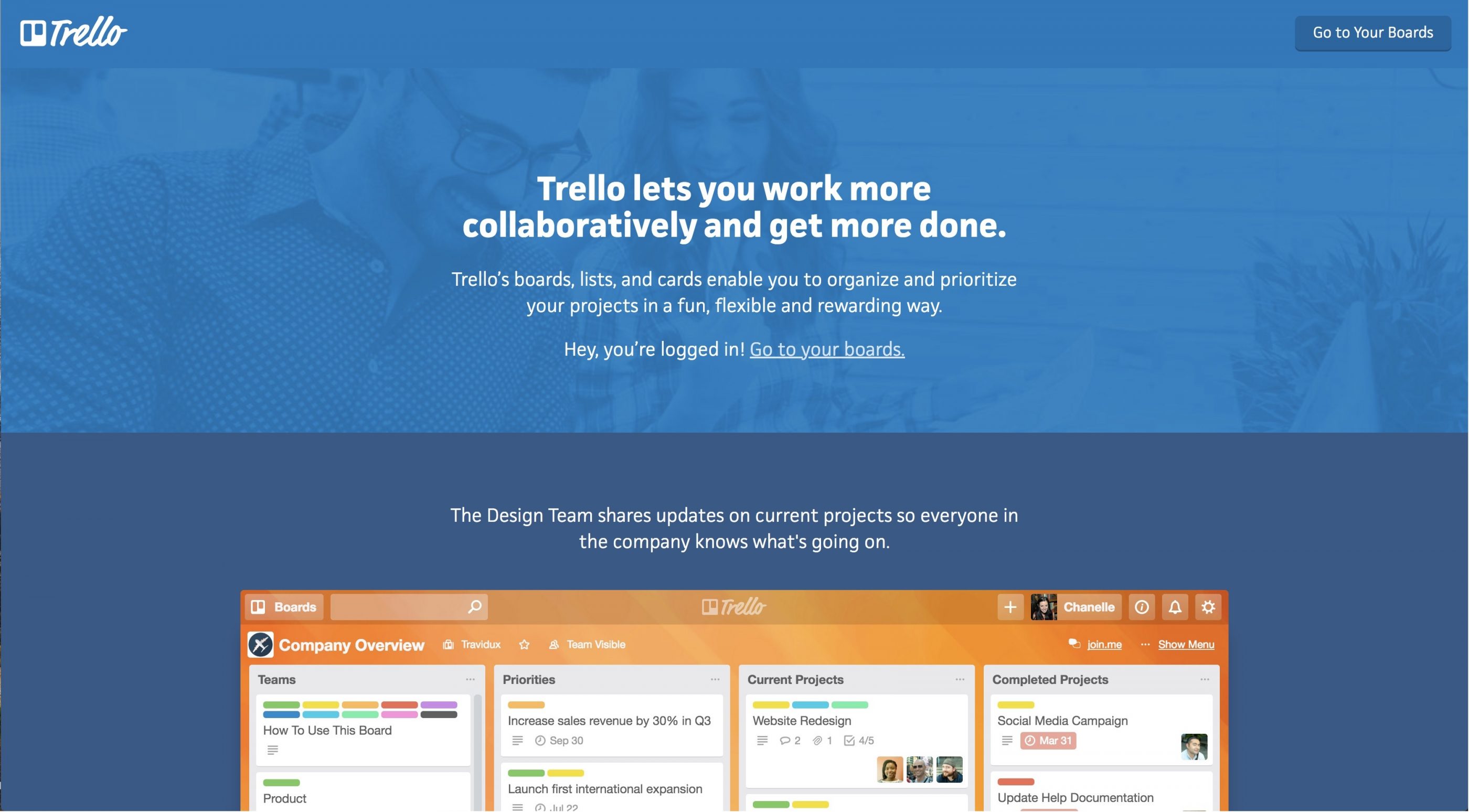 Fans of Trello use it for nearly all of their personal and professional planning and management needs. It's great for creative agencies because it's a highly visual tool that simplifies the most complex tasks and projects. It also makes collaboration easy and actually fun!
Here are some of Trello's most powerful business management tools:
The presentation system of boards and cards that flow naturally from left to right allows an easy overview of anything from your personal work agenda to the tasks of a complex project. If you've ever used Pinterest, you'll see a strong visual resemblance.
You can upload attachments of up to 250 MBs in size, which is ideal for sharing graphics concepts, PDF mockups of publication pages, and more.
The labeling cards allow for better organization and visual appeal. You can give each card a custom name and even color. Board backgrounds are also customizable.
Project managers in particular love Trello because they can easily map out their campaigns, set tasks and deadlines, and assign workloads to their team. Once everything is set up, they can get a general overview of their projects each time they log into the dashboard and make informed decisions on future actions.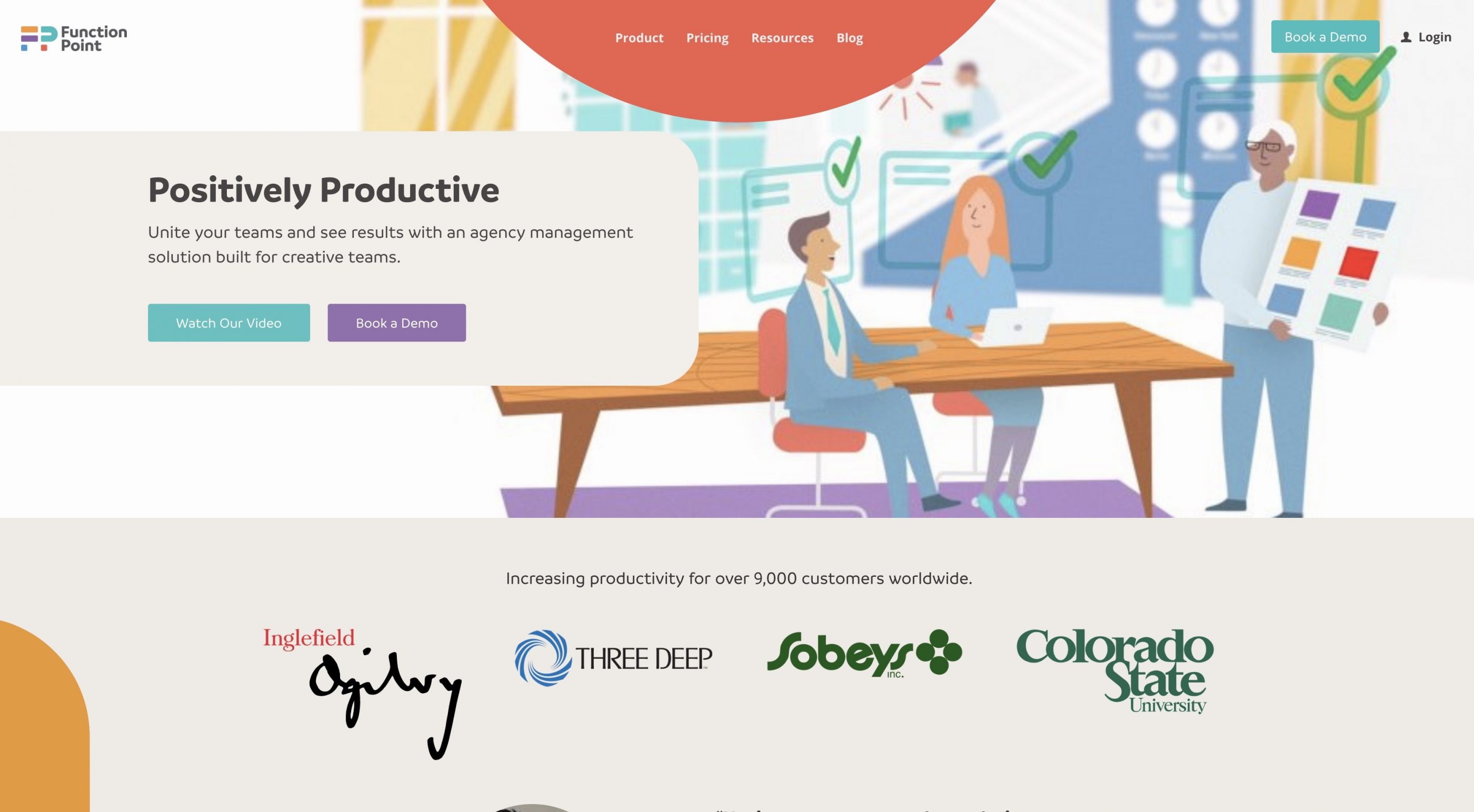 If you're running a busy creative agency and want to streamline the operational side of the business, Function Point is an all-in-one business management software that combines the following tools and elements:
Project management
Business and financial reporting tools
QuickBooks integration
Your project managers will have everything they need to do their jobs with confidence, thanks to features like workflow automation, task scheduling, and to-do lists. Timesheets and Gantt charts support more accurate resource management and, consequently, better productivity. Business intelligence tools such as customized dashboards and Macro and Micro Job ROI provide important visibility into projects and profitability.
Choosing Business Management Software for Your Creative Agency
The purpose of a good software package is to improve your agency's productivity and profitability by:
Streamlining important processes like task management, communications, and financial transactions
Simplifying collaboration, even for teams with remote members
Delivering real-time business data to support quicker and more effective decision-making
Centralizing information and resources
When deciding which tool you should implement, factors that need to be taken into account include usability, scalability, cost, and areas of need. The business management software reviewed here will all have a positive impact on the way that your creative agency operates, but some are better suited to a certain agency type: for example, InVision is especially useful for companies that specialize in web design while Trello is perfect for businesses that cover a variety of creative disciplines and projects.
Once you decide on a business management solution and implement it into the company workflow, it won't be long before administration processes become more efficient, allowing employees to focus their energies on producing a superior quality of work for your clients.
Rose Keefe is an author and technical writer who has over ten years' experience in supporting project managers in the manufacturing and construction sectors. One of her primary responsibilities was developing product manuals that supported efficient use of industrial equipment. She continues to write on the subject of time management and commercial productivity for trade websites and publications.