A Gantt Chart is just what you need to make those big, overwhelming projects seem a little more manageable.
Imagine that you have a large project on your plate—something that's going to take you months to complete.
For example, perhaps you and your team are spearheading the launch of an entirely new product for your company.
The end goal is straightforward: bring that new product to market. However, there are many tasks and milestones that fall under that objective. You need to do initial research, create a prototype, gather customer feedback, prepare a finalized version, craft a marketing strategy… the list goes on and on.
With so many different steps and mini-projects of sorts involved, you want an easy way to visually map out the entire project to see when certain tasks are being worked on.
We have good news: This is the perfect use case for a Gantt Chart.
What Exactly is a Gantt Chart?
A Gantt Chart is a chart that displays activities, as well as the estimated time frame during which they'll be completed. Think of it as a visual schedule of sorts.
When creating a very straightforward Gantt Chart, you designate your measurement of time (this could be quarters, days, weeks, months… really, whatever suits your project best) at the top of the chart. Along the left side of the chart, you list your activities.
Then, you place bars to indicate the length of time each activity will span. These bars will vary in length to represent different amounts of time.
Let's look at an example for some clarity. Here's a look at a very simple Gantt Chart, created by Gantt.com:

Pretty straightforward, right?
However, as a common tool in project management, Gantt Charts can be used to oversee highly-complex projects with many different steps and stakeholders. In those cases, the Gantt Charts become far more advanced, and end up looking more like this: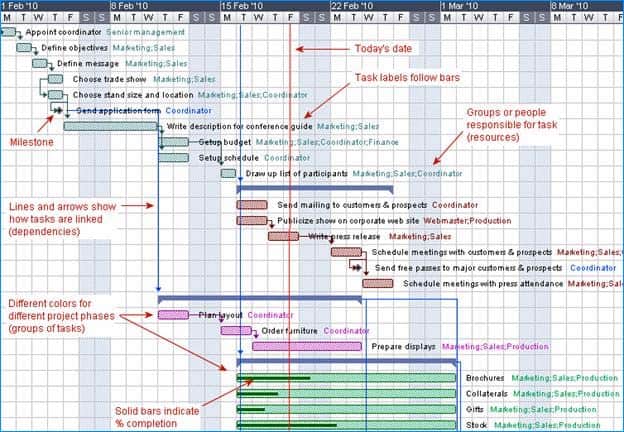 That might seem intimidating. But, rest assured, the more you work with Gantt Charts, the more comfortable you'll become. Start out with the basics, and you'll be whipping together those far more complex charts in no time.
What are Gantt Charts Used For?
As mentioned previously, Gantt Charts are helpful for planning projects that involve a lot of different steps or tasks.
That can span a huge variety of projects—from a personal project like a home renovation to a work-related undertaking like a marketing campaign.
Gantt Charts help you to plan out the order of necessary tasks, understand approximately how long a project will take, figure out what resources you'll need to handle those tasks, and spot any project dependencies you should be aware of (for example, you can't create the landing page for your new ebook until the copy is complete).
Having this bird's-eye view of your anticipated project schedule will ensure that your project runs effectively and efficiently—without a ton of bottlenecks or back and forth.
How to Create Your Own Gantt Chart: 7 Steps to Follow
Convinced of the power of Gantt Charts? We can't blame you. But, now there's another question you need answered: How do you create one for yourself?
Of course, you can keep things super simple by just manually sketching one out on a piece of paper or using a solution like Toggl Plan.
However, if you really want to roll up your sleeves and do this all yourself, you can quickly and easily create your own Gantt Chart using Excel. Here's how.
1. Determine What Your Sub-Tasks Are
Before you can even so much as open an Excel sheet, you first need to understand what tasks you're planning to plot on your Gantt Chart.
For example, let's return to our prior scenario of launching a new product for your company. What individual tasks and milestones are involved in making that happen?
Have conversations with your team to come up with a list of the various steps you'll take to launch that product. After doing so, you might have a list that looks like:
Market Research:

To determine customer need and the demand for a product

Planning:

Figure out your strategy and what the product should look like

Prototyping:

Build a "first draft" of the product

Customer Feedback:

Share your product and ask customers for feedback and improvements

Revisions:

Make changes to the product based on customer feedback

Final Product:

Finalize the product

Marketing:

Create your marketing and launch strategy
There you go—you've identified seven different tasks that are involved in the launch of that new product. Now, you're ready to open a new Excel worksheet and get to work on your Gantt Chart!
2. Create an Excel Table for Your Project Schedule
Charts in Excel are fed by a data table, which means that you first need to plot out your schedule in a simple table—rather than jumping right in with creating a chart.
Within your table, you will need four different columns to list the following: the task, the start date, the end date, and the duration between your start date and end date.
NOTE: If you want a quick way to figure out the duration between your start date and end date, timeanddate.com has this handy tool to do that calculation for you. Otherwise, you can simply use the simple Excel subtraction formula (C2 – B2, for example) to subtract the start date from the end date and do the math right in Excel.
Using our product launch example, here's what that data table ends up looking like: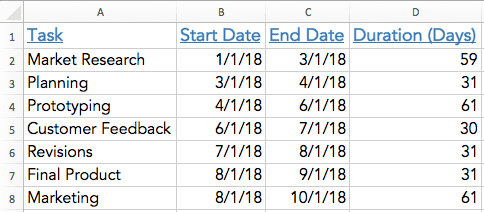 3. Insert a Stacked Bar Chart
While you're still on that same worksheet within Excel, head to the "Insert" menu in the ribbon and navigate over to where you see the different chart icons.
Click the bar chart button, and then select "Stacked Bar Chart." Excel will then insert a blank chart box on your same worksheet.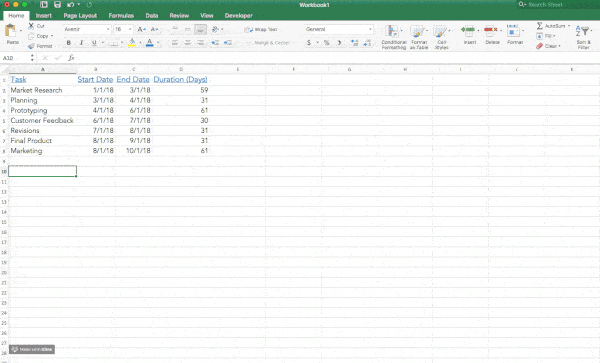 4. Add Start Dates to Your Chart
Don't worry, that chart box won't stay empty for long. We're going to start by adding the start dates to your chart.
To do so, right-click on the blank chart box and click the option for "Select Data" that appears in the menu. After doing so, you'll be met with a window that looks like this: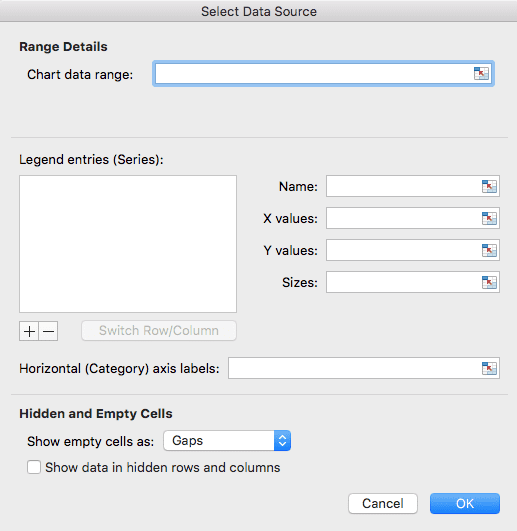 Within that window, click on the plus sign that appears under the "Legend entries (Series)" field to add your first set of data (in this case, the start dates of each of your tasks).
When you've hit the plus sign, a row called "Series 1" will appear in the box under the "Legend entries (Series)" header. Click on "Series 1" to ensure that you're editing that series in particular.
With "Series 1" selected within that box, click the tiny grid with the red arrow that appears to the right of the "Name" field. That will open a box where you can select a data. Select your column header "Start Date" with your mouse and press enter.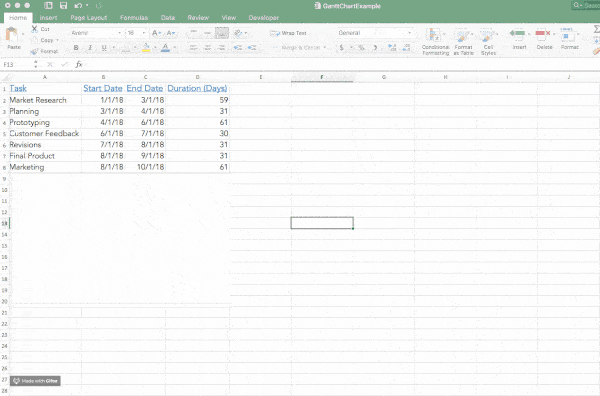 Now, click the tiny grid with the red arrow that appears to the right of the "Y values" field and then drag your cursor to select all of your start dates in your data set—not including the column header. Press enter and then hit the blue "OK" button.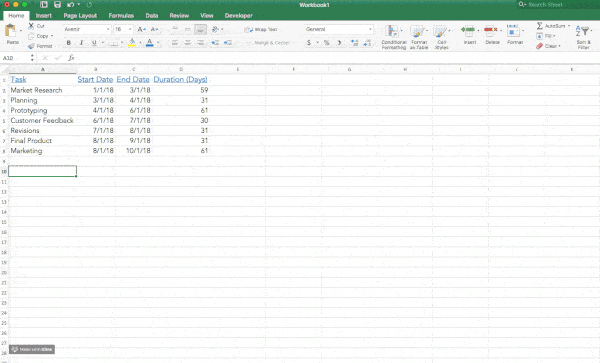 5. Add Duration to Your Chart
Now, you're going to repeat those same steps, only this time working with the "Duration" column of your data set.
Right click within your chart again and head to "Select Data." Start by clicking the plus sign again within that window to add another series. With "Series 2" selected, this time, you'll click the column header for "Duration" to name the series and select the values in your "Duration" column.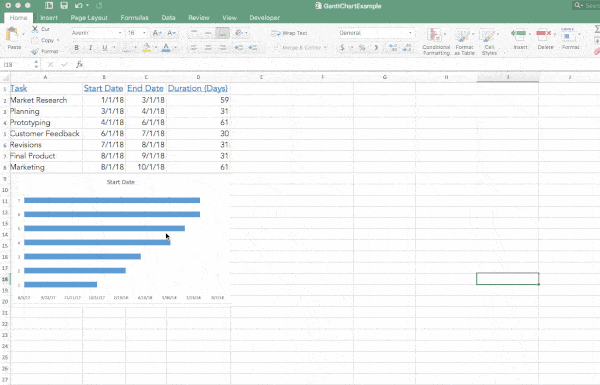 6. Add Tasks to Your Chart
At this point, your Gantt Chart looks a little something like this: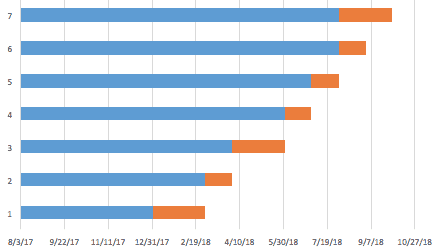 However, there's still more data that needs to be added to this chart: the individual tasks within your project. To add those, select the blue bars within your chart and then right click to choose the "Select Data" option again.
Within that window, you will see a field labeled "Horizontal (category) axis labels."

Right click the small grid with the red arrow to select your data, and then select all of your tasks within your data set—excluding the column header. Hit enter and then press the blue "OK" button.
7. Format Your Chart
You've now added all of your data to the chart. However, you probably notice that it still doesn't look like a Gantt Chart. You still have a little formatting left to do!
Your goal is to make all of the blue bars transparent so that only the orange bars are left to represent your tasks.
To do so, click on the blue bars to select all of them at once, and then select the "Format Data Series" option. Click the paint can to adjust the fill and line colors of those blue bars—you should select "No Fill" and "No Line" in order to make those bars totally transparent.
After doing so, you'll see that your chart is starting to look more like a Gantt Chart: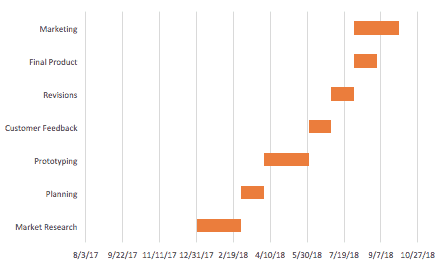 There's one more step you should take. On the left side of your Gantt Chart, notice that your tasks are actually listed backwards—meaning the last task is appearing at the top. You'll want to reverse the order of those so that your chart makes more sense.
Doing so is easy. Click on the tasks within your chart to select that data series, and then right click and select the "Format Axis" option.
Within the menu that pops up, check the box for "Categories in reverse order" and then click back within your chart.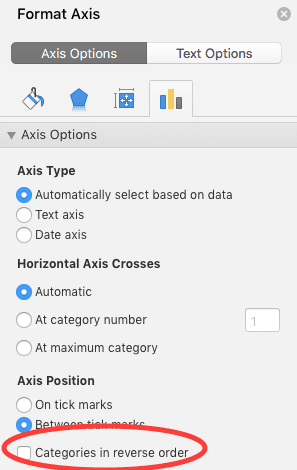 Your tasks will be re-ordered automatically, and your Gantt Chart is finished!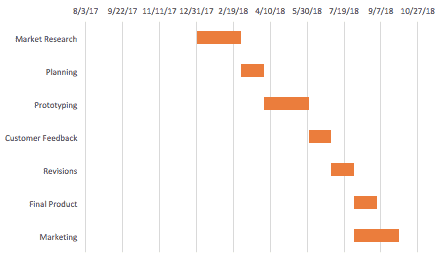 Create Your Own Gantt Charts
There you have it—seven steps to create your own simple Gantt Chart. It might seem a little intimidating the first couple of times you do it, but you'll quickly get used to how the whole chart comes together.
There are plenty more tweaks you can make to format your chart, as well as steps you can take to make an even more advanced Gantt Charts.
But, getting started with these basics equips you with everything you need to get a bird's-eye view of your project tasks, timeline, and dependencies. So, get to it!
Kat is a freelance writer specializing in career, self-development, and productivity topics. She's passionate about being as efficient and effective as possible—much of which she owes to her 114 words per minute average typing speed. When her fingers aren't flying on the keyboard, she loves to bake, read, hike, or tackle yet another DIY project around her home.