Project managers around the world will agree, the most time consuming aspect of being a project manager is creating timelines. Time is a constantly evolving variable, so it's always a good idea to look for ways to manage it well. What if it were possible to create a Gantt chart template in 10 minutes? Even better… What if it were free? Here, we're going to go over exactly how that's possible using Toggl Plan.
What is a Gantt chart?
We can't really go into the elements of a Gantt chart without a quick understanding of what it is. A Gantt chart is by far the most popular way of organizing and scheduling projects. On the chart, tasks will be displayed across your screen with varying levels of progression signified using horizontal lines. These lines will be parallel to a calendar showing deadlines and important dates.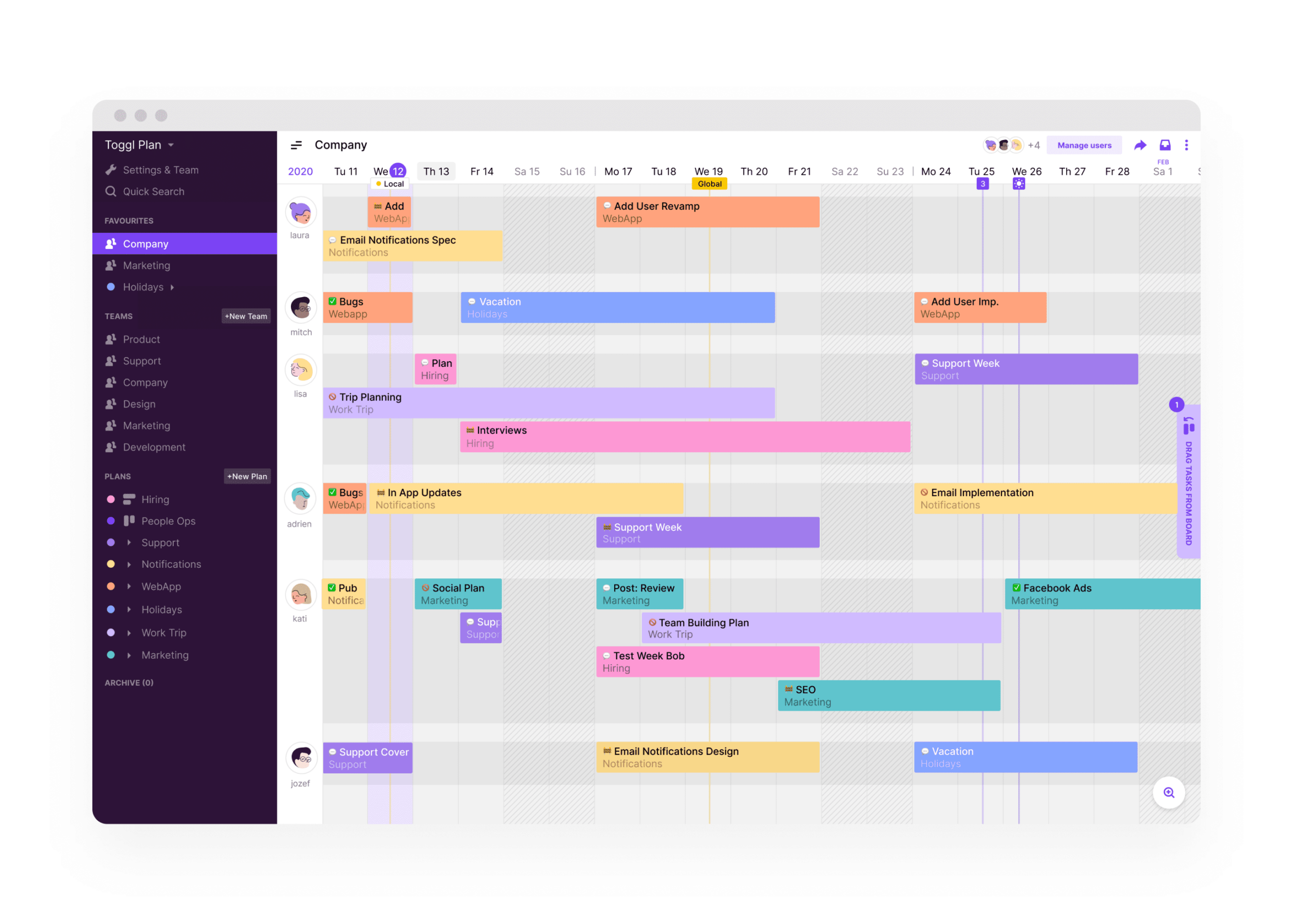 The reason Gantt chart templates are so popular is because they make it easy to visualize your immediate schedule and the upcoming one. Instead of having to mentally remember special dates, you simply have to log them once, and check your schedule regularly.
In addition, being able to visualize your schedule can be quite motivating to get it done. Anyone can remember a meeting on Friday, but seeing it in front of you and watching the days tick by is what really makes the difference.
Create A Free Gantt Chart Template With Toggl Plan
Toggl Plan is an online tool made specially for creating detailed timelines. The software includes a whole list of features that'll help you leap over any obstacle you may come across. The best part about it? You can use Toggl Plan to create your very own Gantt chart template in record time, and completely free. Today, we're going to be focusing on the Gantt chart template, it's main components, and how you can use it to your advantage all within Toggl Plan. Let's get this ball rolling!
When you first log in
When you first log in to Toggl Plan, you'll see a linear calendar across the top of your screen, with columns below. Each column represents a day. If you're not used to seeing something like this, it can be slightly overwhelming. The good news is that it's way easier to set up and use than you might think.
Next, if you take a look to the left of your screen, you'll notice a completely empty column. This is where your name will be. If you choose to add more team members, their names will also appear here.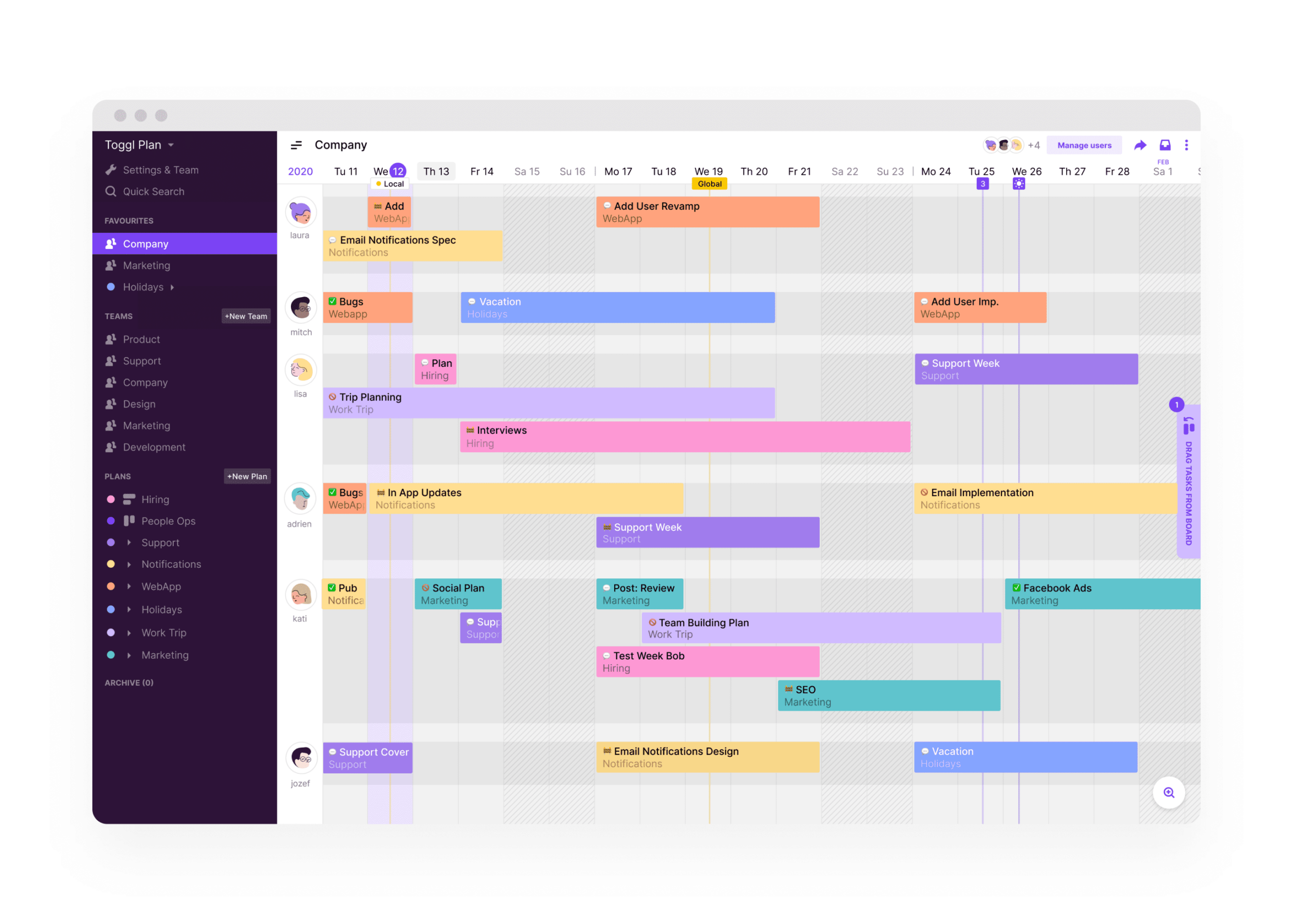 One thing that makes Toggl Plan so user friendly is the fact that there isn't a suffocating amount of buttons to navigate through. It's straightforward, simple, and beautifully designed.
How to set and manage tasks
Tasks are the tiny steps that contribute to a  project. Without each task set in the correct order, the entire project can fall apart, and we don't want that.
To set a task on your timeline, find the name of the person who is going to handle it. For the sake of keeping things simple, we'll just pretend that you're setting a task for yourself. Once you've located your name on the left, follow the calendar out to the right, and find the starting date of the new task. Next, simply left click and drag all the way to the deadline.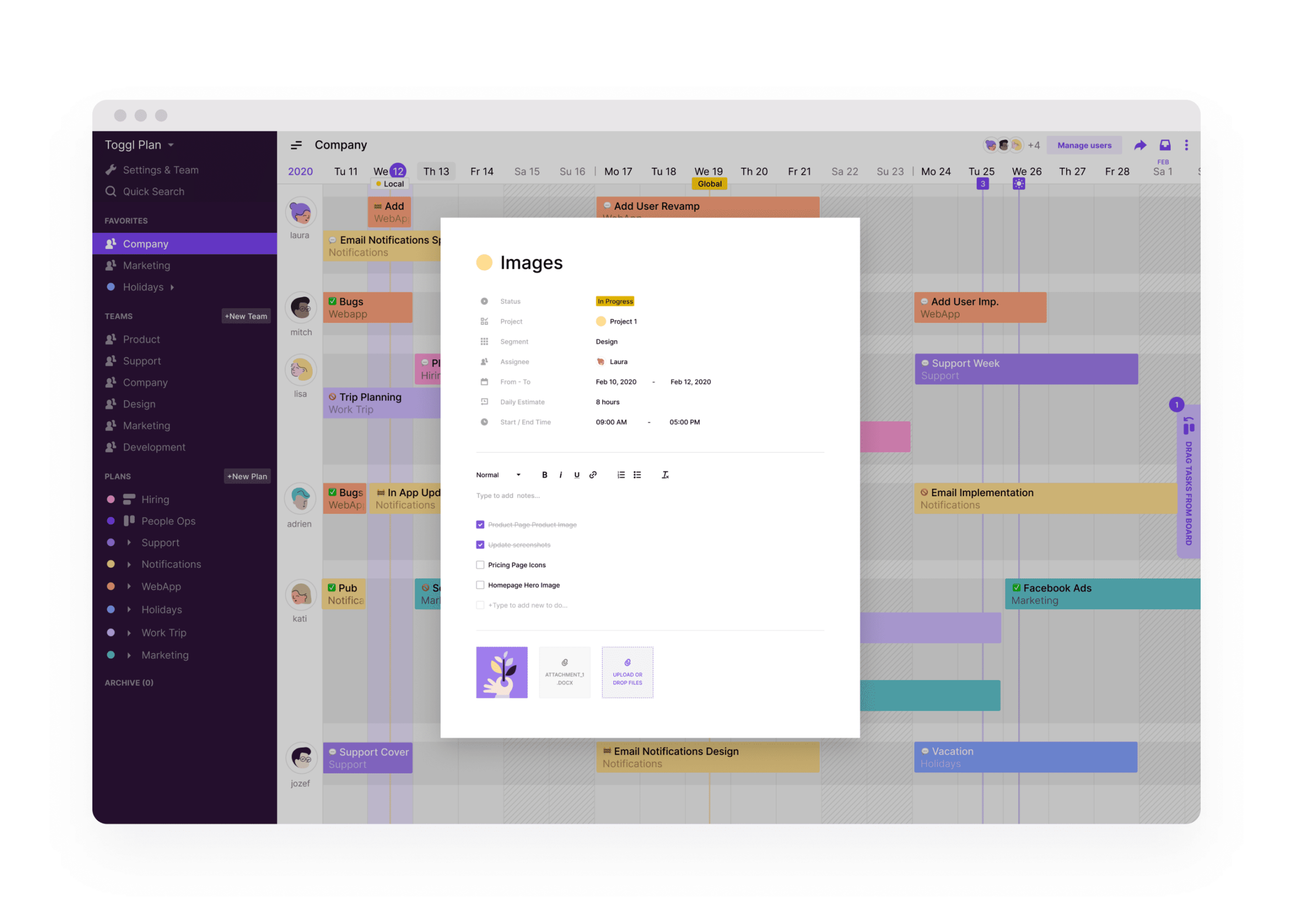 When you've selected the appropriate date for your task, a little window will pop up and allow you to add some additional information. Here, you will name the task, select start/stop times, add custom notes, and even select custom colors. The custom color feature is a rather helpful one when you're dealing with a large team. If you have a lot of eyes on your timeline, you can quickly change the colors of the horizontal lines so that anyone gazing at the schedule can take a quick glance and see where they should be.
How to revise and edit mistakes
Now that you have your custom Gantt chart template all sorted out, it will be even more exciting for you to know that you can edit and revise it just as easily as you made it. When plans change or you've noticed a mistake in the schedule, you can easily add or take away any task. You can extend any deadline, push back any start date, and even change the person responsible for completing the task. If you want to move a task, click, drag, and drop it on its new date.
Milestone feature
Toggl Plan is much more than your basic Gantt chart alternative. It's a robust tool that makes sure you get the job done and that you have an easy time doing it. For example, Toggl Plan's milestone feature makes it easy to keep track of deadlines in your Gantt chart template.
Milestones are used to help better manage projects by breaking them up into smaller pieces. This helps you in your position by making it easier to budget and schedule, as well as giving you and any others on your team something to look forward to.
To set a milestone, go to your Gantt chart and select the date for your milestone. Click, label and set it, and everyone will now see it on their personal timeline. Don't worry about highlighting major holidays, though – Toggl Plan automatically does that for you.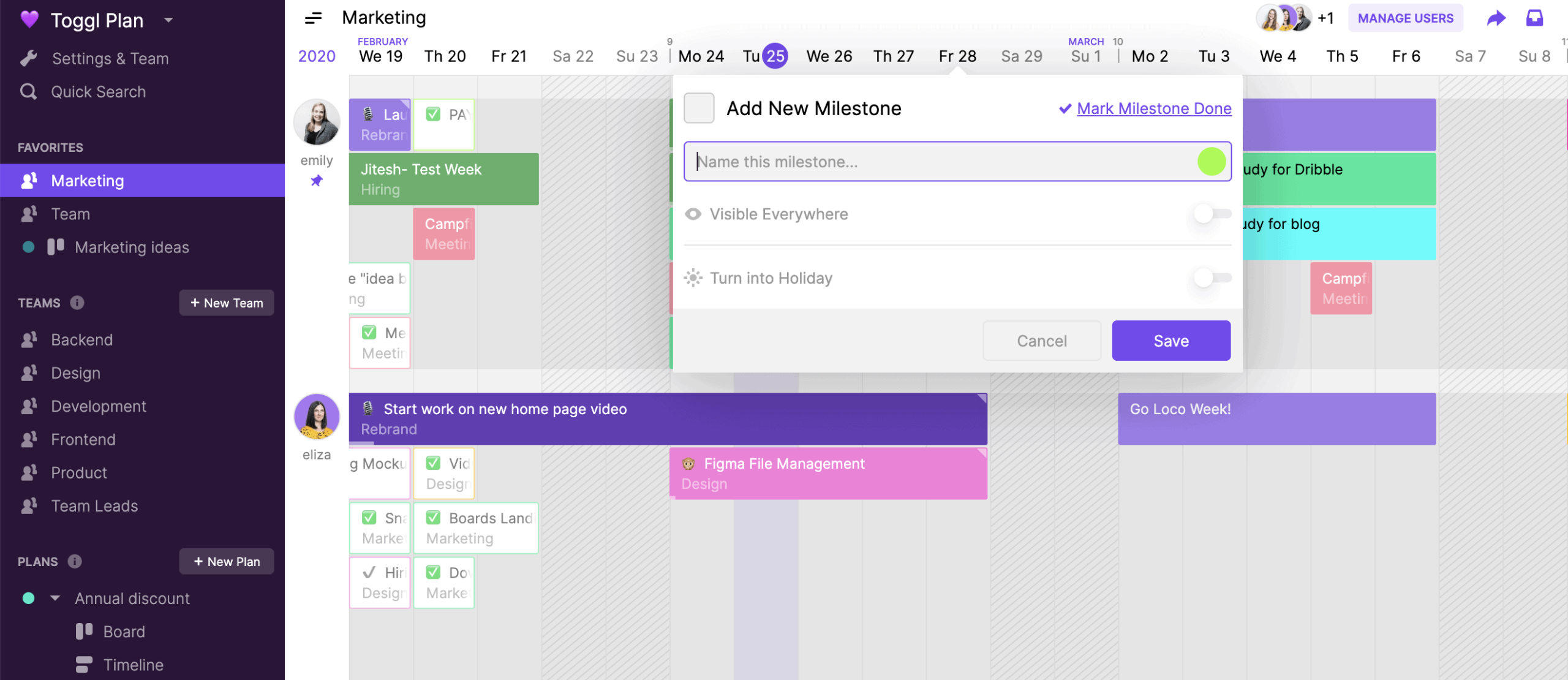 What are you waiting for?
As helpful as Toggl Plan is, you might expect it to cost an arm and a leg, right? Nope! Toggl Plan is free to try, and it only takes seconds to sign up. Honestly, there's no reason to put it off any longer, give it a try and see why so many people, teams, and industries trust Toggl Plan every single day.
Like many other people, Zach McDaniel gained his knowledge of management and project management through research and necessity. He believes that the most interesting thing about project management, management, and productivity is that there are so many different strategies, so there's always something new to learn and share.