CVs and interviews don't predict job performance, but work assignments can.
It's really simple; hiring managers need to place competence in context to assess candidates' technical and interpersonal skills.
If a structured interview process can help flush out candidates with the right attitude and cultural alignment, homework assignments can highlight people with the perfect skillset for the role.
And for a hiring manager, the hiring confidence when selecting between candidates who list the right skills on their resume and those who nail take-home tasks is like night and day.
Curious if work assignments could be a good fit for your company?

In this article, we discuss:
what a homework assignment is all about
why companies prioritize work assignments over interviews
how to reassure candidates that work assignments aren't 'free work'
the easiest way to incorporate take-home tasks into your hiring process
five tips for designing an effective homework assignment
Let's dive in!
What is a homework assignment?
A homework assignment or an interview project is a task given to a candidate during the interview process that tests whether they have the right skills for a role. Typically these assignments take about an hour or two to complete and have a specific deadline. But they can be more detailed and take up to 5 hours or longer, depending on the role seniority or complexity.

Top tip:
We recommend sticking to a maximum of two hour-projects to keep it fair and reasonable for candidates. As a hiring manager, your main goal is to get a reliable snapshot of a candidate's technical fit for the job – not to subject applicants to NASA-level testing.
Alternatively, you could swap homework assignments for paid test projects. While many candidates frown upon the idea of completing longer take-home tasks for free (who doesn't hate free labor?), paid projects are generally accepted as a reasonable alternative. Learn how we leverage paid projects at Toggl Hire.
If a candidate won't complete an assignment that takes less than 2 hours of their time, likely, they aren't really interested in the role. So it also doubles as a reliable method to screen out prospective bad hires.
Why do companies ask candidates to complete homework assignments?
Homework assignments help companies get a better idea of a candidate's strengths and whether they'd be a good match for the role. It's a bit like shopping online. Seeing a new pair of sneakers you want in a 2D image is great. But getting a fully immersive AR experience really brings the sneakers to life and builds your confidence you're making the right choice!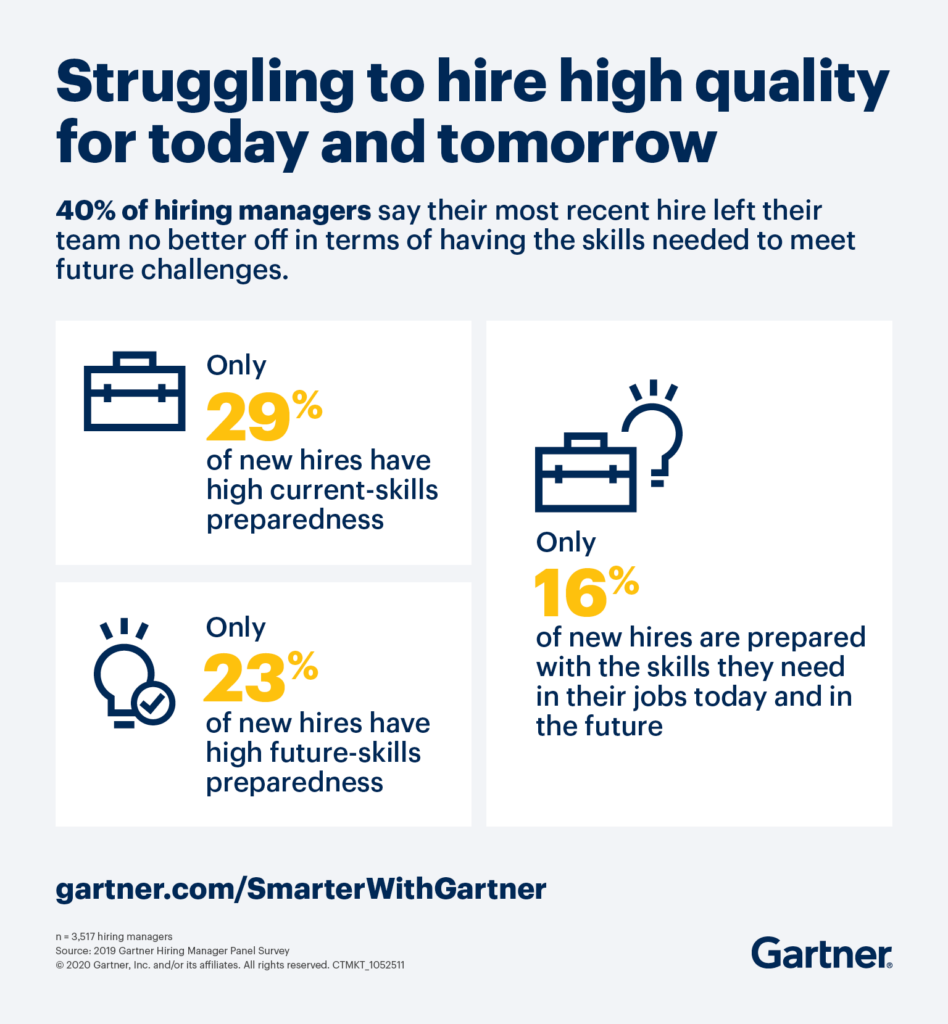 These days, many companies prioritize work assignments over interviews, as the typical interview process is outdated. Interviews and CVs alone don't help the hiring team explore a candidate's actual abilities. Why? Well, firstly, candidates sometimes exaggerate their qualifications on CVs. Plus, a potential candidate could be great in an interview scenario but terrible at the actual job.
Another reason interviews are passé is that they can open up the hiring team to potential cognitive bias (hiring someone very similar to you). This might seem kind of nice, but in the end, you'll have less diversity if everyone you hired was a mini-me, right?
Yet, interviews do have an important role to play in the hiring process. But not right in the beginning, necessarily. Shifting the interview portion further down the hiring process steps helps companies focus on quality candidates rather than the search for quality candidates. They could rather confirm the technical fit through skills assessments and then dig deeper during the second interview.
According to HBR, prioritizing homework assignments over interviews can help recruiters better match true competency with the job requirements:
One of us (Jeff) spent several years hiring writers for our firm. He used a scenario-driven writing assignment, administered after a short introductory call, to assess skills. Many publications use writing or editing tests for job candidates, but Jeff approached the task more analytically than most: After receiving the assignment, he conducted a follow-up conversation to understand not just what was on the page, but the candidate's choices in crafting it.

Not only did this give us a sense of how a candidate would perform, but they got a much better sense of the job itself, as we related elements of the task to actual role expectations. By using the same exercise repeatedly, it also built a database of responses over time, a positive feedback loop to better assess the next candidate.

Geoff Tuff, a principal at Deloitte Consulting LLP – Harvard Business Review
The real benefits are that work assignments and skills assessments paint a truer picture and can also:
help identify the best person for the job
reveal an applicant's work ethic
reduce the risk of selecting candidates that have lapsed technical skills (especially with the rapid evolution of technology)
are easy to deploy at scale – you can narrow down the number of applicants from 500 to 50 to save the hiring team loads of time
help organizations draw in non-typical but strong candidates that broaden the team's diversity, equity & inclusion
reduce the risk and cost of a bad hire
What do candidates gain from completing homework assignments?
Job seekers may not often feel enthusiastic about interview assignments. And we get it. People are busy juggling so many things in their day to day that adding one more can feel overwhelming. But those who look at the bigger picture see it as an opportunity to shine.
Work assignments are a foolproof way for job seekers to demonstrate their skills and expertise. And if candidates happen to have any gaps in their experience, they can still demonstrate their aptitude through an online assignment.
It's also an easy way for candidates to show they're truly interested in the position and the employer and stand out from the crowd of other applicants.
Not only do these task projects give them a peek into their potential day-to-day responsibilities, but it's also a window into whether the role is a good fit for them in the long run.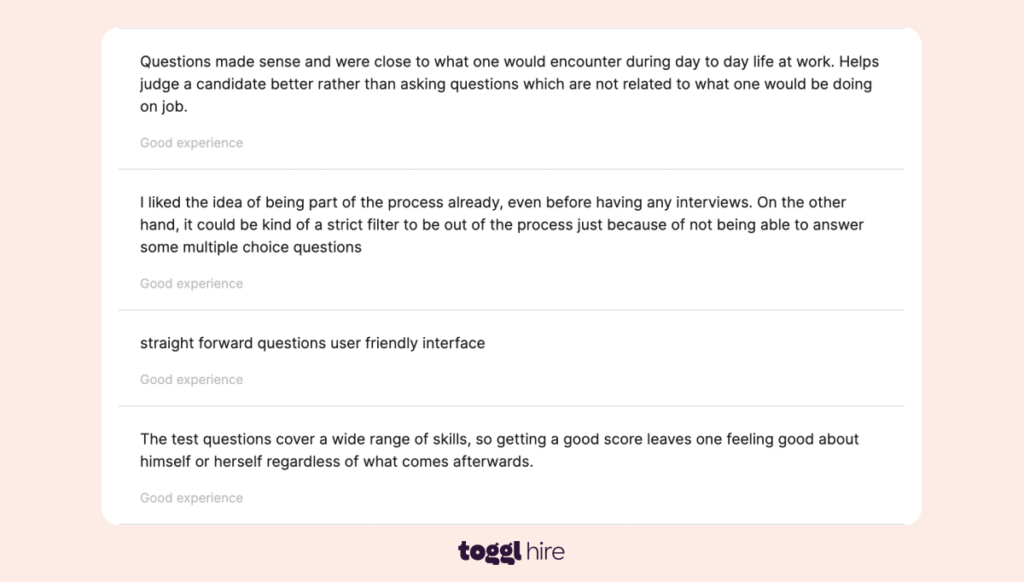 If they find the task takes too long or that the topic or sector is dryer than toast – they should put their sights elsewhere. But if it's all systems go – then they've already got a head start on producing what's needed for the role.
5 Types of take-home interview assignments
Take-home interview assignments are a popular choice for assessing technical and creative candidates. But now companies are seeing the benefits for other roles too.
Three things that hiring managers should consider for all these types of interview assignments:
Letting candidates know about the test beforehand. That way, they're not surprised and feel they're starting off on the wrong foot.

Automating everything they can in the testing process, so they don't leave candidates high and dry in between lengthy hiring phases.

Using the data they gain from these tests and candidate feedback to update their hiring process.
And now, onto the examples of homework assignments.
#1 Basic skills screening
Quick skills screening tests as a pre-qualifying step can help reduce the volume of applications without any manual effort. That means no manual resume screening or individual candidate feedback.
As applicants get instant feedback via skills test results (they either pass the required score threshold and move on or stop there), recruiters and hiring managers benefit in three major ways:
1) they save hours of their time by automating CV screening;
2) they can easily identify qualified applicants who should move to the interview stage;
3) they ensure a great candidate experience with modern skills-based hiring practices.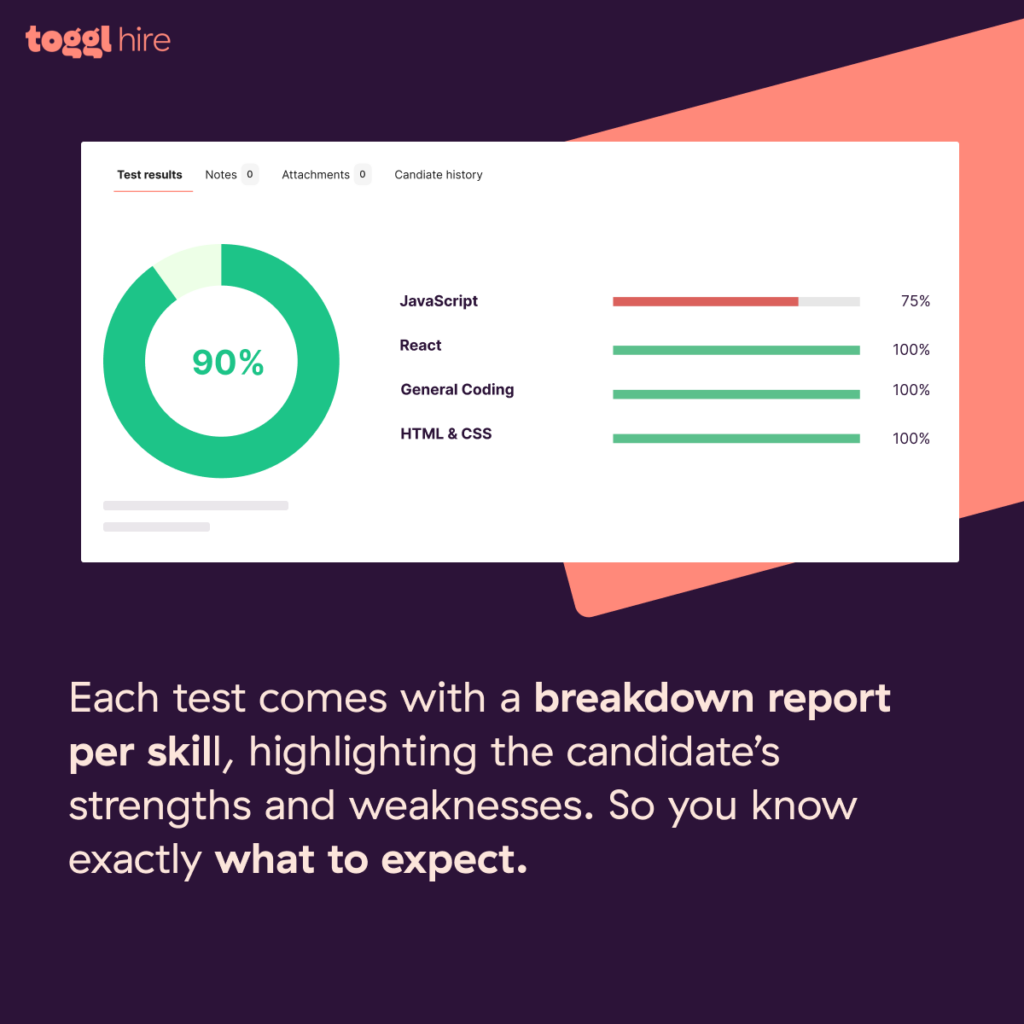 Good practices:
Keeping the tests short and sweet to respect candidates' time and effort. We'd recommend 15 or 20-minute assessments at the kickoff. However, it's important to ensure the tests are hard, so they actually act like a quality filter for your candidate pipeline.
Bad practices:
Focusing too much on theoretical, bookish questions that make the test feel like a school exam can harm your test completion rate and prevent great candidates from submitting their applications. Additionally, making the screening tests too long or too intrusive (e.g., taking snapshots through the computer camera) can create an unnecessary barrier and reduce your chances of sourcing top-quality people.
#2 Pre or post-interview coding challenges
While a job interview can help hiring managers assess interpersonal skills, such as communication, teamwork, or motivation, it's not the best medium for evaluating hard skills. Online coding tests help the hiring team select technically capable developers that can contribute to the business.
A recruiter would typically source candidates with the right programming languages listed on their profile or resume. And then, it's the hiring manager's responsibility to work out if the applicant has what it takes to write good code. Easier said than done!
That's why a coding assessment as a homework assignment has become the norm in tech hiring, and most developers are willing to take them on.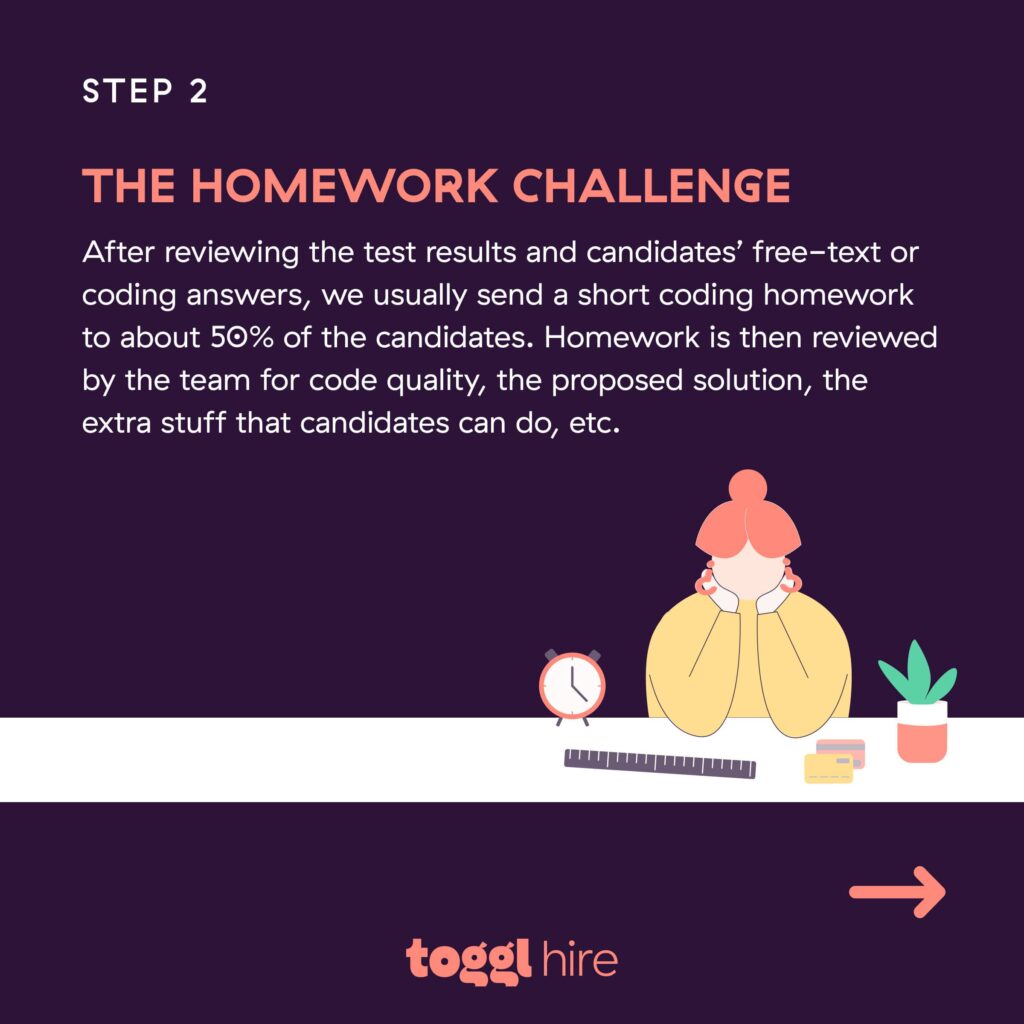 Remember, though; candidates don't owe you free work. Your approach to designing a coding test will determine whether people continue in the hiring process or drop off.
Good practices:
First of all, decide what you want to assess and why. If you're hoping to ascertain a candidate's troubleshooting and problem-solving skills, time-boxing the assignment wouldn't work to your advantage. The candidate can always use the 'lack of time' as an excuse for lower-quality work.
Another thing to remember is to set the test at the right skill level, depending on whether it's a junior, intermediate or advanced role.
Bad practices:
Testing skills that are nice to have or don't match the role is a common mistake. Focusing on too many topics requires candidates to switch context from question to question – which is often confusing and tiring in such a short span of time.
Another issue employers run into is using clunky testing software that candidates need to figure out on the fly. If it takes effort to learn the platform or the platform doesn't have the required features, developers will have to pay the price.
#3 Portfolio reviews and spec work during the job interview process
Ask any creative about their opinion on spec work, and you'll likely hear that it sucks. And there are good reasons for graphic designers, writers, and other creatives to hate this kind of work – why should they commit to the project without any promise of payment?
If you're hiring a professional from the creative field, we highly recommend starting with a live portfolio review. That's when a candidate can take the interviewer through specific portfolio examples and share the backstory and lessons learned from that project. With creative roles, it's often the unique style and quirks alongside the technical skills that can help determine the best person for the job.
However, sometimes paid spec work is a much fairer and more accurate way of getting insight into a candidate's skillset. For tasks that require a highly personalized approach or solution, going the freelance gig route can yield better results.
Good practices:
Inform candidates ahead of time that you'd like to review their portfolio during a live interview. This will give them time to prepare and update their work samples. Ask questions that relate to their portfolio, even if the current samples don't match your brief – you want to understand their creative process and practices. For paid spec work, make time to discuss the brief in person and agree on a check-in schedule to ensure work progresses in the right direction.
Bad practices:
Springing this on the candidate without any warning and expecting the work to be delivered on a short deadline is a questionable move. Even if you're opting for paid spec work, bear in mind these tasks are often completed in a vacuum and should be evaluated through a less critical lens. And finally, the not-so-secret secret: most creatives are terrible at maintaining their portfolios up-to-date. Giving them the heads-up will increase your chances of selecting the right talent.
#4 Time-boxed homework assignments that go in-depth to evaluate candidates' competence
This type of home assignment can take many forms – from asking a marketing professional to write a press release for a product launch that already happened to requesting a business analyst to extract key insights from a dataset.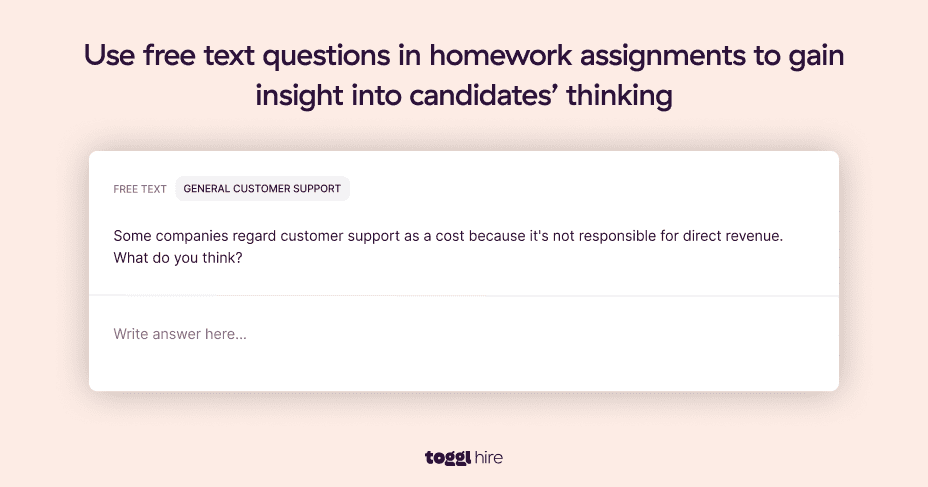 To ensure it's not perceived as free work, time-boxed assessment projects often focus on real-world business problems that have been solved internally. This way, you can benchmark candidates' work against your internal quality standard and reassure candidates of your intentions. The sole purpose of interview assignments is to confirm candidates' technical fit in an efficient manner.
Good practices:
Keep the topic or assignment relevant to the role, and limit the necessary time it'll take to complete to about 2-3 hours. Remember that the clarity of your brief will largely determine the quality of the deliverables, so be specific about your expectations.
Bad practices:
Expecting someone to take 5-10 hours out of their busy schedule for an unpaid assignment is unrealistic.
#5 Paid projects during the interview process
Interviewing is exhausting for both the candidate and the interviewer. So it's unsurprising that paid interview assignments have been gaining in popularity in recent years.
As a hiring manager, would you rather spend hours of your time interviewing candidates to filter out the bad apples or use the job interview as a way to get to know potential hires?
Homework assignments are exactly that – a simple, efficient method for spotting A-level candidates with the right skills for the job.
As you confirm the technical fit before the interview, both parties can focus on aligning on other important factors, such as the organizational fit, team culture, and manager expectations.
However, many employers have realized that the sentiment around homework assignments has shifted from acceptable to immoral, as applicants began calling assignments 'free work'. Research shows that drop-off rates increased when candidates were asked to complete a take-home assignment.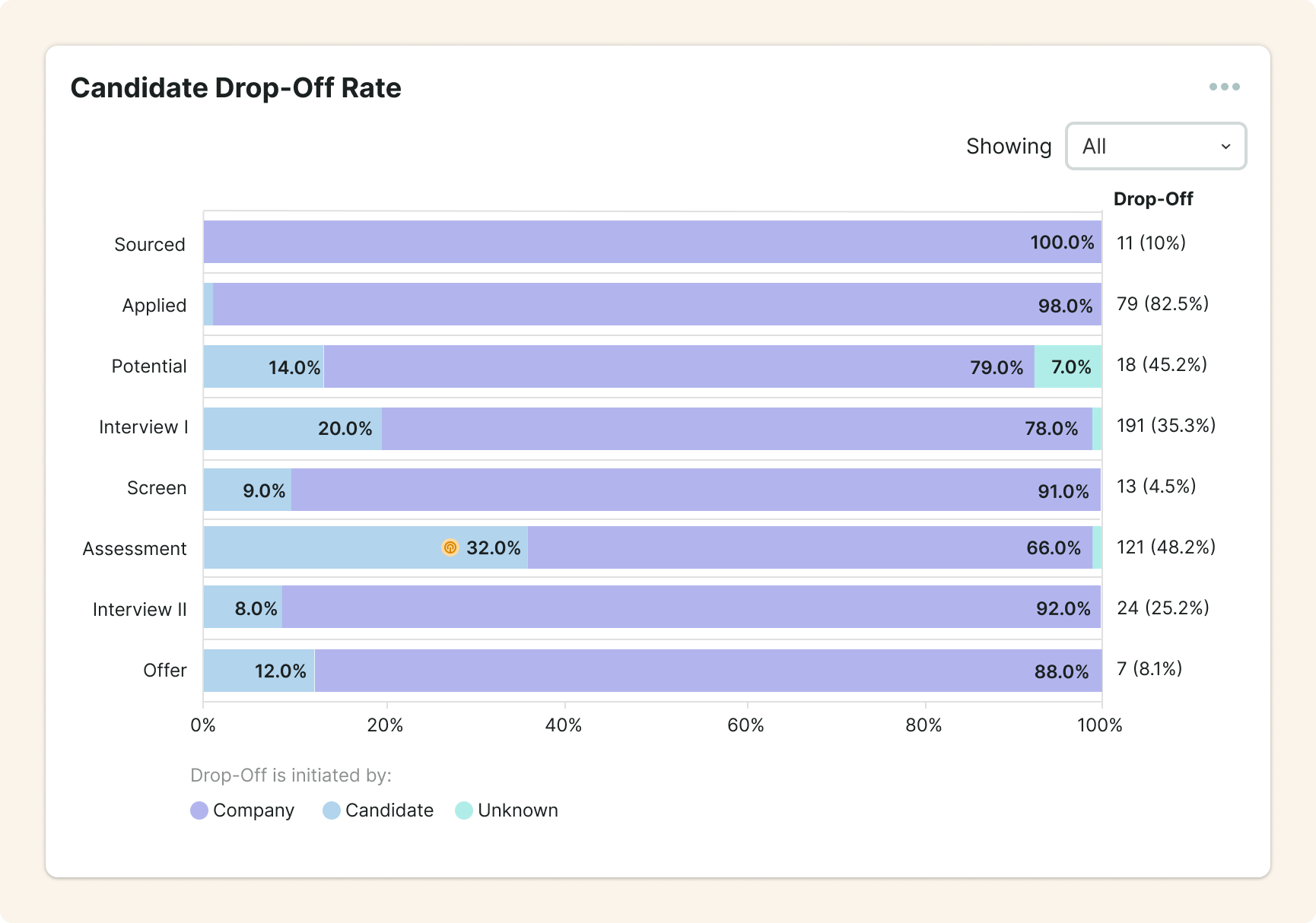 Enter paid homework projects.
The perfect combo of practical competency assessment and paid work. Since the candidate receives compensation for their time, these types of assignments can be longer and more complex.
Anything from analyzing the growth funnel to tackling a programming challenge to designing an effective product onboarding experience can serve as a homework assignment idea.
What's important to note is that these kinds of work assignments allow employers to get a glimpse into a candidate's work ethic, thinking process, time management, and many other skills that are impossible to assess during the interview process.
Good practices:
If you're paying for their time, treat them like consultants: provide access to important information, answer their questions and connect them with the right people internally. And be sure to outline the recruitment process at the very start; not everyone will happily take on a bigger commitment project, even when it's paid.
As a hiring manager, stay in touch throughout the recruitment process to lay the foundations for a good working relationship. Provide clear requirements and timelines to reduce stress, and don't forget about fair compensation – going below the market rate is disrespectful.
Bad practices:
A great way to cause unnecessary stress is to ask candidates to present to a large audience or high-level execs they would never work with on a day-to-day basis.
Be sure to provide a clear agenda for the presentation call ahead of time and prep your interview panel for follow-up questions.
The work assignments and interview process windup
Work assignments are a good thing for companies and candidates alike. The result is like the difference between speed dating and a real dinner and a first date. Yes, they're both exciting, but in the case of hiring, you need to hire someone that can demonstrate they have the right skills. The cost of hiring the wrong candidate is just too high for companies.
To find truly interested candidates, who have the right aptitude, introduce your team to the benefits of work assignments. You'll save both parties loads of time and the hassle of a dragged-out interview process and other redundant hiring steps.
If you're ready to explore how to transform your business' hiring process from a time-consuming to a slick candidate pipeline, we leave you with five simple tips on designing an effective homework assignment.
5 simple tips for designing a great homework assignment:
Replace resume screening with basic skills screening. Start the sifting process early with a quick skills screening test. This will weed out the bad eggs and leave you with a selection of good potential candidates.

Make your assignment brief and easy to understand, and explain the key outputs you expect.

Match the level of the homework assignment to the level of the role. Unrealistic tasks will only scare people off.

Don't request candidates to solve super-specific business problems. Make the assignment generalized, not based on a super specific problem your business is experiencing.

Give the candidate a chance to show and tell. That way, you get insight into their thought process, presentation skills, and even emotional intelligence when their viewpoint is challenged.
Have a peek at our Test Library for more assignment ideas, and good luck!
Juste loves investigating through writing. A copywriter by trade, she spent the last ten years in startups, telling stories and building marketing teams. She works at Toggl Hire and writes about how businesses can recruit really great people.