Let's start with a quiz. When hiring a new employee, what's the most important thing to look out for?
A) A piece of paper with a college degree on it 📜
B) A long list of work experience 🧑‍💼
C) That the candidate has the skills needed to do the role effectively 🔧✅
We think that, like us, you'll have chosen C. If so – ding ding ding – you're a winner! After all, what more could you want than a candidate with the right skills who can do the job you need?
That's why skills-based hiring is the next big thing in the recruitment world, with the best companies bringing top talent into their teams based on their skills, not their backgrounds.
In this article, we'll dive deep into skills-based hiring, helping you understand what it is, why it's important, and the benefits it can bring to you and your company!
Quick Links:
What is Skills-Based Hiring?
Skills-based hiring is pretty simple. It's an approach to assessing candidates where you only focus on the skills and competencies needed for a role rather than factors such as experience or qualifications.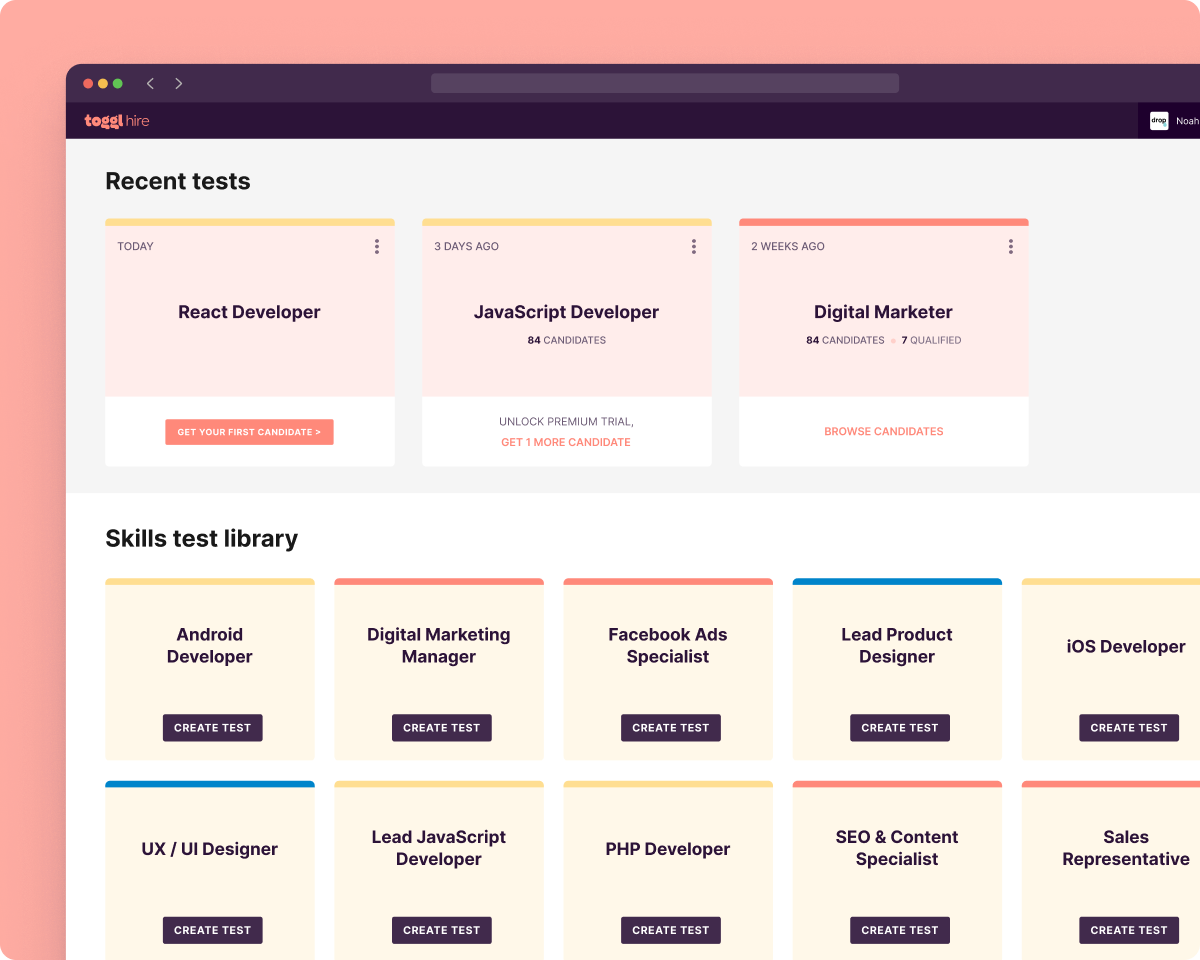 After all, the hard and soft skills make employees good at their jobs, not necessarily their college degrees or previous experience.
In a world where degree inflation (the demand for a four-year degree in a job that previously did not require one) is rising, the labor market is becoming harder and harder for candidates to penetrate. When you combine that with a tough, hard-to-fill recruitment market, it's easy to see how focusing on skills could solve many problems.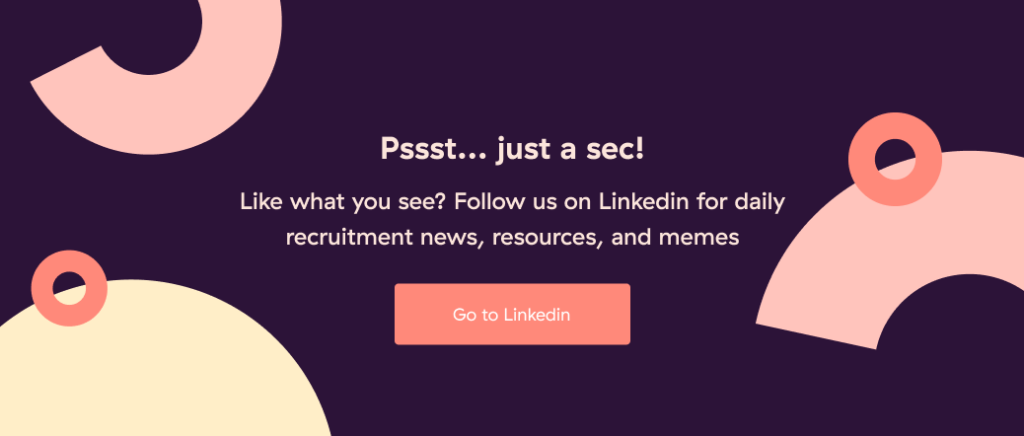 Why is Skills-Based Hiring Better?
Skills-based hiring doesn't just sound like common sense; it also has several tried and tested benefits that any business can benefit from. Here are some of the best reasons to make the transition to skills-based hiring.
#1 – It's fair and unbiased
Skills-based hiring is one of the best ways to incorporate fair chance hiring practices into your hiring process.
By relying on your candidates' actual skills and competencies, you're truly on the hunt for the best person for the job. This helps remove some of the inherent unconscious bias that exists in us all while also leveling the playing field for every candidate.
#2 – Better quality candidates
Less of a focus on college degrees and more of a focus on skills means the candidates you end up progressing with are of a higher quality.
Better quality candidates are more likely to meet your job descriptions, reduce your company's skills gaps, and add optimum value to your organization.
#3 – Less bad hire risk
No matter how amazing your recruitment process is, you still run the risk of making a bad hire. But if you focus on closing your skills gap (and, in turn, looking for people with the right role-based competencies), you're minimizing the risk of accidentally making a bad hire.
That's because when you test skills, you're actually testing that someone can do the role – see it as a try before you buy!
#4 – It's streamlined and efficient
As a recruiter, your goal is to find the candidate you're most confident can do the job. Skills-based hiring helps you get there faster by focusing on real performance from day one.

#5 – Faster & cheaper
In recruitment, a slow hire is a costly hire. A more efficient recruitment process is a cheaper recruitment process with skills-based hiring improving key recruitment metrics such as time to hire, cost per hire, and time to fill.
#6 – Candidates love it
Skills-based hiring is more enjoyable for everyone. It gives candidates the environment to really showcase why they're the best person for the job while also making the entire process more enjoyable for the recruiters.
What Makes Skills-Based Recruitment Different From Other Types?
Is hiring based on skills really that new? Are college degrees really that bad? I already have qualified candidates; why do I need to do anything new?
They're some of the questions we see when talking to people about skills-based hiring. So what really makes it different from other types of recruitment?
Across a wide array of occupations, demand for skilled workers nowadays far exceeds supply. This supply-demand imbalance appears to have encouraged employers to suspend the use of proxies, such as degree completion, in order to expand their pool of prospective candidates. That appears to have been most true for occupations requiring specific skills or competencies that can be evaluated accurately through mechanisms like pre-employment aptitude testing.
– (The Emerging Degree Reset, research by The Burningglass Institute)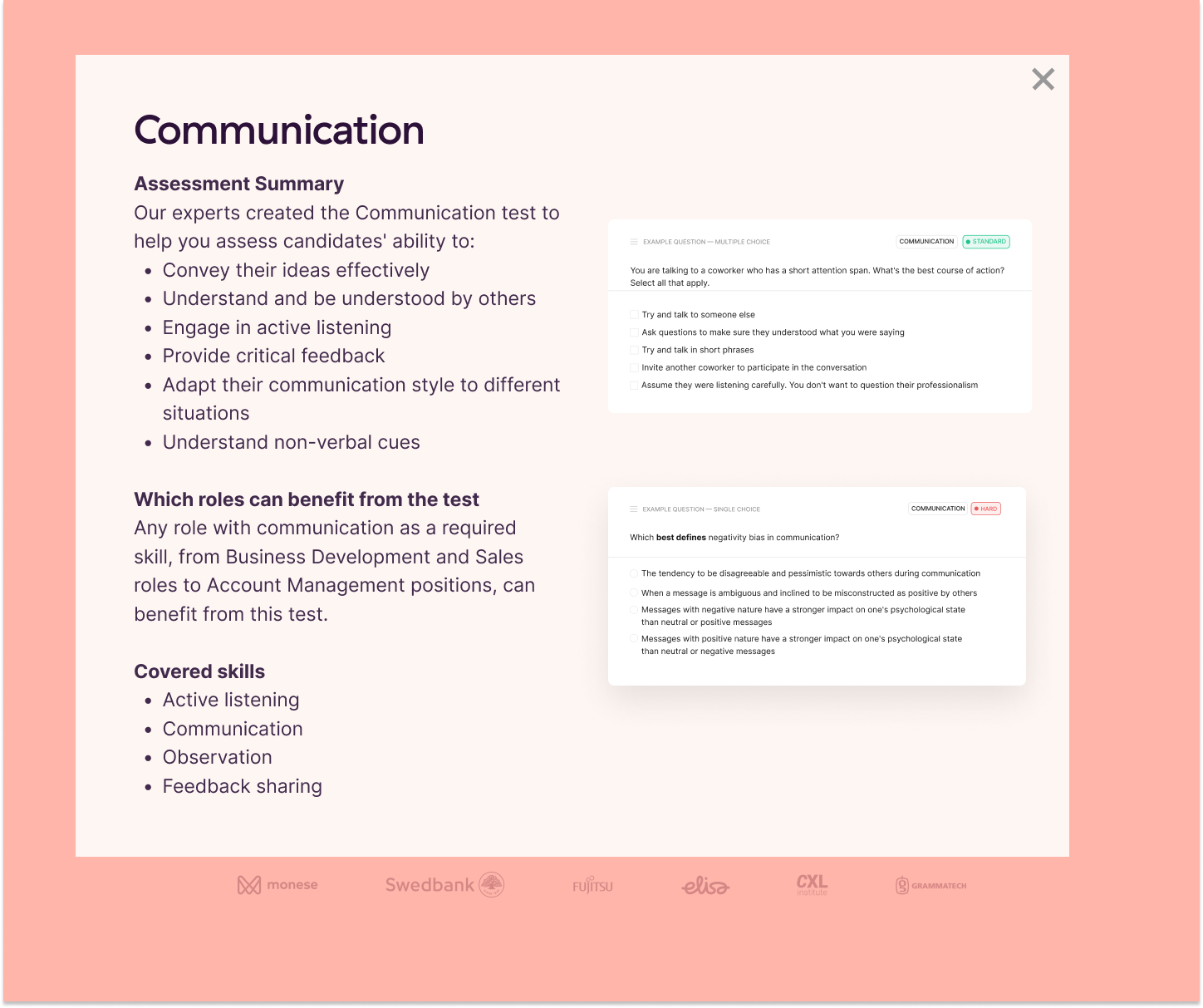 Crucially, skills-based hiring truly opens up your talent pool to the best people on the market – helping you tap into early and middle-skill talent, not just college graduates.
You reach a more diverse talent base if you remove the requirement for a college degree, years of experience, and particular qualifications. From there, you're making a decision that's based on skills alone, increasing your chances of finding a diamond candidate in the rough 💎💎💎
And at the end of the day, recruitment is a numbers game. It's all about getting as many people into your recruitment funnel as possible to filter down to the right candidate.
Increase the size of your talent pool, and you'll have a far greater chance of finding great-fit, capable, and knowledgable candidates for your future roles 💪💪💪
How To Adopt Skills-Based Hiring Practices? 3 Crucial Steps
So, you're sold on skills-based hiring and ready to give it a go – but what do you do next?
Here are the three main things you need to do to embrace skills-based hiring practices in your organization.
Step #1 – Think about change management
To begin, prepare yourself and consider what this change means for your wider organization. You'll need to educate those who support the hiring process, such as your hiring managers, about a move away from degree requirements and towards skill-based hiring.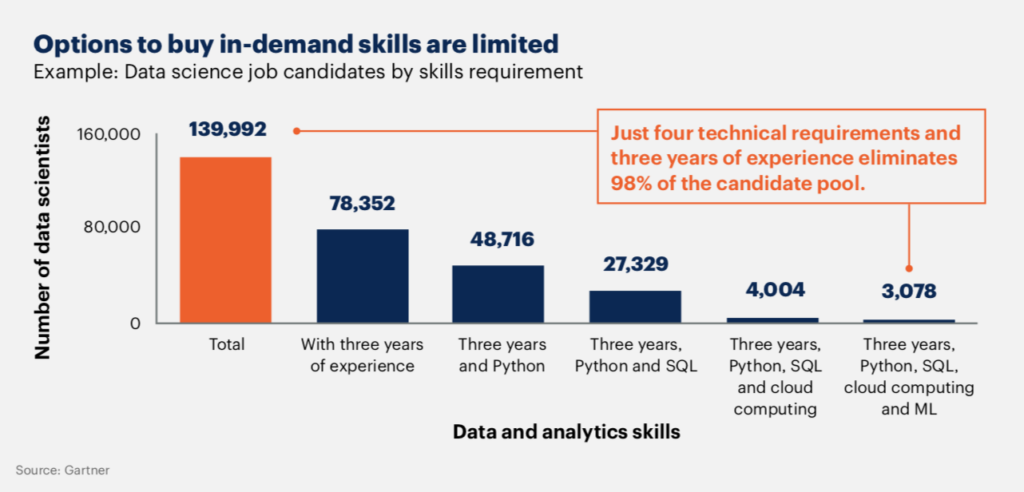 There's also some change management to think about within your recruitment team. Hiring on skills-only may be new to some recruiters, so think about the need to manage communication and re-train staff.
Lastly, consider the change management impact on your candidates. This is especially important for those adopting a long-term talent acquisition process where candidates are nurtured over time. Help educate candidates on your new skills-based approach, what it means for them, and how they can maximize their chances of success.
Step #2 – Rethink your recruitment process
To make skills-based hiring work, you must rethink your recruitment process to align with your new objectives. Consider how you'll update your:
Recruitment strategy – use techniques such as skills gap analysis to identify the skills required from new hires to take your business forward.
Recruitment marketing – highlight your approach to attract a broader talent community.
Job descriptions – re-word your job descriptions to focus on soft skills and hard skills rather than degrees.
Screening – A move away from resume sifting in favor of a skill testing model that assesses soft skills and hard skills needed for the role.
Evaluating – Competency-based interviews that value practical demonstrations of ability rather than simply the ability to talk a good game.
Offering – Making offers based on the skills/performance exhibited during the interview process rather than years of experience of a degree.
Ultimately, it's about balancing your hiring needs, the state of the labor market, and your new skills-based approach to uncover a new process that works for you.
But be careful! Make small, iterative changes to your process to effectively address the change management cycle – testing and learning as you go!
Step #3 – Level up your recruitment software
Many employers fail to truly revolutionize their hiring process by not investing in the right recruitment software for the job. There are so many efficiencies to be had by leveraging AI, machine learning, and data-driven decision-making in your recruitment process, so make sure you don't make the same mistake.
When it comes to skills-based hiring, skills testing platforms like Toggl Hire help supercharge your focus on candidate skills. It's super easy to set up an expert-created skills test in just two clicks, with hundreds of role-based templates waiting for you in our Smart Test library.
Don't believe us? Here are 9 reasons why our customers love Toggl Hire:
We support the entire recruiting funnel, not just initial candidate screening ✅
Expert-created test library with different question types and pre-made role-specific job templates to suit every hiring need 💪
Automations (pass threshold, email, bulk actions, etc.) that do the work for you – saving you time, effort, and money 🚀
We pack role-specific soft and technical skills into one assessment, offering you a comprehensive view of a candidate's future job performance 🙌
Our easy-to-use dashboards help track key recruitment metrics, such as time to hire 📈
Full test customization that aligns with your brand, website, and values 🎨
Unlike similar products, anti-cheating measures build trust and level the playing field 🕵️
Candidates love Toggl Hire thanks to sleek tests, instant feedback, and gamification 🧡
We're the most affordable solution, with a free version and subscription pause options 💸
If you need a partner to help you take your skills-based hiring to a new level, find out why Toggl Hire is the perfect tool for you 👇👇👇
Summary
If you're looking for a way to stand out from the crowd, appeal to more candidates, and reduce the risk of a bad hire, then skills-based hiring could be for you.
By shifting your focus away from a degree requirement and towards judging candidates on their ability to do the job, you won't just make your recruitment fairer, you'll also make it faster, more efficient, and cheaper too!
And, of course, when it comes to assessing skills, using the right technology is key. Skills testing platforms like Toggl Hire make assessing a candidate's skills a breeze, helping you find your next set of rockstar employees 🎸🎸🎸
James Elliott is a Strategy Manager and Writer from London, UK. When not working on the day job, James writes on a variety of business and project management topics with a focus on content that enables readers to take action and improve their ways of working. You can check out James' work on his website or by connecting on LinkedIn.