You've decided that you need some budgeting software in your corner. We're here to help.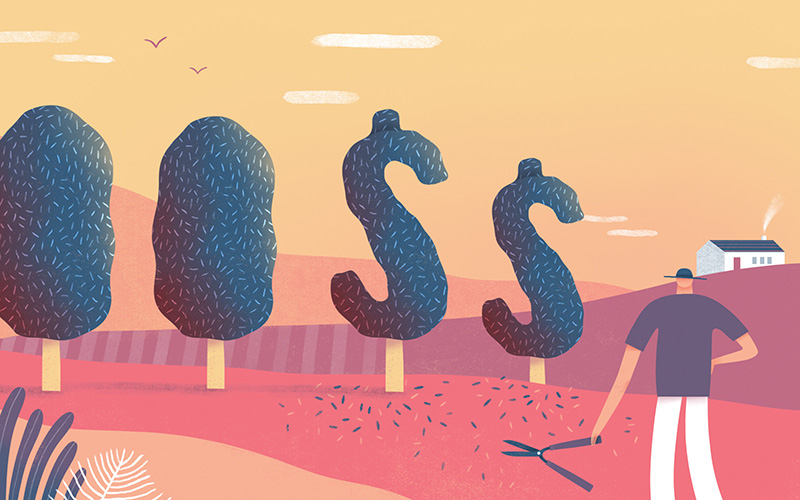 Perhaps you're a freelancer, and you need something that's going to take the pain and hair-pulling out of managing your business' expenses.
Or, maybe you don't have a business of your own, but want to be able to keep a better eye on where your money is going each and every month.
In either case, technology can help. There are plenty of budgeting software options that will make managing your finances a breeze—even if you don't consider yourself an accounting whiz.
But, with so many choices out there, how can you know which to choose?
Well, we're here to help with this breakdown of some of the top budgeting software solutions—as well as what you need to know to figure out which one will best meet your needs.
Use Toggl's time tracking to make sure you spend your time on the most profitable projects.
Choosing Your Budgeting Software: The First Step
Speaking of your needs, that's a critical place to start when finding the best software solution for you (regardless of what type of software you're looking for, honestly).
When it comes to budgeting software, it's important to ask yourself what features and capabilities you absolutely need it to have.
First, you need to understand the different types of software available. In this article, we're talking specifically about budgeting software—which is software designed to help you monitor and categorize your spending in particular.
If you're looking for a more comprehensive solution that helps you prepare your taxes or keep an eye on your investments, simple budgeting software probably won't check those boxes.
You'll need to explore some other options.
Alright, so you're sure that you need a budgeting solution to help you not spend more than you make?
Great!
There are a few other things you'll want to consider when weighing your options:
Cost:

Of course, cost would be an important factor when we're talking about budgets, right? In all seriousness, you need to know how much you're willing to spend on budgeting software—so you don't fall into the trap of finding something you love, only to discover you can't actually afford it.

Ease of Use:

Are you someone who really knows your stuff or do you need a solution that will help to walk you through things step by step? Being self-aware enough to figure that out ahead of time will save you a lot of headaches by helping you choose the software that's at your level.

Customer Support:

Similarly, anytime you're using software, finding one that offers decent customer support will give you the peace of mind that you can find the answers and help you need when you need them.

Other Important Features:

Are you managing your family's finances and thus need your partner or even your teenage children to have access to the software? You'll need something that allows for multiple accounts. Or, do you need a specific type of report each and every month? You'll want to make sure that whatever software you choose offers that. Think through any extras or bells and whistles you might require.
We recommend literally jotting down the criteria we've outlined above.
Then, when you're evaluating your options, you can use that as an informal checklist of sorts to land on the best solution for you and your unique requirements.
5 Budgeting Software Solutions That Are Worth a Look
Alright, with that foundation laid, it's time to turn the spotlight on a few different budgeting software options.
We're highlighting some of our favorites below—as well as some of the need-to-know details to help you make the most informed decision possible.
Chances are, you've already heard of Mint. It's an incredibly popular option for creating a totally personalized budget and keeping an eye on your bills.
Here's one of the best things about Mint: It's super easy to use, because so much is automated.
The app automatically tracks and then categorizes your different transactions. You can also create budgets that will send you a notification when you're at risk of overspending in a certain category.
Even though a lot is done for you in Mint, there's plenty of room for personalization as well. Users can add their own expense categories, set even more custom alerts, and even pay bills directly from within the app.
Users can also check their credit scores and take a look at a bunch of beautiful charts and graphs to oversee their own financial health.
What it Costs: Free!
What Platforms it Works on: iOS and Android
What a Reviewer Says: "Mint.com's ease of use and smart blend of personal finance tools make it an obvious recommendation for people who want a guided tour through their spending, budgets, savings goals, investments, and financial future. The fact that it's free seals the deal." – Jill Duffy in PC Mag's review of Mint
The name is straightforward and no-nonsense, and the software itself definitely follows suit.
You Need a Budget (which you'll often see referred to as YNAB) is built on some simple money management principles—especially that every dollar that you earn should have a specific job.
With a slightly heftier price tag than you might expect, you'll find that YNAB is chock full of features and thus worth the investment.
From syncing your bank accounts to comprehensive goal tracking to real, live workshops to help keep you on track, YNAB offers plenty of things that will set you on the right path toward financial wellness.
What it Costs: Free for the first 34 days, and then $6.99 per month after that
What Platforms it Works on: Windows, Mac, iOS, and Android
What a Reviewer Says: "All things considered, YNAB offers valuable tools and resources.
Whether you're budgeting for the first time, or you've been doing it for a while, YNAB is easy to use and effective. And, if you follow YNAB's four rules to manage your money, you'll probably save enough to make the annual cost worth it." – Ben Luthi in Student Loan Hero's review of YNAB
Of course, the act alone of having a budget won't do much if you don't follow it.
And, that's exactly why PocketGuard's mission is to keep you in the loop on exactly how much spending money you have—so that you can avoid the siren song of overspending.
PocketGuard has many of the features you've likely come to expect from budgeting software—including the option to link all of your bank accounts to see your finances in one place and the automatic tracking and categorizing of your expenses.
But, where this solution really shines is with the "in my pocket" feature. This shows you the dollar amount you have left to spend after paying your bills and setting aside some money for savings.
So, if you're someone who falls into the trap of using a little too much "fun money" (when you should be saving or paying your electricity bill), PocketGuard gives you the simplified breakdown you need to keep yourself on track.
What it Costs: Free, with optional PocketGuard Plus subscription for $3.99 per month or $34.99 per year
What Platforms it Works on: iOS and Android
What a Reviewer Says: "Easy to use, great customer support, will get you on track with your spending, easy budgeting, great reports/graphs." – AppAnnie Reviewer
Have you heard of that money management concept that involves placing cash into different envelopes to categorize your own spending? Well, Mvelopes is essentially that—but in digital form.
Users can link unlimited bank accounts and credit cards to the app to oversee all of their finances in one place. By keeping an eye on your own spending, you'll figure out a fine-tuned plan for assigning money to the appropriate "mvelopes."
Want some automation? "You can set up the system to move money out of your spending envelope into a credit card payment envelope so that you don't run up your credit card balance," explains Jim Probasco in an article for Investopedia.
What it Costs: Mvelopes Basic starts at $4 per month, Mvelopes Plus starts at $19 per month, and Mvelopes Complete starts at $79 per month.
What Platforms it Works on: iOS and Android
What a Reviewer Says: "Mvelopes is a good option for anyone looking to overhaul their finances, get out of debt, find budget leaks, and really see where your money is going. While the technology can be helpful, it can also be cumbersome, as Mvelopes has an initial learning curve to get started." – Carrie Smith in Investor Junkie's review of Mvelopes
If you're looking for a solution that's primarily focused on helping you pay your bills, Doxo is worth a look.
With just a single login, you'll be able to pay all of your bills directly through the app. You can schedule payments, monitor the bill status, and keep an eye on your complete bill payment history for a more accurate picture of your finances.
Touted as a "digital file cabinet" of sorts, Doxo also allows you to upload important documents (yes, even ones not directly related to your finances!) for safekeeping.
What it Costs: Free!
What Platforms it Works on: iOS and Android
What a Reviewer Says: "Doxo has a unique position in the realm of personal finance management, letting you pay many bills from one central location, as well as store all the statements associated with those accounts. The addition of a filing cabinet service, where you can upload other important family documents, truly makes it different from any other app out there. It's a good service, worth trying if you have a need for both a central bill payment system and electronic paperwork storage." – Jill Duffy in PC Mag's review of Doxo
Ready to Keep an Eye on Your Expenses?
Let's face it—budgeting can be tough. There are so many different expenses that require your attention (and your money!) each and every month, that it can be challenging to ensure that you're not overspending while also setting yourself up for an even better financial future.
Fortunately, as technology continues to become an ever-increasing part of our daily lives, there are some budgeting software options that can help to take the pain out of managing your own finances.
To recap, the ones we included on this list were:
Mint

You Need a Budget

PocketGuard

Mvelopes

Doxo
These options are all well worth a look, but they barely scratch the surface on all of the different tools and features that are out there and available to you (seriously, there are so many choices!).
Remember, the best thing you can do is to figure out your own needs in managing your finances, and then find a software solution (or even a combination of solutions!) that will help you make your own financial management a walk in the park.
Once you land on the software that's the best fit for you? We're willing to bet that you'll be amazed by how easy it is to stay on top of your own expenses. Good luck!
Kat is a freelance writer specializing in career, self-development, and productivity topics. She's passionate about being as efficient and effective as possible—much of which she owes to her 114 words per minute average typing speed. When her fingers aren't flying on the keyboard, she loves to bake, read, hike, or tackle yet another DIY project around her home.