A quick search through our blog for the term "tools" will bring up pages and pages of content for you to learn from and read through. But if you're looking for an up-to-date and current piece of content that discusses the best tools for project managers, you're in the right place.
We've put together this list of 12 project manager tools that will help you with multiple aspects of your day-to-day operations. While you have likely heard of a few resources on this list, we're fairly certain you'll find some that are new to you as well.
Take a look below at these great apps to see how you can make your life as a project manager just a little bit easier this year.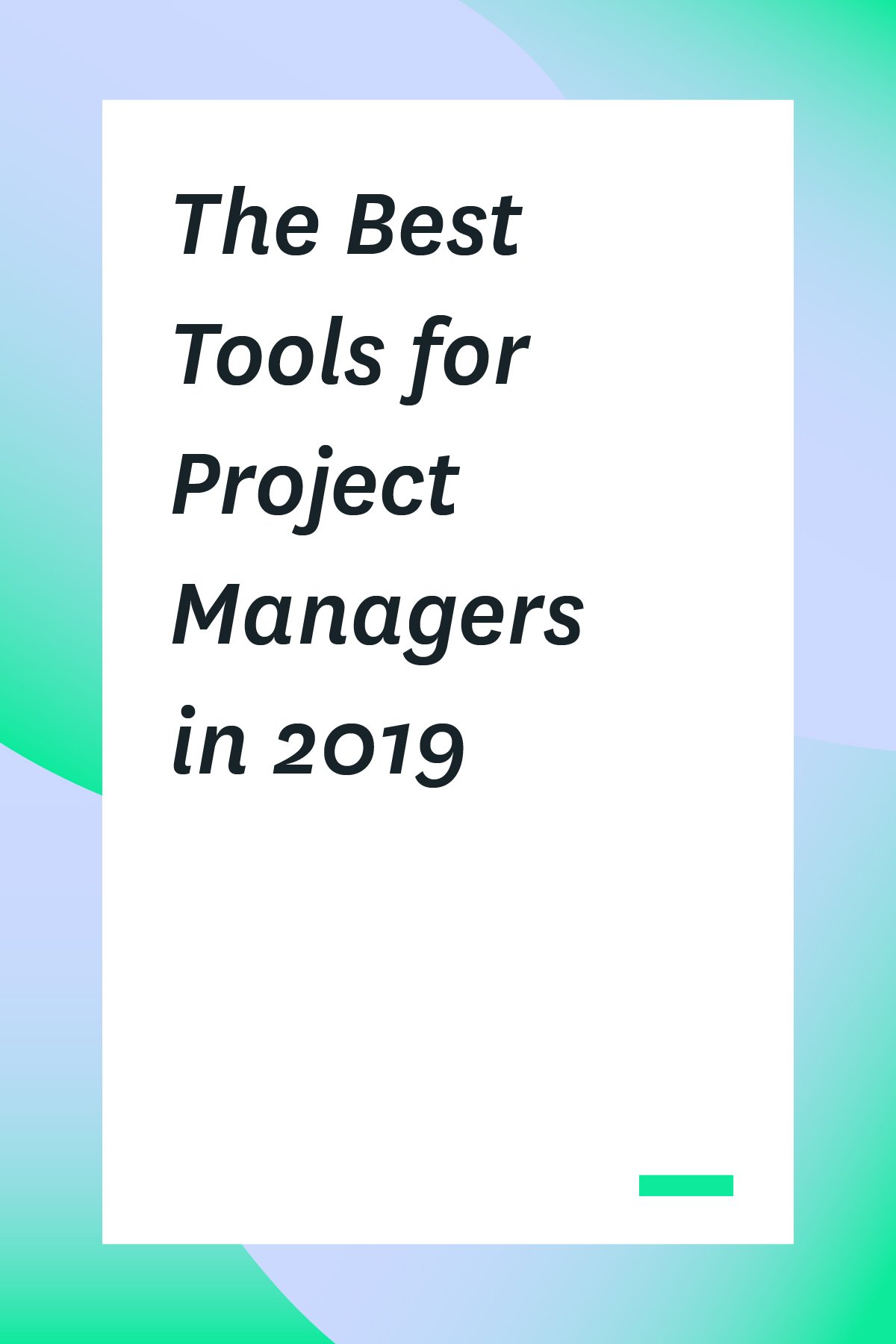 1. Toggl Plan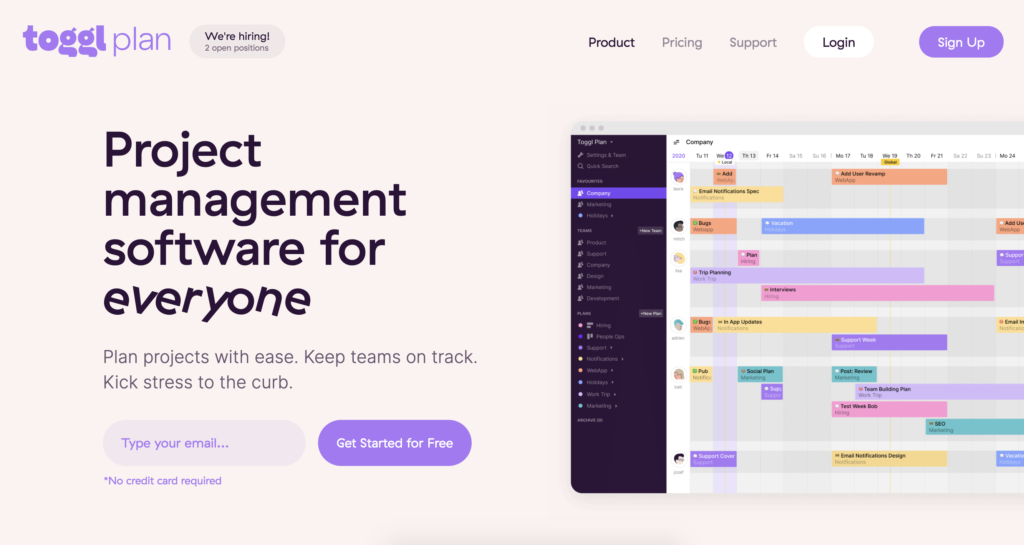 Why You'll Love It: As a project manager, you will obviously need a project management tool at one point or another. Toggl Plan is the perfect answer to a range of needs for this specific role.
The popular project view feature at Toggl Plan is hugely popular and allows you to visualize how the various parts of a cross-functional project come together. Toggl Plan's custom colors all you to create color-coded timelines to make your entire planning process quick, simple, and effective. Break down your projects into weekly, monthly, or even annual views to make it clear what everyone should be doing and when they should be doing it.
Pros: Toggl Plan is incredibly user-friendly, making it easy to learn and simple to navigate. Edits are a breeze, so you can make changes with a few quick clicks of the mouse.
Cons: Toggl Plan focuses on being the "beautifully simple" project planner, so it may not have all the advanced features your team needs.
2. Social Media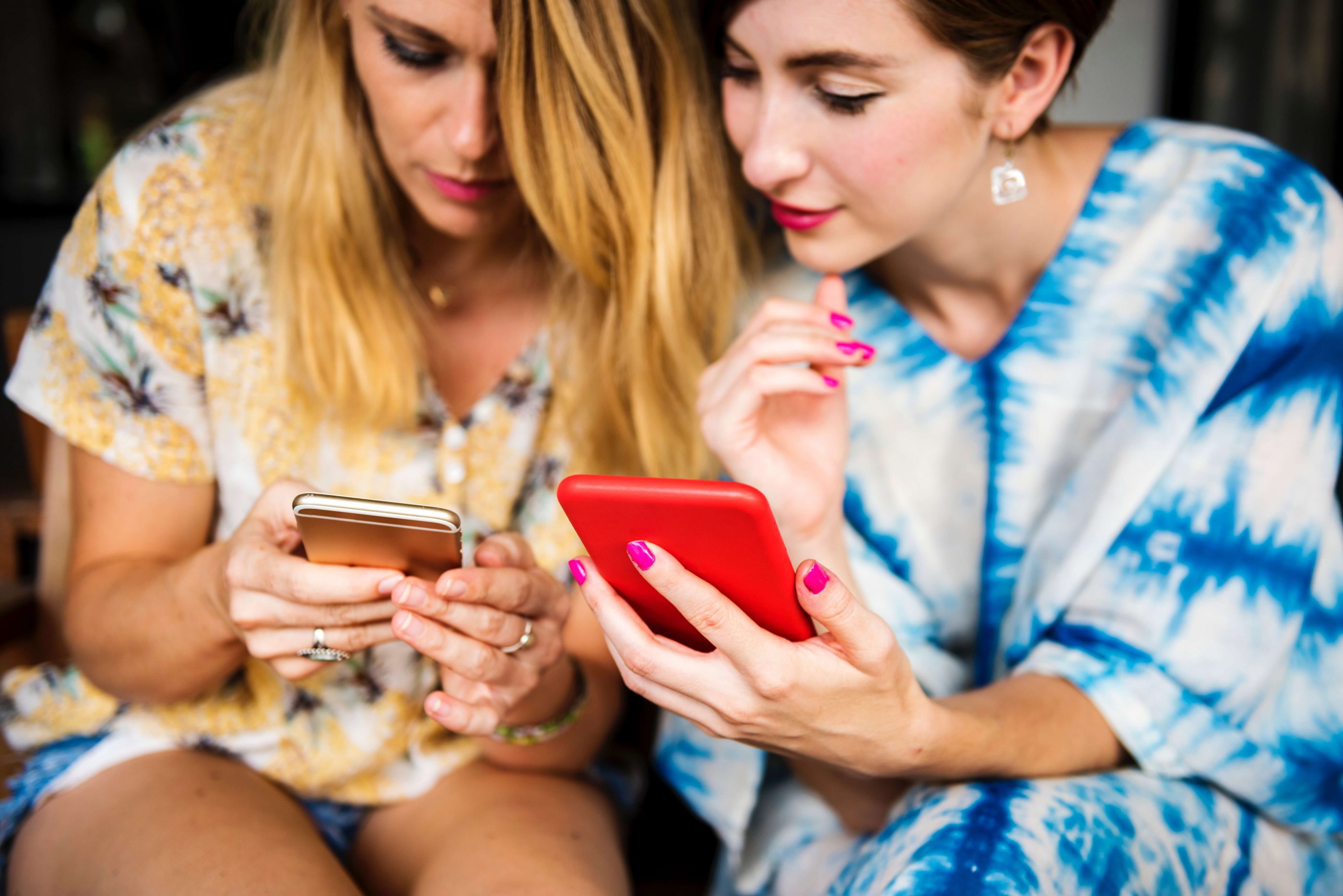 Why You'll Love It: Sites like Facebook, Twitter, Instagram, and LinkedIn are becoming more effective tools for managers every day. No other place offers as large of an audience at your fingertips than these tremendous resources.
When it comes to project management, social media can be used for a range of things from product promotion and event coordination to networking and even team collaboration. Specific tools like Happeo provide internal social media platforms for a digital workplace.
Pros: Promote your company with links, photos, and marketing videos to literally billions of potential clients.
Cons: Depending on how you decide to use them, there can be security concerns for classified content. And if you decide to use their ad services, the pricing can get expensive.
3. Google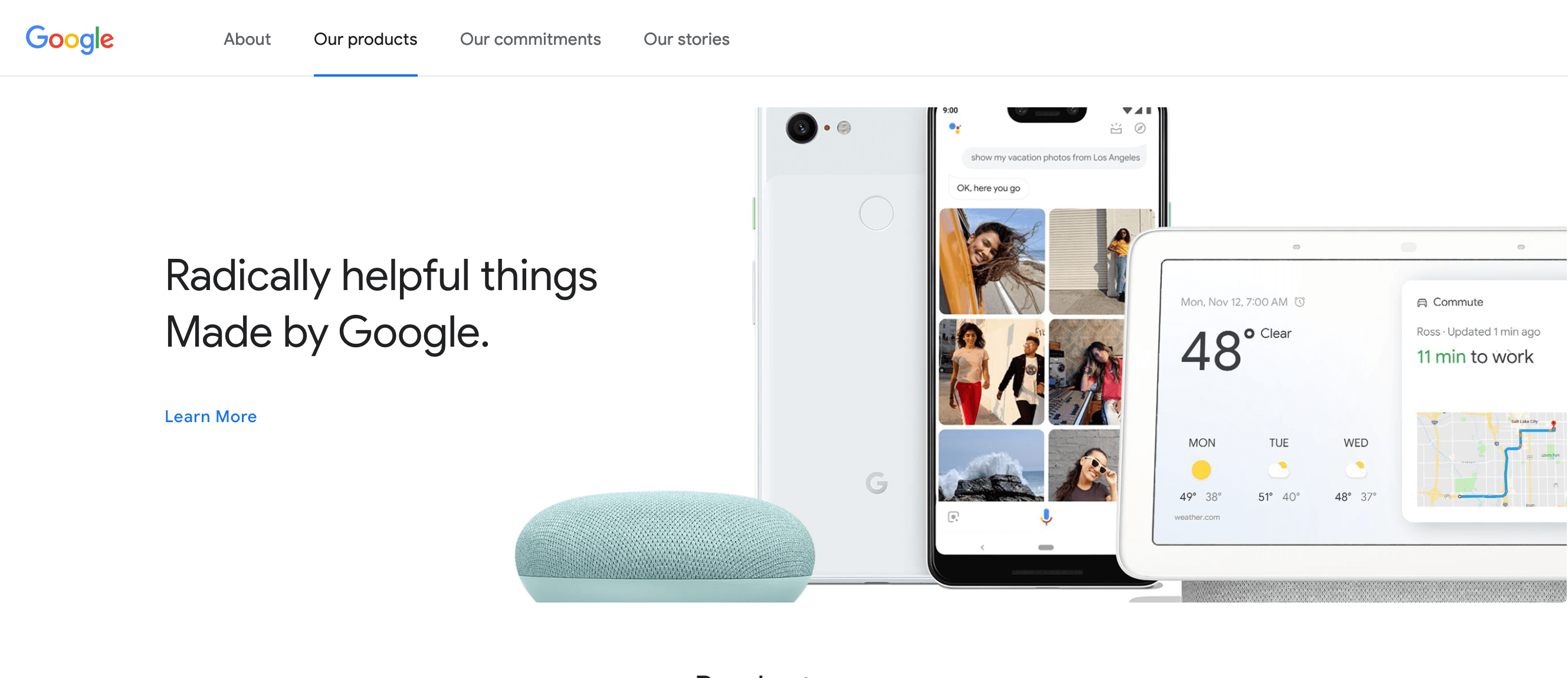 Why You'll Love It: At this point, who hasn't heard of the world's largest search engine? But even though it started off as a simple site where you could look things up, they have now become a household name for a seemingly endless number of apps and tools for project managers.
Email, document management, video conferencing, shareable calendars, and so many other features can make team collaboration as simple as can be.
Pros: Just about every Google tool and app out there is free to use.
Cons: While there is a wide range of apps available, the apps may not be specialized enough to fit the specific needs of certain industries.
4. GitHub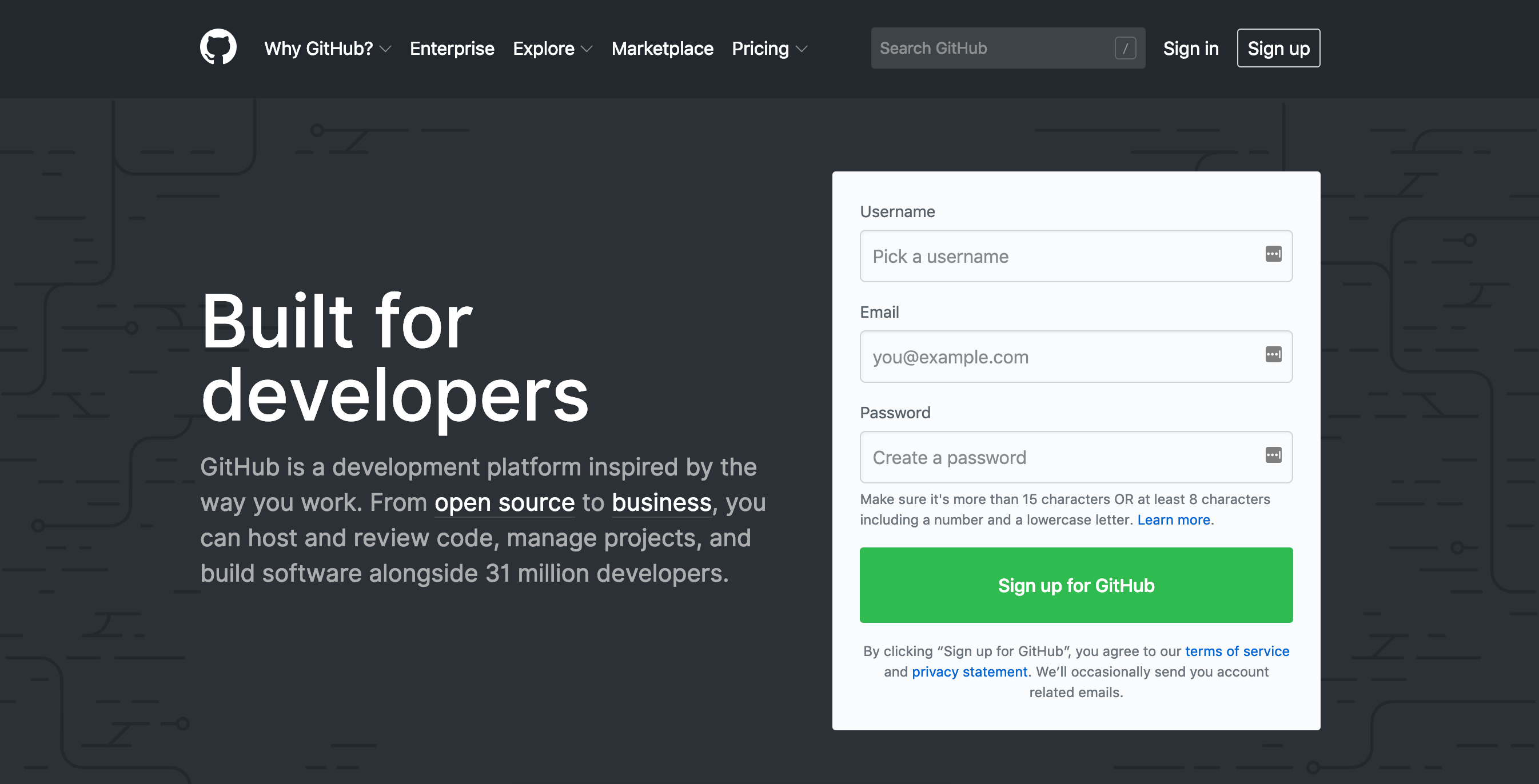 Why You'll Love It: If you or anyone on your team works with coding, GitHub is well worth a look. As a software that allows teams to collaborate and review code together, it makes it easier for you to make the necessary changes and develop the best program possible. Your group will be able to back up their work and use this program for every aspect of their source code management.
Pros: Many GitHub users have said the system is easy to use and the most affordable solution they have found.
Cons: Needs to be constantly monitored as any changes can negatively impact the final meaning of the code.
5. DeskTime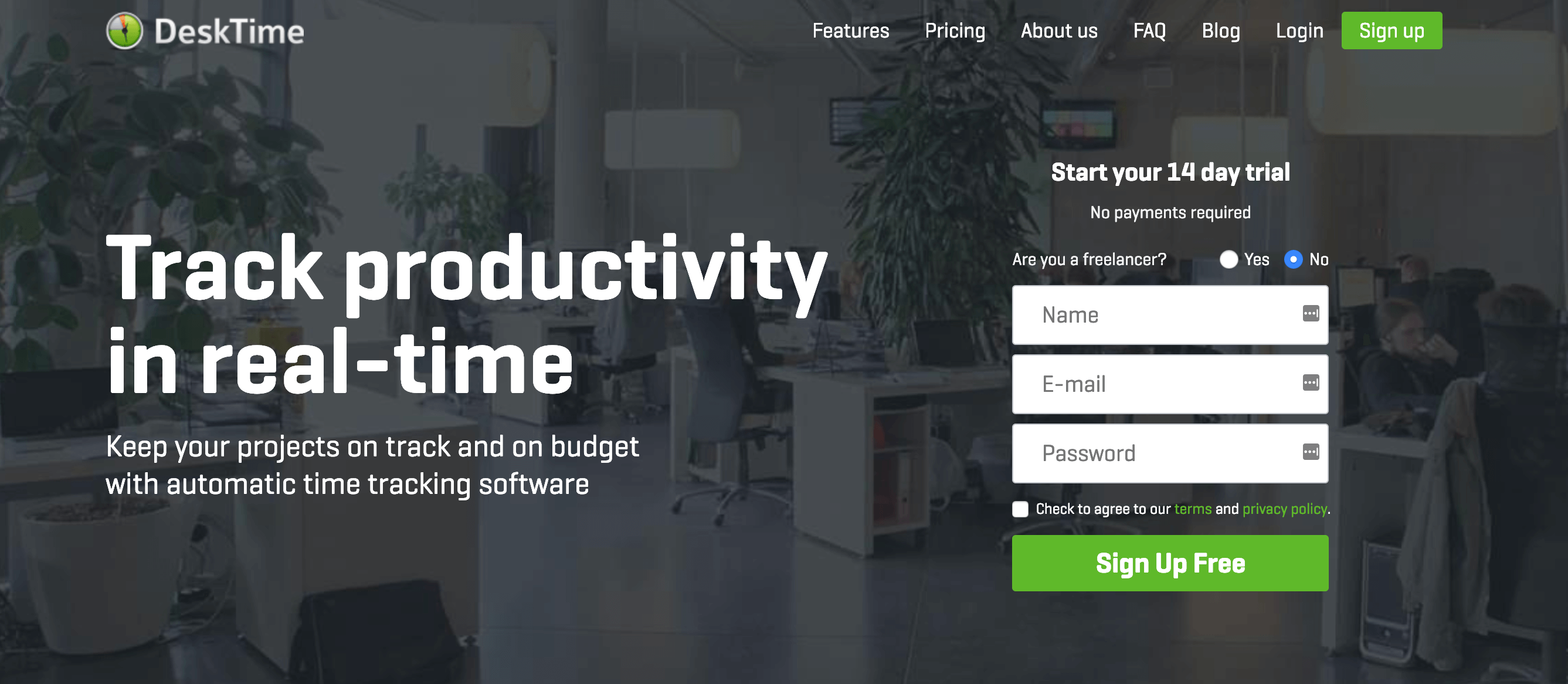 Why You'll Love It: Do you or anyone on your team struggle with managing your time wisely? DeskTime has been proven by many users to boost employee productivity by as much as 30%. The app monitors and tracks the amount of time individuals spend online, as well as the time spent on other programs.
Custom reports show detailed calculations of productivity and overall effectiveness. You'll be able to ensure time is being handled properly and that specific members of your group are getting their tasks completed.
Pros: DeskTime offers a simple design allowing you to install and forget until you need it. It is easy to learn, so you can move from screen to screen with no issue.
Cons: Some concerns have arisen about the cost of the service compared to its use.
6. Jibble.io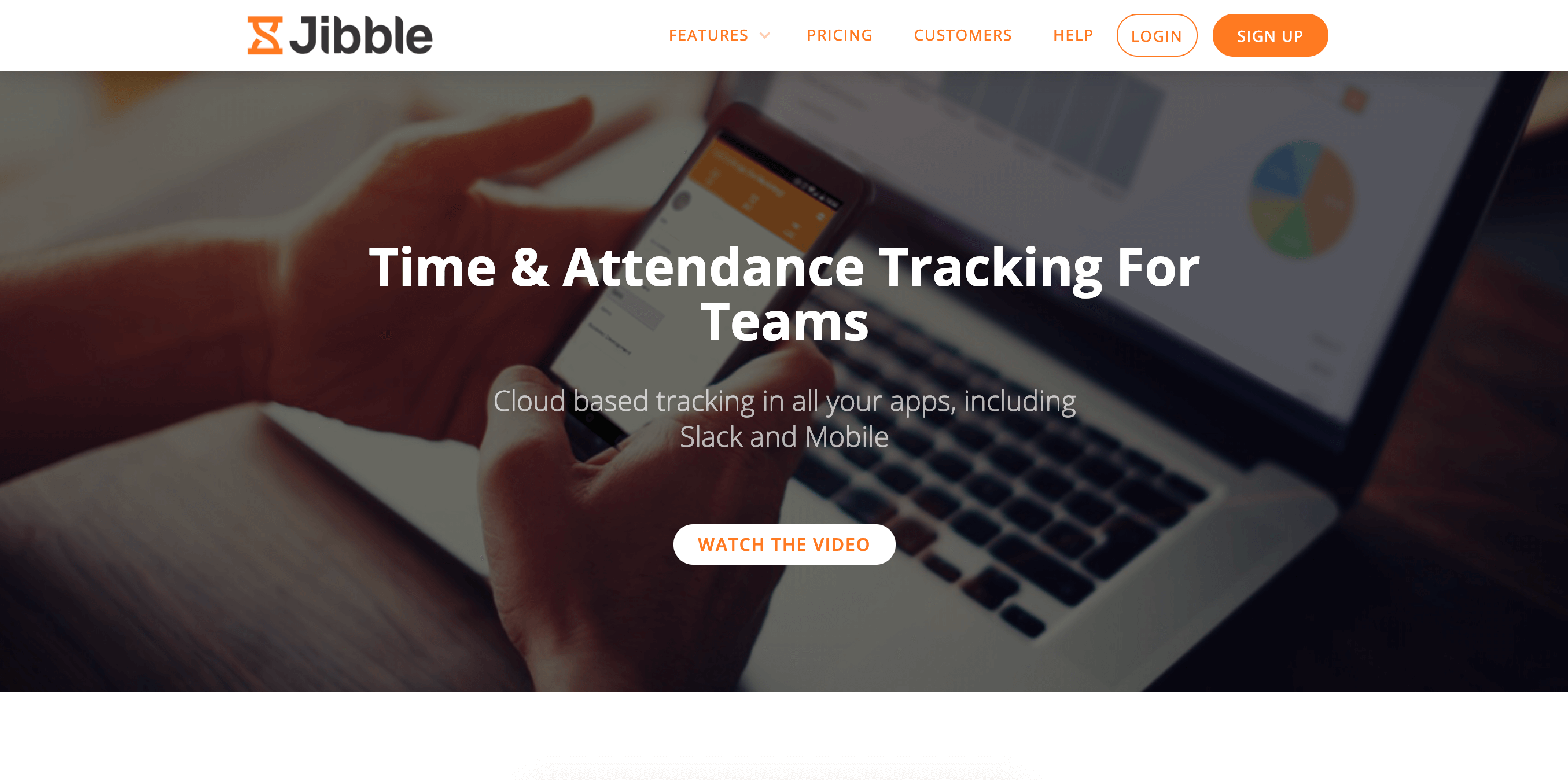 Why You'll Love It: Though it is similar to DeskTime, this service focuses more on attendance and overall work time. With integrations available to apps like Slack, Jibble is a great collaboration tool to ensure everyone is where they need to be for the necessary amount of time.
It is difficult to keep track of everyone in the office once you're beyond just a couple of other employees. Jibble makes it easier to monitor attendance, time off, and other time-related resources.
Pros: The system can even be used to show what specific items the team is working on in real time.
Cons: Everyone on the team can see one another's history with no ability to limit user functionality.
7. 15Five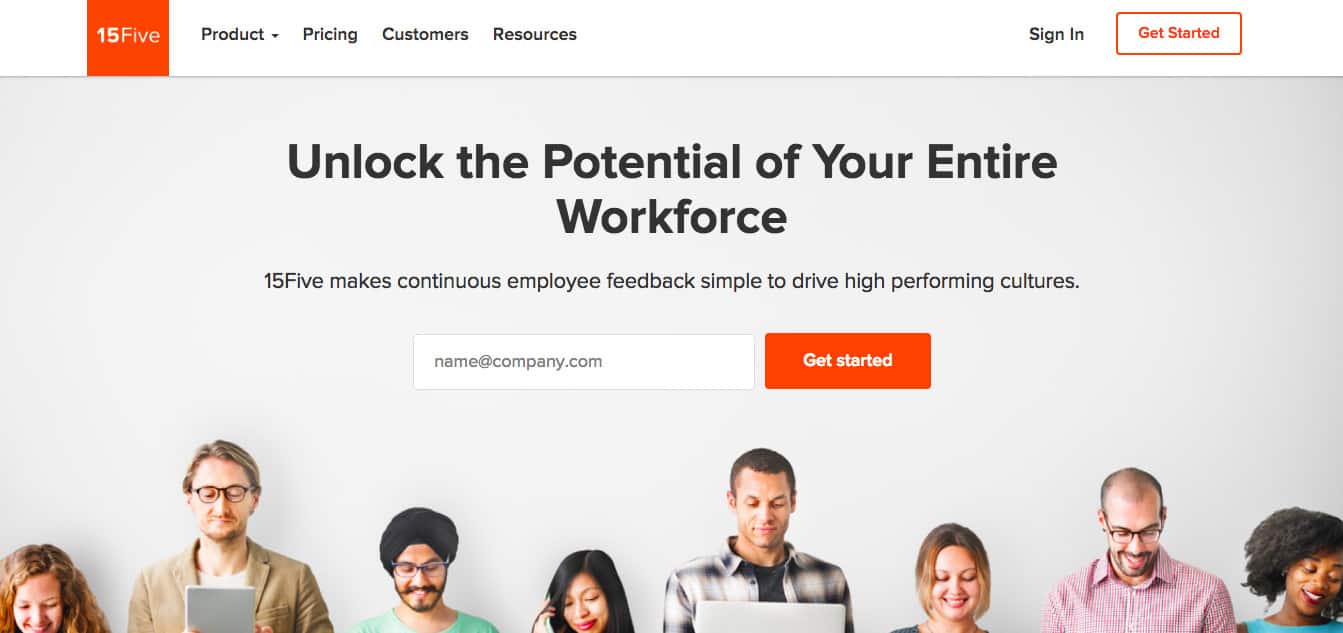 Why You'll Love It: Are you good at receiving constructive feedback? Well, whether you are or not, it is something you should start asking for right away. Your immediate team members are the greatest resource for you to grow and improve as a leader, making the 15Five app one of the most crucial tools for project managers.
They have designed the ultimate feedback app with features that include manager performance reviews, one-on-one evaluations, peer recognition, and more. Schedule weekly or monthly review reports to maintain a constant line of feedback between you and your group.
Pros: Clear visual and a simple dashboard make it easy to use repeatable questions and to set up other inquiries at any time.
Cons: Some users don't like that feedback isn't hidden before the other party offers their own, which can make it feel less forthright at times.
8. 1Password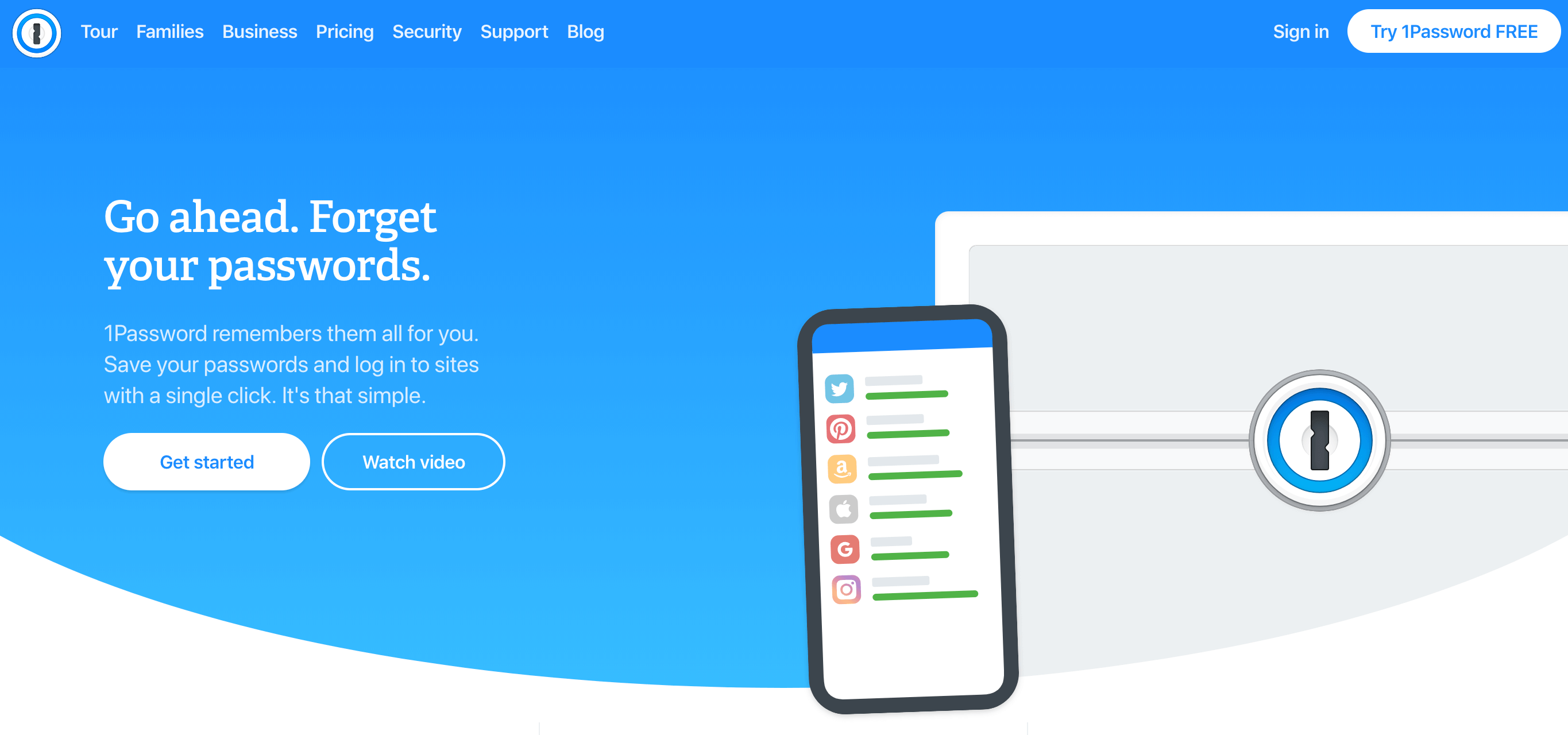 Why You'll Love It: Name five websites or apps you use that require a username and password. Okay, now name another five. Odds are it didn't take you long to come up with a total of at least ten unique places that require you to log in with a password. The problem is that many of these programs have different standards for login information, leaving you to remember a wide variety of letters, numbers, and special characters.
1Password removes the need for you to keep a handful of sticky notes hidden around your desk with your private details on them. Their app will help you generate secure passwords and save them for you.
Pros: Use a range of unique passwords across all your apps to ensure no leaks or critical info is lost or stolen from multiple places.
Cons: Many programs will require you to manually update the login information on 1Password instead of doing it automatically for you.
9. Pocket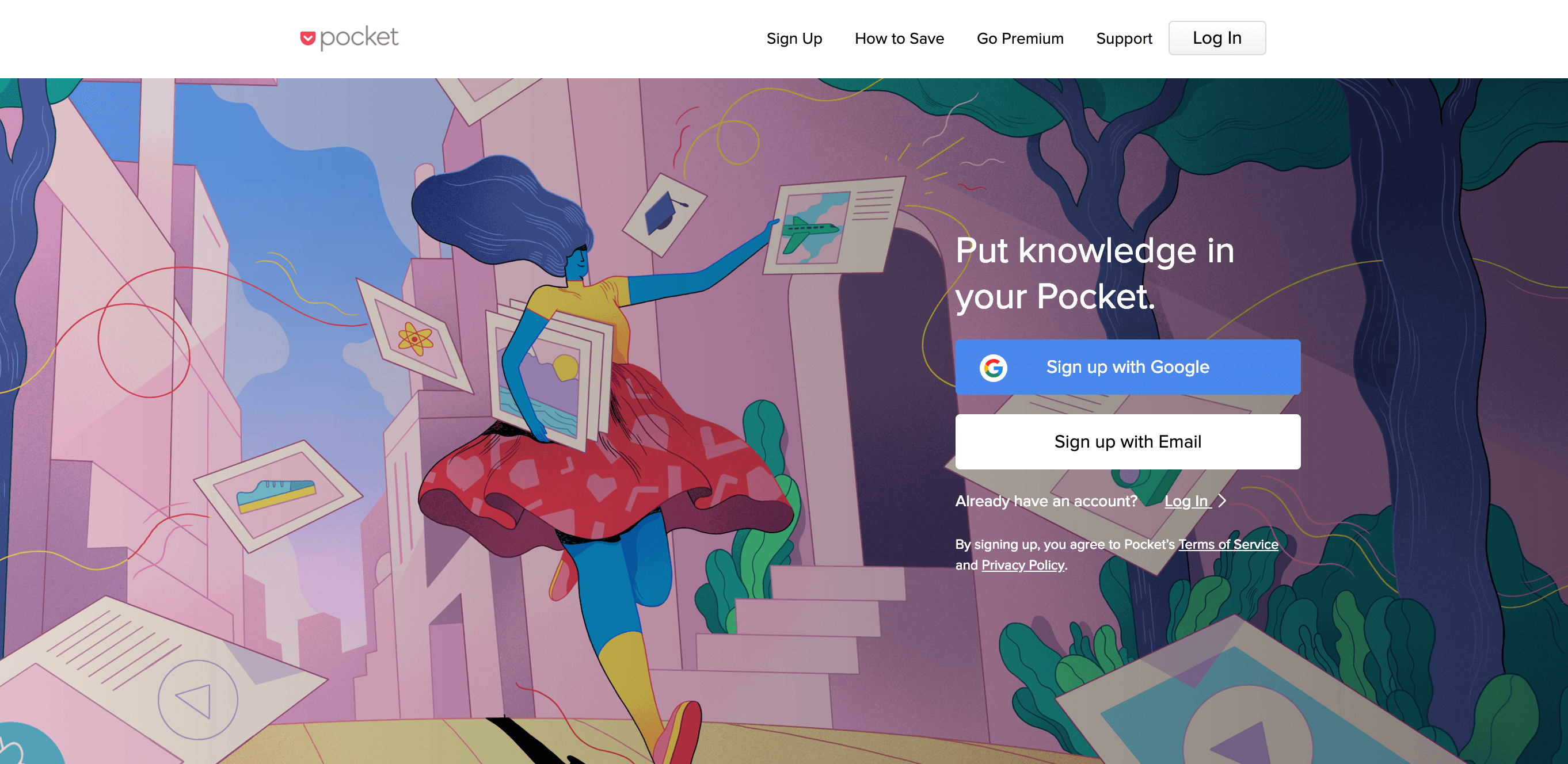 Why You'll Love It: We live in a world full of distractions. From social media to an unlimited amount of entertaining content available on the internet, there is always something out there trying to pull our attention away from what we should be doing. This is the exact reason why Pocket was started.
Their app allows you to save videos, news stories, and other articles in one place for you to read or watch at another time. Instead of having to copy a link and email or text it to yourself, Pocket lets you save it straight to the app.
Pros: Once it has been saved, you can view the content whenever you want, whether online or offline.
Cons: It's still up to you to stay disciplined enough to read the content at a time other than during work hours.
10. iAppreciate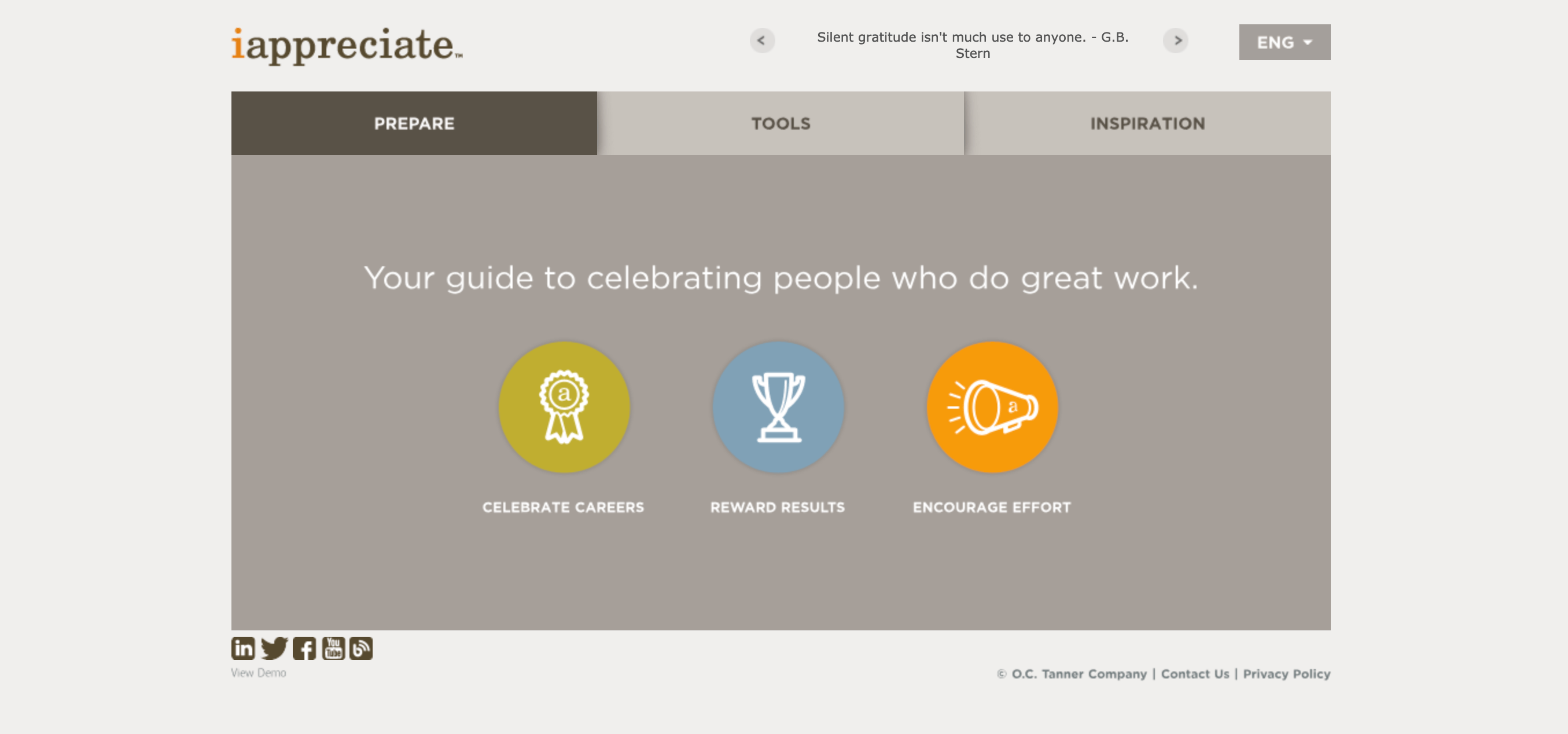 Why You'll Love It: Even though the website isn't fancy or elaborate, iAppreciate gives its users exactly what they want: a way to express their appreciation to a specific group or individual. If you struggle with putting things into words, they offer step by step templates to make it as simple as 1-2-3.
Use the app to write thank you notes, design a certificate, or simply send it over in an email. They even offer links to give you inspiration, tips, and videos about the best ways to show your appreciation. As a leader, this is one of the best tools for project managers to express gratitude to their team.
Pros: Easy to learn and use for countless thank you's.
Cons: Might be a bit more basic than some users are looking for.
11. Focus@Will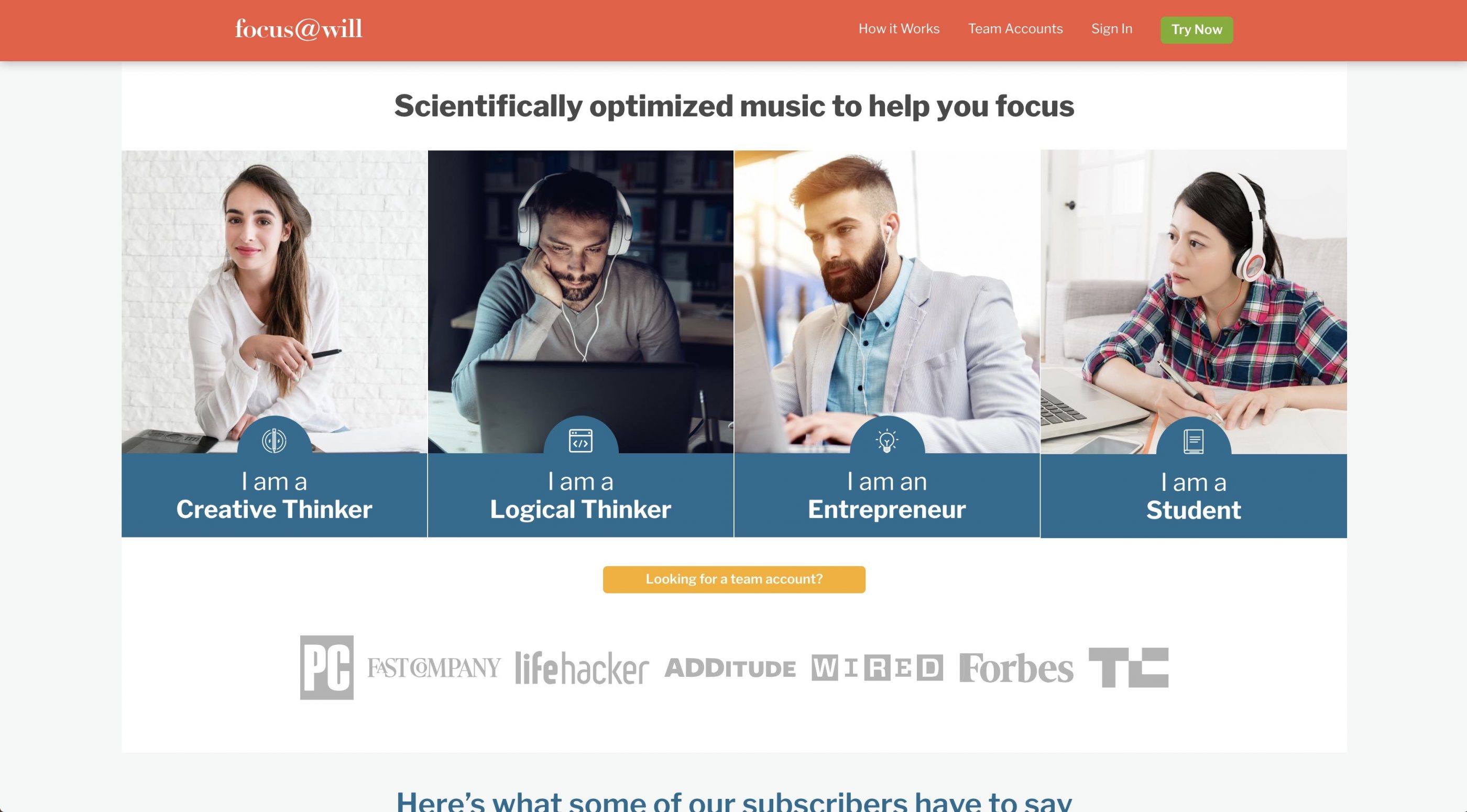 Why You'll Love It: At the last tally, nearly 7 million people in the United States have been diagnosed with Attention Deficit Disorder (ADD). With no signs of slowing down, people are constantly seeking improved ways to stay focused and get their work down. One of the ways that have been proven most effective is the use of music or sounds while trying to accomplish tasks.
Focus@Will has designed a customized system designed to recognize the individual's thinking capacity and match it with a specific type of music. After a brief survey, they will refer you to anything from ambient background noise to acoustic guitar songs. These sounds are catered to the precise mind potential of each listener.
Pros: Two-week free trial to see if it works for you and only about $10 per month after that.
Cons: Though they have used science to back up their service, it doesn't always work for everyone.
12. Standuply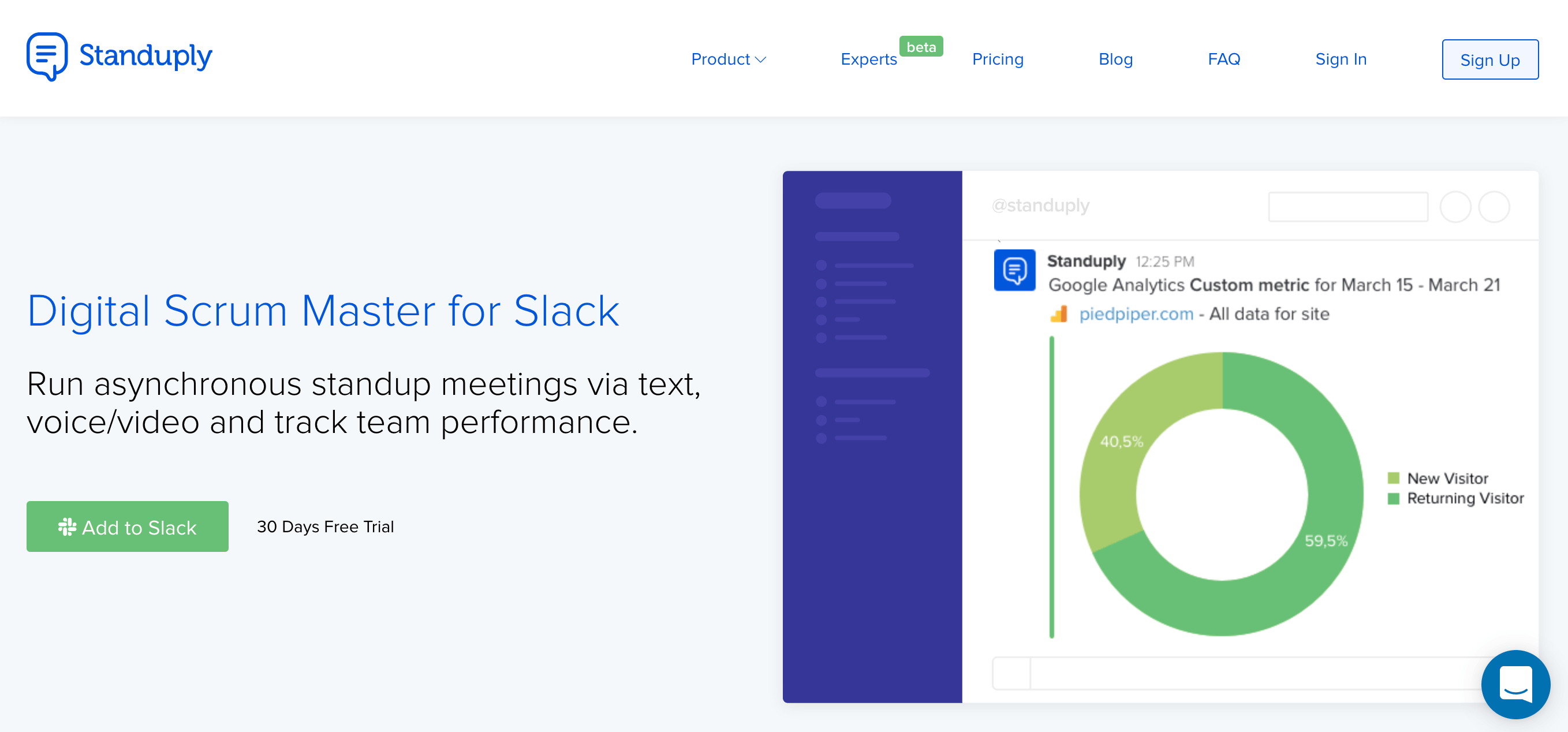 Why You'll Love It: As lovers of the ever-wonderful communication app known as Slack, it was difficult for us to leave their name off this list. But we do, however, want to mention an add-on to their program you may not have heard of before. Standuply is an extension of the Slack app and allows teams to hold stand up meetings.
As a term dubbed for quick, unplanned discussions, stand up meetings can be a great way to get everyone up to speed on a recent update without the need for typing up a wordy email. Standuply allows users to have these type of conversations within the Slack app using video or voice, making it a convenient alternative to conference calls.
Pros: One of the best project manager tools out there for remote teams to have these short gatherings through innovative software.
Cons: There is an additional cost added to the Slack price if you want to use this feature in the app.
Did You Find Something New?
Okay, so you've probably heard of Google and Facebook. But is there a new app on this list that caught your eye? Every one of these project manager tools offers a way to improve your work life.
Give a few of them a try to see how they can help you and your team with productivity, collaboration, and overall efficiency. To learn about more tools for project managers we recommend, be sure to check out our blog.
Logan Derrick is a full-time business writer and content marketing strategist. For years, he has worked closely with several project management professionals, learning from them and increasing his own knowledge of the industry. Having held multiple management positions in fields ranging from customer service to marketing, Logan has found a passion for helping others learn about project management, marketing, and the powerful tools available to professionals today.