Suddenly, the evolutionary AI tool is everywhere. Including recruitment!
And while businesses are now using ChatGPT across various sectors and continually discovering new use cases, an equal amount of exaggeration and misunderstanding always accompanies the next Big Thing in tech.
In this article, we look at the real potential of this AI innovation for talent acquisition by analysing what it is and diving into 8 ChatGPT in recruitment examples.
TL;DR – Key Takeaways
ChatGPT is an AI chatbot on steroids. It can generate human-like responses using deep learning algorithms to continually improve. What's remarkable is that it can create text, videos and images that are sometimes indistinguishable from those created by humans.

In the business world, stacks of people are experimenting with ChatGPT, with common usage including fast-tracking content, code creation, and research.

In HR, it's helping with administrative tasks and also streamlining key responsibilities like recruitment marketing and the interview process.

We share 8 ways to make ChatGPT work for you in recruitment, such as creating a draft for a job description, answering frequently asked questions about a company or role, or creating templates to respond to candidates.

We've also included a list of cool (and practical) AI-powered HR apps to try out besides ChatGPT.

Toggl Hire can help your team save more time in the hiring process with our all-in-one skills assessment platform. Screening candidates, and picking out the top talent has never been easier.
What is ChatGPT, and what's all the fuss about?
According to its creators, OpenAI, ChatGPT is "an artificial intelligence chatbot". But, in reality, it's so much more. The evolutionary AI-powered chatbot engages in dialogue in a human-like way (called natural language processing), logically following and building on conversations.
Unlike its simpler predecessors, Alexa, Siri, and other chatbots, ChatGPT is continually learning and improving. The Generative Pre-trained Transformer, or GPT part, refers to how the program learns from experience, without being programmed or told what to do, and continually improves through user input. It learns from the training data it receives. Then that learning is fine-tuned by user input, where our prompts help train ChatGPT and make it more accurate.
ChatGPT is a type of generative AI technology, which means programs that generate new outputs, like text, images and videos, based on information or prompts it receives–instead of merely replicating the data it is given.
OpenAI, headquartered in San Francisco and founded by, among others, Elon Musk and Sam Altman, launched its most renowned product, ChatGPT, in November 2022. Subsequently, the language model developed into the undisputed flavour of the year in tech innovation — for tech nerds and the world at large.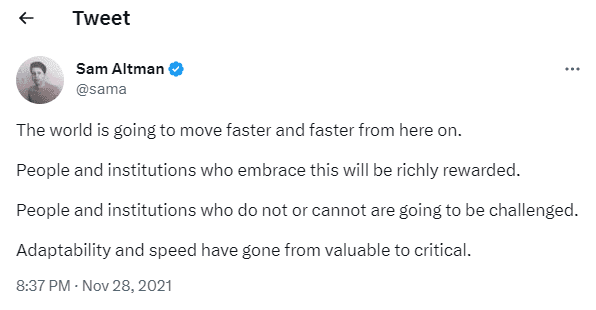 Who is using ChatGPT at work, and why?
The AI tool is proving helpful in a broad range of business applications: from streamlining customer service with chatbots and virtual assistants to writers fast-tracking content creation in marketing or a software engineer creating a first draft of code in product development, the skies the limit.
Recruiters use ChatGPT to write job descriptions, answer frequently asked questions about the role or the company, personalize outreach messages and tailor interview questions based on candidates' experience and role requirements.
We asked ChatGPT how organizations are currently benefiting from using it, and it shared these insights: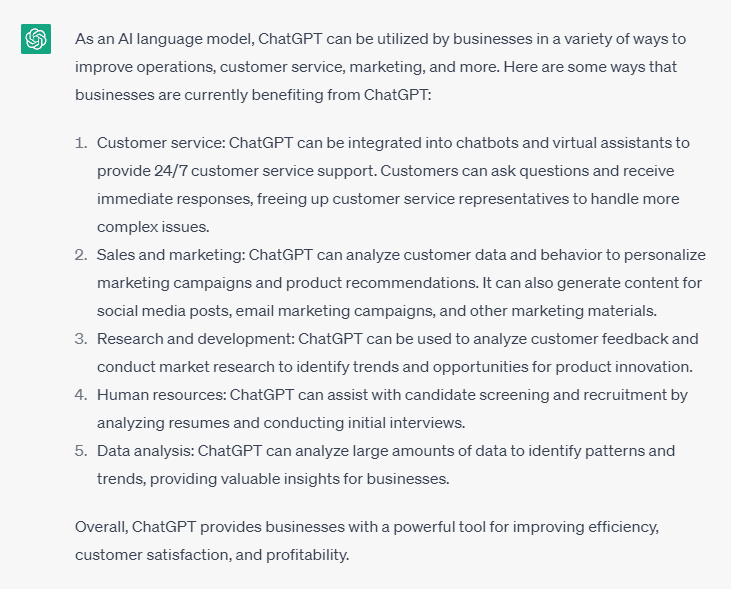 A recent SHRM study found that 88% of businesses worldwide are already using AI in HR whilst UNLEASH's own research found that ChatGPT is already being used to create training, HR presentations and job specs.

Source
What does it all mean for you as a recruiter?
ChatGPT has the capacity to help human resources professionals streamline many workflows and automate repetitive tasks, including recruitment processes.
And while there are many pros to using this AI-driven technology, like generating ideas or draft copy for hiring requirements super fast, we've also added tips to keep in mind to ensure the team doesn't veer off the rails (or get in trouble).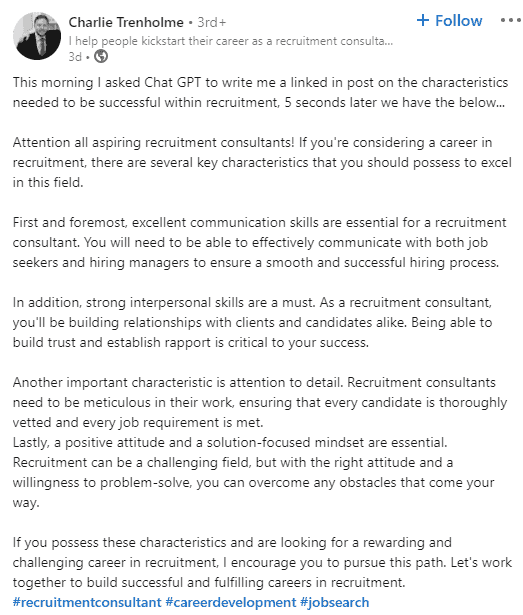 Saving time and boosting efficiency
This technology can help recruiters save time, reduce costs, and be more productive in their daily tasks. It can act like a personal assistant, performing duties such as:
Candidate screening and listing — predominantly with resume screening or checking whether candidates match the job requirements (but it has no capacity to assess candidates' actual skills).

Providing candidates with information on the job, company, and even company culture.

Answering frequently asked questions about a job opportunity.

Generating interview questions based on a job description or job task analysis.

Scheduling interviews for candidates.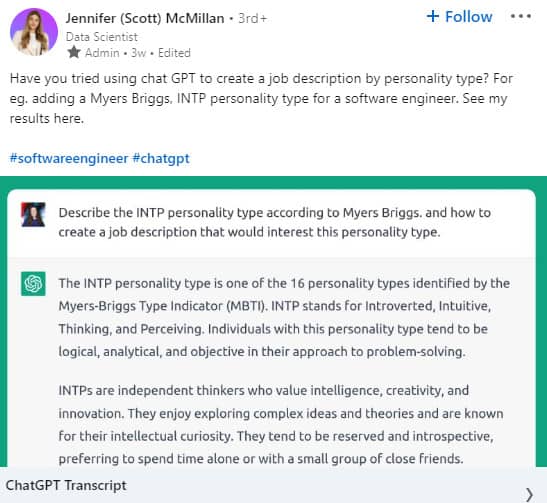 Top tip:
Working across many tools can be a pain, though. A quick and easy way how to streamline your hiring workflow using ChatGPT + Toggl Hire is to save email drafts as shared templates within the platform. Anyone on the team can dip into your saved templates library to get a running start.
Better still, you can generate interview questions based on candidates' test results, digging deeper into the areas where a candidate fell down during the assessment. And add those questions as notes to candidate profiles!
Automating personalized feedback
ChatGPT can help craft personalized communication to applicants, especially first drafts of:
Emails or InMail messages to passive candidates.

Personalized responses to unsuccessful applicants.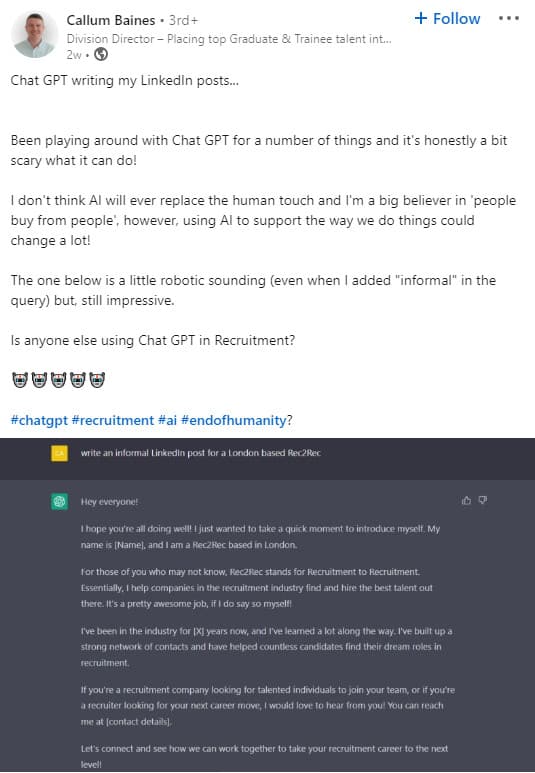 Tips to think about when using ChatGPT in your recruiting strategies
ChatGPT should not be the only HR tool your hiring manager or recruiters use. (We share a list of the latest AI-powered HR tools towards the end of this blog.)

Remember, candidates are all over ChatGPT, too, using it to write CVs, cover letters, and that homework task you sent them! 😉

Beware: Don't paste client or other proprietary or sensitive info into ChatGPT — as that info could become available in the public domain!
In a disturbing development, three instances of sensitive data leakage via ChatGPT were reported in less than a month.

Source
Ok, now let's dive into how this smarty-pants app can actually help you out with various aspects of your recruitment process.
8 practical ways to use ChatGPT effectively in recruitment
Streamlining your recruitment process can help your team meet the targets (often unrealistic) hiring managers set. ChatGPT can help you do just that.
#1 — Create job descriptions that promote inclusivity and diversity
Writing job descriptions in a tone that supports a diverse and inclusive workforce is quick and easy with ChatGPT's help.
Example prompt: Create a short job description for a junior software developer written in a style that promotes a diverse and inclusive hiring process.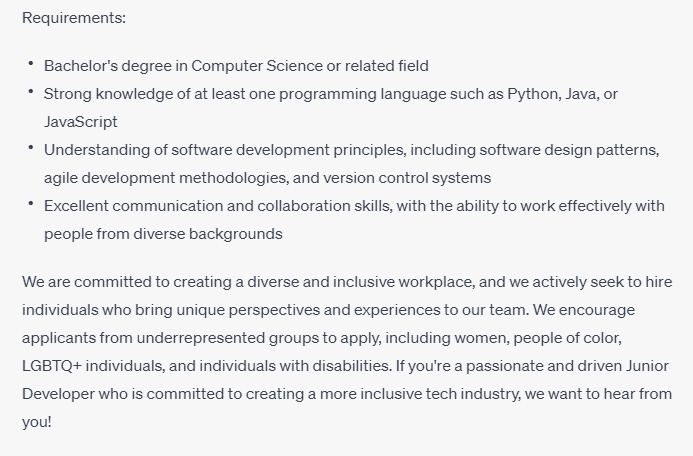 #2 — Create job advertisements
You can use ChatGPT to quickly create a first draft of your job ads and edit it as needed with your role or company-specific details.
Example prompt: Create a short job ad for a remote marketing assistant.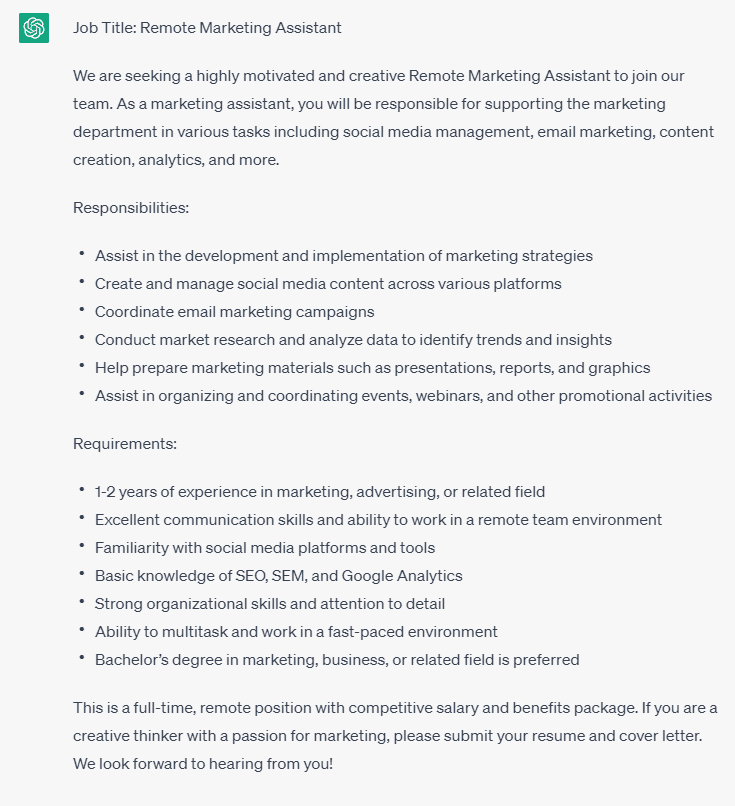 #3 — Write email templates and candidate outreach copy
Need to have a quick response ready for great passive candidates you spot on LinkedIn or other candidate-sourcing sites? ChatGPT can help you with human-like text or responses you can use as a template to work from!
Example prompt: Create an email template for recruiters to message passive candidates on LinkedIn that are a good fit for a particular role.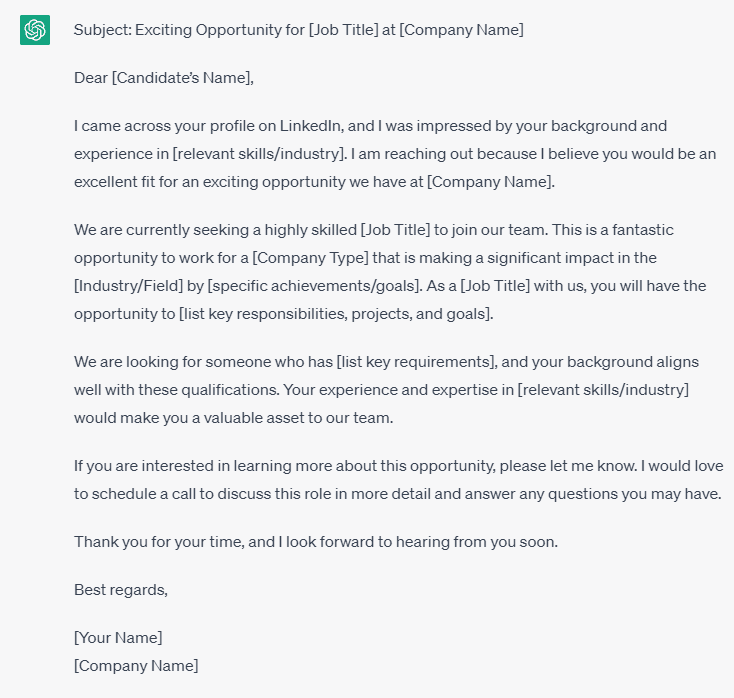 #4 — Respond to candidates without long delays
Create basic templates for your candidate communication to fast-track feedback to them. (Even though you may be letting them know they were unsuccessful, sending the response fast can still help maintain a positive candidate experience.)
Example prompt: Create a short email response to a candidate who was unsuccessful in applying for a UX Designer job.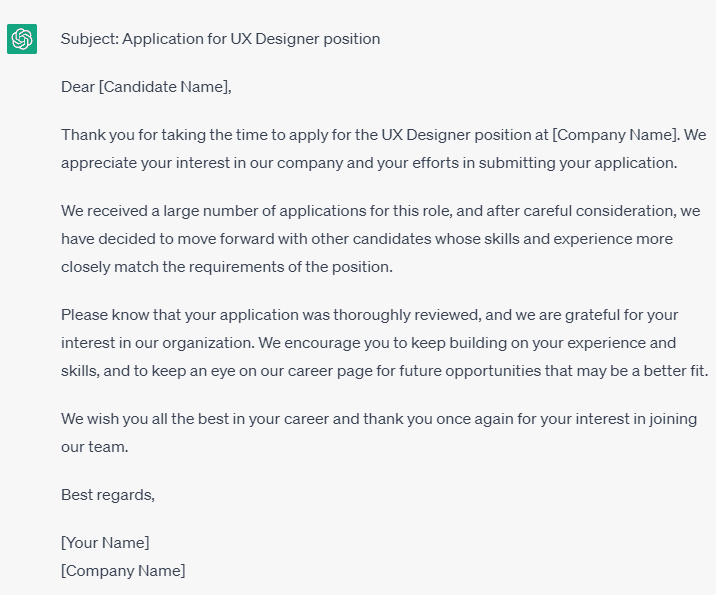 #5 — Get a list of keywords for a job description
Quickly craft job descriptions with the right keywords for a specific role. That way, you'll catch candidates' attention with the best skills and experience.
Exmample prompt: Create a list of 10 keywords to include in the job description of a UX Designer.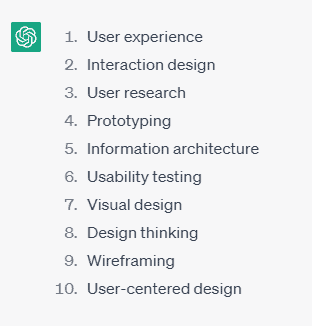 #6 — Create a Boolean search string
Get help creating a Boolean search string to uncover quality candidates for your open roles.
Example prompt: Create a Boolean search string for LinkedIn to identify a Customer Support Manager with experience in global SaaS products. The Customer Support Manager should have experience in HR and be based in Europe, and speak French.

Not sure what the heck Boolean search strings are? No worries. Here's a video to get you in the know:
#7 — Simplify technical jargon
ChatGPT can be your interpreter when you need to understand the basic functions in a technical role, such as a Software Engineer or React Developer, and are stymied by the technical jargon.
Example prompt: Explain what a React Developer does in simple terms.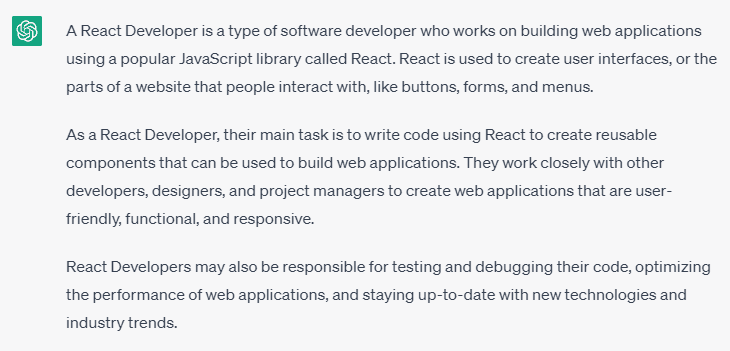 #8 — Create a set of core interview questions for common roles
Got a few roles that you're always hiring for? Then why not generate suggested interview questions for each role using ChatGPT that you can then work off and adjust as needed?
Example prompt: Create 10 relevant interview questions to ask a Product Marketing Manager.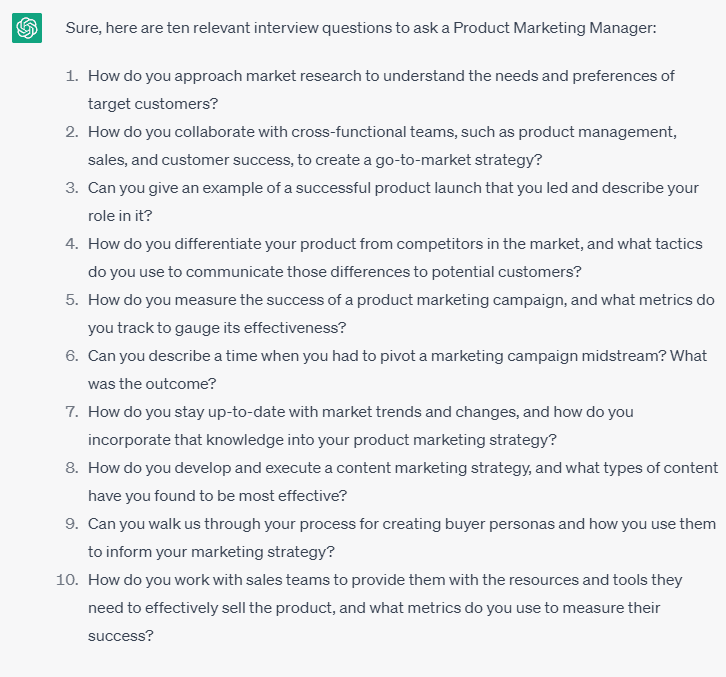 hireEZ, the end-to-end rec tech firm, has already announced that it is rolling out a ChatGPT-powered product that aims to drive efficiencies by allowing recruiters to auto-populate tailored emails based on job descriptions and work more effectively at scale with multiple applicants.
We hope you liked our ChatGPT recruitment examples, and they sparked some ideas on how you can use it in your role too. Give it a try!
Now let's explore a few other AI-fueled HR industry apps that could help make your team's work easier (and free up your time for tasks where human interaction is essential).
What other AI tools can help recruiters?
ChatGPT is just one example of AI tools that recruiters are learning to love. In fact, AI is already widely used in recruitment and human resources.
Well, we asked ChatGPT, and the language model came up with this list of innovative HR and recruitment tools, including two best-in-class HR technology examples that leverage AI (and we've added a third bonus example from our own research to ensure it's up-to-date).
Resume screening
AI-powered resume screening software can help recruiters sort through a large number of resumes quickly, identify relevant candidates and remove the need for manual screening. Some interesting software solutions for this use case are:
HireVue

Textio

ICIMS Talent Cloud (bonus example)

Top tip:
Our favourite way how to sift through a large volume of resumes is – surprise, surprise – to not use resumes as the first step in the application. Instead, you can set up a minimum pass score on a skills test and let the test results dictate which candidates move forward.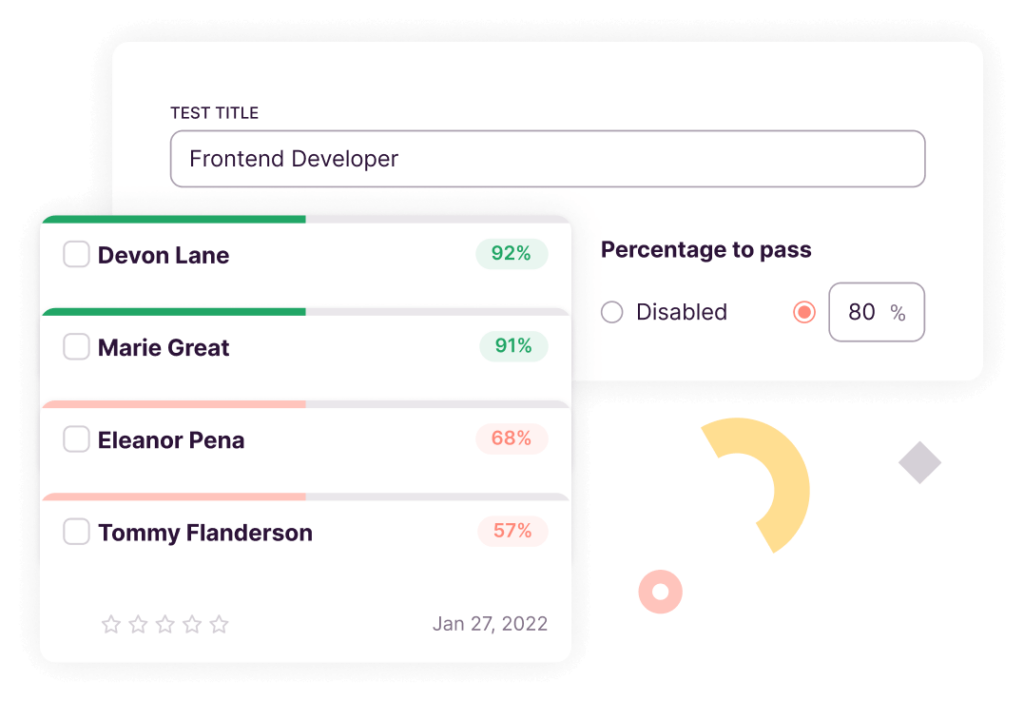 Candidate matching
Candidate matching software using AI technology can analyze job requirements and match them with candidate skills and experience to find the best fit. Here are two good examples:
Entelo

Eightfold.ai

Skillate (bonus example)

Interview scheduling
Interview scheduling software can help recruiters schedule interviews with candidates quickly and efficiently, saving time and reducing scheduling errors. Two great examples are:
My Ally

XOR.ai

Oracle Recruiting (bonus example)
Diversity and Inclusion
Diversity and Inclusion software can help organizations improve their diversity and inclusion efforts by identifying potential biases in hiring processes and providing recommendations for improvement. ChatGPT shares two good ones:
Blendoor

Textio

SeekOut (bonus example)
Employee engagement
AI-powered employee engagement software can help organizations understand employee sentiment and identify areas for improvement, leading to better retention and employee satisfaction. Stellar examples include:
Glint

TINYpulse

Fuel50 (bonus example)
Onboarding
Onboarding software — revved up by AI — can help your team streamline onboarding processes, reducing time and effort while increasing efficiency and accuracy. Two of the best software solutions include:
Enboarder

Sapling

XOR AI Recruiter (bonus example)
Talent analytics
AI-driven talent analytics software can help businesses gain insights into their hiring processes, identify trends and patterns, and make data-driven decisions. Here are two good solutions for this task:
Visier

pymetrics

Phenom Intelligent Talent Experience (bonus example)
Wrapping up — 6 limitations of ChatGPT you should know about
As HR professionals work more with ChatGPT, the benefits, like easily scheduling interviews, generating interview questions fast, and automating repetitive tasks, is a big bonus. However, ChatGPT is not without its foibles or limitations.
Here's what ChatGPT says about its limitations in recruitment: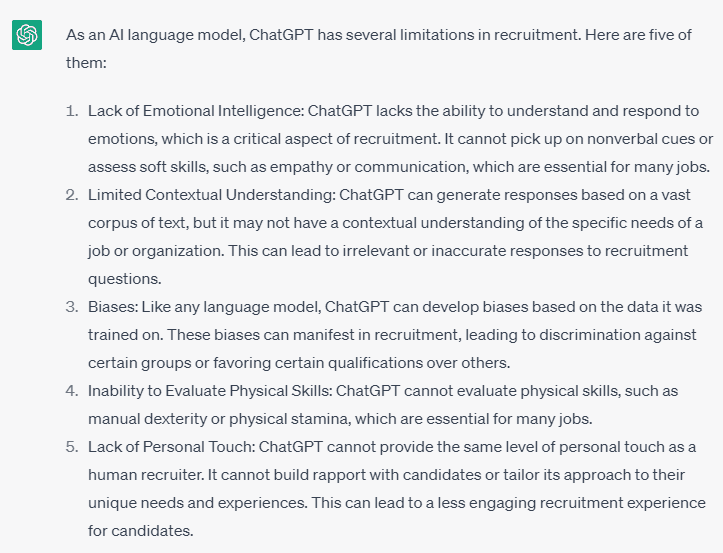 What ChatGPT can't do
Create a consistent screening process for all candidates
Since ChatGPT relies on the input it receives, it does not have the specialized functionality that skills platforms do. For this purpose, you're better off using a specialised tool like Toggl Hire to help you find quality hires fast and consistently.
Ensure valid results (no anti-cheating tracking)
Unfortunately, some applicants may try to cheat. And with ChatGPT, they've got a way to do that quite easily – be it a coding challenge or a marketing plan.
A much safer and smarter way to get reliable assessment data is to use a skills-assessment platform with built-in anti-cheating tracking.
Facilitate team collaboration
When you're working on tasks that require no input from the wider team – like writing email templates or generating interview questions – ChatGPT offers the fastest way to go from zero to something. However, gathering everyone's input is crucial when it comes to more complex activities, such as candidate shortlisting or homework assignments.
Find the latest research or data
It's important not to confuse the ease and brilliance of ChatGPT with another magic tool we've all come to rely on: Google. ChatGPT is not a search engine, so it can't give you the latest research, like salary benchmarking data, but it can help you analyze it!
Understand or replicate your company culture or tone of voice
It could give it a try, but without lots of similar examples (that you'd have to share with it and risk data privacy issues), the chances are slim that it'd match your company's tone of voice well.
Use judgement to spot real gems that may not tick the traditional boxes
Not every candidate fits the ideal specs on paper. Often, you need actual human judgement to dig a little deeper and recognize a potential spark in an applicant. Outsourcing candidate screening to an algorithm has never worked before!
Replace a human!
Let's remember that humans created AI! And while it can generate human-like text and responses, it still requires a human to know what to ask for in the first place. So while using the latest tech to stay ahead of the competition is important, it's really about making that tech work for you.
Ultimately, AI-powered tools and recruitment technology can supplement the human side of your recruitment process. (And help you finally get that unrealistic hiring manager off your back! 😉)
But will ChatGPT replace HR professionals one day? Not likely, because there'll never be a good substitute for actual human interaction and human recruiters!
If you're looking for a highly efficient but human-powered screening, assessing and hiring tool, check out Toggl Hire's skills assessment platform. The questions in our mammoth testing engine are created by real, live human experts.
We're here for you, recruiters.
Juste loves investigating through writing. A copywriter by trade, she spent the last ten years in startups, telling stories and building marketing teams. She works at Toggl Hire and writes about how businesses can recruit really great people.