In today's competitive market, sourcing the best talent is more difficult than ever. To your surprise, one of the core reasons may actually lie in your job ad.
In recent years, the unemployment rate of most countries has been at a historical low. If you're looking for work – this is awesome news. But if you're an employer looking for fresh new talent – you're in for a wild ride.
The talent pool seems to be getting shallower by the day, and the best people are already working for someone else. So, where do you start?
In order to attack the problem head-on, consider taking a closer, microscopic look at your first point of contact with the applicants (yes, your job ad!)
Ready to learn how to write a job posting that will attract quality candidates? Let's do this.
TL;DR – Key Takeaways
Good job ads bring in better applicants, lower turnover and attrition, help you hire more quickly, and have a lower cost per hire.

A job advertisement and a job description are not the same! A job ad, or job posting, is where you announce the newly open job. A job description is just that – a description of the role's duties and responsibilities.

The purpose of an attractive job advertisement is to sell the job by drawing quality candidates in to explore and apply. Well-crafted job descriptions are the first pre-screening step, ensuring job seekers grasp key job requirements and self-qualify.

Some of the best ideas on how to make a job posting more appealing include disclosing the salary, keeping your requirements list short and to the point, paying attention to formatting and design as well as sticking to a recognizable job title. More tips below!

Alongside posting on the company website and social media channels, recruiters often turn to popular job boards like Linkedin or Wellfound to advertise new job opportunities. Yet, to attract remote candidates or fill technical roles, try posting to industry-specific job sites like WeWorkRemotely, Dice, or Otta.

One simple way to jazz up your job postings to attract quality talent is to gamify your application process. With recruiting software like Toggl Hire, you can use a quiz-like skill test, instead of a CV and a cover letter, to entice talented (yet passive) candidates to look at your ad and apply. It works like a charm!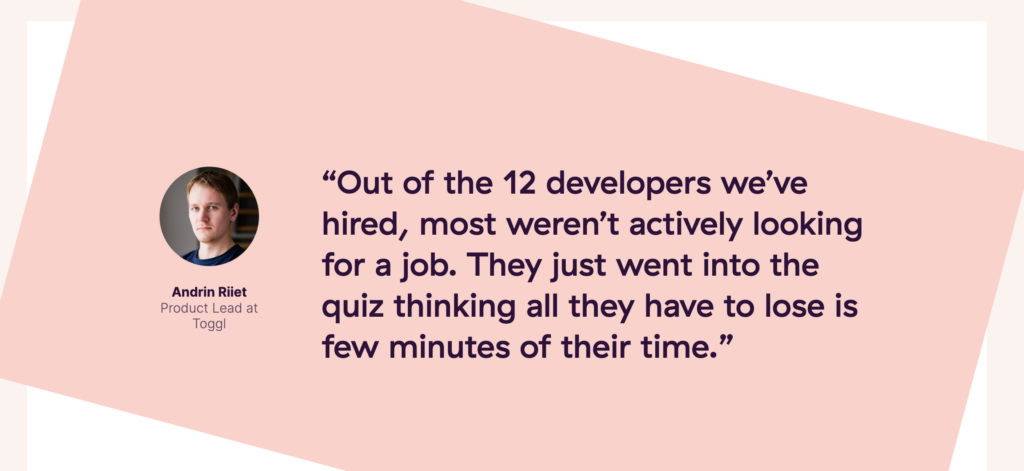 What is a job ad?
A job ad is typically how a company will announce that they are looking for someone to fill a new vacancy. Good job postings are clear on the role and responsibilities while also showing candidates why they should want to work at the company.
Another way to think of a job ad is like an advertisement where, in order to be successful, you need to be able to sell the position to potential candidates.
A concert poster generates excitement about an upcoming show, making fans flock to buy tickets. A well-written job posting achieves a similar result – grabs candidates' attention and entices them to apply.
Especially in a competitive job market, your job posting needs to stand out from the crowd, that is, the various job boards and job sites where people go to discover the latest open roles.
The goal of the job posting is simple: to encourage candidates to apply. If being seen is the first challenge, then encouraging the right type of candidates to apply is the second – which brings us to the next question…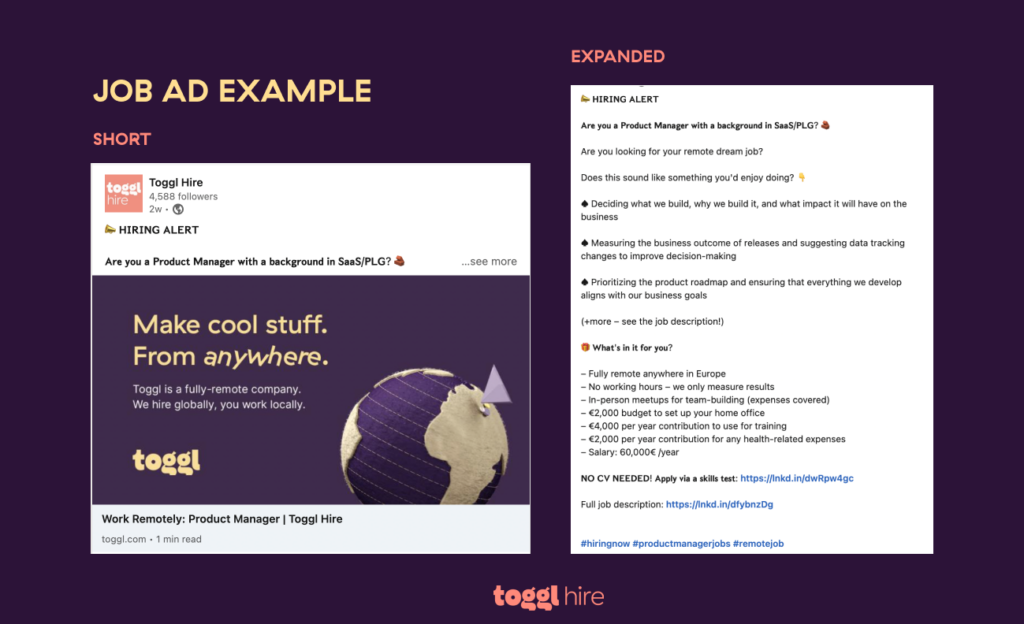 Why is it important to have compelling job ads?
The importance of the job ad is all too often underestimated. Think of it this way. You want people to apply. But too many applications, and you risk wasting precious hours of your hiring team sifting through an endless pile of irrelevant CVs. Too few, and you may struggle to find the right candidate and have to settle for the second (or third) best.
That, and a multitude of other reasons why you need a high-quality, attractive job ad, include:
Tip! A strong job ad won't fix a broken hiring process, but it can certainly help to create demand among the best kind of interested candidates.
Why isn't your job ad attracting strong candidates?
It's not them; it's you.
Let's take a look at some of the main reasons why your existing job posts might not be working to attract your ideal candidates.
"Post and pray"
Placing your job posts on a variety of job boards and praying that people see them is a common mistake. In today's market, you need to think beyond job boards and include the places where your ideal candidates are likely to be – like niche industry groups, Slack channels, newsletters, and social media.
You're only attracting the unemployed
Which is only a fraction of potential hires and therefore, you're missing out on other talent. In fact, some of the best talents in the market are passive candidates, so you'll need to create a strategy to get their attention, too.
It takes too long to find the right person
The average time to fill is 35-45 days, and it could get even worse if you're hiring for a more senior or specialist role.
And even when you do have someone lined up, you're left wondering – could I have gotten someone better if I kept the job ad up for just a little bit longer?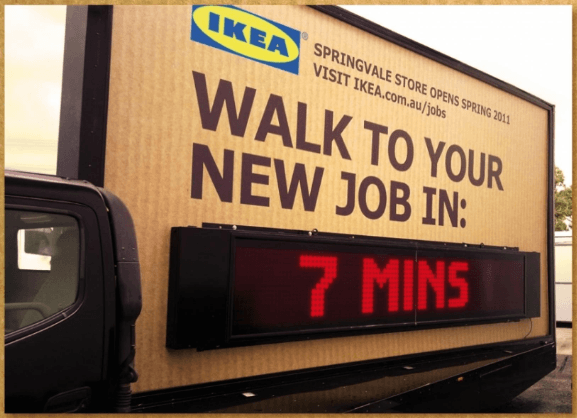 Job ad vs. Job description – what's the difference?
Although sometimes used interchangeably, a job ad or job posting – advertising a new role – is not to be confused with a job description – the job details – of that role.
Another way to distinguish between the two is to think of the purpose of each: write a job ad to sell the job, and a job description to explain the job.
They are two separate things, but they need to work together to attract the right candidates.
It's no use having a great job description if nobody sees it. And likewise, a successful job ad that gets the candidates rolling in needs a strong job description to clearly communicate the expectations of the role.
| Comparing | Job Description | Job Posting |
| --- | --- | --- |
| Use: | Internal | External |
| Type: | Document | Advertisement |
| Purpose: | Explain the job | Sell the job |
| Info about: | Responsibilities, day-to-day | Company, perks, job |
| Tone: | Formal | Fun & engaging |
| Length: | Longer | Shorter |
Comparing job ads vs job descriptions – key differences
6 Common mistakes to avoid in job postings
There are some obvious mistakes you can avoid in your job postings to significantly increase your hiring metrics. Here are 6 of the most common blunders candidates consider as 'red flags' today:
#1 – Not disclosing the salary
This is a hot topic… But, generally, having a salary range in your job postings will highlight your ad on job boards and get more relevant candidates.
#2 – Having a long list of required qualifications
Think of the core competencies a candidate needs for the job and list everything else as optional and nice-to-have to avoid solid candidates from self-selecting themselves.
📚 Not sure how to nail the job requirements for a new vacancy? Read this!
#3 – Too many cliches and fluff
As candidates read multiple job ads, you can stand out by using clear and simple language while avoiding cliches – and definitely stay clear of anything involving rockstars, ninjas, and gurus.
Some other examples of job ad red flags include phrases such as:
We're a family – translates as 'office politics and no boundaries'
You will wear many hats – translates as 'you'll do many different jobs, get paid for one'
Fast-paced, competitive work culture or Work hard, play hard – translates as 'toxic work environment'
Competitive salary – translates as 'your salary will compete with your bills'
To write a punchy job posting, stay away from cliches and fluff as people now read between the lines!
#4 – No mention of paid time off and sick leave
Make sure to cover both in your job posting, as these benefits are just as important as the salary.
#5 – No explanation of the hiring process
Great job postings walk the candidate through the stages of the hiring process so they know what to expect before even applying.
Hint: lengthy processes with many stages will put candidates off!
#6 – Asking candidates to "occasionally" work after hours or during weekends
If you're advertising for a full-time salaried position of 40 hours, do not set an expectation for candidates to work overtime right from the job postings.
How to improve your job ad?
All of these problems can be solved at the beginning of the hiring process by making attention-grabbing job postings. Here's how to do it:
1. Write your job description carefully
Top talent can only be attracted to a top job ad. If your ad looks and reads like everything else out there, don't be surprised if the candidates you attract are average as well.
Being a writer, grammar and syntax are the first things I notice in a job ad.
If you're fishing for top-tier employees, spend a few extra minutes running your job posting and your description through a spell checker.
Additionally, make sure the ad doesn't look like a huge wall of text. It's good to be elaborate, but short bullet points are better at grabbing attention.
Short bullet points are better at grabbing attention.
For example, this job ad on Pinterest tells you everything you need to know in about a dozen short sentences.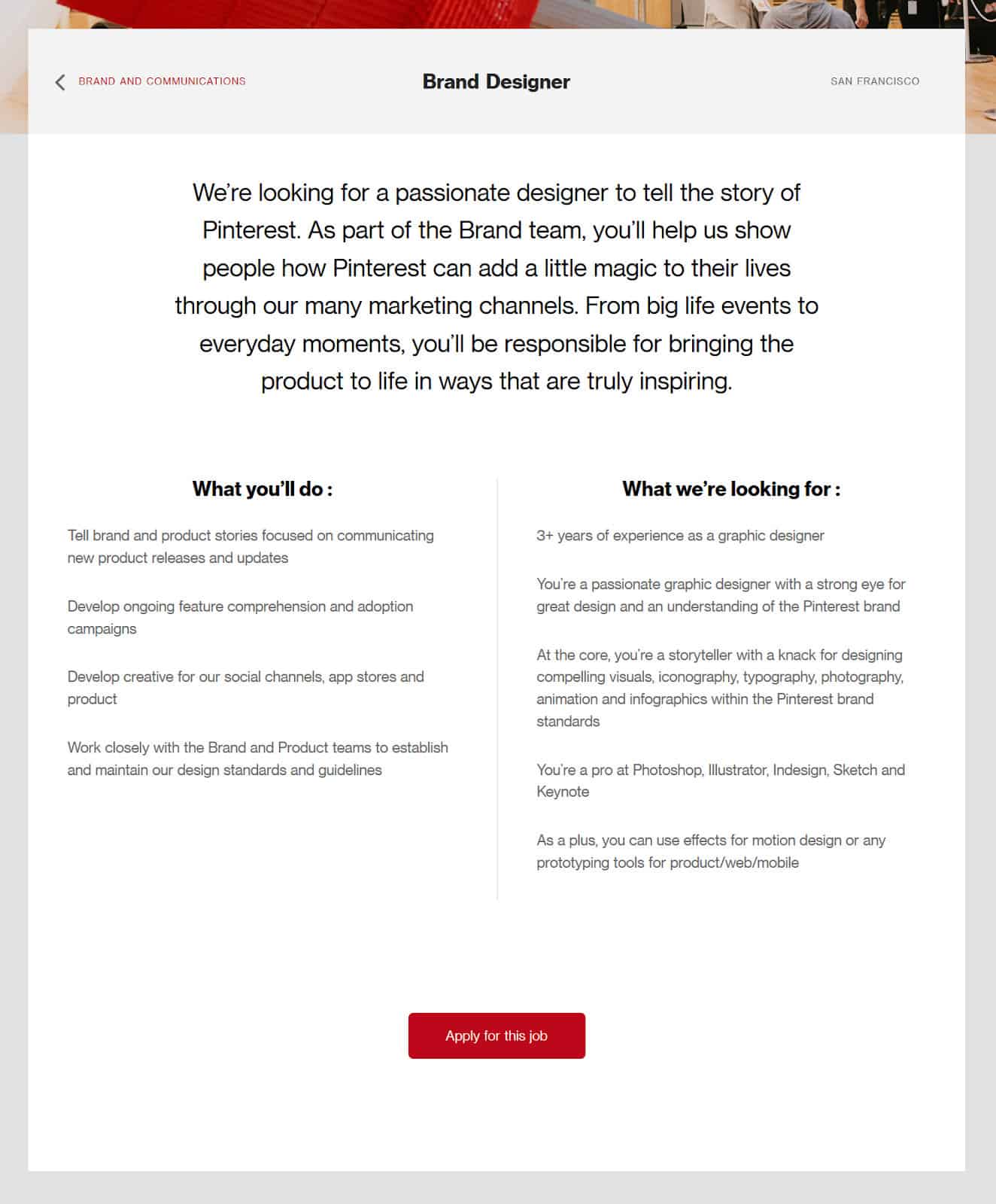 How you speak to people reading your job ad is just as important as your message. Take a look at the Pinterest job ad above. The sentence "You're a passionate graphic designer…" sounds a lot more personal than "The candidate is a passionate graphic designer".
Always speak to your applicants directly so they can envision themselves doing the job they're applying for.
Remember, this is a job ad, and you're trying to sell yourself to the applicant. Show them why working with you is great and that your company will give them immense job satisfaction.
While it's necessary to list a general job description, the majority of your ad should speak about your company's core values, mission, the benefits and perks of working with you, and why it's such a cool place to be.

Top tip:
This sounds like common sense, but it's also backed by evidence. In a study from the University of Vermont, researchers looked at 56 job ads where 991 respondents applied for work.
The ads were split into two groups:
1) focused on what the employer wants from the candidate
2) focused on what the employer offers relevant candidates (career advancement, work autonomy, etc.).
Companies with ads focusing on the applicant were 3x more likely to get higher-quality applicants. What's more, those that did apply were a better match.
Make sure your job ads use inclusive language
The language in your job ad could reveal a lot about the person you intend to hire. You can attract (or discourage) certain demographics to apply for your various job opportunities by using a specific tone of voice or expressions.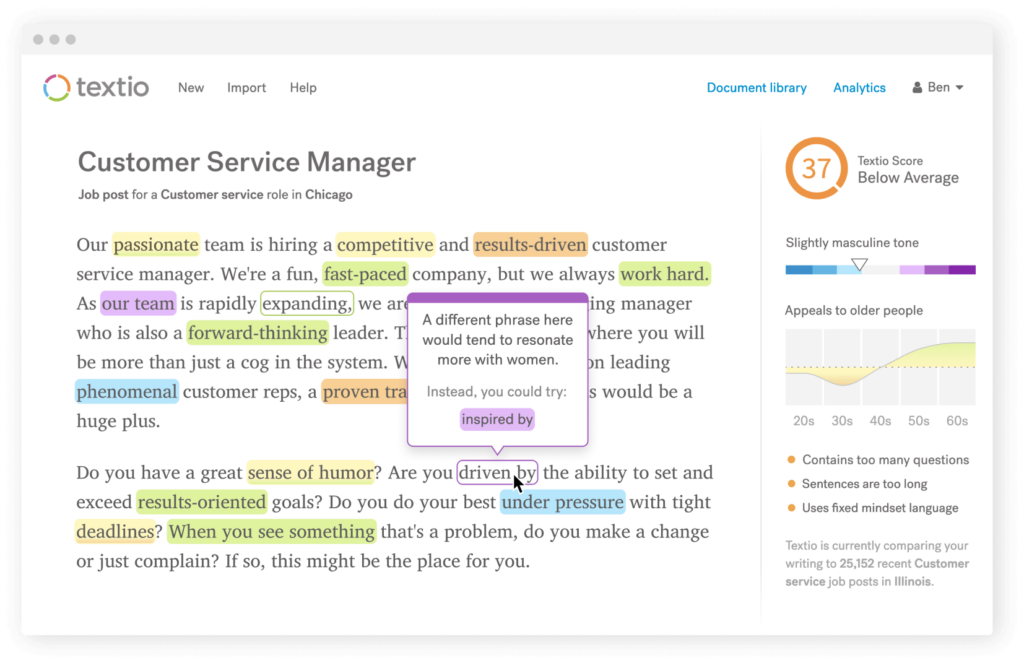 There's a really neat tool called Textio which was made to help out with job postings copy. It goes through your text and, based on its archive, makes recommendations on how to improve the language to make it less biased.
Just run your job ad copy through Textio, and you'll see who your applicants really are.
2. Mind the design
Visual is one of the most important elements of your job ad.
In interesting research done by Software Advice, 51% of respondents claim they would find an ad with images more appealing than one without them.
Okay, but what kind of image do you put in your ad?
For 30% of respondents, they would be most attracted to the company's products or services. If you're in IT and you don't think screenshots and lines of code would be that impressive – think again!
For 22% of applicants, seeing your employees in the image would make a job ad more appealing.
Here is an example of a job ad from Canva.
Since they're a design tool, the job ad is visually stunning (nothing surprising there). Here is what the rest of the page looks like:
Why does this job ad work well? Here are the key takeaways:
Great readability, lots of white space
Forces you to scroll down and finish reading the page
Plenty of images
A clear call to action to apply for the job that is sticky on the page
A separate block to check out the rest of the engineering team
An entire block to explore the New Zealand office
Of course, not everyone has a team of designers at hand, ready to create a beautiful job ad page. However, with services such as Fiverr or Dribbble, there's no excuse for not having a great job ad design!
3. Be careful about the job title
If you've been on LinkedIn for a bit, you probably noticed a trend.
There's an increasing number of quirky job titles, such as ninja, guru, rockstar, and similar.
On the one hand, this has unique value – titles such as growth ninja or HR guru are sure to attract a number of candidates that will click purely out of interest.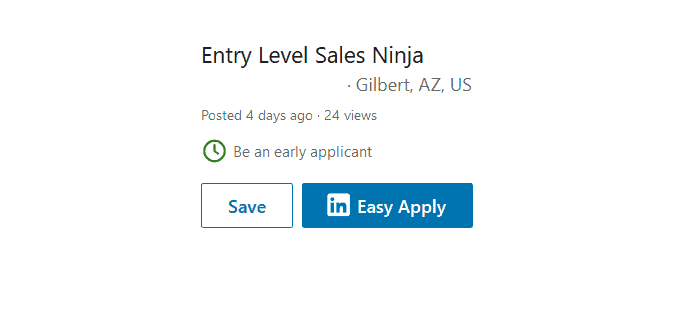 On the other hand, you are doing yourself a disservice with a creative job title such as this one.
The vast majority of candidates look for jobs through search engines, either on Google, job boards, or free job posting sites like Linkedin and Indeed.
For this purpose, as boring as it sounds, 'HR manager' is a much better solution than 'HR guru' – simply because candidates can find it more easily.
As boring as it sounds, simple job titles work better than creative ones.
As Paul Petrone of LinkedIn says (and those guys know a thing or two about hiring), your goal should be clarity. If you're really big on unusual job titles, feel free to use them – after you've found your ideal candidate.
Here is an example of a job title that is crystal clear. Takeaways:
specialization in terms of seniority (head)
a specific portion of the product (mobile app)
clear duties (growth and monetization)
clear location (remote)
clear applicant gender (M/F/D)
In short, if you're a candidate intending to apply, this title has everything you need to determine whether this job is a good fit for you.
4. Required vs. good-to-have skills
It's only reasonable that you're looking for someone who has all the skills to absolutely nail your open position.
But when you're putting together a list of these skills, make sure that you are reasonable.
Many candidates will be put off if the list of required skills is too comprehensive. They will be discouraged from applying if they don't feel like they have everything on your list.
This is why it's beneficial to separate skills into two groups – required and desirable/good to have, where the essential job skills will be in the first group.
Many candidates won't apply if the list of required skills in your job ad is too comprehensive.
From the position of a job seeker, this is a good place to find out about the employer's expectations. For example, if you have an opening for a social media manager and you require active knowledge of CSS and JavaScript, it's a red flag for the applicant that you don't really understand what the position entails.
As the creator of the performance-based job description Lou Adler says, the ad should focus on what a candidate can do with what they have, instead of just their skills and experience. Hire the person who can deliver results, not the person with the best skills on paper.
Here is an example of a job ad from Sonar and here is why it works:
clearly defined necessary technical skills
differentiation between "good knowledge" and "knowledge"
clearly defined nice-to-have skills
All of this helps candidates decide whether or not they should apply.
5. Be sneaky
One of the easiest ways to reduce the number of unqualified candidates won't cost you any additional time or money.
The truth is, a lot of applicants are going through multiple job boards and applying to all jobs without looking at the ads in detail.
In order to combat this, you can write a very simple instruction somewhere in the middle of the job ad.
For example, this job ad instructs candidates to write 'I read the job description' in the email's subject line as they apply.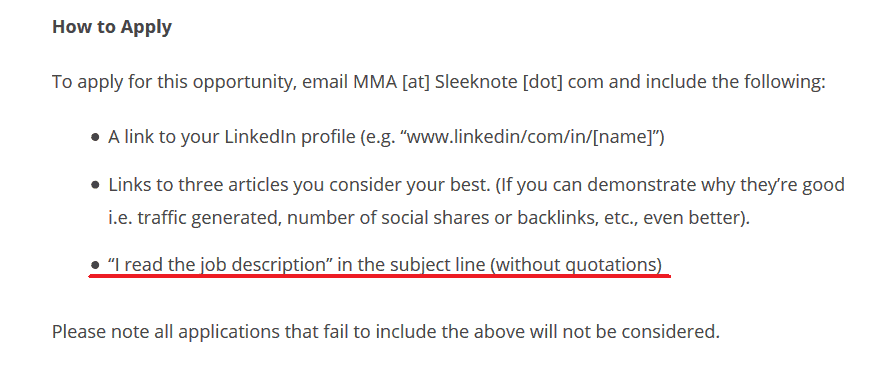 It is a pretty simple strategy, but it will immediately show who's read the ad carefully and has a real interest in the position.
Some takeaways on why it works:
it immediately shows you which candidates have just skimmed through the job ad
it shows attention to detail in candidates
it takes just a few seconds of extra work for applicants, but it's enough to show who really wants the job and who's just blindly pressing the "apply" button
This is especially useful for positions that require high attention to detail (this was for the position of a writer), but you can apply it anywhere.
You can make this requirement anything you want – I once applied for a position where I had to list my favorite ice cream flavor in the first line of the application email.
It's strawberry, by the way. 😉
6. Mention the salary
Everyone has bills to pay. Even if your company is a superb place to work with great culture and a ton of perks, salary matters.
It does not have the same priority for everyone, but the salary is one of the focal points of a good job ad.
The number one reason for listing a salary (or at least a range) is to attract more people. Job ads with a listed salary impact 91% of candidates when deciding whether or not to apply.
What's more, those who apply know exactly what to hope for. This way, you eliminate anyone who's too expensive for your budget right off the bat.
91% of job candidates want to see a salary range in the job ad.

LinkedIn
One of the tricks HR managers tend to use in their job postings is listing the salary as 'depending on experience'. While it's a neat way of getting around precise figures, it's hardly something that will tempt candidates. If you list a range depending on experience, candidates know what to expect, depending on what they bring to the table.
👎 On the other hand, if you don't list a salary at all, candidates will think you are trying to get an amazing person and pay them very little, according to HR expert Liz Ryan.
Finally, the biggest reason to list the salary in your job ad is to motivate those looking to change jobs.
For over 63% of people who quit jobs, salary is their primary reason for a change in the workplace. If they know that you are offering more, they will be much more likely to envision you as their next employer.
You can see a good example above. Key takeaways to remember:
clearly defined salary range (albeit a wide one)
a healthy list of benefits, including but not limited to PTO
a list of all additional benefits
an offer for a stock purchase plan
In short, everything a candidate needs to determine if a job makes sense financially or not.
7. Offer something for free
This might be considered sneaky again, but all is fair if you want to hire your purple squirrel. In fact, this is exactly the trick we've used in our quest to hire an SEO manager for Toggl Hire (which was once called Hundred5).
We created a job simulation test using a pre-built SEO assessment template and advertised it on LinkedIn, Twitter, and Facebook. In the ad, we offered a free T-shirt to applicants – but only to those who scored high on the test.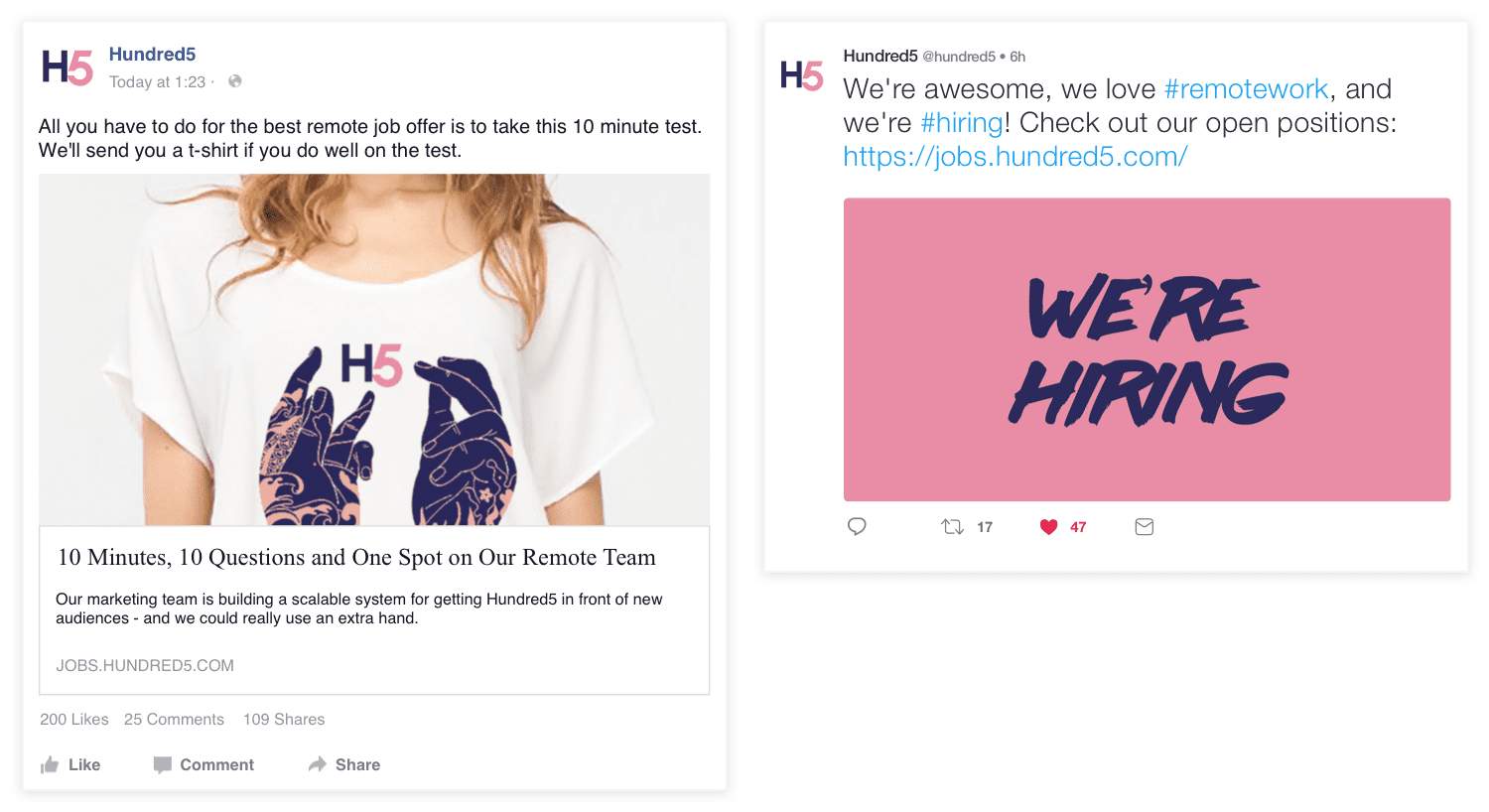 Why does this work so well?
it's quirky and innovative, which is likely to attract people who match that line of thinking
the application barrier is low (it's just a quiz), and a freebie is an extra incentive to get them interested
they don't get the freebie just for participating – they have to complete the test and do it well, so it is a reward rather than a gift
Why do we do that? Because this helps us get the attention of the passive candidates who would otherwise never check our job opening ads, while also boosting our employer brand and showcasing company culture. Win-win!
8. Turn your job ads into skill-screening quizzes
Everything that we've mentioned so far should lead to massive numbers of applicants from your job postings. And while this is a great problem to have, it's still a problem.
Especially if you have remote job openings, you're guaranteed to attract thousands of applicants per job post. And most of them will be a poor fit, so you need to disqualify them early and move on to the candidates that will be a great addition to your team.
This is where Toggl Hire can help you.
Combining powerful applicant tracking system capabilities with plug-and-play skills assessments, our recruitment platform helps companies quickly narrow down their application pool to the most qualified people worth interviewing – while maintaining an excellent candidate experience!

Top tip:
At Toggl, we use Toggl Hire recruitment app to find talented people around the world. (Yes, including developers!) In fact, all of the openings we have right now are tests on the Toggl Hire platform – feel free to check them out!
So, what's so cool about using a skills test in job ads?
First and foremost, you hire candidates based on performance and not their resumes. You get to see how they would function in a particular role with a short series of job-specific tasks.

Second, you get to hire without bias – you only see the name and results of an applicant.

Third, candidates get their results almost instantly. As soon as they're done, candidates get an email telling them how well they performed and whether they can expect to go further in the hiring process.

Finally, and perhaps most importantly, Toggl Hire helps you hire efficiently – the time and money spent on hiring a candidate are cut down significantly compared to the traditional hiring process.
To sum up – key elements of a great job ad
By now, you're probably feeling ready to go to a job board or a free job posting site and create an amazing job ad. Here is a checklist of what to include:
An accurate job title
A creative job description
A transparent salary range + benefits
A reasonable list of requirements and qualifications
A step-by-step explanation of the hiring process
A snapshot of who you are as a company, your values and culture
Do these things right, and every time you post jobs, you can expect a flood of great candidates.
Over to you
In today's competitive market, it's more important than ever to have help in hiring the best quality candidates. Start by making your job ad really stand out from the crowd – this will help you attract more quality candidates.
If you'd like to take Toggl Hire for a test drive – you can sign up here.
Frequently asked questions:
What is an advertisement for a job?
An advertisement for a job is a formal type of announcement where a company informs potential job seekers that they have an opening. The aim of a job ad is to get as many potential candidates to apply.
How do I make a catchy job ad?
The best way to make a job ad that stands out is to talk to the job seekers from their point of view. Think of what would make them apply, rather than highlighting your successes as a company. Talk about their duties, the projects they will work on, the company culture, the benefits, and more – rather than focusing on a lengthy list of requirements.
How do you announce a job posting?
There are plenty of free and paid ways to announce and promote your job postings. You should start with the careers page on your website. Then move on to paid and free job posting sites such as LinkedIn, Monster, Remote.co, WeWorkRemotely, ZipRecruiter, and others.
What should a good job ad include?
A good job ad should include a job description that "hooks" the candidate to apply immediately. This means focusing on how they fit into the company from the very start and showing what's in it for the candidate. It should also include a list of required and "nice-to-have" qualifications so the right candidates don't get put off and avoid applying.
What are the 5 components of a job description?
The 5 basic components of every job description are: job title, job description, duties and responsibilities, necessary qualifications, and working conditions.