In today's competitive market, sourcing the best talent is more difficult than ever. To your surprise, the reason may be in your job ad. So, let's see how to write a job posting that will attract quality candidates.
In recent years, we've seen a trend where the unemployment rate of most countries is at a historical low.
If you're looking for work – this is awesome news. There's a variety of jobs to choose from and (in theory, at least) you'll have no trouble finding your next gig.
If you're an employer looking for new staff members – you're in for a wild ride. The talent pool seems to be getting shallower by the day, and the best people are already working for someone else.
In order to attack the problem head-on, take a look at the first point of contact the applicants have with your company – your job ad.
Why isn't your job ad attracting strong candidates?
The first of your problems is that your job ad doesn't get enough traction. Posting an ad on a job board and praying it gets to the right people is akin to sending a message in a bottle – you can only hope it gets to the right people.
Speaking of people – the majority of those who end up on your job ad will be folks who are currently unemployed. Not to say that you're scraping the bottom of the talent pool, but – this is just a fraction of potential hires. The best possible people for the job are already employed and not actively looking for work.
Finally, because there aren't that many available first-class candidates out there, filling a position takes a considerable amount of time. You can end up waiting for months and weeks until you get enough candidates to be able to choose.
And even when you do have someone lined up, you're left wondering – could I have gotten someone better if I kept the job ad up for just a little bit longer?
How to improve your job ad?
All of these problems can be solved at the beginning of the hiring process, by making an appealing job ad. Here's how to do it:
1. Write your job description carefully
Top talent can only be attracted to a top job ad. If your ad looks and reads like everything else out there, don't be surprised if the candidates you attract are average as well.
Being a writer, one of the first things I notice in a job ad is grammar and syntax. If you're fishing for top-tier employees, do put in the extra few minutes to run the ad through a spell checker. Additionally, make sure the ad doesn't look like a huge wall of text. It's good to be elaborate, but short bullet points are better at grabbing attention.
Short bullet points are better at grabbing attention.
The language in your job ad could reveal a lot about the person you're intending to hire. There's a really neat tool called Textio which was made to help out with job listings copy. It goes through your text and based on its archive, makes recommendations on how to improve the language to make it less biased.
By using a certain tone of voice or expressions, you can attract (or discourage) certain demographics to apply for your job. Just run your job ad copy through Textio and you'll see who your applicants really are.
For example, this job ad at Pinterest tells you everything you need to know in about a dozen short sentences.
As the creator of the performance-based job description Lou Adler says, the ad should focus on what a candidate can do with what they have, instead of what they have. Hire the person that can deliver results, not the person that has the best skills on paper.
The way you speak to people reading your job ad is just as important as the message you're sending. Take a look at the Pinterest job ad above. The sentence "You're a passionate graphic designer…" sounds a lot more personal than "The candidate is a passionate graphic designer".
Always speak to your applicants directly so they can envision themselves doing the job they're applying for.
Remember, this is a job ad, and you're trying to sell yourself to the applicant. Show them why it's great to work with you and that your company will give them immense job satisfaction.
While it's necessary to list a general job description, the majority of your ad should speak about your company's core values, mission, the benefits and perks of working with you and why it's such a cool place to be.
This sounds like common sense, but it's also backed by evidence. In a recent study from the University of Vermont, researchers looked at 56 job ads where 991 respondents applied for work. The ads were split into two groups – those that focused on what the employer wants from the candidate, and those focusing on what the employer offers to candidates (career advancement, work autonomy etc.). Those ads focusing on the applicant were three times more likely to get higher-quality applicants. What's more, those that did apply were a better match.
2. Mind the design
Visual is one of the most important elements for your job ad. In interesting research done by Software Advice, 51% of respondents claim they would find an ad with images more appealing than one without them.
Okay, but what kind of image do you put in your ad? For 30% of respondents, they would be most attracted to your company's products or services. If you're in IT and you don't think screenshots and lines of code would be that impressive – good news. For 22% of applicants, seeing your employees in the image would make a job ad more appealing.
A lesson can be learned from the openings page at Airbnb. Not only is the design flawless, it's easy to navigate and it draws the visitor in. Since they cannot display their product, they show off their employees and their work culture.
Of course, not everyone has a team of designers at hand, ready to create a beautiful job ad page. However, with services such as Fiverr or Dribbble, there's no excuse for not having a great job ad design.
3. Be careful about the job title
If you've been on LinkedIn for a bit, you probably noticed a trend. There's an increasing number of quirky job titles, such as ninja, guru, rockstar and similar. On the one hand, this has unique value – titles such as growth ninja or HR guru are sure to attract a number of candidates that will click purely out of interest.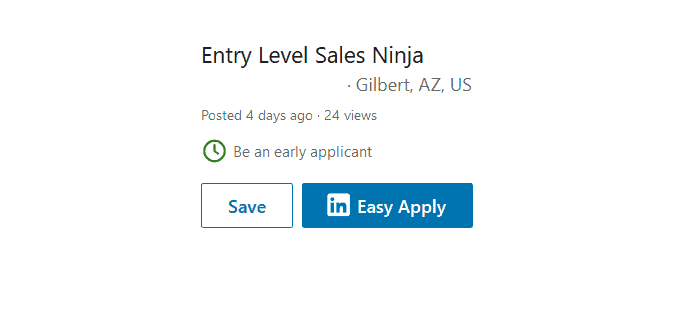 On the other hand, you are doing yourself a disservice. The vast majority of candidates look for jobs through search engines, either on Google or job boards. For this purpose, as boring as it sounds, 'HR manager' is a much better solution than 'HR guru' – simply because candidates can find it more easily.
As boring as it sounds, simple job titles work better than creative ones.
As Paul Petrone of LinkedIn says (and those guys know a thing or two about hiring), your goal should be clarity. If you're really big on unusual job titles, feel free to use them – after you've found your ideal candidate.
4. Required vs. good-to-have skills
It's only reasonable that you're looking for someone who has all the skills to absolutely nail your open position. When you're putting together a list of these skills, make sure that you are reasonable yourself.
Many candidates will be put off if the list of required skills is too comprehensive. If they don't feel like they have everything on your list, they will be discouraged to apply. This is why it's beneficial to separate skills into two groups – required and desirable/good to have, where the essential job skills will be in the first group.
Many candidates won't apply if the list of required skills in your job ad is too comprehensive.
From the position of a job seeker, this is a good place to find out about the employer's expectations. For example, if you have an opening for a social media manager and you require active knowledge of CSS and JavaScript, it's a red flag for the applicant that you don't really understand what the position entails.
5. Be sneaky
One of the easiest ways to reduce the number of unqualified candidates won't cost you any additional time or money. Truth is, a lot of applicants are going through job boards and applying to all jobs, without looking at the ads in detail.
In order to combat this, you can write a very simple instruction somewhere in the middle of the job ad. For example, this job ad instructs candidates to write 'I read the job description' in the subject line of the email as they apply.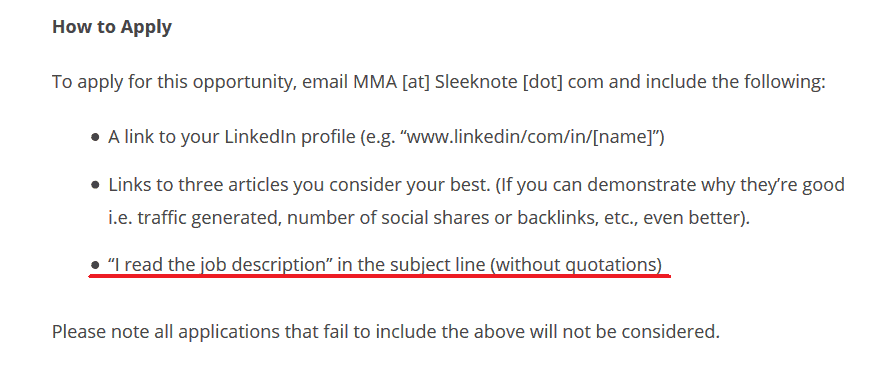 It is a pretty simple strategy, but it will immediately show who's read the ad carefully and has a real interest in the position. This is especially useful for positions that require high attention to detail (this was for the position of a writer), but you can apply it anywhere.
You can make this requirement anything you want – I once applied for a position where I had to list my favorite ice cream flavor in the first line of the application email. It's strawberry, by the way.
6. Mention the salary
The truth is – everyone has bills to pay. Even if your company is a superb place to work with great culture and a ton of perks, salary matters. It does not have the same priority for everyone, but the salary is one of the focal points of a good job ad.
The number one reason for listing a salary (or at least a range) is attracting more people. Job ads with a listed salary attract up to 30% more applicants. What's more, those that do apply know exactly what to hope for. This way, you eliminate anyone who's too expensive for your budget right off the bat.
Job ads with a listed salary attract up to 30% more applicants.
One of the tricks HR managers use is listing depending on experience when discussing salary in their job ad. While it is a neat way of getting around precise figures, it's hardly something that will tempt candidates. If you list a range depending on experience, candidates know what to expect, depending on what they bring to the table.
On the other hand, if you don't list a salary at all, candidates will think you are trying to get an amazing person and pay them very little, according to HR expert Liz Ryan.
Finally, the biggest reason to list the salary in your job ad is to motivate those looking to change jobs. For over 70% of people who quit jobs, salary is their primary reason for a change in the workplace. If they know that you are offering more, they will be much more likely to envision you as their next employer.
7. Offer something for free
This might be considered sneaky again, but all is fair if you want to hire your purple squirrel. In fact, this is exactly the trick we've used in our quest to hire an SEO manager for Toggl Hire.
We created a job simulation test using the Toggl Hire app and advertised it on LinkedIn, Twitter and Facebook. In the ad, we offered a free T-shirt to the applicants – but only for those who score well on the test.
Why do we do that? Because this helps us get the attention of the passive candidates who would otherwise never checked our job opening ads, while also helping us brand the company culture. Win-win!
I was one of the people who saw the ad and immediately thought – remote job ad and a free T-shirt if I nail the test? Count me in.
8. Use a hiring app for your job ad
What if we told you that that the best job ads don't have to look like job ads at all? At Toggl Hire, Toggl Plan and Toggl (three sister companies working together), we don't really use job ads or job boards for that matter.
Instead of offering candidates boring lists with tasks and duties, we often write a short blog post about our current openings, and we then get candidates' attention with something they can't resist – a short skills-based quiz.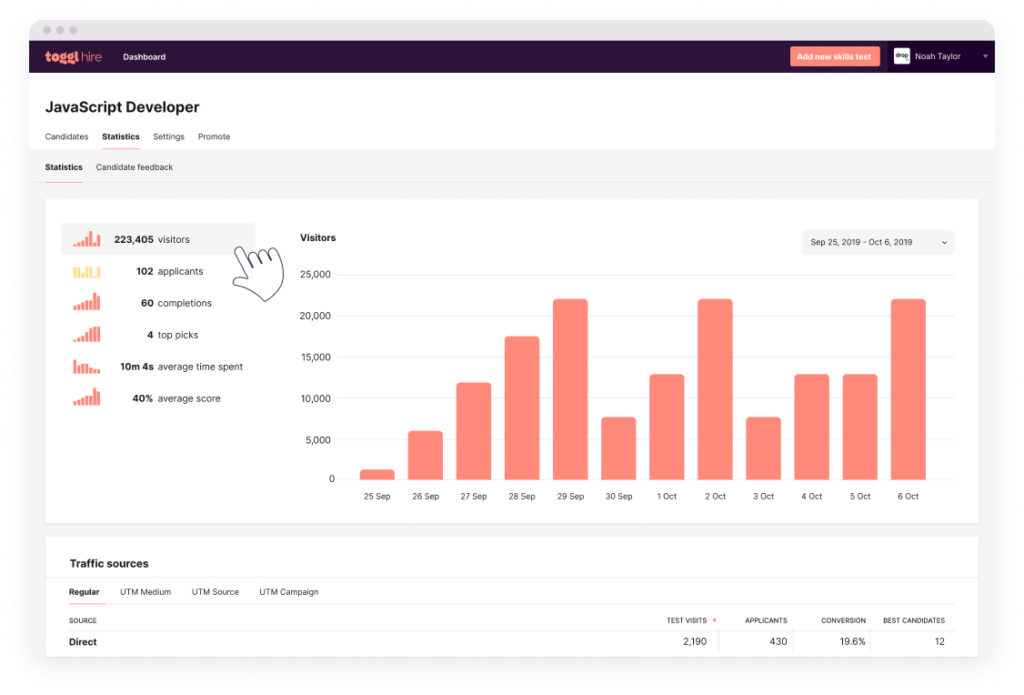 At Toggl, we used Toggl Hire's hiring app to find a developer – more than 20 of them, to be exact. In fact, all of the openings we have right now are tests on the Toggl Hire platform – feel free to check them out!
And if you want to hire effectively like we do, make sure to give Toggl Hire a try!
So, what's so cool about a skills test and why should you try it out?
First and foremost, you hire candidates based on performance and not their resume. You get to see how they would function in a particular role with a short series of job-specific tasks.
Second, you get to hire without bias – you only see the name and results of an applicant.
Finally, and perhaps most importantly, Toggl Hire helps you hire efficiently – the time and money spent on hiring a candidate are cut down significantly in comparison to traditional job ads.
Over to you
In today's competitive market, it's more important than ever to have help in hiring the best quality candidates. Start by making your job ad really stand out from the crowd – this will help you attract more quality candidates.
If you'd like to take Toggl Hire for a test drive – you can sign up here.