Planning a successful event is tough. There are so many moving pieces to keep track of. Staying organized is key. This round-up of event management software will help you evaluate the options and pick the best software for your team.
We've found event management software that will fit every need and budget. Whether you're a third party event planner working for multiple clients or the in-house event planner for a large corporation, we've got you covered.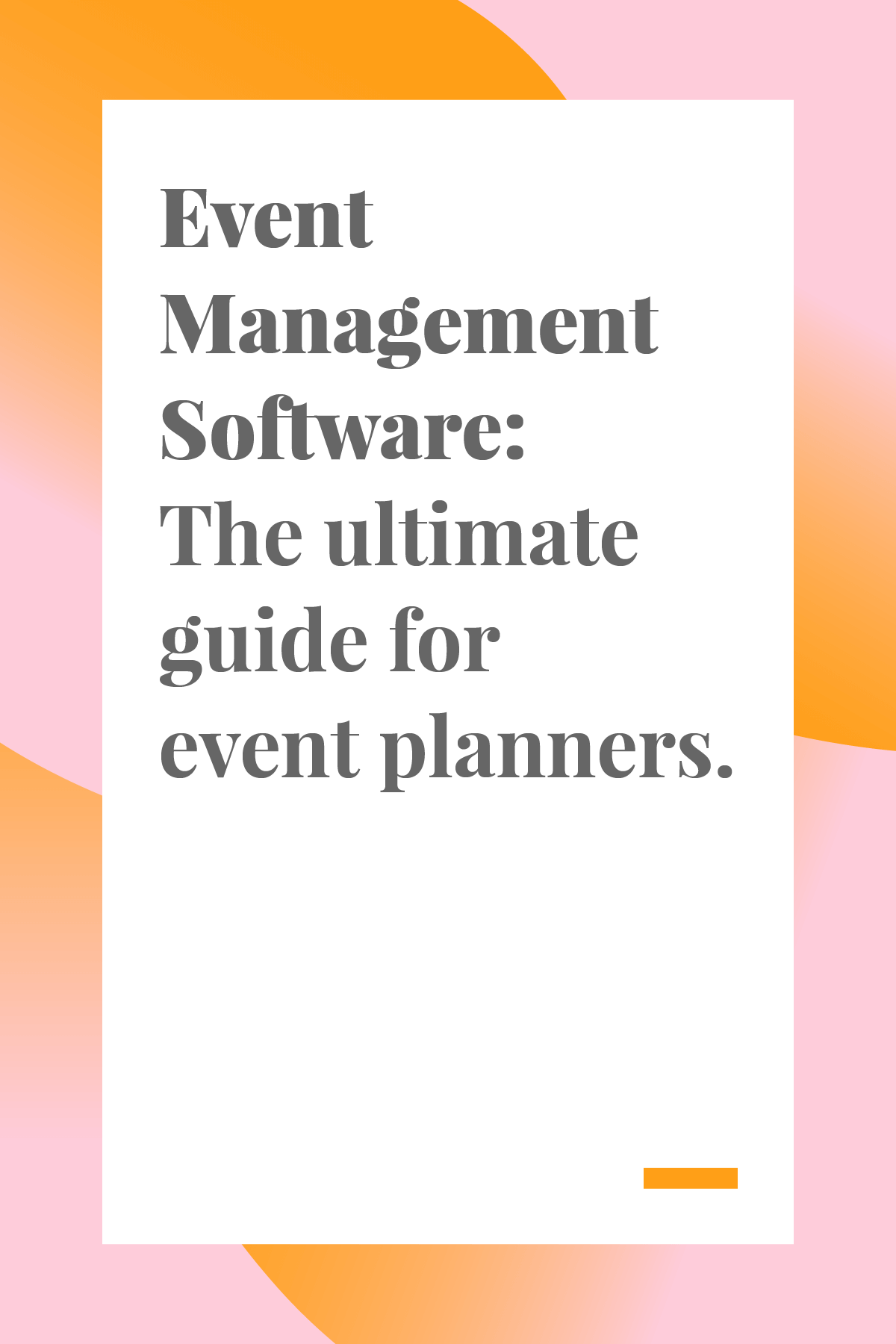 All in one event management software
CVent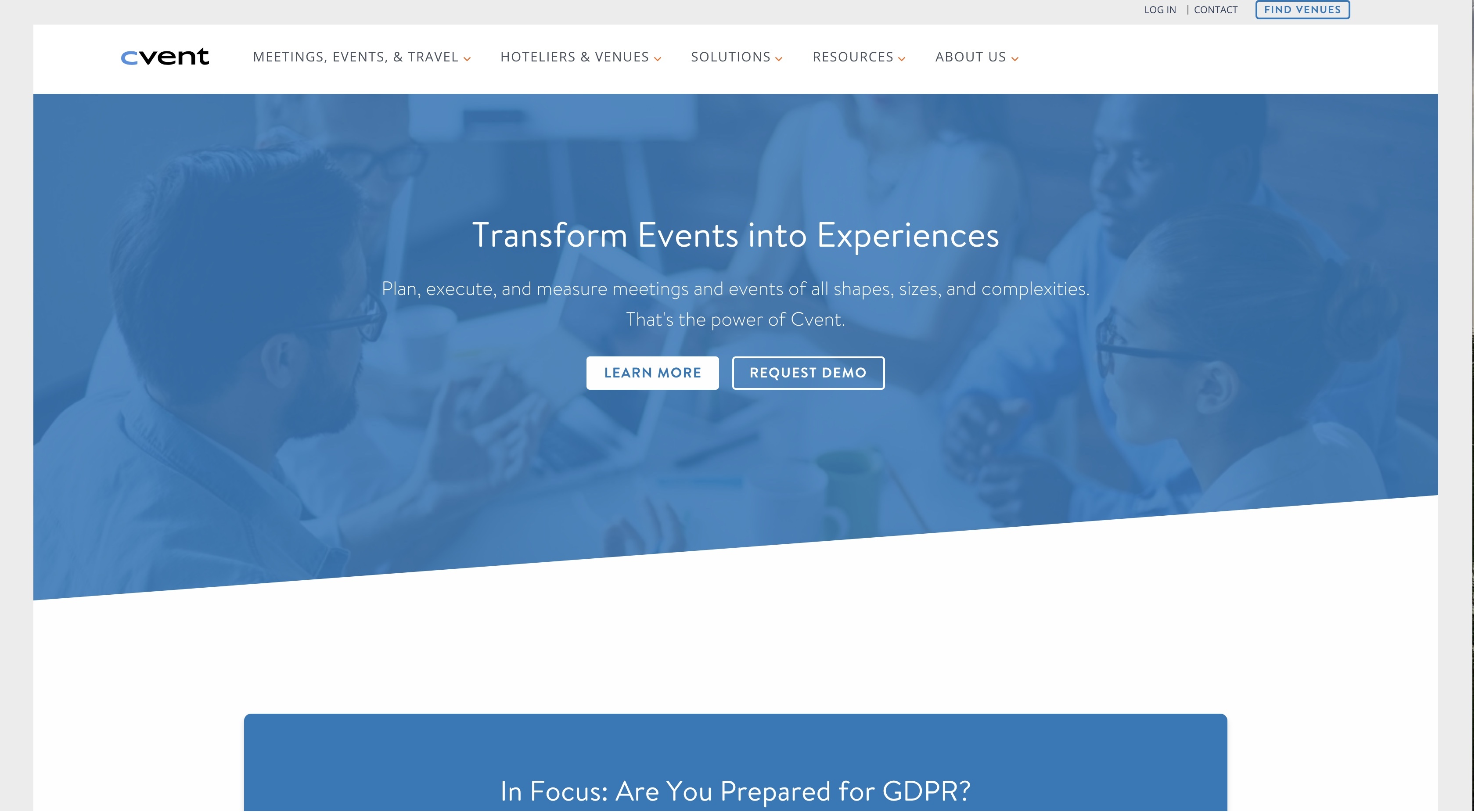 CVent makes it easy to plan your event. They have dozens of event planning features, and they showcase how event planners in every industry can use these features. Whether you're planning an event for your non-profit, or you're a third party planner working for multiple clients at once, CVent makes it easy to find the tools you need to keep your event on track.
Price: On request
EventGeek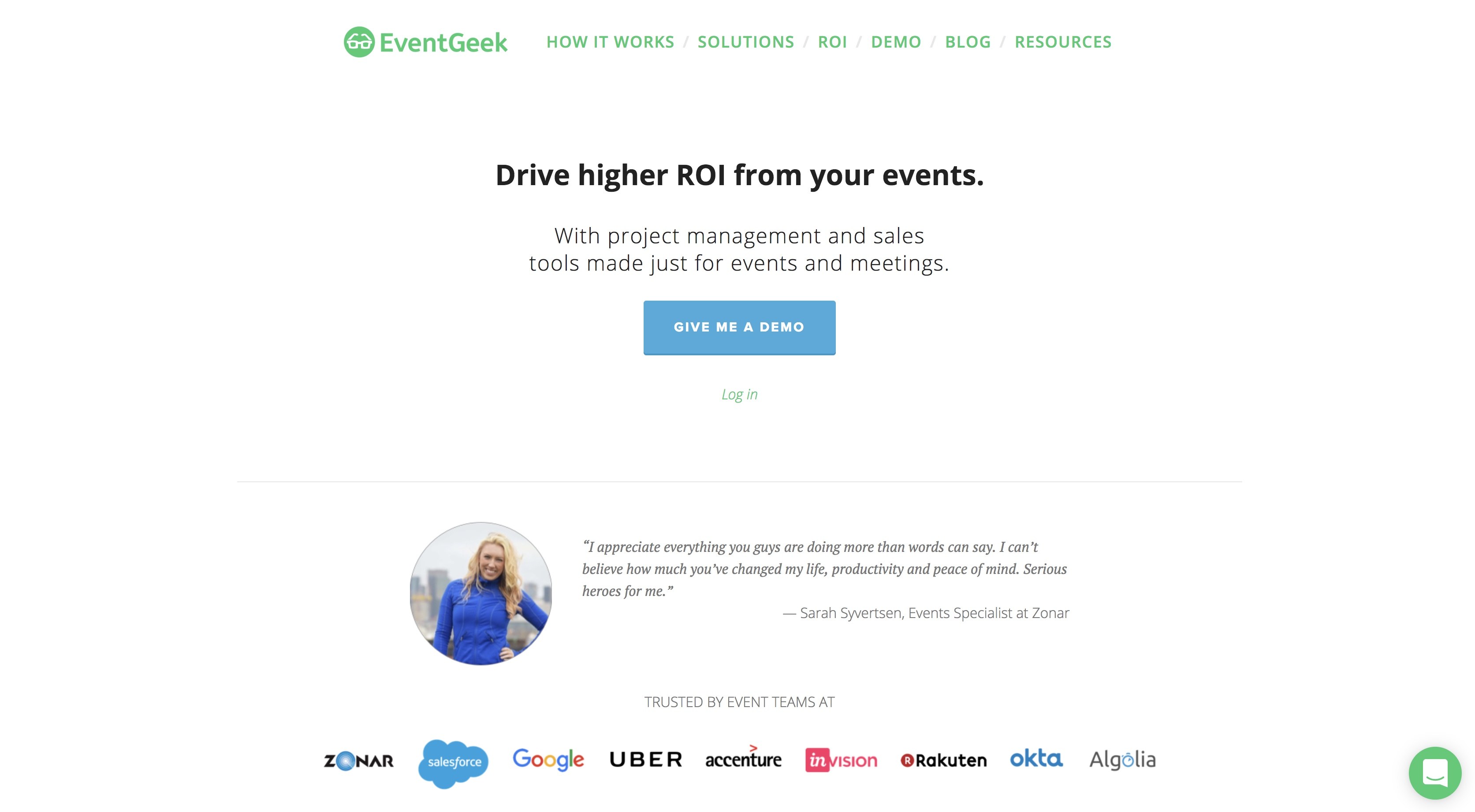 EventGeek is another all-in-one event management software option. They specialize in helping event planners manage the full event planning cycle. EventGeek is especially well-suited for trade shows and corporate events. From budget planning to tracking ROI, EventGeek has a full suite of tools available.
Price: On request
EnnectEvent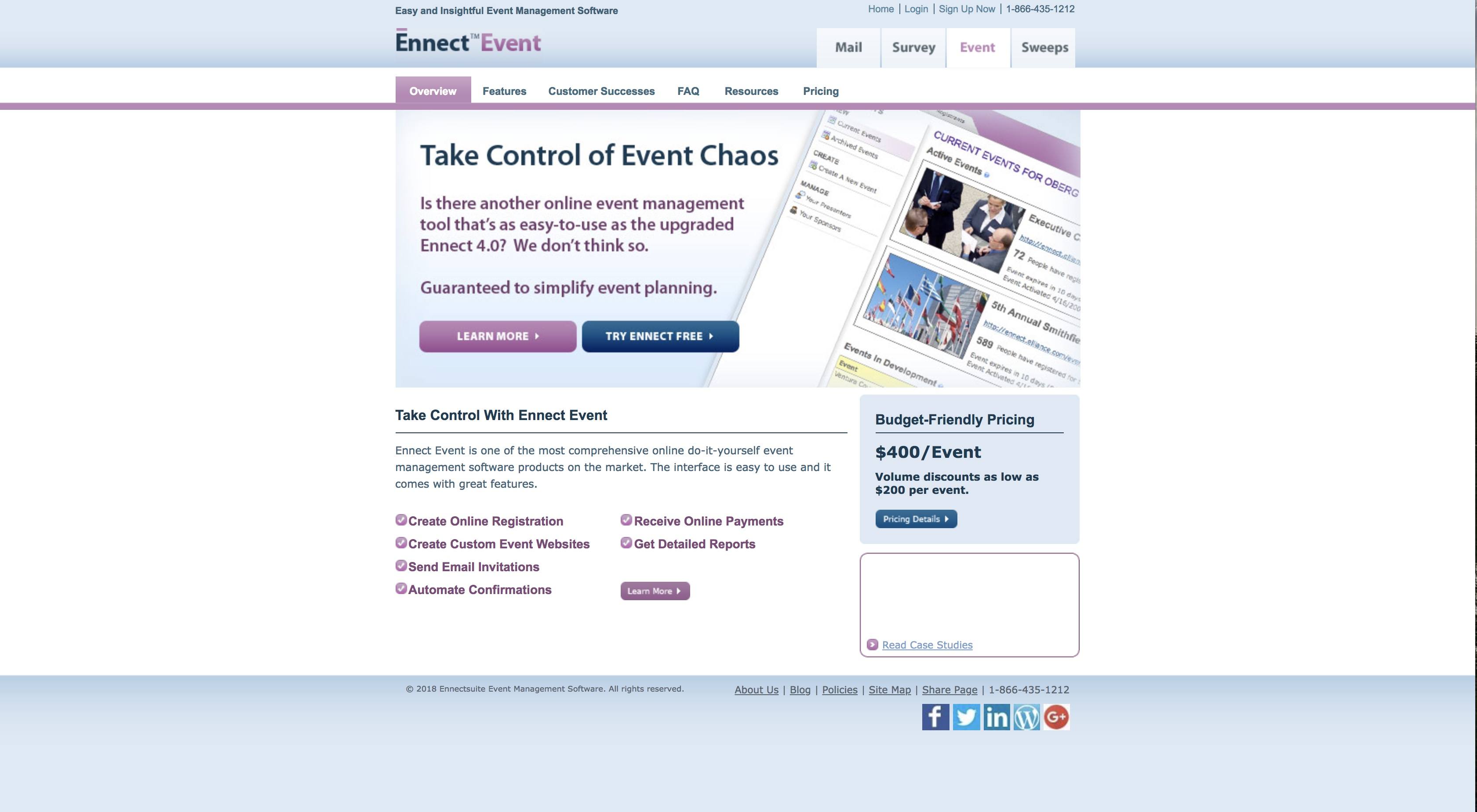 EnnectEvent has everything you need to create an event website, collect registration information, send invitations, and collect payments. They also have onboarding training and free phone and email support if you're having trouble using their event management software.
The one thing Ennect lacks? A project management feature to help you keep track of all the planning and details leading up to the event. Luckily, you can pair EnnectEvent, with it's easy-to-use registration and payment options, with Toggl Plan, and it's easy to use project timeline and calendar.
Price: $400/event, volume discount available
Idloom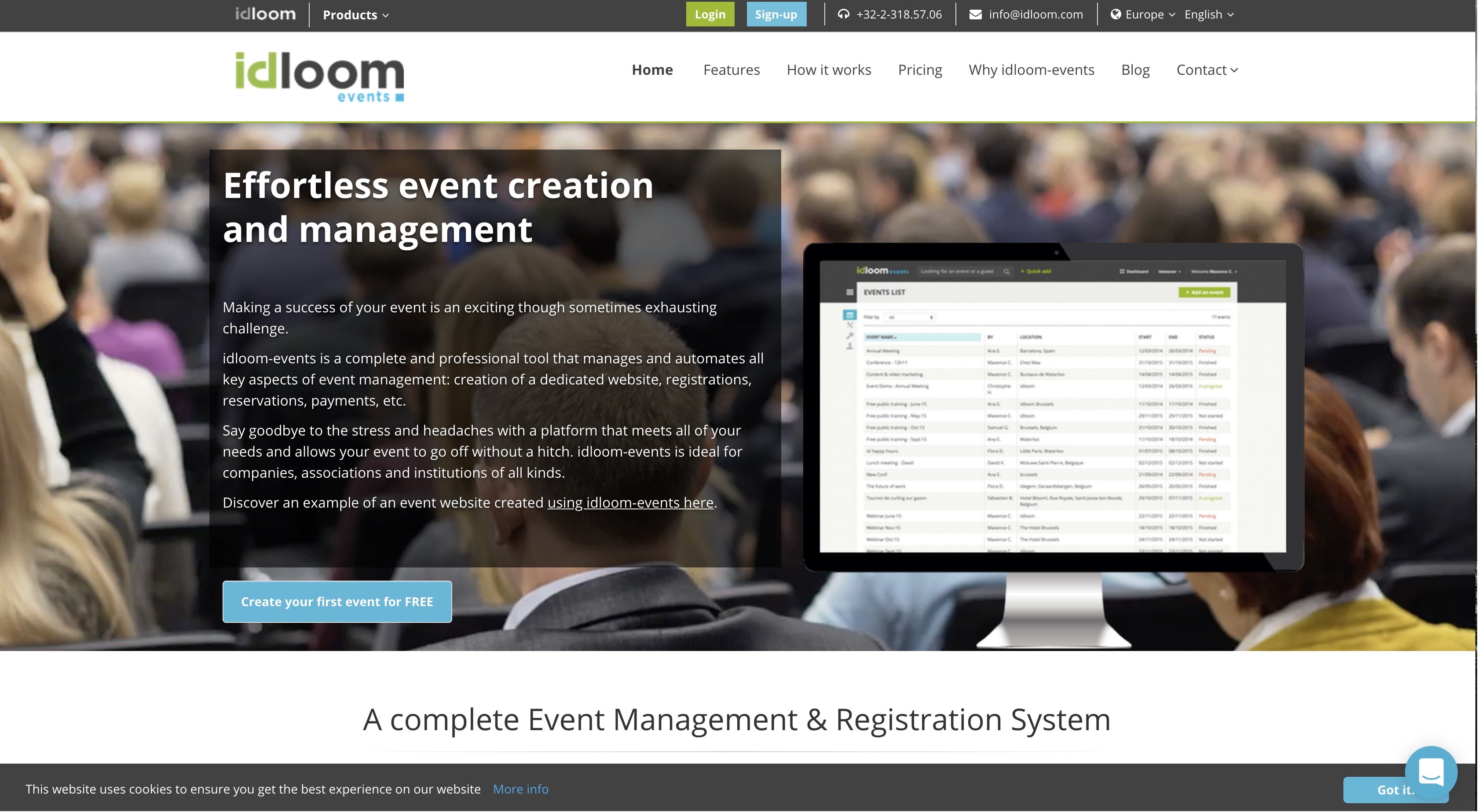 Idloom-Events gets high marks from users for affordability, user-friendliness, and customer service. It's one of the best event management software options for international events because it provides a website module to help event registrants book a hotel. It also calculates VAT for proper invoicing and payments.
Price: free for basic features, paid plans start at 95€/month
ETouches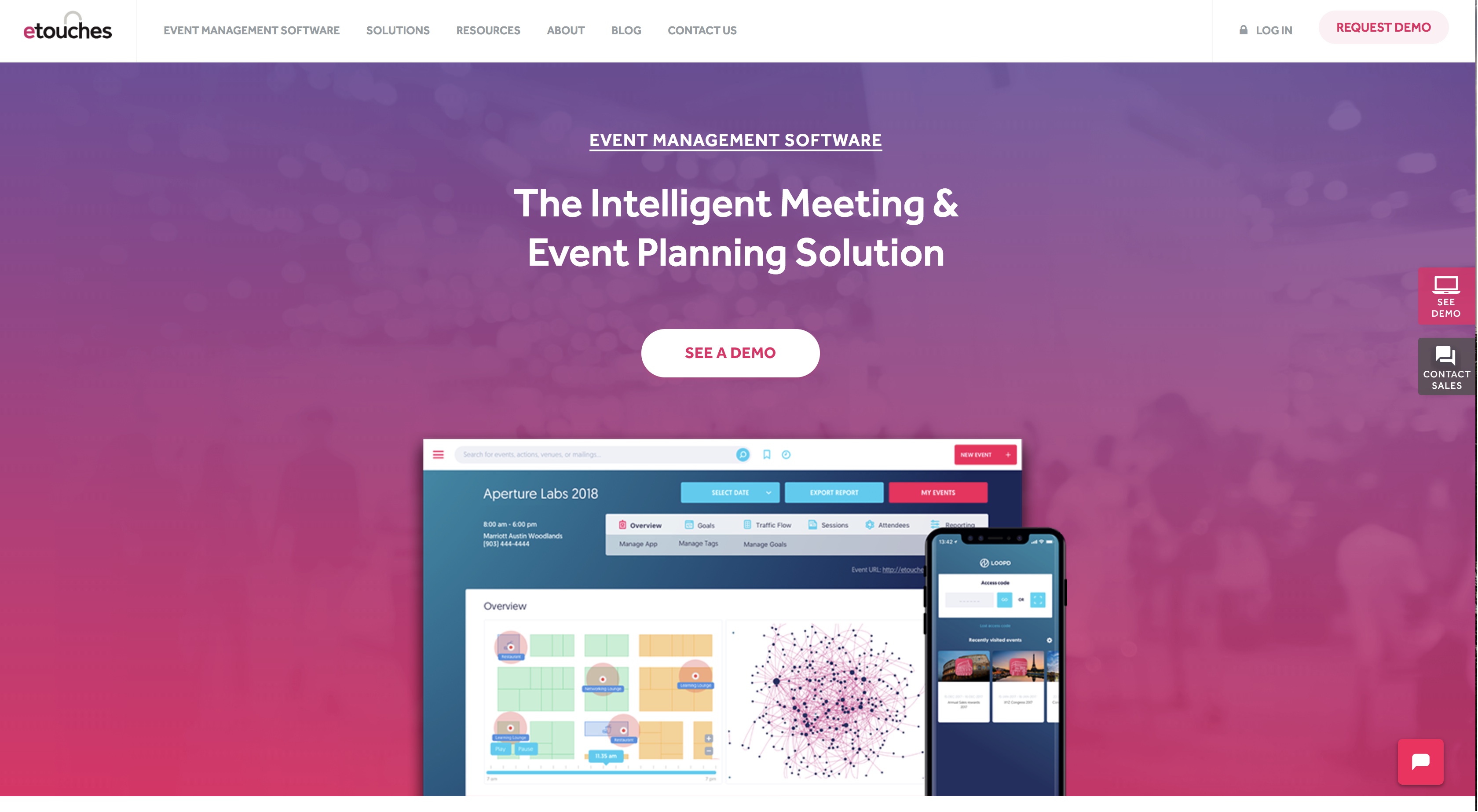 ETouches uses advanced tech to track event registrants, engage event attendees and track various ROI metrics for your event. All this advanced tech comes at a cost, though. ETouches may be out of budget for smaller event planning companies or for solo business owners. It's a solid option for enterprise-level event management companies that host more than 12,000 registrations a year.
Price: On request
Event Management Software for Specific Niches
Planning Pod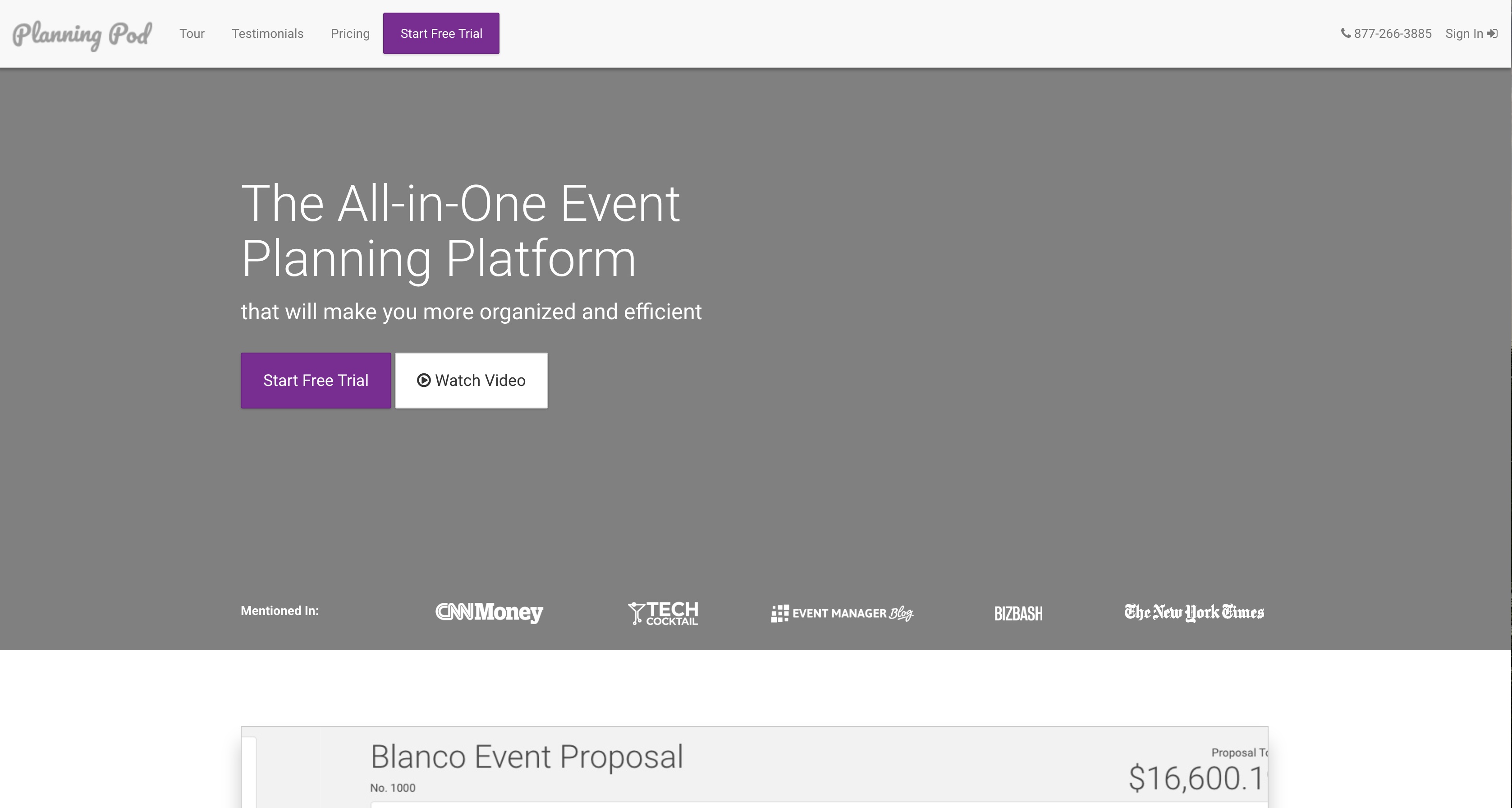 Planning Pod bills itself as event management software for wedding planners, but it would work great for any third party event planner. If you want to keep ALL your event planning details in one place, Planning Pod has you covered. From checklists to templates to seating arrangements and a vision board to share with clients, Planning Pod has it all.
Price: Starts at $19/month for 1 event at a time
Planstone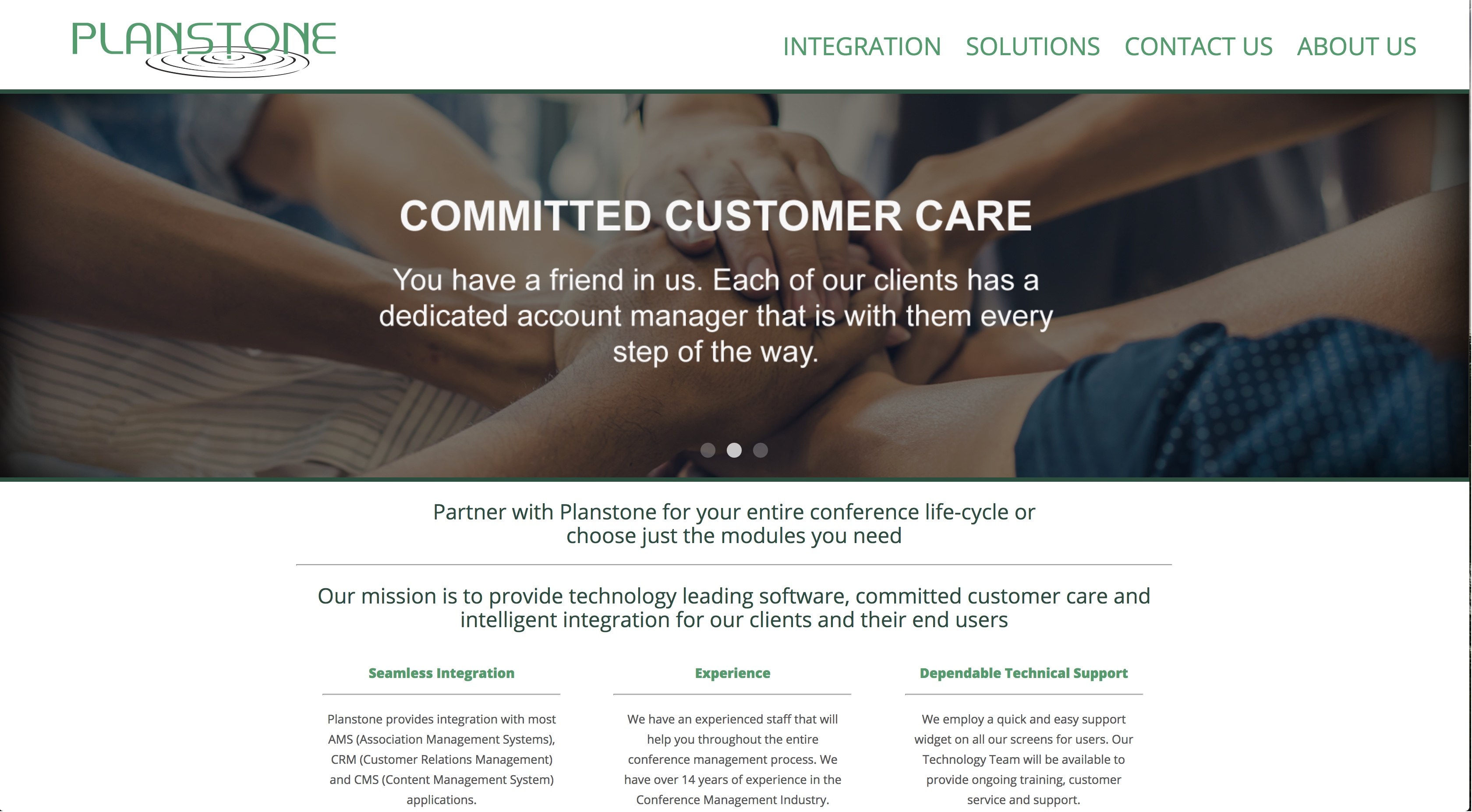 Planstone is a great option for event planners who organize professional conferences. It has many features that the other event management software listed here doesn't include.
For example, the Planstone software has a feature to help you collect and review abstracts and then turn the accepted abstracts into sessions for the live event. If your event provides professional development credit to attendees, Planstone makes it easy to track credits and even issue certificates for attendees.
Price: On request
Eventival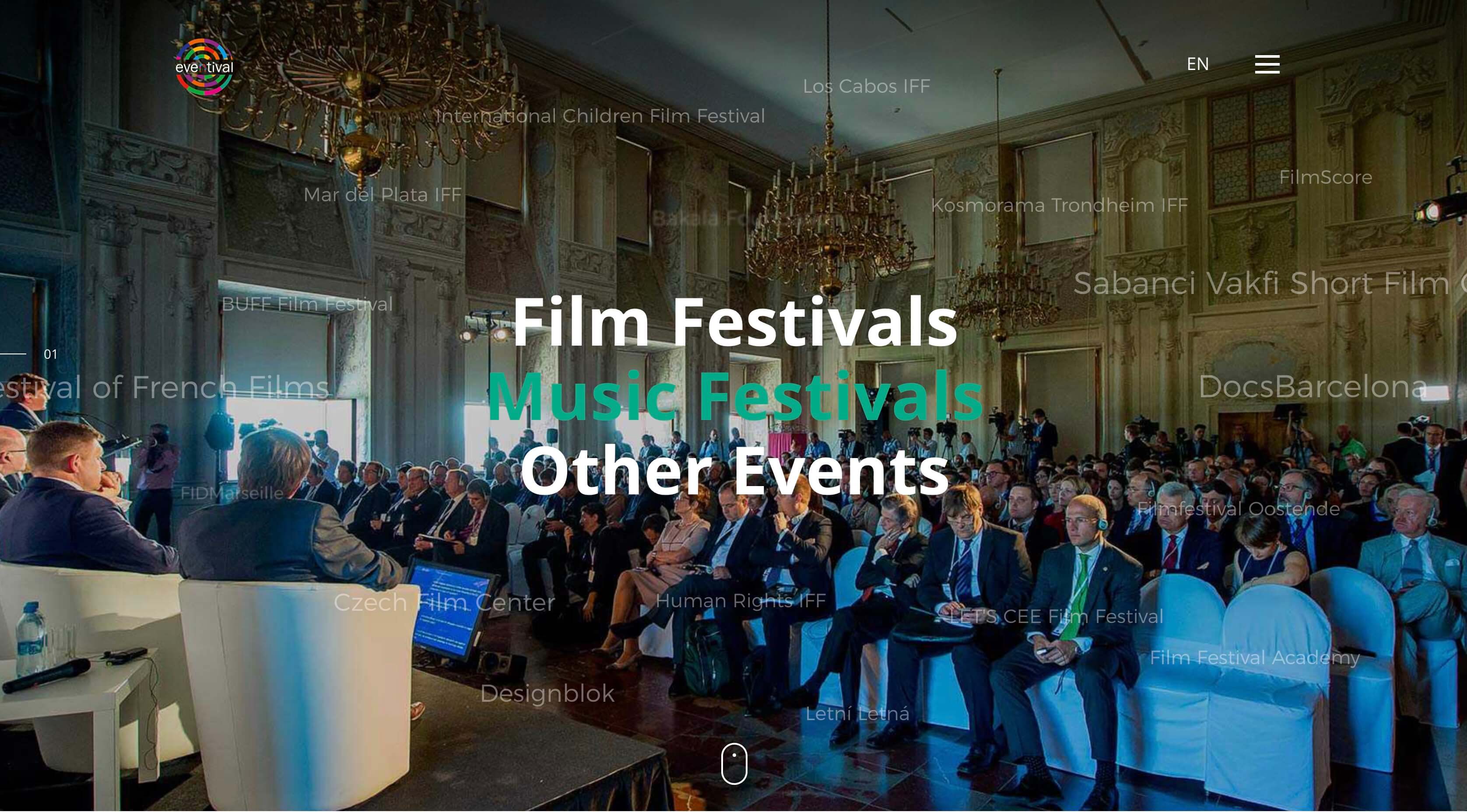 Eventival is a niche event management software designed to help film and music festival planners stay organized. This feature-rich software includes a volunteer management database, project and task management checklists, and scheduling options for multiple stages and venues.
Film and music festivals often feature specific artists, so Eventival makes it easy to manage and evaluate submissions and turn the winning submissions into a cohesive program. For festivals that are funded through donors or corporate sponsors, there's even a donor and sponsor database to keep track of donations and manage relationships.
Price: Starts at 600€/year
Other Event Management Software Options
Toggl Plan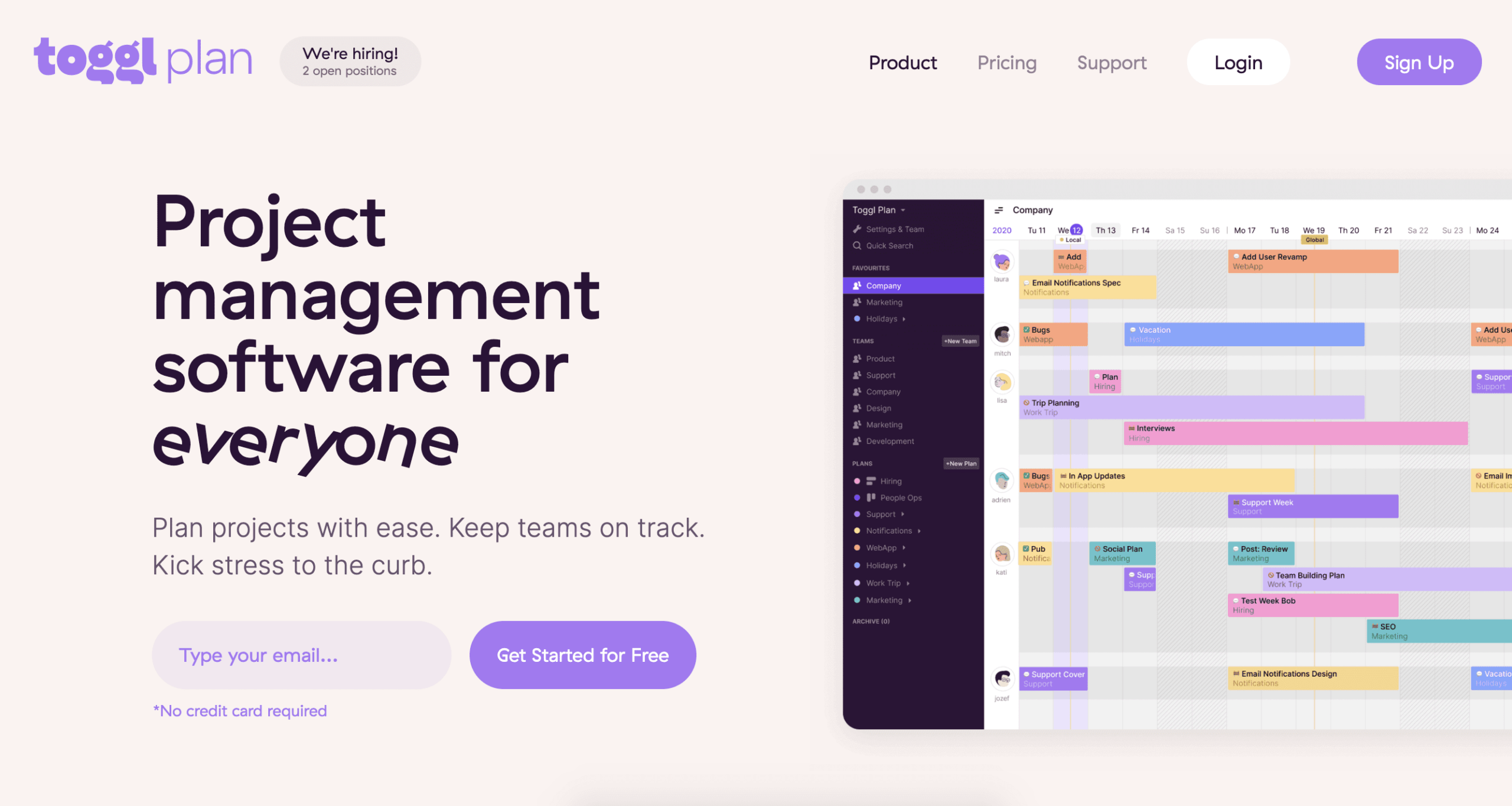 Toggl Plan is free project management software that's perfect for event planners who are managing a team or preparing for multiple events at a time.
The software is easy-to-use, free for small teams, and it provides a clean visual layout of your planning calendar. It's easy to stay on track for each project and just as easy to see what everyone on your team is working on. Use the project view to get a clear picture of each event timeline. Use the group view to see which event each of your team member's is working on.
Price: Free for a team of 5 or fewer, paid plans start at $8/month per user
Weemss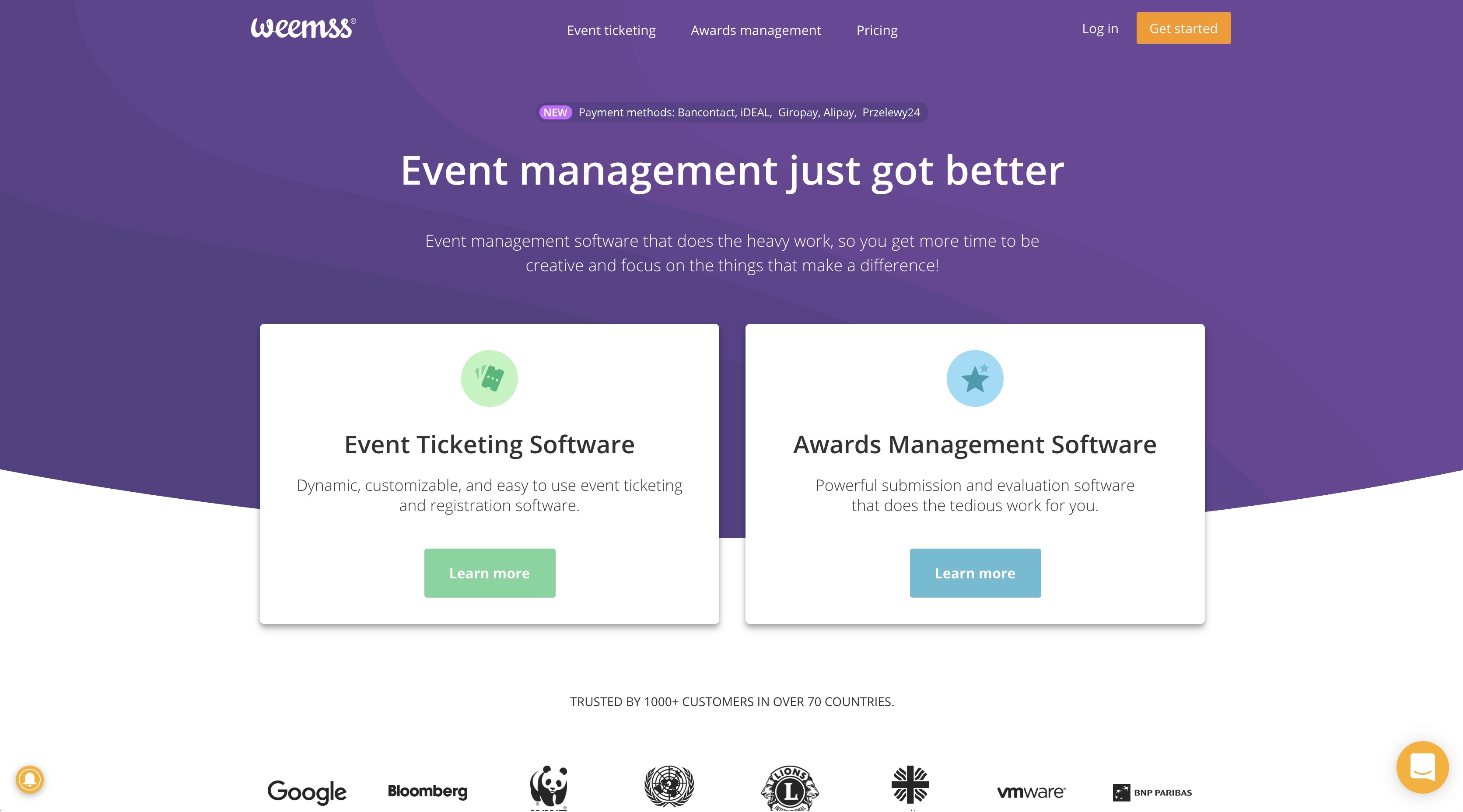 If you're on a tight budget, Weemss is a great option for you. It offers two services: event ticketing and awards management.
The event ticketing software allows you to create and sell event tickets at a variety of price points, and in 40 different languages. It accepts 160 different currencies and a variety of popular payment methods.
The awards management software tracks award submissions and has advanced evaluation features for judges. You can create an adjustable scale for judges to evaluate the entries and easily invite specific judges for specific awards categories.  
Price: Pay for what you use, 2.5% per ticket and 3.5% per award entry
Event management software can make your job much easier by streamlining your processes and keeping all the important information at your fingertips.
Our recommended tool suite? Use Toggl Plan for big picture planning, Weemss for ticketing, and an all-in-one event management software to keep track of registration, awards, travel, and other event details.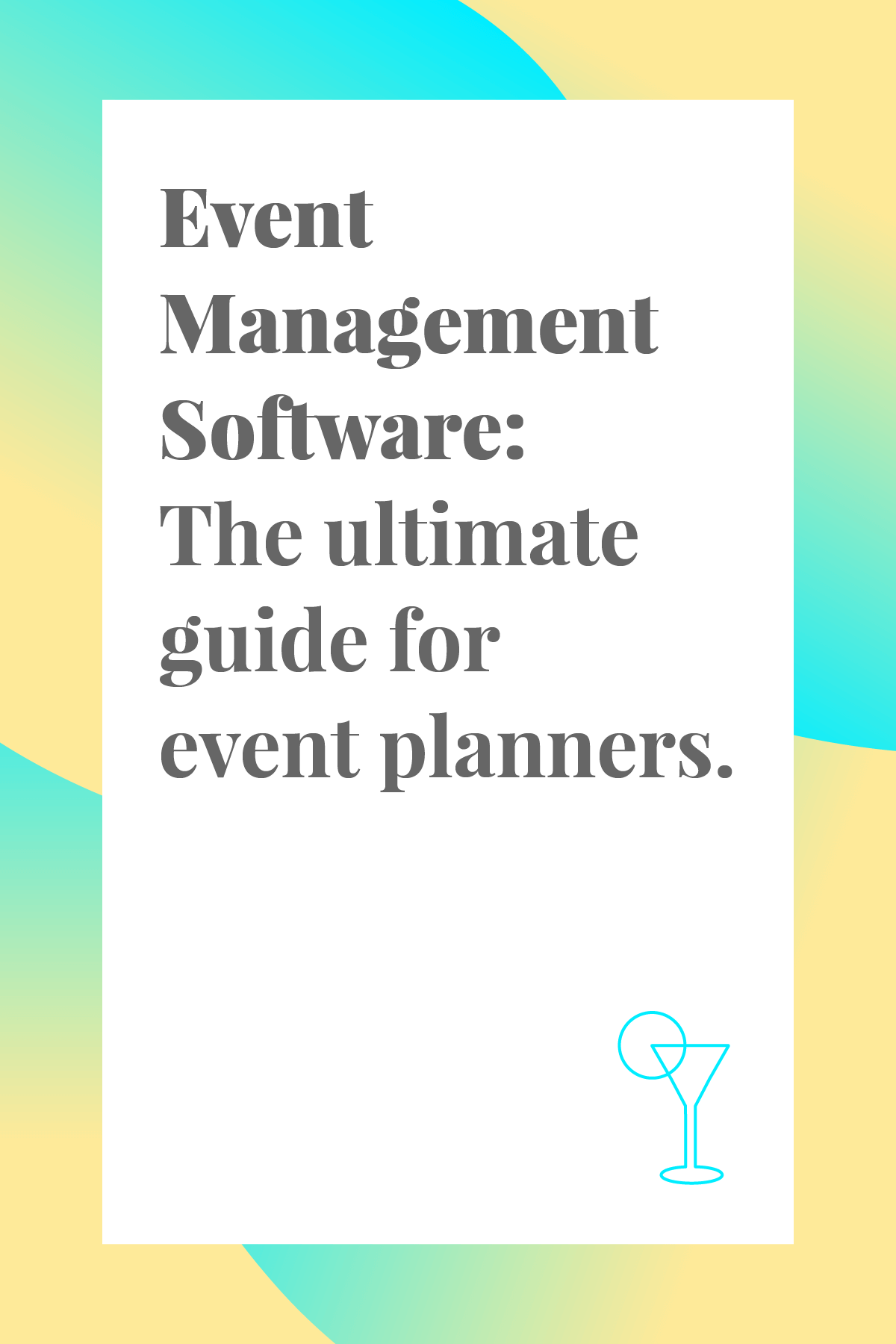 Emily is the former marketing team lead at Toggl Plan.