By the time my career as a project manager reached the five-year mark, I thought I had seen and heard everything. Then my agency signed a new client who wanted a marketing campaign for his Saas business.
"It has to be kickass," he told me.
"Absolutely," I replied. Kickass was what we did best.
"I also need a guaranteed sales increase of 20% in the first quarter."
I wanted to tell him to wait a moment while I hunted for my magic wand, but opted instead for a cheery, "Let's see what we can do."
As I recall, his post-campaign sales exceeded that goal. The client thought we walked on water, when in reality, we simply did what we did best-planned a kickass marketing campaign.
What Is A Marketing Campaign?
Marketing campaigns are planned and organized initiatives designed to accomplish a specific business goal, such as spreading the word about a new product or service. Although driven by inspiration, they're not spontaneous events: instead, they tend to be carefully-researched and strategically use a variety of media resources, such as social media, email, video, and print advertising, to reach consumers and achieve results.
Working for an agency, I know how crucial they are to spreading brand awareness, but I still have clients ask me, "Why do I need a marketing campaign plan?"
When that happens, I like to quote one of my former managers, who said that smart marketing is usually what separates successful companies and their products in any given market from those that grow slowly or fail to thrive. For example:
In each of the above comparisons, you have brands that succeeded in tight and competitive markets because they produced quality goods AND out-marketed the competition. If you run a (for example) Saas business, I argue that you can only grow it by mastering the art of a kickass marketing campaign.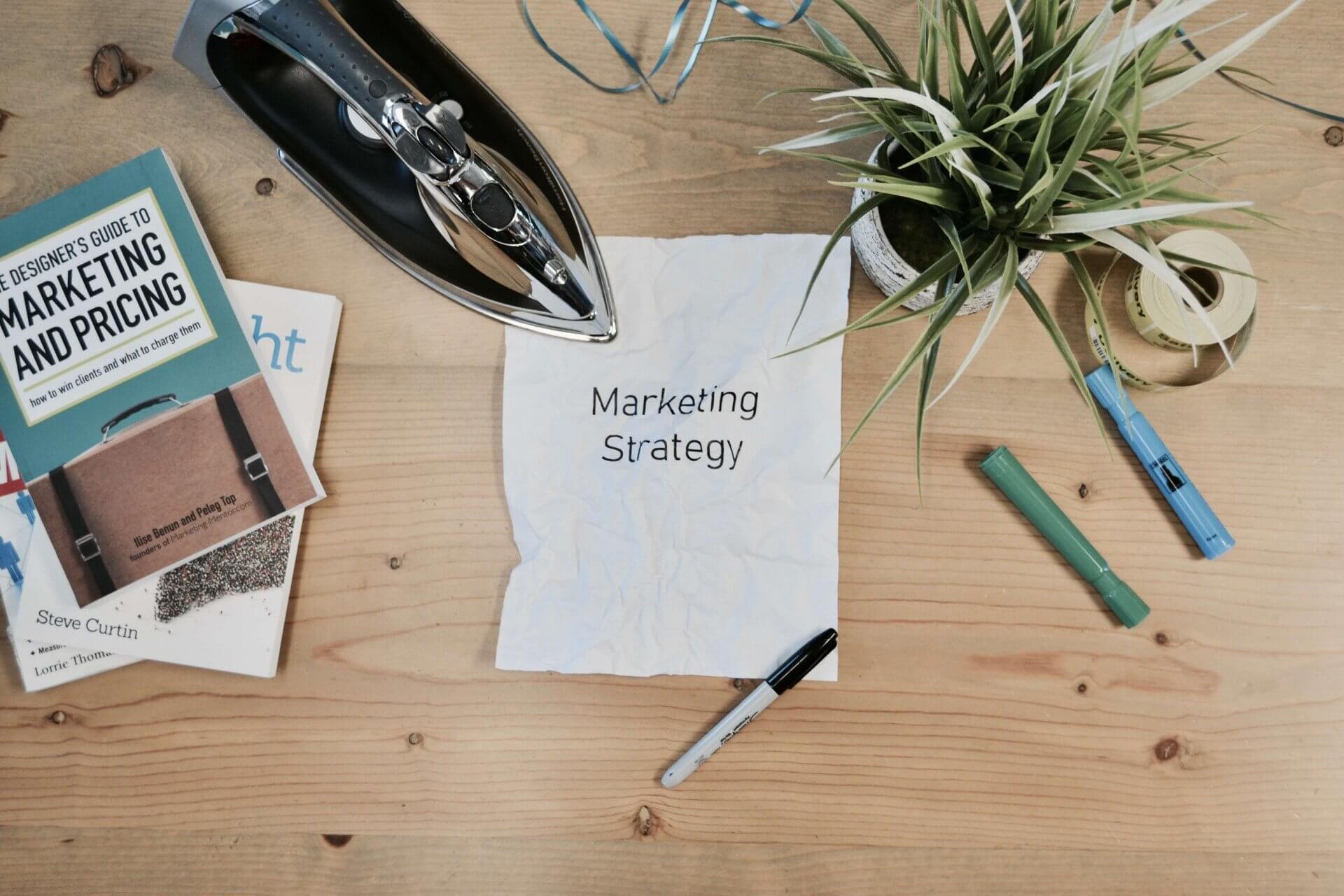 How To Plan A Marketing Campaign
You may get great ideas while you're in the shower, but entire marketing campaigns involve more planning than inspiration. All of the successful campaigns that I've planned and participated in were products of research, careful planning, and a lot of creativity. They started with understanding the client's current market position and ended with high-fives all around.
Identify Your Target Audience
Remember the Saas client I mentioned at the beginning? When I asked him to identify his target audience, he eagerly replied, "Anyone who is interested in my services."
This is one area where ambition can backfire. Saas is a thriving industry, but it's also a big one, and having a well-defined market is essential if you want to compete and succeed. By 'well-defined,' I mean niche: even a definition like 'small business owners' and 'property managers' is too broad. Try 'female creative designers' or 'luxury property managers.'
When I told him to be more specific, the client panicked. He didn't understand at first that niching down meant that he was only excluding people who weren't part of his customer demographic, and that doing so allowed him to focus his message and money on those who were most likely to buy his service.
You can identify your target audience by looking at your current customer base. Who are they, and why do they buy from you? Let the answers guide you as you develop a strategy. Once you know who you need to target, it's a lot easier to determine how to reach them and what marketing messages they will respond to.
Set Your Goals
Marketing activities can have different types of goals. If you're launching a new website, you may want to reach X number of visitors within three months. You might want to build your email list to X number of subscribers.. If you're releasing a subscription-based scheduling software for freelancers, your goal could be X number of signups within the first month after release. And so on.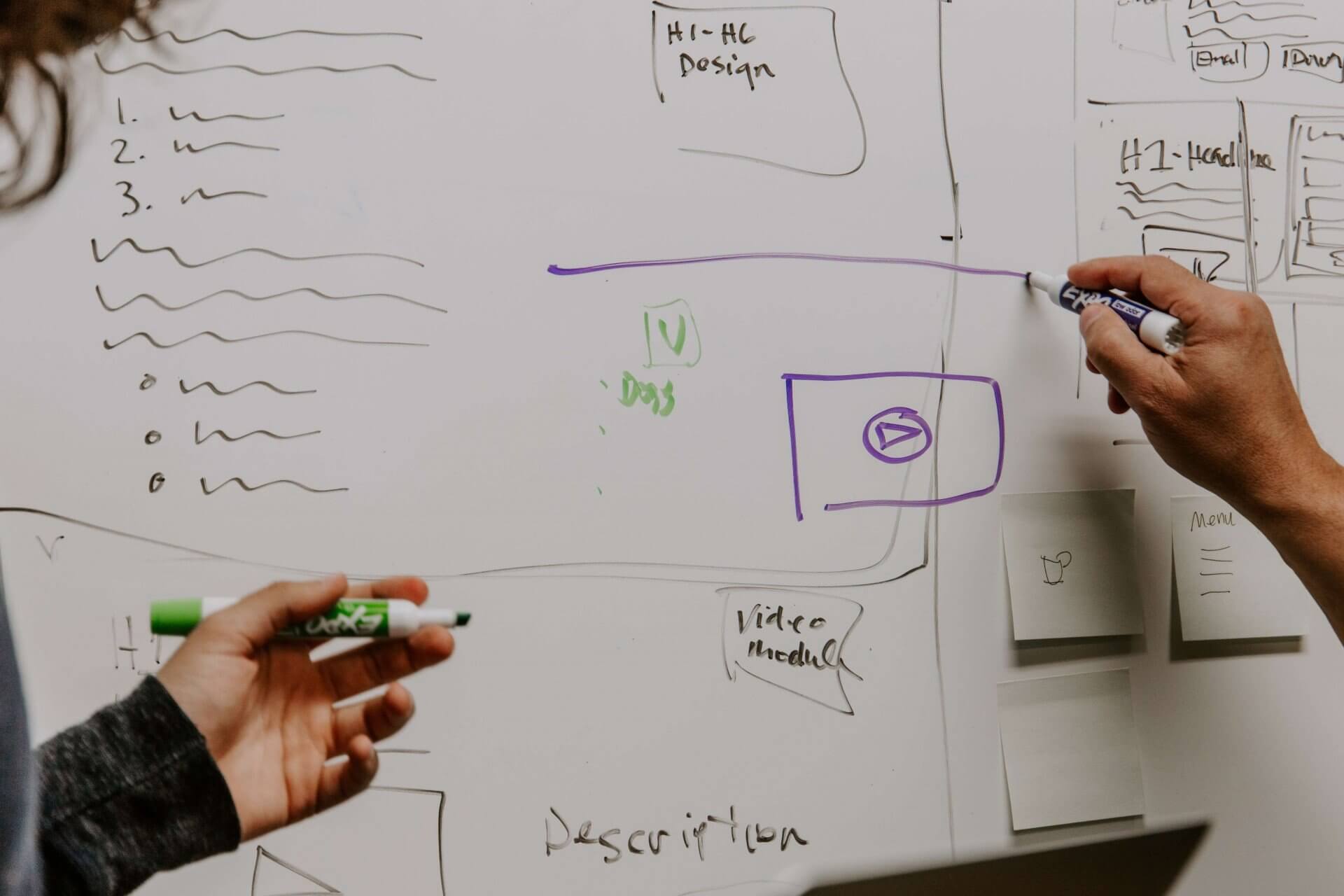 Once you know the purpose of your marketing campaign, you can create goals or key performance indicators (KPIs) that will help you gauge how the campaign is performing against that goal and indicate whether your approach has to be refined or changed.
Identify Incentives
Unless you're a widely recognized brand with a ready-made audience, you should include an incentive to buy. Depending on what your product or service is, this could be:
A free no-obligation trial
An ebook
A time-limited discount
A free webinar
Make sure that whatever you're offering is going to resonate with buyers. If you are a startup without an existing audience base, people are going to be more interested in a free trial than an hour-long webinar.
Identify Marketing Channels
It's 2019, and you have an abundance of marketing communications channels available to you. They include:
Social Media Marketing: Arguably one of the most widely used platforms today, social media marketing builds engagement by posting on Facebook, Twitter, Instagram, LinkedIn, and industry-specific platforms. Examples include ActiveRain, which is aimed at real estate professionals, and Untappd, which is for craft beer enthusiasts.
Search Engine Optimization: SEO includes both on-page (titles, images, descriptions, content optimization) and off-page (link building, social signals) strategies designed to help you draw organic traffic from search engines.
Content Marketing: This includes sharing, optimizing, and publishing content that draws followers, links, and search traffic. If you're unfamiliar, this content marketing guide is a good place to start.
Email Marketing: Although email marketing has been decried by some as useless due to a natural aversion to spam, it's far from dead. If you use carefully targeted email campaigns based on conversions, you can get your message to the right recipients. Email marketing tools are getting more powerful, easier to use, and affordable every year.
Advertising: This includes online methods such as display ads and pay-per-click, and offline mediums such as newspapers, magazines, television, and radio.
Scheduled Events: Event marketing can be done online (webinars and virtual demonstrations) and offline (seminars, trade shows, and customer appreciation events).
Not all marketing channels will reach or resonate with your target audience, which is why it is so important to do research beforehand.
Set Up Marketing Campaign Planning Software
Campaign management software helps agencies manage the various aspects and stages of a marketing campaign. At my agency, we use Toggl Plan because its project timelines outline campaign essentials and are so simple to set up, maintain, and update that interns have mastered it during their first day on the job!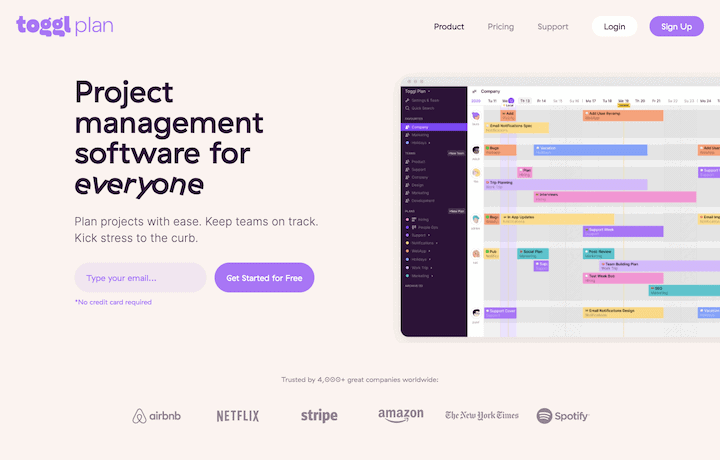 I've found Toggl Plan to be indispensable for resource planning. When you've got multiple moving parts, some of which have dependencies, it's essential to be able to coordinate resources, make sure no one is overbooked, and remove any personnel-related obstacles that could prevent the project from being completed on time. 
Here's how I create a marketing campaign timeline using Toggl Plan.
Step 1: Set up the project and add team members
Creating a new project in Toggl Plan is a simple matter of entering the timeline view, clicking on 'Projects' and then 'Add Project.' Give the new campaign a name and save it. If you'd like to work with a template in the beginning, there is a basic one on the Toggl Plan website.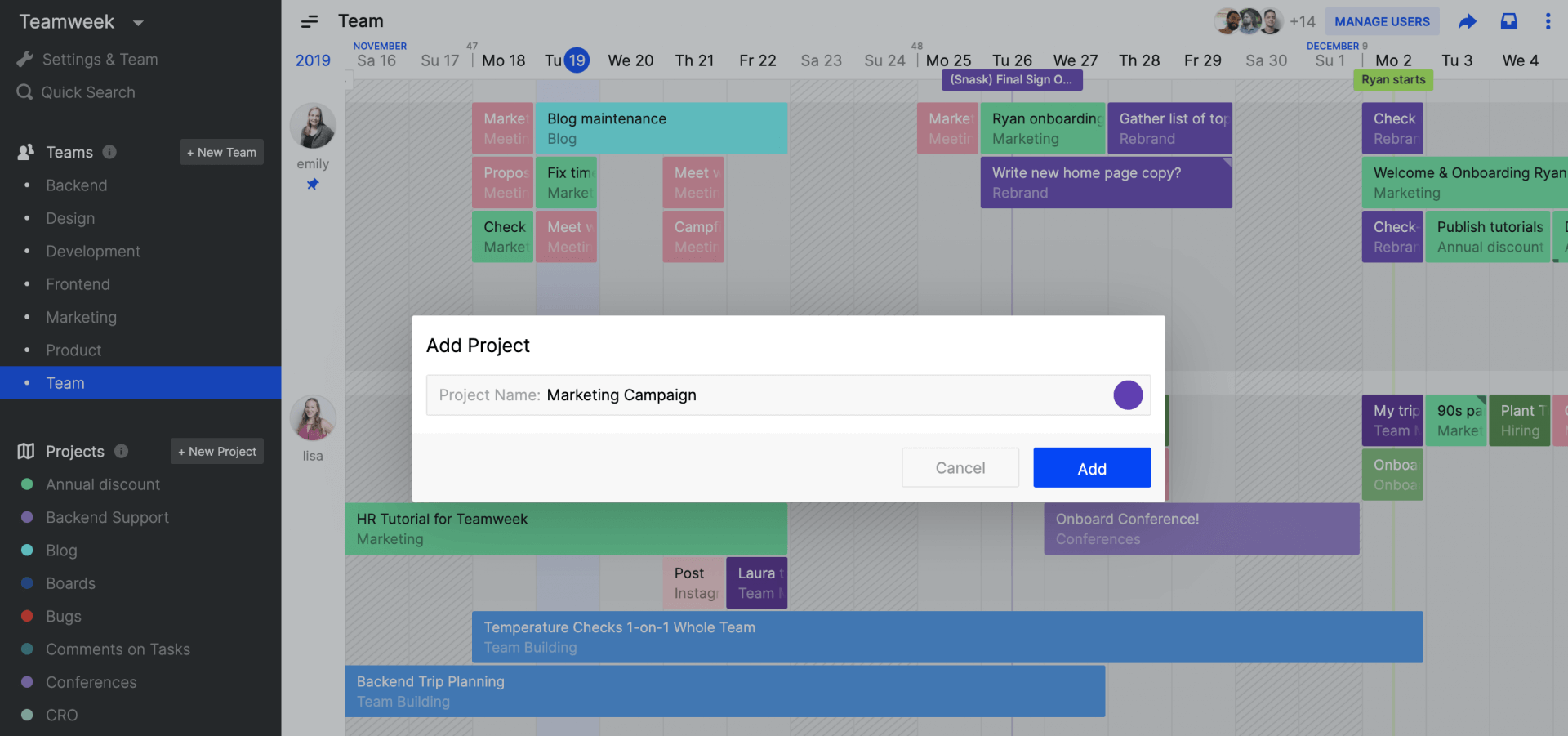 Once the timeline is complete, add your team members to the campaign by going to the Options menu, clicking the 'Manage Users' button, and bringing everyone in.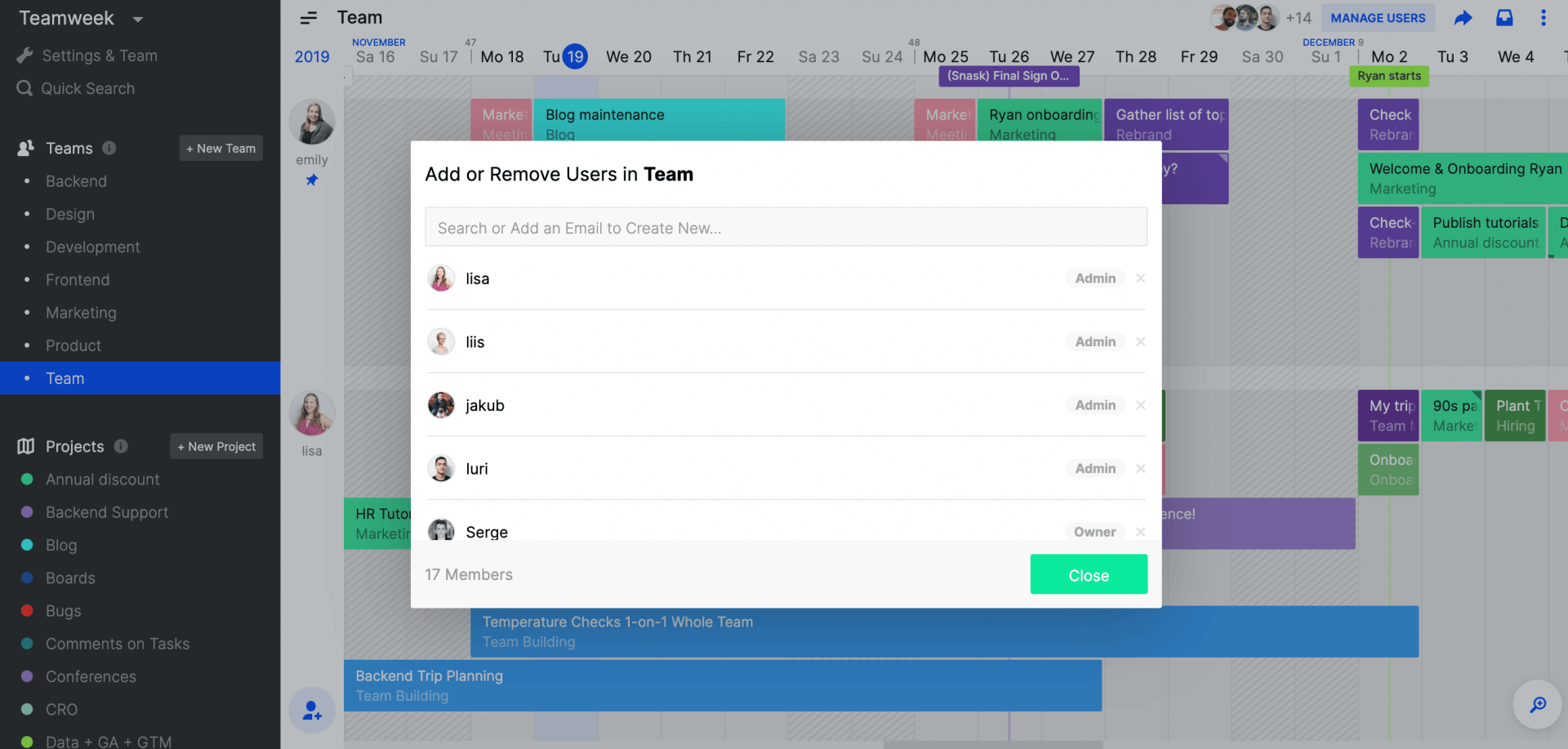 Step 2: Add or import the campaign tasks
After you've assembled your team, you need to decide what everyone, from copywriters to social media managers and web developers, will be working on for the duration of the campaign. I also include information about the timelines and deliverables associated with each one, so everyone knows how long they have to deliver and what the outcome will be.
You can input the campaign tasks manually by clicking next to a team member's name and adding the task, along with information about the expected start and end date. If you need to add additional details, use the 'Notes' section. This information will serve as a checklist / to do list for everyone.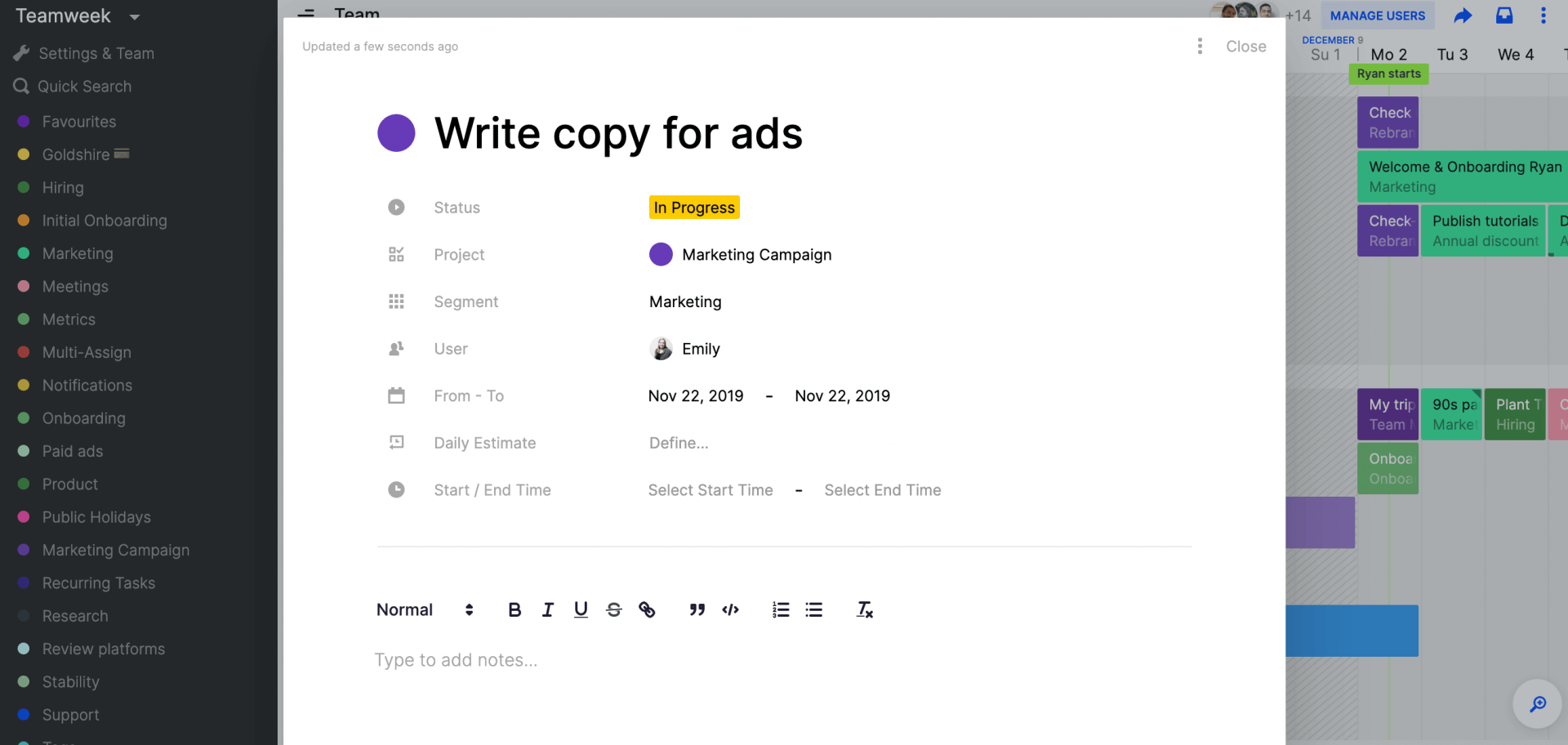 Alternatively, you can input them from another project management platform like Trello, Asana, and Slack. Toggl Plan integrates seamlessly with a variety of applications.
Step 3: Share the new timeline
Toggl Plan is easy to share, so keeping team members and stakeholders up to date is a breeze. All you have to do is click on "Share" in the upper right corner to get a direct link that you can distribute via email, Slack, or whatever other tool you use for team broadcasting. You're all set!

Define A Lead Nurturing Strategy
When you get leads, you want to build a relationship with them and, ideally, turn them into customers or clients. Leads are usually intrigued but unsure people who aren't yet ready to buy. Be prepared to nurture them by educating and providing value at every stage of their journey. Here are some marketing automation examples that might help you come up with nurturing ideas.
Track And Measure Results
You know what you want to achieve, so be prepared to track marketing activities and measure the results against the ultimate campaign goal. Did the client get the number of new followers they wanted? Did they reach a desired sales target?
When the campaign ends, it's time to reflect on how well it succeeded. Did it meet all goals? If not, why? What can and should you do differently next time with some simple planning?
Conclusion
Launching a marketing campaign is an exciting venture, but it's not a spontaneous one. Each stage and strategy must be planned and reviewed for viability and efficacy before the campaign begins, to ensure that your marketing activities have the best chance of meeting the client's goals.
Rose Keefe is an author and technical writer who has over ten years' experience in supporting project managers in the manufacturing and construction sectors. One of her primary responsibilities was developing product manuals that supported efficient use of industrial equipment. She continues to write on the subject of time management and commercial productivity for trade websites and publications.