Does your organization have all the skills it needs to succeed in 2023 and beyond?
According to top sources, including the World Economic Forum's Future of Jobs 2023 report and LinkedIn's most in-demand skills guide, analytical skills, management, and digital literacy are three of the most in-demand skills that will futureproof your company's talent.
Want to know which top technical and soft skills businesses need today and what skills will become essential for our next-generation, tech-driven future? We've got you covered.
TL;DR – Key Takeaways
Today, the critical skills that candidates and employees need include soft skills like creative and analytical thinking in addition to technical skills, such as digital or technological literacy.
A few of the highest-paying skills at the moment are roles relating to software and web development and data analysis.
The top 25 skills in demand in 2023 include management, emotional intelligence, software dev, SQL, business analysis, and AI.
Organizations on the lookout for employees with next-gen skills rely on Toggl Hire's all-in-one skills assessment platform, automating their hiring and selection process and saving hours of time.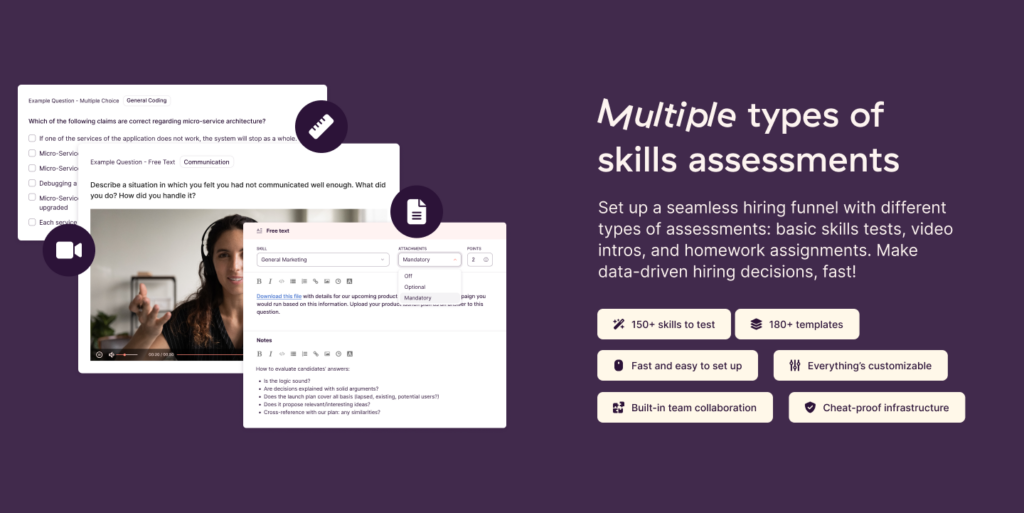 What are the fastest-growing skills in demand, and why?
As technology, like artificial intelligence (AI), and ongoing remote and hybrid work continue to transform how we work, the most in-demand skills are changing too. In fact, over the next five years, the World Economic Forum (WEF) predicts that 83 million jobs will be lost and 69 million new ones created! Consequently, that could cause a big wave of change for skill sets in the workplace and job market.
This shift to match modern business needs will make some in-demand skills more popular, like creative thinking, self-awareness, programming and big data.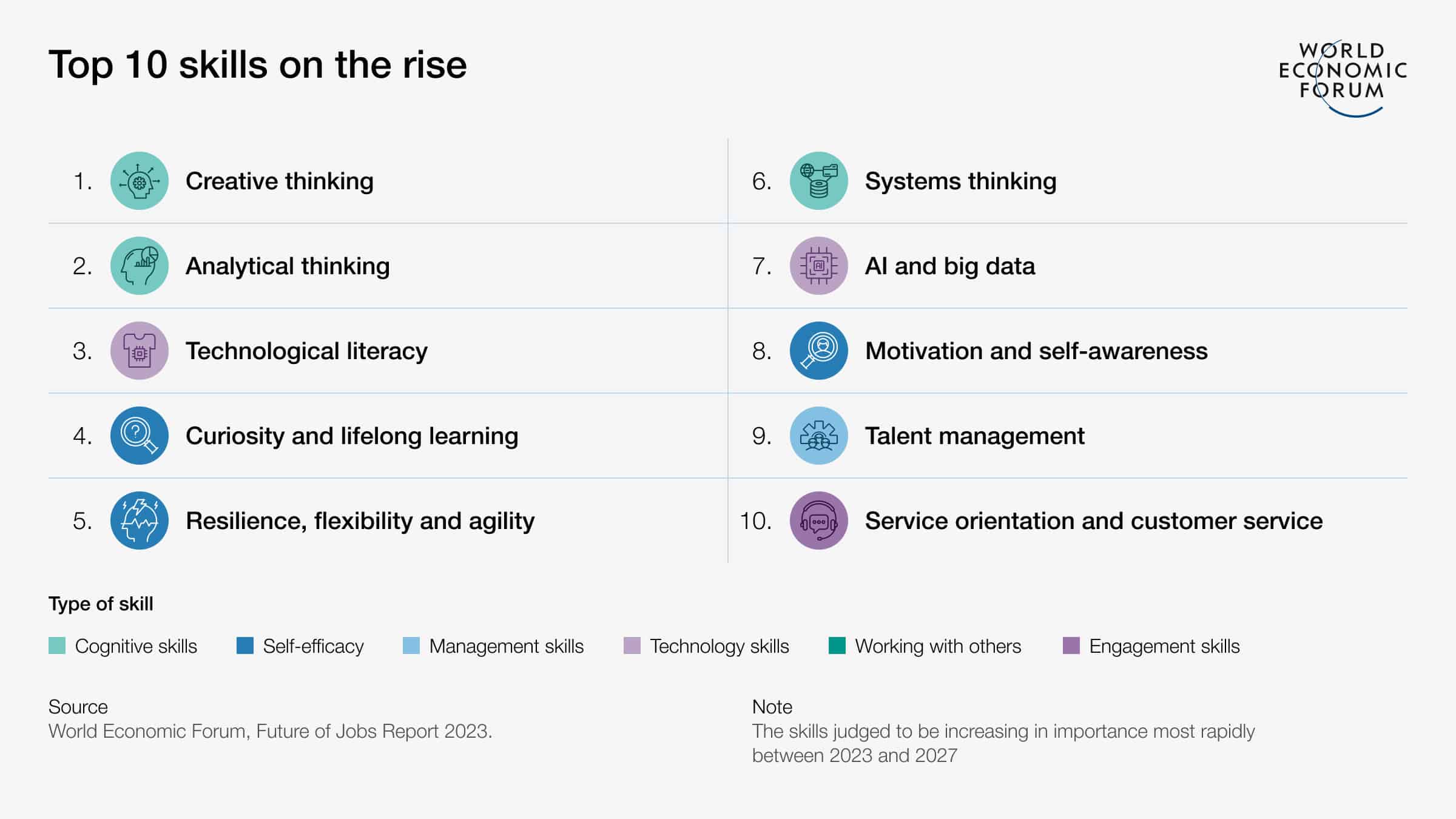 According to the WEF Future of Jobs report, there'll be a greater need for strong cognitive skills to solve more complex business problems. As a result, their research lists the top five 'skills on the rise' as:
Creative thinking

Analytical thinking

Technological literacy

Curiosity and lifelong learning

Resilience, flexibility, and agility
Per LinkedIn's research on most in-demand skills for 2023, the types of the skills listed as in-demand have changed over the past few years, resulting in their current top three: management, communication, and customer service. Management and communication are key business tools, especially as workforces become more complex and dispersed due to continuing hybrid and remote work models.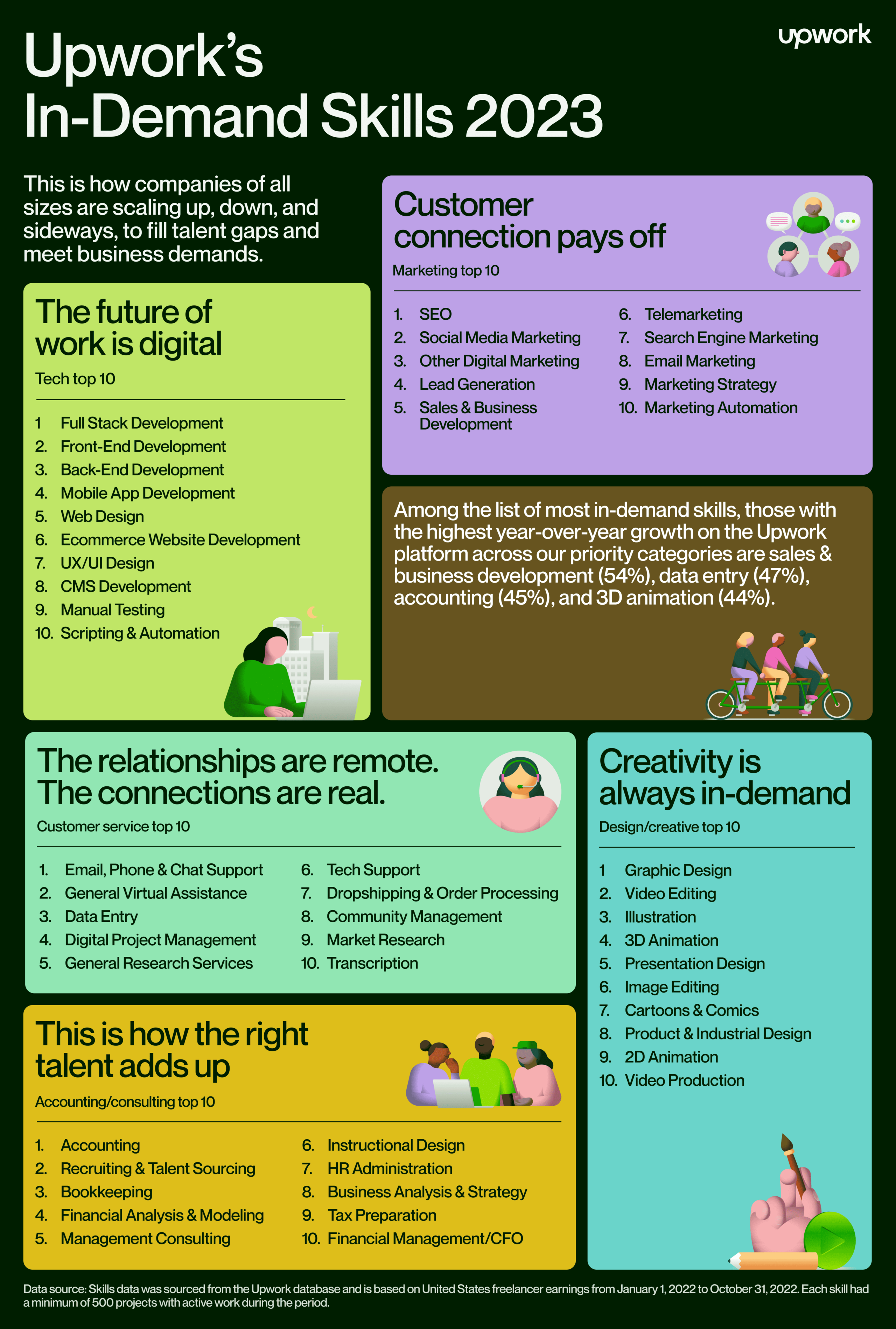 Lastly, Upwork, one of the leading global freelancer platforms, reported that companies may need to find alternate sources to fill critical talent gaps in 2023. Per their findings, independent talent is the best solution for onboarding specific in-demand skills.
Among the list of most in-demand skills, those with the highest year-over-year growth on the Upwork platform within the noted categories are sales & business development (54%), data entry (47%), accounting (45%), and 3D animation (44%).

Source
What are the highest-paying skills in demand right now?
Like any demand and supply situation in business, in-demand skills are charged at a higher rate. And as technical skills shortages, for instance, continue to grow, businesses will need to plan ahead to bridge their talent gap.
Global talent shortages have reached a 16-year high, as 75% of employers can't find the talent they need with the right blend of technical and soft skills.

Source
Here are a few of the salaries that high-income skills fetch in 2023 in the US.
In marketing
Content creation and management
Social media manager: $57,185
Content marketing manager: $68,435
In the tech sector
Data analysis
Business analyst: $94,293
Data scientist: $152,074
Software development
DevOps engineer: $123,122
Applications engineer: $120,800
Full-stack developer: $97,156
Front-end developer: $112.596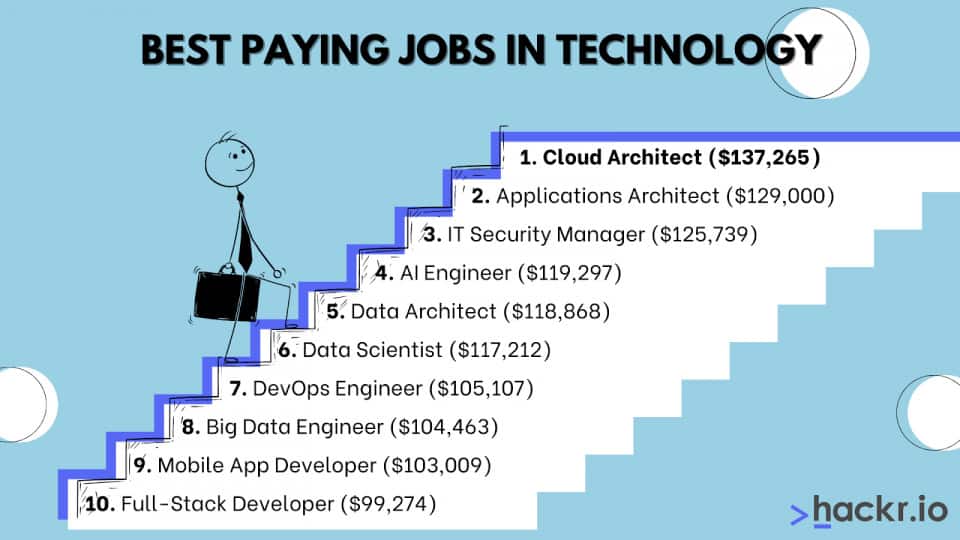 In operations
Project management
Project manager: $97,173
Manager: $70,378
Now, let's explore what other top skills employees and organizations need to conquer the market today and keep kicking butt tomorrow!
Top 25 future-proof skills for 2023 and Beyond
If organizations want to achieve their business goals and remain competitive in the future, they need to ensure their workforce has the necessary high-demand soft and technical skills.
For a start, here's what the WEF lists as the top skills in demand for 2023: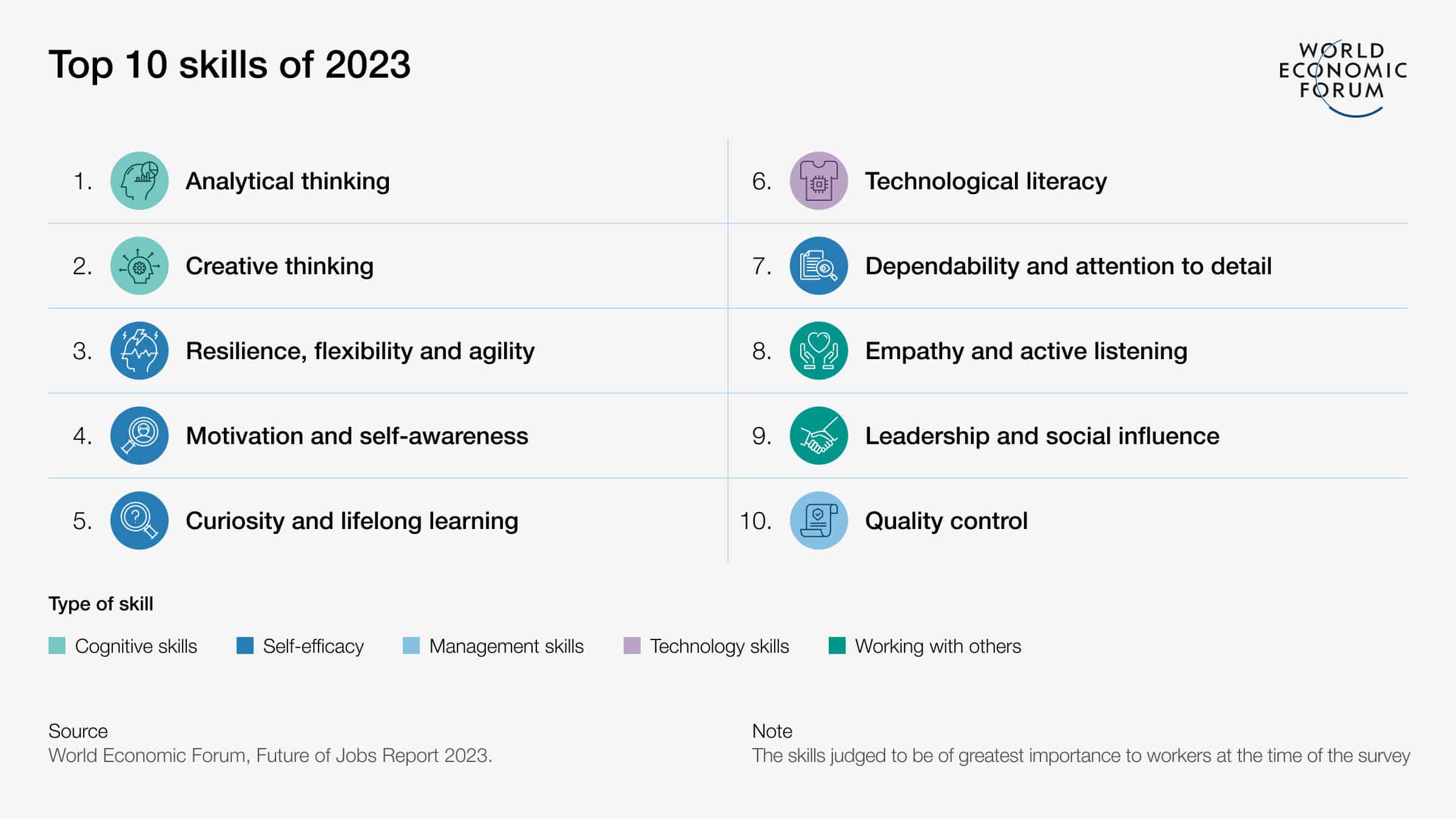 With that in mind, have a look at how many of the following soft and hard skills your business already has onboard and which you'll need to focus on to boost your future talent.
Soft Skills
Soft skills (also called interpersonal skills or human skills) are equally important as technical expertise, especially as team and organizational collaboration becomes more virtual.
1. Analytical thinking
Analytical thinking is a range of cognitive skills that enable a person to analyze a problem, think critically about it, and resolve the issue. For example, problem-solving, brainstorming, troubleshooting, or data analysis.
Listed as the second fastest skill on the rise and the highest priority for training by the WEF, employees or candidates that lack critical thinking skills could have difficulty dealing with the pace of AI-augmented work and making quick, decisive decisions that prevent workflow roadblocks.
There's more of a focus and an interest in having people with analytical thinking, people with creativity.

Saadia Zahidi, Managing Director, World Economic Forum | Source

Top tip:
Psst! You can test analytical thinking with Toggl Hire's Problem Solving test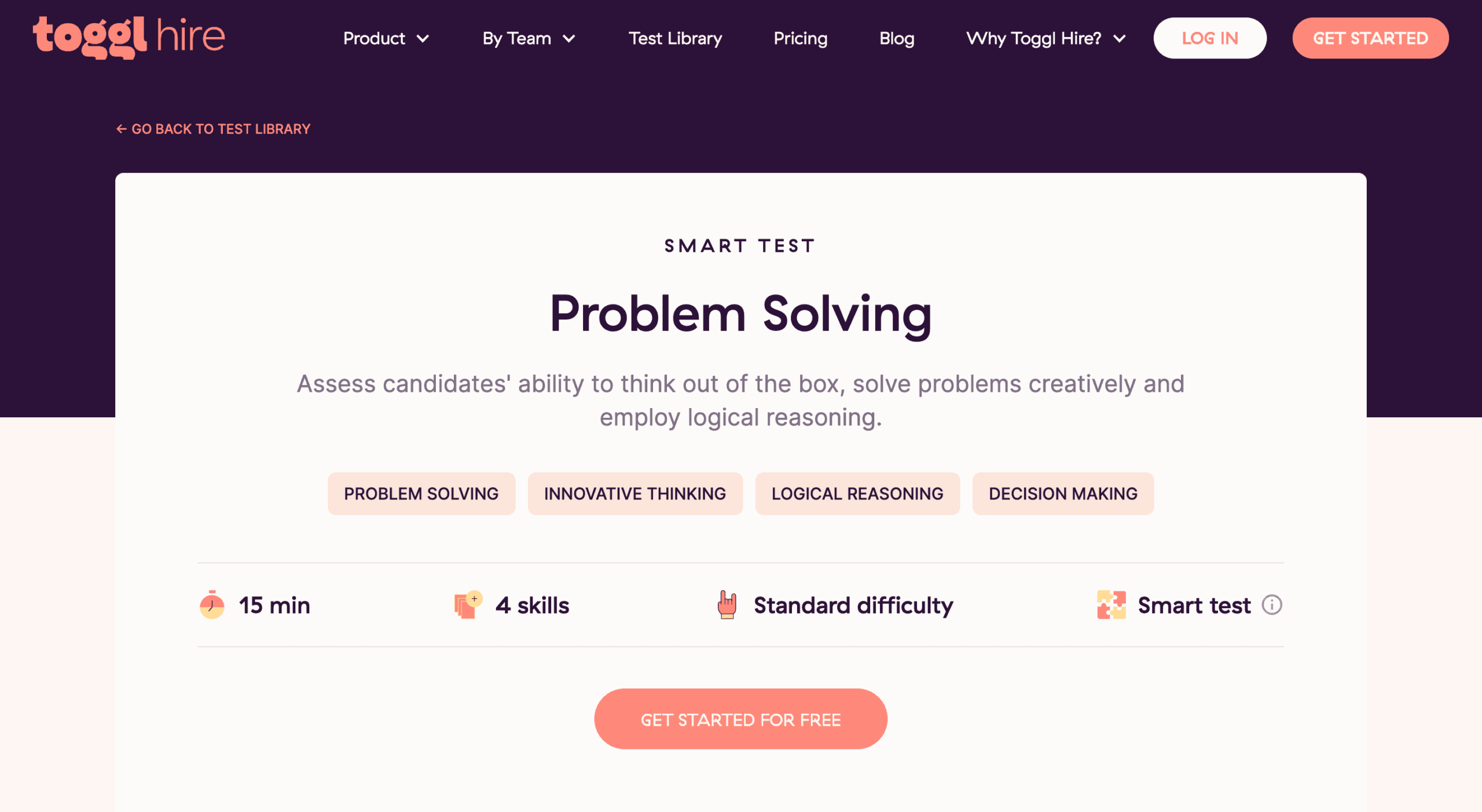 2. Management
Management skills refer to how well someone can manage a team. It involves planning, continually communicating with team members, motivating them, helping solve problems, and budgeting.
This in-demand skill is important, as having a bad manager costs companies around the world billions in lost productivity and is the number one reason why people quit their jobs.
🔥 Head over to this article that delves into the details of how to spot leaders with great management skills.
3. Creative thinking
Creativity in the workplace refers to the ability to think differently about a problem or situation. It's about coming up with creative solutions that others may not have considered. Another aspect is being open-minded about colleagues' suggestions that others may disagree with.
Creative thinking can help resolve conflicts or lead to creation of a new product, for instance. Along with added innovation, it can also improve team resilience as they can think of new ways to resolve problems.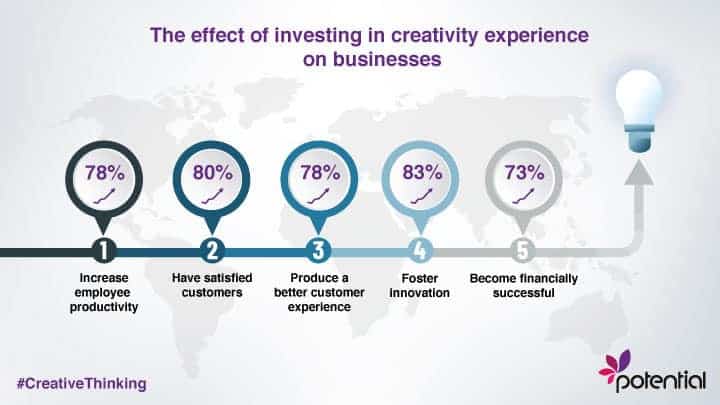 According to the WEF the "demand for creative thinking will grow faster in the next five years – by 73% – than demand for analytical thinking".
So, here are a few fun tools teams can use during creative thinking exercises:
Miro

Lucidspark

ClickUp

Lucidchart
4. Communication skills
There's no surprise that communication is one of the top in-demand skills. Every business needs people who can communicate well with co-workers, customers, and other stakeholders. Plus, as ongoing hybrid work environments and remote work models continue, the ability to communicate clearly and confidently across different mediums — such as email, video, and in-person — has become even more essential.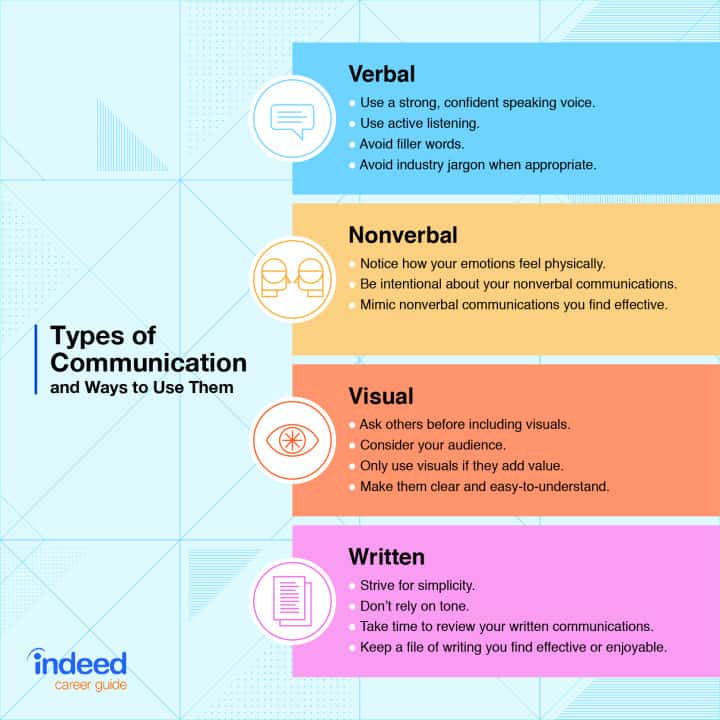 Top tip:
You can test active listening, communication, observation, and feedback-sharing skills with this skills test.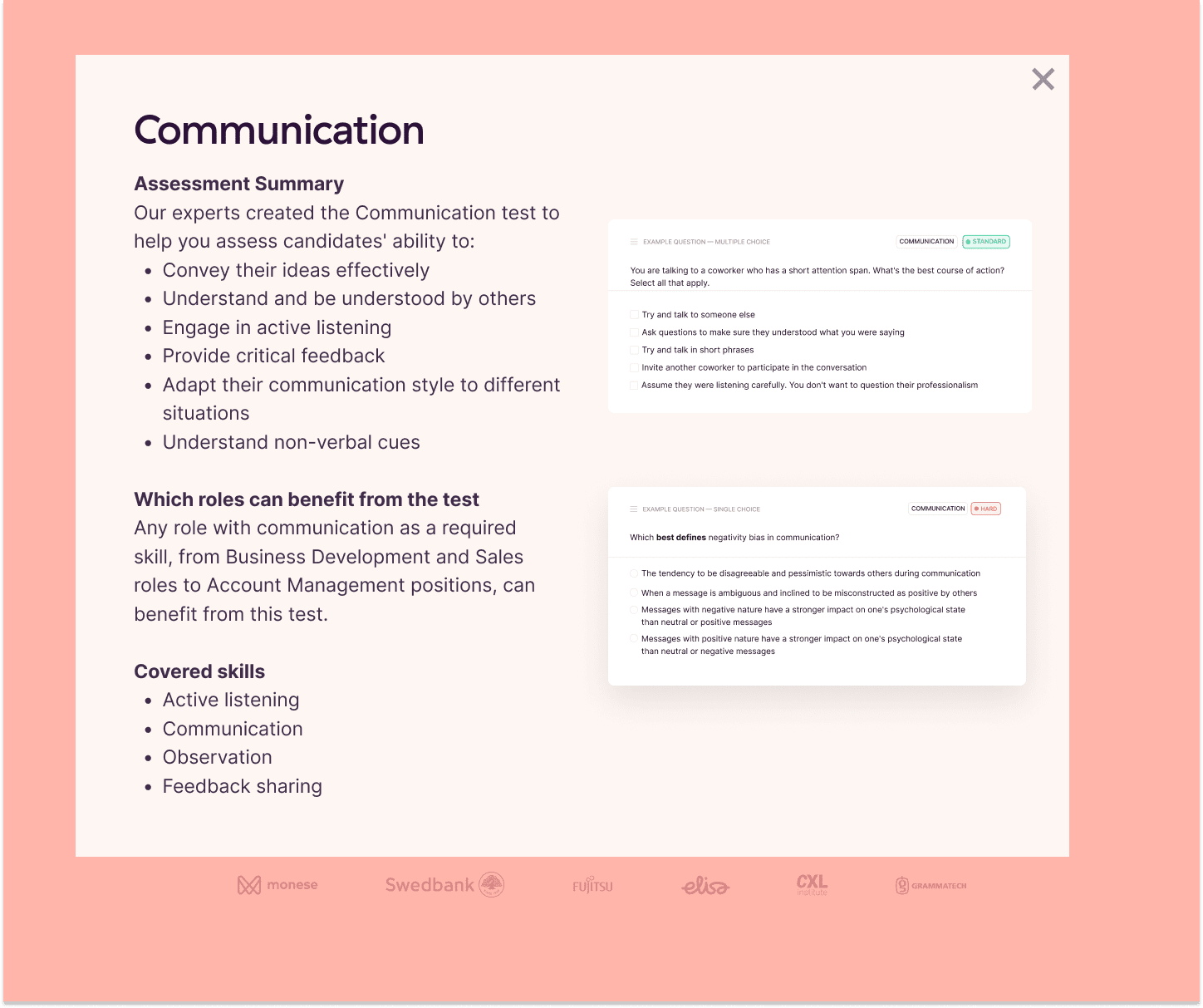 5. Emotional intelligence
Emotional intelligence is the ability to understand and manage your emotions and responses, on top of being aware of how others are feeling and the effect you (and others) have on them. Empathy, self-awareness, good listening skills, and sensitivity are examples of emotional intelligence in action.
Employees with high levels of emotional intelligence can help motivate other team members, resolve conflicts quickly (or avoid them altogether), and help create a positive work environment.
Learn why your next hire needs emotional intelligence and these other 5 meta-skills to succeed 👇
6. Adaptability
When employees are adaptable or resilient, they are willing to challenge themselves, try and fail, and experiment with new solutions to solve problems or improve how a task is performed. With this skill, they can adapt quickly to change, maintain high levels of productivity, and keep up with new industry changes and ideas.
Indeed suggests these 8 steps for employees that want to boost this skill:
Get out of your comfort zone

Be a better listener

Ask questions

Be willing to make mistakes

Find the positive

Learn from your coworkers

Find balance in your life

Practice emotional intelligence
7. Leadership skills
Good leaders can inspire teams to do their best even during tough times. This is an essential skill in fast-paced companies with a lot of change. Good leaders share traits like integrity, good communication skills, gratitude, and influence.
Here are a few eye-opening stats about the impact of (good and bad) leadership, per Zippia:
79% of employees will quit due to a lack of appreciation.
While 83% of organizations believe it's important to develop leaders at every company level, but only 5% of businesses have implemented leadership development at all levels.
Only 48% of employees view their company's leadership as "high quality".
US businesses spend $166 billion on leadership development each year — nearly half of the $366 billion that's spent globally.

Women account for only 20% of CEO positions.

8. Life-long learning
Ongoing curiosity and a willingness to learn and improve is a trait that enables companies to be innovative and succeed in competitive markets. Employees that are lifelong learners are constantly upgrading their skills with formal learning, such as short courses in leadership at their local university, or informal training, such as free courses by Coursera, edX, and Udemy.
Offering employee training and development opportunities is an essential part of a company's employee value proposition, which can boost engagement and retention rates and help attract top talent. In fact, 59% of employees believe that training improves their performance, and 76% of Millennials feel that professional development is essential for a strong company culture.
Bernard Marr gives us a taste of why this skill will be needed long beyond 2023:
Long gone are the days when we might expect to be set for a "job for life" after finishing education and a spell as a trainee or apprentice. Today's fast-paced digital transformation means industries are constantly changing and tools or technologies that are cutting-edge on the day will be outdated the next. With the routine and mundane tasks managed just fine by machines and AI, we will be expected to handle new and out-of-the-ordinary tasks, and that means consistently learning and keeping up-to-date with the changing world around us.

Bernard Marr
9. Taking ownership
Employees that take ownership or responsibility for their tasks are a big asset to their team and the organization. They can be trusted to consistently complete their duties on time and at a high quality level.
With the nature of teamwork and team structures changing, such as cross-functional product-oriented delivery teams (PODS), it's even more important for employees to be reliable and productive.
10. Marketing
Marketing skills are not something that only the marketing team needs. Today, everyone from HR to Sales, Research and Development, and Project management need marketing skills, as these roles all include an element of marketing or pitching a new idea or solution to others.
And as the global market becomes increasingly more connected and competitive, the ability to tell persuasive stories is essential for every business.
Here's what Upwork's shares as it's top 10 most in-demand marketing skills for 2023:
Search Engine Optimization (SEO)

Social Media Marketing

Other Digital Marketing

Lead Generation

Sales & Business Development

Telemarketing

Search Engine Marketing

Email Marketing

Marketing Strategy

Marketing Automation

Top tip:
11. Teamwork
Working together well as a team means that:
Workflows and handovers go smoothly

Everyone is performing at their best

Team members ask questions immediately if anything is unclear

Suggestions are made and accepted maturely, and

Deadlines are met with good-quality work
Is that always possible? No. But, by hiring people that fit in with your company culture, you can help shape the workforce and attract talent that fits in or complements your culture.

Top tip:
It's nearly impossible to evaluate candidates' collaboration skills during a job interview. When we hire, we always prioritize seeing the skills demonstrated vs listening to candidates telling stories.
If you like the idea of getting proof of competence, we suggest using a combination of skills assessment, homework assignments and trial projects to see how strong of a team player a candidate truly is.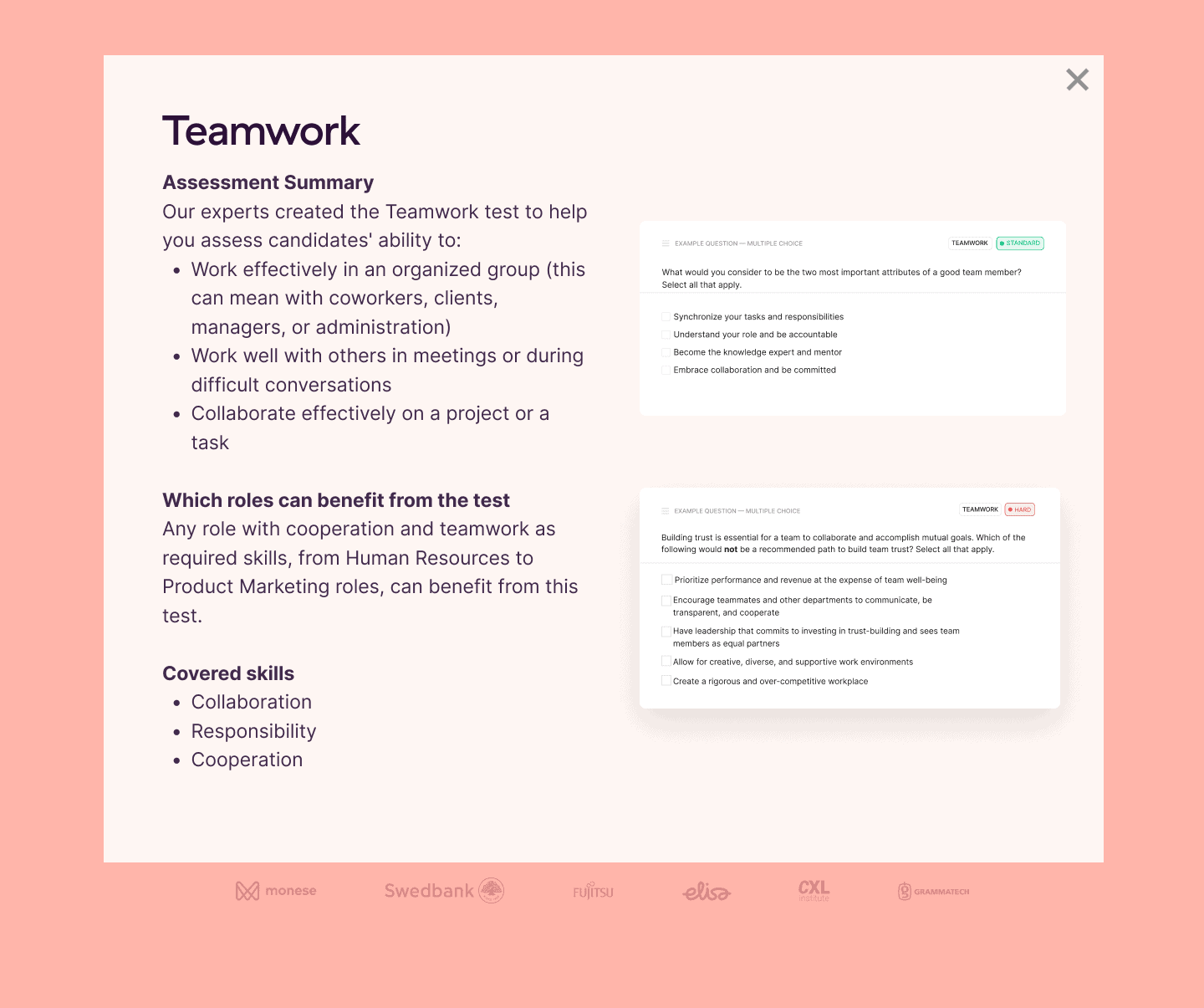 Technical skills
Soft and technical skills complement each other in a business. Together, they make up a company's talent — the driving force that makes a business succeed.
According to Upwork, the most in-demand tech skills for 2023 are:
Full Stack Development

Front-End Development

Back-End Development

Mobile App Development

Web Design

Ecommerce Website Development

UX/UI Design

CMS Development

Manual Testing

Scripting & Automation
Next, let's dive into our list of top technical skills required in 2023 and beyond.
12. Digital literacy
Digital literacy is the ability to effectively use digital technology. It also includes a person's ability to evaluate data — a vital skill with today's flood of information through numerous digital channels.
Considering that the demand for jobs that require AI skills could rise by 40% in the next five years, the need for digital literacy skills to match those roles will be key.
Bernard Marr shares his view on the need for digital literacy skills in the future:
Those who lack digital literacy will be at a severe disadvantage when it comes to competing for jobs and business opportunities by 2030, whatever career path they decide to follow.
13. Software development
IBM defines software development as "a set of computer science activities dedicated to the process of creating, designing, deploying, and supporting software". Today, nearly everything we use, from our mobile web and phone apps to our laptop and fridge all use software.
Plus, as more companies deliver software-as-a-service (SaaS) offerings, such as data analytics tools, customer relationship management programs, project management software, and marketing automation, software dev companies will need enough of the right technical talent to keep up.
💡 Did you know… the global software-as-a-service market is predicted to be $232 billion by 2024, up from $197 billion in 2023, Statista reports!
14. SQL
Structured Query Language, or SQL, is a programming language for accessing and managing large databases. As more and more companies work with data stored in databases, this skill is vital to support quick, intelligent business decisions.
Along with enabling fast process queries, the benefits of SQL include:
No coding skills needed

Multiple data views

Used by most major database management vendors like Oracle and Microsoft

It's highly interactive
15. Finance
Not only is finance at the core of every business, big or small, it's also gaining more strategic value —helping businesses forecast and predict scenarios that improve growth, profitability and sustainability.
Today, CFOs, in particular, are taking on more responsibility, the Journal of Accountancy recently explained:
Once, the CFO led a team that prepared information on historic financial results and trends and set limits on spending. Now, management and other stakeholders are increasingly turning to CFOs to be value-adding business partners who can provide greater insights on emerging trends and on how best to use financial reporting data in decision-making.

Source
16. Python
Python is a popular programming language that is used in building software, websites, and data analysis, for instance.
One reason Python is popular is because of its versatility. Plus, it can also easily automate processes, making it vital in software development.
17. Java
Java is a programming language used for creating web applications. Though it was first released way back in 1995, it's still essential today, as many apps and websites will not run or function properly without Java.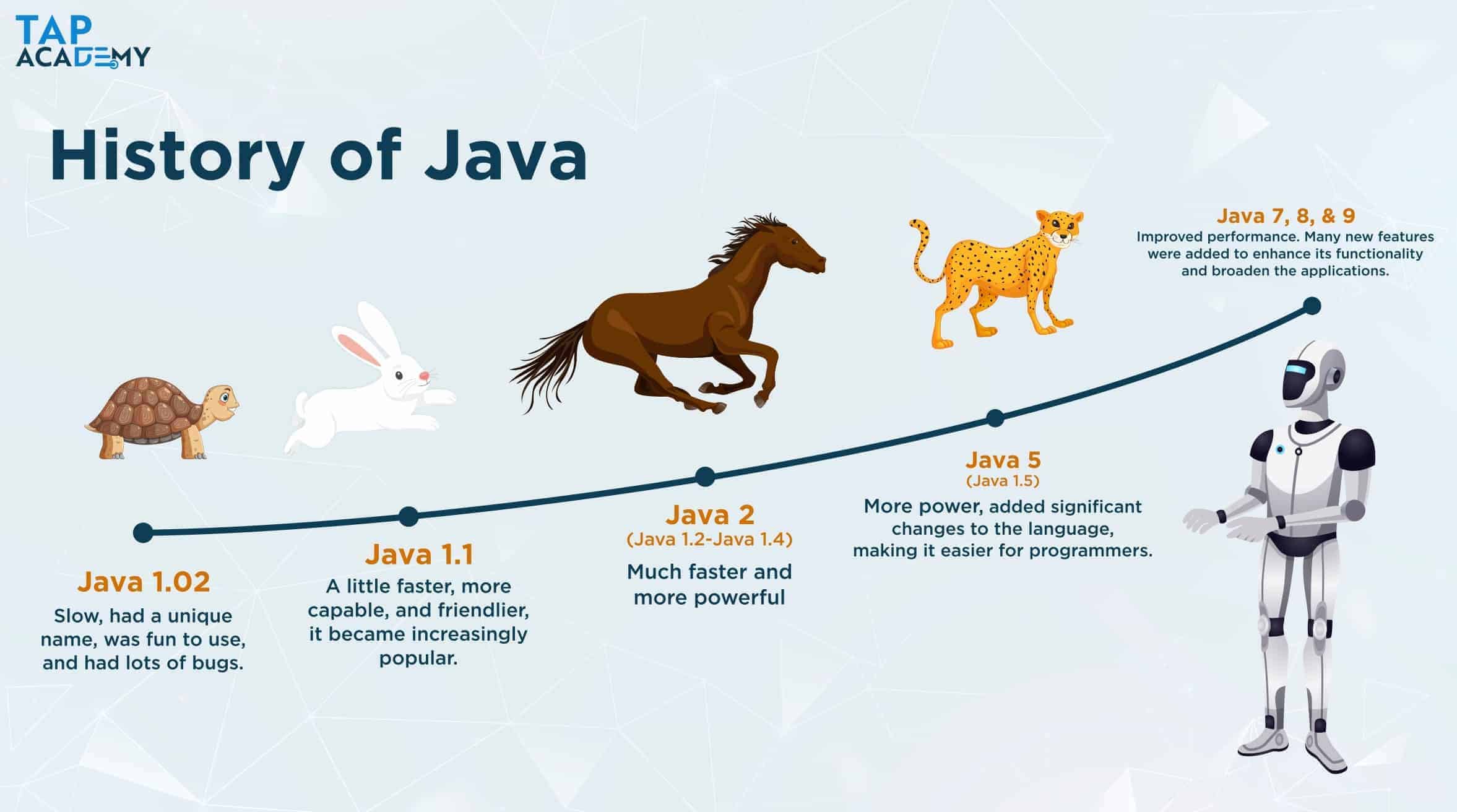 18. Artificial intelligence (AI)
AI is something that everybody has heard of, and pretty much every business is using today (unless you've been living under a rock!). Generative AI and machine learning, for instance, like ChatGPT, has been taking center stage for a few months now and is being used to assist with tasks like:
Content writing

Product and app development

Graphic design and video creation

Marketing workflows

Improving the customer experience
Here's how JP Morgan predicts this technology will function in 2030, creating a major shift in today's creative roles like content writers, coders and graphic designers.
19. Data analysis
Data analysis refers to the process of analyzing raw data and using the insights to make more informed, data-driven decisions. In business today and in the future, data analysis and data management skills are essential for getting key business insight from a vast pool of data.
Investopedia shares how data analytics can benefit businesses:
Optimize performance

Perform more efficiently

Maximize profit

Make more strategically-guided decisions
💡 Fun fact: The top three industries offering data analytics jobs in 2023 are: IT, software development, and Staffing and Recruiting!
20. Web design
Web design is still an important skill in 2023 and beyond. Any successful business strategy includes an engaging, helpful, and user-friendly website to grab the attention of visitors, provide them with clear information and, if done right, lead to more conversions.
Innovative businesses even include modern tech trends like an AI chatbot on their website to improve the user experience.
Websites will continue to evolve as the tech landscape changes. New ideas for consuming digital media will appear over time, offering unique new experiences — for example, mass adoption of AR (Augmented Reality) is just around the corner. However, the website is perfectly evolved for the types of simple customer interaction that businesses rely on, and will continue to matter in 2023 and beyond.

Source
21. JavaScript
JavaScript is a programming language that's used to make interactive websites. In other words, it makes the content of dynamic web pages. It forms the core of standard web technology with its two siblings, HTML and CSS.
Why is it cool?
It's one of the few programming languages that works with all popular browsers.

It can build apps on mobile and on the web.

There are lots of libraries and frameworks available to help devs kick off projects fast.
22. Cloud computing skills
Cloud computing basically means a system where all computing — from storage, software, networking, and intelligence — happens in the cloud. For businesses, cloud computing is a good infrastructure choice because it's:
Easily scalable and flexible

Saves on costs

Offers better security

Provides a faster time to market with new products or services
A few common roles in cloud computing include Software developers, Cloud engineers, architects, and administrators.
23. UX/UI design
These two terms are often confused. UX Design is about creating seamless user experiences by understanding exactly what users want and designing interfaces that fulfill those needs. UI Design, on the other hand, focuses on creating interfaces that have an aesthetically appealing visual design.
These two skills are a must for 2023 and beyond, considering that the benefits include:
Increased user engagement

Better user retention

Improved site functionality

Better connection with customers

Increased revenue

Top tip:
24. Operations
Operations management is the process of planning, controlling, and supervising processes and delivery. The goal of operations management is to increase the efficiency of an organization. Typically, an ops manager has key skills that include:
Relevant technical expertise

Great organizational and project management skills

The ability to motivate others

Good analytical thinking
Operations is more than just making businesses more efficient; it's about how a company keeps the lights on and is an essential function of most modern businesses.
25. QA testing
QA testing forms a critical part of the software development cycle. Quality Assurance testers reveal any bugs, errors, and inconsistencies in the software and can save companies time and money by ensuring their product quality remains high.
Per Upwork, QA testing typically involves:
Finding and fixing errors, bugs, and redundancies

Confirming logical flow

Ensuring seamless User Interface (UI) and User Experience (UX)

Anticipating and fixing unexpected software flaws

Ensuring developers meet customer requirements and expectations
Here are a few fun facts about QA testing, per Diffy:
79% of users note bugs in their software and websites.

35% of companies use non-testers in their testing process.

High-performing products have 200x more frequent code deployments.

23% of companies' annual IT budgets are allocated to QA and testing.
Ensuring the workforce is learning in-demand skills is key to futureproofing your organization. Selecting candidates that already have the most sought-after skills through skills-based hiring is a big piece of the puzzle.
How to hire top talent with today's most in-demand skills
With skills testing, of course. 😁
A skills-based hiring approach will help companies onboard the right in-demand hard skills and soft skills to ensure continued expansion and success well into the future.
Skills testing puts the focus on candidates' actual capabilities, and through demonstrating their skills, the process quickly highlights the top talent in your recruitment funnel.
With Toggle Hire's skills assessment platform, you can create a customized skills test by job title in a few clicks and automate the (otherwise laborious) hunt for those with in-demand skills. Our testing engine contains more than 18,000 questions created by subject matter experts!
Try Toggl Hire now so your new hires will be ready to tackle the world of work today and be prepared for what lies beyond.
Juste loves investigating through writing. A copywriter by trade, she spent the last ten years in startups, telling stories and building marketing teams. She works at Toggl Hire and writes about how businesses can recruit really great people.