Candidate screening is hard… unless you're in on the latest candidate screening techniques.
In this article, we'll cover 10 of the best methods being used to screen applicants in 2023 and cover some of the key application screening challenges:
How to innovate your screening process with screening tools
How to sort through a high volume of applications efficiently
How to spot A-level candidates among all job applicants
How to assess if an applicant is a right fit for the position and your team
It's 2023, but the candidate screening process in most organizations is stuck in the 80s.
Let's break down each screening approach, including its pros and cons, to help you screen job applicants with techniques that go beyond reviewing resumes!
Quick Links:
When screening candidates, your number one priority should always be to find out if they can actually do the job. This is pretty tricky, though, at least at an early stage.
But, there is one way…
Many employers use pre-employment tests to determine if a candidate is a good fit right from their first application. In fact, this is precisely the reason why Toggl Hire was created, to test applicants for real-world skills and score them on exactly how well they can do the job!
At Toggl Hire, we use a skills assessment at the very beginning of the application process. This way, we do away with manual resume screening and get straight to testing a candidate on their actual technical skills required for the job.
Don't believe us? Just ask our customers! Our automated skills-based hiring tool has saved hundreds of hours and thousands of dollars for companies such as Proxify, Monese, and Producement.
Pros and Cons
Pros:
Screen job candidates for critical skills on autopilot
Improve the quality of candidates moving to the interview stage
Avoid any risk of unconscious bias
Provide hiring managers with candidates' proof of competence
Eliminate poor-fit applicants while providing instant feedback
Accelerate your candidate selection process with reliable data
Cons:
Requires tweaking of the standard hiring process
Requires an assessment tool subscription (although our prices start from 17$/month)
2. Video Interviews (+ bonus Asynchronous Video Interviews)
If you really want your screening process to meet candidates' expectations, it's time to replace initial in person interviews with virtual video chats.
Thanks to the pandemic and a host of video conferencing tools, such as Zoom, Teams, Skype, or Google Hangouts, video interviews have become the preferred standard for screening interviews.
For one, they allow you to get 1-2-1 with suitable candidates without them traveling to meet in person – a simple hack for boosting the candidate experience! But just as importantly, screening applicants via a video interview can be the ultimate time-saving technique for the hiring team.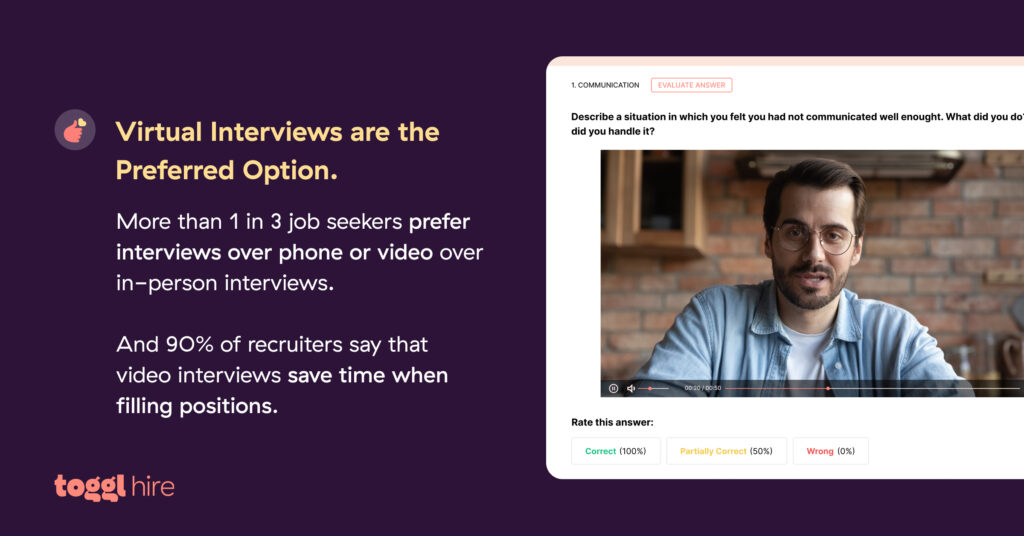 Swiftly moving to the bonus part… enter asynchronous video interviews.
Take the power of video interview and x10 it – that's when you get a One-Way Video Interview. The ultimate way to screen job applicants early on in the process is to invite them to take part in a pre-recorded video Q&A on their skills, experiences, and knowledge.
What's the point? Async video interviews serve as an additional screening method early in the recruitment process. Both recruiter and applicant commit a minimum amount of time and effort to confirm technical and cultural fit before engaging in a deeper conversation.
For instance, Video intros – our built-in video interviewing capability – bring significant benefits to the screening process:
They are quick, lasting no longer than 10 minutes (typically 2-3 questions)
An expert-created pool of interview questions offers the ultimate convenience
You screen candidates' critical skills at scale by interviewing multiple applicants at once
Candidates love the friendly user interface and unlimited re-records
It's quick and easy to give meaningful candidate feedback through Toggl Hire
Upgrading your candidate screening process with asynchronous interviews could help your team spend less time in poor later-stage interviews and keep hiring managers happy.
Pros and Cons
Pros:
Helps to create a better candidate experience at no additional cost
Video interviewing is now an accepted practice among candidates
You can easily assess body language, presentation, and communication skills
Candidates can have an interview without commuting to your office
Pre-suggested interview questions make candidate screening effortless
Potential candidates can manage interview jitters with unlimited re-records
Asynchronous: you can watch videos as they come in without worrying about scheduling
Async interviews are an excellent alternative to replace phone interviews
Cons:
Scheduling real-time virtual interviews can be difficult
Candidates with great interviewing skills aren't necessarily great performers, so don't judge too harshly
Pre-recorded video interviews can be intimidating for junior candidates
3. Phone screening
A phone screen is one of the most familiar methods of candidate screening, traditionally carried out after the initial resume check. Before video became big, phone screening was one of the major ways for recruiters to evaluate job candidates before calling them in for a proper interview.
Phone screens are still common to this day, and they're a good method to learn more about someone without hassling the candidate to re-schedule their life for a full interview.
To get the phone interview right, try and incorporate these tips:
Be consistent. Come up with your screening criteria and ask all candidates the same questions. Don't get sidetracked and lost in the conversation – or you'll expose yourself to risks of unconscious bias.

Take good notes. Unless you're recording the calls (if you are – do let the candidate know about it), you have to write down the candidates' replies to stop you from forgetting them later!

Schedule the calls. While most candidates will be happy to hear from you, they won't appreciate being called at a random time. Schedule the phone screen ahead of time, so the candidate can prepare for your chat.
Phone screening interviews are typically the least structured method for accurately assessing a candidate's capabilities. Check out our list of 79 unique candidate screening interview questions to boost the quality of your phone screens.
Pros and Cons
Pros:
Relatively easy to do.
Assess a candidate's communication skills early on.
Cons:
Scheduling multiple phone interviews can be a logistical nightmare.
Very time-consuming, especially with multiple candidates.
Not the most objective way to screen job candidates – unless handled by an experienced recruiter.
4. Resume Screening
Next on the list are resumes – still the most popular way to screen candidates.
Tailoring and submitting a resume is the oldest method of applying for a job – and one that most job applicants can't stand. By the same token, manually reviewing CVs is the oldest method of screening candidates. But is it really that good?
Screening resumes gives recruiters a clear overview of applicants' experience, qualifications, and previous job roles – all there on a single piece of paper (or PDF). And while resumes are becoming a little more interesting, with new sections making their way onto the traditional templates, it's still a wildly outdated method for trying to find the best candidates.
The problem with resumes? Where do I start?
Resumes are highly embellished. Screening a resume can be compared to judging a book by its cover. A recent survey found that 78% of applicants lie on job applications and resumes. It's virtually impossible to gauge a candidate's technical fit based on their CV alone.

So much lost time! Imagine trying to filter through 100s of resumes for a single job role. It's time-consuming, not particularly informative, and it's downright boring! If you're insistent on using resumes, though, at least look into some resume review software to filter out the duds and reduce your workload automatically.
So while resumes are often used to screen job applicants, they aren't a particularly effective method.
Pros and Cons
Pros:
Resume screening is the most familiar method of candidate screening
You get to take a look at individual factors and find out additional information, such as hobbies & interests
Cons:
It's very time-consuming screening technique, especially for jobs with lots of applicants
You rely on candidates to tell the truth in their resumes – spoiler, this doesn't always happen!
Can incur unconscious bias from your recruitment team based on age, race, gender, religion, etc.
5. Cover Letters
Resumes are a great way for candidates to present themselves, but they can be rather limiting. If you want candidates to elaborate on who they are early on, you can ask for a cover letter too.
Besides showing off their writing skills, here are a few extra things you can find out from a cover letter:
Follow Instructions – Cover letters are great at determining how well someone can follow a brief!
Written Communication – Cover letters give candidates the opportunity to express their written communication skills.
Creativity – Those cover letters that stand out usually show creativity and out-of-the-box thinking!
But it has to be said that, as a technique to screen candidates, the cover letter is on its way out.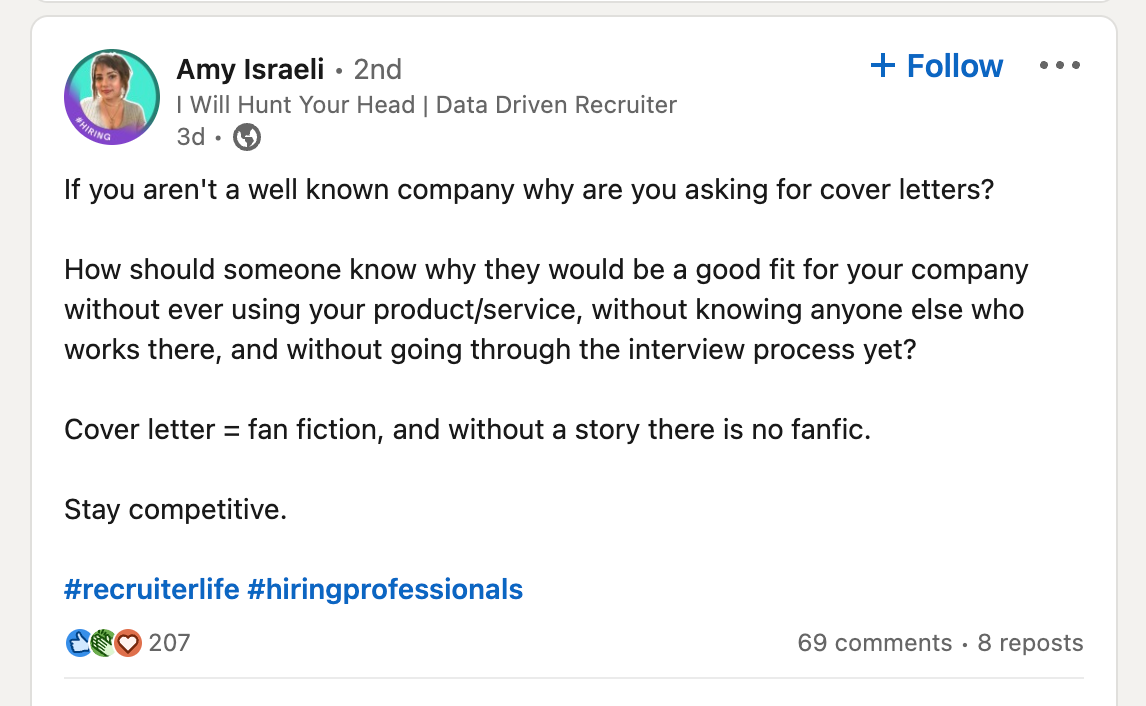 Unless the job applicant proactively seeks to explain a career change or employment gap, asking all applicants to submit one adds unnecessary friction to your hiring process.
Pros and Cons
Pros:
You get to find out more about the candidate, without a test or an interview.
You can see how the candidate presents themselves and get a glimpse into their personality.
Can help candidates with non-traditional career paths to pass the first screening phase.
Cons:
Screening cover letters takes lots of time.
The only skill you test is how well somebody writes – nothing more.
Because they take quite a bit of effort to write, you will get fewer applicants!
Requesting a cover letter dictates that you provide meaningful rejection feedback to all candidates – and that's really resource-intensive!
6. Applicant Tracking Systems
At some point in time, HR professionals realized that going through resumes manually just takes too much time and work, and stumbled across applicant tracking systems.
These software solutions automatically run through resumes and find the best candidates on your behalf. They're an essential element of the hiring process in enterprise businesses that get a large volume of applicants per position. In fact, since ATS's are responsible for matching applications with the required criteria, 70% of the resumes are not actually seen by employers!
Pros and Cons
Pros:
They make candidate screening extremely fast. You can go through a pile of resumes in a matter of minutes instead of weeks.
Cons:
They rely too heavily on keywords, meaning you can miss out on great applicants that don't match the algorithm.
Adversely, they can be rigged if candidates know which keywords to use.
Overall, they're not very reliable.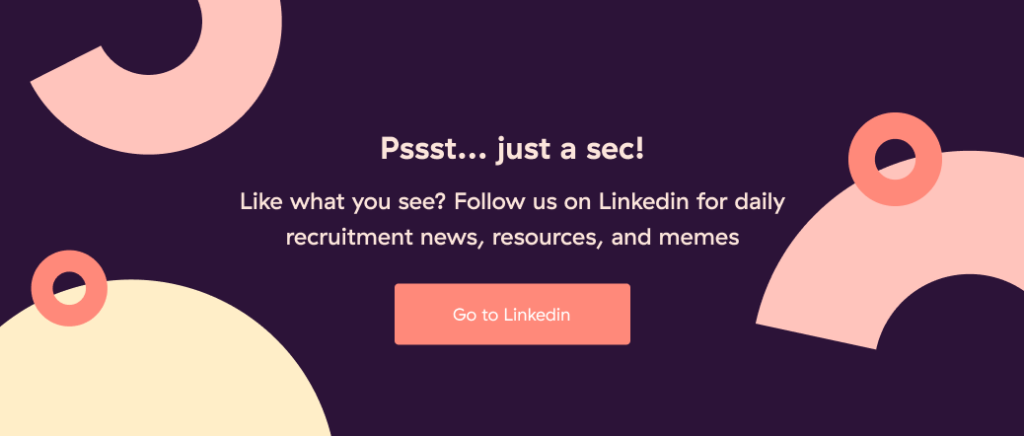 7. Reference Checking
Another traditional method used to screen candidates, reference checking is an essential part of making an educated hiring decision about your shortlisted candidates. After all, is there a better indicator of how a candidate performs on the job than checking their performance with previous employers?
If you think that reference checks are a relic of the past in the HR world, you're very much mistaken. In fact, 8 out of 10 HR professionals conduct background checks and reference checks for new job applicants. Interestingly enough, the more senior the position, the more likely they are to do a reference check.
Reference checks are often used alongside other screening methods, such as skills tests, to give a good all-around overview of a candidate's history and skillset.
Pros and Cons
Pros:
Independently verify a candidate's history, experience, and qualifications.
Cons:
Relies on the previous employer's objectiveness.
Reference checks can be time-consuming and costly.
8. Social media screening
When was the last time you googled yourself? You'd be surprised how much data we leave about ourselves online. For this reason, online research, and particularly social media screening, is one of the easiest candidate screening methods around.
According to research, about 70% of all employers check out applicants' profiles as part of their screening process and before making any hiring decisions.
By doing a quick search, recruiters can find out if the candidate has a website, public portfolio, or strong social media presence online. This is a really quick and easy way to validate someone is who they say they are, with social media sites such as LinkedIn really helping to cross-reference someone's experience.
Social media sites offer a free, easily accessed portrait of what a candidate is really like, yielding a clearer idea of whether that person will succeed on the job—or so the theory goes.

HBR | Source
However, social media screening can also be misused. Much of the information recruiters dig up on sites like Facebook, TikTok, or Instagram, is virtually useless for predicting job performance and, in most cases, illegal to be considered when evaluating applicants. Overall, we don't recommend looking up candidates on social media platforms (with Linkedin being the notable exception) as the practice tends to introduce various types of unconscious bias.
Pros and Cons
Pros:
Can provide a different kind of portrait of an applicant and highlight any red flags.
It's free.
Cons:
Very time-consuming.
Isn't always reliable.
Influences the recruiter's and hiring manager's perception of the candidate.
9. Take-home assignments
While not strictly an early-stage candidate screening method, homework assignments are an increasingly popular technique for selecting the best-fit candidates for the job.
The hiring managers like to distribute take-home tasks after the first round of face-to-face interviews. The goal here is to put candidates' on-paper capabilities to a quick stress test. The best homeworks take no longer than 3 hours (you should respect candidate's time) and focus on testing technical skills that were outlined as 'must-have' in the job description.
There's a plethora of different types of homework assignments – from in-depth skills tests to coding challenges to job simulations. With the right tools, candidate selection process gets a lot easier.
Pros and Cons
Pros:
Evidenced-based candidate selection process helps ensure the best talent is hired.
With pre-built assessment templates, it's quick and easy.
Helps align the hiring process around data rather than opinions.
Cons:
Requires bigger commitment from the candidates' side, which might cause some drop-off.
10. Paid Trial Projects
Once you have your best candidate(s) picked out, you can put them to the test on a paid trial. Even after a thorough skills test, reference check, and an interview, the candidate could still prove to be a bad fit for your team. So, why not go for a try before you buy?
After all, who can guarantee that they will keep the performance from the test task all the way throughout their time as an employee?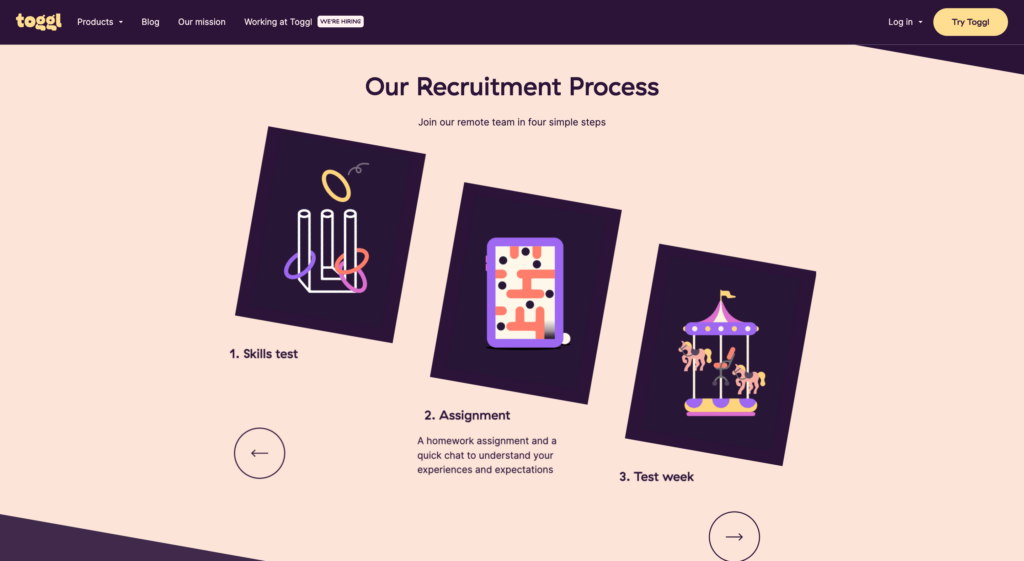 While bigger companies can allow themselves an occasional hiring mistake, small teams and startups can feel the effects of every new hire, good or bad. Thanks to a healthy gig economy in 2023, paid trials aren't as taboo as they used to be, with many candidates more than happy to take on temporary paid work!
Pros and Cons
Pros:
Assess candidates on their real-world performance as part of your team.
Witness hard to test soft skills such as work ethic and culture fit.
Cons:
Training candidates for trial periods can be time-consuming and costly.
Our go-to candidate screening techniques!
If you're at the beginning of your recruitment process, it's hard not to recommend Skills Testing and Video Intros for efficiently screening candidates. Both methods allow you to slash your time investment by assessing multiple candidates at once and zeroing in on top performers.
But if we're honest, when it comes to screening candidates, you need a great blend of many of the methods outlined above. You're going to be screening candidates right through your recruitment process, so use different methods to assess candidates on their skills, knowledge, and experience!
Check out our skills assessment templates library to get inspired!
Juste loves investigating through writing. A copywriter by trade, she spent the last ten years in startups, telling stories and building marketing teams. She works at Toggl Hire and writes about how businesses can recruit really great people.