Recruitment is a tricky business. No matter what stage of the recruiting funnel you are at, it can be hard to know what to do or where to go next. Data-driven hiring is on the rise, with the world's top hirers turning to science to improve the quality of their recruiting outcomes.
If you're new to data-driven recruitment, this article is for you. After we've reminded ourselves what a recruiting funnel is, we'll examine why using data, analytics, and recruiting metrics is the best way to hire top talent in today's market.
There's no time to waste, let's get into it!
Quick Links:
What is a Recruiting Funnel? The Definition.
Put simply, a recruitment funnel is a framework recruiters follow to manage a hire from start to finish.
But why the term 'funnel'? Well, in many ways, recruitment is a numbers game, based on reducing a large candidate pool down until you reach the desired number of qualified candidates to fit your hiring requirement. You begin with a large catchment that gradually works down to a small output – just like a funnel!
In a high-volume industry such as recruiting, having a set recruitment funnel framework makes it easier to evaluate candidates at scale by consistently working through the same steps time after time.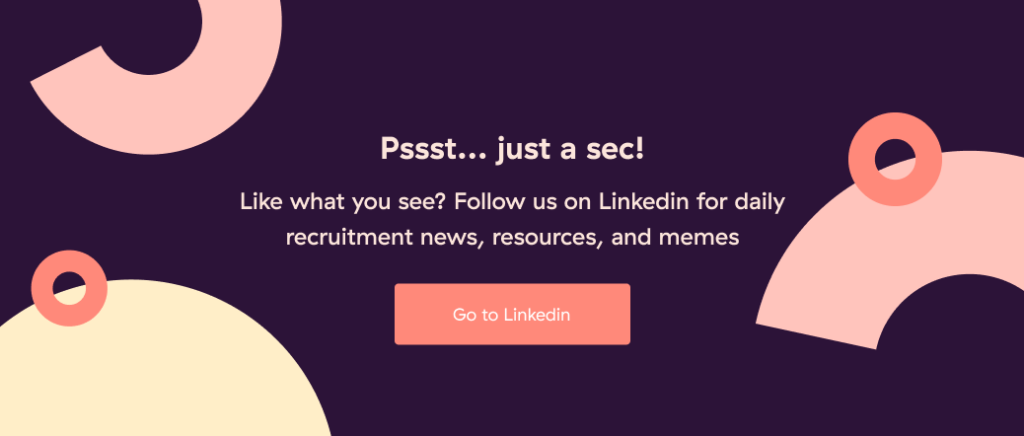 The Recruiting Funnel – Each Stage of The Funnel Explained
A recruiting funnel is broken down into several different stages, each with their own unique objective and outcome. While each company may have its own unique recruitment funnel, here are the generic stages you'll see wherever you go.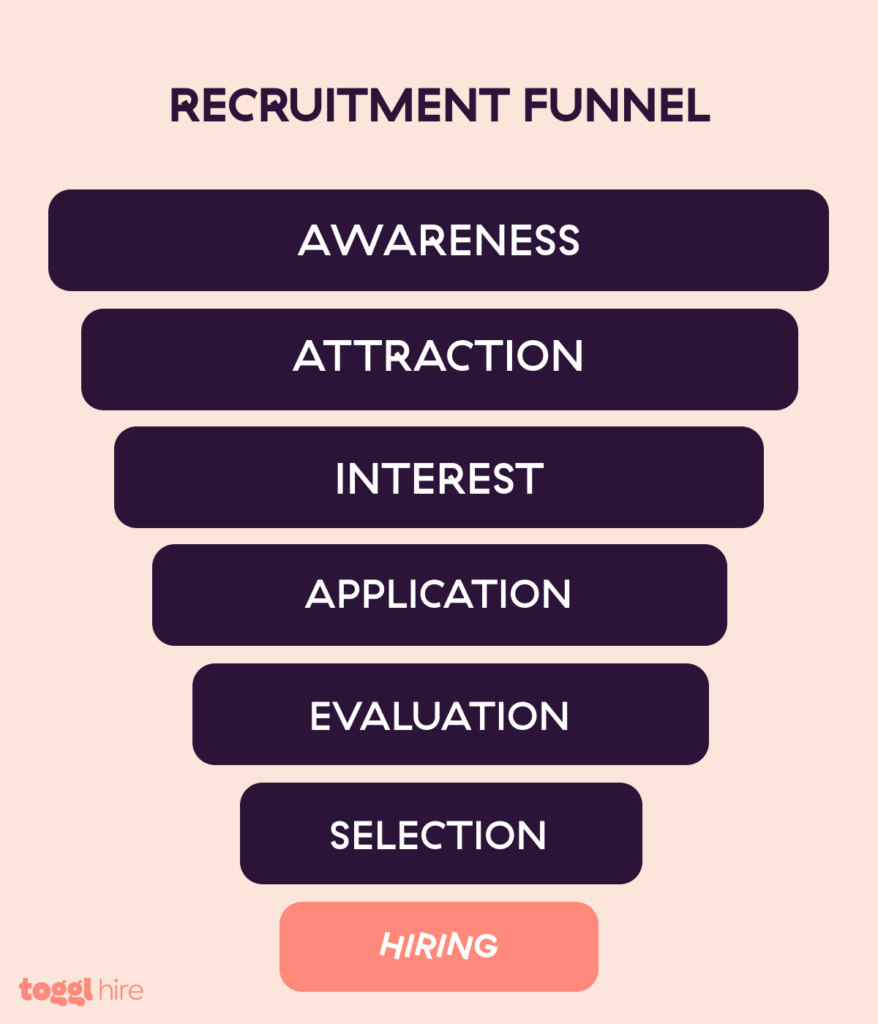 Stage #1 – Awareness
The top of the funnel starts with building awareness of your organization with passive and active candidates. This is where Recruitment Marketing kicks in through social media channels, email marketing, SEO, and search engine ads.
Oftentimes, this level of awareness takes time to build, as employers plant seeds with candidates educating them on the company, what it does, and the perks of working there.
Having a strong employer brand really helps here as it allows you to stand out from the crowd and grab the candidate's attention.
Stage #2 – Interest
This stage of the funnel is all about getting candidates and job seekers interested in the roles you have available. You'll do this by taking your Recruitment Marketing to the next level while also aiming to drive candidates to your careers page.
Next, it's all about making your sales pitch. This is often done by making your job descriptions sound interesting, exciting, and engaging. The best candidates are flooded with great opportunities, so it's at this stage that you really want to show off why you're the best employer on the market.
Stage #3 – Application
The next stage is all about taking your candidates from your career site and into your application page.
From there, you want to make the application process as slick and easy as possible to maximize the number of applicants and fill your funnel. As we mentioned earlier, hiring is a numbers game – the more candidates you have, the more chance you have of success.
We'll look at ways to make your application process more candidate-friendly later on.
Stage #4 – Screening
Now it's about turning those potential candidates into real candidates through your initial screening round.
Now that you're entering the middle of the funnel, the primary goal is to reduce the numbers by removing candidates that simply aren't right. Once you've whittled out the best from the rest, you should also rank the best candidates to help you decide who you'd like to take forward.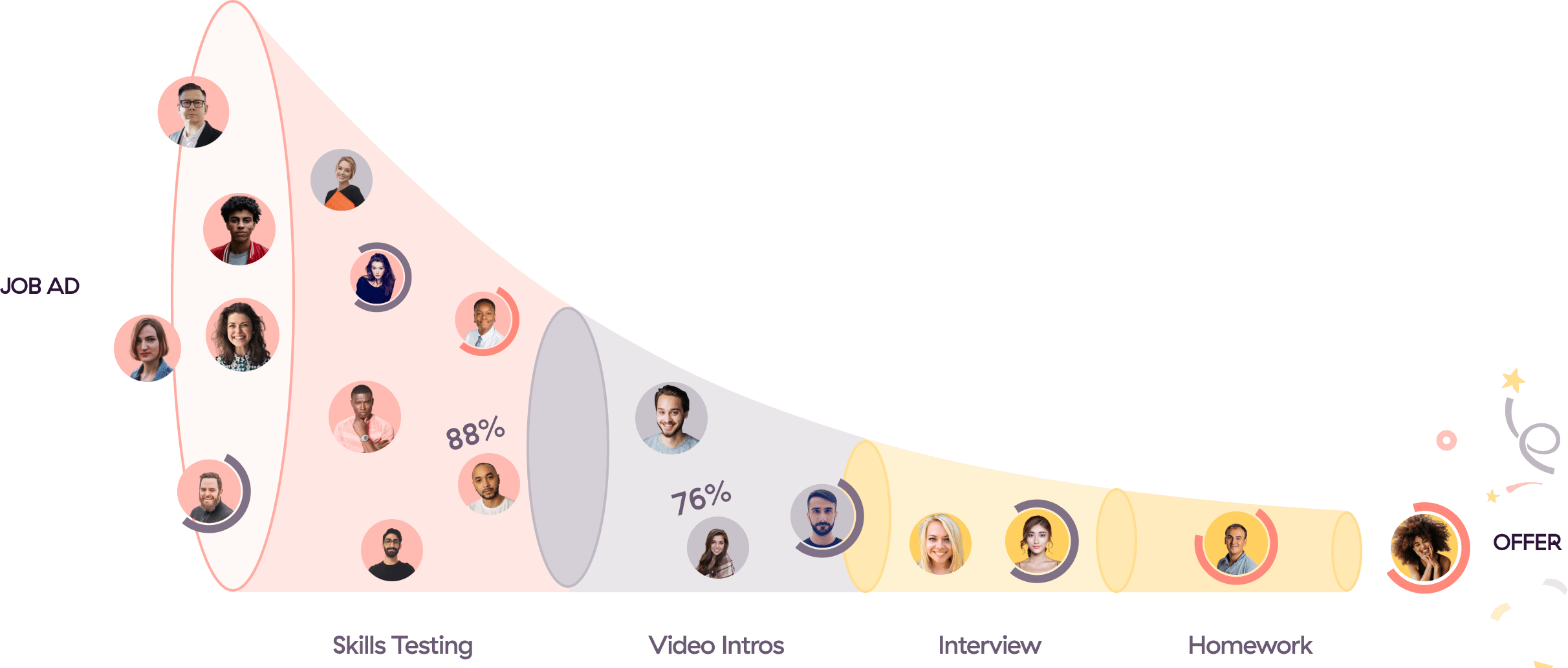 Stage #5 – Evaluating & Interviewing
As you move further down the funnel, it's now time to take that handful of candidates down to the final few by thoroughly evaluating their skills, knowledge, and experience in more detail.
For many organizations, this is where you begin to interview candidates, judging their soft skills, diving into their personality types, and having them complete competency skills assessments. Following interviews, many organizations also use homework tasks to simulate a real work environment.
Stage #6 – Hiring
You're now at the end of the recruitment funnel, ready to make a formal job offer to the perfect candidate. At this stage, you're likely negotiating the conditions of employment with the candidate, using all of the information from the application process and interviews to tailor the perfect package.
Once the candidate accepts, it's then onto planning the onboarding process, creating a platform for your new employee to succeed in their role.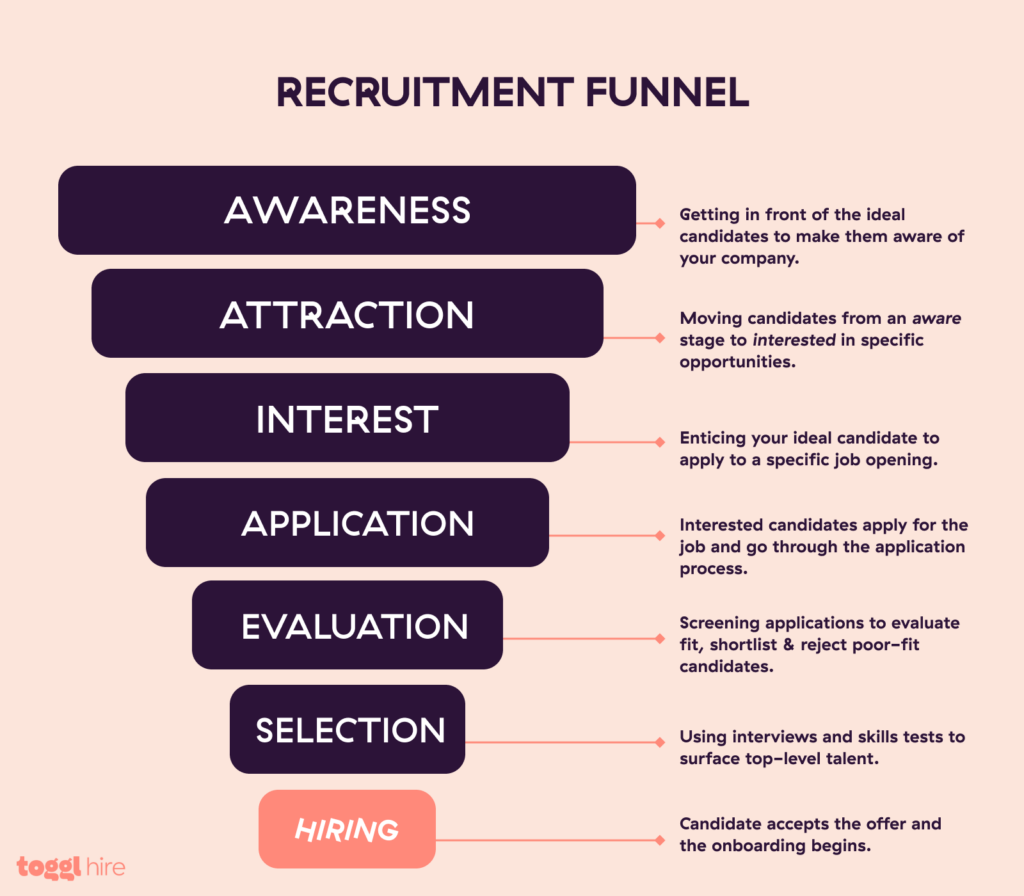 So, Where Does Data Come In?
At every stage of the recruitment funnel, you need to make tough decisions. There's a lot to think about – whether that's deciding which strategy to adopt on social media, the style to write your job descriptions in, or which candidates to progress.
And, that's a pretty hard job for one person. If you leave it to gut instinct or individual judgment, there's a high chance you'll get it wrong.
Luckily, there's a world of recruitment data out there that you can lean on to make the best decisions and maximize the effectiveness of your recruiting funnel.
In the rest of this article, we'll show you exactly how to bring data into your day-to-day recruiting life.
Building and Managing an Effective Data-Driven Recruitment Funnel
So, now that we know the importance of data, let's look at a quick way you can incorporate data into each step of the recruitment funnel. This is just one example for each, but there are so many out there, so make sure you do your research!
The Awareness Stage – Use Data to Predict Marketing Performance
Social media channels like Facebook, Instagram, LinkedIn, or even TikTok have so many ways to access your page's performance data. This data will give you priceless nuggets of information about what works and what doesn't work for your audience.
Here's an example of what LinkedIn's analytics dashboard looks like.
The Interest Stage – Use Analytics to Improve Webpage Performance
During the interest phase, you want to start hunting down active candidates. One of the key places active candidates hang out is on job boards, most of which have their own analytics to help you make the best decisions.
Dive into those analytics to assess which formats of job posts perform the best, using that data to re-optimize for the future.
The Application Stage – Remove Friction with Technology
Now you can leave social media and job boards behind and focus on getting candidates on the board. What's important to note here is that the actual application process could be hurting your sourcing efforts.
In a fast-paced talent market, candidates often forgo opportunities because they can't be bothered with writing a tailored cover letter, filling out long application forms or even attaching an up-to-date resume (who needs CVs when there's Linkedin?).
Using technology to gamify this step could be a gamechanger for your hiring process. Instead of a long application process, entice candidates to apply through a 10-minute basic skills assessment. They get instant results at the end, while you get a pile of data on candidates' performance and can automatically screen out poor-fit candidates. (Read on to find out how Toggl hires stellar developers by gamifying the application process.)

If you're going down the more traditional route, there are many applicant tracking systems (ATS) out there that can help you streamline and the process and move candidates along the recruiting funnel. Most have a range of handy features to help you automate tasks, automatically respond to candidates, and of course, see your recruitment performance over time.
The Screening Stage – Multiply Your Time with Skills Tests
Screening is one of the hardest parts of the recruitment process. Especially for roles that get large volumes of applicants, it can absorb hours of recruiters' time filtering through CVs and reading through application forms – there has to be a better way!
That's why we'd recommend using Skills Tests to screen and assess candidates during the middle stages of your recruitment funnel. Not only does it save you mountains of time, but it's also fun and engaging for candidates, and it improves your recruitment quality by assessing candidates on the skills they need to actually do the job.
You can see how we do it below.
The Interviewing Stage – Scale Interviews With Technology
Just like screening, interviewing is another stage of the funnel where a recruiter's time can vanish into thin air. As candidates get closer and closer to landing a job, you need to ensure they have the interpersonal skills required to make a difference.
Old-fashioned interviews are so 2018. With the rise of async interviews, there's now no need to interview a candidate in real-time. Instead, many companies use one-way video technology to get to know candidates on their own terms, no matter the time, place, or situation.
We call it Video Intros, and you can find out more by watching our explainer video.
The Hiring Stage – Use Metrics to Measure, Optimize & Improve
And, of course, as you come to the end of your funnel, the key thing you'll want to know is how you performed. Here it's all about measuring and analyzing your key recruitment metrics, giving you solid data to optimize and improve your funnel going forward.
And it's almost like we planned this article perfectly; next up, we'll look at the best metrics to track within your recruiting funnel!
Recruiting Funnel Metrics – What to Track in Your Recruitment Process?
Whether it's long-term talent acquisition or a simple short-term hiring process, you should track some key recruitment metrics to keep an eye on performance – here are some of our favorites.
Source of Hire
Helps you understand where your best candidates come from e.g., social media, referrals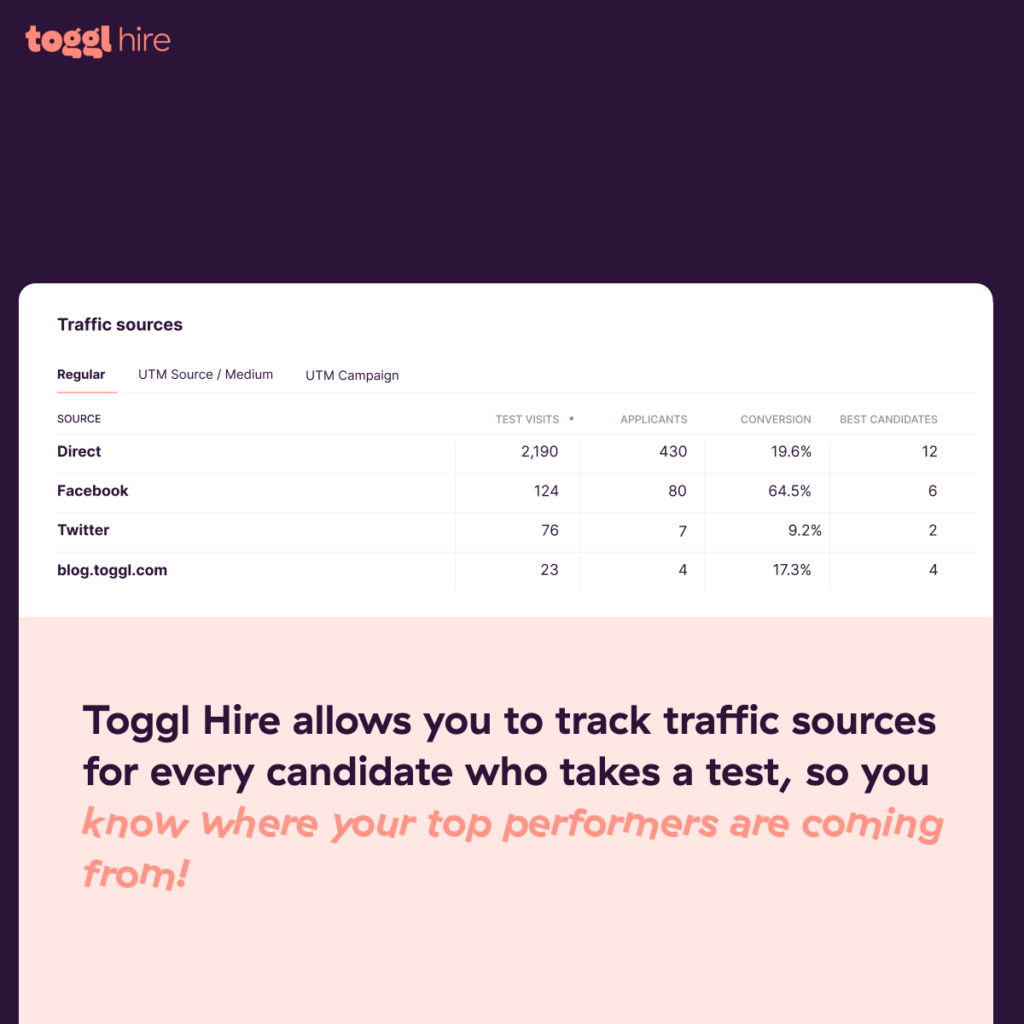 Number of Applicants
This helps you assess how well your recruitment marketing machine runs and how interesting your roles sound to the market. The more applicants, the better here.
Assessment Completion Rate
Indicates how well you're taking potential candidates from the 'Interest' stage to the 'Application' stage – if this is low, it suggests your application process is too complicated.
Quality of Candidate Experience
Many recruiting software packages include ways for candidates to give feedback on their experience – use this experience to improve and learn over time.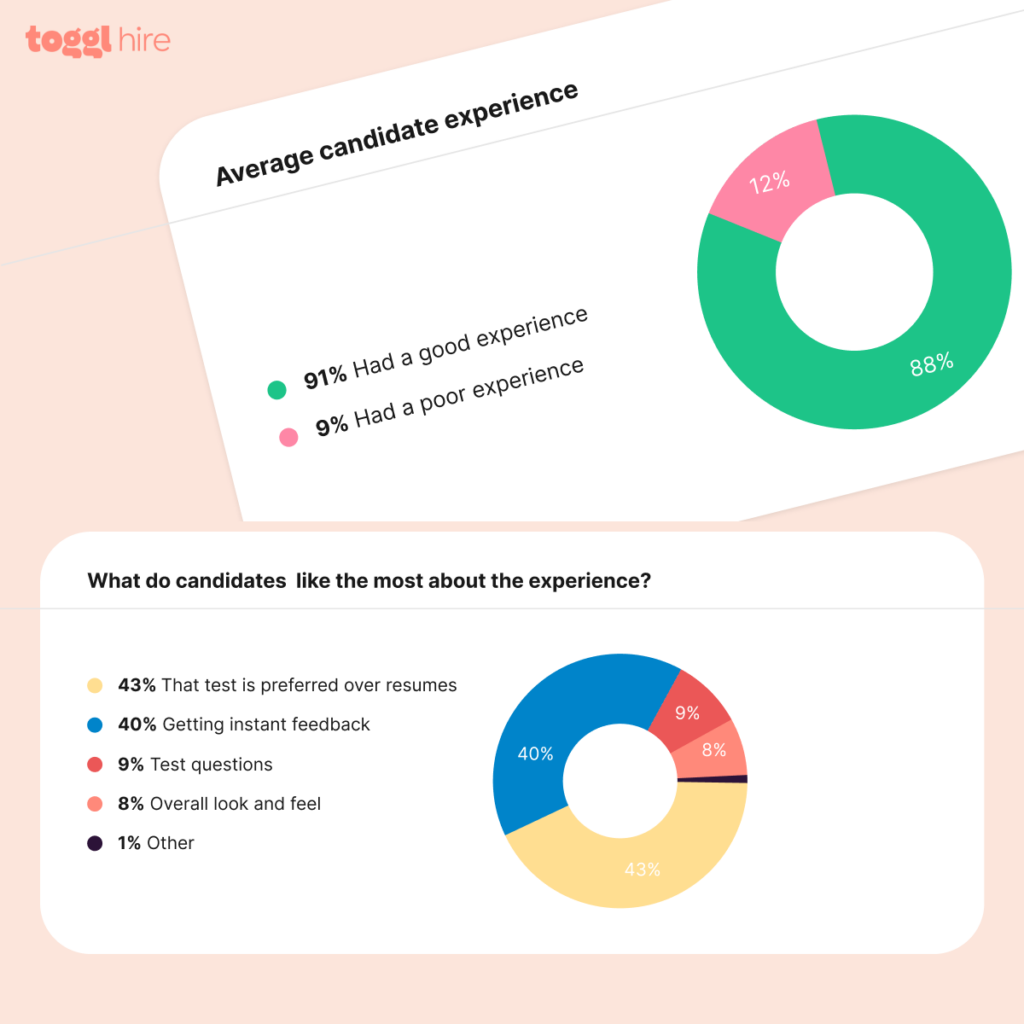 Quality of Hire
Track this with your hiring managers to check your Screening, Evaluating, and Interviewing stages aren't letting poor performers through.
Cost per Hire
It's essential to know how much each new hire is costing you. To help, we'd recommend reading our Simple Guide to Calculating Your Actual Recruitment Costs.
Time to Hire
When a role is vacant, it costs your business money every single day. Track the efficiency of your business by keeping an eye on your time to hire.
Time to Fill
Like time to hire, but focuses purely on the recruitment stages, proving how efficient the recruitment funnel actually is.
Funnel Movement
When it comes to building a recruitment funnel, it's good to know how quickly candidates are moving through the process from one stage to another – this will help you identify bottlenecks and specific stage-by-stage areas for improvement.
Conversion Rate
The ultimate endorsement of your recruitment team. Conversion Rate shows the number of roles filled versus your total vacancies, providing a key KPI to track and monitor.
Top tip – Your recruiting software (especially an ATS) should help you track these metrics automatically, so invest in a system that provides automatic reporting.
What's Wrong with Hiring on Gut Instinct? The Importance of a Data-Driven Recruitment Funnel
So now we know all about data-driven recruitment and how it can help your recruiting efforts. But what about the downsides? What happens to your recruiting process if you don't use data?
Here are just some of the problems you open yourself up to.
Inconsistent Decision Making = More Bad Hires
Data brings consistency, and consistency reduces risk. In recruitment, you want to be as certain as you can that your next hire is the right one. Hire on gut instinct alone, and you're far more likely to make a bad hire.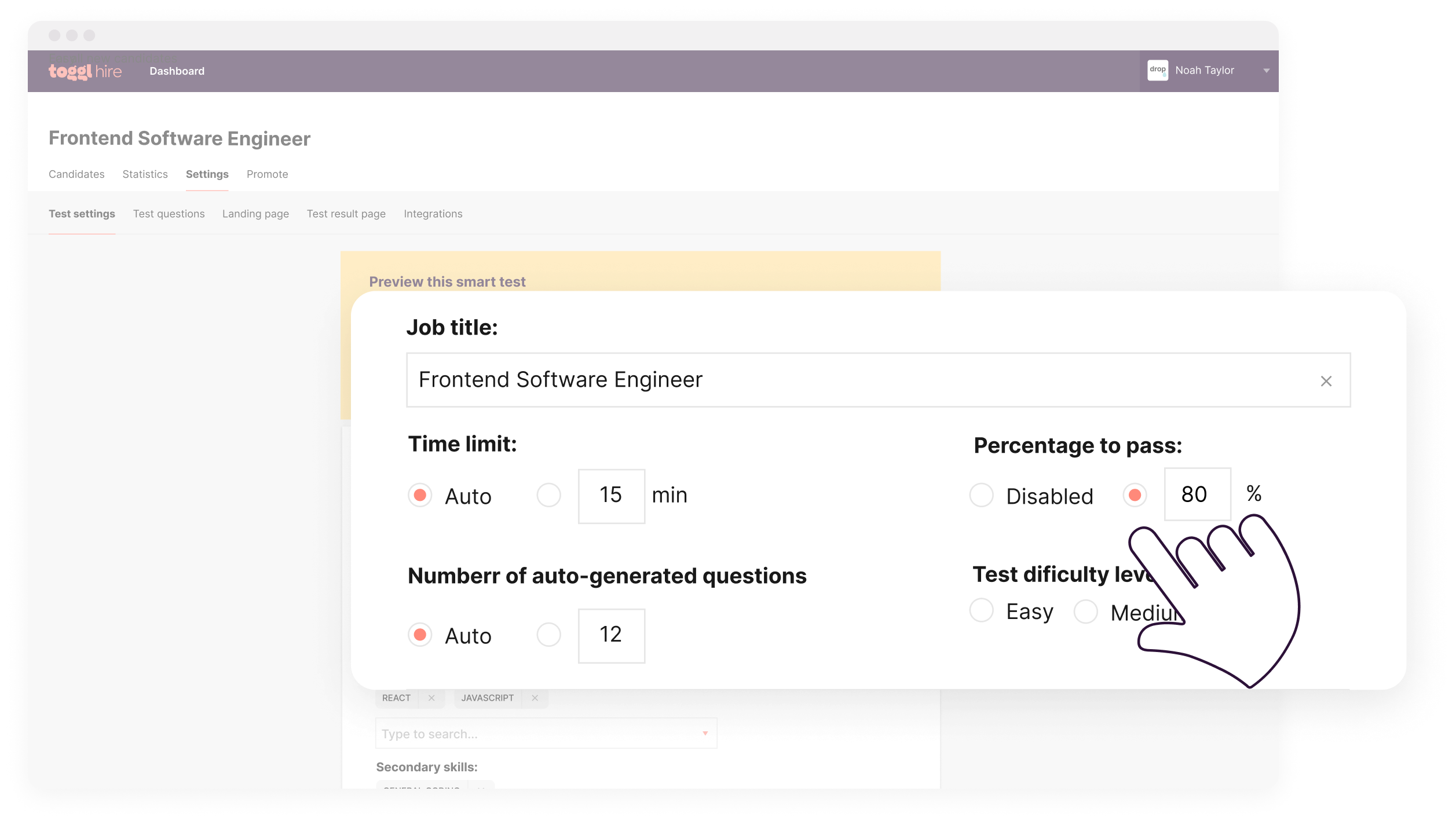 You Introduce Unconscious Bias
Data doesn't have favorites and it isn't tainted by prejudice, so it can be used to make reliable decisions. Fail to use data, and you start to introduce unconscious bias into the hiring process and put your fair chance hiring practices at risk.
It Creates Poor Candidate Experiences
Data-driven decisions are not only more objective, but they're easier for candidates to understand and come to terms with. Recruitment processes that are transparent and provide data-driven feedback gain candidates' respect and help them enjoy the experience no matter the outcome.
Your Employer Brand is at Risk
All of the above put you at risk of not only making a bad hire but inadvertently showing yourself in a bad light. Put your employer brand at risk, and hiring becomes more difficult, customers become harder to win, and your reputation declines – lots of knock-on effects!
Summary
Recruitment is a busy world to exist in. When you mix the pressure from hiring managers with the management of hundreds of candidates, it's easy to panic and make a poor decision.
That's why the best recruiters are building data-driven recruitment funnels to make the hard decisions for them. Not only does it optimize the recruitment process, but it delivers better outcomes, improves the candidate experience, and even helps recruiters achieve a better work-life balance.
So, if you're not already, dive into the world of data-driven recruitment – we really don't think you'll regret it!
James Elliott is a Strategy Manager and Writer from London, UK. When not working on the day job, James writes on a variety of business and project management topics with a focus on content that enables readers to take action and improve their ways of working. You can check out James' work on his website or by connecting on LinkedIn.