No company wants to see their new hire underperforming. Obviously.
Luckily, your talent acquisition team can deliver quality candidates by using a recruitment funnel — a strategic HR tool that helps by effectively managing and continually improving the recruitment process.
A hiring funnel provides important insight into all recruitment stages so your team knows where and how to adjust your recruitment efforts and attract first-rate candidates.
Let's find out how it all works, shall we?
TL;DR – Key takeaways
A recruitment funnel is a framework that helps recruiters organize, manage and improve their recruiting process.

Using data is fundamental for successful recruiting funnels. Hiring managers measure how every stage of the funnel performs using recruitment metrics and use that data to make changes.

We dive into the 6 core stages of the hiring funnel, including the Application, Evaluation, and final stage — Hiring.

Next, we share examples of the key recruitment funnel metrics every hiring team should follow – like Quality of Hire and Cost to Fill.

An effective recruitment funnel aims to quickly screen candidates in or out using reliable screening methods. In recent years, skills assessments have become vital in the hiring funnel as they provide valuable insights into applicants' competence and highlight the best candidates much faster.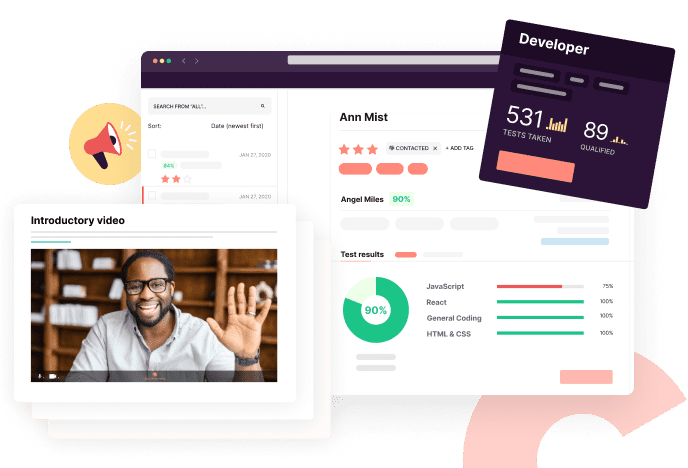 What is a Recruitment Funnel?
A recruitment funnel is a framework recruiters use to manage the recruitment process strategically, funneling candidates through various stages, from awareness and application to making the job offer to the successful candidate. It can also be referred to as a hiring funnel or recruiting funnel.
It functions the same as a sales or marketing funnel, channeling high volumes of people through a filtering process that results in a handful of ideal individuals and, in this case, quality candidates.
Since recruitment is a numbers game, many hiring managers and teams rely on a recruitment funnel to reduce a large candidate pool to the desired number of qualified candidates that fit their hiring requirements.
In a high-volume industry such as recruiting, a recruitment funnel framework makes it easier to evaluate candidates at scale by consistently working through the steps and continually improving the entire process based on data insights.
What's data got to do with a recruiting funnel?
Basically, everything.
The recruiting organization that figures out how to extract the value of data will define the future of talent acquisition.

Brendan Browne, Senior Director of Global Talent Acquisition at Linkedin
Talent acquisition teams that put data at the center of their recruitment funnel find talent faster and more efficiently.
According to this Linkedin research, recruitment teams with mature analytics practices are "2x more likely to improve their recruiting efforts and 3x more likely to realize cost reductions and efficiency gains".
At every stage of the recruitment funnel, you need to make tough decisions, such as which strategy works best with social media recruiting, the most effective style for your job descriptions, or which candidates to progress to the next stage. All of these decisions are (or should be) based on data.
To illustrate how important data can be in identifying and hiring the right candidates, consider this stat:
The best developer at Apple is over 9X more productive than the average software engineer at other technology companies.

Source
But don't fret. You don't need to be a big data nerd to work with data! That's what technology is for. 😉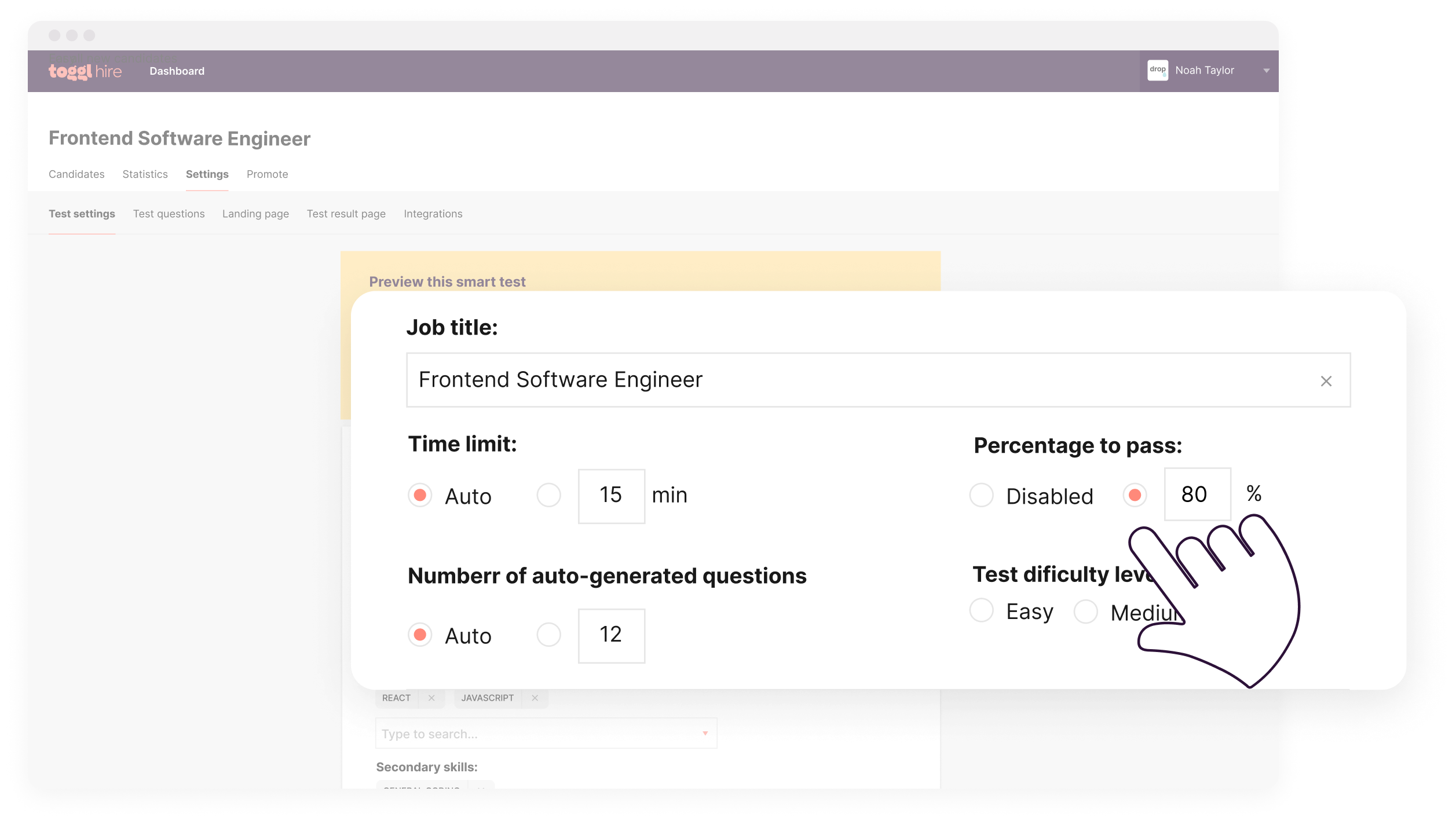 The 6 core recruitment funnel stages explained
A recruiting funnel is broken down into different stages, each with its own unique objective and outcome.
While each company may have its own unique recruitment funnel, here are the most common stages you'll probably need.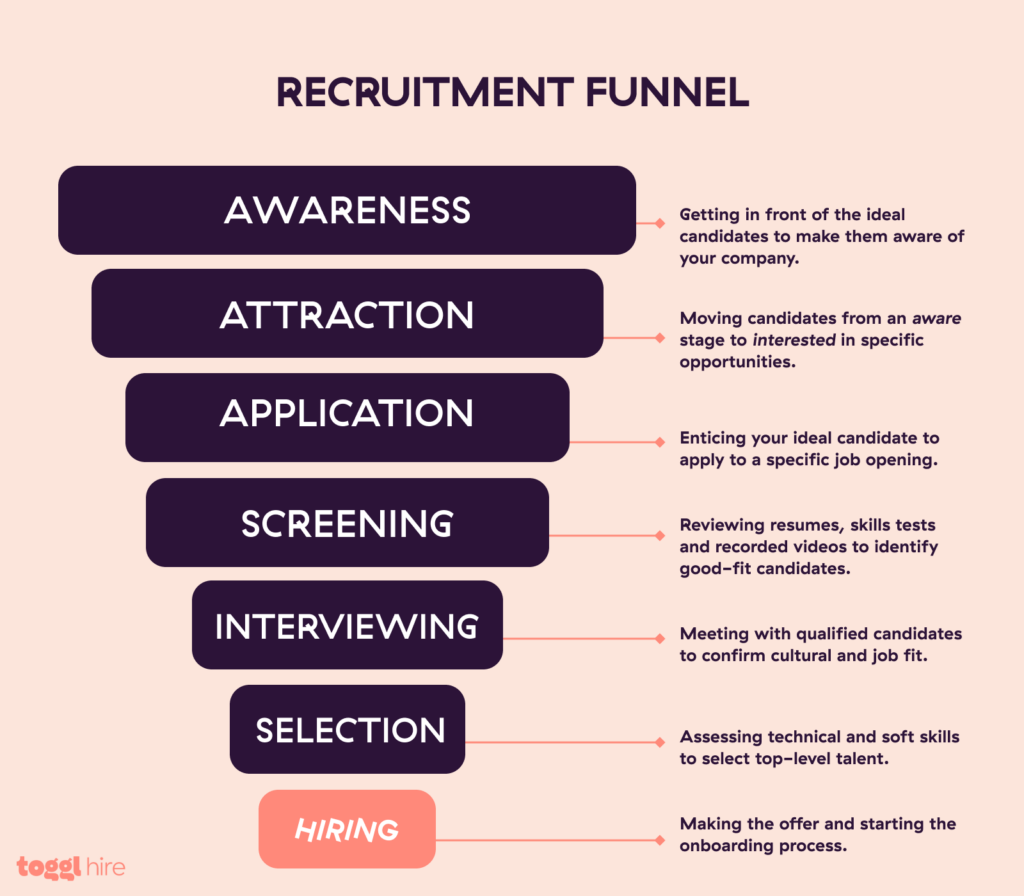 Stage #1 – Awareness
The top of the hiring funnel or talent pipeline starts with building awareness of your organization with potential candidates, both passive and active.
Your employer brand plays a significant role here. A strong employer brand helps your organization stand out from the crowd and grab the attention of candidates that fit your ideal candidate profile.
In this stage, you'll be relying on recruitment marketing efforts, such as your social media presence, email marketing, SEO, and hiring ads, to put your company in front of the candidate pool.

Top tip:
This level of awareness often takes time to build, as employers first plant seeds with candidates educating them on the company, what it does, and the perks of working there.
Measuring awareness
You can measure how well your employer brand is performing in many different ways, including:
Social following — tracking how many new followers you again on social media platforms
Branded search — checking how many people search for your brand and open roles at your company
Word of mouth — tracking the source of qualified applicants and employee referrals to understand the strength of your employer's brand
Tip! It may be easier to partner up with the marketing team on this one, as they should have this type of data at hand.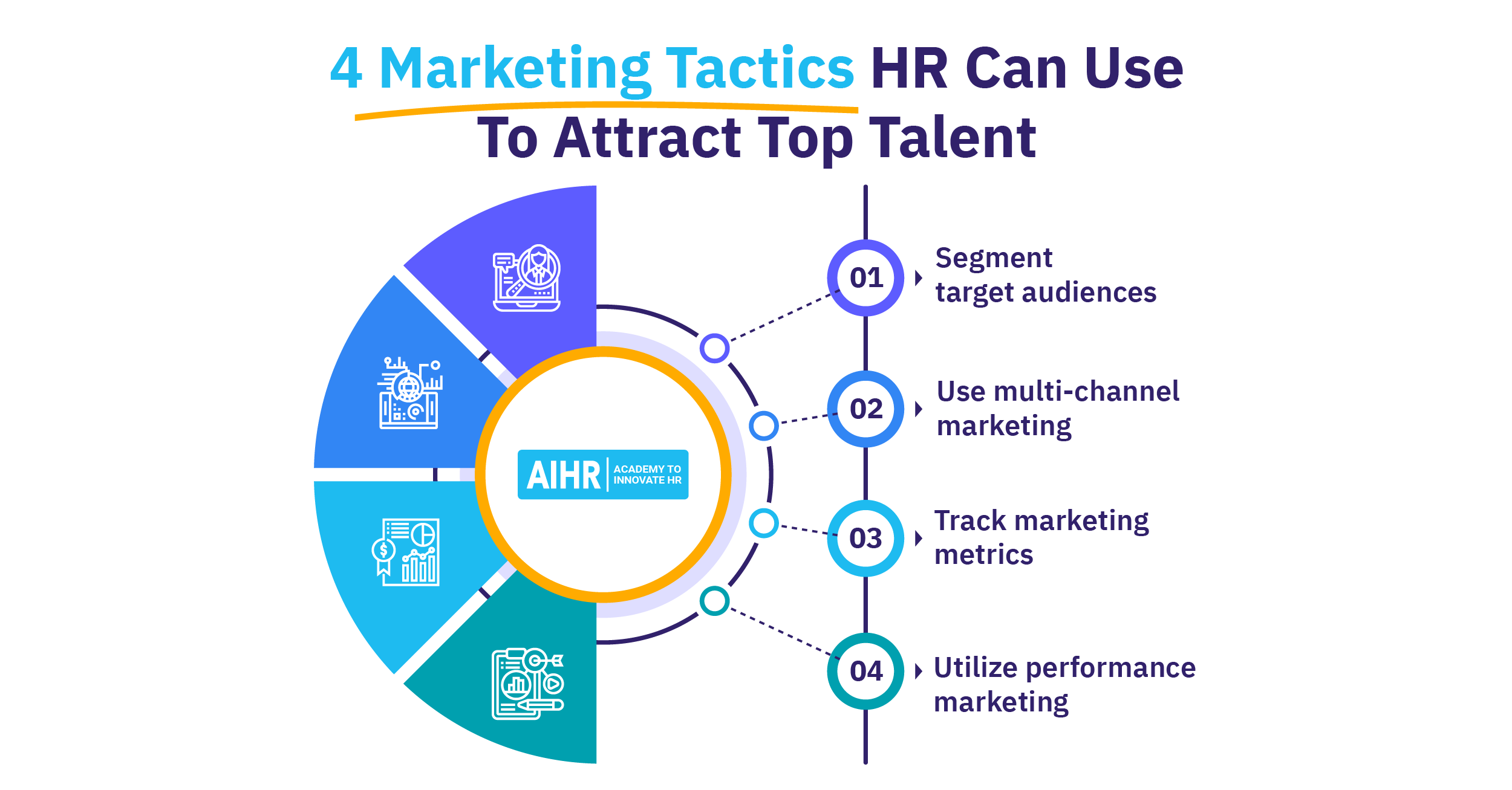 Stage #2 – Attraction
This stage of the funnel is all about getting candidates and job seekers interested in the roles you have available.
With a well-thought-out recruitment marketing strategy and targeted advertising, you should attract lots of potential hires to your career page.
One way to pique their interest is by crafting your recruitment marketing collaterals, like recruitment videos, job ads, and job descriptions, for the specific audience or type of candidate you're looking for.
Since the best candidates are flooded with great opportunities, it's at this stage that you want to show off how your company meets their needs. For instance, state the benefits they'd want to know about, like a hybrid working model or a learning grant.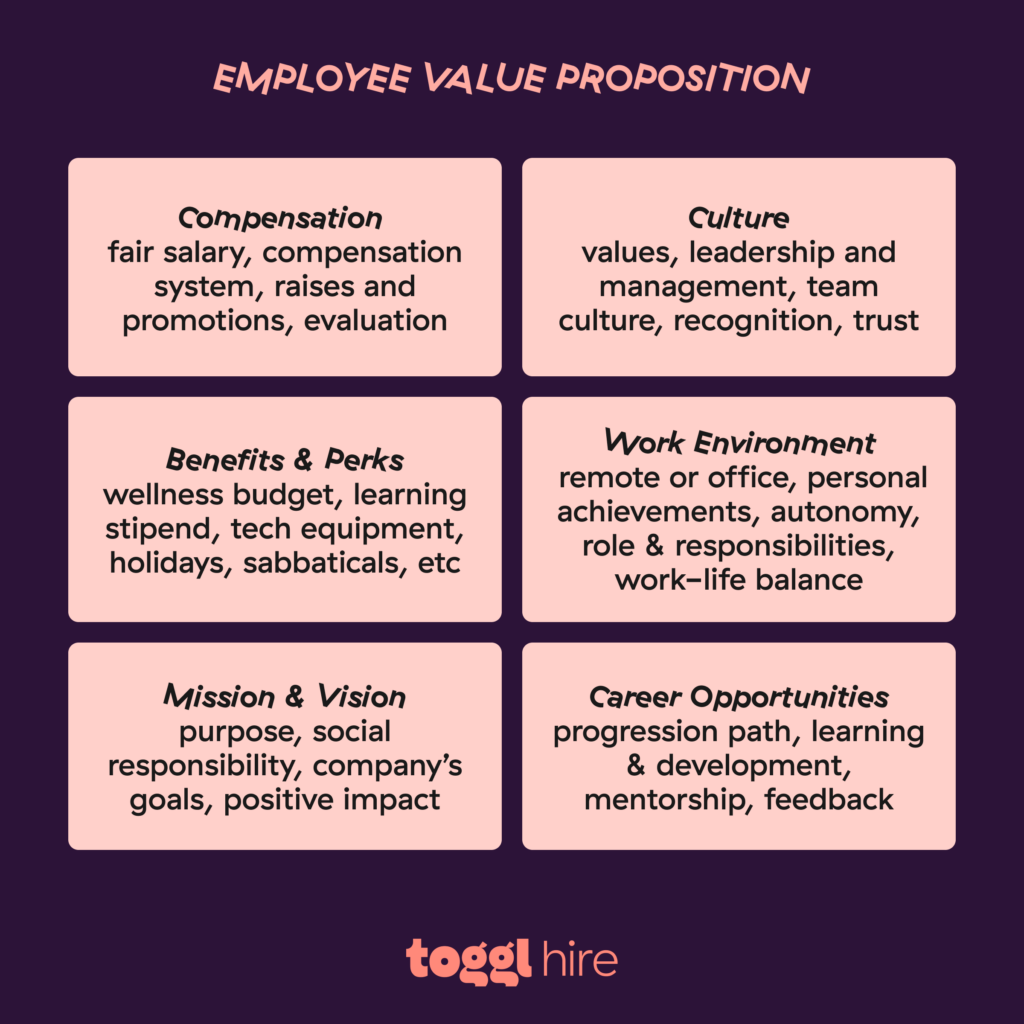 📚 Want to learn more about the difference between employer branding and your employee value proposition? Here's a helpful resource: 7 Strong Employee Value Proposition Examples
Boosting Interest
If your job ads get loads of hits, great! But if they're not getting the traction you need, make sure:
Your team responds quickly to any queries from interested candidates.
Your web presence (or lack thereof) is not putting them off.
Your company doesn't have negative candidate or employee reviews on sites like Glassdoor.
Stage #3 – Application
The next stage is all about getting candidates to press that Apply button to officially begin the application process.
Hopefully, your application process is intuitive and fast, or your organization could be in trouble! You'll want to make it as hassle-free as possible to maximize the number of applicants that fill your funnel.
Note: This can be a make or break point in the funnel. If your process is confusing, glitchy, or requires candidates to retype their whole CV, you're delivering a rubbish candidate experience that could drive away quality applicants and lose candidates.
As we mentioned earlier, hiring is a numbers game — the more candidates you have, the more chance you have of success.
Improving application success
If you're succeeding at this stage, your statistics will show high numbers of applicants and high completion rates if you're using a skills quiz as the first step in your application process.
And many candidates may even become fans of your brand by following you on your social media channels — if the candidate experience is good. To boost your numbers, consider things like:
Whether it's easy to apply, even if applicants are using phone screens to complete their job application.

The number of pre-qualifying questions you ask (and not overwhelming applicants with a 10-step application).

Gamifying the application process with a basic skills quiz instead of relying on the CV and cover letter alone.

Informing applicants what the steps are in your recruitment process. You could use a graphic to illustrate the next steps.
Stage #4 – Screening
Now, it's about sifting through the massive pile of candidate job applications to uncover those that have the capacity for success.
At this stage, you're trying to reduce the numbers by removing those that aren't a good fit. And that's why you'll be evaluating their skills, knowledge, and experience in more detail.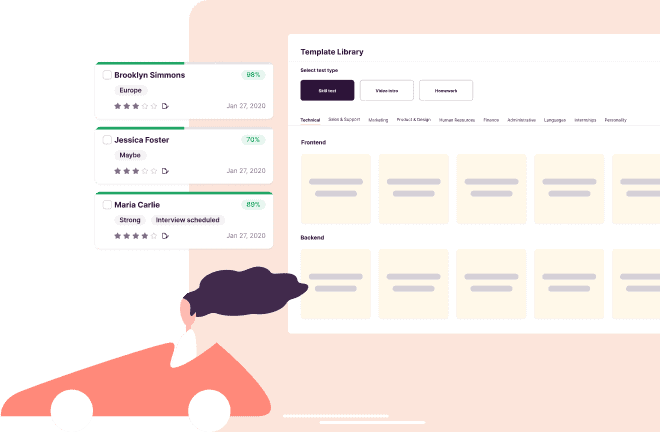 Streamlining the screening process
Skills assessments are an excellent way to determine whether a candidate will be successful in a role in the long term. Automated skills assessments can help your team:
Speed up the screening process
Ensure equitable hiring practices
Create a fun and engaging candidate experience
Separate the do-ers from the say-ers
Improve retention rates
Pre-recorded video interviews (also known as asynchronous video interviews) is another modern candidate screening method favored by lean organizations. Designed to replace the traditional phone screen, async videos enable hiring teams to screen job applicants at scale without losing the human touch.

Top tip:
Toggl Hire takes video interviews a step further. Learn more about our Video Intros feature that creates short and engaging opportunities to connect with potential candidates at scale. Plus, you can dip into our library of 500+ pre-built interview questions.
Once you've extracted the best from the rest, you can then shortlist the top candidates to help you decide who you'd like to take forward with the interview process.
Stage #5 – Interviewing & Selection
Ok, now that you're further down the funnel, you've probably whittled down those names to the final few. And, as candidates get closer to landing a job, you need to ensure they have the technical and interpersonal skills required to make a difference.
For many organizations, this is where you begin to interview candidates.
Following interviews, many organizations also use homework assignment tasks to simulate a real work environment and make the real winner shine in the final selection.
Supplementing the interview stage with homework tasks
Interviewing has changed drastically since video calls became second nature in the workplace. But running effective interviews is still a struggle for most companies.
When looking to identify top talent, consider these tips:
📚 Explore more pre-employment skills tests your team can use to spot your next gem quickly.
Stage #6 – Hiring
Ok, you've reached the last stage of your recruitment funnel.
And now you're ready to make a formal job offer to the top candidate.
At this stage, you're likely negotiating the conditions of employment with the candidate, using all of the information from the application process and interviews to tailor the perfect package.
Once the candidate accepts, it's then onto their onboarding and a happy, productive work life!
📚 Need to rethink your onboarding process? Here are 10 new employee onboarding ideas for inspo.
Measuring and optimizing hiring
Now that you're at the end of the candidate recruitment funnel, you'll need to know how your team performed. By measuring and analyzing your key recruitment metrics, you gain insight into what worked well and what you can improve.
Let's take a look at the essential recruitment funnel metrics your team should track.
Recruitment funnel metrics examples
Here are a few key recruitment metrics to monitor, so your team can continually improve your performance.
| Recruitment funnel stage | Popular metrics to track success | How to interpret |
| --- | --- | --- |
| Application stage | Source of Hire | Spot where the majority of your candidates are applying from. |
| Application stage | Number of Applicants | Greater the number, the more successful your funnel is. |
| Evaluation stage | Assessment Completion Rate | If low, your application process may be too complicated. |
| Hiring stage | Quality of Candidate Experience | Quantitative data that highlights areas in the recruitment process that need more focus. |
| Hiring stage | Quality of Hire | If poor, check whether your Screening, Evaluating, and Interviewing stages aren't letting poor performers through. |
| Hiring stage | Cost per Hire | If high, look for where you can cut recruitment costs. |
| Hiring stage | Time to Hire | The longer the time to higher, the greater the cost per hire. Lower is better. |
| Hiring stage | Time to Fill | A measure of how efficient the recruitment funnel is. Quicker is better. |
| Hiring stage | Funnel Movement | Longer times indicate potential bottlenecks in a stage. |
| Hiring stage | Conversion Rate | The higher conversion rate, the better, as this is your team's key stat, and usually a KPI. |
Metrics to measure the effectiveness of your recruitment funnel
Is there no place for gut instinct in recruiting anymore?
Reaching recruitment targets can be a challenge. And as the number of applicants and competition grows, recruiters need to use technology to streamline and continually improve their recruitment funnel.
Unfortunately, relying on gut instinct alone for spotting good talent can result in:
Inconsistent decision-making and, ultimately, bad hires
Data brings consistency, and consistency reduces risk. In recruitment, you want to be as certain as you can that your next hire is the right one. Hire on gut instinct alone, and you're far more likely to make a bad hire.

Unconscious bias
Data doesn't have favorites, and it isn't tainted by prejudice, so it can be used to make reliable decisions. Fail to use data, and you start to introduce unconscious bias into the hiring process and put your fair chance hiring practices at risk.

A poor candidate experiences
Data-driven decisions are not only more objective, but they're easier for candidates to understand and come to terms with. Recruitment processes that are transparent and provide data-driven feedback gain candidates' respect and help them enjoy the experience no matter the outcome.

Damage to your employer's brand
All of the above put you at risk of making a bad hire and inadvertently showing yourself in a bad light. Put your employer brand at risk, hiring becomes more complex, customers become harder to win, and your reputation declines – lots of knock-on effects!
Where Toggl Hire fits in your recruitment process
Recruiters need to keep a close eye on every stage of their recruitment funnels. By understanding the goal of each level and using technology to track and manage your metrics easily, your team can continually pivot and improve the hiring process.
That's why the best recruiters are building data-driven recruitment funnels to make the hard decisions for them. Not only does it optimize the recruitment process, but it delivers better outcomes, improves the candidate experience, and even helps recruiters boost their productivity.
So, if you're not already, dive into the world of data-driven recruitment – we really don't think you'll regret it!
James Elliott is a Strategy Manager and Writer from London, UK. When not working on the day job, James writes on a variety of business and project management topics with a focus on content that enables readers to take action and improve their ways of working. You can check out James' work on his website or by connecting on LinkedIn.