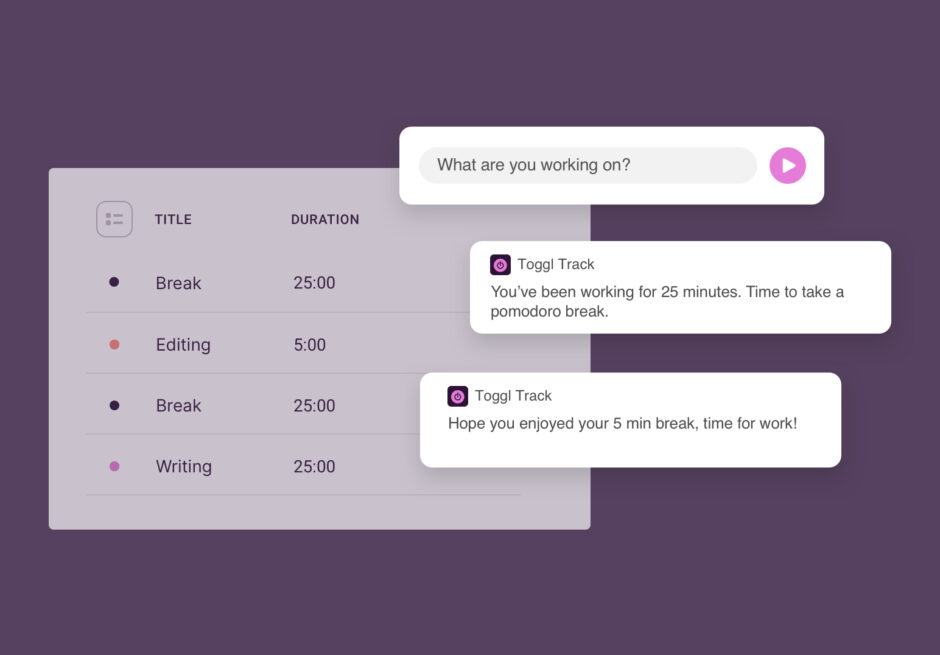 Every so often we like to give you an update on how Toggl Track Desktop is doing. Today I would like to give you an overview of what we have been working on in the past few months (like the Pomodoro timer feature) since our last post and of course I will also go over our plans for the future.
The last three months
Over the last few months we spent a lot of time making small improvements to Toggl Track Desktop. We fixed a number of obscure bugs, and changed and added a lot of little things to make the application easier to use.
For a full list of changes and fixes, feel free to take a look at the official Toggl Track Desktop Changelog.
However, this does by no means mean that we were not able to add some great new features as well.
Pomodoro Timer
After the great feedback we got on the addition of a Pomodoro timer to Toggl Track Button it was clear that we had to add the same feature for Toggl Track Desktop.
So starting with the newest version of Toggl Track Desktop, you can go to the application's preferences, enable the feature and tell us your preferred Pomodoro length.
From then on, Toggl Track Desktop will automatically stop your time entries when they reach the end of your current Pomodoro interval, and let you know with a notification to take a break.

From there you can either continue the latest task or start on a brand new one. On Windows there is a separate start new button that starts the timer. On Os X clicking on the notification opens up the main window and you can enter details and start the entry from there.
Loading more time entries
By default Toggl Track Desktop only downloads the last nine days of time entries from our servers. This makes the app start up faster, and increases its overall performance, since it has to handle only a limited amount of data.
Sometimes it would be really handy however to see a little more data – be it to quickly check on what we did two or three weeks ago, or maybe so we can easily use Toggl Track Desktop's auto completion features to continue a task we have not worked on for a while.
From now on this will no longer be a problem. We added a Load-More button to the bottom of the time entry list that loads the entire past month of data into the time entry list.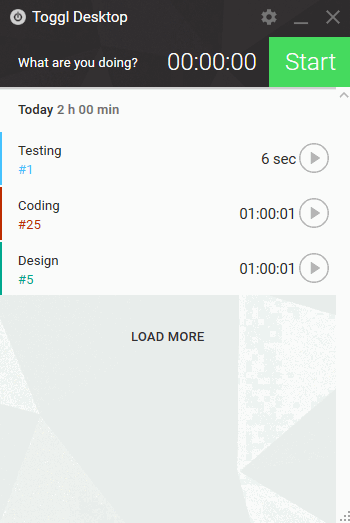 Drag and drop time entries between days
Another feature that we have had several requests for was the ability to drag and drop time entries between days. So now you can!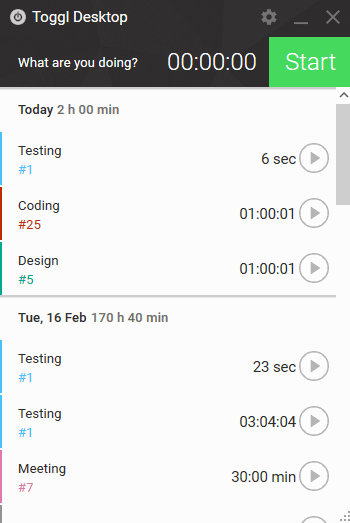 While this is a feature that is not needed for the basic Toggl Track workflow, it comes in especially handy when adding time entries after the fact. Dragging them to another day is much quicker than having to edit the date of an entry in the edit-popup.
Better notification of unsynced time entries
While we do our best to keep your different Toggl Track apps in sync with each other, it can sometimes happen that a few time entries do not make it to our servers right away – especially if there are problems with the internet connection, or if you are simply working offline.
To make it clearer what time entries are not synced yet, we added a small warning icon to time entries that Toggl Track Desktop is unable to sync at the moment. Just make sure your internet connection is up and running, and maybe perform manual sync through the application's context menu and this should sort itself out in no time.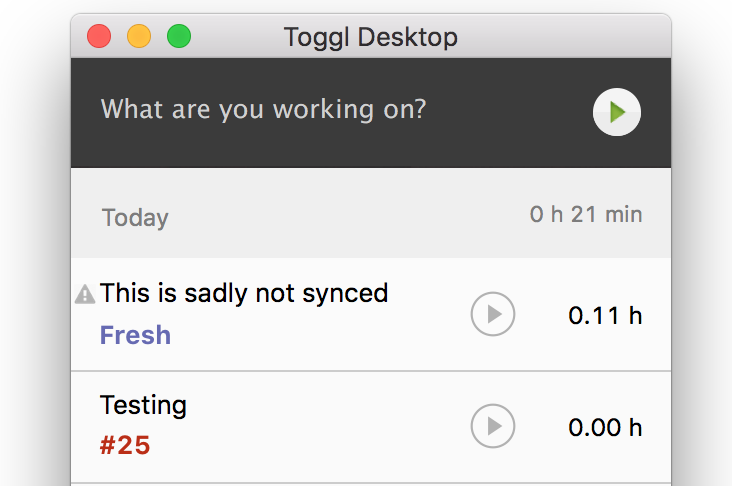 Locked time entries
All the features above are available in Toggl Track Desktop for both OSX and Windows. Below are a couple of features we added that are unique to Toggl Track Desktop on Windows.
Another related feature is the display of locked time entries. Time entry locking is a great new feature of our Toggl Track Business plan that allows a workspace administrator to lock time entries before a certain date – preventing any edits to them.
Toggl Track Desktop will show a small lock icon for locked time entries, so you – or if you are the workspace admin, your team members – can see at a glance until when time entries have been locked. It will also prevent edits to such time entries to prevent confusion when such edits would not be reflected online.
This is of course only the first Toggl Track Business feature Toggl Track Desktop supports. In the future we will add support for all other current and coming features as well.
Mini timer
Another new feature of Toggl Track Desktop on Windows is the mini timer.
Enabling this new feature in the context menu of Toggl Track Desktop will show a fully featured stand-alone copy of the timer inside the application.

You can drag this timer to anywhere on your screen and use it exactly like you would the original one inside the main window of Toggl Track Desktop.
The timer always stays on top of other windows, and since it takes up a lot less space than the full Toggl Track Desktop window, you can have it always visible to keep an eye on your current time entry.
We hope that this will help our users to remember to track their time, and to remind them what they are currently working. In addition, the mini timer contains all the features for your basic time tracking needs to help you minimize distractions and maximise your productivity.
Collapsing days
Another experimental feature is the ability to collapse and expand days inside Toggl Track Desktop on Windows. This way you can get an easy overview of your work over the last couple of days, especially if you create a lot of smaller time entries during the day.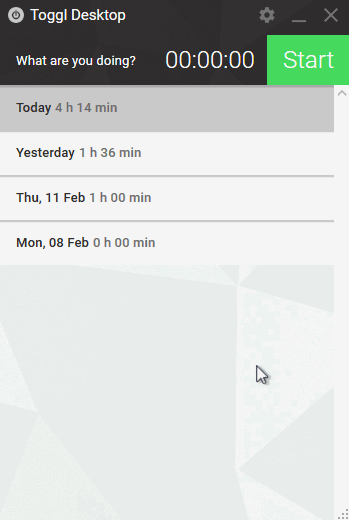 To collapse or expand a day, simply click on the day's header area. You can also collapse and expand all displayed days by right clicking anywhere in the time entry list and using the appropriate menu option.
What is next for Toggl Track Desktop?
Your feedback on Toggl Track Desktop has been very positive and we are very happy with how Toggl Track Desktop has developed and matured over the last months.
Toggl Track Desktop is very stable and polished, and we are now at a point where we have implemented all our current major ideas. As a result, and for the first time in Toggl Track Desktop's lifetime, we will stop releasing small and frequent updates like before for now.
Instead, we are going to take a step back, gather ideas, and re-evaluate the existing features of Toggl Track Desktop so that when we release our next bigger update later this year we can raise Toggl Track Desktop to all new heights.
Of course a vital part of this process is the feedback from you – our users! So if you are using Toggl Track Desktop, let us know if you have any ideas or suggestions. We always love to hear what you think about Toggl Track and take any and all feedback seriously – and who knows: maybe your idea will make it into the next version of Toggl Desktop.
And if you are not using Toggl Track Desktop yet, consider giving it a chance today!